This page contains affiliate links. Please read our disclosure for more info.
It's our five year nomadiversary! Five years since we sold everything except what fit inside a carry-on backpack and set off to travel the world.
I'll be writing about our reflections on what it has been like living as digital nomads for five years, but for now I want to look back on the highlights of the last year. In our fifth year on the road we visited 10 countries in Southeast Asia, Europe, and North and Central America.
We started year five in Kampot, a small town in Cambodia that we fell in love with. It doesn't seem a very exciting place at first, but it drew us in with its crumbling architecture, relaxed pace of life, and excellent food and coffee. We took yoga classes, went stand up paddle boarding on the river, and explored the nearby salt fields, pepper plantations, and pretty Rabbit Island.
Next we visited Malaysia, where we finally did something that's been on our bucket list for a long time—learning to sail! We've always planned to own a boat one day, despite our complete lack of sailing experience, so we were pleased to discover that sailing lived up to our expectations. It was an incredible experience to live on a yacht for six days, sailing into sunsets and around Langwaki's karst islands and turquoise sea. We are now officially Competent Crew and we can't wait to get back out to sea (we have some exciting news about that coming soon!).
Thailand always draws us back so from Langawi we took the ferry to Koh Lipe and on to our favourite Thai island Koh Lanta. Our friends hosted us in a number of their gorgeous apartments and villas on Long Beach, including the beach front villa that's one of our favourite places to stay in the world. It felt wonderful to be back on Lanta, and on this visit we discovered a fantastic new yoga studio and some delicious restaurants. No doubt we'll return again.
Simon's brother got a job in Singapore so that was our next stop. Some people claim the island state is bland and boring but we loved how clean, easy, and efficient it is. There's plenty to explore with a wide variety of architecture and food, beautiful green spaces, a stunning futuristic skyline, and the wonderful Supertrees.
We almost didn't make it to our next destination. For the first time ever we missed a flight when our early morning departure time confused me about what day we needed to be at the airport! A day late we did arrive in Istanbul, Turkey where we spent a week taking a cooking class and eating our way around the city—Turkey is a fantastic destination for vegetarians.
We'd kept our Turkey visit secret so we could surprise my mum for her 60th birthday. The whole family got together in a gorgeous sea view villa in Kaš and we had a wonderful week catching up with everyone.
Our favourite place in Turkey was Cappadocia and the highlight was definitely our hot air balloon trip over the otherworldly rock formations and fairy chimneys. Cappadocia's multi-coloured canyons and valleys are seriously stunning and are ideal for exploring on short hikes.
Next we flew to Spain for our most adventurous housesit yet—a remote, off the grid farm in the Alpujarran Mountains in Andalucia. It was a definite challenge looking after 14 animals (including two horses), our own water and solar systems, and keeping the gardens watered in the summer heat, but I'm glad we did it. We rode our horses through the mountains, picked mulberries from the trees, walked the dogs by the river, and embraced the tranquility and solitude of the place where we wouldn't see anyone else for a week at a time.
While in Spain we also visited the Alhambra and ate an epic 18 course meal in Granada, and stayed with friends in the tiny village of Lubrin during a fiesta that featured entertaining activities like climbing a greasy pole (we just watched!).
It was back to England next where we caught up with friends and family and attended our annual wedding. This time we tried to appreciate our home country a bit more, visiting pretty Bath, cool Bristol, and the picture-perfect village of Castle Combe, and taking a steam train trip through the north of the country.
We've always said San Francisco was our favourite city but last year there was a new contender—Portland, Oregon. We were there to attend the XOXO festival (where Simon got to geek out with other independent developers and artists) and didn't expect to love the city as much as we did. With its vegan food scene, leafy streets, alternative but laid-back atmosphere, and perfect September weather, we didn't want to leave. Another place added to our ever-growing list of places to return to.
It was our fourth visit to San Francisco and this time we stayed a month (thanks to our wonderful friend Jason for hosting us). We were a little disconcerted that initially we didn't love it as much as we usually do and kept comparing it to Portland, but it's still a fantastic city. It's such a great running city and was the perfect place to finish my half marathon training with runs in the Presidio, Crissy Field, and Golden Gate Park. Simon's mum and step-dad visited us for the first time and it was fun exploring with them—Alcatraz, wine country, and the picnic food truck gathering in the Presidio.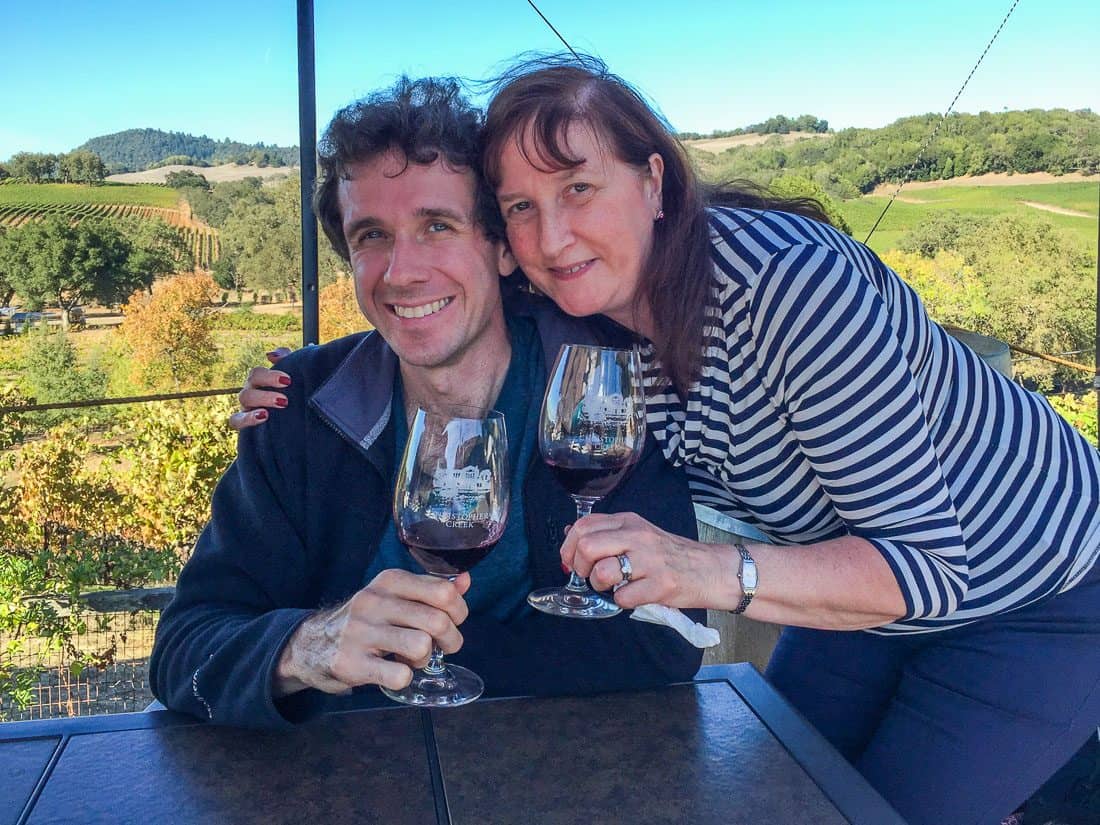 My personal highlight of the year was running my first half marathon through the vineyards of Healdsburg, Sonoma, one of our favourite parts of the US. When I started the training programme three months before the race running 13.1 miles seemed impossible and balancing the training with travel was often a challenge. But I made it, even running faster than I expected. I absolutely loved the experience and it gave me an incredible sense of achievement and joy.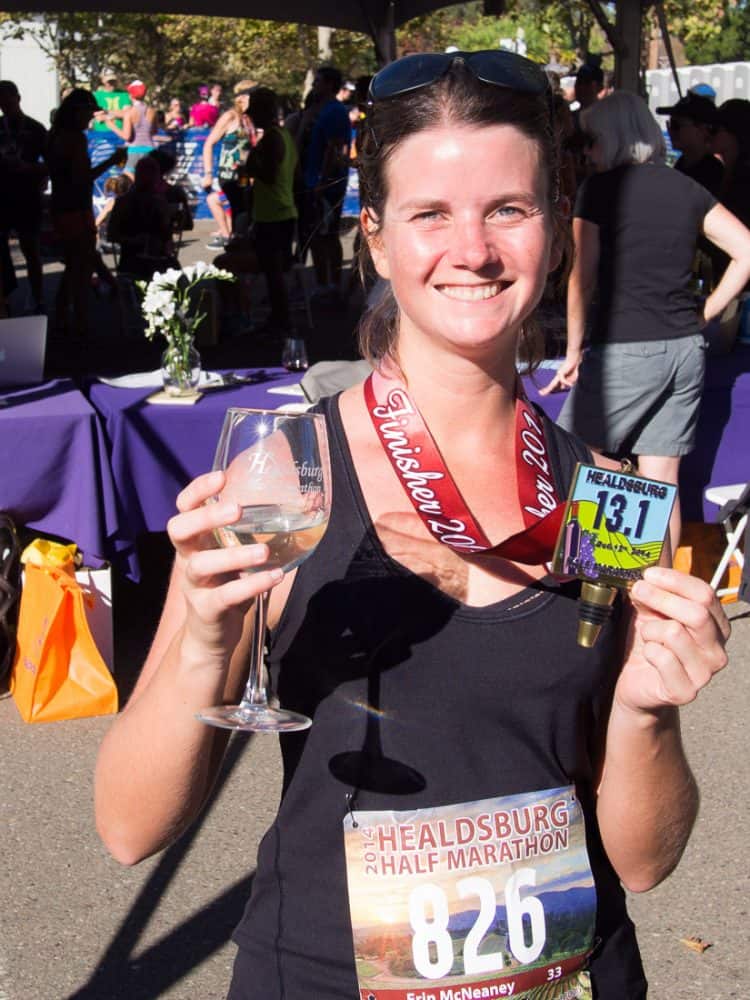 We moved down the West Coast to visit San Diego for the first time where we had a fantastic few weeks of friends, food, and crazy sports. Simon and Tom created their first iOS game Tap Tap Power during a 48 hour hackathon, and we even fitted in a trip to Disneyland which kept Simon happy!
By November we were ready to settle down for a while and chose Lake Atitlan in Guatemala as our base. We loved living in the small Mayan village of San Marcos catching up on work, taking yoga classes, and enjoying the incredible views of the lake and volcanoes. It's a truly special place.
In Guatemala Simon released Trail Wallet 3.0 after hundreds of hours of work. This new version of our travel budget iPhone app was what Simon had envisioned for it when he first released it two years ago, with more personality and cartoon dragons to help you stay on budget. One of this year's highlights was watching Trail Wallet continue to grow (revenue was up 75% this year) and hear from the many users who it has helped keep to a budget and travel for longer. Trail Wallet now has 213 reviews worldwide with an average rating of 4.4 stars!
When our Guatemalan visas expired in January we moved on to San Cristobal de las Casas in the Chiapas highlands in Mexico. After village life we enjoyed the vibrant but relaxed city with its colonial architecture and great food—for some reason it has an amazing French bakery (Oh La La) and excellent Italian restaurants (L'Arrabbiata, El Punto).
We also stumbled across the fascinating Great January Festival in the nearby town of Chiapa de Corzo. Dancers known as Parachicos were dressed in colourful embroidered shawls, ribbons, a furry head dress, and a carved mask that we thought was Jesus but is actually meant to be a Spaniard. As hundreds of them danced, chanted and rattled their maracas it was a rather disturbing sight.
San Cristobal was a bit too chilly to stay for long so we headed to the Oaxaca coast in search of a base. Mazunte was pretty but more of a place for a holiday than somewhere we wanted to live, so we moved on to the bigger town of Puerto Escondido. It turns out trying to find an apartment in Mexican beach towns in the middle of the high season is not an easy task; the few places we found were way over budget. Luckily our friends Tom and Jenny were in town at the same time so we rented a two bedroom house together that we wouldn't have been able to afford on our own.
The highlights of our stay in Puerto Escondido were both animal related—seeing jumping manta rays and releasing the cutest baby turtles into the sea.
We are now in Oaxaca and are looking forward to some exciting travel plans for our sixth year on the road!