This page contains affiliate links. Please read our disclosure for more info.
Planning a trip to Cambodia isn't difficult. Like elsewhere in Southeast Asia it's well set up for travellers, who have been visiting in increasing numbers in recent years. You could manage by turning up on a bus from Thailand with no preparation or plans but there are some things it's good to know before you arrive.
Visas
Visas on arrival are available for most nationalities at airports and border crossings. A one month visa costs $20 and you need one passport photo and US dollars cash. It can only be renewed for one more month.
If you are planning to stay longer than two months get a business visa ($25) as you can extend the initial one month for up to a year. You don't need any proof of employment.
Getting There & Away
We took the quick and easy option and flew to Siem Reap from Chiang Mai via Bangkok on the budget airline Air Asia. We left from Phnom Penh to Kuala Lumpur also on Air Asia.
It's also possible to arrive overland from Thailand, Laos and Vietnam.
A popular route is from Bangkok to Siem Reap by bus via the border crossing Poipet. This border is well known for its scams so read up in advance to avoid them.
Money
Cambodia has a dual currency of US dollars and Cambodian riel. You can access money using ATMs which dispense dollars. You'll use dollars most of the time with anything less than $1 paid for with riel as there are no coins. The exchange rate used practically everywhere is 4000 riel to $1. You need to be familiar with this as you'll often pay in a mix of currencies or get quoted in riel and pay in dollars or vice versa.
Costs
We spent $38.50 per person per day travelling flashpacker style staying in rooms with private bathroom, air conditioning and WiFi; taking advantage of the great Western food; and travelling on the more comfortable buses. You could definitely travel for less and around $30 a day is realistic including Angkor Wat pass and transport.
See our Cambodia budget for more details on costs.
Language
We only learnt a few words of Khmer and were able to manage easily with English. Obviously the more off the beaten track you go the less people will speak English.
When to Go
The cooler, dry season is from December to February and this is when most people visit. March and April are very hot and the rainy season is from May to October.
We visited from mid February to mid March and although it was hot it was manageable. By March the countryside was looking very dry though and the rice paddies were no longer lush and green.
Is Cambodia Safe?
We had heard stories that Cambodia has changed in recent years and that theft was becoming more common. We had no problems and never felt unsafe. As with anywhere take the usual precautions with your belongings and keep hold of your bags when travelling in open sided tuk tuks.
Ethics
Cambodia has a large number of child street vendors who will try to sell you postcards and souvenirs, especially at Angkor Wat. They are very cute and I understand that they are hard to resist but please read this from ChildSafe who advise not to buy from them as it keeps them on the streets.
Where to Go
Many people only visit Siem Reap to see the ancient temples of Angkor but Cambodia is definitely worth a longer stay. We had a month in Cambodia and travel quite slowly. This was our itinerary:
We were mostly happy with our route. If we had been able to find more affordable decent accommodation on Otres Beach we would have stayed there longer and would also have liked to visit Koh Rong island. We didn't need that many nights in Phnom Penh—we didn't love it, didn't hate it, but there are some great restaurants. We would love to have stayed even longer in Kampot which we fell in love with.
Getting Around
Between cities we took the air conditioned Giant Ibis buses which are comfortable, fast and include hotel pickup. You could save money by taking the cheaper buses. Distances aren't huge between the main cities tourists visit (our longest bus ride was 7 hours from Siem Reap to Phnom Penh) and roads are in decent condition.
Within cities we rented motorbikes ($5 a day) or bicycles ($1 a day) or took tuk tuks (open sided carriages pulled by a motorbike) which usually only cost a few dollars. Make sure you agree the price in advance and bargain.
Accommodation
The only place we stayed that we truly loved was Mea Culpa guesthouse in Kampot which was great value at $25 a night. Read more about it in our Kampot guide.
In Siem Reap we stayed at My Home Villa which was average but it did have a pool which was great for cooling off after temple visits and also cost $25 a night.
On our second stay in Phnom Penh we stayed in the Street 278 area at Goldie Boutique Guesthouse. It was fairly basic but decent value at $20 a night (the $25 balcony rooms might be nicer) and we liked this area which was relaxed and leafy and close to some great vegetarian restaurants.
Internet and Mobile Data Plans
WiFi is very common in hotels and cafes but speeds are variable and we'd sometimes be unable to connect. Mea Culpa was the only place we stayed that had reliable WiFi.
We were glad to have access to 3G so that we could tether our laptops to our iPhone when the WiFi stopped working. SIM cards and data plans are easy to get and cheap in Cambodia. We went to one of the many shops in Siem Reap that sell SIM cards and got a Cellcard prepaid SIM ($2) with 3.5GB of data valid for one month for just $5. The lady in the shop cut down the SIM for our iPhone 5 and set it up for us in under 10 minutes.
Food
Most people are a bit disappointed by the local food in Cambodia after coming from Thailand or Vietnam. We did find some tasty Khmer food but just as often we indulged in Western food which surprisingly Cambodia does really well. We found it an easy country for vegetarians and really enjoyed the food. You can read more about what we ate and our recommended restaurants in our Vegetarian Survival Guide to Cambodia.
Yoga Classes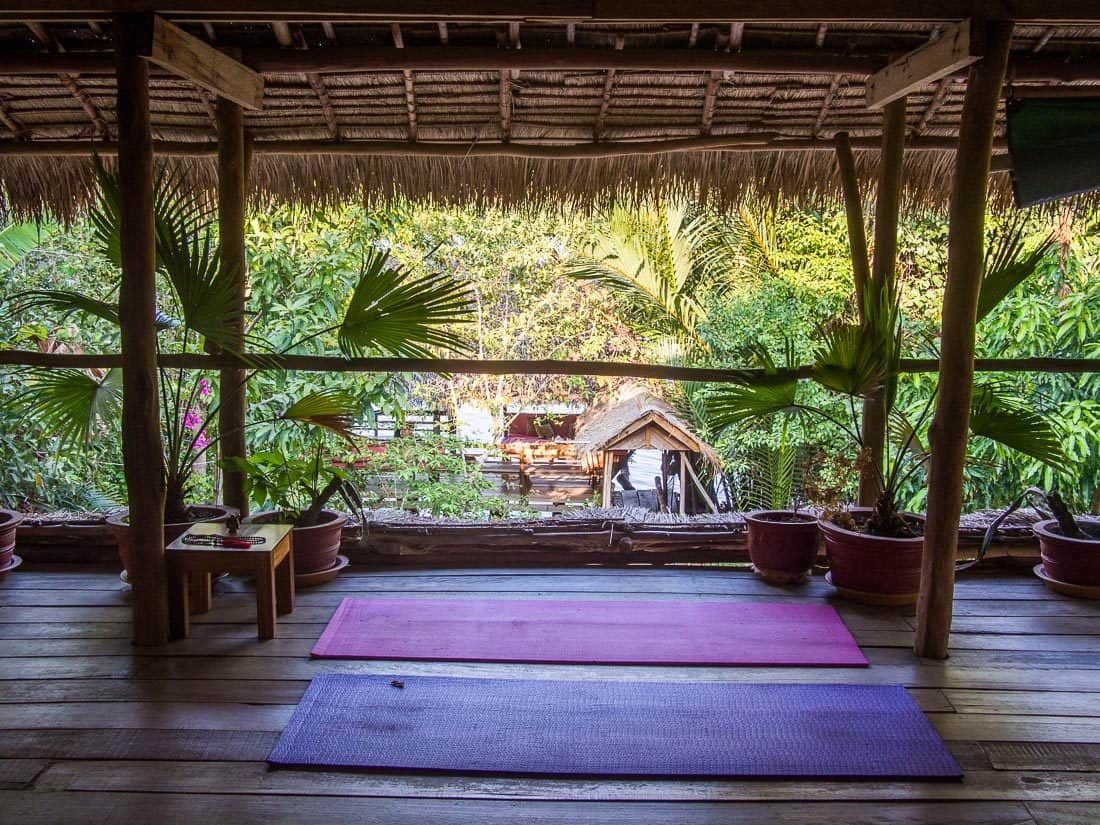 I took yoga classes at these places:
Running
Despite the heat and traffic I managed to keep up my running in Cambodia by heading out at around 6am. It was surprisingly easy to find a running route as in Siem Reap, Phnom Penh and Kampot I just headed to the river which were pleasant places to run. In Otres Beach I ran on the beach.
My favourite run was through the countryside and out to the salt fields in Kampot.
Recommended Reading
Books
Cambodia has a complicated history and it has only been 35 years since the genocide that killed 1/5 of the population. I think it's important to be aware of the history before you visit and there are plenty of books on the subject.
Websites
Travelfish is our go-to guide for planning travels in SE Asia.
Our Cambodia Posts
For more about our experiences in Cambodia take a look at these posts: