This page contains affiliate links. Please read our disclosure for more info.
When we travel we love observing the quirky details of daily life that make a country unique. During our month in Cambodia we noticed the similarities with its neighbour Thailand, many due to the shared Buddhist religion, but this less developed but beautiful country with a traumatic history also had many differences.
1) Arriving from Chiang Mai in Thailand, Cambodia smelled different. A heavy tropical smell of humidity, burning and fragrant flowers.
2) The ancient temple Angkor Wat is the national symbol and found everywhere—on the national flag, beer, and money.
3) There is a dual currency in Cambodia. The US dollar is most commonly used and anything less than a dollar is paid for in Cambodian riel.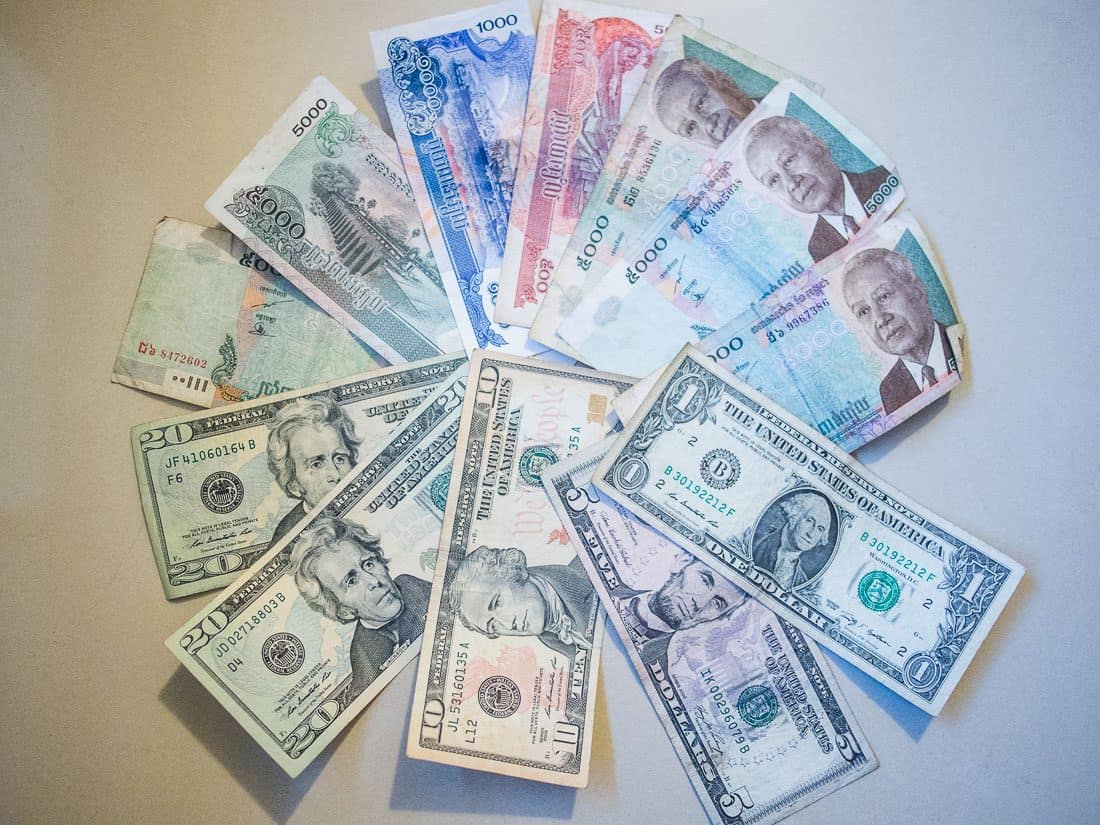 4) There are no coins in the country, only notes.
People and Culture
5) Cambodia has a young population with 30% under 15 years old as the Khmer Rouge killed about 1/5 of the population during its rule in 1975-79.
6) There are many child vendors, especially around the Angkor temples, some of them looking as young as five. They have learned tricks to impress tourists like counting to ten in numerous languages. They are very cute but ChildSafe advises not to buy from them as it keeps them on the streets.
7) Colourful pyjamas are popular day wear amongst Cambodian women of all ages.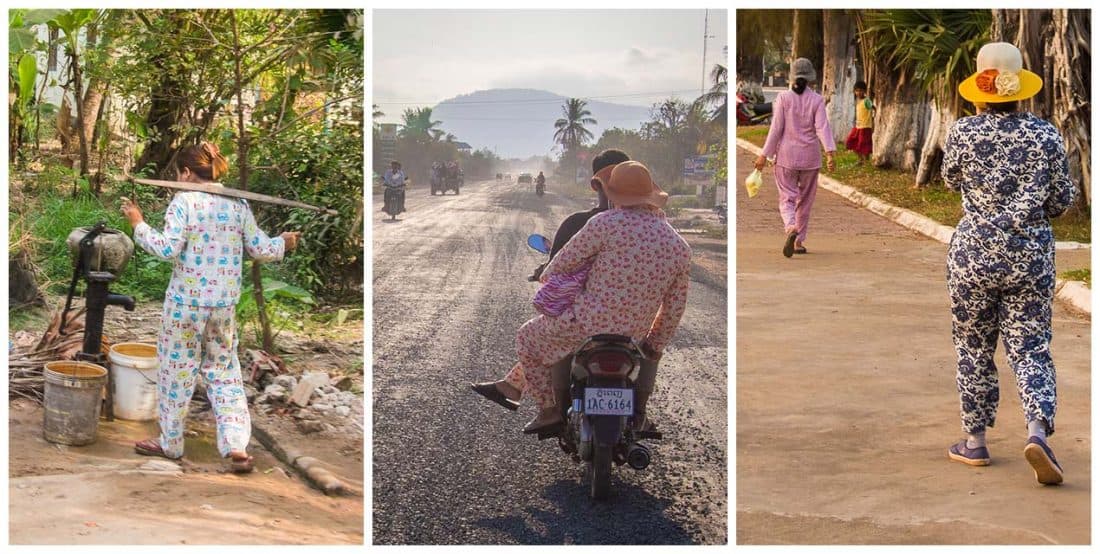 8) Public aerobics classes are popular, especially along the river in the capital Phnom Penh where you can also find free gym equipment.
9) You can get yourself weighed for $0.12 by ladies who walk the street with scales.
10) The Cambodian People's Party has been in power since the fall of the Khmer Rouge in 1979. There are party signs everywhere.
11) Buddhists are cremated when they die and their ashes placed inside stupas within temple grounds.
12) Wooden houses on stilts are the most common dwellings in the countryside. Hammocks swing in the shade underneath.
13) Before entering a Cambodian home and many restaurants and shops everyone takes off their shoes.
14) Instead of toilet paper many Cambodians use the "bum gun" water hose that is found next to the toilet.
15) Squat toilets are so common that this restaurant had to ask guests not to stand on their Western toilet seat.

Transport
16) Tuk tuks in Cambodia aren't like the three wheelers in the rest of Asia. Here a motorbike pulls an open side carriage.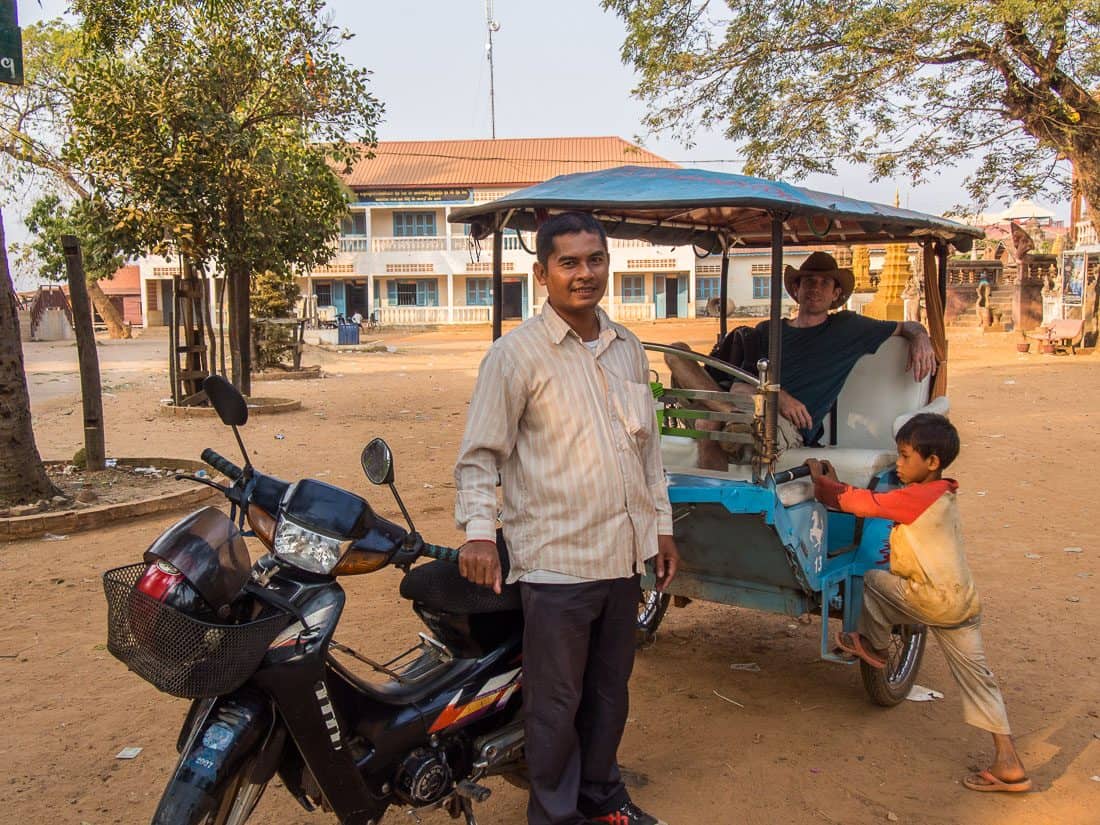 17) Petrol is commonly sold in plastic or glass bottles (Pepsi is popular) by the side of the road.
18) Motorbikes are more common than cars and Cambodians can fit an astonishing number of people on the back of them. Three adults or families of five is normal.
19) Motorbikes are driven by scarily young kids like these four who were trying to fit a fifth friend on too.
20) Motorbikes are used to transport all kinds of things including huge dead pigs, or pull trailers to transport even more people and things.
21) Cyclists can be seen grabbing onto motorbikes to hitch a ride.
22) Traffic doesn't stop at most junctions, drivers just slow down and mingle together.
23) Roads can be very dusty in Cambodia so locals often wear surgical masks, provided free at petrol stations.
Food and Drink
24) Motorbikes are used to power mobile street food stands that sell everything from grilled fish to steamed corn to boiled eggs.
25) Cambodia was a French Protectorate from 1867-1949. The French legacy means that baguette stalls are everywhere.
26) There are many good cause restaurants run by NGOs that offer training to former street kids or women, or whose profits go to charity.
27) Instant noodles are a popular street snack and even turn up in restaurant noodle dishes.
28) Cambodians dry all kinds of food to preserve it. We saw fish, meat, cooked rice, and vegetables like taro drying in the hot sun by the side of the road.
29) Freshly pressed sugarcane juice from street stalls is a refreshing drink for $0.25.
30) Young green coconuts are also delicious. The tops are sliced off so you can drink the coconut water with a straw.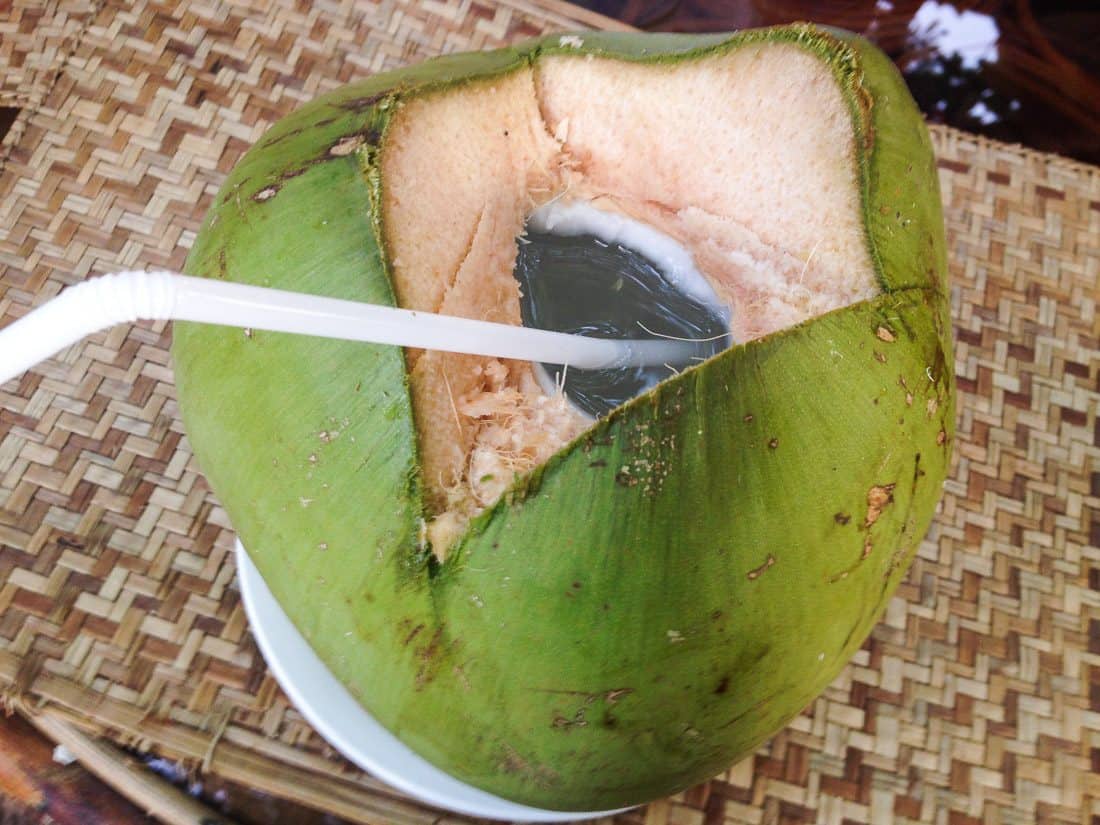 31) Beer is often the cheapest drink on a menu—usually never more than $1 in restaurants.