This page contains affiliate links. Please read our disclosure for more info.
We're sightseeing lightweights. It may seem like we do a lot each year but we spend as many days on our laptops or relaxing by the pool as we do out exploring, and one museum or temple a day tends to be our limit. Which is a problem at Cambodia's Angkor temple complex, an archaeological site that stretches over 400km2 and contains hundreds of temples from the different capitals of the Khmer Empire from the 9th to 15th century. There are an overwhelming number of ruins to explore and many visitors complain of temple burnout.
We took a laid-back approach to visiting Angkor. We spread our visits out over a week, were done by 10.30am each day, and didn't stress about trying to see everything.
We aren't history or archaeology buffs so just focused on wandering around, soaking up the atmosphere and enjoying whatever we ended up seeing. We weren't blown away by every temple but we had some magical moments wandering through grand entrances and down ancient passageways, admiring intricate stone carvings in shades of pink and green, and clambering over piles of bricks and tangled tree roots. You can't help but be impressed by the scale and beauty of Angkor.
These are our tips for lightweights like us to enjoy a trip to Angkor's temples.
1) Get A Hotel with a Pool
The nearest city to the Angkor temples is Siem Reap, 8km away. Hotels are very competitively priced here and you can find a hotel with a pool for as little as $25 (less if you go for a fan room rather than A/C). We definitely recommend it as it's a wonderful way to relax after a morning exploring the hot and dusty temples.
We stayed at My Home Villa—the rooms are fairly basic and the WiFi was variable but it had everything else we need (private hot water bathroom, A/C, desk, fridge) plus a pool, free breakfast and airport pickup. You can find many more hotels in Siem Reap here.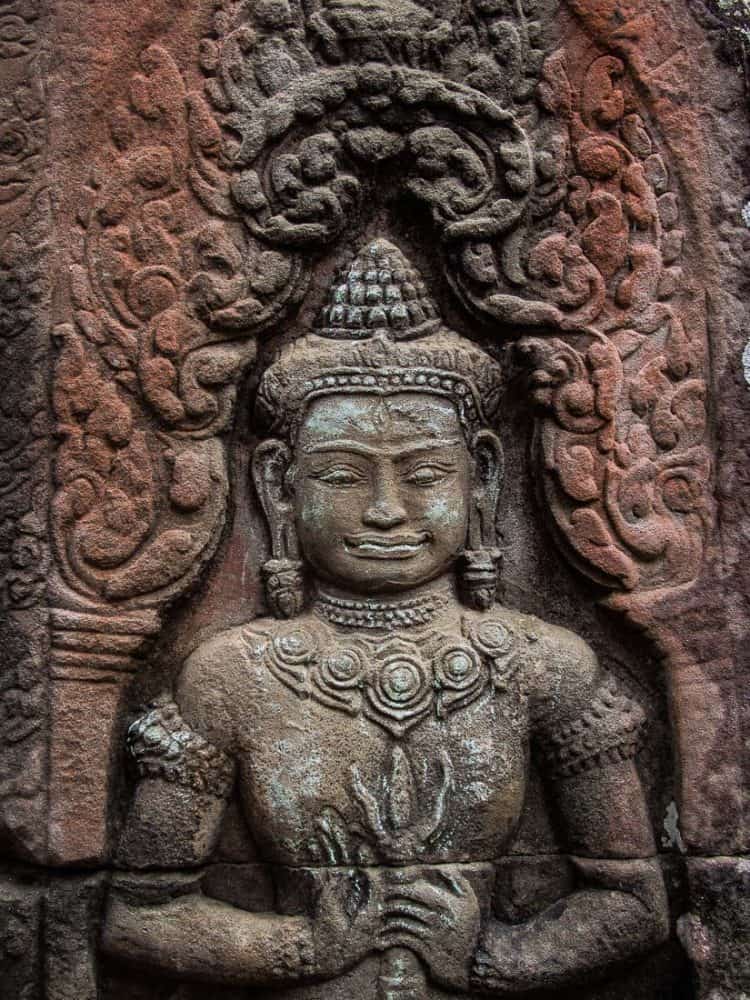 2) Buy a Three Day Pass
To visit the Angkor temples you have the choice of a one day ($37), three day ($62) or seven day ($72) pass. For lightweights we think a three-day pass is the best option. Technically we could have seen all the temples we visited in one day but it would have been a very long, hot day and not much fun. A seven-day pass (valid for a month) would have been too much for our needs but three days (valid for a week) worked well as we could spread out our visits.
To avoid queues it's best to buy your pass the day before you want to use it. If you buy it after 5pm you can enter the park for a free sunset and it won't count towards your three days.
3) Mix Temple and Non Temple Activities
Spending a week in Siem Reap is ideal if you want to explore Angkor at an easy pace. As a three-day pass is valid for a week you can mix your visits up with non-temple activities like lounging by the pool, eating, yoga, horse riding, cooking classes, visits to floating villages on the Tonle Sap lake, and much more. Read more things to do in Siem Reap beyond the temples.
4) Hire a Tuk Tuk For At Least One Day (And Be Selective)
The temples are spread out and even the nearest one is 8km from Siem Reap so although it's possible to explore by bicycle, it's best to hire a tuk tuk (an open sided carriage pulled by a motorbike) for at least one day to save your energy. Unfortunately it's not possible for foreigners to hire motorbikes in Siem Reap (although it is in the rest of the country). Hiring a car is also an option but a lot more expensive and we liked the breezy ride in the tuk tuk.
Be careful when choosing your tuk tuk driver. We naively assumed that a driver organised by our hotel would be good but he turned out to be very inflexible. He wanted us to do the typical tourist itinerary of the small circuit on day one, the big circuit on day two, and the further away temples on the final day, and was not pleased with our plan to mix and match according to our needs.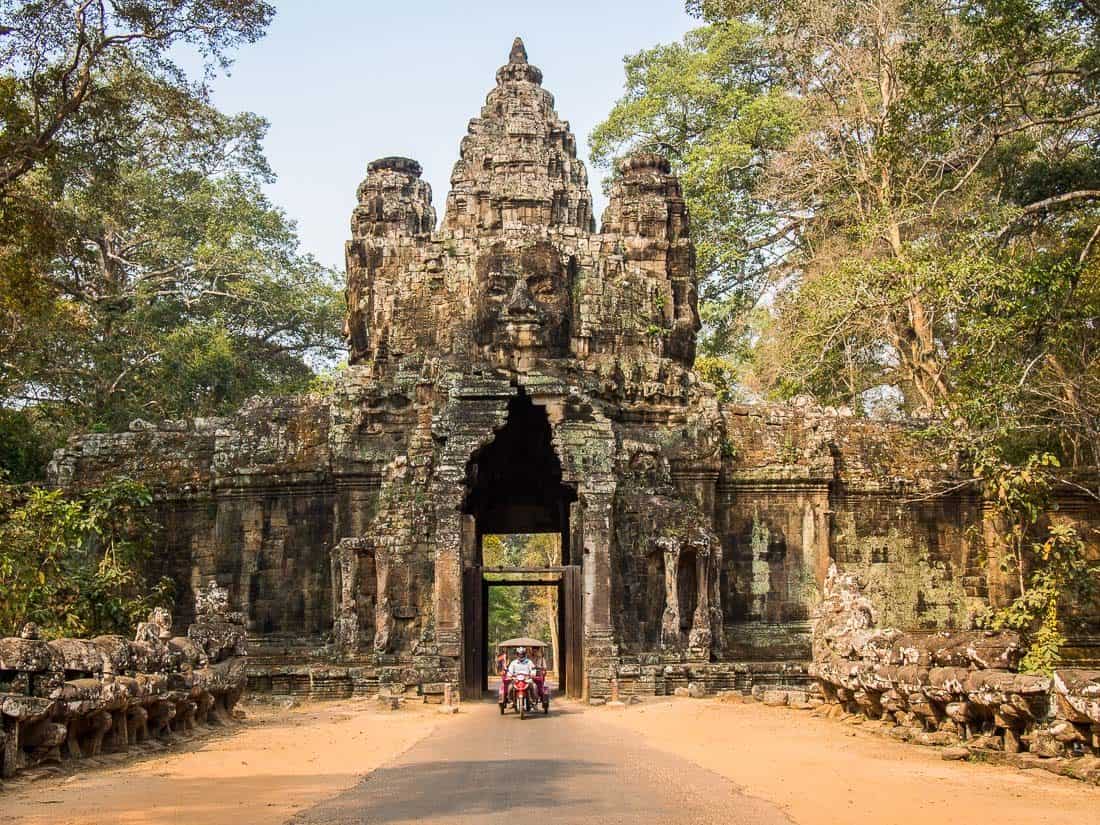 We hired a tuk tuk for buying our tickets and sunset ($6) and for our first full day ($20 including sunrise, $15 without). On the second day we cycled (bike hire $1 a day each) which saved us money and gave us more freedom, and on the third we shared a van with two friends ($65 total) to visit further away temples.
We used the driver Long Kim San who has a tuk tuk which we used to visit the floating village of Kompong Kleang, as well as an air conditioned car and van which we also used. He was reasonably priced, reliable, flexible, and went above and beyond by providing free cold water and giving us some basic information about the temples. He even joined us on our boat tour of the floating village and acted as a tour guide, which he wasn't being paid for.
5) Don't Get a Guide
Well, you could, but honestly I don't think guides work well for sightseeing lightweights. It's difficult to find one who doesn't want to bore you to death with every fact and figure they know and I end up so busy trying to concentrate on what they are saying that it stops me from enjoying being in the place. We didn't need to know the significance of every carving or the date of every temple. We got some basic information from the Lonely Planet guide and were happy with that.
6) Start Early (and Finish Early)
This was the biggest factor in our enjoyment of the temples. Each day we left for the temples at 6am (5am on our sunrise day) and were done by around 10am. In the mornings it's much cooler and crowds are light before the tour buses arrive around 8 or 8.30am. 7am was a magical time at even the most popular temples like Ta Prohm and Bayon and we were able to enjoy serene moments without anyone else around. By 9am the temples were getting crowded with loud tour groups and the heat was on the rise. We would start the day with the most popular ruins, move on to some quieter ones and then call it quits by mid morning.
You could also have a rest over lunch and return in the late afternoon but 3-4 hours of temples a day was more than enough for these lightweights.
7) Lower Your Expectations For Sunset and Sunrise
One of the biggest questions Angkor visitors have is where to watch the sunset and sunrise. Our advice is lower your expectations for both. You could get lucky but for us and many others it can be a non event.
Phnom Bakheng is the major sunset spot which we skipped in favour of Pre Rup which is quieter but still busy and the sunset was disappointing. It's worth going for sunset after you've bought your tickets but wandering around a quiet temple in the glowing light rather than visiting a "sunset spot" might be a more enjoyable experience.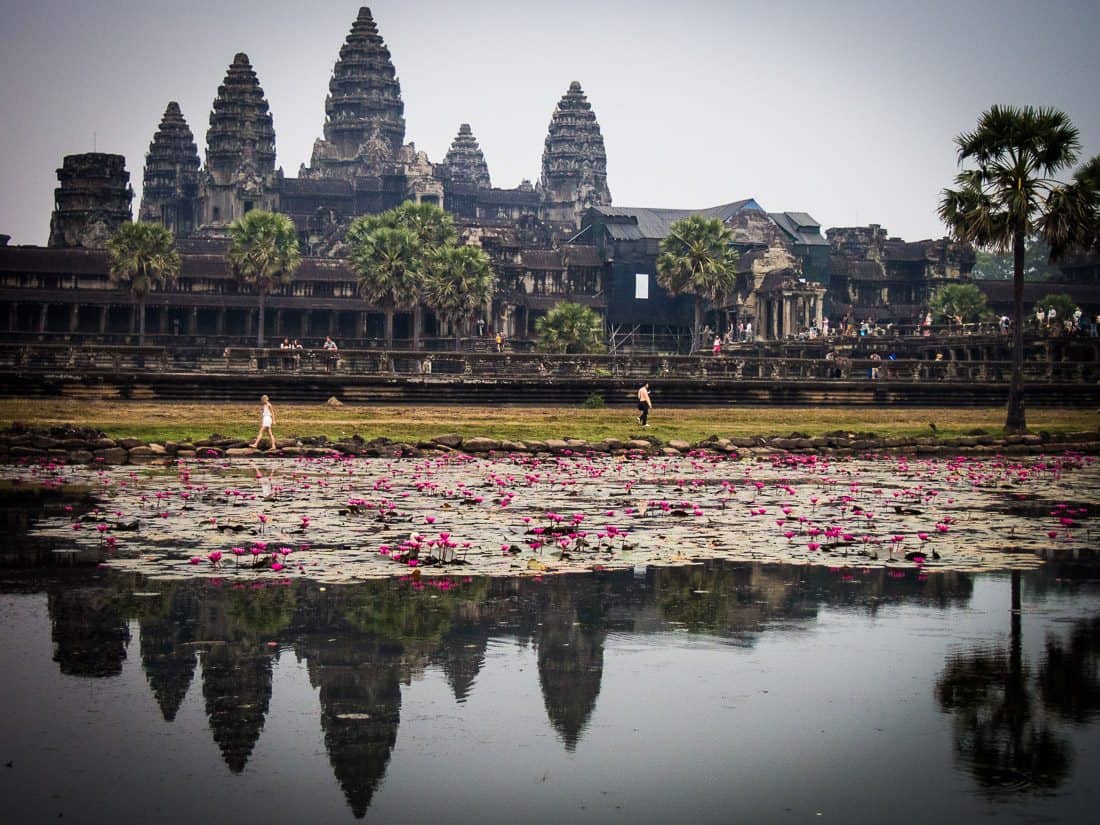 Angkor Wat, the largest and best preserved of the Angkor temples is the sunrise location. I do think it's worth going but don't expect your experience to be like all those amazing photos you've seen. For a start you'll be sharing the sunrise with hundreds of other people so get there early for a good spot—we left Siem Reap at 5am and got a seat on the edge of the pond on the left hand side. The sun never made an appearance but it was nice to see the reflections of Angkor Wat's towers in the pond. And you never know, you could get lucky.
The advantage of heading there for sunrise is that you can explore Angkor Wat afterwards when it's not very crowded, although the light wasn't ideal at this time of day.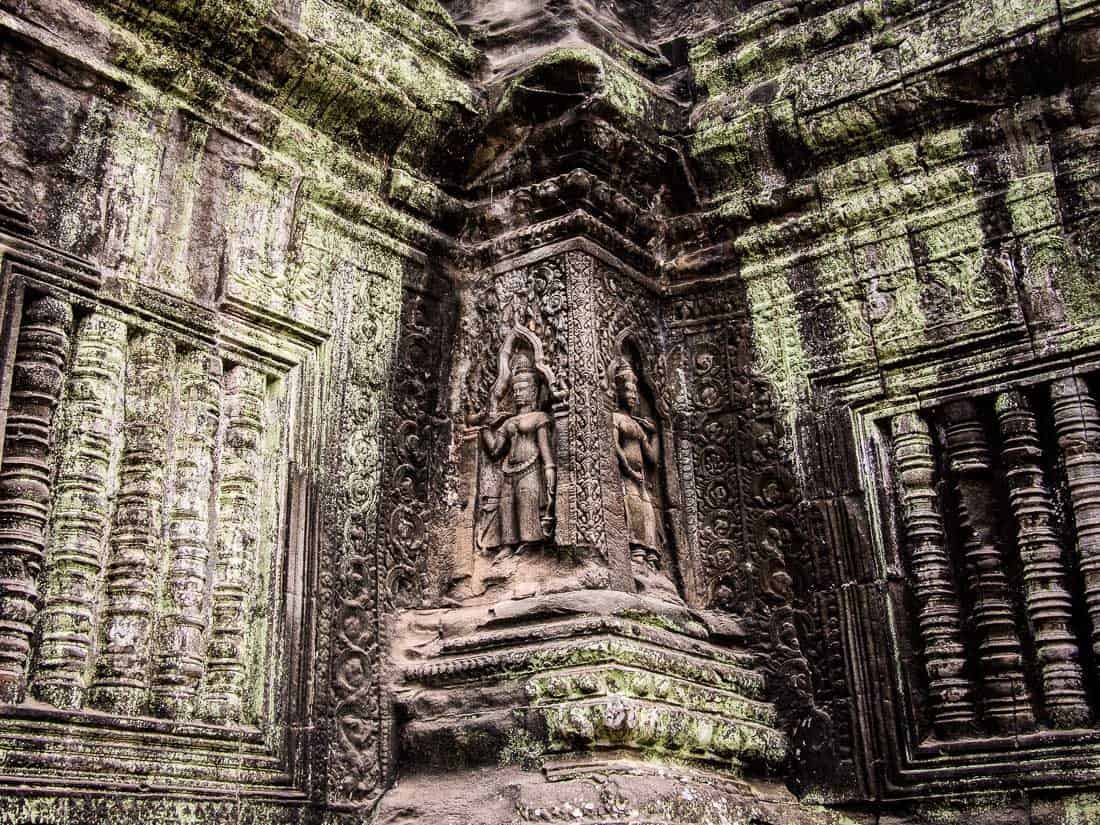 8) Know What You Like
The three most popular temples Angkor Wat, Ta Prohm (the "tree temple" made famous after Tomb Raider was filmed there), and Bayon (known for the faces carved out of its towers) are definitely worth a visit. It's also a good idea to have an understanding of what you like so you can plan your itinerary accordingly and not feel you have to see them all. Perhaps you like details so you could focus on the temples known for their intricate carvings; we liked the jungle temples where tree roots merged with the ruins for an undiscovered feel.
Our itinerary felt like a good mix of popular temples, the jungle temples we liked most, and some random quieter temples that were close by.
9) Head Further Afield
It's worth spending one day hiring a tuk tuk or car to take you to some of the further away temples (1 hour+ drive) which are quieter than the main complex. We shared an air-conditioned van with our friends Jenny and Tom of Till The Money Runs Out which was quicker and more comfortable than a tuk tuk to visit the intricate pink carvings at Banteay Srei and our favourite, the jungle temple Beng Mealea.
10) Treat Yourself to Cupcakes
Siem Reap has some excellent restaurants and cafes and after a morning temple hopping you deserve a treat. Our top pick is the beautiful, delicious cupcakes at Blossom Cafe (Update November 2019: Blossom has now closed permanently).
Our 3 Day Itinerary
This is by no means the definitive Angkor itinerary. We skipped many temples but we were satisfied with what we saw and just spending the mornings at the ruins was plenty for us. We spent 9 days in Siem Reap so had a day or two break between each temple day. The approximate times are when we left Siem Reap to when we headed back. The temples in bold are the ones we most recommend.
Day 1 (Tuk tuk, 4.30pm-6.30pm)
Buying tickets and sunset at Pre Rup.
Day 2 (Tuk tuk, 5am-10.30am)
Angkor Wat sunrise, Ta Prohm, Banteay Kdei, Ta Som, Preah Khan.
Day 3 (Bicycle, 6am-10.30am)
Angkor Thom including South Gate, Bayon, Phimeanakas, Baphuon, Elephant Terrace, Victory Gate.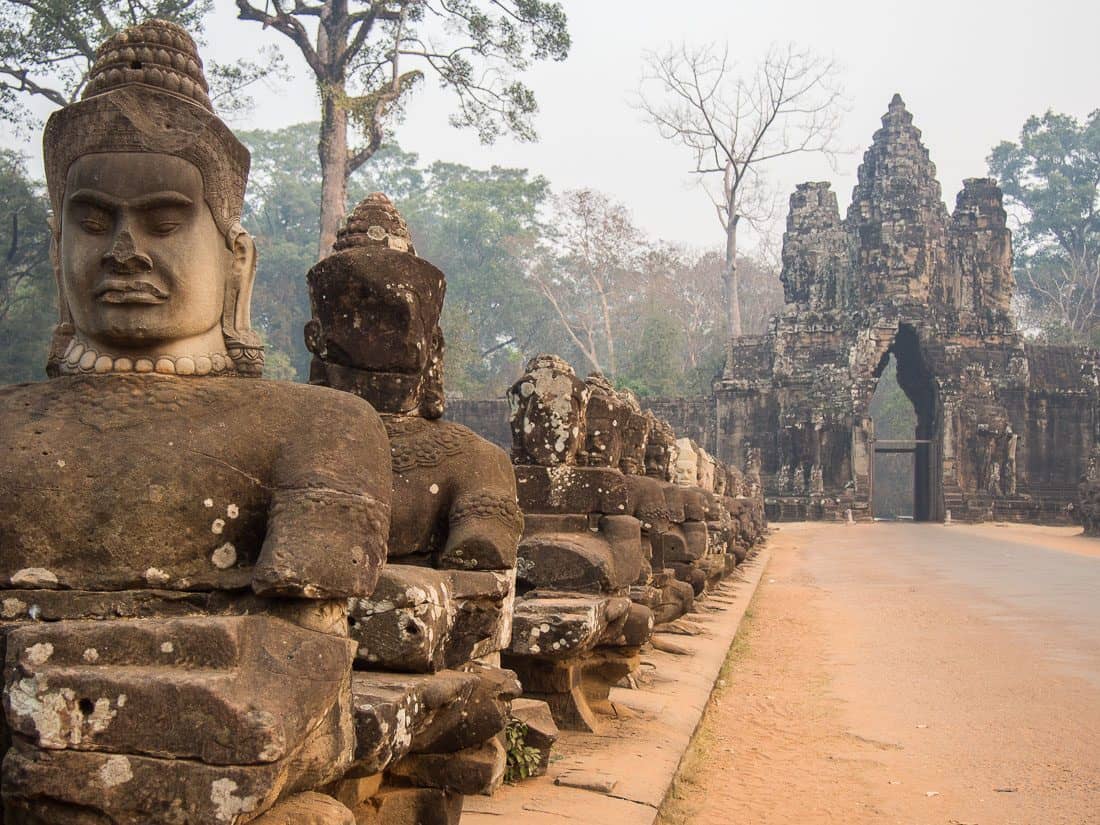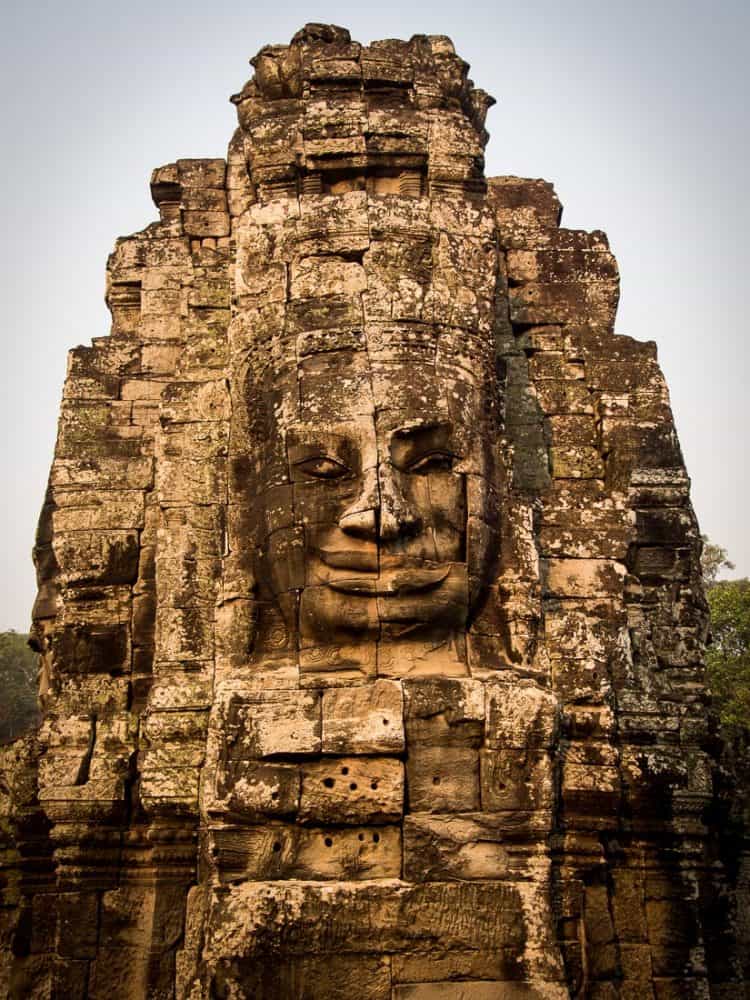 Day 4 (Van, 6am-9.30am)
Banteay Srei, Beng Mealea ($5, not included in pass), and one other temple on the way back.
The temples of Angkor are a place that anyone can enjoy whether you are into history, ruins and temples or not. If you are lightweights like us then the key is to take things at your own pace, don't feel pressured to see everything, and intersperse temple visits with other activities and plenty of cupcakes.