This page contains affiliate links. Please read our disclosure for more info.
Beng Mealea felt different from the other Angkor temples. We had to travel further to get there—40km east of the main temple complex—through the Cambodian countryside of orange dirt roads, endless rice paddies, whole pigs transported on the back of motorbikes, and stilted wooden bungalows, hammocks swinging below. The secluded location meant it was quieter than the other temples and we were alone when we entered the magical world.
Beng Mealea is 900 years old and was one of the Khmer Empire's largest temples, but unlike Angkor Wat it is mostly unrestored. The jungle is devouring the ruins, tree roots and twisted vines taking over what was once its towers, courtyards and chambers.
We felt like explorers discovering a lost world as we clambered and crawled over piles of moss covered rubble and sprawling roots, occasionally coming across an intricate carving of Hindu or Buddhist motifs in the sandstone blocks, gems amongst the debris.
A guard adopted us as our guide and although he didn't speak English he helped us navigate the wreckage, taking us through dark passageways and climbing up tall piles of stones that were once towers. There's no concern for health and safety here, and the experience was all the better for it.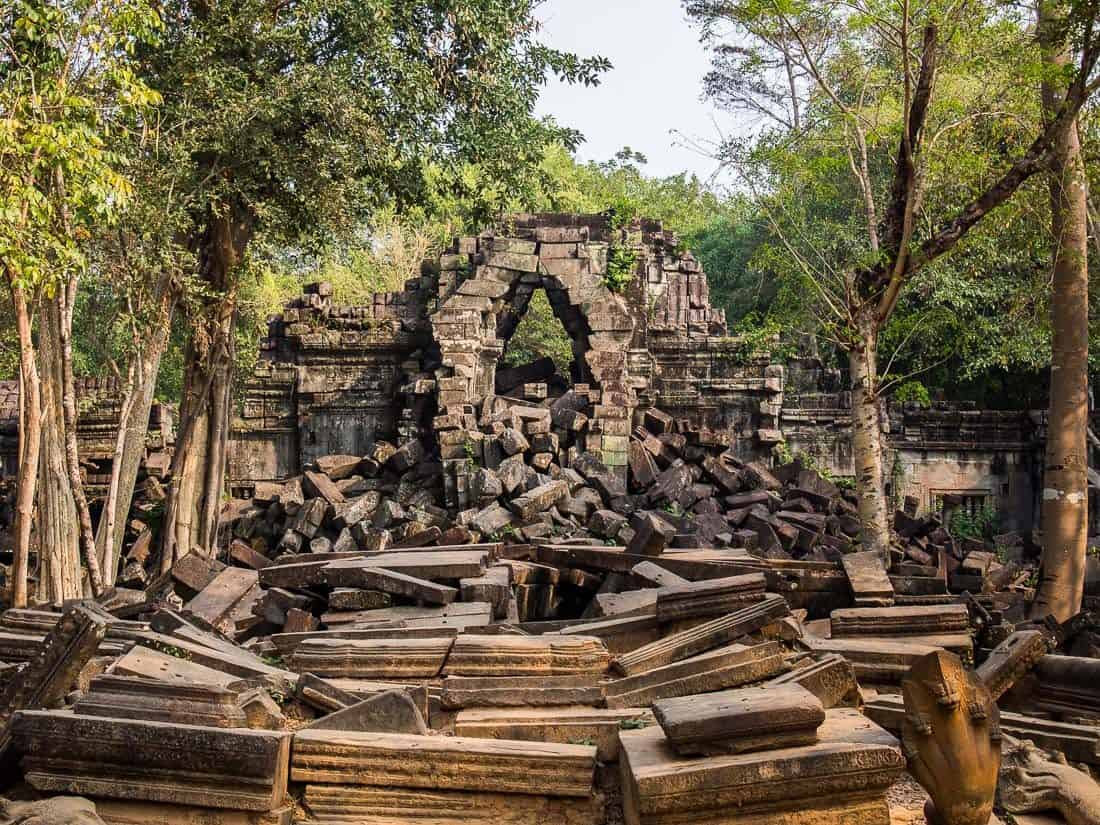 Beng Mealea was by far the most mysterious and atmospheric temple we visited at Angkor, an otherworldly place where nature is taking over, displaying its power and a hint of what would be if we left it unrestrained.
If you loved the popular tree temple Ta Prohm then don't miss Beng Mealea for the ultimate Indiana Jones experience.
Beng Melea Details
Entrance to Beng Mealea is $5. It is not included in the Angkor pass.
It is helpful to have a guide show you around but he will expect a tip (he asked for $5 per couple).
It's 70km from Siem Reap and takes 1.5-2 hours to get there. A tuk tuk is slower and dustier and costs $35. We shared a taxi with our friends Jenny and Tom of Till the Money Runs Out which cost $65. Our driver was Long Kim San who had a tuk tuk, car and van. His van was comfortable, air conditioned, and he provided free cold water.
We combined Beng Mealea with Banteay Srei in a morning.
We recommend arriving as early as possible to avoid the heat and because it is becoming more popular with tour groups who started to arrive around 9.30am.
Wear good shoes for all the scrambling (our hiking sandals were fine).