This page contains affiliate links. Please read our disclosure for more info.
The provincial town of Kampot in southern Cambodia doesn't look like much at first sight. It's small and sleepy with wide dusty streets and dilapidated buildings.
Yet it's the place we stayed the longest in Cambodia—a few days turned into a week which turned into 12 days and it was only our expiring visa that forced us to leave this town we'd fallen for.
Kampot Travel Guide Contents
Why We Love Kampot, Cambodia
What is it that we loved about this small town that most visitors bypass in favour of the Angkor temples at Siem Reap or the beaches in Sihanoukville?
The Slow Life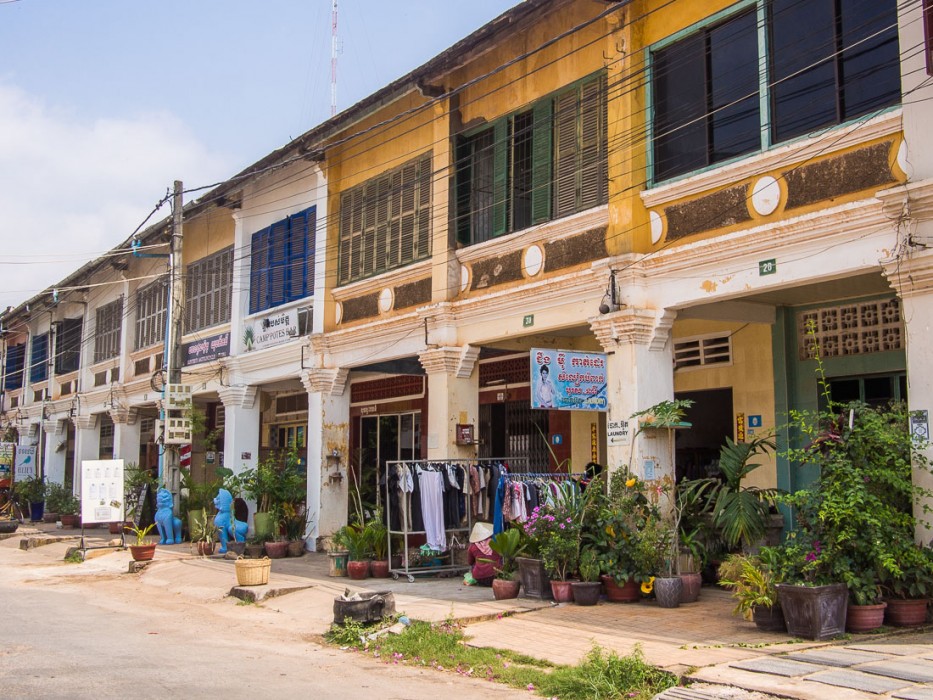 Kampot's sleepiness is part of its charm. Traffic is minimal and it's easy to get around the wide streets on foot, bicycle or motorbike. Life feels slow here, unrushed, with hot afternoons meant for lazing in hammocks or swimming in the river.
Charming Architecture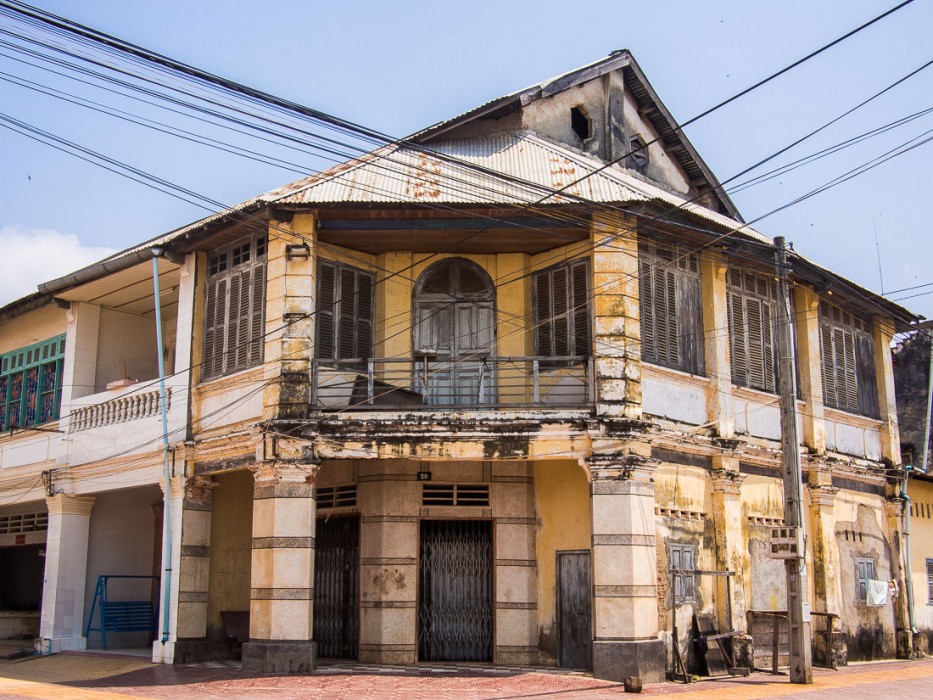 The crumbling architecture isn't beautiful, but it is charming—a mix of French colonial and Chinese style shop houses with fading blue and green wooden shutters and peeling yellow paint. Kampot isn't pristine but on certain streets where pink bougainvillaea blossoms on trees it feels lovely.
The Kampot River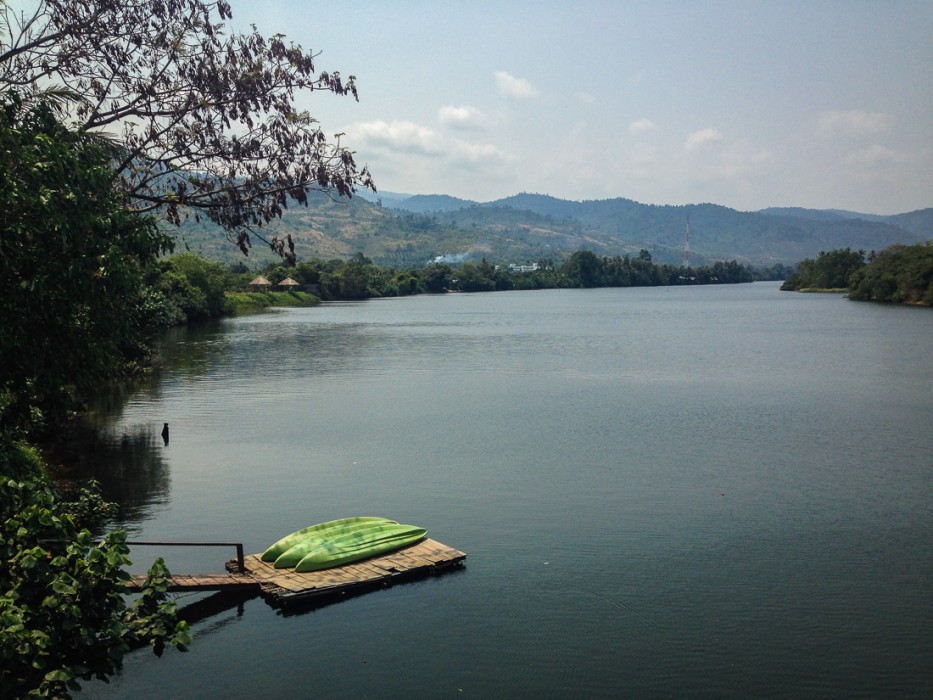 The riverside location at the foot of the Elephant Mountains is a huge part of Kampot's attraction. The river promenade attracts tourists and locals at sunset for strolls and happy hour cocktails. Just outside town you can swim and kayak from one of the riverside guesthouses—the closest thing to a beach in Kampot.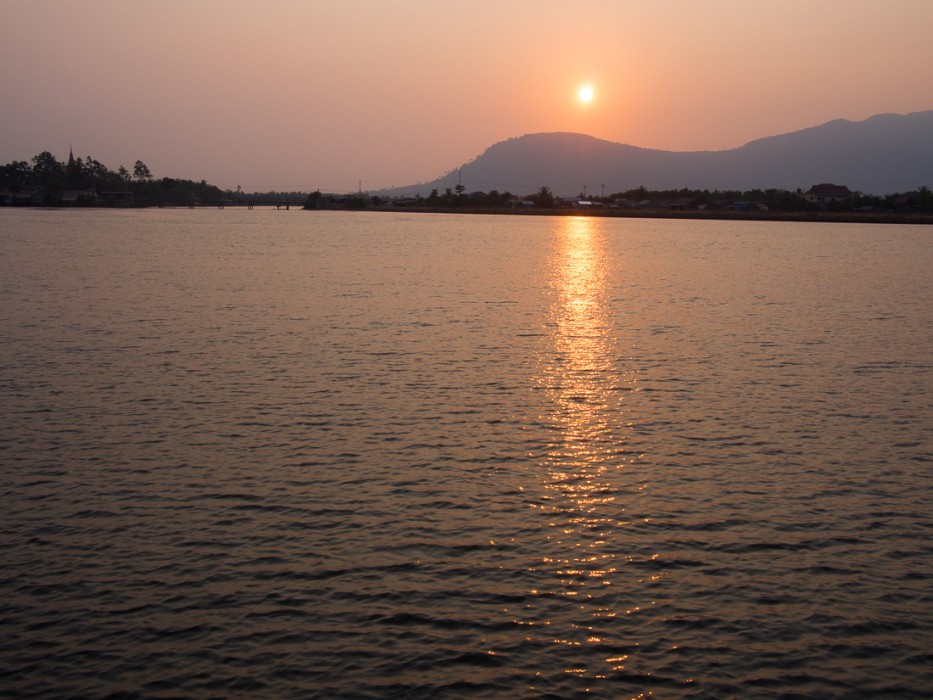 An Easy Place to Live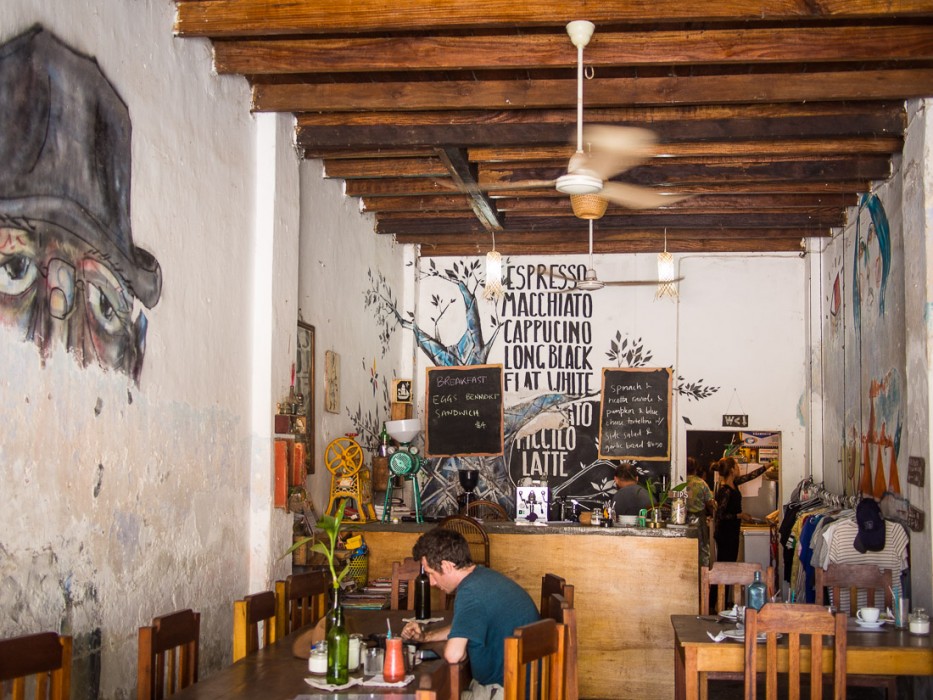 Kampot is an easy, liveable town that's great for digital nomads. It feels like a real Cambodian city that doesn't exist for tourism, but there are a number of expats—many working for the NGOs that are so common in Cambodia—so you can find good restaurants, cool cafes, and some comforts of home.
We'd love to return and rent a house for a month or two.
Great Food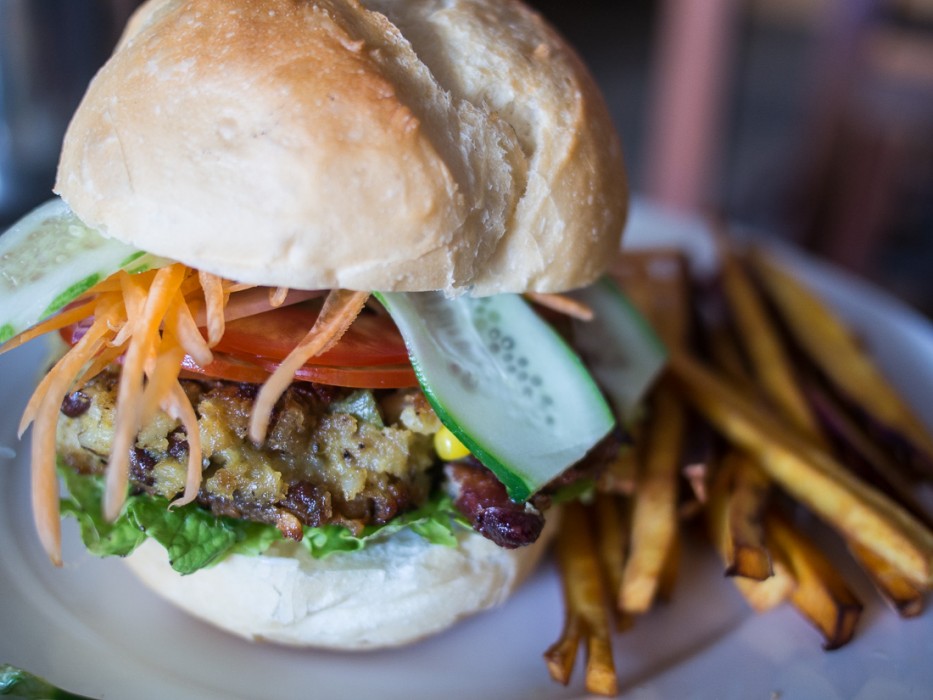 You can find everything from delicious pizza, veggie burgers and apple pie to street stands selling baguettes, freshly squeezed sugarcane juice, sweet potato cakes, and steamed corn on the cob.
The Surrounding Countryside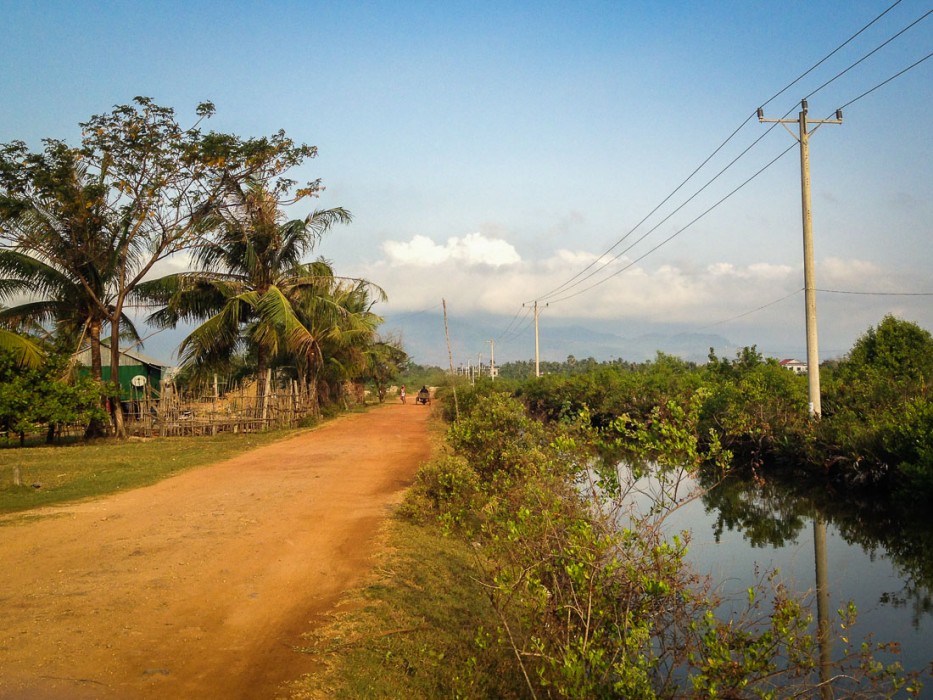 There's not much to do in Kampot itself, but there's plenty to do in the surrounding countryside. To explore you can take a tour or hire a tuk-tuk, but we preferred to travel independently by motorbike (you could also rent a bicycle).
The countryside starts just minutes outside town. Potholed tarmac turns to orange dirt and concrete houses become bamboo shacks or stilted wooden huts. It's a land of rice paddies and palm trees, water buffalo and humped white cows, waving children and salt field workers.
Back to Kampot Travel Guide Contents
Things to Do in Kampot
Explore the River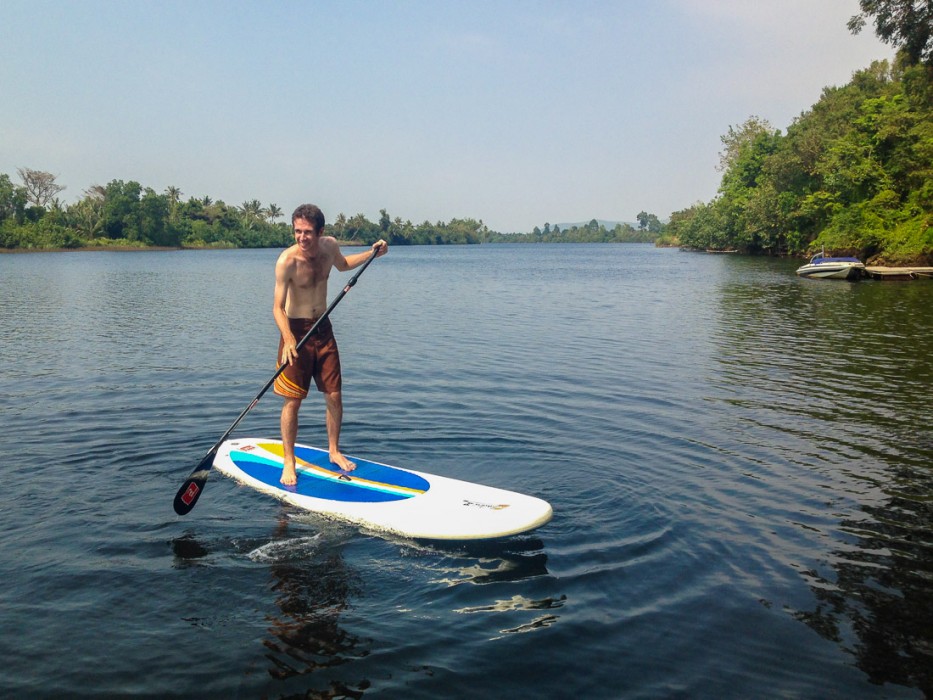 Many people stay a few kilometres out of town at one of the guesthouses in peaceful locations on the river. We stayed in town but loved spending afternoons at the beautiful, serene GreenHouse Guesthouse for lunch, kayaking, stand up paddle boarding, and swimming off their beach. This is definitely one of the best Kampot activities.
GreenHouse rents kayaks for $6 an hour and paddle boards for $8 an hour (with reduced rates for guests). Champa Lodge also rents out kayaks and paddleboards.
If you feel like taking things easier, many guesthouses can arrange guided trips on wooden longtail boats down the river. At GreenHouse the popular three-hour Love the River trip costs $19 per person for two people (less if more people join the trip).
From town you can also take a sunset and firefly river cruise ($5) on larger boats.
Visit the Salt Fields
Kampot is the land of salt and pepper. The salt fields are just outside of town. Salt water is brought from the sea 5km away into prepared clay fields and left to evaporate until salt crystals form. On my morning run I watched the workers raking the salt and carrying it off in heavy baskets. At sunrise it was a stunning place.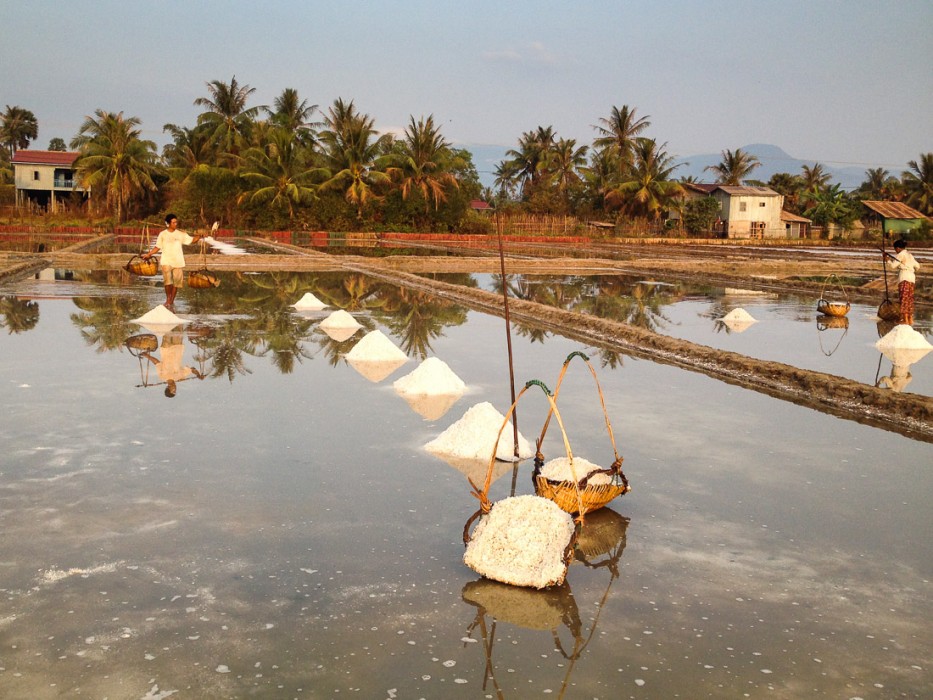 Visit a Kampot Pepper Farm
Further afield towards the beach town Kep are pepper plantations that produce some of the best pepper in the world. The green berries are sun-dried to make black pepper, while the riper red peppercorns are boiled to remove the skin leaving the white pepper seed inside.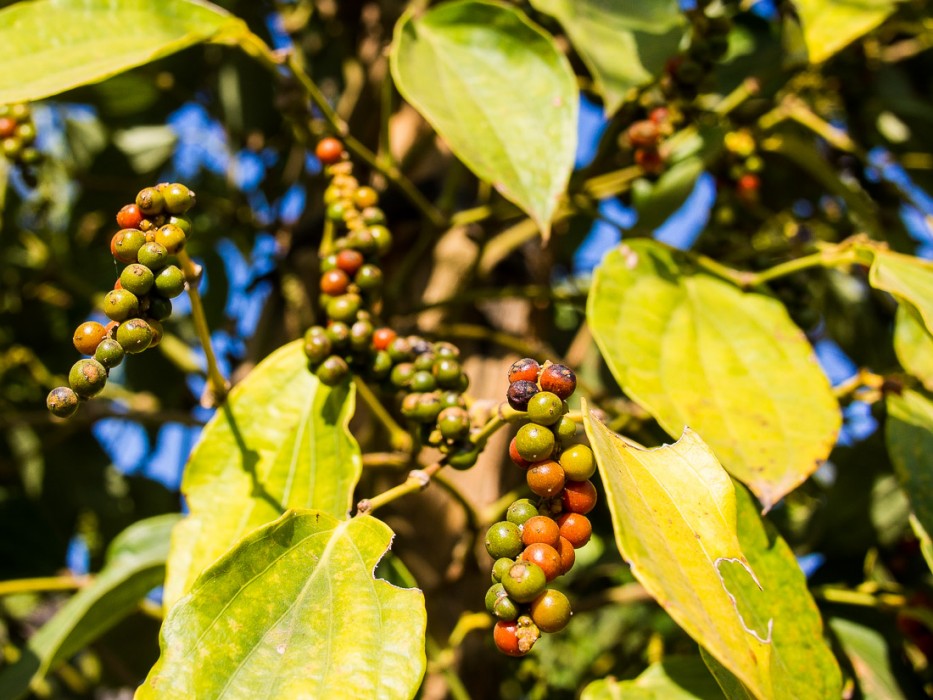 We spent the day at the Vine Retreat, a hotel and restaurant on a pepper plantation. Although the free pepper tour was brief, it was a beautiful place to have a delicious organic lunch with produce from their farm and relax by the pool.
There are other plantations in the area that run more detailed tours, but we couldn't tear ourselves away from the pool to find out. The free tours at La Plantation get good reviews (every day from 9am to 6pm).
Take a Yoga Class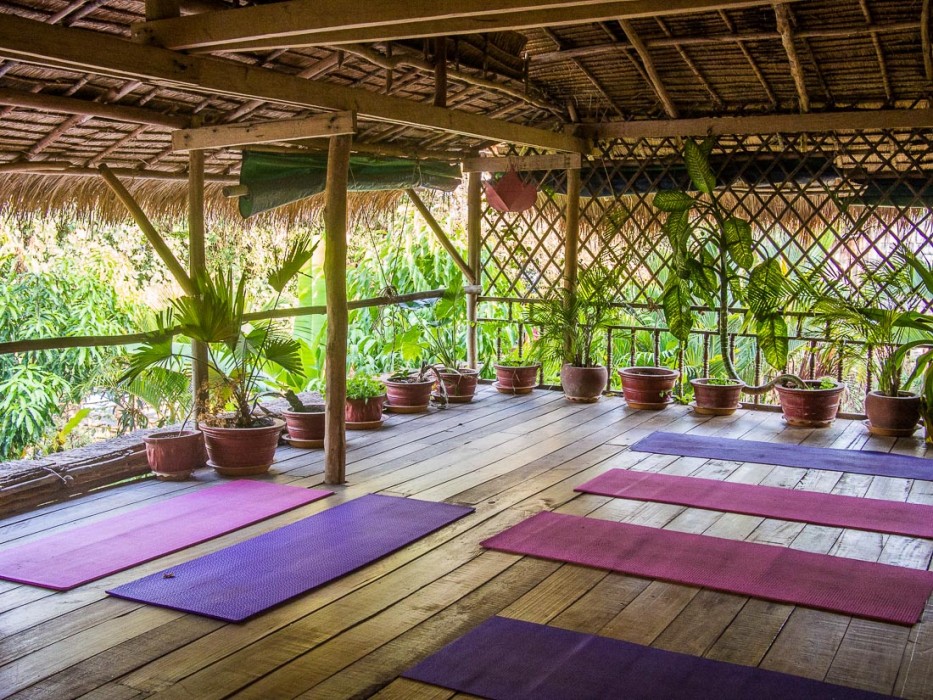 A highlight of my stay in Kampot was cycling down the river to yoga classes at the women's only spa Banteay Srey, a refuge and training centre for young women from difficult backgrounds to help them improve their lives.
It's the perfect location for yoga—an open-sided upper level of a wooden house with views of the garden and river. At $5 per class (or $30 for 10 classes) it's great value. Classes take place at 9.30am and 5pm every day except Tuesdays—the morning classes are more energetic and are open to men.
The spa feels like an oasis and is a lovely place to get a massage or treatment, have lunch in the vegetarian cafe, and relax on their comfortable riverside deck.
Next time I'll try a new Kampot yoga class at vegetarian restaurant Simple Things. Classes cost $5 and take place every day except Wednesdays at 9am and 5pm.
Day Trip to Kep and Rabbit Island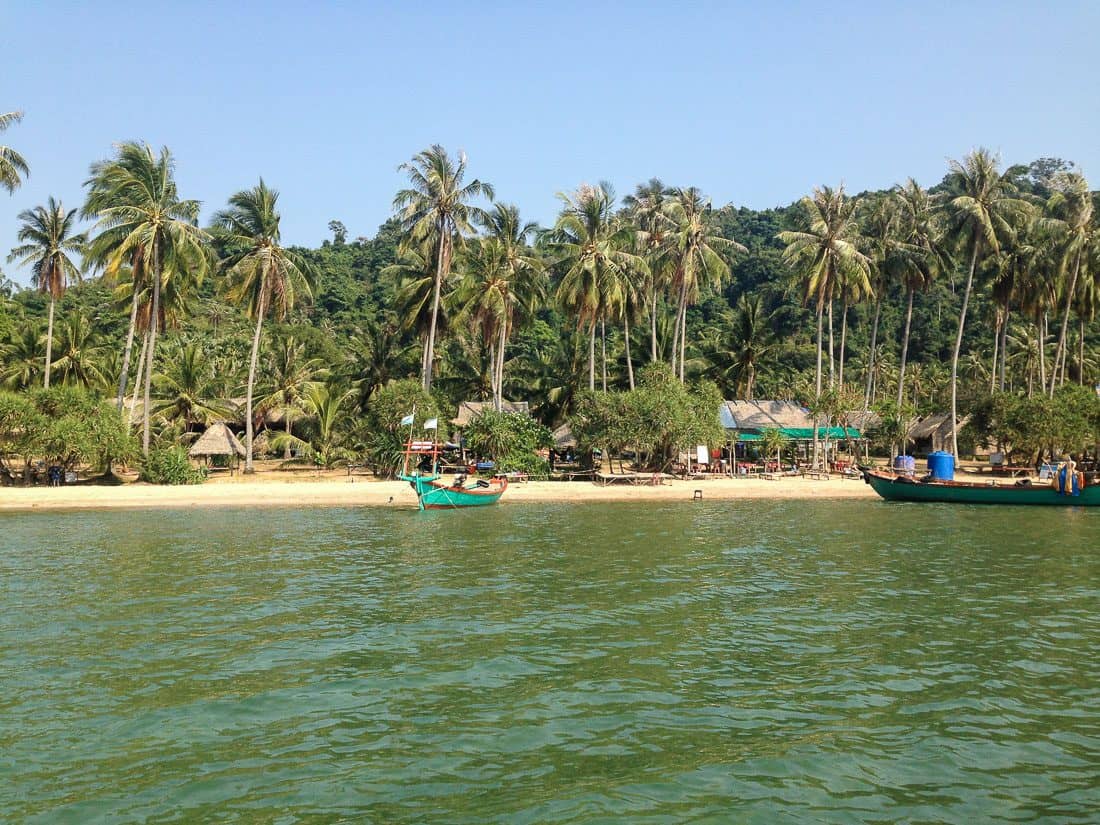 Kep is a small coastal town 30 minutes from Kampot. It's another sleepy town but lacks a town centre, so I think Kampot makes the better base for this area. It's known for its crab market and butterfly-filled Kep National Park.
From Kep you can take a 30-minute boat ride ($25 for the whole boat) to Rabbit Island (Koh Tonsay), a tranquil place to spend the day, which we did with our friends and fellow app developers Jenny and Tom. We swam in the warm clear green sea, lazed on the free sunbeds and hammocks, and drank $0.75 beers and fresh coconuts.
Hire a Bike
Hiring your own transport is a great way to explore the surrounding countryside. You can rent a bicycle for $2 a day or a motorbike for $5 or $6 a day.
Bokor Hill Station
The trip up the mountain to the Bokor Hill Station is one of the most popular places to visit in Kampot, but we skipped it as we heard that the development of a Chinese casino hotel had ruined the atmosphere.
You can still enjoy the beautiful mountain views on the way up though. You can visit by motorbike, tuk-tuk, or take a tour.
More Things to Do in Kampot
More things to add to our Kampot itinerary next time include:
Rock climbing and caving with Climbodia.
Visit Secret Lake (Brateak Krola Lake) – This could be combined with La Plantation pepper farm.
Khmer cooking class at Khmer Root Cafe (also at Secret Lake).
Kampot Guesthouses
Kampot accommodation is excellent value compared to other places in Cambodia. You have the choice of staying in a guesthouse or hotel in town or a few kilometres away in a beautiful location along the river. The riverside accommodation is mostly simple bungalows without air conditioning or hot water.
In Town – Mea Culpa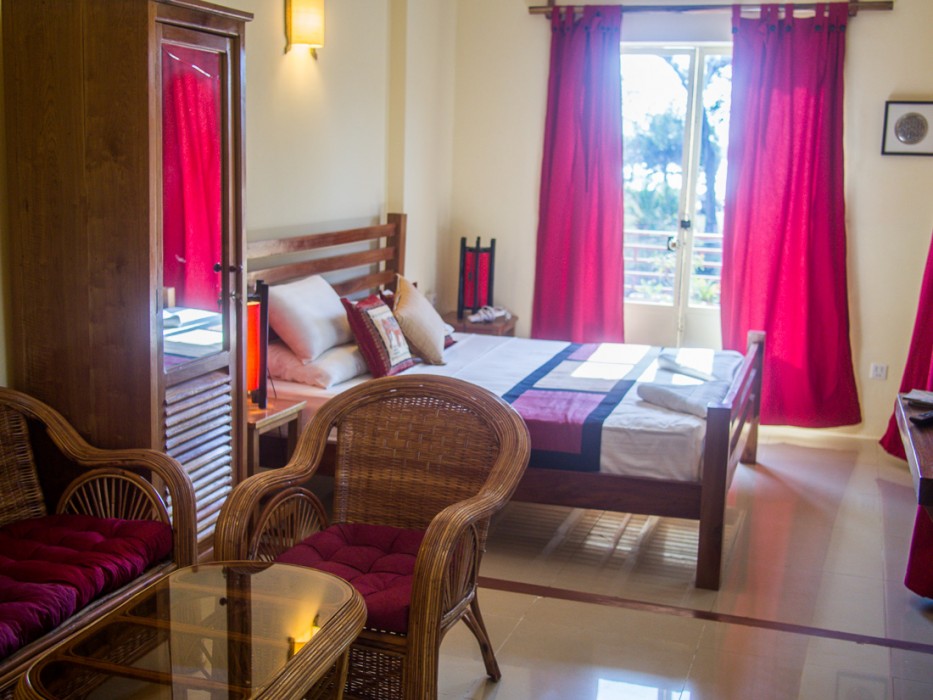 The best place to stay in Kampot is Mea Culpa, the only guesthouse in Cambodia that we absolutely loved. At $25 a night it was around the same price as other hotels we stayed in but was far nicer.
Our room (#11) was huge with lovely decor, air conditioning, a small desk, a seating area with a couch, armchairs and table, a comfortable bed, and a large balcony with river view.
Mea Culpa also had the best WiFi we experienced in Cambodia, free bicycles, free water and tea/coffee, a garden, and even a wood-fired pizza oven in the restaurant.
The staff was helpful and arranged motorbike rental for us in five minutes ($5 a day)—no paperwork or deposit and they just added it to our bill. We highly recommend this Kampot guesthouse.
Check the latest prices of Mea Culpa here.
By the River
I recommend hiring a bicycle or motorbike if you stay out of town as it will work out cheaper than getting tuk-tuks. These are some popular guesthouses by the river:
Samon Village – Rustic bamboo bungalows from $10 a night with good food and beautiful views.
GreenHouse, Kampot – Comfortable bamboo bungalows from $25, a good restaurant and kayaks and paddle boards to rent.
Champa Lodge – If you want something more comfortable than a bamboo bungalow, Champa Lodge has lovely double rooms. They also rent kayaks and paddle boards.
Search for more hotels in Kampot here.
Back to Kampot Travel Guide Contents
The Best Kampot Restaurants
All of these Kampot restaurants are vegetarian-friendly.
Since our visit a few more restaurants have opened up that we want to try next time:
Ellie's Cafe – Good coffee, smoothies and breakfast.
bARACA – Creative tapas and cocktails.
Simple Things – Vegetarian cafe with healthy food, smoothies and coffee. Vegan options are marked on the menu.
Khmer Roots Cafe – Simple Cambodian cuisine at Secret Lake. Also cooking classes.
Kampot Night Market – The best option for cheap eats in Kampot. It's by the durian roundabout.
How to Get to Kampot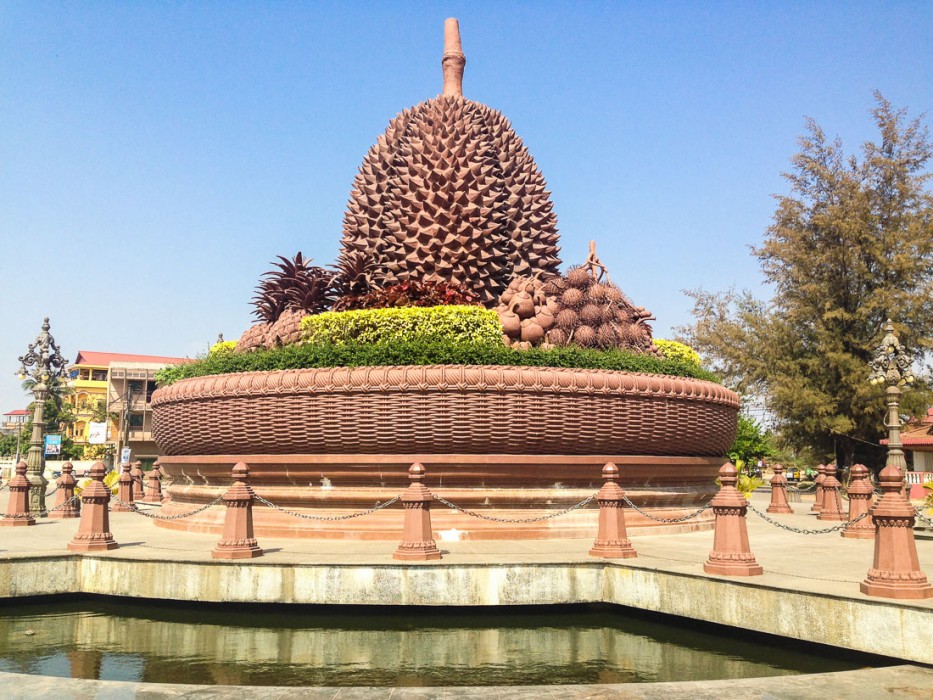 Phnom Penh to Kampot
Bus
You can take the bus from Phnom Penh to Kampot in 3-5 hours. Try to avoid taking a bus that goes via Kep as this makes the journey much longer.
Giant Ibis is the quickest way to get to Kampot on their 21-seat minibuses which cost $9. The trip takes 2.5 hours and they have a good safety record. You can book with any guesthouse or travel agent or online yourself for an extra $1 (and choose your own seat). They depart from Phnom Penh at 8am and 2.45pm and from Kampot at 8.30am and 2.45pm.
Train
It is now possible to take the train from Phnom Penh to Kampot. The journey takes 4 hrs 40 minutes and costs $6. It's best to book tickets direct at the station.
Taxi
A private taxi from Phnom Penh to Kampot costs $35-50.
Sihanoukville to Kampot
There are no proper bus services from Sihanoukville to Kampot so you'll need to travel by taxi or minibus.
We took a crowded minivan from Otres Beach in Sihanoukville to Kampot which took 2.5 hours and cost $7. A private taxi would cost about $35 and is a better option if you have lots of luggage.
Sihanoukville International Airport (KOS) is the nearest airport to Kampot. It has direct flights from Siem Reap, Ho Chi Minh (Cambodia Angkor Air), and Kuala Lumpur (Air Asia). You'll have more choice of flights to Phnom Penh.
Kep to Kampot
Kep is only a 30-minute drive from Kampot. When we visited on a day trip we hired a motorbike from our guesthouse for $5 a day.
You can also hire a tuk-tuk ($10-15 depending on your negotiating skills) or a taxi ($20) or take a minibus (45 minutes, $4).
Back to Kampot Travel Guide Contents
Kampot Map
Where is Kampot?
Kampot is located in southern Cambodia a few hours from the beach resort Sihanoukville.
Resources for Planning a Trip to Kampot
Kampot was our favourite town in Cambodia. It's a charming, laid-back place that's perfect if you want a relaxing, affordable break from travelling around Southeast Asia with good food and interesting countryside to explore.
We much preferred it to touristy Sihanoukville where we struggled to find comfortable, affordable accommodation. We will certainly return to Kampot for a longer stay.
Read more about travelling in Cambodia.
If you enjoyed this post, pin it!
This post was originally written in 2014 and significantly updated in 2018.