This page contains affiliate links. Please read our disclosure for more info.
We were surprised by how vegetarian friendly Cambodia is. We ate many delicious meals and never struggled to find meat-free options. That said, we weren't very adventurous. We didn't eat street food—except for a few small snacks—or in local restaurants without English menus, as traditional Khmer food usually involves some kind of meat, fish, or at least fish broth or paste.
We only had a month in the country and didn't learn enough Khmer to be able to make our dietary requirements understood. Instead we mostly ate at restaurants aimed at Westerners. It was more expensive and did leave us feeling a bit distant from local life, but the food was delicious. Due to the large number of NGOs working in Cambodia there are many restaurants aimed at expats, or run as non-profit restaurants supporting good causes in Cambodia.
If you want to eat more like a local then take a look at this guide to being vegetarian in Cambodia from a Peace Corp volunteer who managed to find local dishes to eat, although she had to compromise on a number of things.
Street Food
Kralan
On a drive through the countryside outside of Siem Reap we saw numerous stalls by the road selling something in sections of bamboo. Luckily our tuk tuk driver explained that they were vegetarian so we got to try some.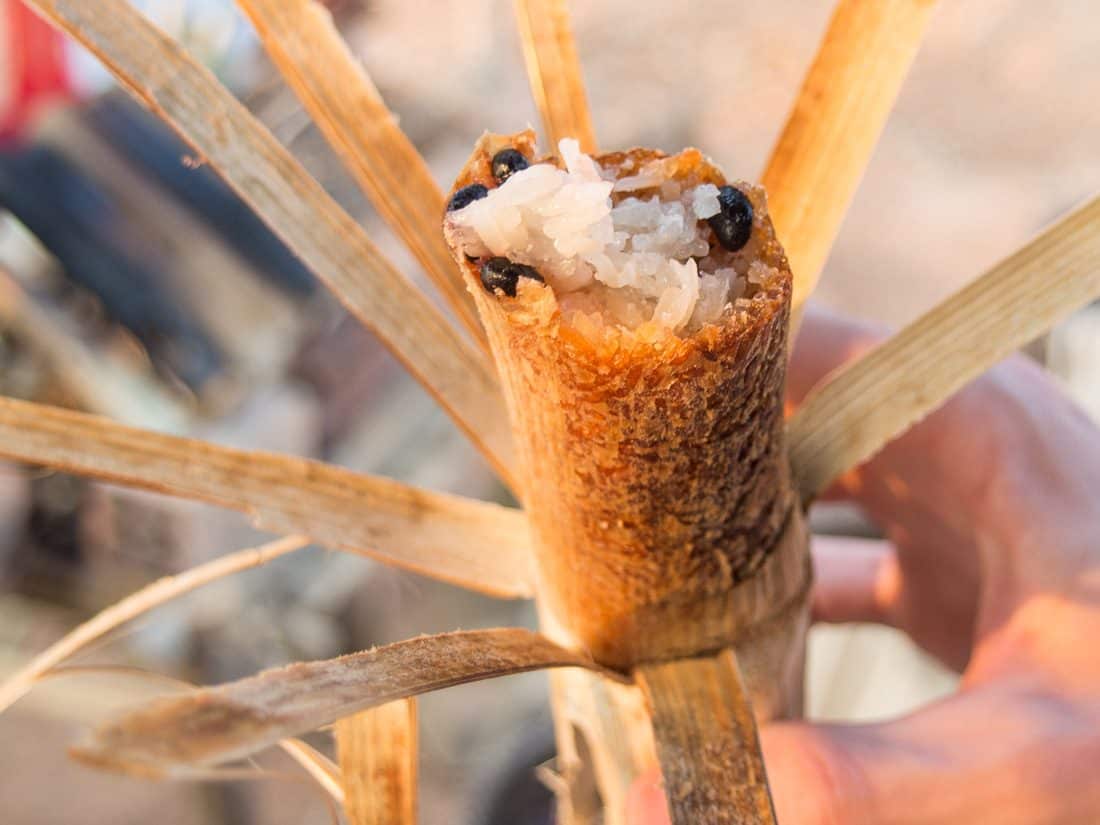 Kralan are bamboo tubes stuffed with sticky rice, red beans, grated coconut and coconut milk, and roasted over charcoal at the street stalls. You peel back the bamboo to eat the rice that's crispy on the outside and soft inside. It wasn't very flavourful but it was a nice and filling snack and we were happy to be able to eat a truly local dish.
Grilled Bananas & Sweet Potato Cakes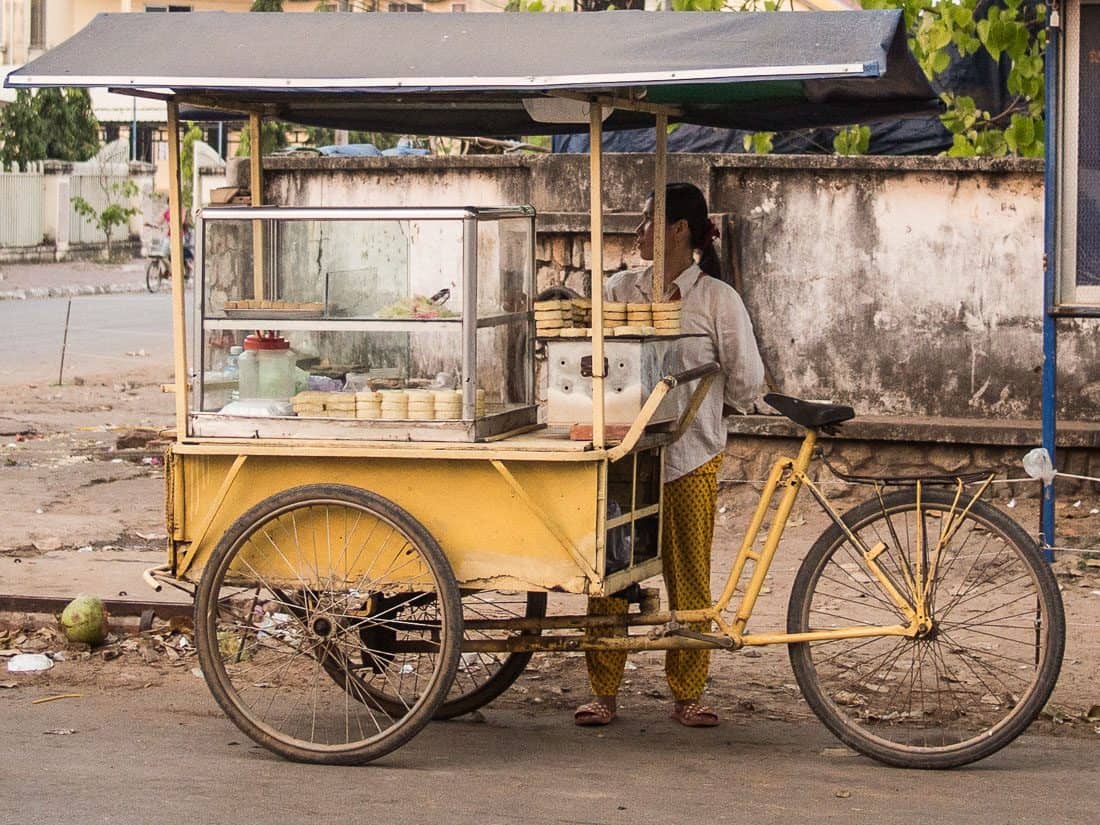 The most common vegetarian street snack is grilled bananas. You'll see small bananas on sticks being grilled on mobile street stalls everywhere. On the same stall they sometimes have grilled round white patties that are made of sweet potato and coconut. In Khmer they are called Domlong An or Noum Domlong Barang and only cost 500 riel ($0.12). They are simple but rather tasty.
Corn on the Cob
Another common street snack is steamed corn on the cob.
Baguettes
Thanks to the French legacy baguettes are everywhere in Cambodia and many street stalls sell baguette sandwiches. The filling is usually meat but they sometimes have some salad items too. We bought plain baguettes and brie from a supermarket and made our own. Good bread and cheese are definitely more easy to come by in Cambodia than in Thailand or Malaysia which made us happy.
Khmer Dishes
Fried Rice or Noodles
Vegetable fried rice or noodles are the most common vegetarian options in restaurants and we even saw them on the menu at simple restaurants when the bus stopped for lunch.
Vegetable Stir-fry
Most restaurants can whip you up a vegetable stir-fry but the most interesting options were in vegetarian restaurants with variations like lemongrass spicy basil vegetables (sadly not actually spicy but tasty) or vegetables with pineapple.
Noodle Soup
We didn't eat noodle soup often as I'm pretty sure that on street stalls the broth wouldn't be vegetarian, but we did in restaurants where they assured us it was vegetarian. Be aware that you may end up with instant noodles, which is a rather disturbing trend in the land of tasty rice noodles.
Vegetable Amok
Amok is a classic Khmer dish that is usually made with fish, coconut milk and curry paste, and steamed in a banana leaf. We often found a version with vegetables and tofu on menus in tourist orientated restaurants.
Red Curry
The vegetable version of a Khmer red curry is similar to Thai curry but less spicy. Pumpkin curry is quite common.
Rice Noodle Salad
Rice noodle salad turned up on vegetarian restaurant menus occasionally and I loved the Kampot rice noodle salad with peanuts and coconut at vegetarian Cafe Soleil in Phnom Penh. So colourful and flavourful (see top photo).
Mango Salad
A popular salad in Cambodia made with green mango, peanuts, and herbs. You'll need to get it without fish sauce and shrimp. It's similar to a Thai papaya salad but less spicy.
Banana Flower Salad
Banana flower salad usually contains chicken but they did a veggie version at the Vine Retreat near Kep that was delicious and beautiful.
Western Dishes
Veggie Burger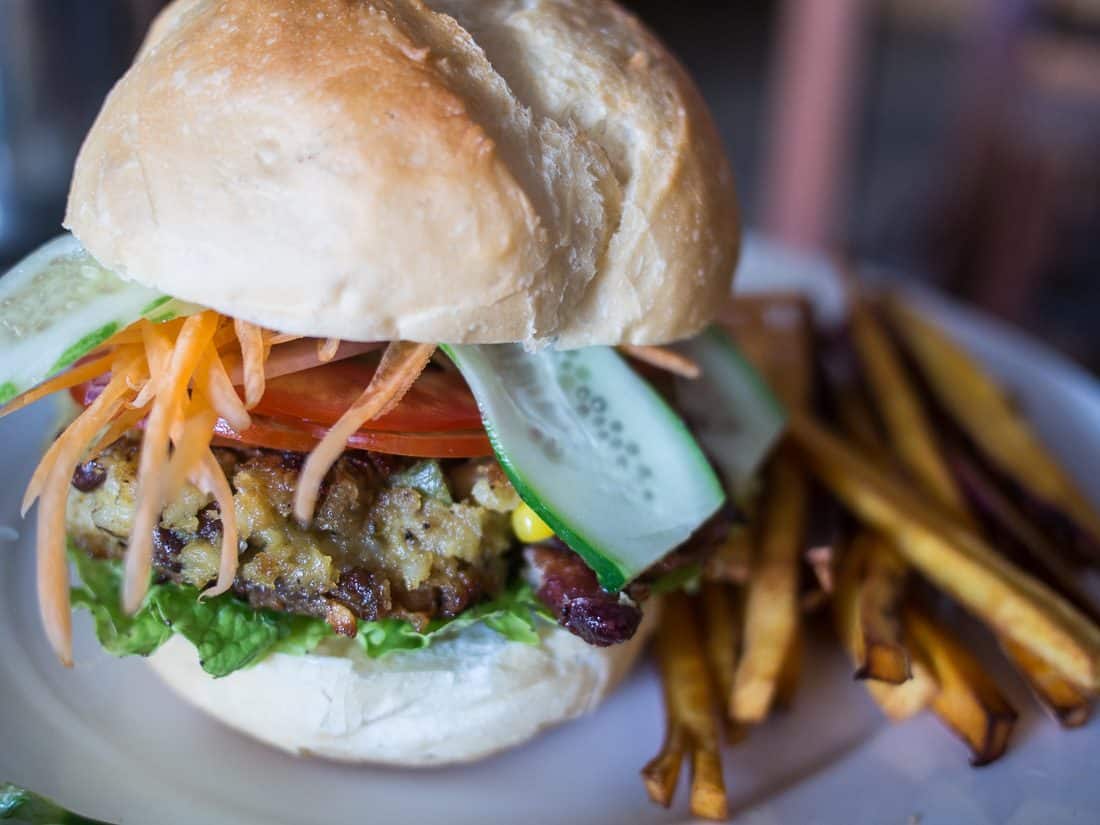 Veggie burgers were surprisingly common in Cambodia. We had good ones at Peace Cafe and Sister Srey Cafe in Siem Reap, but by far our favourite was the spicy lentil, bean and vegetable burger at Cafe Espresso in Kampot.
Tasty Sandwiches
In most of Southeast Asia sandwiches are best avoided as the bread is usually sweet and processed and veggie fillings no more exciting than "cheese". In Cambodia the bread is great and cafes have a range of creative meat-free sandwich fillings such as roast peppers, olives, ricotta and salad, or grilled balsamic vegetables and cheese.
Creative Salads
As well as Asian salads like noodle and mango we also found some excellent creative Western style salads like roast pumpkin, spinach, ricotta cheese, avocado and cashew nuts at Sugar n Spice in Phnom Penh and rocket, roast pumpkin, feta, tomatoes, and pine nuts at Terrace at 95.
Indian Food
There are plenty of Indian restaurants in Cambodia, especially in Siem Reap and Phnom Penh, and they always have a good vegetarian selection.
Vegetarian Restaurants in Cambodia
Siem Reap
Chamkar – An upmarket, organic restaurant that's the best place to try unique veggie versions of Khmer dishes. Lots of curries, salads, and interesting dishes like rediscovering tofu, and the wonderful wedding day dip made from peanuts, mushrooms, and coconut.
Peace Cafe – There's a lovely garden setting with comfortable seating and a large menu of Western and Asian dishes. We enjoyed the veggie burger, pomelo salad, and pineapple and chickpea stir-fry. They also have yoga and vegetarian cooking classes.
Vitking House – This is a very local vegetarian place, popular with students. It's cheap but unfortunately uses fake meat more than vegetables. The mango shake was wonderful though.
See our Siem Reap guide for a full list of vegetarian friendly restaurants and cafes we enjoyed.
Phnom Penh
Vegetarian
Cafe Soleil – A great value vegetarian cafe that is open all day. Most dishes are only $2-3 and they use lots of veggies rather than fake meat like most cheaper veggie restaurants. We liked the kampot rice noodle salad, curry vegetable noodle soup, and the pumpkin soup. It's also in our favourite part of the city on Street 278.
Evergreen – A cheap local place that we didn't like much as it used lots of fake meat.
Vegetarian Friendly
Friends – An upmarket training restaurant for former street children that serves creative tapas. The penne with cashew nut, chile and (Italian) basil pesto and parmesan was heavenly after months without pasta. Sundried tomato hummus on wontons, courgette and cheddar fritters, and the leek tart were also great.
Sugar n Spice – A cafe run by Daughters of Cambodia who work with victims of sex-trafficking. There are a number of delicious veggie soups, salads and sandwiches. The roast pumpkin and spinach salad with pepper, cashews and homemade ricotta was amazing and came with a cheesy tomato baguette.
Kampot
There are no vegetarian restaurants in Kampot but most places have vegetarian dishes. Cafe Espresso and Epic Arts Cafe were our favourites. See our Kampot guide for more options.
See Happy Cow for more vegetarian restaurants in Cambodia.
Although we didn't eat as locally as we would have liked, Cambodia was an easy place to be vegetarian and we ate very well. Indulging in Western dishes was more expensive than eating street food (see our Cambodia budget for exactly how much we spent) but I'm glad we took advantage as the country has the best veggie friendly Western food in the region, and sometimes you need a break from fried rice.
If you are a travelling vegetarian don't miss our vegetarian survival guides to Sicily, Puglia, Slovenia, San Francisco, Mexico, Jordan, Burma, Chiang Mai, Thailand, Japan, Hong Kong, Argentina, Brazil, Paraguay, Bolivia, and Peru.