This page contains affiliate links. Please read our disclosure for more info.
Cambodia was more expensive than we expected. As it's less developed than neighbouring Thailand we expected prices to be lower, similar to Laos where we travelled on £12.50 each a day. That was back in 2008 though and not only have prices risen since then but we've changed too. This time we weren't travelling as rock bottom budget travellers but as flashpackers who didn't watch our budget too much, stayed in comfortable rooms, and indulged in good food.
Cambodia has a dual currency with the US dollar being used for most expenses and Cambodian riel used for smaller items and anything less than a dollar (there are no coins). The exchange rate used practically everywhere is 4000 riel to $1. You need to be familiar with this as you'll often pay in a mix of currencies or get quoted in riel and pay in dollars or vice versa.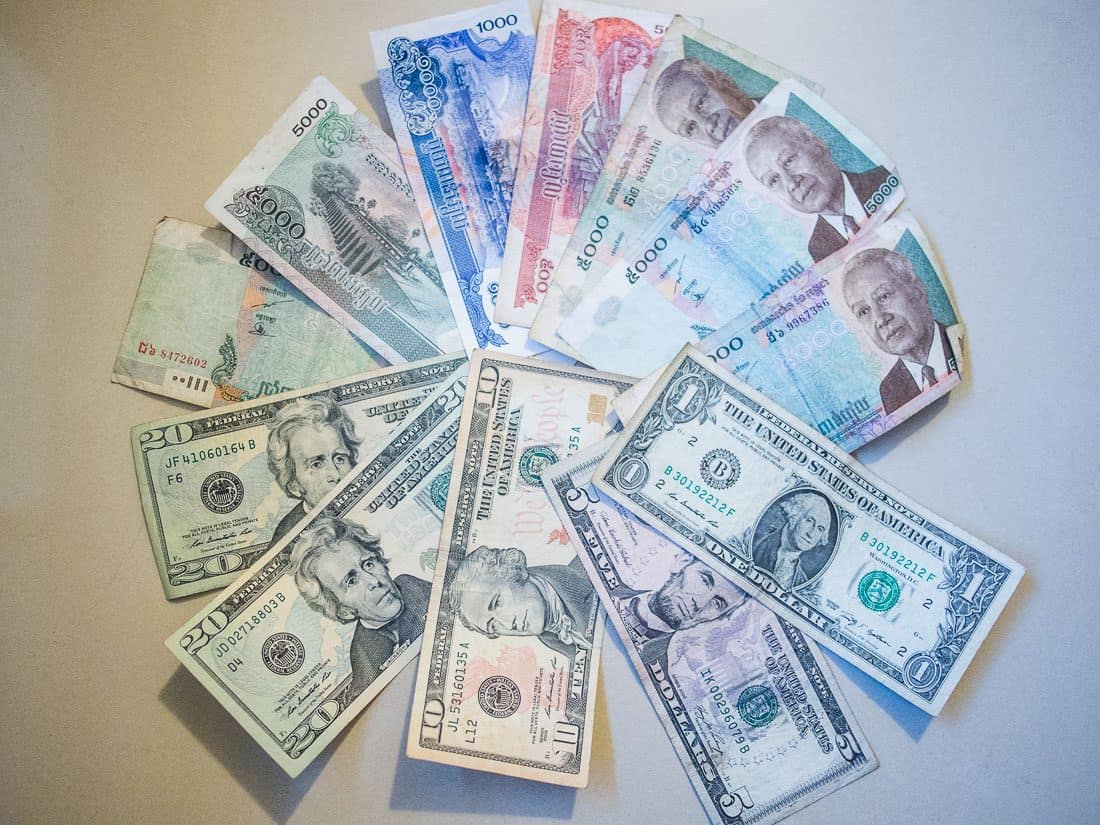 We spent a month in Cambodia and visited Siem Reap, Phnom Penh, Otres Beach, Kampot, and back to Phnom Penh. We tracked our expenses using our travel budget iPhone app Trail Wallet (sadly, no longer available). The summary screen displays our final trip costs in our home (British pounds) and local currencies (US dollars and Cambodian riel).
Here's the total amount we spent for two people during our month in Cambodia:
You can see why no one budgets for their trip in riel!
You'll also notice that we were way over budget of our totally unrealistic, plucked out of nowhere budget of £30/ $50 a day for two people. You could travel in Cambodia on that, but only if you try to keep your expenses down, and honestly we didn't.
Our average daily spend was £46/ $77 which is £23/ $38.50 per person. Here's what we spent it on:
Accommodation 31.63% of total, £14.56/ $24.32 a day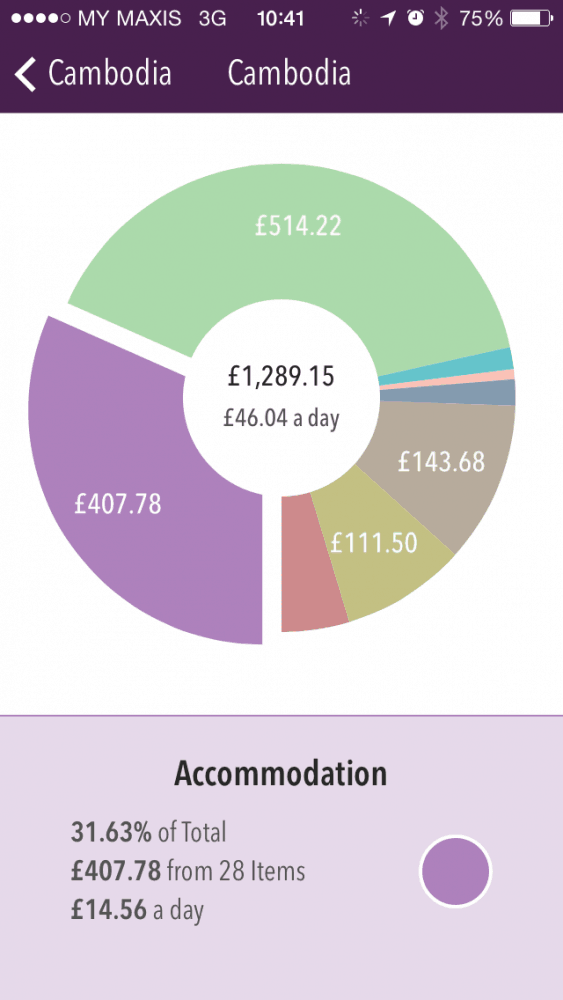 We spent $20 to $25 a night on accommodation in Cambodia. This got us a double room with private hot water bathroom, air conditioning, WiFi, and usually a desk and a fridge. The exception to this was Otres Beach in Sihanoukville where accommodation is much more expensive and our $25 only got us a basic wooden bungalow across the road from the beach with a fan and attached cold water bathroom. The Mea Culpa guesthouse in Kampot was the same price and palatial in comparison. In Siem Reap we even had a pool at My Home Villa (which was average but met all our requirements).
You could definitely find cheaper hotels in Cambodia, especially if you don't need A/C or a private bathroom, for as low as $10. We chose nicer rooms as we work as we travel and spend more time in our room than the average traveller.
If you have $50-60 a night to spend there are some beautiful boutique hotels, but we resisted the temptation.
Food & Drink 43.9% of total, £20.22/ $33.77 a day
Our Food & Drink budget includes the subcategories of eating out, food shopping (snacks as we had no kitchen access), coffee (when not consumed with a meal), and drinking water. Eating out was by far the biggest chunk of the pie. Food was our most surprising expense and we found it much more expensive than Thailand or Malaysia.
This is largely because as vegetarians our street food options were limited so most of the time we ate at restaurants aimed at tourists and expats. Cambodia has some excellent Western food due to the many non-profit restaurants run by NGOs that support good causes. The French influence from the country's time as a French protectorate also means that good bread and baked goods are common.
We frequently indulged in things like veggie burgers, pizza, grilled vegetable paninis, roast vegetable and spinach salads, ice cream, and cakes, and obviously these meals cost more than a plate of vegetable noodles. We ate very well though and I'm glad we took advantage.
A main course usually cost from $2-6 and a fruit smoothie around $2. Beers were cheap at $1 even in the nicer restaurants. Unfortunately the local vegetarian restaurants where you can get meals for $2 used a lot of fake meat which we don't like.
Drinking water was usually $0.50/ 2000 riel for a 1.5 litre bottle. We stayed for 12 nights at the Mea Culpa guesthouse in Kampot and they provided free drinking water which saved us a lot as we drink crazy amounts of water.
Transport 11.14% of total, £5.13/ $8.57 a day
We used tuk tuks (open sided carriages pulled by a motorbike) to get around cities ($2-3), to Phnom Penh airport ($6), from Sihanouvkville to Otres Beach ($7), and around the Angkor temples for sunset ($6) and a full day including sunrise ($20), and from Siem Reap to Kompong Khleang floating village ($15).
We shared a taxi to the further away Angkor temples of Banteay Srei and Beng Melea and spent $39 including tip.
Bicycle hire in Siem Reap was $1 a day and free at our guesthouse in Kampot.
In Kampot we hired a motorbike for four days at $5 a day. Petrol was 5000 riel ($1.25) a litre.
We split a boat to Rabbit Island from Kep and paid $6.25 of the full $25 return fare.
Between cities we used the more comfortable and faster air conditioned Giant Ibis buses that included hotel pickup and cost $7-15. You could probably cut those prices in half by taking the more basic buses.
Entertainment 8.65% of total, £3.98/ $6.65 a day
Angkor passes were $40 each for three days (valid for a week), plus $5 for the wonderful jungle temple Beng Melea.
Phare circus in Siem Reap, well worth the $15 tickets.
Various tips for guides.
Tuol Sleng genocide museum ($2 each)
6 yoga classes ($5-6 each)
Kayak hire in Kampot ($2 for an hour)
Stand up paddle board hire in Kampot ($6 for an hour)
We also went horse riding in Siem Reap but our trip was sponsored so the cost isn't included here.
Miscellaneous 4.68% of total, £2.15/ $3.59 a day
Our visas for Cambodia cost $20 for one month on arrival at Siem Reap airport.
Data packages are really cheap in Cambodia and we bought a Cellcard prepaid SIM for our iPhone 5 ($2) with 3.5GB of data valid for one month for just $5.
Other expenses include toiletries, medication (including Simon's pricey migraine pills), a hat, sunglasses, a few tips, and laundry ($1 a kilo).
Other Cambodia Budgets
Although Cambodia wasn't quite as cheap as we expected it was still good value, especially for the comfort level we travelled at and everything we experienced.
If you enjoyed this post, pin it!