This page contains affiliate links. Please read our disclosure for more info.
We've always wanted to see what it's like to live on a boat so we were excited when we were recently invited to dinner on Totem, a 47ft yacht anchored just off Langkawi in Malaysia that's home to a lovely American family of five. Behan and Jamie and their children Niall, Mairen, and Siobhan have been sailing around the world for nearly six years, and writing all about it at Sailing with Totem. They cooked us a tasty dinner, showed us around their cosy home and its ingenious use of space and technology, and regaled us with stories of their adventures at sea.
After meeting the inspiring Totem crew and successfully completing our RYA Competent Crew sailing course with Langkawi Sailing School a week later we feel that living on a yacht is entirely possible for digital nomads. It seems like the perfect evolution for our nomadic lifestyle and it's now our long term goal.
Behan answered some questions for us about their fascinating lifestyle.
1) How long have you been travelling and where have you been?
We've been traveling afloat- cruising- for nearly six years! In that time we've been through seventeen countries. Our initial route took us south to Mexico, where we spent more than a year sailing the coast and adjusting to life afloat. From there we crossed through many island nations in the South Pacific until arriving in Australia, where we stopped for about a year and a half to work. From Australia, we pointed north to Papua New Guinea and then west through Southeast Asia to our present anchorage in Malaysia.
2) What made you decide to become sailing nomads?
We reached this point not just because we love to sail, or love to travel, although both of those hold true. More fundamentally, it was the desire to live a more simple life, a place apart from first world consumption. It was the desire to teach our children respect for our fragile planet by living with a light footprint. The desire to embrace live in the now, and not postpone it for an amorphous "someday." And the desire to give our kids crazy fabulous childhood memories, like the time they held a tiger cub, or swam with whales. (I have a kind of related blog post called "Sailor or traveler")
3) What have been some of your highlights so far?
We find joy in discovering beautiful corners of the world and learning about other cultures. We've had unforgettable experiences swimming with sharks and giant manta rays in French Polynesia. In the Cook Islands, islanders helped us understand what it's like to survive by foraging in an atoll. In Papua New Guinea, it was the gracious friendship of locals we met: with the characteristic generosity of those who have the least to give, their friendship left our spirits both richer and humbled.
4) What has been your scariest experience?
We really haven't had many scary experiences. The hardest times for me are when the sea state is uncomfortable. Occasionally it crosses from uncomfortable to scary, but we work very hard to avoid ever being in that situation- so thankfully it's only happened a few times in nearly six years! Our route is always planned to avoid seasonal weather patterns such as hurricane zones. The most frightening was a series of waves that built up at the Jomard Entrance, a shipping lane into Papua New Guinea. The ocean depth rapidly shallows from thousands of feet to just a couple of hundred, and compresses waves. The waves were so tall that if we lost steerage (as we nearly did, when turbulent water at the top of the wave stalled our rudder), it could have been disastrous. It wasn't, and we were very happy to anchor a few hours later, calling an end to our six day passage from Australia.
5) How do you fund your travels?
We have lived off savings, after spending many years saving before our departure. When we spent it all, we stopped to work; with sufficient funds back in our bank account, we returned to voyaging again. It's clear now that we're not ready to return to our old lives, so we've looked for ways to earn money as we go. This is still new for us, but we're patching together income from a variety of sources- from freelance writing and consulting, to providing services (Jamie has electrical and rigging skills that are useful to other cruising boats, and sells sails as well). Our house at home provides a small rental income, but is generally a net-zero with the costs of maintenance.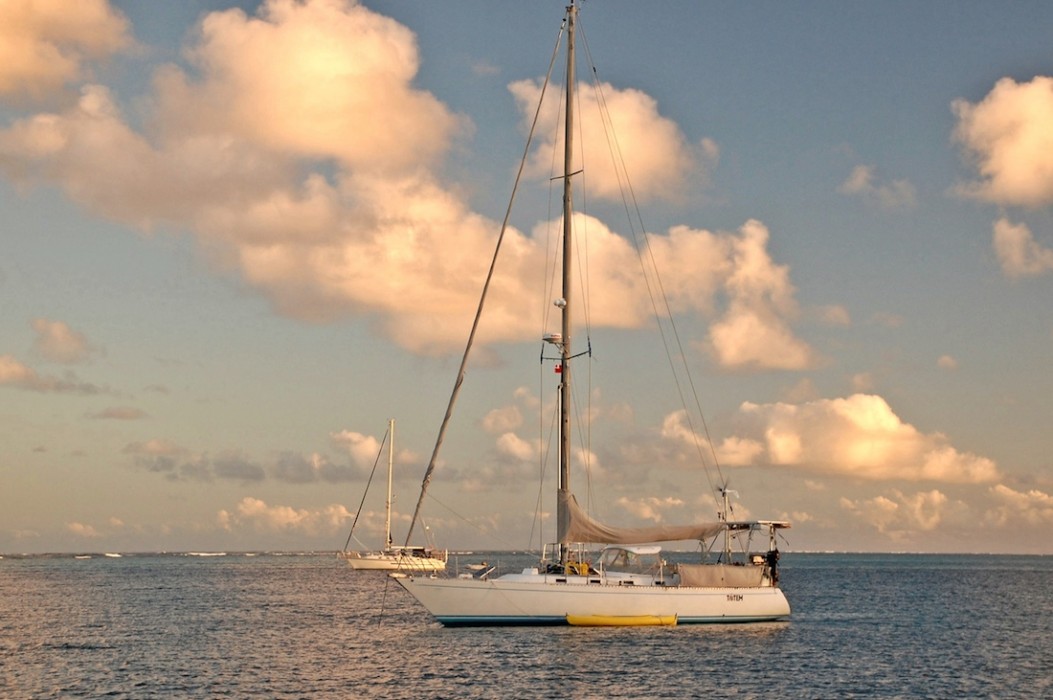 6) Is it possible to work online while sailing? How do you stay connected?
Absolutely! We know other cruisers who earn money in a variety of ways. There are day traders, freelance writers, graphic artists, and more- all plying the same digital skills that support land-based travelers. Digital nomad skills are a great fit, although predictable connectivity can be difficult: there's no easy way to get online in the middle of an ocean. At sea, we use our HF radio to send and receive text based email. Other cruisers use sat phones for the same purpose. However, most of the time isn't in an ocean- it's near shore. The other challenge is powering the tools of the digital trade. We supply our own power to a battery bank through solar panels and a wind turbine. If sun/wind aren't enough to meet our needs, we can also run our engine to charge up, but there's a cost in fuel and maintenance to run the engine.
7) Sailing is seen as a very expensive way to travel. Is there a way to keep costs down and do you have an average monthly budget?
Sailing is perceived as an expensive way to travel, but it's actually quite inexpensive after the upfront costs of a bluewater capable boat. Because boat costs vary substantially, it's simpler to talk in terms of ongoing costs. There aren't any accommodation expenses, because the boat is our home. We don't need to spend much to eat, because we have a well-equipped galley, so we typically prepare our own food on board instead of paying restaurant prices. It's hard to peg any kind of typical budget, but our average monthly expenditures come in around $1500 for a family of five. These can balloon when there are periods of boat maintenance, but maintenance costs vary as much as boat costs, and are better left outside a "typical monthly budget".
8) What are the benefits and challenges of travelling long term with your children?
The greatest benefit is the time we get to spend together, and the bond we've forged as a family. When we were living a normal life in the USA, with school, jobs and many demands, we didn't have much time together at all- especially time to just be. Life felt rushed, and our children were growing quickly. This has been a beautiful way to slow the clock down. We also believe it's an excellent way to educate our children, both as citizens of the world and thoughtful environmentalists. With their experience traveling through so many cultures, they recognize and appreciate differences instead of fearing them. Living on a boat puts the natural world in your face, all the time: they can internalize from their earliest days the beauty of our planet, and the importance of taking care of it for foreseeable generations.
9) If someone (like us!) is interested in sailing around the world but has no experience what steps should they take towards making the dream a reality?
It's good to tiptoe in and make sure that living afloat works for you. Spend some time sailing with friends or on a charter boat, or take sailing courses, so you can see whether you enjoy it or not. If you do, there are a host of useful skills you can tackle before you buy a boat. It's especially helpful to be handy and willing to dive in and fix things, because nearly every boat has systems that will require maintenance and break down. It's like living on a floating island with full utilities to manage: plumbing for water, sewage, electrical, refrigeration, etc. From there, you can add skills that will make your life as a cruiser easier or safer.
10) Where are you heading to next? Do you think you'll ever settle down in one place?
At the moment, it's hard to imagine settling down in a single place. We're really focused on what's ahead and saving enough money to cross the Indian Ocean- there are a lot of interesting islands to visit between Malaysia and South Africa! I can't wait to visit some of the tiny islands in the Atlantic, places that are exceptionally difficult to reach unless you're on a private yacht (such as St. Helena and Ascension). Our fourteen year old would really like to spend time in the Mediterranean, and we'd love to give him that opportunity. Then there's this marina in Denmark that we've had our eye on since visiting friends in Aarhus around ten years ago…
You can follow Behan and her family's adventures on Totem at Sailing with Totem and on Facebook and Twitter.
If you enjoyed this interview then read about other long term nomads in our Nomadic Interviews series.