This page contains affiliate links. Please read our disclosure for more info.
There's more to Siem Reap than the Angkor temples. We were surprised by just how much there is to do in this vibrant city as well as some wonderful restaurants and cafes. Mixing up alternative activities with visits to Angkor helps avoid the temple burnout that's so common at this huge complex. As hotels are affordable (My Home Villa cost us $25 and has a pool) there's no reason not to extend your stay.
Horse Riding at Happy Ranch
Finding riding stables that really care about their horses is not always easy on our travels so we were pleased to find the appropriately named Happy Ranch just outside Siem Reap. The owner Sary Pann loves his 51 horses and treats them and his 40 workers well, putting them above making a profit. Our young guide Chey considered working at the stables a great job. He wanted to avoid working in the fields like the rest of his family so studied hard at English in order to work with tourists. Like most Cambodians he had no experience with horses before he started working here and was trained on the job.
Chey was one of the best horse riding guides we've had. He took us out on a two hour ride into the Cambodian countryside, a world away from Pub Street's bright lights and drunken tourists, and gave us information on the plants, farming practices, and customs that we saw. We even said hello to his mum as we rode past her simple thatched home, dozens of ducks quacking outside.
We rode away from paved roads, down sandy and dirt tracks through villages where life is lived out in the open. People swing in hammocks beneath their wooden stilted or thatched homes, kids pile onto bicycles too big from them on the ride to school, stopping to wave and say hello to us. Pigs, chickens and dogs are numerous.
We heard the haunting wailing sounds of funeral singing at a temple and Chey explained how funerals last three days here in Buddhist Cambodia and everyone wears white in mourning. Bodies are cremated and buried inside stupas—a general one for the poor or individual ones if you can afford it.
It's a simple, dusty world but beautiful with luscious pink bougainvillaea blossoms, mango trees dripping with green globes, shiny verdant leaves of banana plants, swaying coconut trees, and fields of sugar cane and the leafy green morning glory.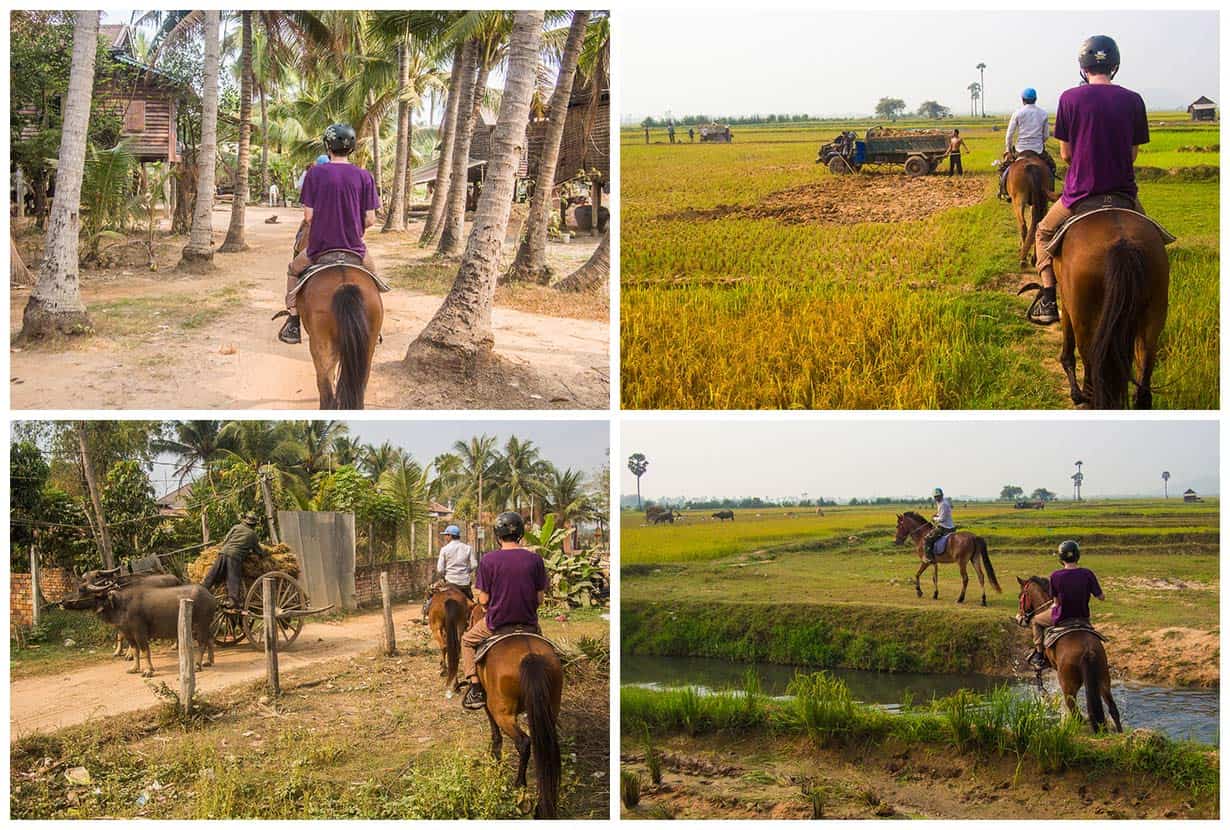 The countryside is flat, dry and hazy in February so the rice paddies come as an astonishing green surprise, and we enjoyed some good canters along sandy tracks between them. People were working in the fields with their buffaloes, ankle deep in water, covered up with hats and scarves over their faces to protect from the hot sun. Chey explained that rice farmers earn just $3 a day for 12 hours of back-breaking work. It was harvest time and we saw them cutting the rice and leaving it to dry on mats outside their homes.
It wasn't just a fun ride but also a fascinating insight into rural Cambodian life—the life of the majority of the population—that you don't see by staying in Siem Reap or the Angkor temples.
Horse riding trips cost from $28 for one hour. Our two hour trail ride was $46. The ranch is ten minutes outside of Siem Reap and a tuk tuk costs $3-5. See the Happy Ranch Facebook page for more details.
Phare Circus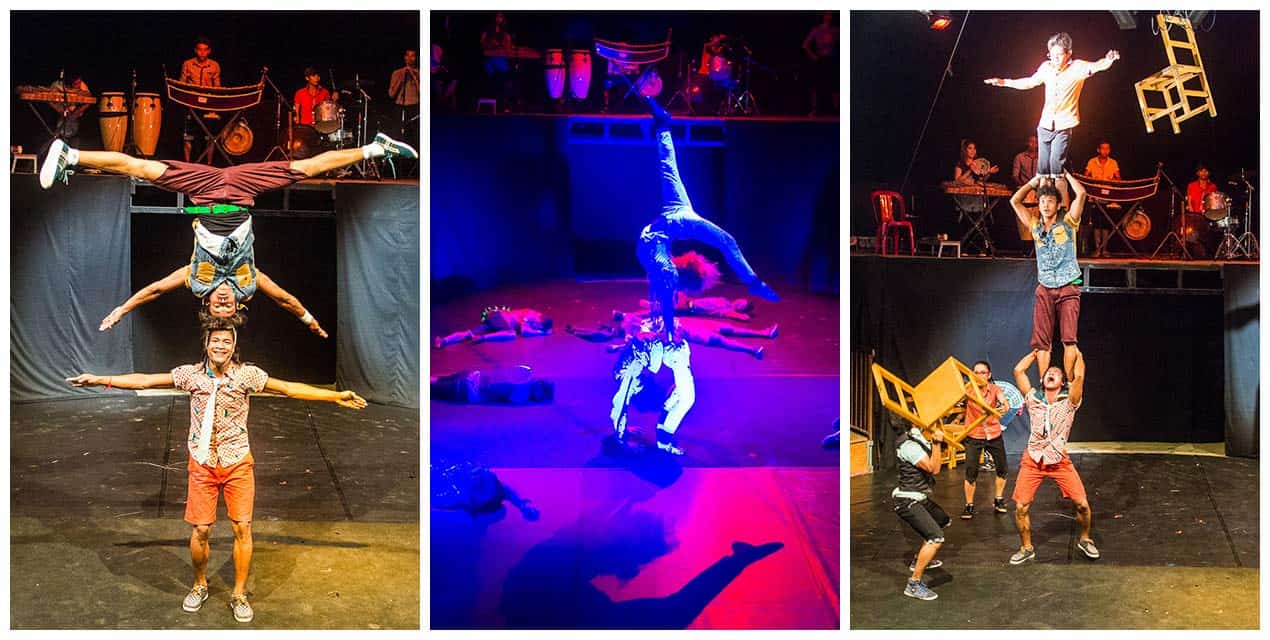 A highlight of our time in Siem Reap was our evening at the circus. Phare is a great project that provides training and employment in the arts to disadvantaged young people.
The modern circus was a spectacular mix of theatre, music, dance, acrobatics, juggling (including with fire!), aerial acts, and contortion to portray the story of a group of Cambodian young people's reaction to a supernatural event. The performance was funny, breathtaking, entertaining, and seriously impressive.
This is one thing in Siem Reap not to miss.
Shows run every night at 8pm and cost from $18. We didn't need to buy in advance but get there at 7.30pm for the best seats as it's open seating (or you can pay extra for reserved seating with a better view). We saw Preu, but the show changes regularly. See the Phare website for more details.
The Floating Village at Kompong Khleang
A visit to a floating village on the Tonle Sap lake is one of the most popular non-temple attractions from Siem Reap. Most tour groups head to nearby Chong Kneas but this village has become very commercialised and the reviews are awful with many reports of scams.
We decided to visit one of the less visited villages, Kompong Khleang. It took us longer to get there—a 1.5 hour dusty tuk tuk ride through the countryside—but it was worth it for the fascinating insight into how life is lived on the lake.
The drive through the Cambodian countryside is interesting enough itself and by the time we reached Kompong Khleang we felt like we were in the middle of nowhere. It's a fishing village where wooden huts stand high on stilts on the edge of the lake. We hired a boat to explore and headed down a channel. We passed narrow engine powered canoes piled with fishing nets and shellfish; women bathing in sarongs and children swimming naked; farmers ploughing the fields next to the lake to plant beans and corn, and putting down pesticide using a very long wooden contraption. The brown water is used for everything here, including cooking rice.
We reached the opening to the wide expanse of the Tonle Sap lake where the floating section of the village is. There were dozens of floating houses and shops, some of simple thatch, others large wooden houses, painted in colourful stripes like gypsy caravans, and decorated with fake flowers and potted plants. People swung in hammocks or ate food on their porches, or paddled up to the floating shops. We saw one family moving house by towing their home with a boat.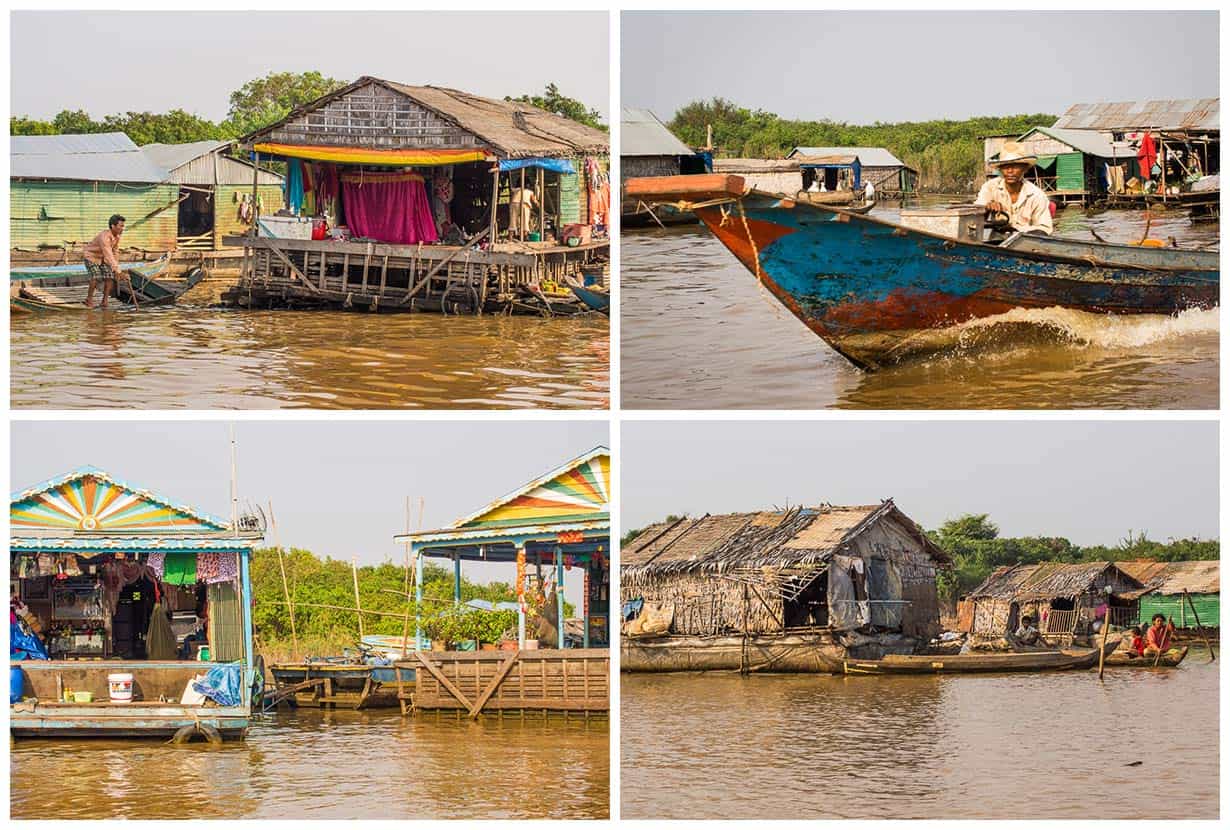 After the tranquility of the floating village it felt like we'd returned to the big city when we came back to the stilted section, the homes towering above us.
Kompong Khleang is a 1.5 hour tuk tuk drive from Siem Reap. It cost us $15 with the driver Kim San who we used. The boat trip is a set price of $20 per person.
Yoga
The vegetarian restaurant Peace Cafe offers yoga classes 2-3 times a day for $6. I went here a couple of times and it was a great way to relax and stretch after a few days temple hopping.
Beatocello
Beatocello was a solo cello concert of Bach music by Swiss doctor Beat Richner, who sadly passed away in 2018. The performances were a way to raise funds for the five children's hospitals that Dr Richner ran.
They now show a film entitled Beatocello's Umbrella every Thursday at 6:30pm at the Jayavarman VII Hospital. Entrance is free but donations are encouraged.
Restaurants & Cafes
There are many excellent restaurants and cafes in Siem Reap, many run by NGOs so the proceeds go towards good causes. These are our favourite vegetarian friendly places.
Other Things to Do in Siem Reap
We only scratched the surface during our nine days in the city. Other things to do in Siem Reap include shopping at the various markets and art galleries, getting a massage, taking a cooking class, visiting the landmine museum or silk farm, zip lining, kayaking, and quad biking.
The quirkiest activity we heard of was the tour our friends took with Bees Unlimited. They not only visited bee keeping spots but also looked into how other things are made around Siem Reap including tofu, rice noodles, palm sugar, or whatever else looked interesting along the way. Tours are tailored to your interests and the owner Dani is vegetarian so is a good source of information about Khmer veggie food. Read more about this fascinating tour over at Till the Money Runs Out.
We recommend spending at least a week in Siem Reap. You can get a three day Angkor pass (or seven days if you are a real history/archaeology buff) and mix up your temple visits with the many other attractions the city has to offer. For advice on visiting the temples without working too hard see our lightweight's guide to the temples of Angkor and don't miss our favourite temple the remote jungly Beng Mealea.
You can search for affordable and luxury hotels and guesthouses in Siem Reap here.
If you enjoyed this post, pin it!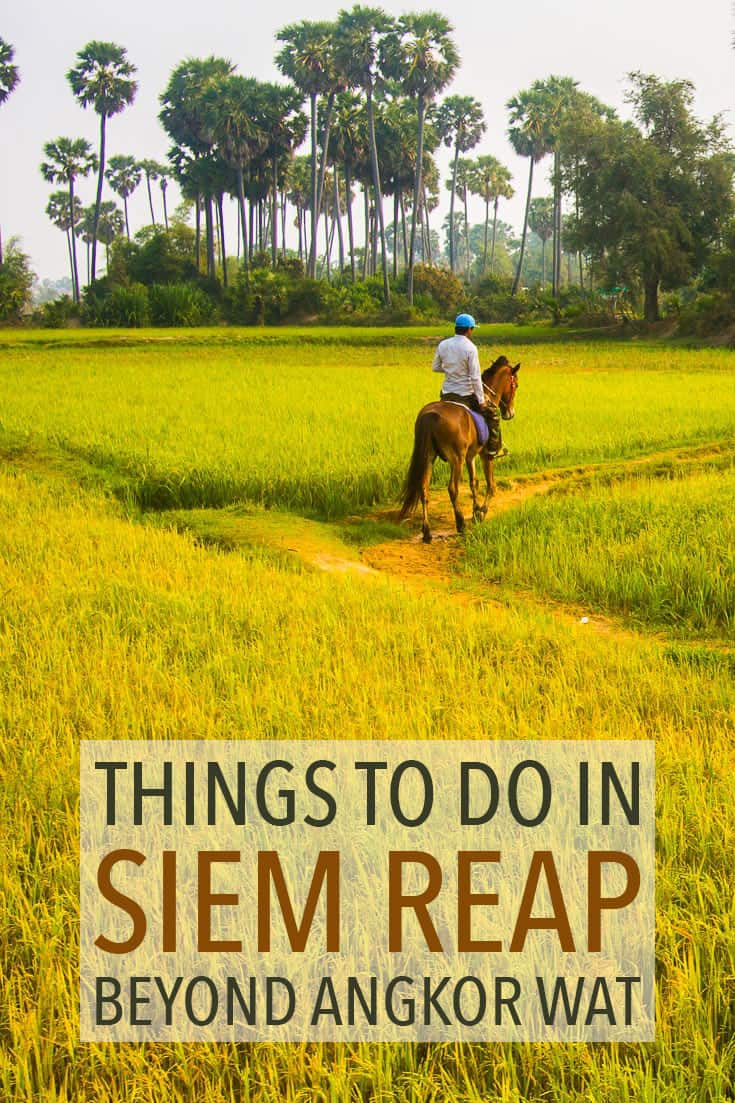 Thanks to the Happy Ranch who gave us a complimentary trail ride.