This page contains affiliate links. Please read our disclosure for more info.
Each region of Italy has its own distinctive cuisine, and food in Sicily is especially full of surprises.
Bread is topped with sesame seeds, couscous is found next to pasta on menus, raisins turn up in spaghetti, and gelato is eaten stuffed in a brioche bun—for breakfast.
It's no wonder that traditional Sicilian food feels different from what you find further north. The island is closer to Tunis than to Rome and has absorbed influences from its many invaders including the Greeks, Arabs, Normans, and Spanish.
Unsurprisingly for an island, fish features heavily on the typical Sicilian menu, and we didn't find it as vegetarian-friendly as Puglia, our favourite Italian region for eating.
We always managed to find something on menus, though, often involving melanzana (aubergine/eggplant). Vegans will have to ask for the pasta dishes without cheese.
If you have a sweet tooth, you'll be spoilt in Sicily. Sicilians pride themselves on their sweet decadent pastries, then there are refreshing granite from local lemons and mulberry fruits, and creamy gelato from pistachios grown on the island.
These Sicilian dishes were our favourites from our seven weeks in Sicily and include snacks, pasta, desserts, and drinks.
At the bottom of the post, you'll find our Sicily restaurant recommendations.
Contents
Video: Tips for Eating in Italy
1) Pane con Panelle
Sicilian street food is popular in Palermo but most of it is not vegetarian-friendly (think spleen and sheep's intestines). One thing we could indulge in was panelle or chickpea fritters.
We often ate these delicious melt in the mouth fried snacks as an antipasto (starter) in restaurants or as pane con panelle on the street stuffed in a sesame seed roll.
We found good versions in the Ballaro market and at Franco u' Vastiddaro near Piazza Marina where we enjoyed the Triplo with panelle, potato croquettes, and aubergine.
2) Pane Cunzato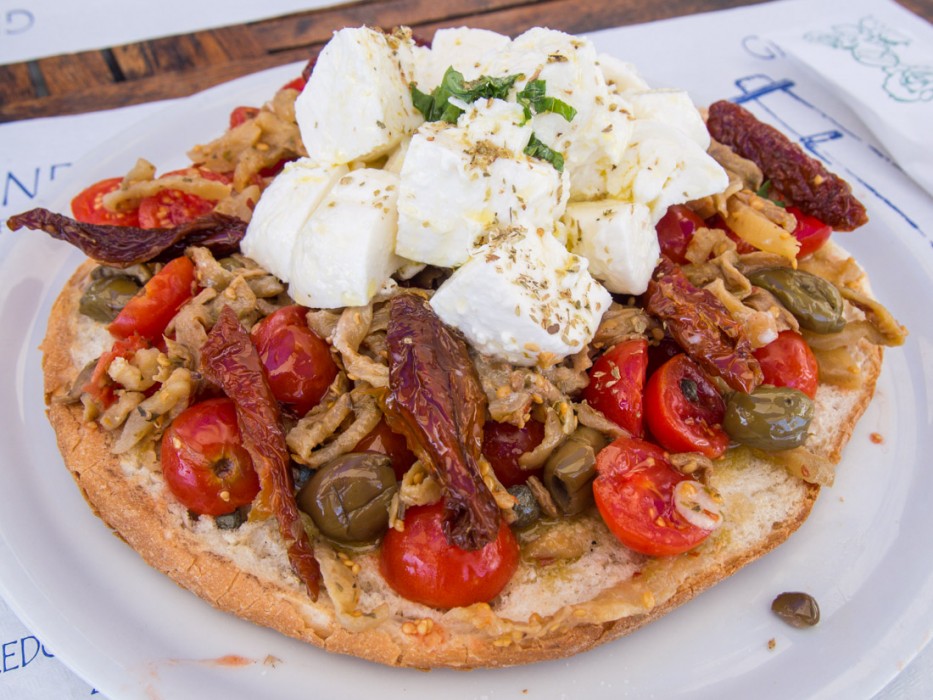 We ate pane cunzato at the legendary Da Alfredo's cafe in Lingua village on the gorgeous Salina island. These open top sandwiches are huge (more than enough for two to share) and we opted for the misto without tuna.
The bread base was overflowing with cherry and sun-dried tomatoes, marinated aubergine, capers, olives, mozzarella, and lots of olive oil.
3) Arancini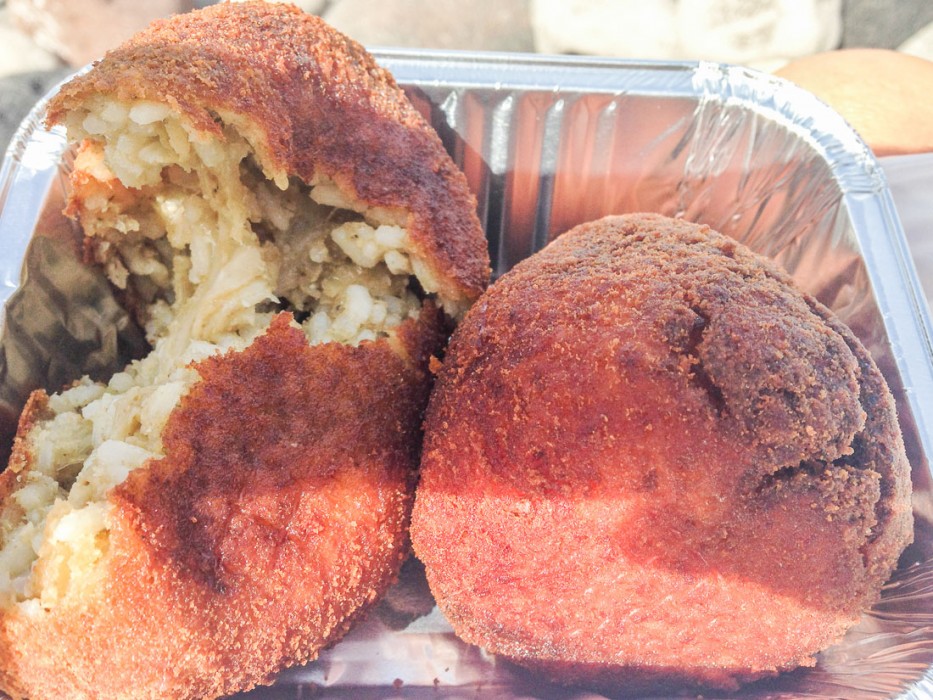 Arancini are the most famous Sicilian snack. These deep-fried rice balls are often filled with meat, but you can also find them with vegetarian fillings.
We enjoyed them stuffed with mozzarella and caper pesto and Alla Norma (with aubergine, tomato and ricotta) on Salina.
4) Caponata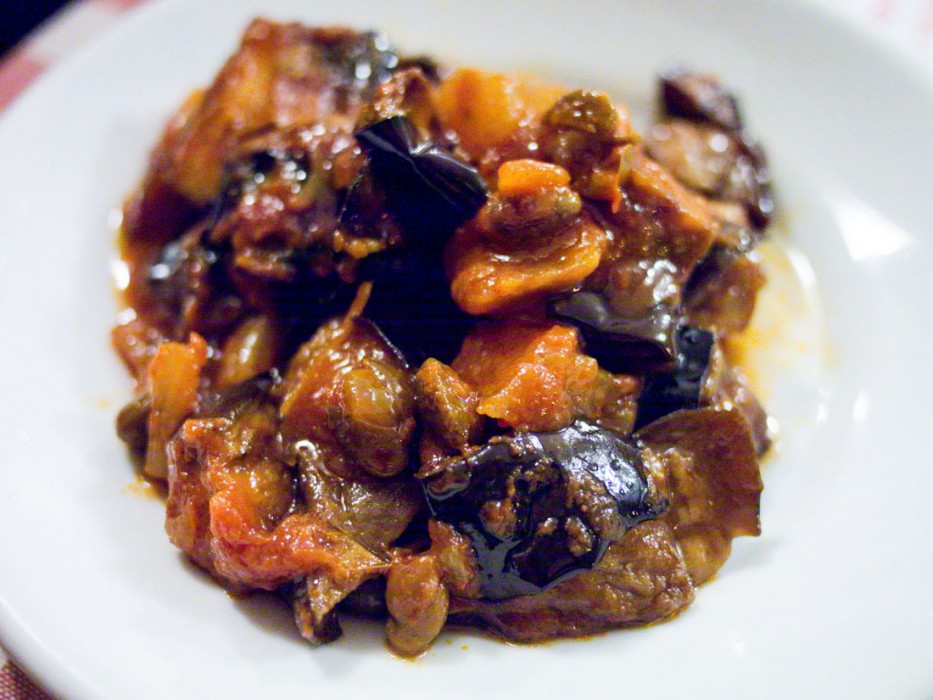 Caponata is a very typical Sicilian antipasto found on most menus. It's a deliciously tangy, sweet and sour mix of fried aubergine, tomatoes, capers, and vinegar, usually served at room temperature. Perfect for vegetarians and vegans in Sicily.
5) Sicilian Antipasti Buffet at Zia Pina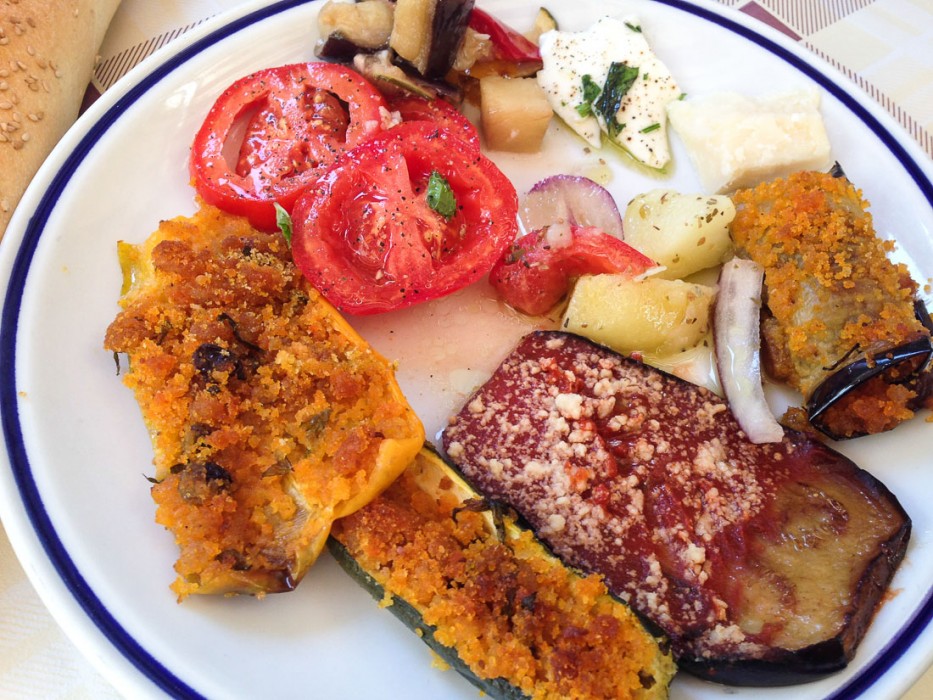 Eating at Zia Pina is a classic Palermo experience. This simple restaurant near Vucciria market has paper tablecloths, no menu, and the "bread basket" consists of a whole sesame baguette plonked on the table.
The huge antipasti buffet is the highlight. Even skipping all the seafood we had a variety of vegetables, cheeses, and salads to choose from, especially aubergine in many forms—grilled, stuffed, cooked in tomatoes, and topped with breadcrumbs.
6) Parmigiana di Melanzane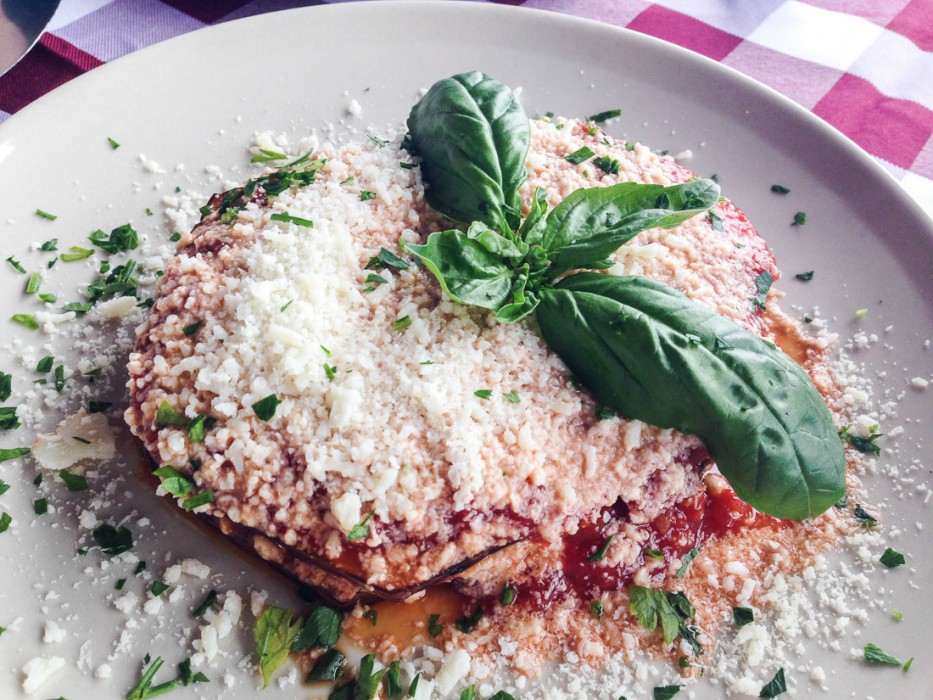 My favourite Italian dish parmigiana di melanzane, layers of baked aubergine, tomato sauce and cheese, is popular all over Italy, but apparently originates in Sicily (although Naples also claims it as their own).
Don't miss this classic Sicilian dish.
7) Pasta alla Norma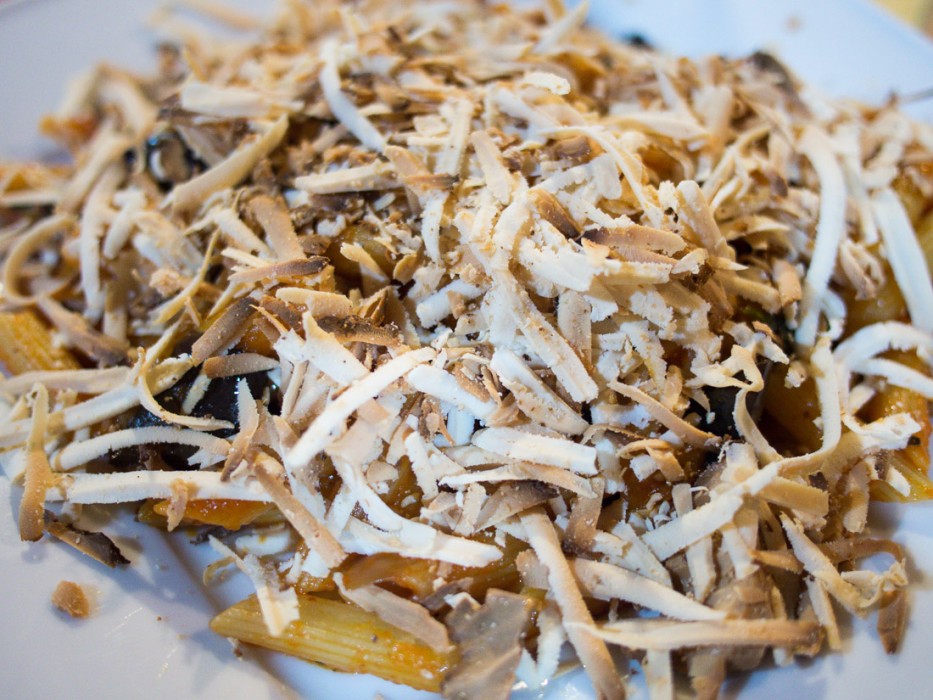 Pasta alla Norma is the most common vegetarian dish on Sicilian menus. It's a tomato and aubergine sauce topped with ricotta salata.
8) Busiate alla Trapanese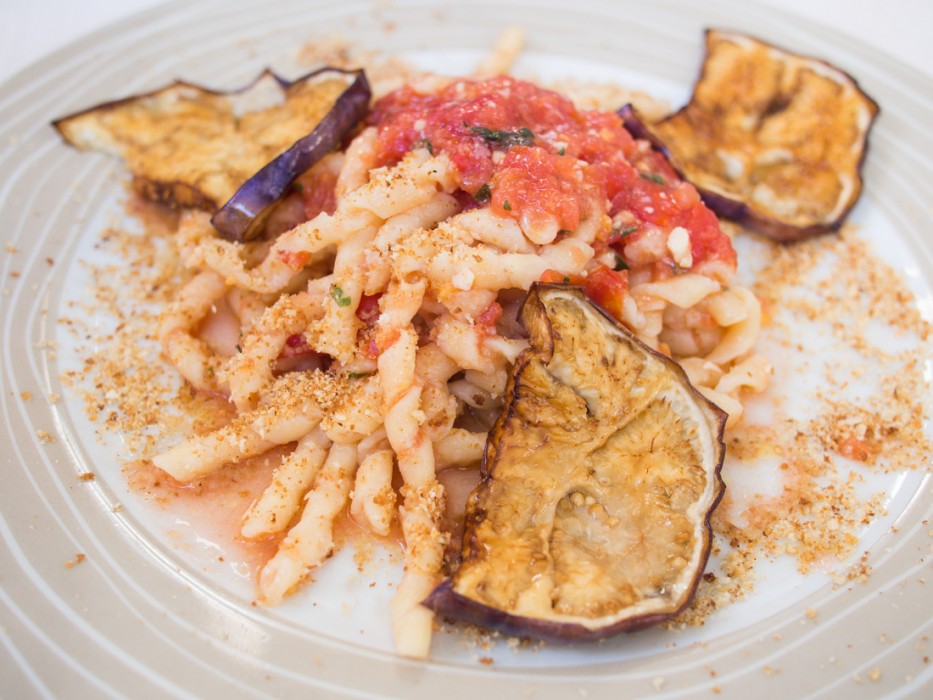 Another wonderful vegetarian pasta dish is with pesto Trapanese from the city of Trapani.
This typical Sicilian food is made with fresh tomatoes, almonds, garlic and basil, and is usually served with busiate, a long twisty fresh pasta from the area.
This version at Caupona Taverna di Sicilia in Trapani was topped with breadcrumbs and grilled aubergine.
9) Pasta cu Maccu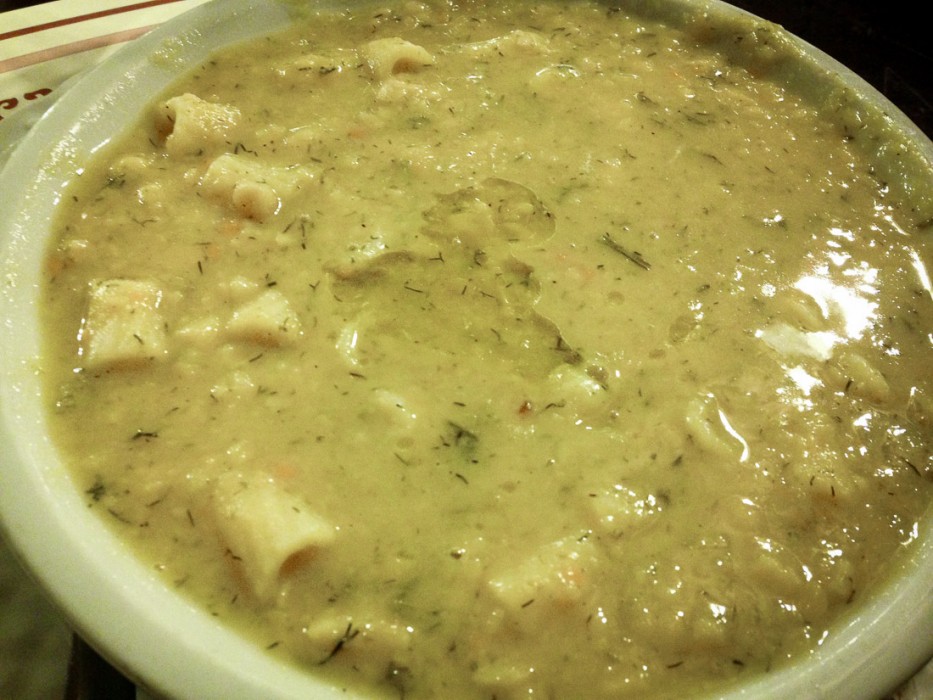 Pasta cu Maccu is Sicilian dialect for fava bean puree with pasta. It's a hearty dish that we ate at our favourite restaurant in Palermo, Trattoria Altri Tempi.
You are automatically signed up for a tasting menu (we didn't realise this on our first visit), so wine and water are unlimited, an array of starters, dessert, and digestivi are brought out, and you choose your main course from the menu. It's excellent value.
10) Pasta Chi Vruoccoli Arriminata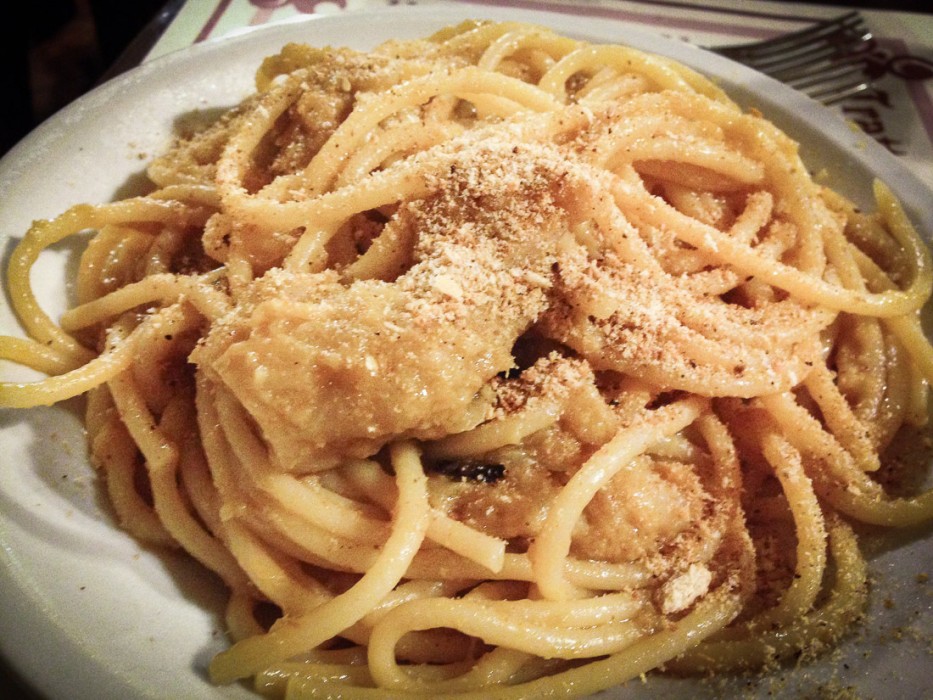 Another dish we ate at Altri Tempi was this thick spaghetti with a hollow middle served with mashed cauliflower, raisins, and breadcrumbs.
11) Spaghetti with Capers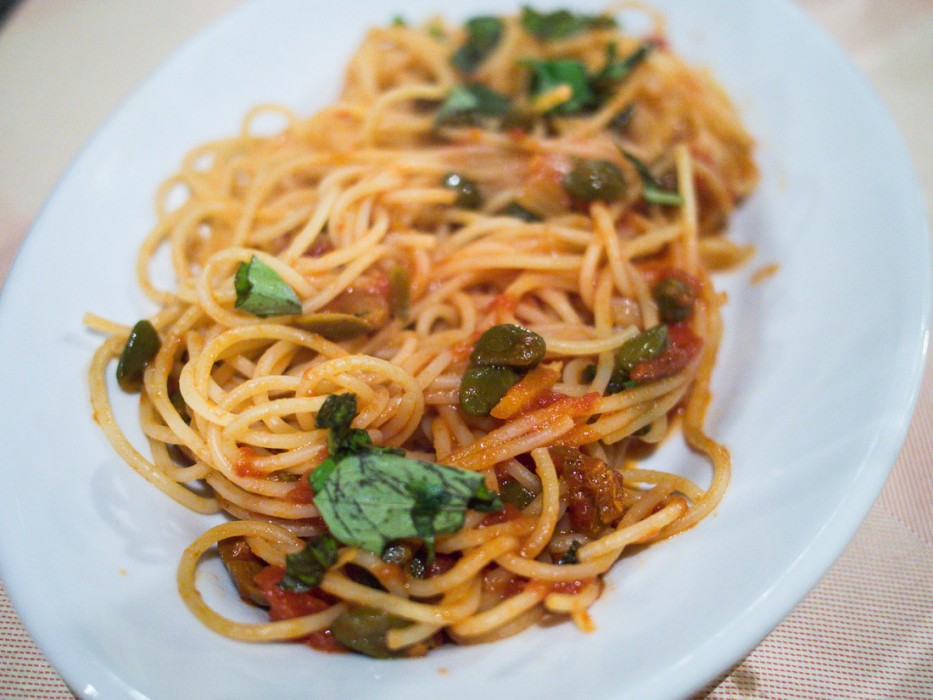 Capers are grown on the island of Salina so they feature heavily on the menu there.
We ate them made into a pesto with mint, parsley and pecorino cheese, and with a simple tomato sauce at A'Lumeredda in Malfa.
12) Cannoli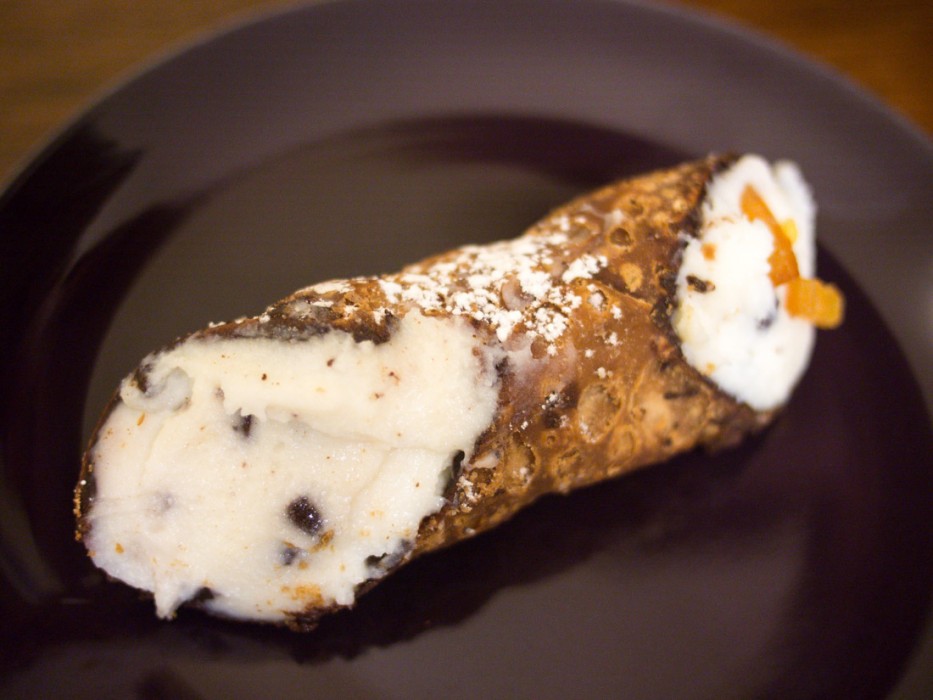 Cannoli are the most well known Sicilian dessert. Flaky pastry tubes are filled with creamy sweet ricotta and often studded with chocolate chips and dried fruit.
13) Cassata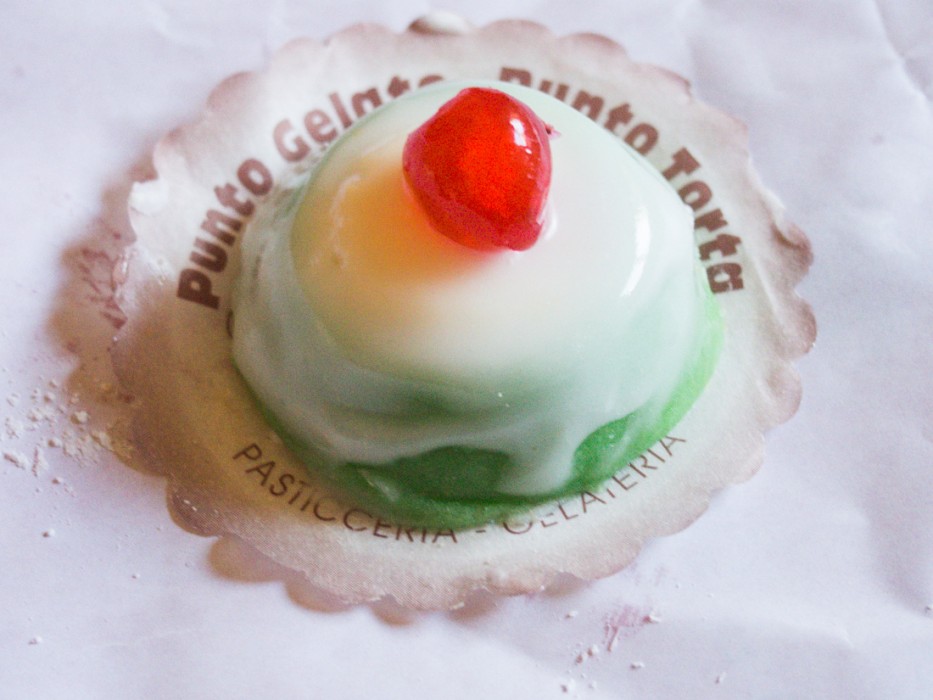 We didn't try cassata until one of our last days in Sicily as the bright green mounds didn't look very appetising, but they are surprisingly tasty.
This super sweet dessert consists of sponge cake moistened with liqueur, ricotta, and candied fruit covered in green marzipan and icing.
14) Frutta Martorana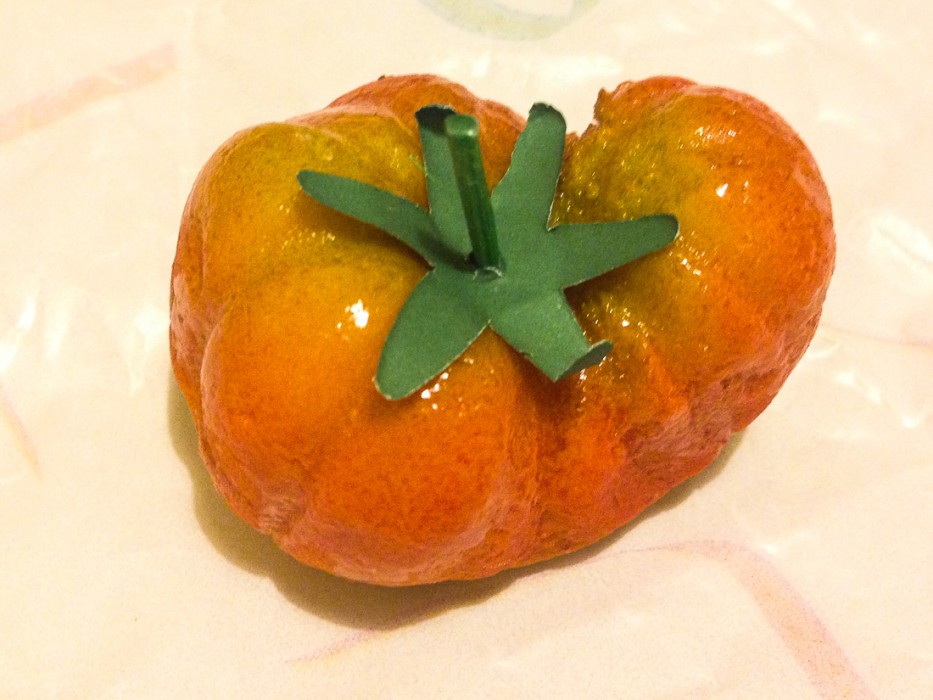 You see these marzipan sweets in pastry shops all over Sicily moulded into brightly coloured fruit shapes. They look too plastic to eat but were actually soft and aromatic.
15) Gelato in Brioche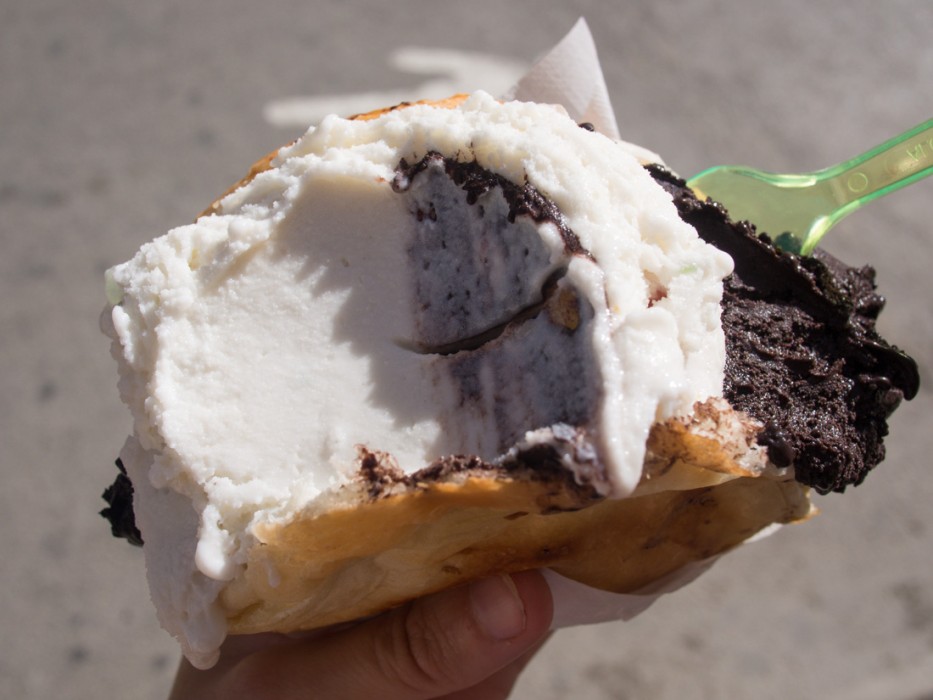 Food in Sicily can be rather decadent and no more so than when it comes to the traditional Sicilian breakfast—gelato!
Gelato in Sicily is served in cones or stuffed in large sweet brioche buns and often eaten for breakfast in the hot summer months.
My favourite gelato flavour in Sicily was pistachio and our most frequent gelato stop was Cafe Spinnato in Palermo.
16) Granita
A refreshing sorbet-like mix of ice, fruit and sugar. In Sicily it's thicker than elsewhere in Italy so is eaten with a spoon rather than drunk through a straw.
I liked the lemon and black mulberry (gelsi) flavours.
17) Malvasia Wine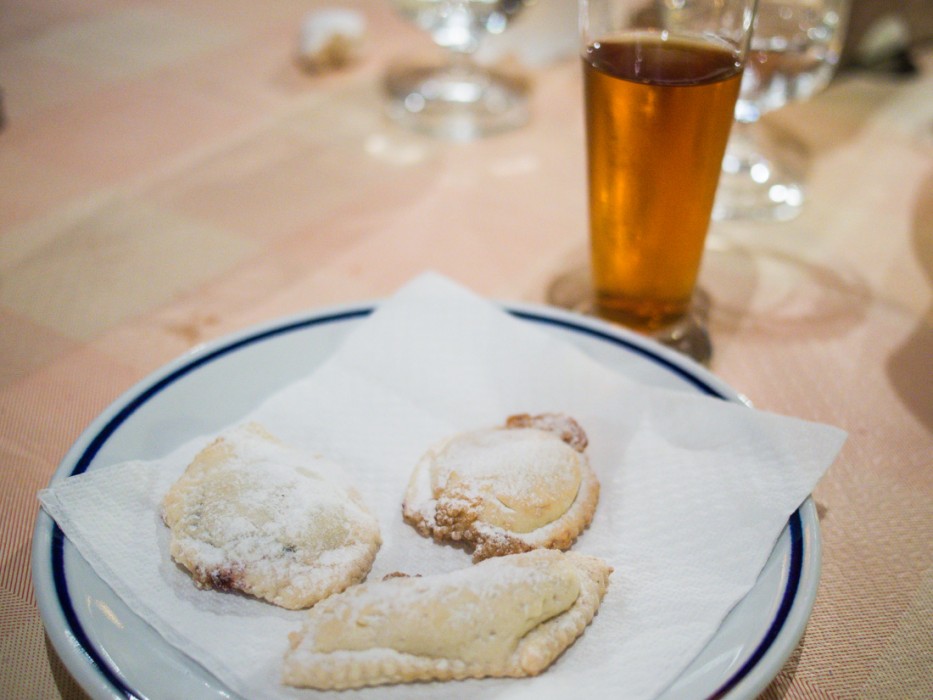 Malvasia is a sweet honey-like dessert wine made on Salina in the Aeolian Islands. It's particularly good with simple almond pastries.
18) Digestivo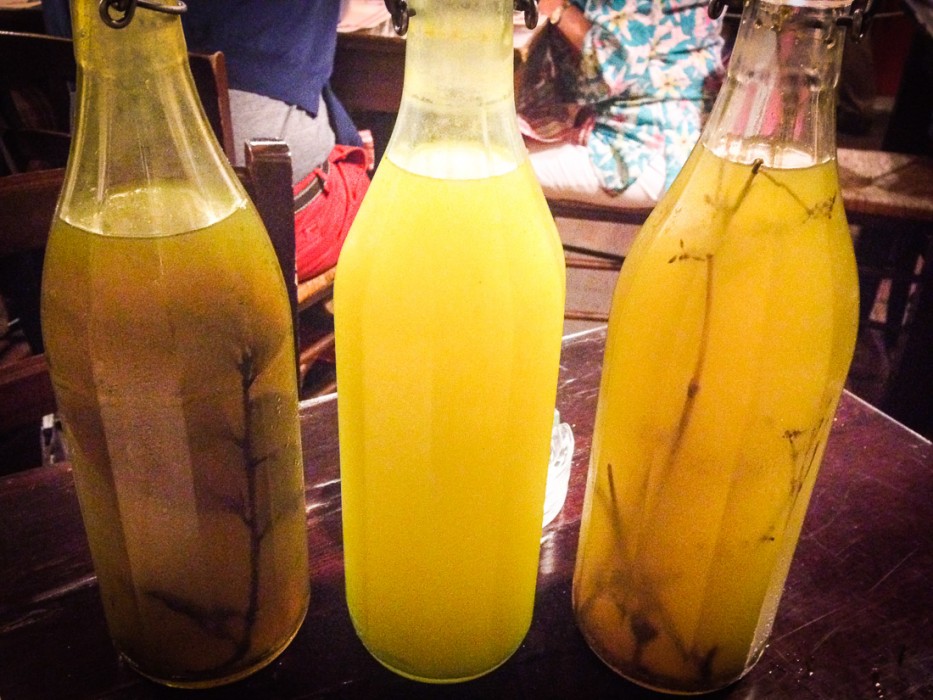 Sicilians like to end a meal with a digestivo liqueur to help aid digestion.
We were surprised at Trattoria Altri Tempi in Palermo when at the end of the meal they placed bottles of their homemade fennel, bay leaf, and lemon digestivi on the table for us to help ourselves. The perfect way to end the meal.
Best Restaurants in Sicily
These are the places we recommend to try Sicilian cuisine on the island.
The Best Restaurants in Palermo
Trattoria Altri Tempi, Via Sammartino 65, Palermo – Go hungry as you'll be served lots of food and drinks with their fixed menu.
Franco u' Vastiddaru, Via Vittorio Emanuele 102 (near Piazza Marina), Palermo – Variety of panelle sandwiches.
Zia Pina, Via Cassari 69, Palermo – Go for the extensive Sicilian antipasti buffet.
Antico Caffe Spinnato, Via Principe di Belmonte 111, Palermo – Delicious pastries and gelato.
Trapani
Caupona Taverna di Sicilia, Via San Francesco D'Assisi (Piazza Purgatorio), Trapani – Excellent, slightly upmarket food on a quiet street across from a church.
Alcamo
Agriturismo Tarantola, near Alcamo – You can stay the night at this farm or book in advance for wine tasting and a delicious meal.
Salina, Aeolian Islands
Da Alfredo's, Lingua, Salina – The place to go for pane cunzato and granite.
A'Lumeredda, Via San Lorenzo 11, Malfa – Our favourite restaurant in this little village.
Sicily Food Tours
One of the best ways to learn about Sicilian cuisine is to take a food tour like the following:
More Sicily Tips
I hope this post has helped you learn more about what to eat in Sicily. Leave a comment below and share your favourite Sicilian dishes.
If you enjoyed this post, pin for later!