This page contains affiliate links. Please read our disclosure for more info.
With vibrant bazaar-like markets and creamy pistachio gelato, white sandy beaches and turquoise sea, lush green mountains and rocky coastal hikes, ancient temples and crumbling churches, is it any wonder that despite plans to explore the whole of the island we got stuck in Western Sicily for most of our seven week stay?
Sicily seems like a manageable size, but it's the largest island in the Mediterranean and the total coast length is estimated at nearly 1500km. It has a diverse history, unique culture, and huge amount of both historic and natural attractions to explore.
Here are our top picks for the best places to visit in Sicily with a focus on the western side of the island around Palermo and Trapani.
Contents
1) Palermo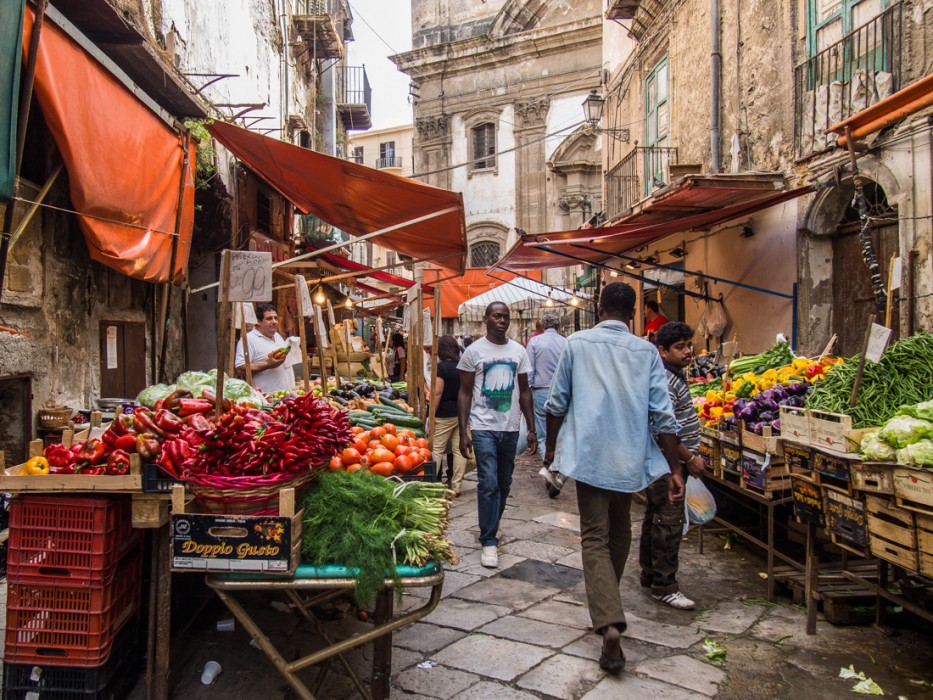 Palermo is a city that grows on you so we're glad we had a month to explore the decaying beauty of its streets full of grand palaces and striking churches.
One of our favourite things to do in Sicily is wander the ancient markets of Ballarò and Capo, down the maze of narrow cobbled lanes where stalls are piled with mounds of enormous cauliflowers, vibrant tomatoes, pungent cheeses, olives, capers, spices, nuts, fish and more.
2) Cefalu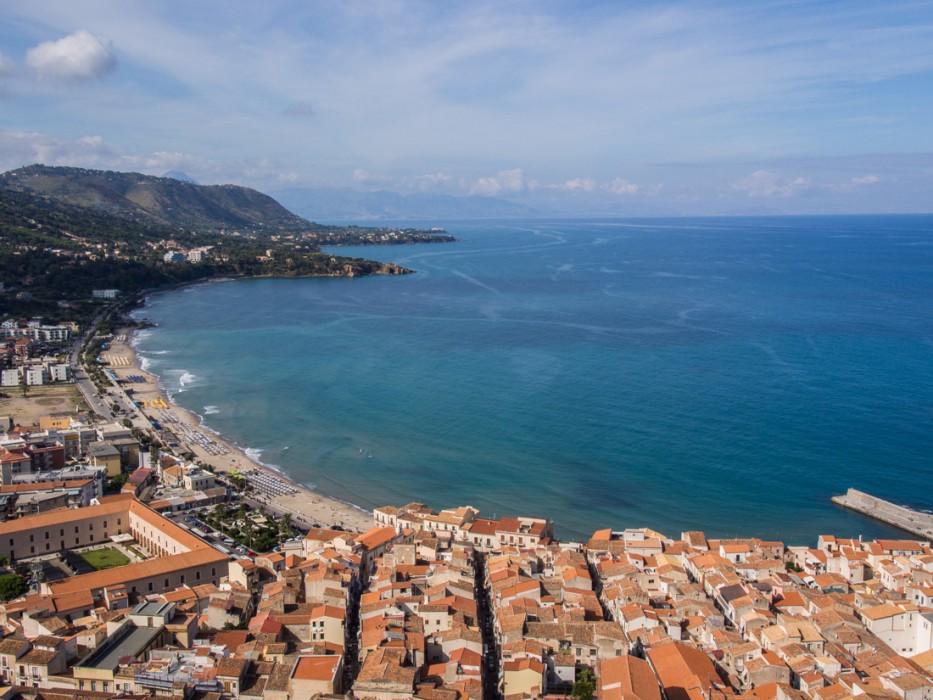 Cefalu is one of Sicily's highlights and makes an excellent day trip from Palermo. It's just an hour on the train east along the coast and you can combine history, hikes, and beach relaxation.
We hiked up La Rocca for expansive views of the terracotta roofed old town with mountains on one side and the Tyrrhenian sea on the other. Later we visited the glittering gold mosaic altar in the cathedral, had a leisurely lunch, and relaxed on the town's long curve of sand.
3) Mondello Beach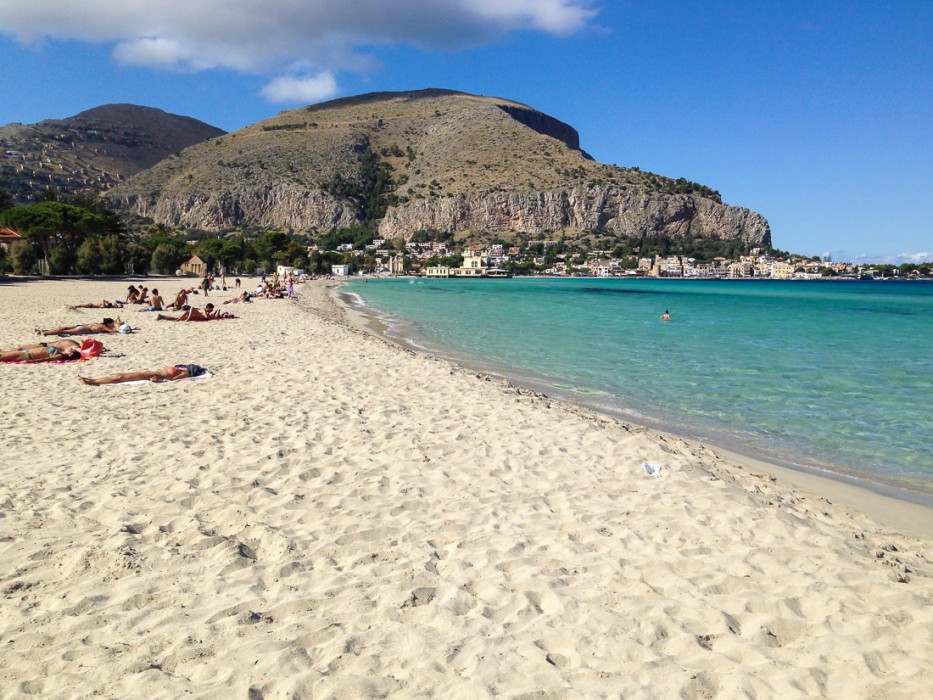 Sicily has some gorgeous stretches of Caribbean-like powdery white sand and turquoise waters with rugged mountain backdrops.
Mondello beach is an easy 30 minute bus ride from the centre of Palermo and although it was crowded with sun loungers at the end of September, by October the lido had packed up and we could appreciate the long stretch of sand in all its glory.
San Vito lo Capo is another beautiful beach about 45 minutes from Trapani, but it's a bit harder to get to and can be crowded in summer. With plenty of accommodation to choose from, it's one of the best places in Sicily for a beach holiday.
4) Trapani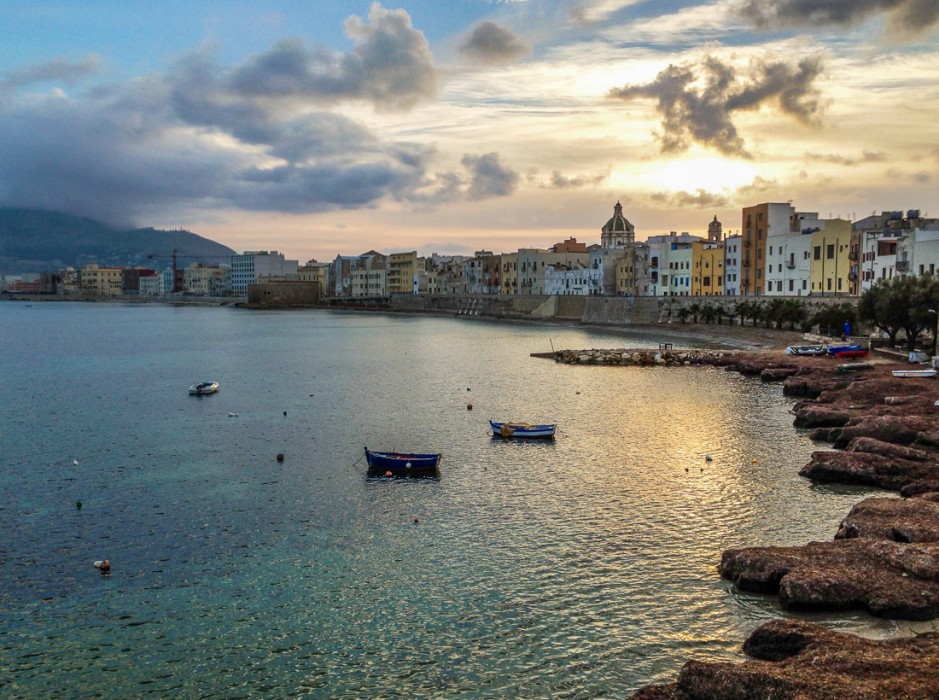 Trapani is a great base for Western Sicily travel as it's possible to get to many nearby places by public transport. It's a lovely low key town with a beautiful historic centre full of baroque churches.
We loved the seafront walk along the old city walls, wandering around the rugged fishing boats in the harbour, and having an early November swim in the sea.
During the day the centre was very quiet, but it came alive in the early evening when locals take their pre-dinner passeggiata through the town, stopping for an aperitivo at one of the stylish pavement cafes.
5) Erice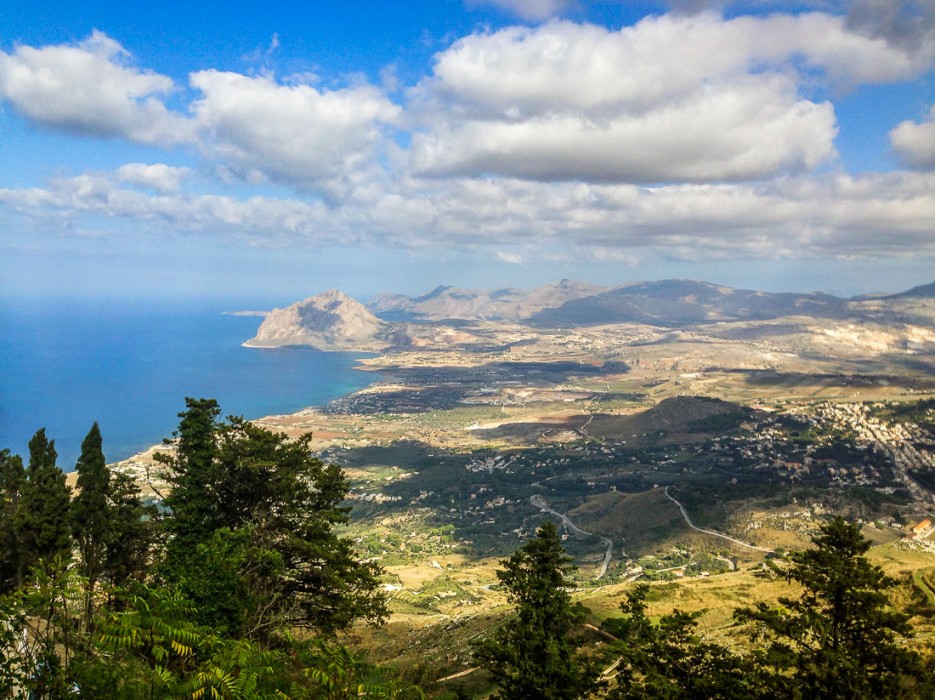 Erice is a spectacular hill town reached by braving the many hairpin turns of the steep mountain road or by short cable car ride from Trapani. Wander the medieval stone streets and enjoy the incredible views from the castle where you can watch the fog roll in.
6) Levanzo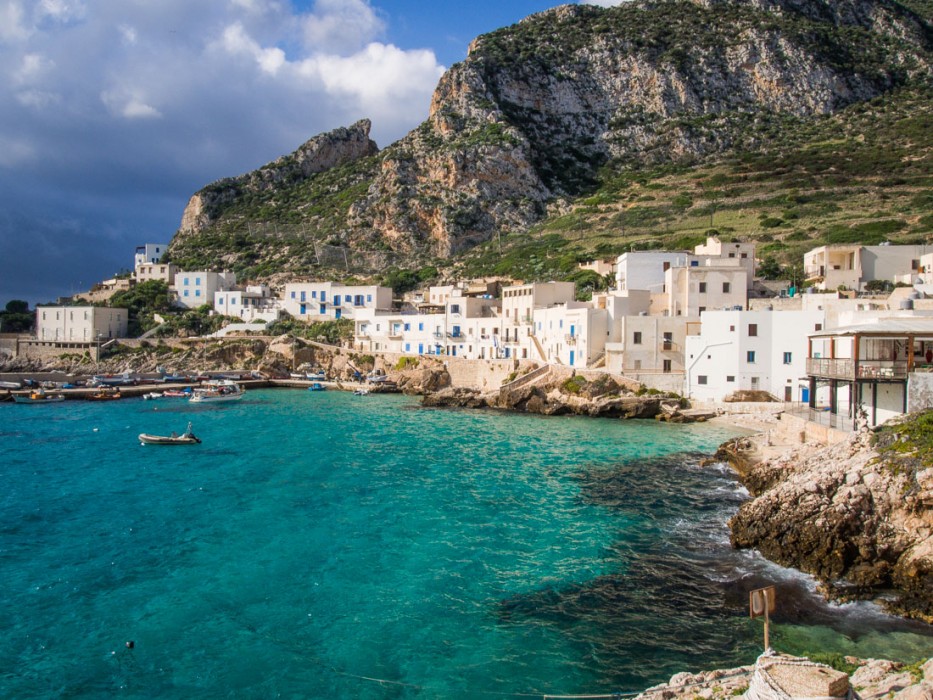 Off the coast of Trapani it's just a short hydrofoil ride to the Egadi islands. Favignana is the biggest and most visited, but after seeing a photo of Cala Dogana, the main village on Levanzo, we knew we had to visit this smaller island. It turned out to be one of our favourite Sicily destinations.
The ferry ride only took 50 minutes (the hydrofoil is half that), but we felt like we'd been transported to a remote Greek island.
Cala Dogana is a tumble of white washed cubes falling towards the translucent turquoise waters of the horseshoe harbour, green jagged peaks looming above.
There's not much to do on Levanzo except for a visit to Neolithic cave paintings (which we skipped), so we spent a few hours wandering around the rocky coastline down to isolated bays and along paths covered with wildflowers. The mountainous centre of the island feels remote, just fields of sheep and a few lone houses.
7) Castellammare del Golfo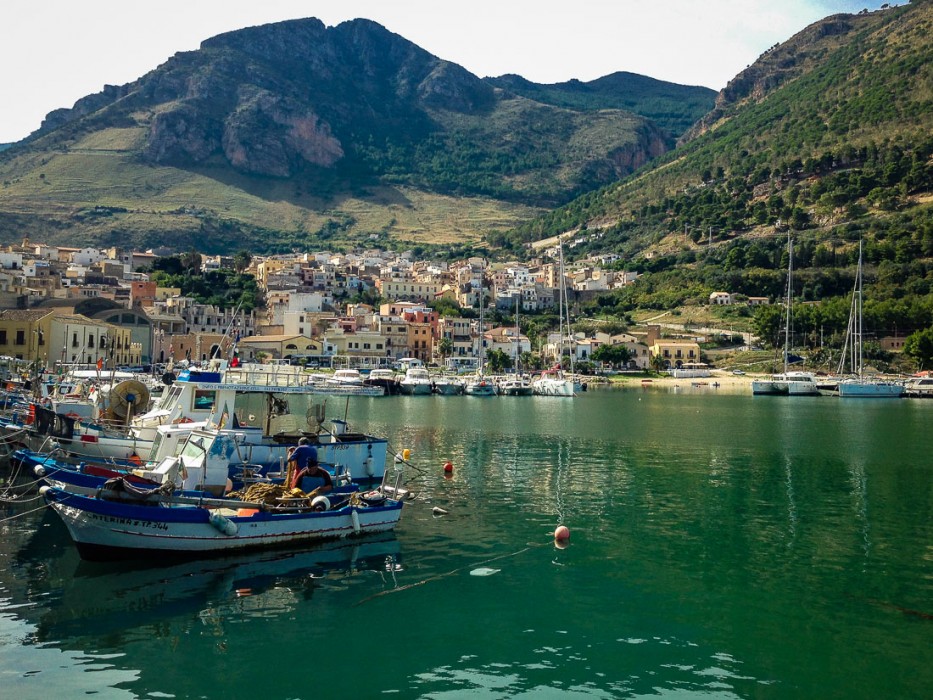 We spent a few weeks renting a villa just outside Castellammare del Golfo, a small seaside town on the Golfo di Castellammare between Palermo and Trapani.
There's a small historic centre, but the main attraction is its seaside castle and harbour where rustic fishing boats float alongside fancy yachts, all with a backdrop of lush green mountains.
8) Alcamo Marina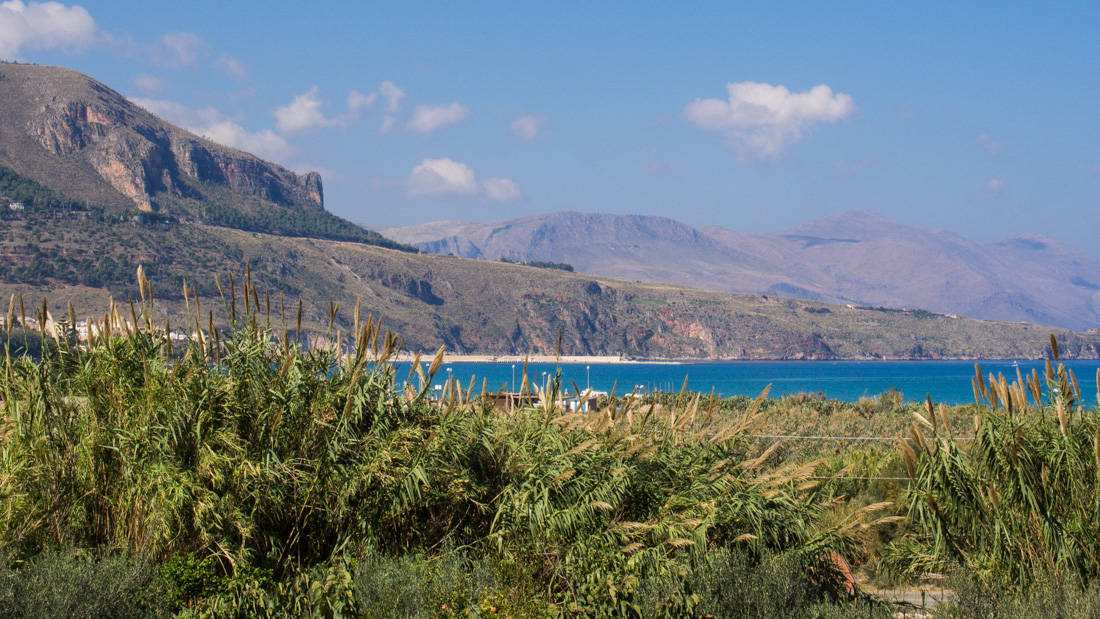 Alcamo Marina is a beach town just outside Castellammare del Golfo. My parents were visiting us for a week so we rented a villa there as a base to explore Western Sicily. It was a tranquil place to relax between sightseeing, and we loved the view so much that we stayed on for another week after they left.
The villa is a modern two bedroom house with a huge terrace and a very welcoming host Rose who lives downstairs. Let us know if you'd like the details.
9) Lo Zingaro Nature Reserve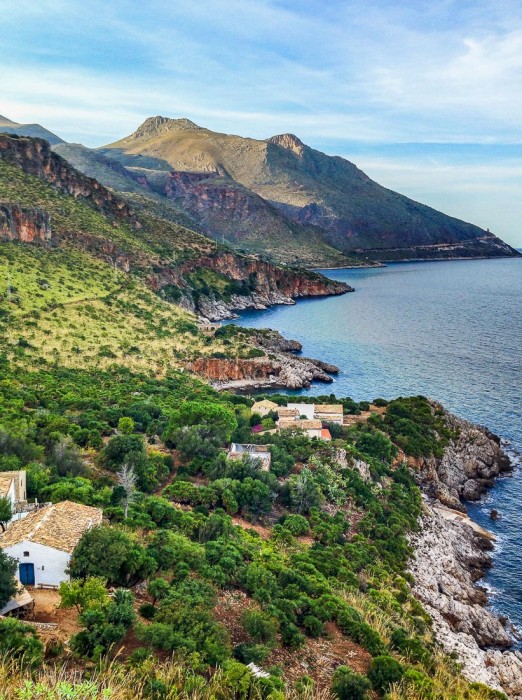 West of Castellammare del Golfo the coastline becomes rocky and dramatic with the sea carving out many coves in the limestone cliffs. The area is a nature reserve called Lo Zingaro and there's a fantastic 7km coastal hike from the entrance near Scopello to near San Vito Lo Capo further west.
You can hike the whole thing there and back in a day, or like we did, just walk as far as you'd like and then turn back. It's a peaceful hike outside of high season and there are plenty of places to stop for a swim. Definitely add this nature reserve to your Sicily itinerary.
10) Agriturismo Tarantola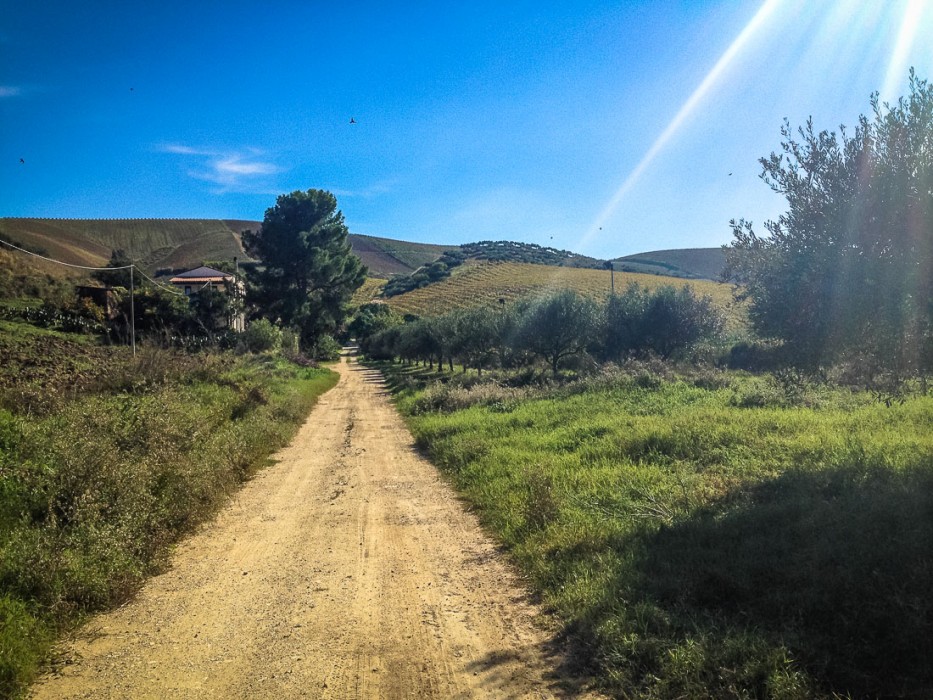 As we discovered in Puglia often the best meals in Italy can be found on agriturismi or family-run farms that offer guest accommodation. The best way to experience them is to stay overnight but it's also worth visiting for a meal.
We visited Agriturismo Tarantola near Alcamo to try their wines (we loved the Nero d'Avola red) and have a long leisurely four course lunch on the terrace amongst orange and lemon trees. Everything we ate was delicious and most of it came from the farm—the vegetables, olive oil, wine, and limoncello. At €25 per person it was great value.
We also convinced Filippo to sell us some of his three day old dark green punchy olive oil—he usually only sells it in bulk and had to decant it to plastic bottles for us—which was worth the trip alone.
11) Segesta
Segesta is worth a quick visit to see the well preserved ruins of a 5th century BC Greek temple perched on the edge of a ravine surrounded by unspoilt rolling green countryside.
12) Aeolian Islands
Although the Aeolian Islands aren't in Western Sicily (they're off the Northeast of the island), I couldn't resist including them here because they are absolutely stunning and are easily combined with a trip to the western side of the island.
Lipari is the main island, but for a relaxing break we highly recommend Salina which is quieter and greener. The scenery is spectacular with lush mountains inland and dramatic volcanic cliffs plunging into the sea. The hills are covered in capers, wildflowers, and vines heavy with grapes for sweet Malvasia wine.
For more adventure, head to Stromboli for a sunset climb of the volcano. It's one of our favourite ever travel experiences.
The Aeolian islands can be reached by ferry or hydrofoil from Milazzo, which is on the train line.
Sicily Accommodation
We rented apartments and villas in Western Sicily locally, but I recommend searching on Booking.com which has a range of hotels, B&Bs and apartments to suit all budgets.
Sicilian Food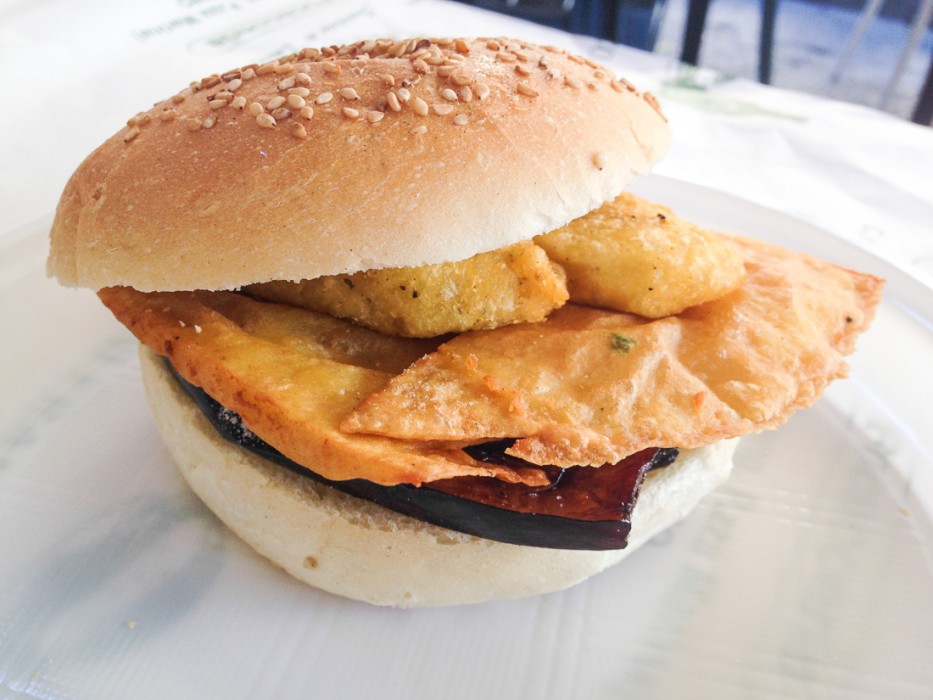 As always in Italy, the food in Sicily was a highlight of our trip, although it has a distinctive cuisine from its neighbours further north.
From panelle chickpea fritters stuffed in a sesame roll, to pistachio gelato, mulberry granita, pesto Trapanese, sweet sour caponata, and sweet ricotta-filled pastries, we ate very well, even as vegetarians who had to skip all the fish.
Read our Sicily food guide for the best dishes to try on your trip.
Best Places to Visit in Sicily Map
Although our stay in Sicily was limited to the western part of the island and the wonderful Aeolian islands, there was so much to explore that we don't regret missing Eastern Sicily—we'll just have to save that for our next trip.
If you enjoyed this post, pin it!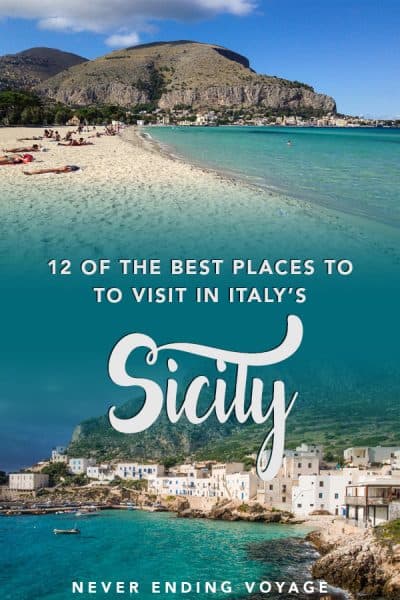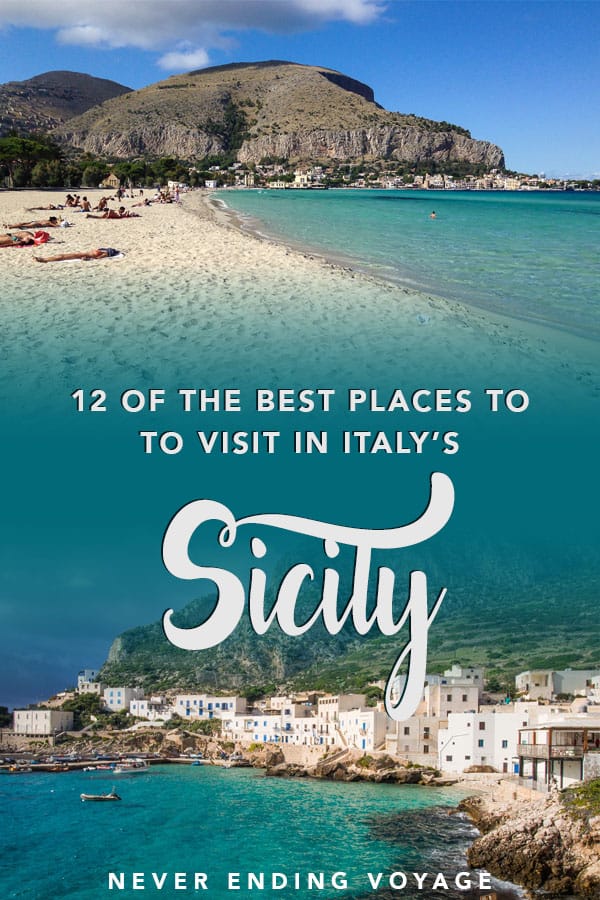 This post was originally published in 2013 and updated in 2018.