This page contains affiliate links. Please read our disclosure for more info.
I fell for Procida as soon as I saw the view from the Terra Murata. A tangle of houses painted in pink, yellow, blue and green tumbled towards Marina Corricella, the sun setting behind it and lighting up the sky in a blaze of orange and pink. Small fishing boats were dotted in the water—the fishermen use the lavishly bright buildings to find their way home.
I wondered how I'd never heard of this gorgeous island. Procida is the smallest island in the Bay of Naples and despite its location just a 40 minute hydrofoil ride from Naples it receives nowhere near as many foreign visitors as the neighbouring islands of Capri and Ischia. Procida seems to want to keep its secret to itself, although it's popular with napoletani looking for a summer escape from the steaming, chaotic city.
The tiny island is only 4 square kilometres and we walked everywhere—to the black sand beaches that ring the island, almost empty during the week and bustling with families on weekends; and through the winding narrow streets in the centre, the high walls hiding cube shaped houses and lush gardens.
Paintwork is faded and crumbling, doors are ancient and rusted, and the streets are enlivened with pink bougainvillea and tiny white jasmine, their scent accompanying us on our strolls. Lemon groves are squeezed into every available space.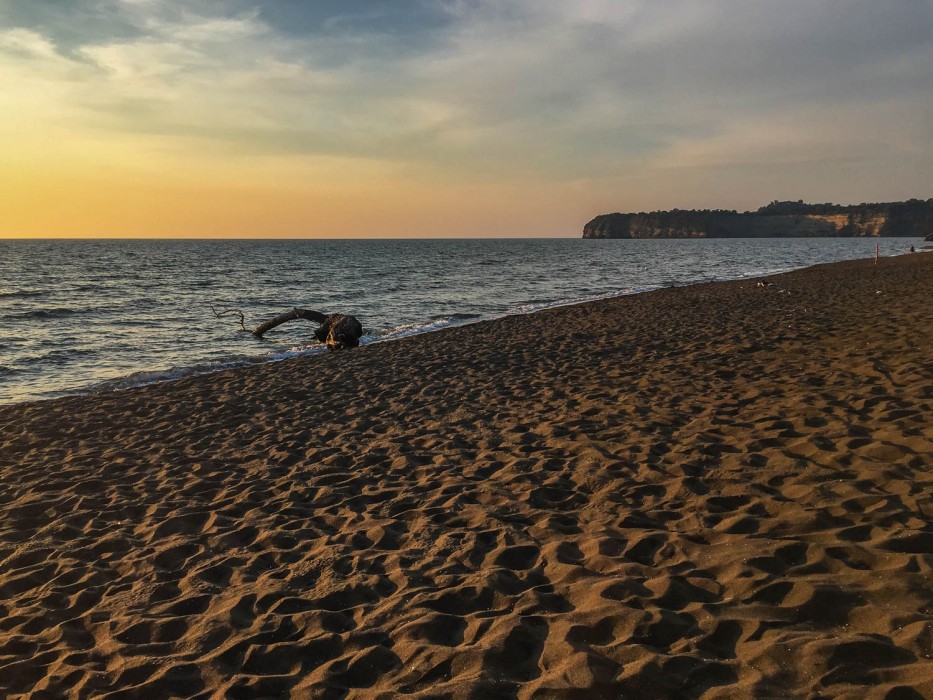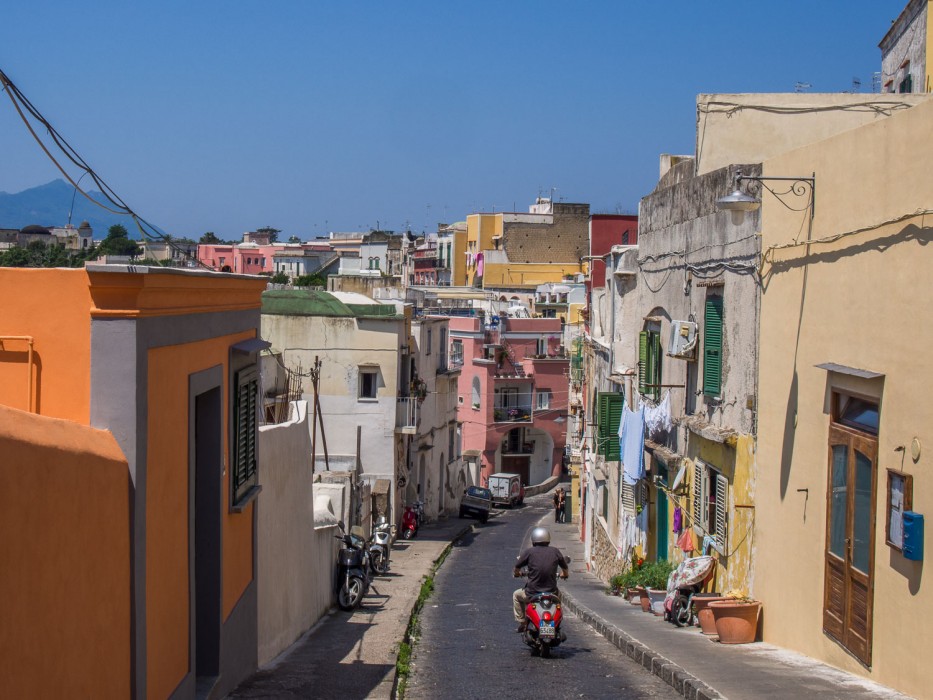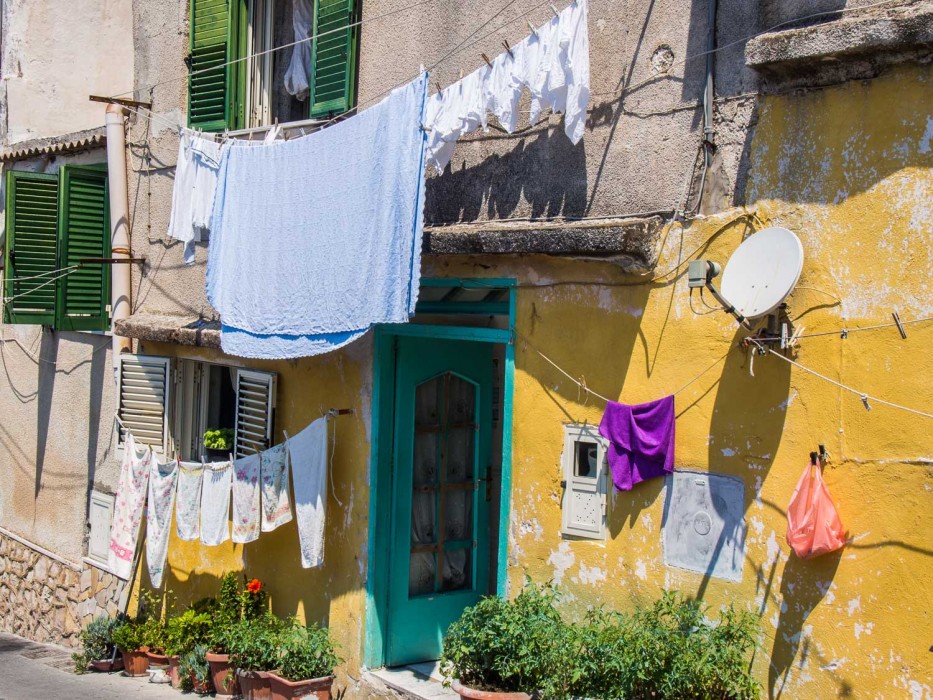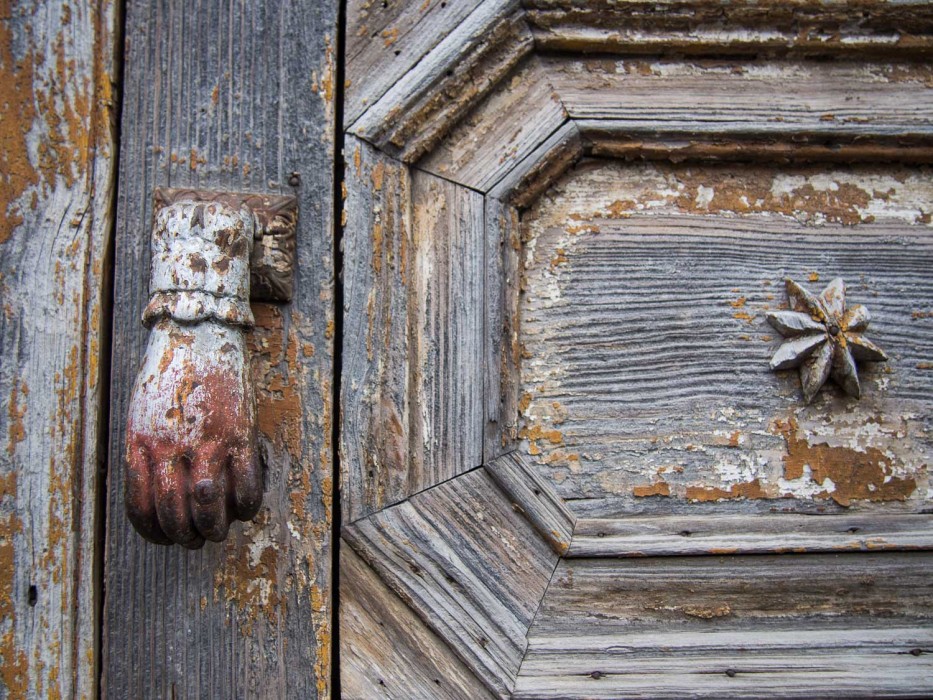 The Terra Murata is the highest point on the island and the oldest village—the fortress walls were built as protection from invaders in the 15th century. We wandered the medieval streets and visited the rather quirky and crumbling church the Abbazia di San Michele which has excellent views from its terrace.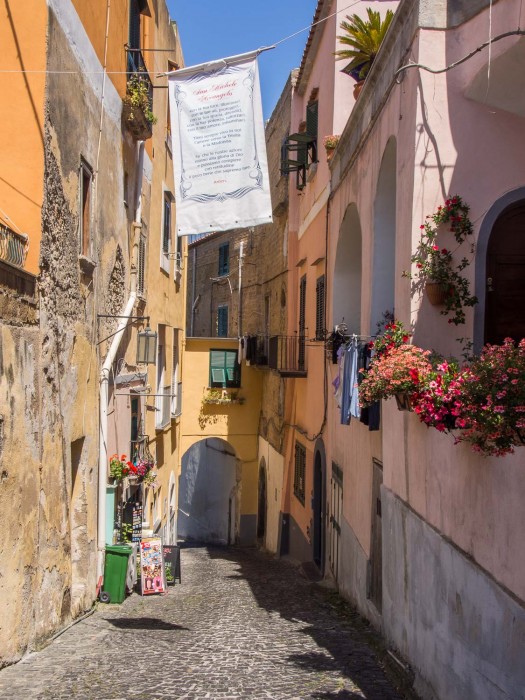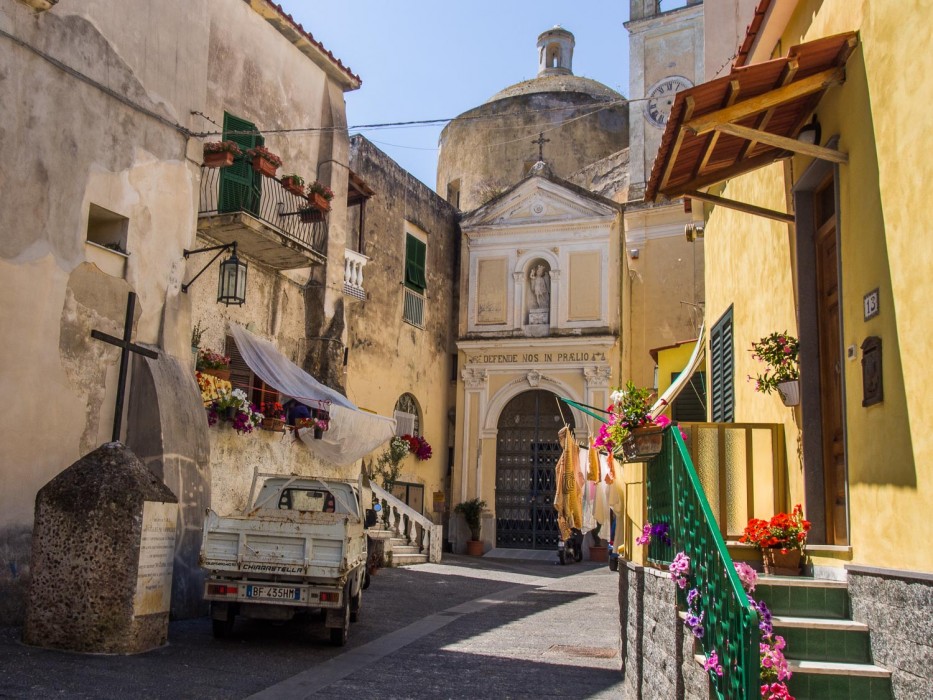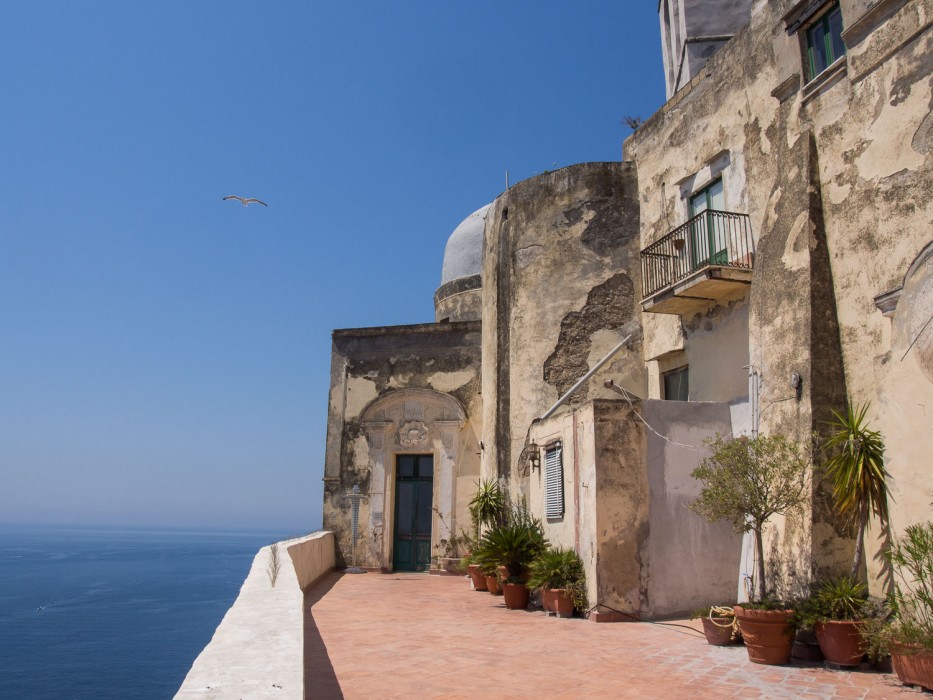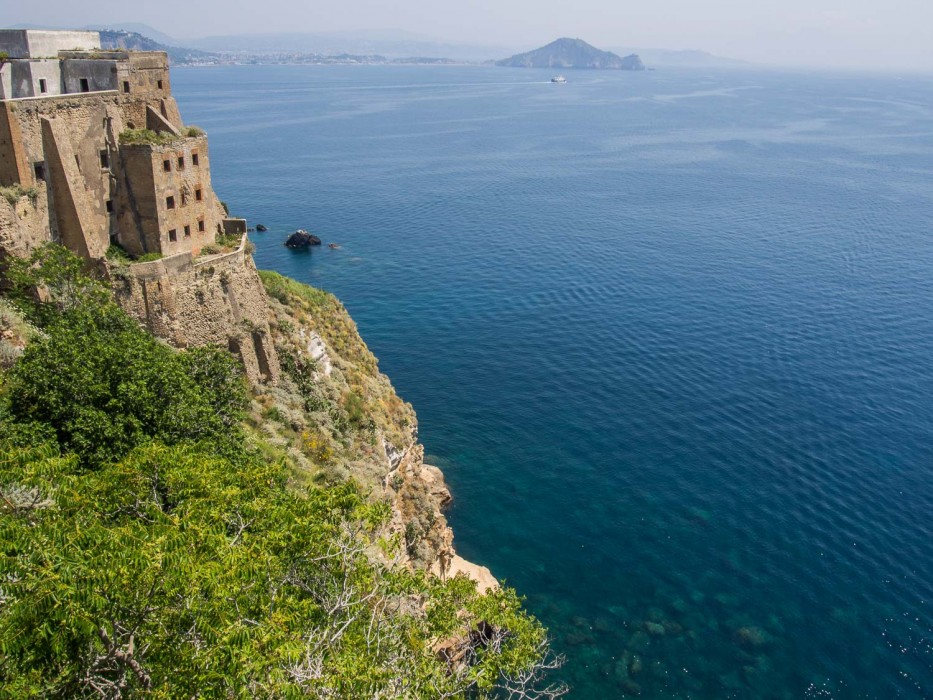 Procida's highlight is Marina Corricella, the colourful fishing village that's built into the rock leading to the sea. The 17th century settlement is traffic-free and can only be reached by stairs in passageways through the houses.
Along the waterfront there are piles of fishing nets and patio restaurants where you can enjoy a meal with a view of the Terra Murata and bobbing fishing boats.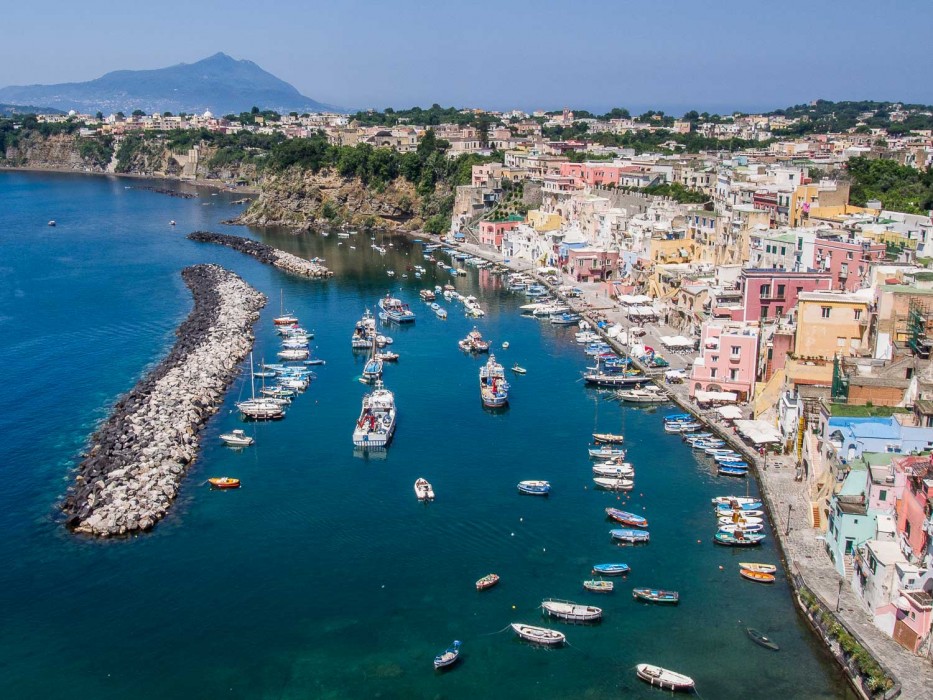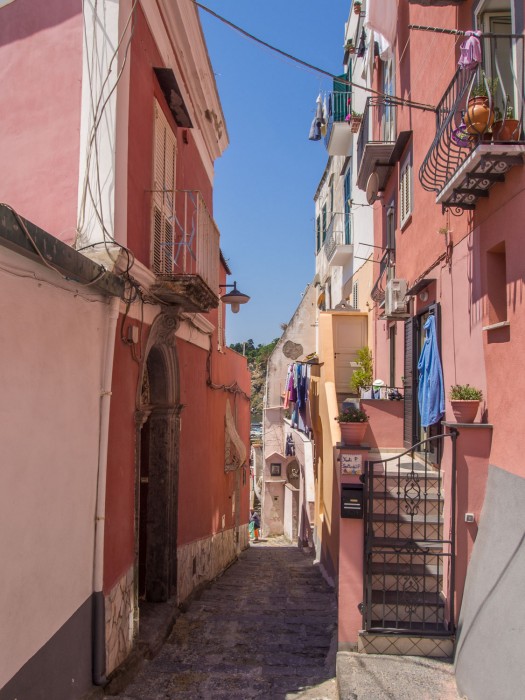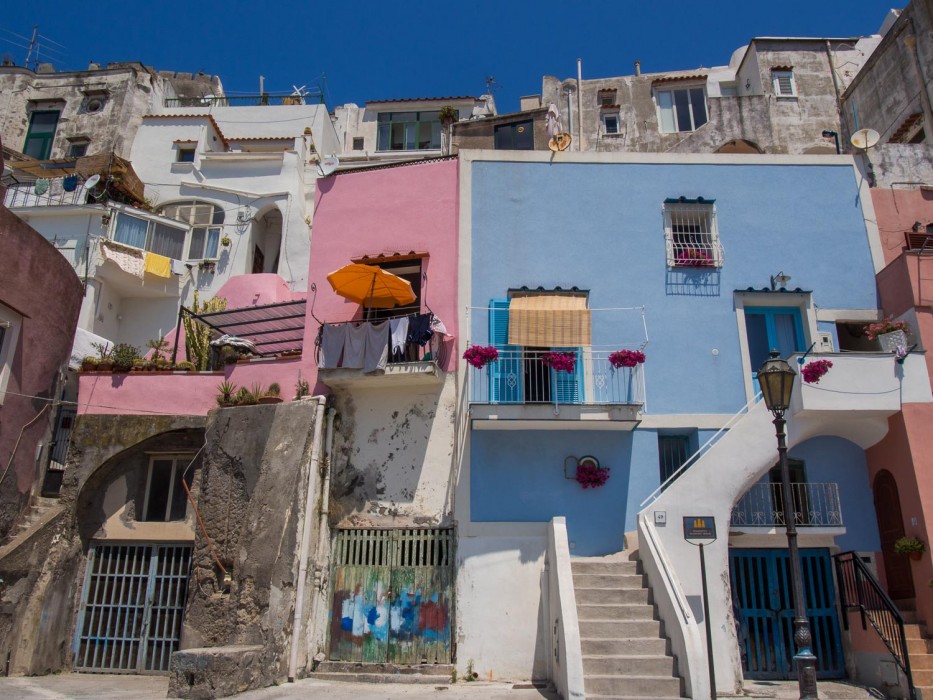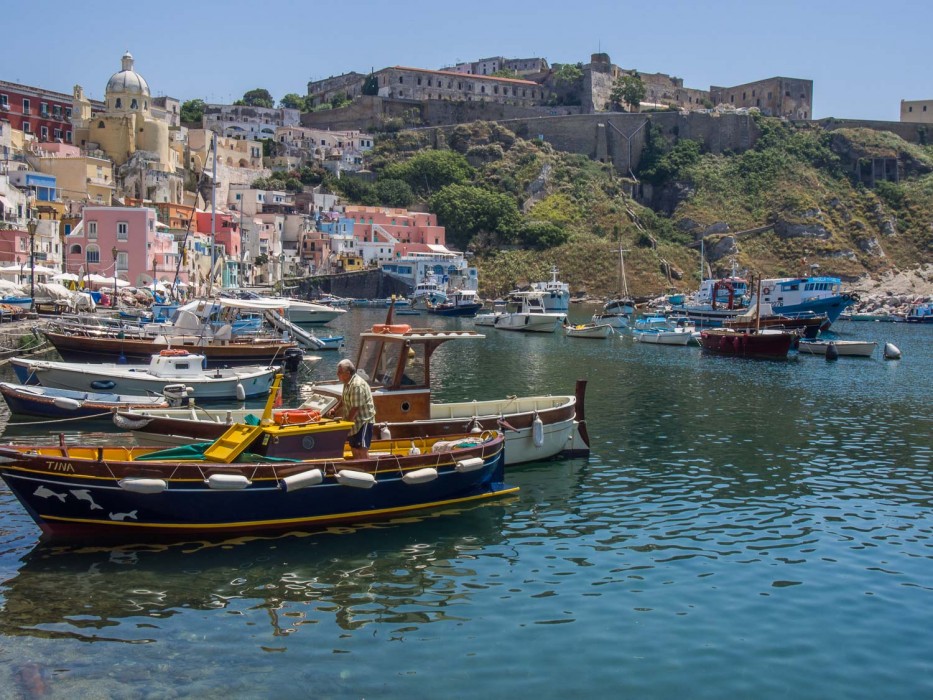 Procida feels like paradise but it has its issues. It's densely populated and the narrow roads are too small for the traffic—teenagers whizzing around on vespas, old men driving mini three wheeled trucks called Ape (bee) that buzz like their namesake, or tiny, ridiculously cute Fiat Cinquecentos.
It's not quite Naples but it's not a rural idyll either. It's an island where locals live and work, regardless of the whims of tourists.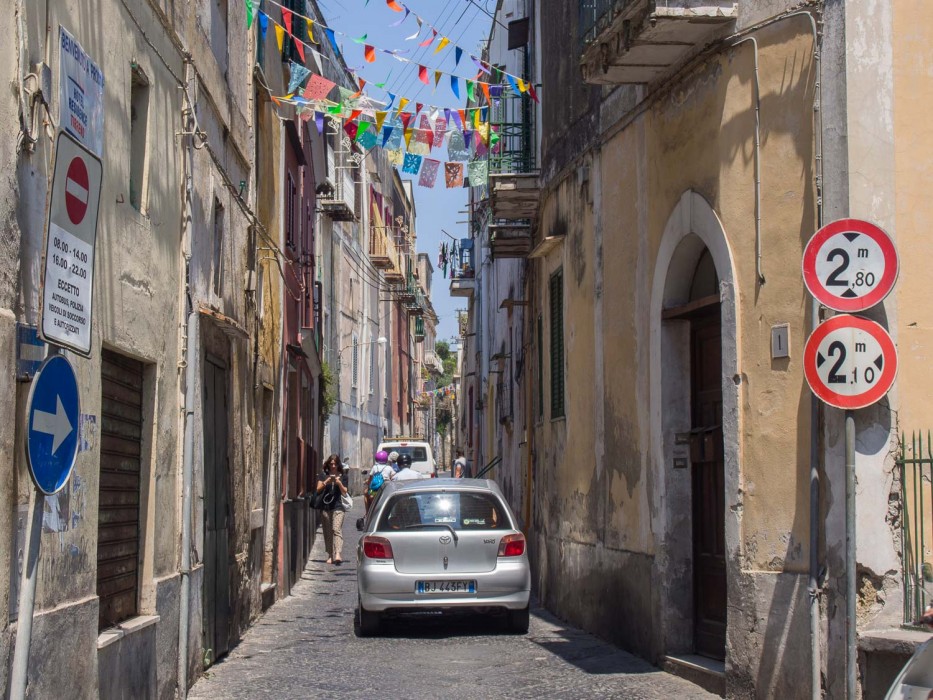 When the streets are quiet—early in the morning or on lazy Sunday afternoons—it's a wonderful place to wander. Every morning at 6am I'd run in a different direction—to the quiet peninsula Solchiaro, in search of the lighthouse on the north coast (I never did find it), and always back up the road to the Terra Murata for that view.
My discoveries—a new viewpoint, a hidden path along the coast, a narrow street adorned with vibrant flags—energised my runs and increased my love for the island.
You could see the "sights" of Procida on a day trip but I think it deserves a longer visit to enjoy morning strolls, lazy lunches, afternoons at the beach, and evening apertivo. To see how the colours of Marina Corricella change at different times of day, to find new sunset spots, to sip espresso alongside locals. To slow down and appreciate this beautiful island.
Where to Stay on Procida
There aren't many hotels on Procida but there are lots of options on Airbnb. We spent a week at Margarita's House, a lovely two bedroom apartment above a friendly family's home. It was bright, spacious, very clean and well equipped, and had sea views and a terrace.
The only downside was the lack of couch, although there's an armchair in the entrance area. It was conveniently located in the centre of the island, very close to a bus stop, a five minute walk to Ciraccio beach, and a five minute walk to Piazza Olmo where there are a number of small shops. We could walk everywhere in 20-30 minutes. Our apartment cost £374 (about €500/ $560) for the week.
If you are trying Airbnb for the first time sign up here for $35 off.
Where to Eat on Procida
Unsurprisingly fish dominates menus on Procida so it wasn't great for vegetarians like us. Some menus don't list any vegetarian options but it's always possible for them to adapt something so just ask.
Procida Transport
Hydrofoils (aliscafi) take about 40 mins from Molo Beverello in Naples, and ferries (traghetti) take one hour from Porta di Massa in Naples. The SNAV hydrofoil costs from €17.50 and the Caremar ferry is €17.20 each way. You can check the timetables on the SNAV and Caremar websites. You can also reach Procida from Ischia.
On Procida there are a few bus lines that take you all over the island. Buy tickets in advance from bars and small shops.
Procida Films & Books
Parts of Il Postino and The Talented Mr Ripley were filmed on Procida.
Girl by Sea by Penelope Green is the memoir of an Australian who lived on Procida and is a fun way to learn more about the island, and follow in her footsteps (we had a campari spritz at Bar Capriccio) during your stay.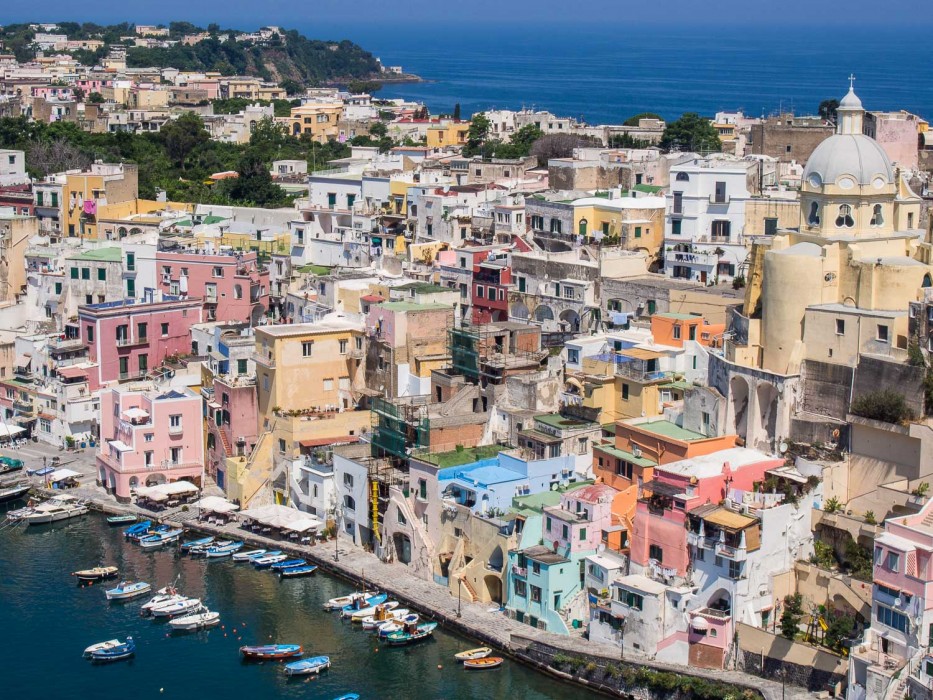 I'm amazed that after 10 visits to Italy we still manage to find places like Procida—stunningly beautiful, utterly charming, and still off the beaten track. As it's just a short hop from Naples there's no reason not to add it to your Italy itinerary.
We visited Procida because it was the starting point for our week long sailing trip in the Bay of Naples & Amalfi Coast—read more about the sailing trip.
I've also written about how we visited the nearby Amalfi Coast on a budget (and escaped the crowds) by staying in San Lazzaro, Agerola and hiking the Path of the Gods.
If you are a fan of Italian islands, check out our post on Salina, Sicily, another off-the-beaten-track gem.
If you enjoyed this post, pin it!