This page contains affiliate links. Please read our disclosure for more info.
In Matera Italy you'll spend a lot of time in caves. You'll sleep in a cave, eat in a cave, drink an aperitivo in a cave, and even view modern sculpture in a cave.
The ancient neighbourhoods, known as sassi, are a series of grottoes carved out of limestone, teetering on the edge of a ravine.
This southern Italian city is one of the most unique and spectacular places we've visited in Italy or anywhere in the world. We love it so much we've visited three times.
For years Matera wasn't well known to foreign visitors, but that has been changing since it became a UNESCO World Heritage Site in 1993, a European Capital of Culture in 2019, and the 2021 James Bond film No Time to Die was filmed here.
While visitor numbers have grown and many of the caves in Matera have been transformed into stylish hotels and restaurants, the city still has far fewer tourists than further north.
In this travel guide, I share the best things to do in Matera, where to stay and eat, how to get there, and a map with all the top Matera attractions.
Contents
Video: Explore Matera Italy
Watch our video for ideas of what to do in Matera.
Matera Travel Tips and Facts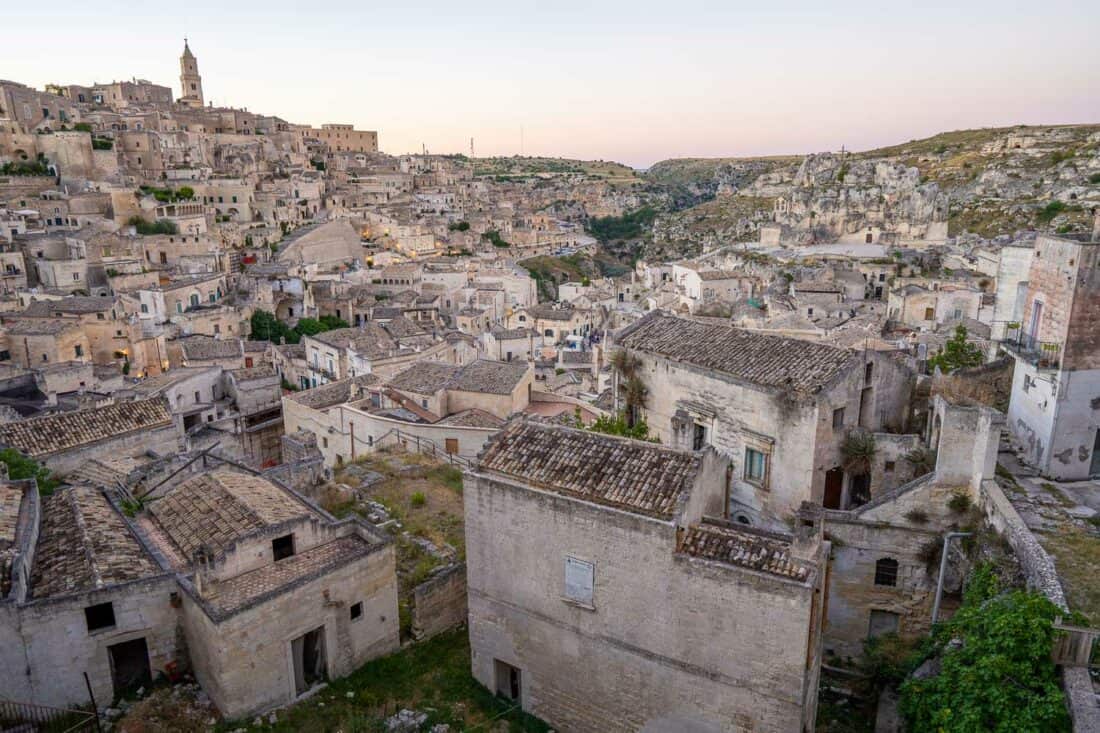 Where is Matera Italy?
Matera is located in a remote corner of southern Italy in the small region Basilicata.
The nearest airport is 65km (40 miles) away in Bari in the neighbouring Puglia region. It's only an hour's drive and last time we booked a private taxi from the airport to Matera, which was super easy.
I recommend combining a trip to Matera with Puglia, which has many beautiful towns and beaches—discover the best places to visit in Puglia.
Matera is 250km (155 miles) or a 3-hour drive from Naples.
Below you'll find more details on how to get to Matera.
How Old is the City of Matera Italy?
Matera is one of the oldest continuously inhabited settlements in history dating back to the Palaeolithic period.
On the other side of the ravine from the sassi, you can see the simple forms of the Neolithic caves where people lived 7000 years ago.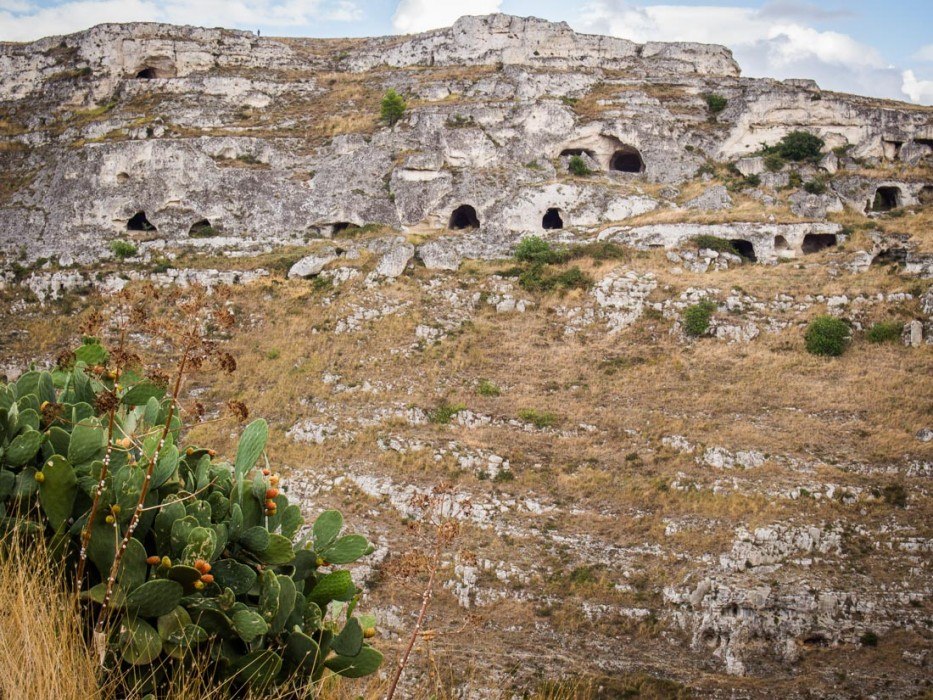 What is Matera Known For?
Matera is known as the city of caves with spectacular scenery, stylish cave hotels, and a fascinating history.
It wasn't always a desirable location, though.
Until the 1950s, Matera was a source of shame for Italy. It was a place of poverty, malaria, and high rates of infant mortality, where people lived in caves without electricity, running water, or sewage.
Carlo Levi's book Christ Stopped at Eboli, published in 1945, raised awareness of the desperate conditions people were living in.
About half of the 30,000 population were moved to new homes in the modern part of the city between 1953 and 1968.
How Many Days Do You Need in Matera?
Matera is very walkable and you can get a good sense of the sassi with one day in Matera.
Some people visit on a day trip from Puglia. While this is doable, I recommend staying for at least two nights.
Matera is such a special place that it's worth at least two days to soak up the atmosphere, see the city lit up at night, and enjoy some delicious meals.
What to Pack for a Matera Trip
I recommend packing as lightly as possible. If you stay in the sassi of Matera, you won't be able to park nearby and will likely need to carry your luggage up the many steep staircases.
If you are driving, it'll be easier if you leave most of your luggage in the car and take a small backpack to your hotel.
Some hotels may be able to help with luggage or provide a valet parking service—check with them in advance.
The best way to explore Matera is on foot so comfortable shoes are essential.
In summer, I like a combination of Teva Verra hiking sandals and Allbirds ballet flats, which are dressier but still ultra comfortable.
In cooler weather, Allbirds Wool Runners are also super comfy for Matera sightseeing. See my Allbirds review for more details.
Our carry on packing list has everything we pack for our full-time travels.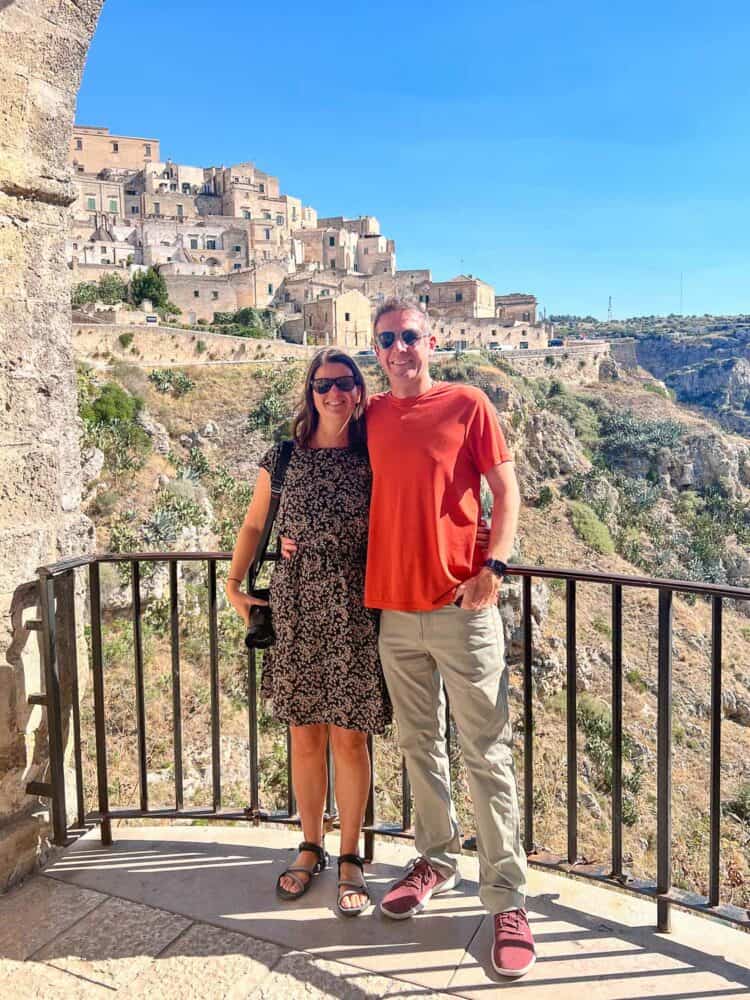 Best Things to Do in Matera Italy
1) Stay in a Matera Cave Hotel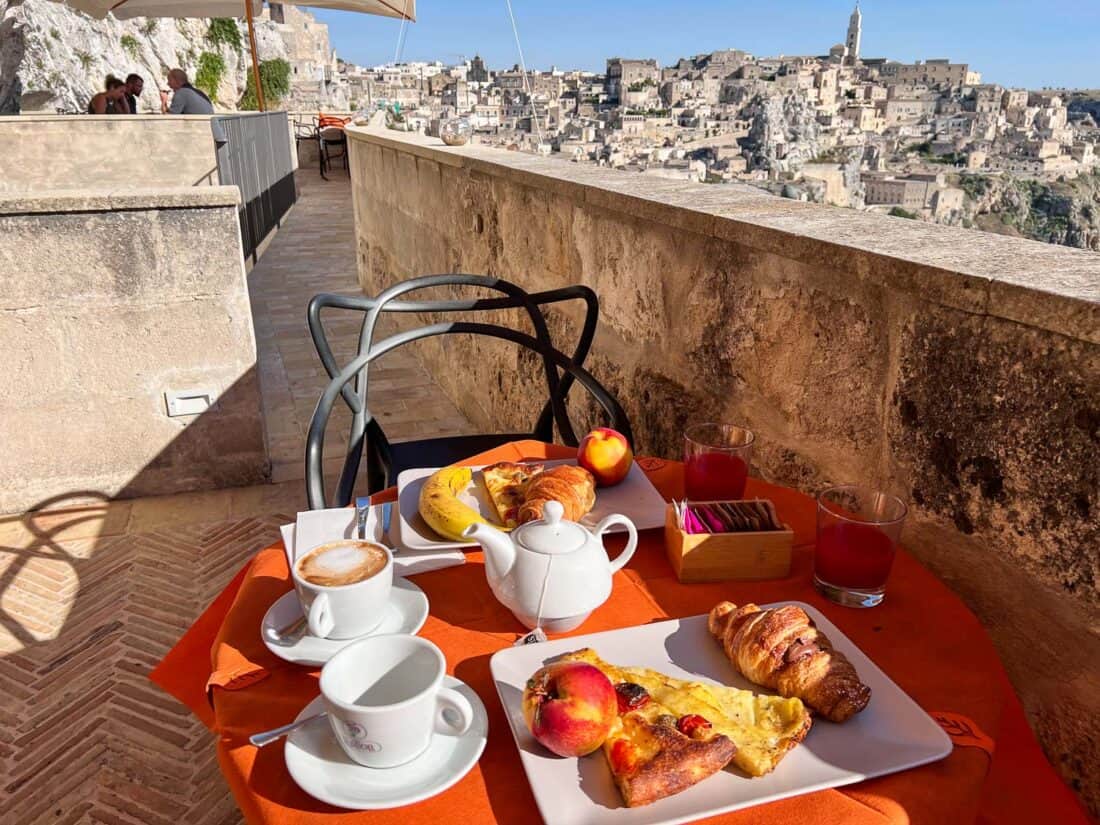 One of the most unique things about Matera is the large number of cave hotels and B&Bs. Staying in one really adds to the magical experience of visiting the city.
On our latest Matera visit, we stayed in a cave room at Hotel Il Belvedere. The terrace has incredible views of the sassi and ravine (the perfect location for breakfast or a drink), and our huge room was cool even in 40ºC heat.
On a previous trip, we stayed at Bed and Breakfast La Corte dei Pastori in the heart of the old sassi. We loved the atmospheric rooms, gorgeous views, delicious breakfast, and friendly hosts.
See the Where to Stay in Matera section below for more details.
2) Wander and Get Lost
The best thing to do in Matera is wander and get lost in the incredible streets.
Although we preferred exploring alone, it could be worthwhile visiting with a guide to learn more about Matera's history.
This two-hour guided tour of Matera's sassi is affordable and gets excellent reviews. Or check out this private Matera walking tour for a more personal experience.
If you don't want to walk, the only option is this tour in an Ape, an open-sided tuk-tuk.
From Matera's train station we walked through the modern city of Baroque churches and graceful palaces.
The first glimpse of the sassi (the stones) stops you in your tracks, looking down at the dramatic tangle of grey stone houses; a contrast with the elegance of the new town.
Walking down a steep staircase, we plunged into a magical world that didn't quite feel real.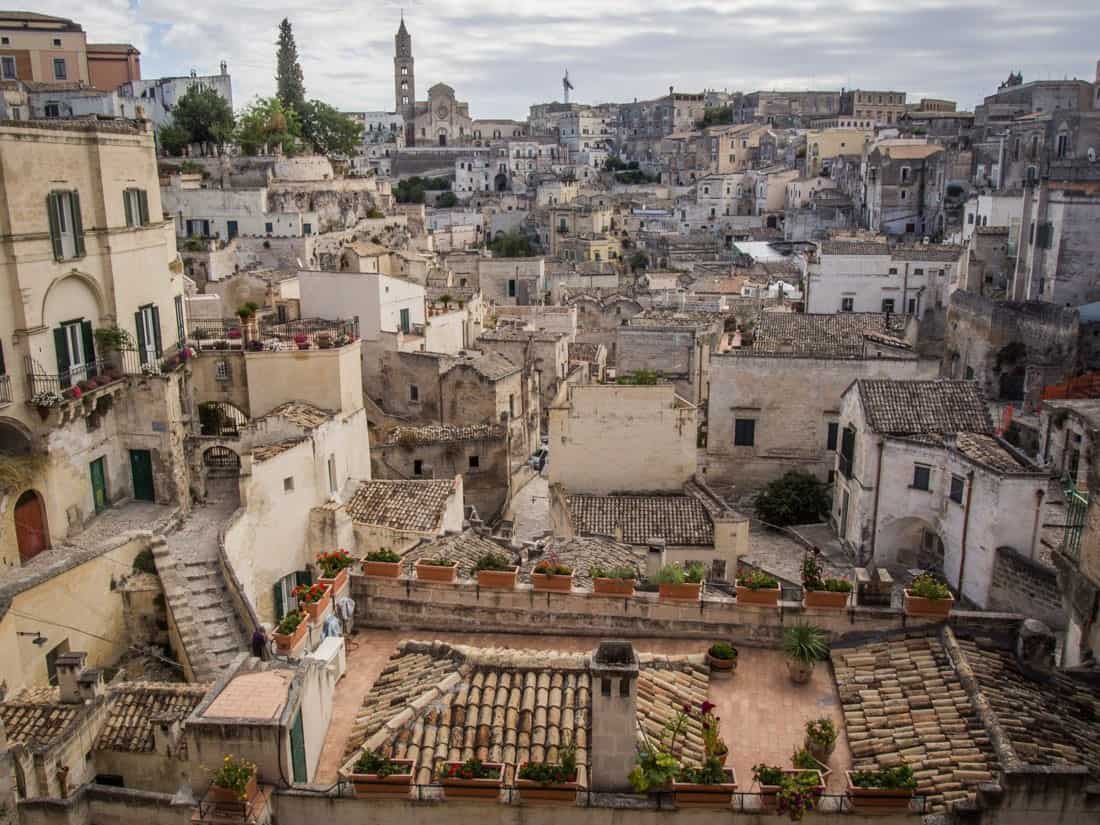 Buildings climb up and down the hillside, houses piled on top of each other, the roofs of some acting as streets for those above.
They were carved out of rock and the original caves extended with facades that look like normal homes.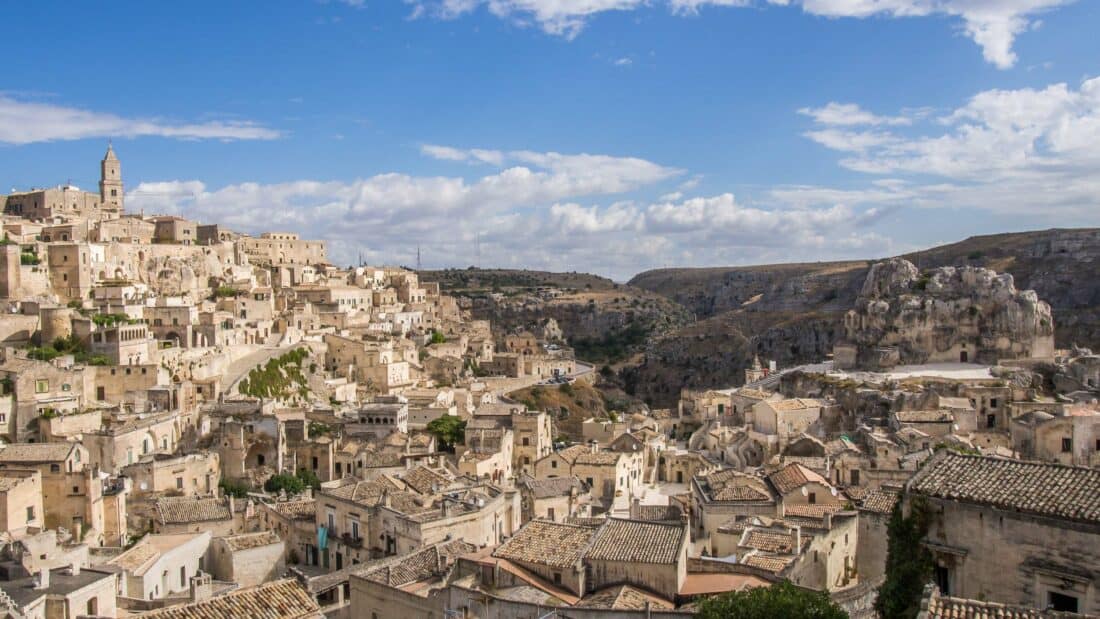 The best way to explore the neighbourhoods Sasso Barisano and Sasso Caveoso is on foot.
Roam through the labyrinth of narrow alleyways, up and down uneven stone staircases, discovering dead ends and tiny courtyards adorned with flower pots, cave churches and expansive views of the sassi.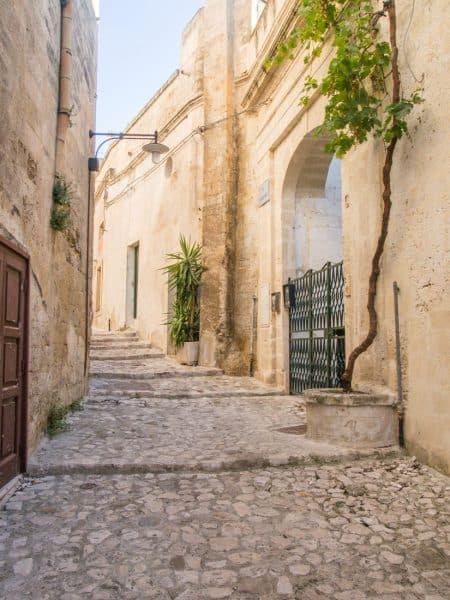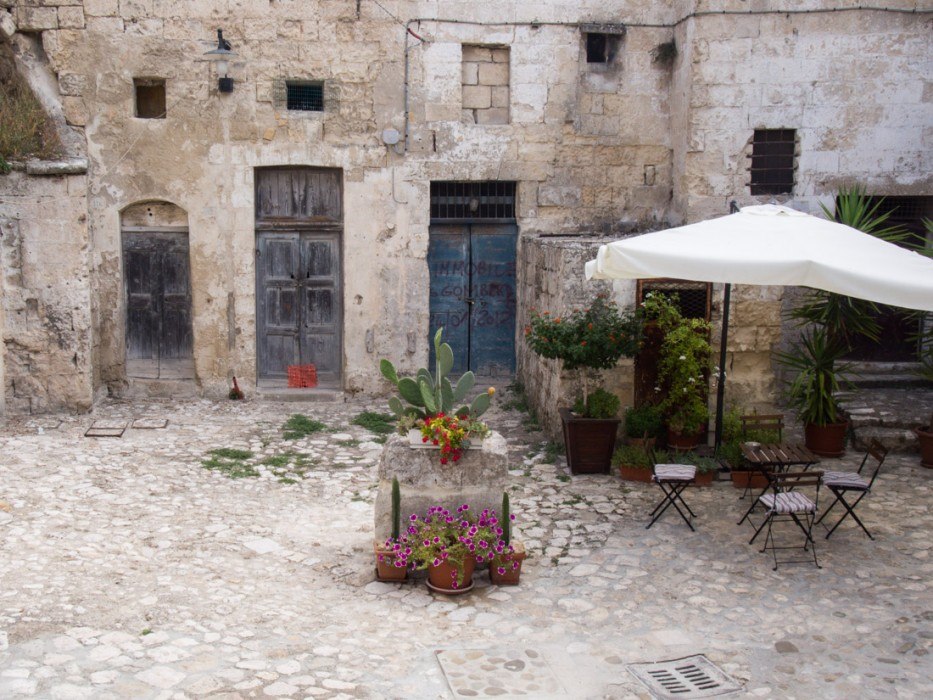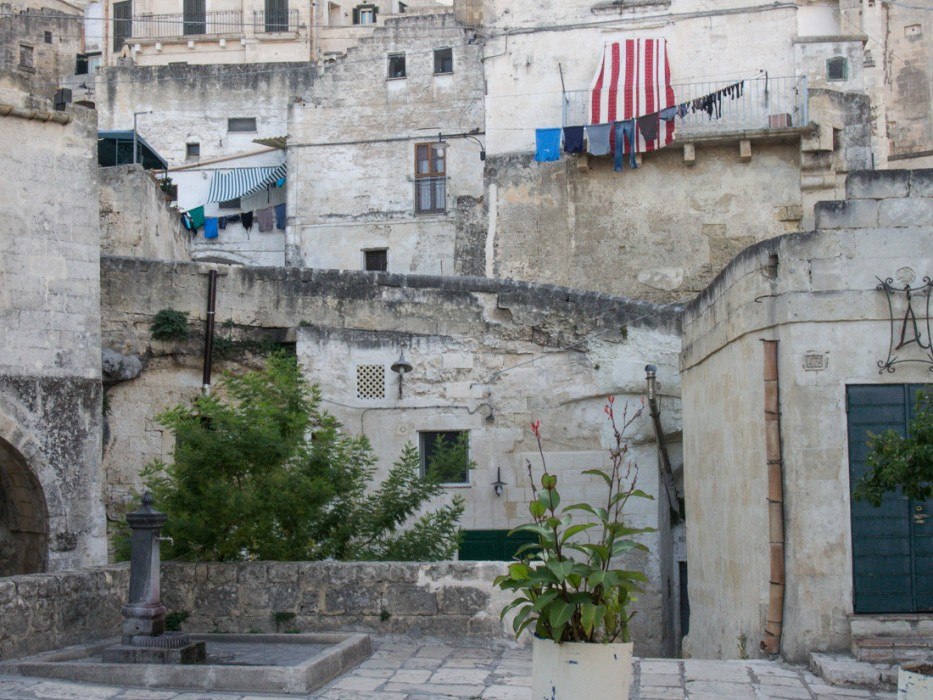 3) Admire Matera from a Viewpoint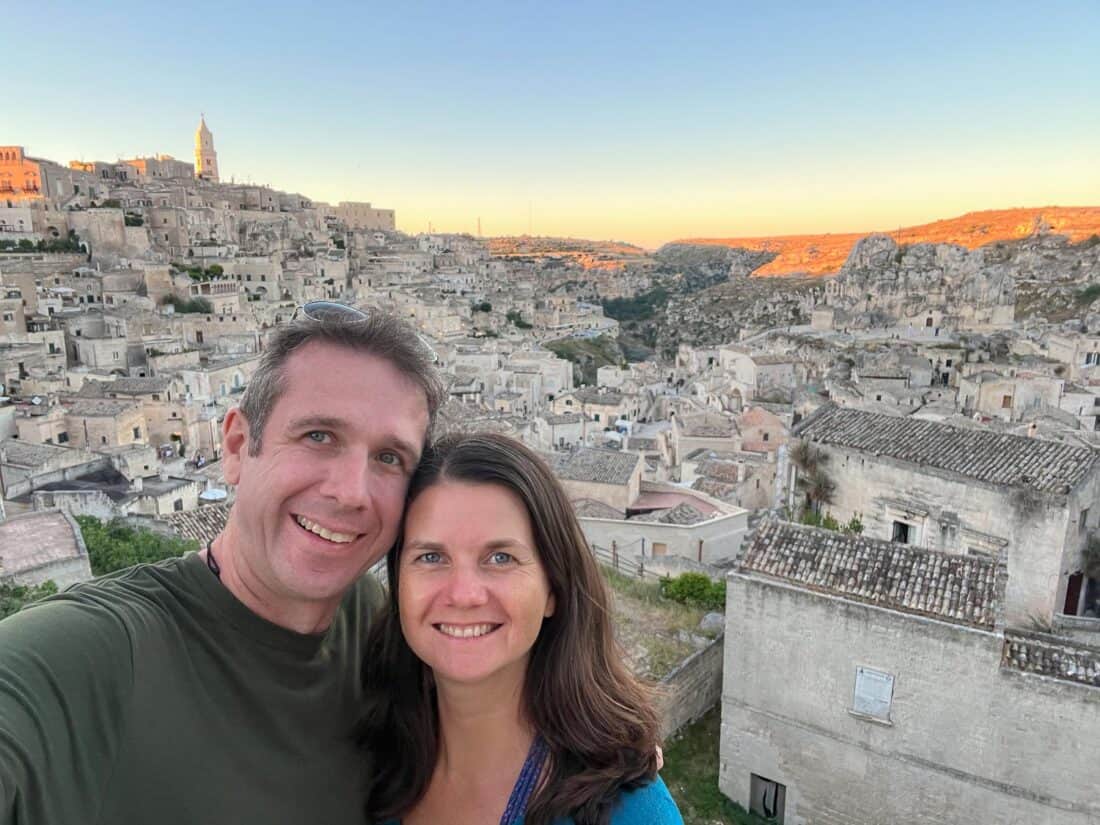 It's not difficult to find scenic spots, but it's worth seeking out some viewpoints for the absolute best panoramic views of Matera. Around sunset is usually a beautiful time and I also love to see the city lit up after dark.
Belvedere di Piazza Giovanni Pascoli – My favourite viewpoint looks down into the sassi with views of the Duomo's bell tower, the rock church, and the ravine. It's off Via Ridola near two of the best places to eat and drink with a similar view—5 Lire (pizza slices) and Terrazza Cavaliere (drinks and aperitivo). See our Matera restaurants guide for details.
Piazza San Pietro Caveoso – Next to the Church of San Pietro e Paolo is a beautiful view down into the ravine. Walk further along the road here to look back at the rock church. You'll likely pass here often as it's close to many top Matera sights and restaurants.
Above Church of San Pietro Barisano – After visiting this rock church in Sasso Barisano, walk up the streets above it for an excellent view. Enjoy a drink at Crialoss Cafe. In the early evening, the light is wonderful here when the buildings are in shade at the other viewpoints.
Belvedere Luigi Guerricchio detto dei "Tre Archi" – Next to Matera's main square, Piazza Vittorio Veneto, in the newer part of the city. It's not as sweeping as the others and you can't see the ravine, but it has a good view of the Duomo and you can see how densely packed the city is.
I also highly recommend hiking into the ravine for an excellent view.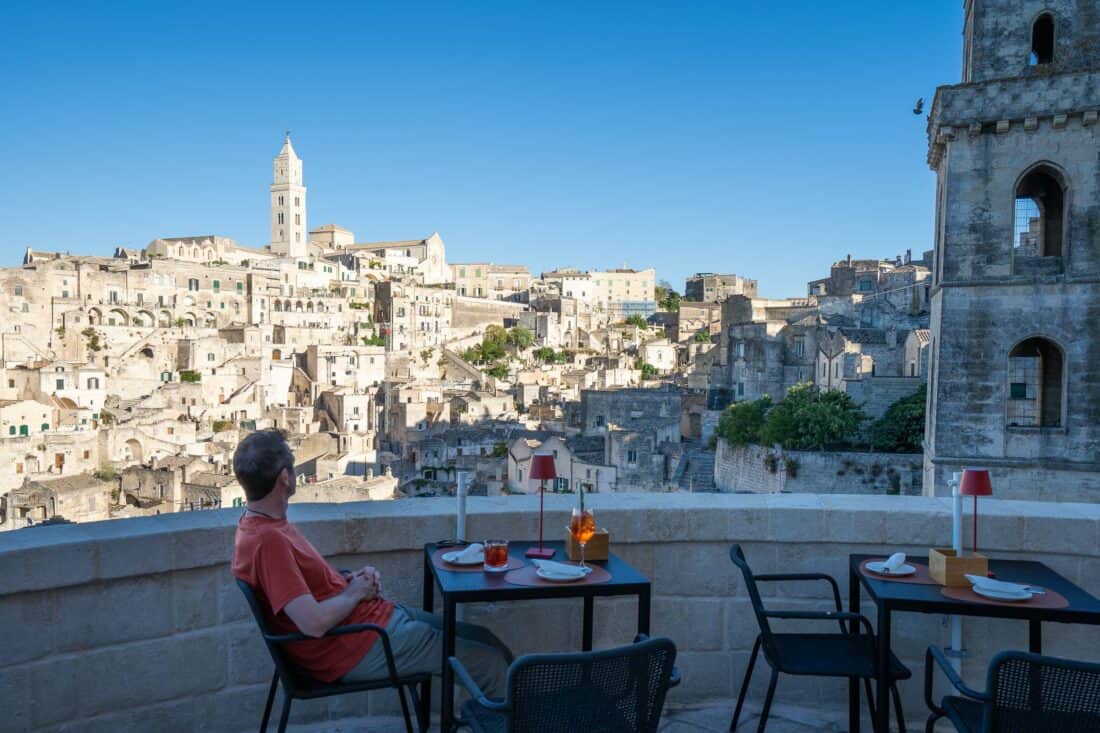 4) Visit Cave Churches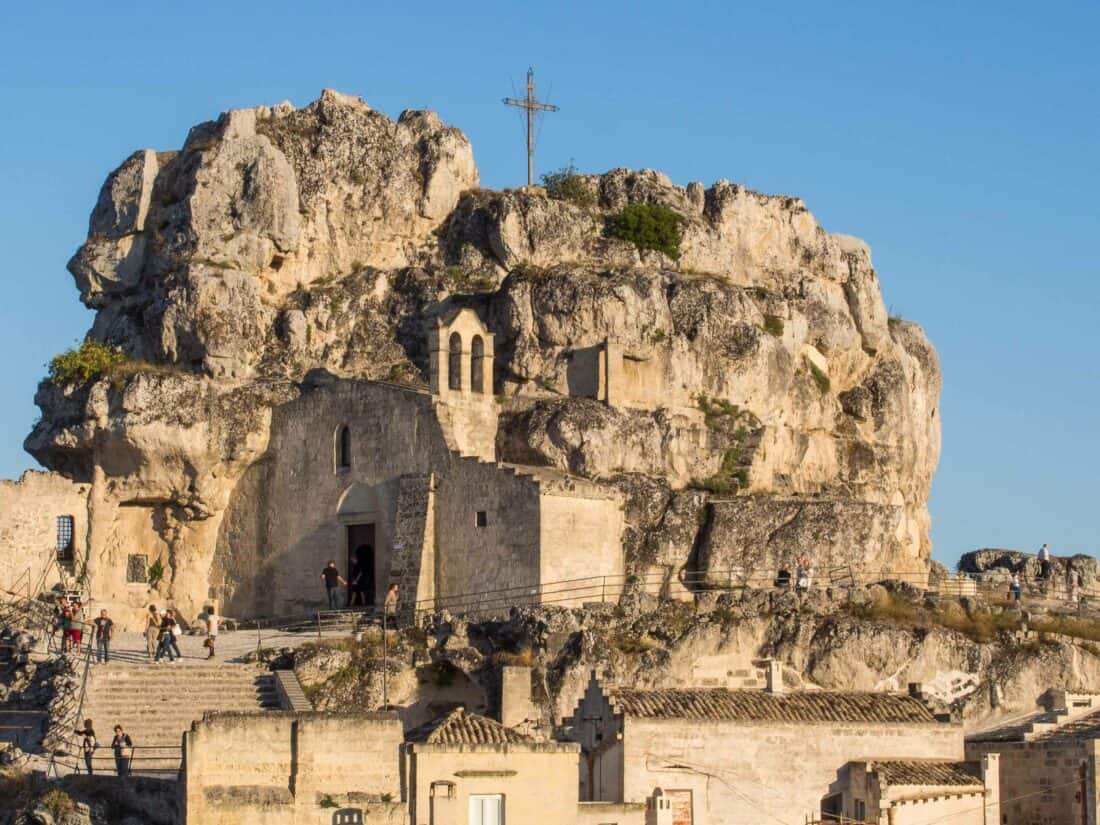 One of the best things to see in Matera is the many chiese rupestre, churches that have been carved out of the soft tufa rock. Many of them contain ancient frescoes.
The most famous cave church is Santa Maria di Idris with its dramatic location built into a huge rock on the edge of the ravine. It's a distinctive sight from viewpoints throughout the city.
If you only have time for one Matera rock church, make it this one. It's most impressive from the outside, but inside there are two small cave chapels featuring frescos from the 12th century. You can't take photos inside.
Santa Lucia alle Malve is another cave church nearby. If you already have a cave church combo ticket, go straight to the entrance on the right. It's less impressive from the outside but has some interesting art inside including the Virgin breastfeeding.
The third cave church included in the ticket is San Pietro Barisano, which is the largest rupestrian church and dates back to the 12th century. It's on the other side of town in the quieter Sasso Barisano.
It also has some ancient frescos as well as a rather creepy crypt with seats carved into the walls where dead priests were left to decompose.
We visited just before it closed and combined it with a drink with a view at Crialoss Cafe, which is directly above the church.
The cave churches are open from 10am to 7pm every day. Entrance to Santa Maria di Idris is €4 or you can get a ticket valid for three rock churches for €8.
5) Explore the Uninhabited Caves of Sasso Caveoso
Most of the caves in Matera are now homes, hotels, restaurants, and bars.
But on the edge of town, on Rione Casalnuovo in Sasso Caveoso, you can peer into uninhabited caves and get a sense of what it was like to live here years ago.
It's the rawer side of town, and for us, the most fascinating.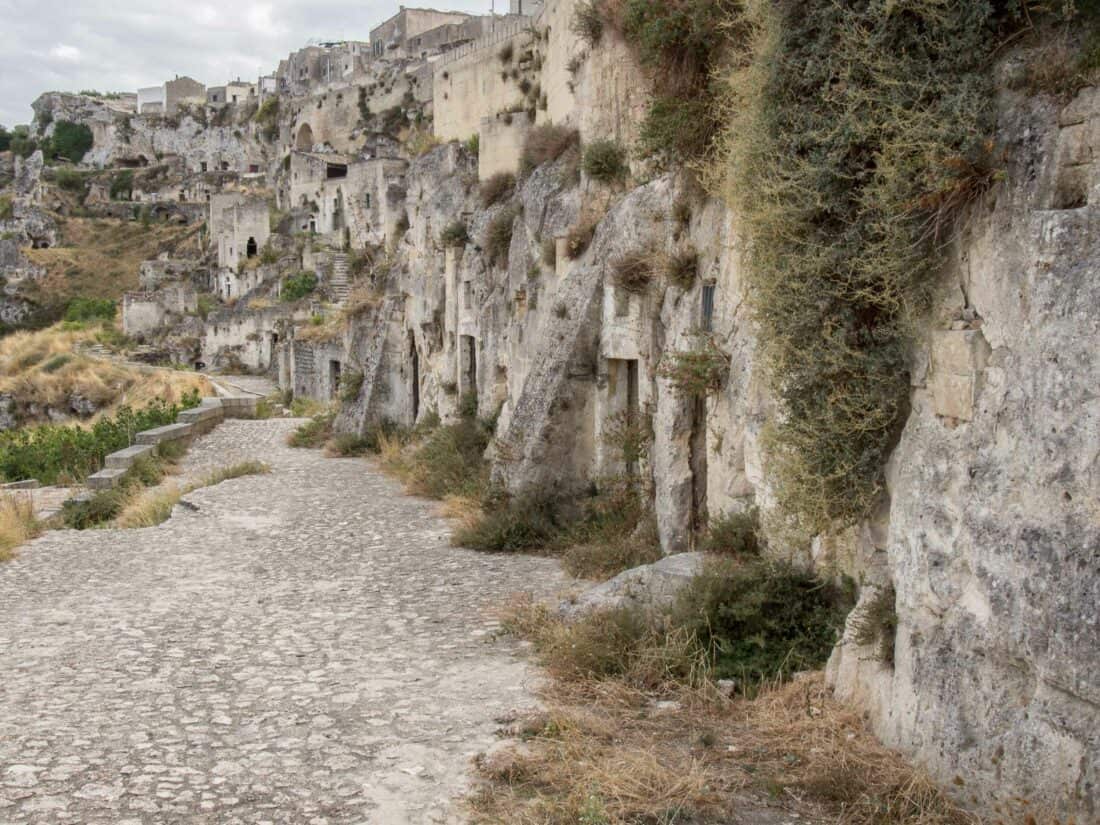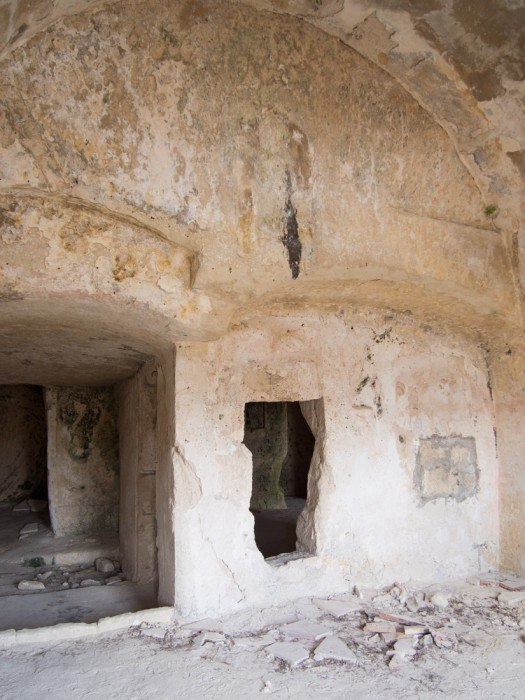 6) Learn Matera's History at Casa Noha
A good first stop for your Matera visit is Casa Noha, where you can watch a 30-minute film about Matera's history.
It takes place in a historic building and you move between rooms for different sections of the film. While the film is in Italian, an audioguide is provided for English and other languages.
It really gives you some context to the city learning about how bad living conditions were up until the 1950s and how the sassi were abandoned entirely for years before being regenerated.
Casa Noha is open every day except Wednesdays from 10am to 7pm (5pm in winter). Entrance is €6.50.
7) Admire Sculptures at MUSMA
MUSMA (Museum of Contemporary Sculpture) is an art museum with modern sculptures scattered in the nooks and crannies of a 17th-century cave palace.
It's an extraordinary setting and worth a visit even if you aren't into modern art.
MUSMA is open every day from 10am to 8pm (until 6pm in winter). Entrance is €7.
8) Head Back in Time in a Casa Grotta (Cave House)
Some of the most interesting places to visit in Matera are the Casa Grotta (cave houses).
Several caves have been set up as typically furnished cave dwellings where you can see how people used to live.
The entire family (on average six members) including animals like mules, chickens, and pigs lived together in the cave. You can see the furnishings, tools, and other artefacts of the time.
These one-room museums are a fascinating insight into life in the sassi, especially when combined with the film at Casa Noha.
The most popular cave house is Casa Grotta di Vico Solitario, which is conveniently located near the cave church Santa Maria di Idris in Sasso Caveoso.
It gets crowded with tour groups, though, so on our last visit we visited a quieter but just as interesting spot, Casa Grotta C'era Una Volta in Sasso Barisano.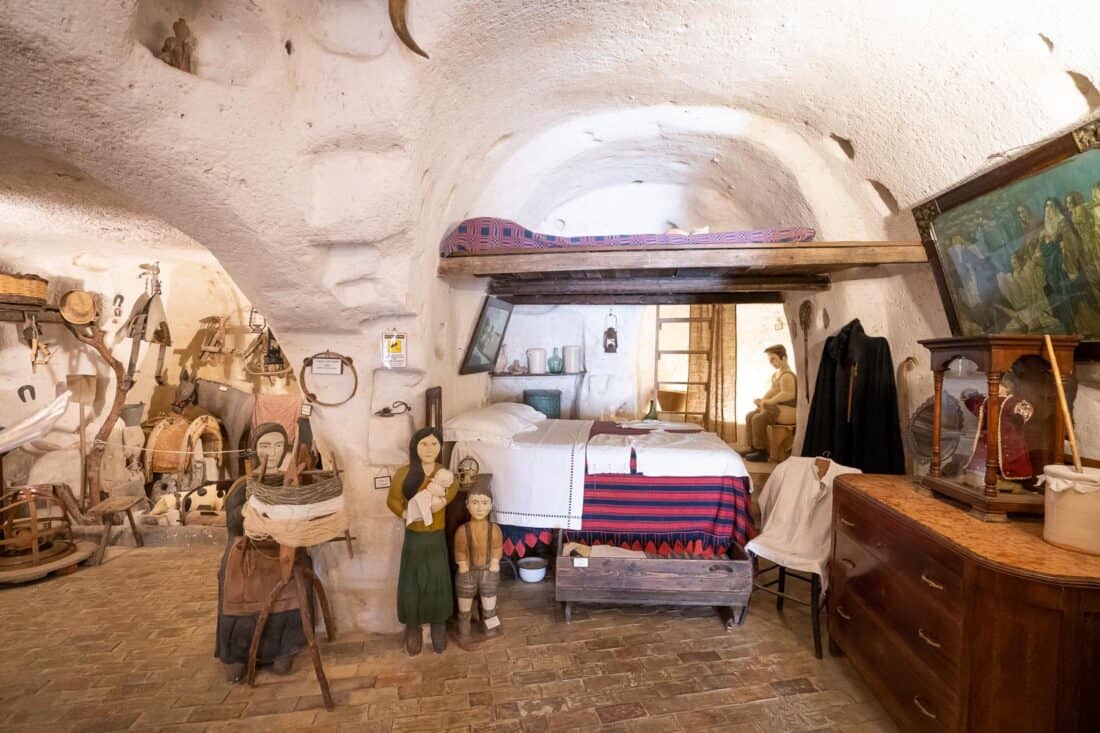 Another option is Casa Grotta del Casalnuovo, which is only a three-minute walk from Casa Grotta di Vico Solitario.
Casa Grotta di Vico Solitario is open every day from 9.30am to 6pm (7pm on weekends). Entrance is €5.
Casa Grotta C'era Una Volta is open every day from 9am to 6pm (until 8pm in summer). Entrance is €2.
9) Walk into the Ravine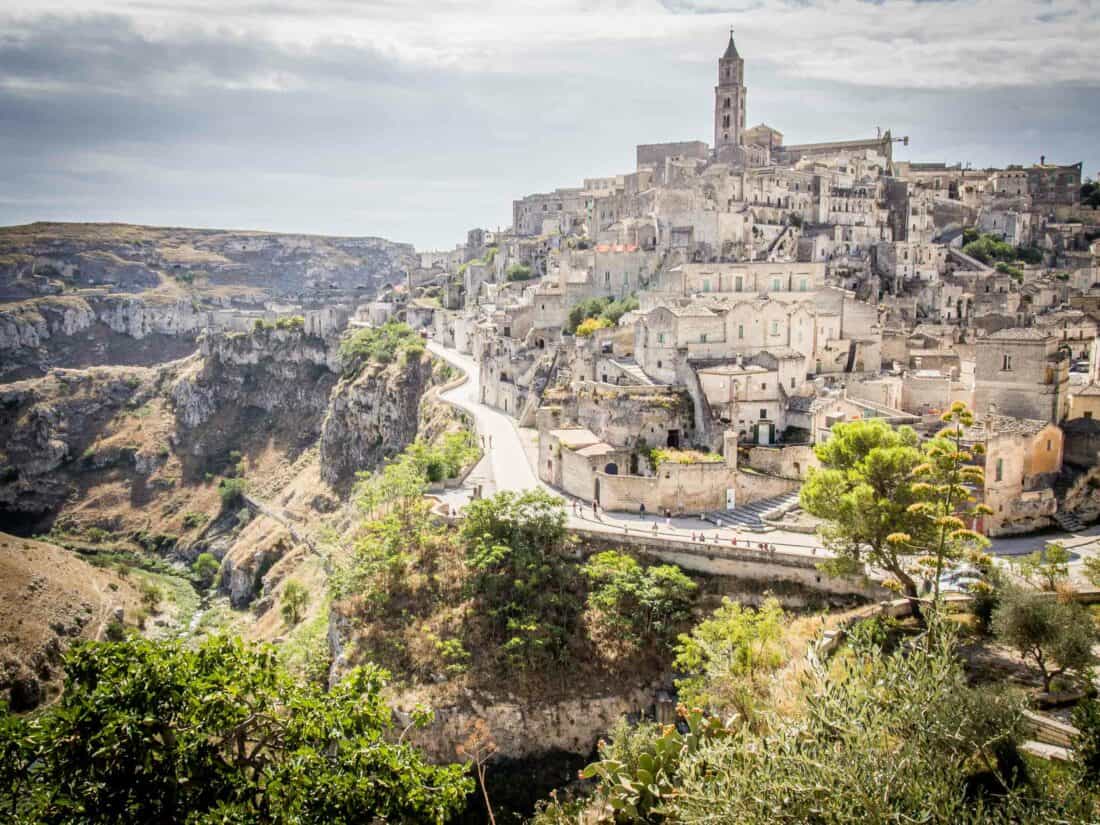 One of the top things to do in Matera is to walk down into the ravine that the city is perched on the edge of.
The whole area is part of the protected Parco della Murgia Materana. It's wonderful to have access to nature so close to a vibrant city.
It looks daunting, but the walk down into the ravine and the return back up isn't too difficult. Avoid the midday heat, though, and take plenty of water.
It's quietest in the early morning (we had it almost to ourselves at 7am) and busiest towards sunset.
You can find the trail down at Porta Pistola (marked on Google Maps as "Ponte Tibetano della Gravina – Accesso al Parco della Murgia Materana"). There's a map and a sign for the official trail name, Parco della Murgia Materana Sentiero 406 (Murgia Materana Park Trail 406).
The trail is rocky and quite steep, so decent shoes are a must. Simon wore his Teva hiking sandals while I wore my Allbirds Tree Dashers running shoes.
At the bottom of the ravine, turn right and walk along the river (loud with frog song) until you reach the suspension bridge, Ponte Tibetano della Gravina (15 minutes from the start).
Even if you just walk here, it's worth it for another perspective of the city looming above.
If you are able, I highly recommend continuing on the trail up the other side of the ravine to Belvedere Murgia Timone.
The view here is spectacular. You can really take in the scope of Matera and the difference between Sasso Caveoso (simpler dwellings built into the rock) and Sasso Barisano (taller, grander buildings).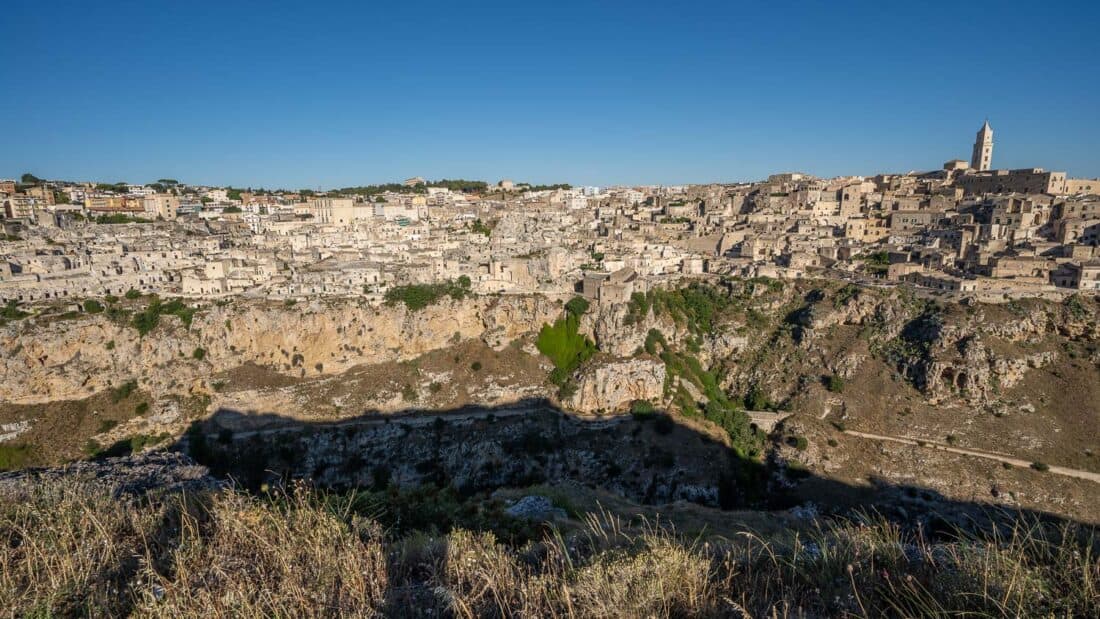 Near the viewpoint are several rupestrian churches carved out of the rock including Sant'Agnese and Madonna delle Tre Porte.
They are gated (only accessible with a guide), but you can peer inside at the 13th-century frescoes.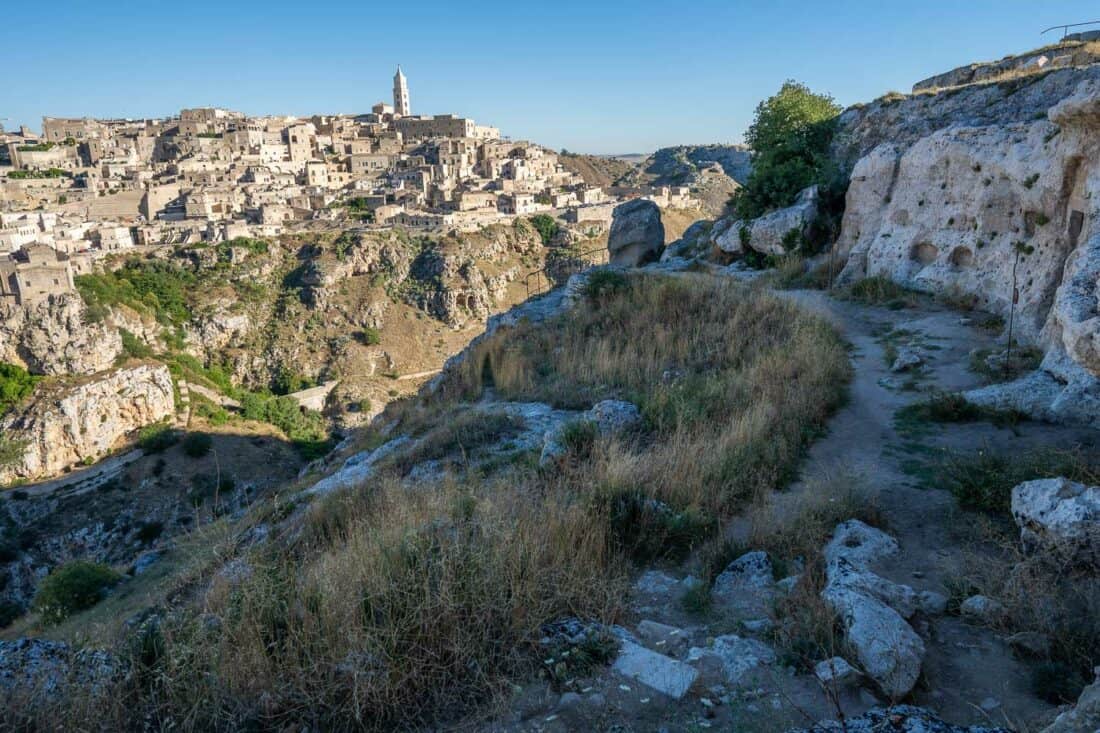 The out and back hike to Belvedere Murgia Timone was 3.5km (2.2 miles) and took us 1 hour 15 minutes with 211 metres (692 feet) of elevation gain. Most people allow around two hours for the trip.
If you are keen to carry on walking, choose from the many trails that crisscross the hillside.
If you don't feel like hiking, you can reach the viewpoint by car—it's a 15-minute drive from Matera Centrale train station. It would be stunning at sunset.
You can also explore the cave churches without hiking the ravine on this guided tour to Murgia Park.
10) Visit Matera's Duomo (Cathedral)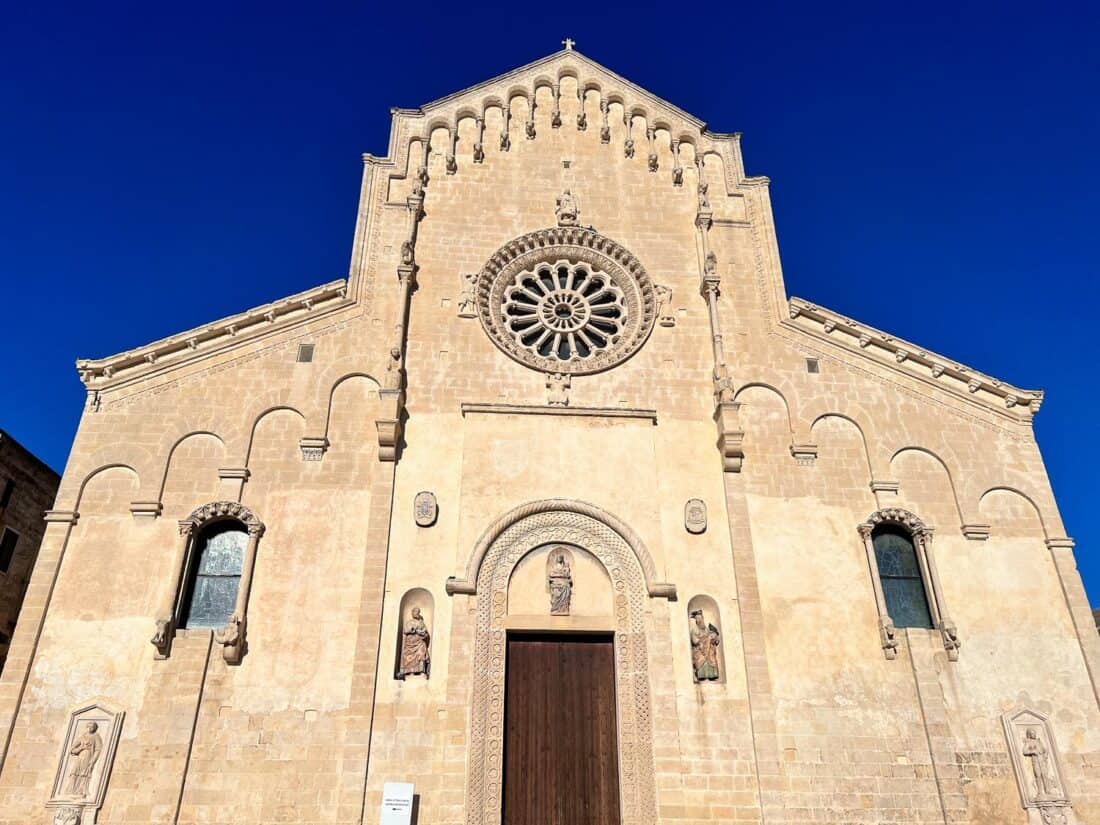 Matera's Cathedral, Cattedrale di Maria Santissima della Bruna e Sant'Eustachio, is more simply known as Il Duomo.
It was built in the 13th century at the highest point in the old city, on a ridge between the two sassi. Its bell tower dominates the skyline in Matera.
The Romanesque exterior is simple, except for the beautiful rose window. The interior decoration was added centuries later and is much more ornate with lots of gold and ceiling frescos. Entrance costs €1.
If you need a drink or a break, the Duomo Cafè on the piazza was surprisingly affordable given its setting.
11) Explore More Matera Churches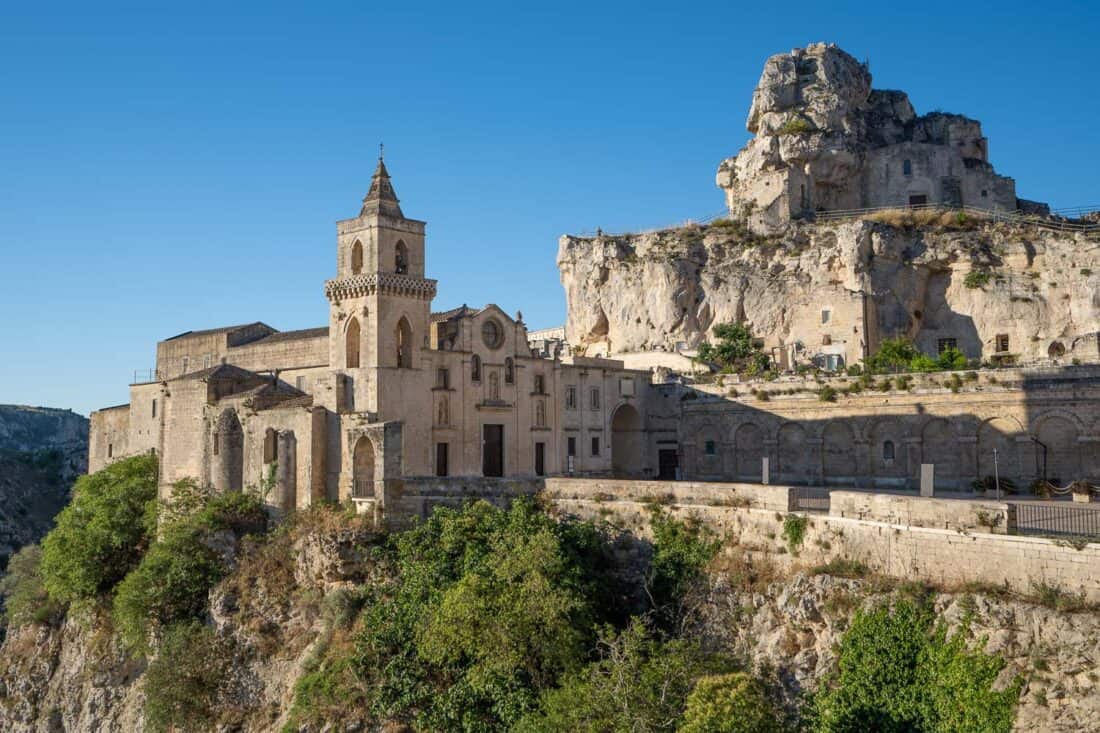 Aside from the cathedral and rock churches, there are many other churches to visit, but I wouldn't say they are a Matera must-do. All these have free entry.
We didn't find the interior of 13th century San Pietro Caveoso very exciting, but next to the church there's a stunning view into the ravine.
Chiesa di San Francesco d'Assisi has an impressive Baroque exterior that reminded us of Lecce. Inside it feels newer.
Chiesa di San Giovanni Battista feels different from the others with Gothic and Romanesque elements. It's in the newer part of the city on a cute piazza that's a lively place for a drink in the evening.
12) Eat a Delicious Meal
The food in Matera is on a par with our favourite Italian food in neighbouring Puglia and uses lots of fresh seasonal vegetables.
You'll find the same huge plates of antipasti as well as orecchiette pasta and fava bean puree with chicory. Look out for delicious bread, too.
Some of our favourite restaurants are Trattoria del Caveoso, La Lopa, and Dimitria.
For a casual meal, pick up a slice of pizza from 5 Lire or a plate of pasta from Kapunto Pasta Lab.
And don't miss gelato at I Vizi degli Angeli.
See our detailed guide to the best restaurants in Matera Italy for more recommendations.
13) Enjoy an Aperitivo with a View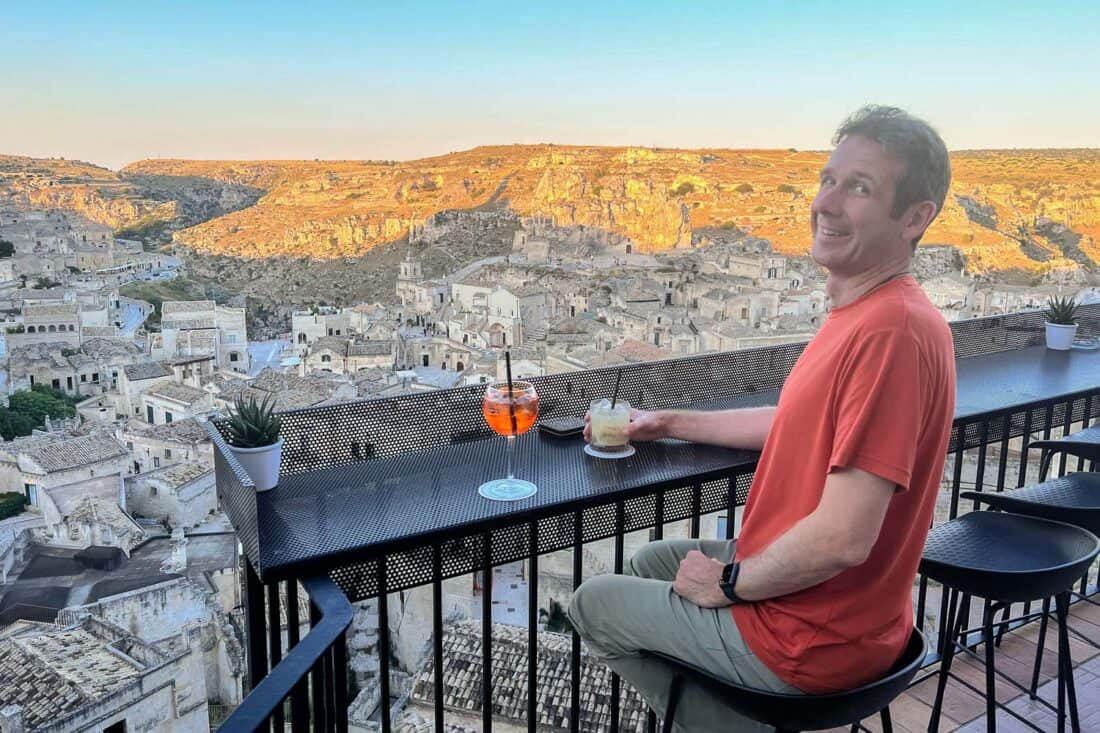 The perfect way to end a busy day exploring Matera is to enjoy a drink (preferably an Aperol Spritz) with some delicious snacks and a view of the sassi.
Our favourite bars with a view are Terrazza Cavaliere (head to the terrace out the back) and Crialoss Cafe (on top of the cave church San Pietro Barisano). They are on opposite sides of town so you get a different perspective.
Our post on where to eat in Matera has more suggestions.
14) See an Old Olive Press at Moom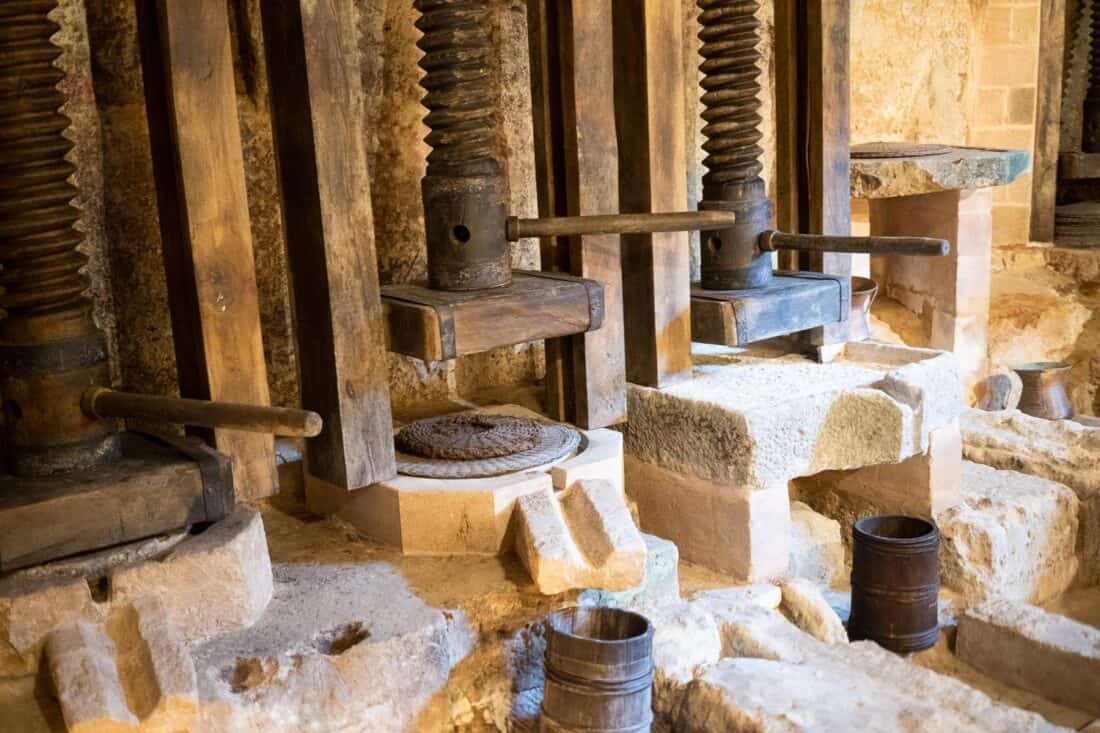 MOOM, the Matera Olive Oil Museum, is a small family-run museum in an underground oil mill dating back to the 15th century.
You can see how olive oil was once made—it was used for lamp oil rather than for eating. The stable housed two donkeys who worked the circular stone mill to squash the olives into a paste.
The paste was put into woven bags and placed under massive wooden presses, which were used to extract the oil.
It was arduous work that took place 24 hours a day during olive harvest season—the workers slept there for a few hours between shifts.
After the tour, you can do a tasting of the owner's olive oil, which is produced on a farm outside Matera. Prices are quite reasonable if you choose to buy some.
Visits to MOOM are by appointment only at least a few days in advance (I emailed). The tour is usually in Italian but audioguides are available for English speakers. It costs €7 (cash only). Allow 20 – 60 minutes.
15) Venture Underground at Palombaro Lungo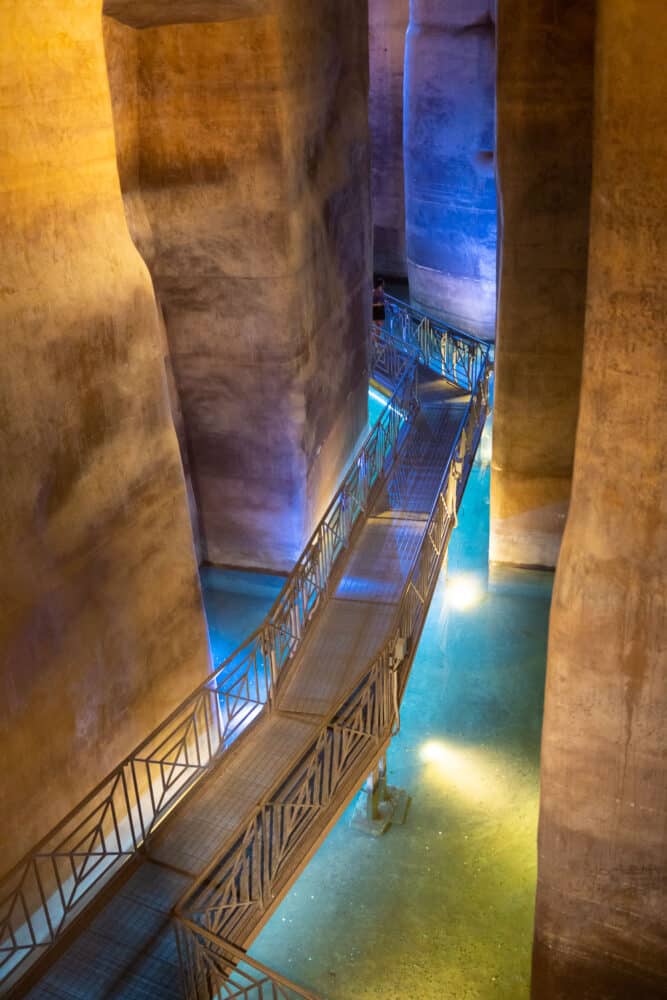 Matera's network of underground cisterns is one of the reasons it gained UNESCO World Heritage status.
Palombaro Lungo is the largest of the cisterns, a below-ground Cathedral of Water carved out of the rock. It was used for collecting and storing rainwater for over a century up until the early 20th century.
People extracted the water using buckets dipped into a well. You can still see the rusty marks that lost buckets made on the ceiling.
It's a cool sight, but a visit won't take long. There are guided tours at certain times in Italian or as we did, do a self-guided tour with an English leaflet.
Palombaro Lungo is open every day from 9.30am to 1pm and 3pm to 6.30pm (times may vary throughout the year). Entrance is €3.
16) Discover the Underground City at Ipogeo MateraSum
Ipogeo MateraSum is not far from Palombaro Lungo. It feels off the beaten track and there were only two other visitors on our summer visit.
The underground area has been excavated to reveal how a network of Matera caves was once used by residents. There's a bakery, mill, homes, quarry, church and more.
After watching a five-minute video, you can explore the complex with an audioguide downloaded on your phone (unfortunately, the English translations weren't great). It takes about 30 minutes.
Ipogeo MateraSum is open every day from 10am to 7pm. Entrance is €7.
Where to Stay in Matera
The most atmospheric places to stay in Matera are cave hotels and B&Bs in the sassi.
The best Matera accommodation does book up, so plan well in advance if you can.
Hotel Il Belvedere
On our last trip to Matera, we stayed at Hotel Il Belvedere and loved it.
It has the perfect location on the edge of Sasso Caveoso. It's outside the ZTL (limited traffic zone) so you can drop off your luggage at the door, unlike many hotels deep in the sassi. It's a 10-minute walk from free parking, but we arrived by taxi.
It's close to all the Matera highlights on foot.
As the name suggests, the hotel has the most spectacular view from its terrace of Matera and the ravine. It's one of the best views in the city.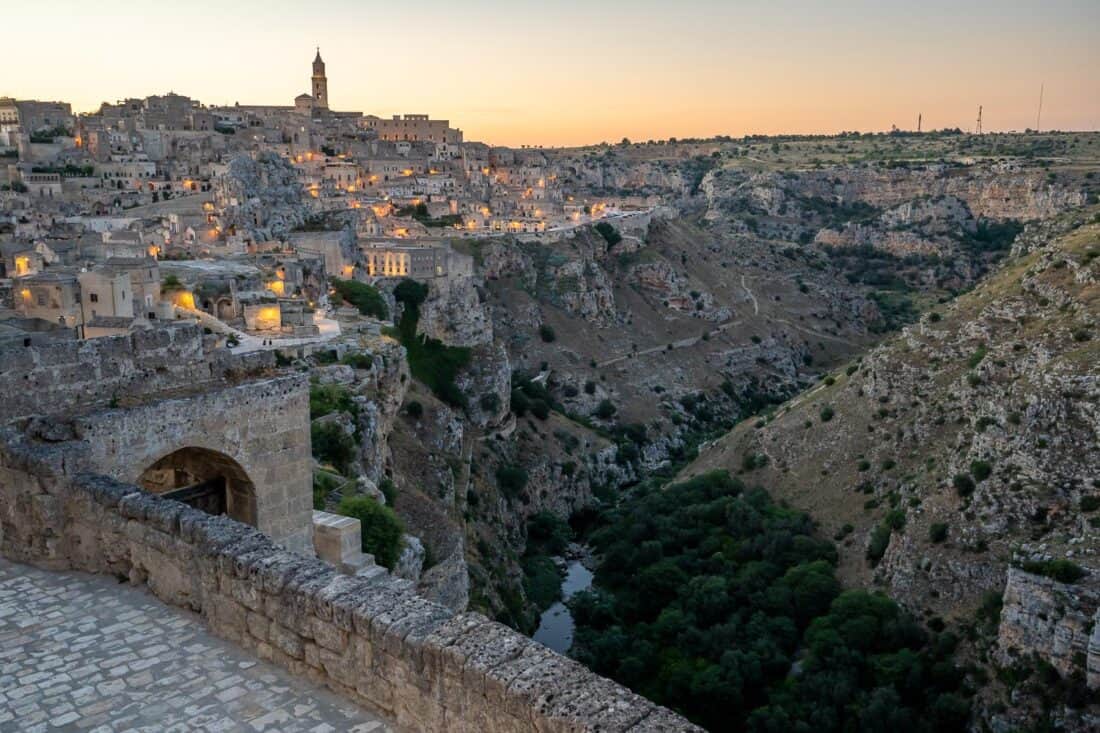 On the terrace you can enjoy the included delicious breakfast buffet (the focaccia and homemade chocolate cake with Aglianico wine were the highlights) or later in the day, have a drink and tagliere board of cheese, bruschetta, and taralli (they made us a vegetarian version for lunch).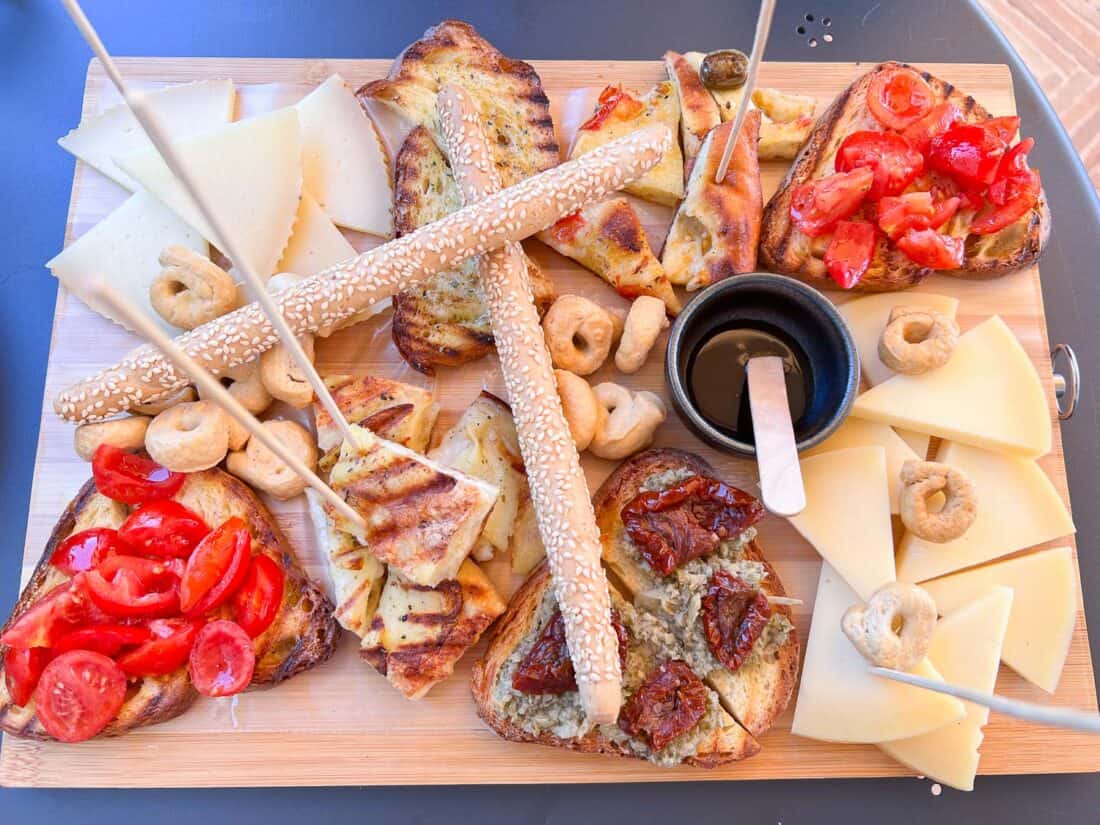 You can choose from regular or cave rooms. We had a Superior Double Room, which is the largest cave room with plenty of space for the four poster bed, day bed, and desk. We loved the exposed stone walls, especially in the bathroom.
The rooms have air conditioning, but we barely needed it in our cool cave, even when it was 40ºC outside (we retreated here in the hottest part of the day). We had no issues with damp either.
Of course, the downside of a cave room is limited natural light, but there is a window in the door to let in some light.
We highly recommend Il Belvedere. Check availability and latest prices here.
B&B La Corte dei Pastori
On a previous trip, we stayed at Bed and Breakfast La Corte dei Pastori run by the friendly young couple Tiziana and Mimmo.
We stayed in the largest room with a spacious living area with a couch, table and fridge, and a bedroom at the other end.
It's been lovingly restored with an arched ceiling from rustic creamy stone and the decor is kept simple with just some lovely details like a carving of the city along the wall.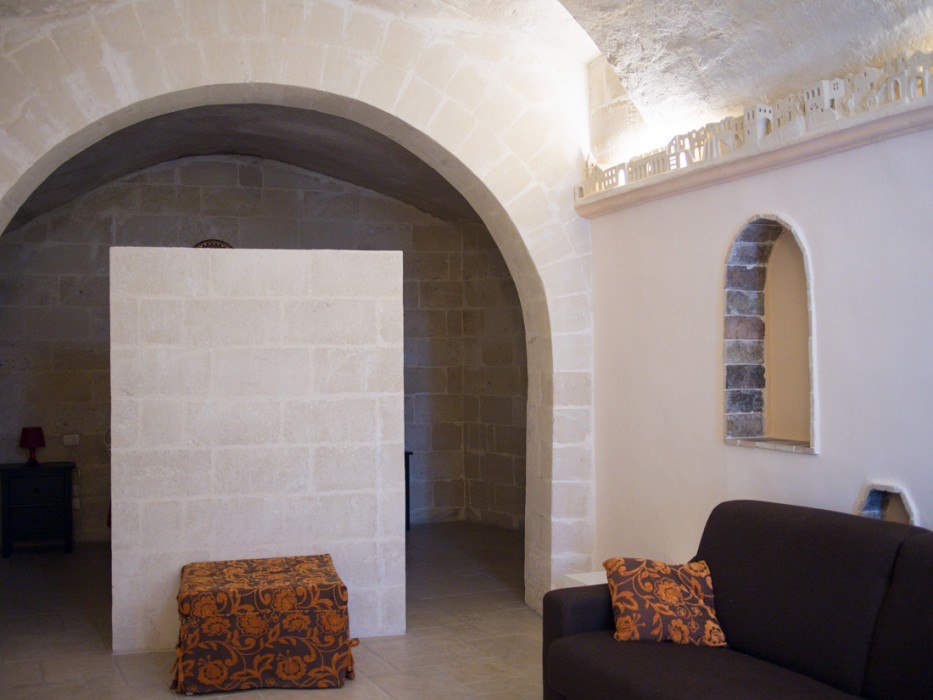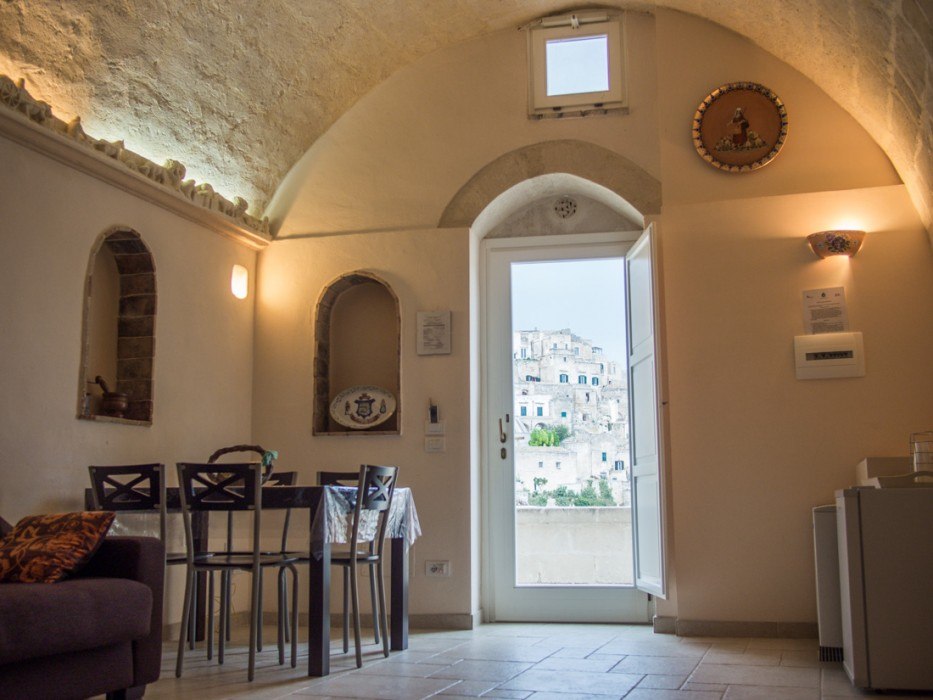 The cave is cool inside but doesn't feel damp. There's good WiFi and the bathroom has a powerful rain shower and is decorated with a colourful mural of the Basilicata countryside.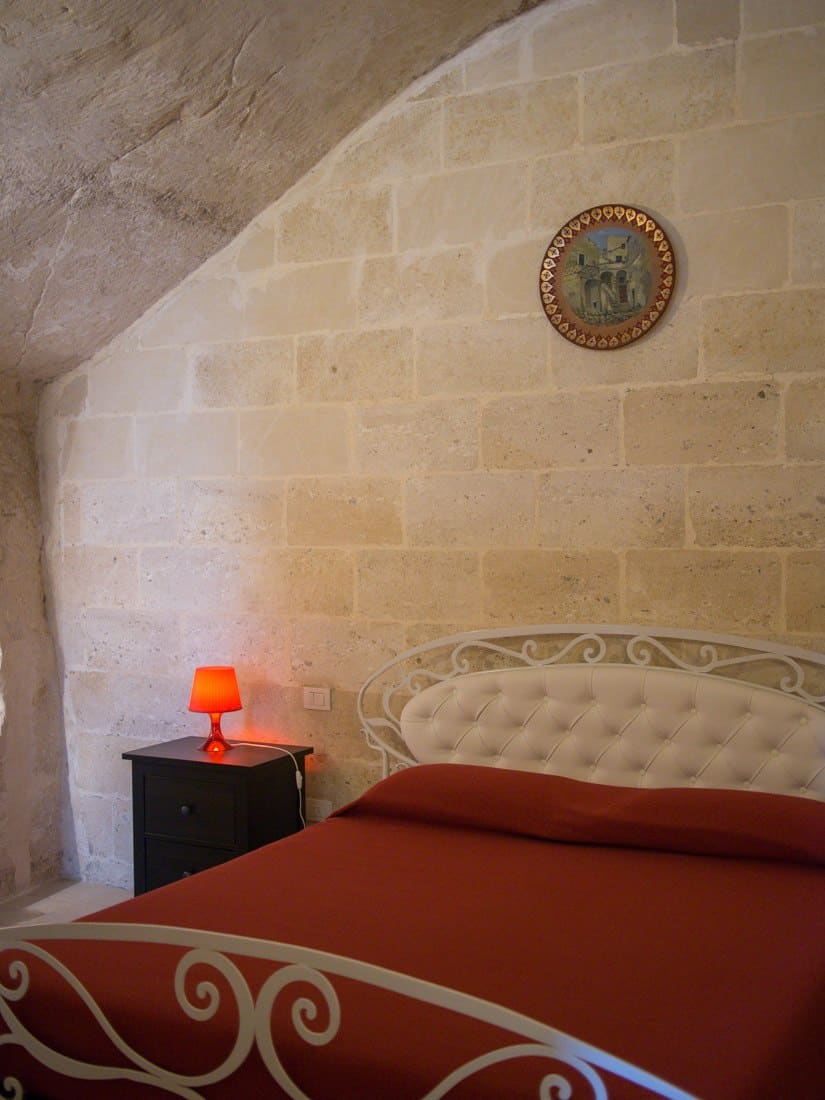 The best thing about the B&B is the location, right next to San Pietro Caveoso church on the edge of the ravine, with wonderful views of the sassi through the glass door in the room and from the terrace.
It's an incredibly scenic location for breakfast, and the food is delicious—a big spread of focaccia, bread, jams, croissants, biscuits, yoghurt, fruit, juice, and coffee, far more than we could eat.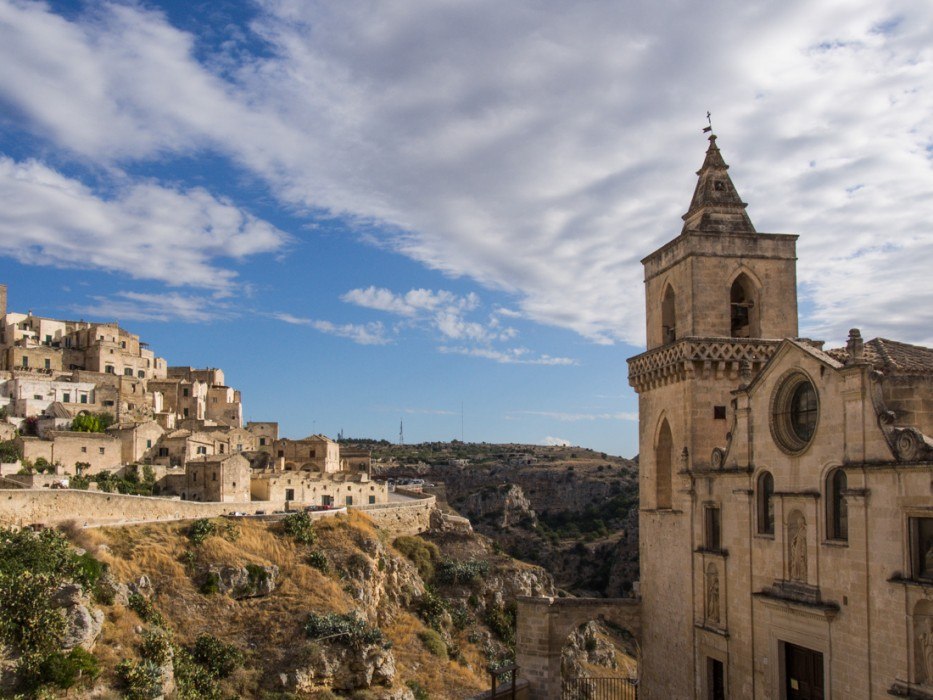 The B&B is in the limited traffic zone and up some stairs from Piazza San Pietro Caveoso. You should be able to arrive by taxi, and it's near a bus stop so you can take a bus from their recommended car park, Parcheggio Via Saragat.
La Corte dei Pastori is a wonderful place to stay in Matera—it's unique, friendly, and has an incredible location. It books up fast, though. Check availability here.
Other Matera Cave Hotels
Some other Matera cave hotels I was tempted by include:
Search for more B&Bs and hotels in Matera here.
How to Get to Matera
Matera by Plane
The nearest airport to Matera is 65km away in Bari, Puglia (airport code BRI).
I highly recommend combining Matera with a visit to the neighbouring region of Puglia (here are the Puglia towns I recommend).
On all of our trips, Bari was our access point—there's a major train station and an airport served by budget airlines.
Search on Kiwi.com for the cheapest flights to Bari.
From the airport, you can hire a car or take the airport shuttle bus. The Pugliairbus takes 1 hour 15 minutes from Bari airport to Matera. It costs just €5.
You can also arrange a private transfer from the airport to Matera. We did this on our last trip and it was so easy. The driver met us in the airport arrivals hall, and an hour later, after a comfy ride in a spacious minivan, we arrived at our hotel in Matera. Check availability here.
Bari is worth spending a day to explore the old town. See our guide to the best things to do in Bari Italy.
Matera by Car
From Bari you can also hire a car—either from the airport if arriving by plane or from the centre if arriving by train.
This is the best option if you are planning to tour Puglia as well as visit Matera.
I use Rental Cars to search for the best deals.
Parking and navigating the streets in Matera can be tricky, but we have managed it before.
Once you are in Matera you don't need a car unless you want to visit some of the attractions further afield. The city is fairly small and walkable, as long as you can deal with the many staircases.
On our most recent trip, we took a taxi from Bari airport to Matera and then back to Bari centre (we could also have taken the train).
After spending a few days there, we rented a car to travel the rest of Puglia. This worked out well for us and was easier than having a car in the cities.
Where Can I Park in Matera Italy?
The biggest problem with travelling to Matera by car is that you are not allowed to park in the sassi or historic centre unless you have a permit.
For most of the day it's not even possible to drive into the ZTL (Limited Traffic Zone).
It's best to ask your accommodation in advance where to park in Matera that's closest to them. In some cases, you might be able to drop off your luggage and then go to park your car outside the centre.
Driving in the sassi is quite stressful, though, so I'd avoid it if possible.
One of the nearest car parks to the sassi is Parcheggio Nicoletti Michele, which costs €20 for 24 hours and can be booked in advance.
It's privately run and you need to leave your keys with them, but it gets good reviews. From there it's a 10-minute walk to B&B La Corte dei Pastori.
A cheaper parking spot is Parcheggio Via Saragat, a large car park that costs €0.50 per hour.
It's a 25-minute walk from the car park to the B&B or you can take the Linea Sassi bus from outside.
This bus runs every 30 minutes right into the sassi and ends at Piazza San Pietro Caveoso. You can buy tickets on board for €1.50.
For staying at Hotel Il Belvedere, there's free parking a 10-minute walk away on Via Cappuccini, but you can't book it in advance. Or Parcheggio Via Vena is a 5-minute walk away and costs €1 an hour.
Matera by Train
Taking the train avoids parking hassles. The train from Bari to Matera is run by a private company and is a slow commuter train that doesn't run on Sundays.
You can see the timetable on the Ferrovie Appulo Lucane website. Tickets cost €5.70 each way and it takes about 1 hour 45 minutes.
Trains leave from the FAL station next to the main station in Bari.
From Matera Centrale station you can walk to the sassi in about 15 minutes or take the Linea Sassi bus.
The walk involves lots of stairs, though, so it's best if you are travelling with a smaller backpack rather than a rolling suitcase.
To travel by train from elsewhere in Italy to Matera, you will have to change in Bari.
You can buy tickets to Bari on TrenItalia (using Italian place names).
Matera Italy Map
This Matera map features all the attractions, restaurants, hotels and other locations mentioned in this guide to Matera.
Is Matera Italy Worth Visiting?
Yes, Matera is absolutely worth visiting! Matera is truly special—it has a spectacular setting, fascinating history, and excellent cuisine. It's as beautiful as many cities in Italy but far less crowded.
More Italy Posts
Read our other posts to help you plan your Italy trip.
Matera and Puglia
The Rest of Italy
If you enjoyed this post, pin it!