This page contains affiliate links. Please read our disclosure for more info.
In Matera you'll spend a lot of time in caves. You'll sleep in a cave, eat in a cave, drink an aperitivo in a cave, and even view modern sculpture in a cave. The ancient neighbourhoods, known as sassi, are a series of grottoes carved out of limestone, teetering on the edge of a ravine.
It's one of the most unique and spectacular places we've visited in Italy or anywhere in the world.
Until the 1950s, Matera was a source of shame for Italy, a place of poverty, malaria and high rates of infant mortality, where people lived in caves without electricity, running water or sewage.
Carlo Levi's book Christ Stopped at Eboli raised awareness of the desperate conditions people were living in and about half of the 30,000 population were moved to new homes in the modern part of the city between 1953 and 1968.
Matera is located in a remote corner of southern Italy in the small region Basilicata. It's not the easiest place to reach which is why it has managed to remain relatively unknown, especially to foreign tourists.
Although since it became a UNESCO World Heritage Site in 1993 and European Capital of Culture in 2019, visitor numbers are growing and many of the caves have been transformed into stylish hotels and restaurants.
It still has an undiscovered air and as we wandered the ancient sassi we marvelled that Matera wasn't on everyone's "must visit" list, that we rarely heard English voices, and only saw a couple of tour groups.
Contents
Video: Italy Travel Inspiration
We recommend combining a trip to Matera with the neighbouring region of Puglia. Discover the best places to visit in this video.
A Walk Around Matera
From Matera's train station we walked through the modern city of Baroque churches and graceful palaces. The first glimpse of the sassi stops you in your tracks, looking down at the dramatic tangle of grey stone houses; a contrast with the elegance of the new town.
Walking down a steep staircase we plunged into the magical world that doesn't quite feel real.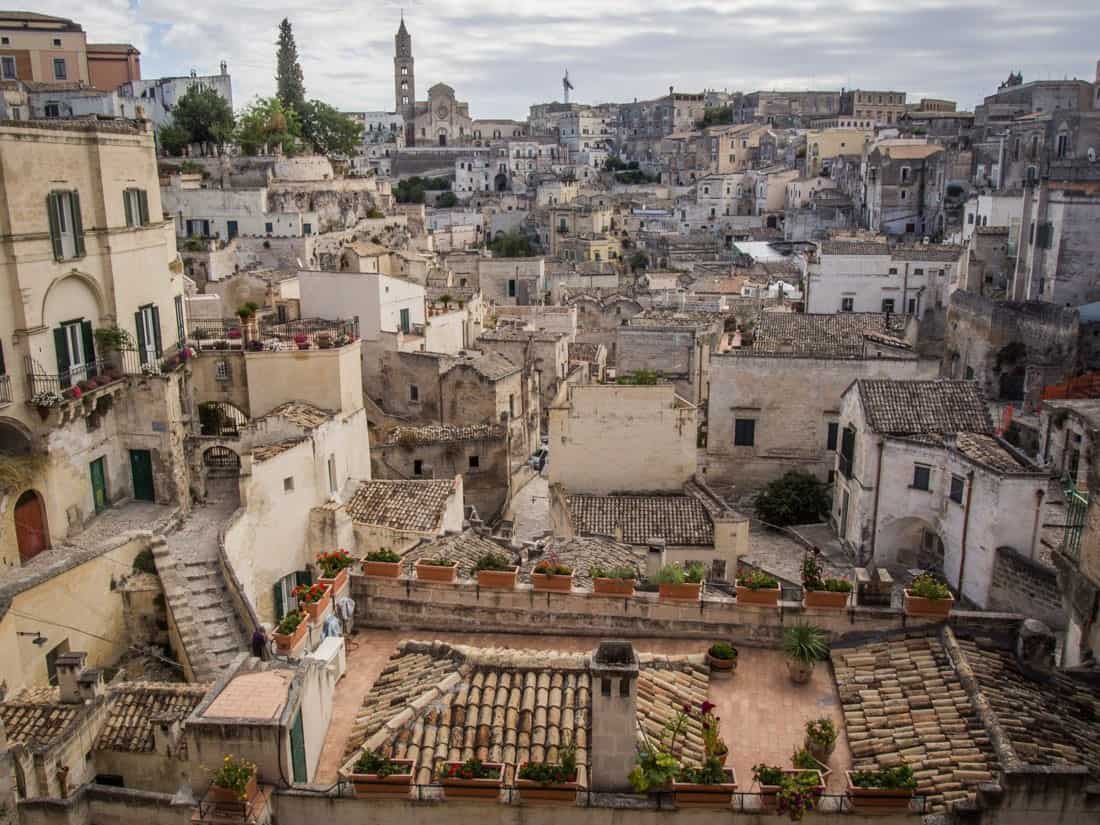 Buildings climb up and down the hillside, houses piled on top of each other, the roofs of some acting as streets for those above. They were carved out of the rock and the original caves extended with facades that look like normal homes.
The best way to explore the neighbourhoods Sasso Barisano and Sasso Caveoso is on foot, roaming through the labyrinth of narrow alleyways, up and down uneven stone staircases, discovering dead ends and tiny courtyards adorned with flower pots, cave churches and expansive views of the sassi.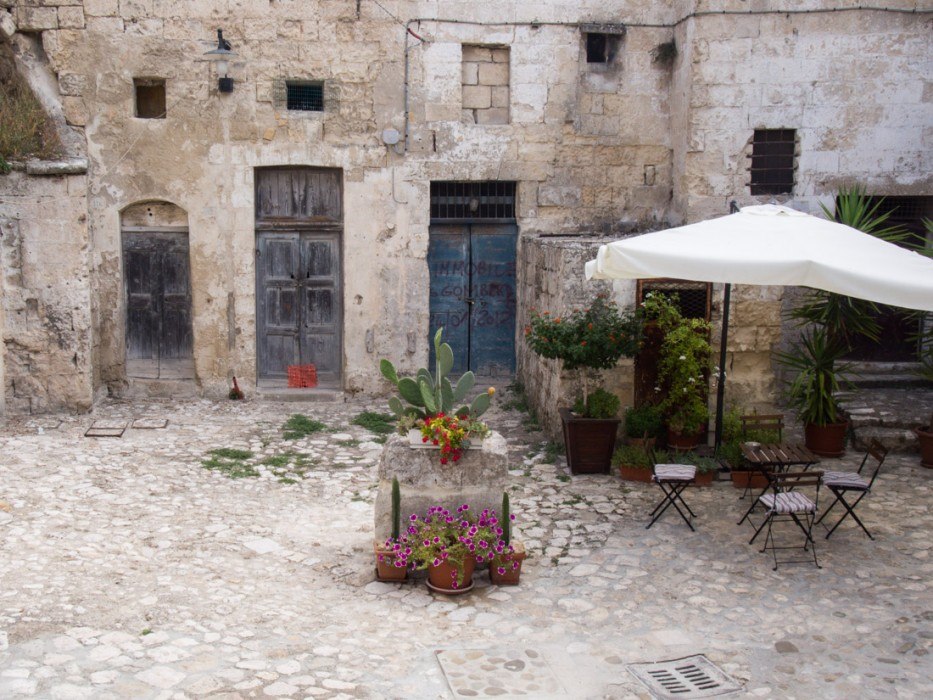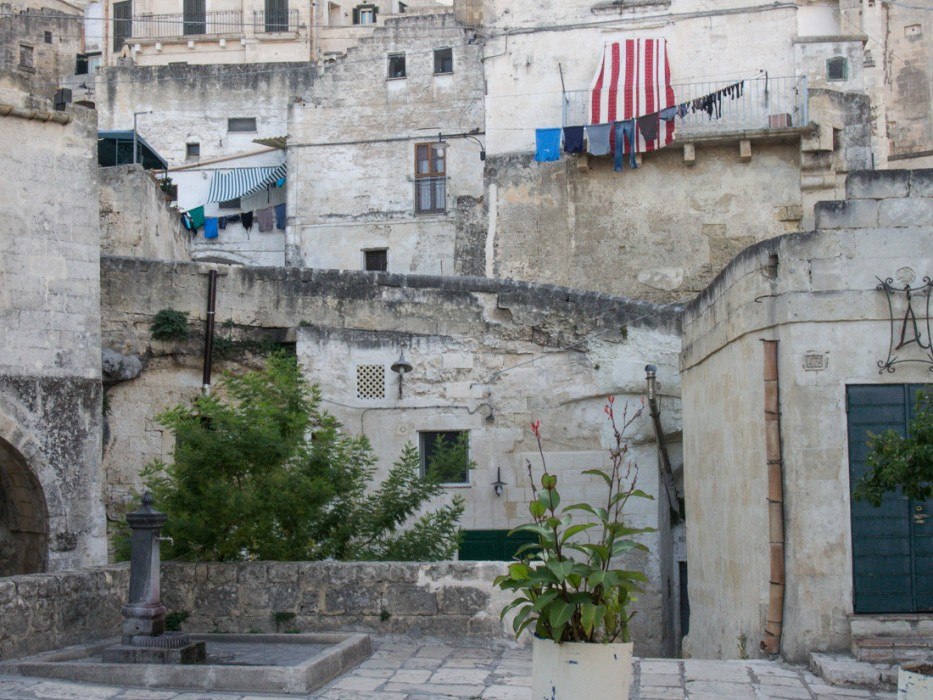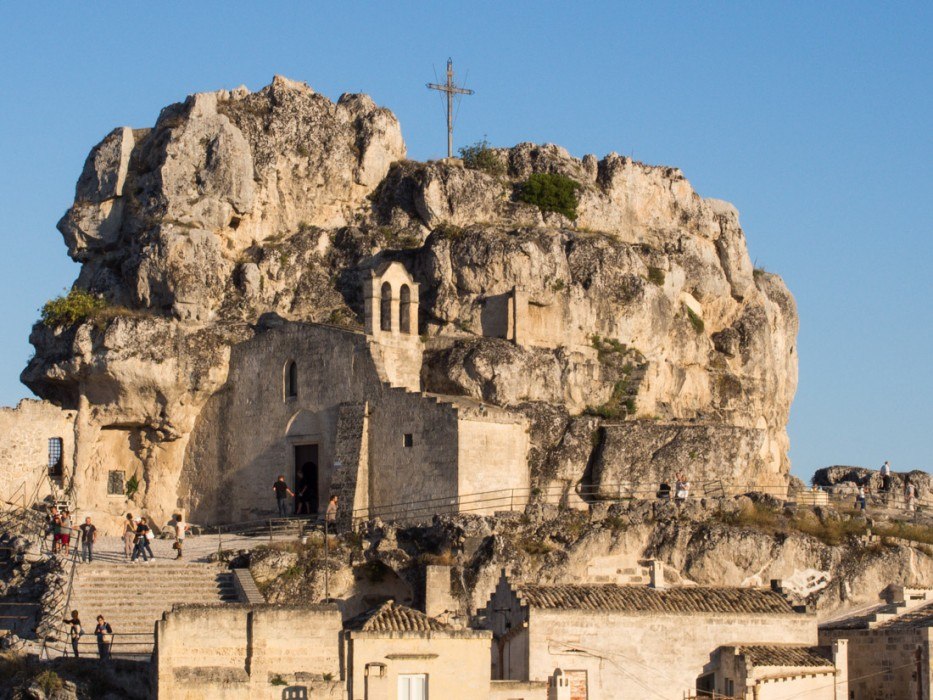 With stormy skies the grey city is haunting, its location bleak on the edge of a rugged ravine, parched grasses and spiky cacti amongst the outcrops descending to the trickle of river below. You imagine the struggle of life here just decades ago.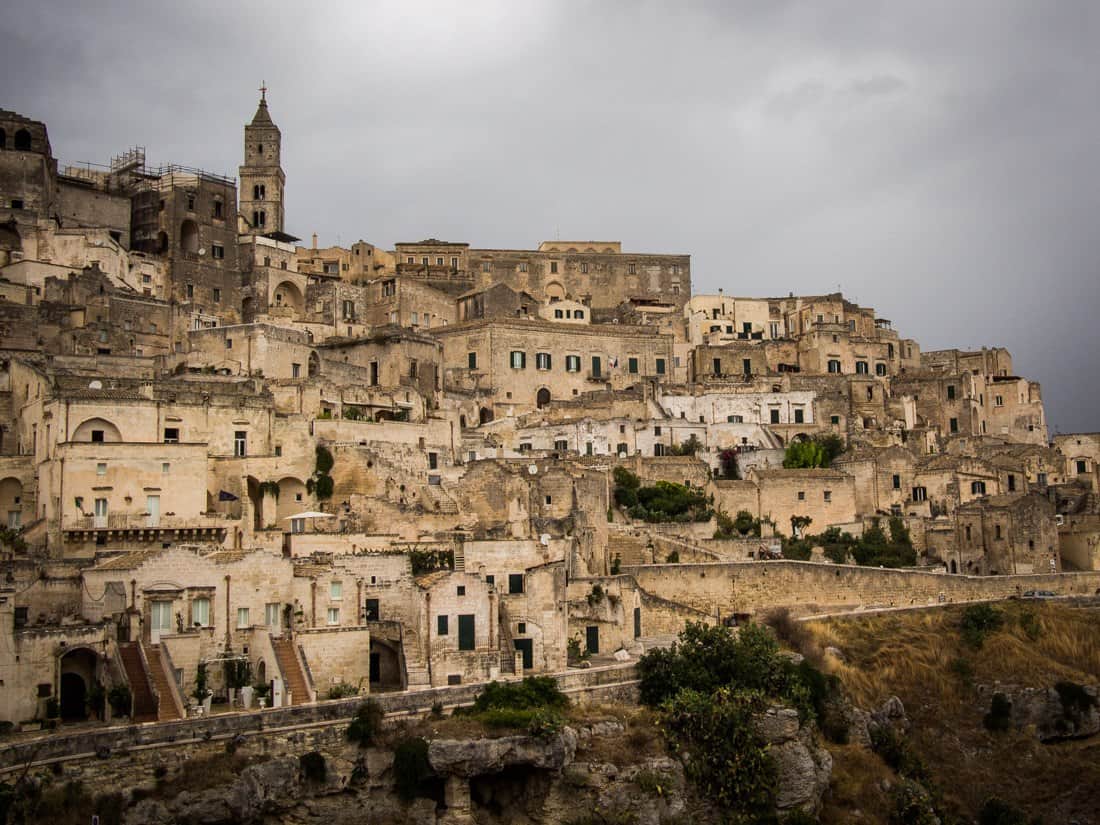 But in the morning light on a sunny day the edges are softened, the stone glows golden. You notice signs of life, the red fichi d'India or prickly pears amongst the spikes of the cactus, the bounty of figs overflowing in the trees at the end of summer, their green globes smashed onto the floor.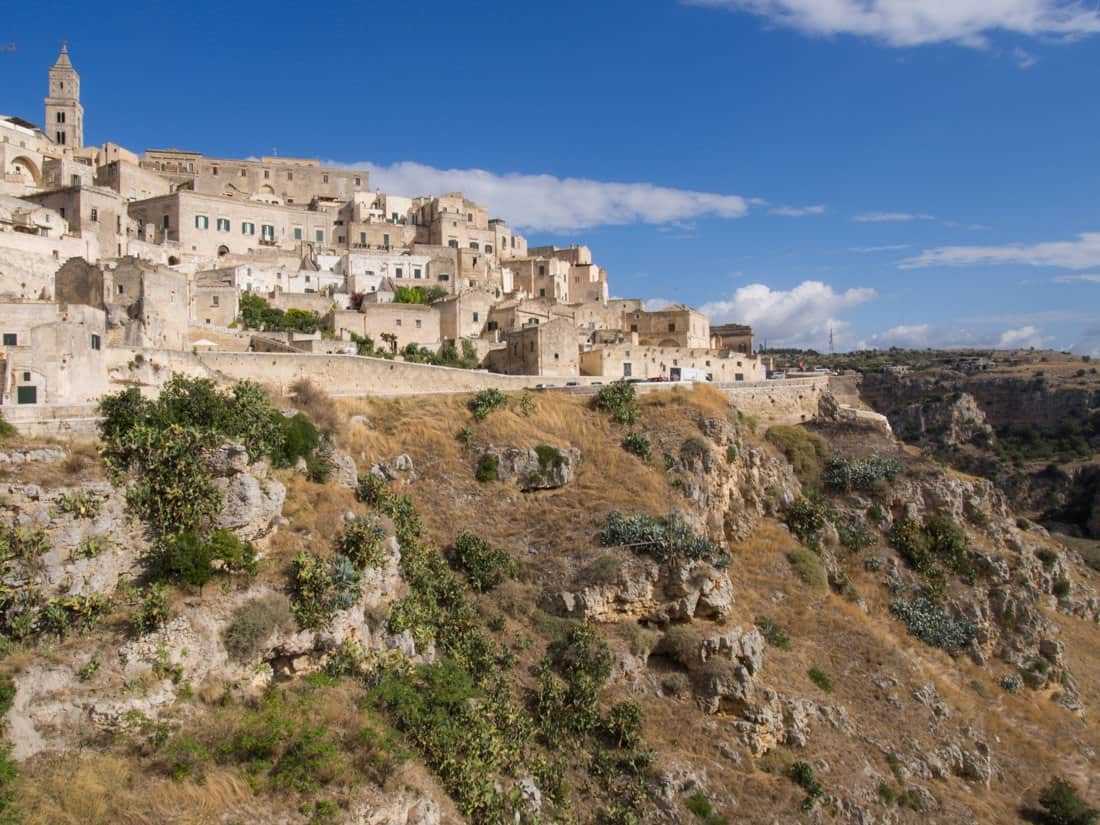 Most of the caves are now homes, hotels, restaurants and bars, but on the edge of town in Sasso Caveoso you can wander through uninhabited caves and get a sense of what it was like to live here years ago. It's a rawer side of town and for us the most fascinating.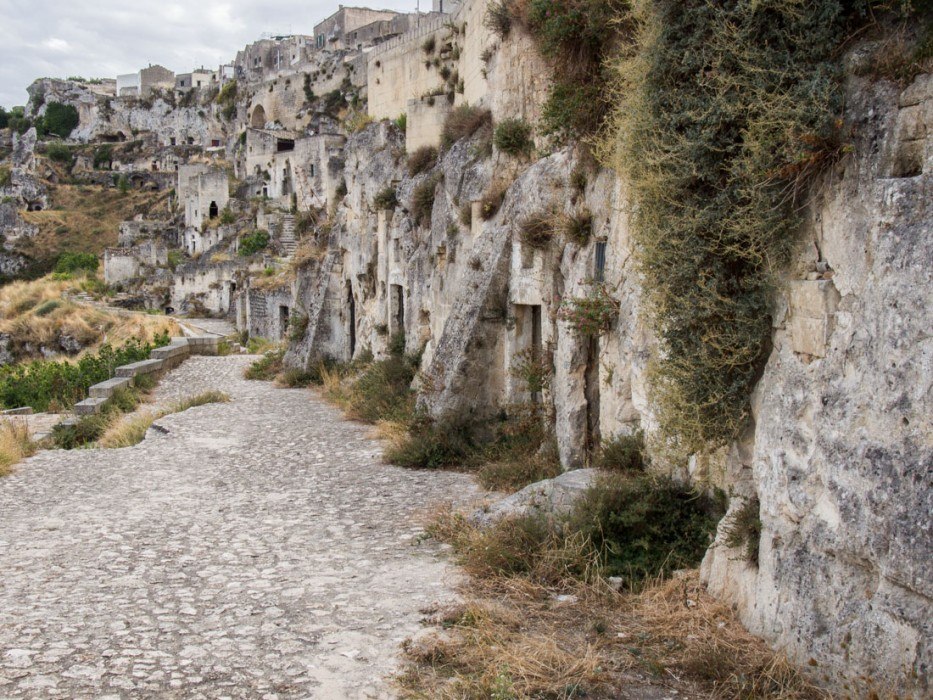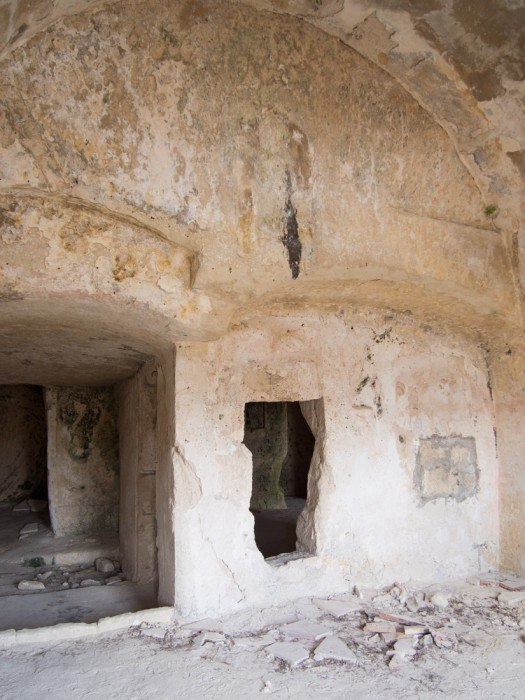 Matera is one of the oldest continuously inhabited settlements in history dating back to the Palaeolithic period. On the other side of the ravine, you can see the simple forms of the Neolithic caves where people lived 7000 years ago.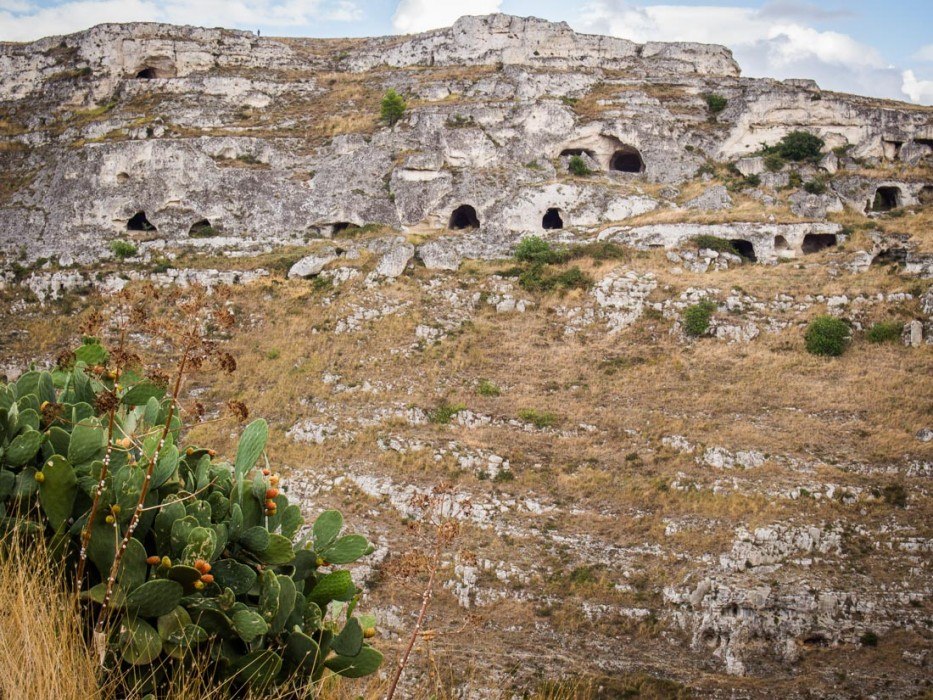 What to Do in Matera
Matera is the perfect place to wander and get lost. Some people recommend getting a guide and this might be worthwhile but we preferred exploring alone.
MUSMA (€5) is an art museum with modern sculptures scattered in the nooks and crannies of a 17th-century cave palace. It's an extraordinary setting and definitely worth a visit.
The Casa Grotta di Vico Solitario (€3) is touristy and gets crowded with tour groups but it's worth a look to see how people lived in these caves in the 18th century. The entire family (on average six members) including animals like mules, chickens, and pigs lived together in the cave and it has been furnished how it would have been.
It looks daunting but the walk down into the ravine and the return back up isn't too difficult. It's very quiet down there and gives another perspective of the city looming above. If we had more time we would have walked up to the other side of the ravine for views back across at Matera. You can also get there by car.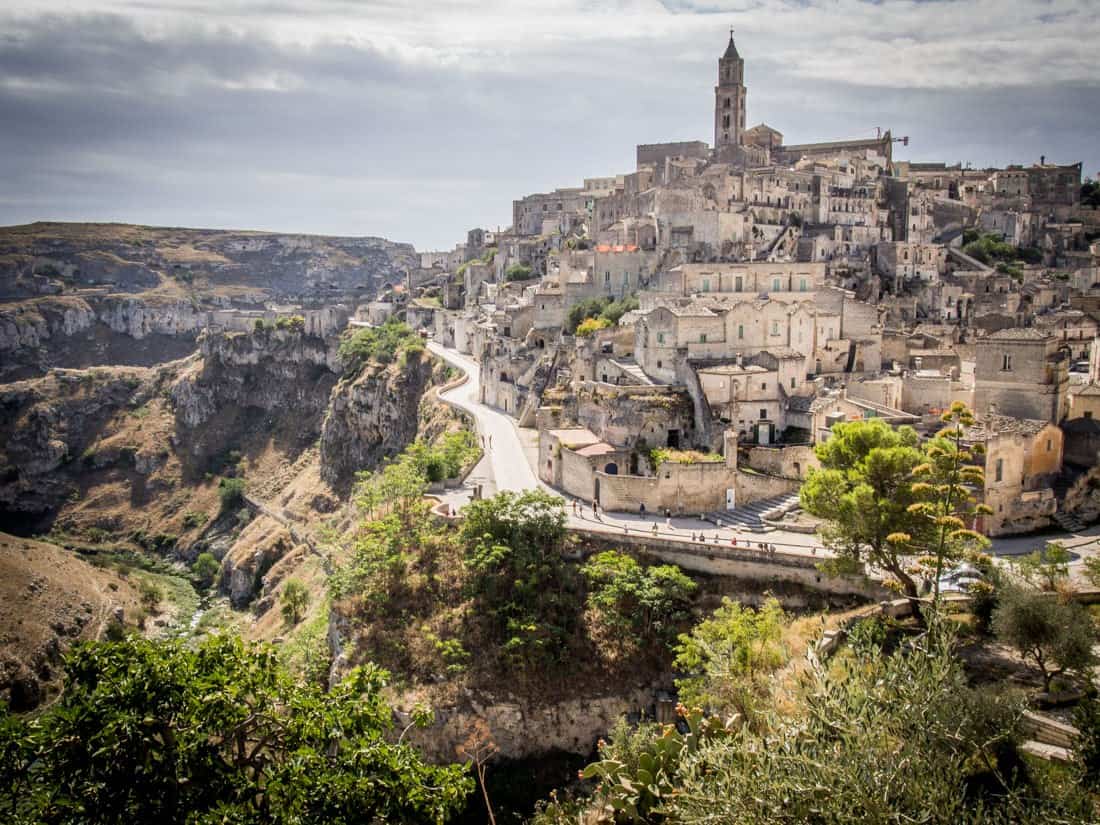 Where to Stay in Matera
The most atmospheric and welcoming places to stay in Matera are cave B&Bs and there are some excellent options.
On our latest trip, we stayed at Bed and Breakfast La Corte dei Pastori run by the friendly young couple Tiziana and Mimmo. We stayed in the largest room with a spacious living area with a couch, table and fridge, and a bedroom at the other end.
It's been lovingly restored with an arched ceiling from rustic creamy stone and the decor is kept simple with just some lovely details like a carving of the city along the wall.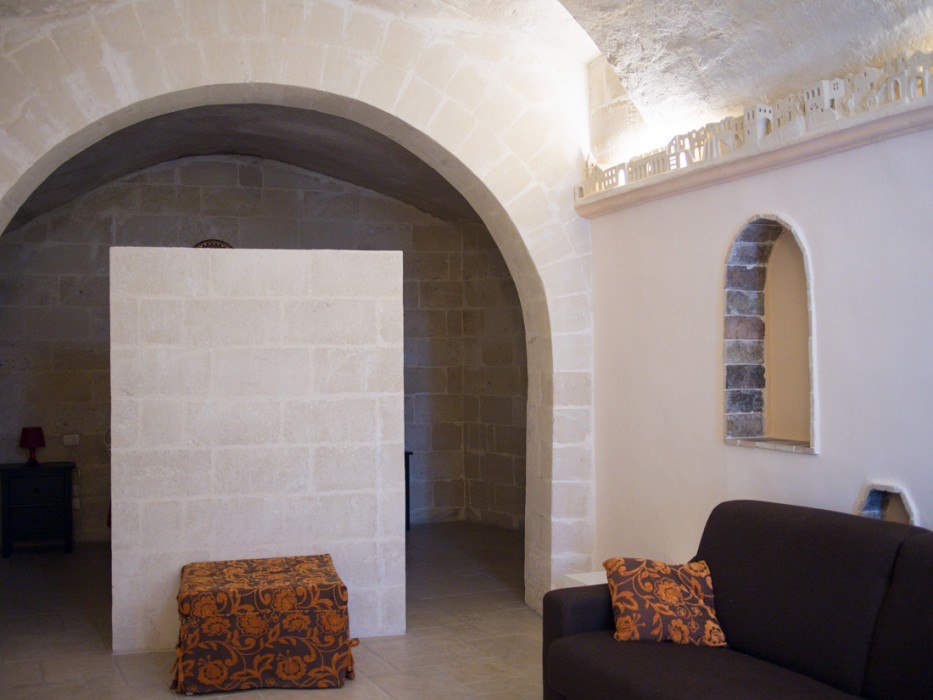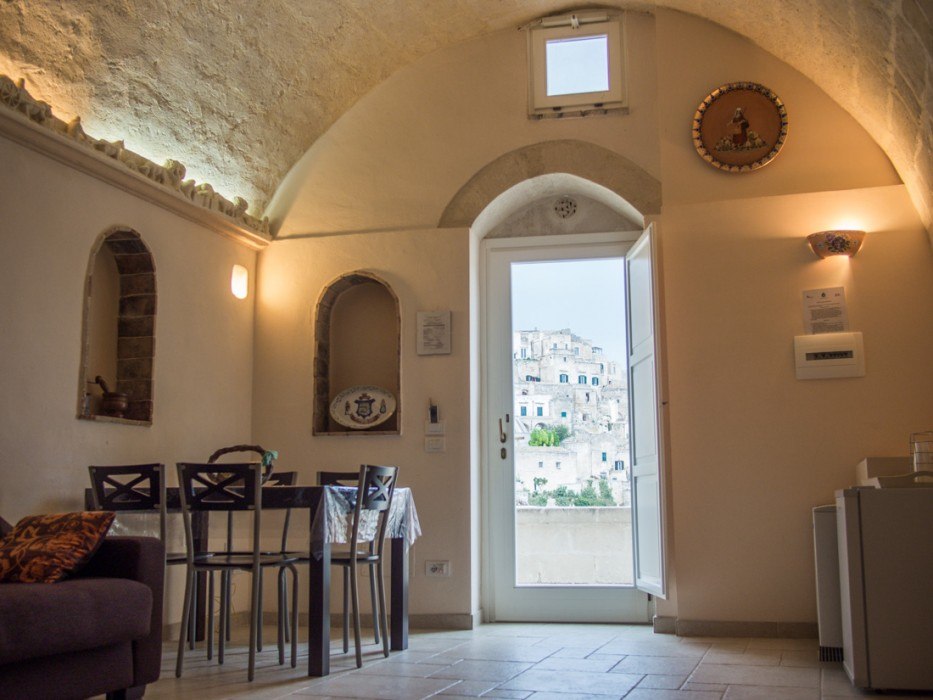 The cave is cool inside but doesn't feel damp. There's good WiFi and the new bathroom has a powerful rain shower and is decorated with a colourful mural of the Basilicata countryside.
The best thing about the B&B is the location, right next to San Pietro Caveoso church on the edge of the ravine, with wonderful views of the sassi through the glass door in our room and from their terrace.
I don't think we've ever eaten breakfast in a more scenic location, and the food is delicious—a big spread of focaccia, bread, jams, croissants, biscuits, yoghurt, fruit, juice, and coffee, far more than we could eat.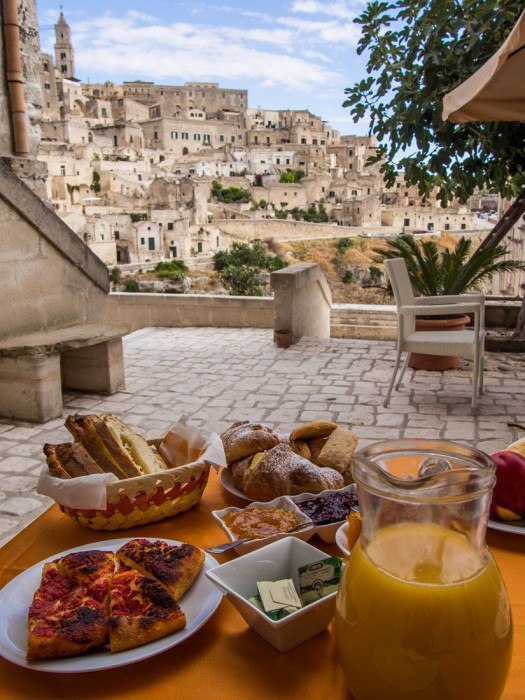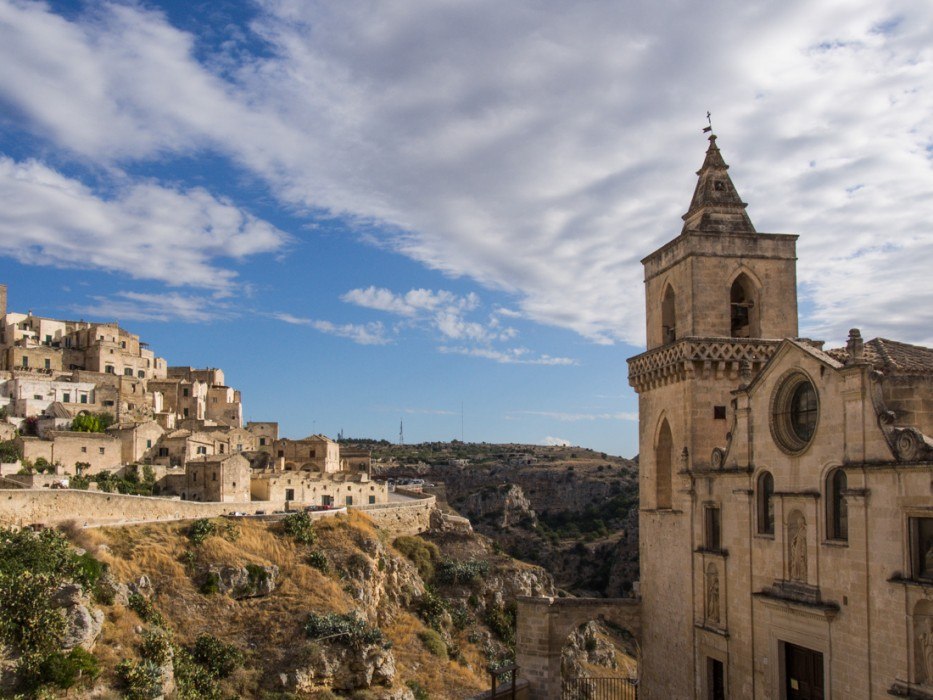 La Corte dei Pastori was the perfect place to stay in Matera—it's affordable, unique, friendly, and has an incredible location. Check the latest prices here.
Don't miss out on staying in a Matera cave hotel. You can find more B&Bs and hotels in Matera here.
Where to Eat in Matera
The food in Matera is on a par with our favourite Italian food in neighbouring Puglia and uses lots of fresh seasonal vegetables. You'll find the same huge plates of antipasti as well as orecchiette pasta and fava bean puree with chicory. We ate at two restaurants very close to our B&B and recommend them both:
Ristorante Francesca – A classy cave restaurant with a contemporary twist from the modern lampshades and purple chairs. We shared the five antipasti of the house plate which changes daily and is more creative and refined than your usual antipasti.
We had a zucchini flower tortino, melanzana parmigiana, fava bean puree with chicory, bread balls in a tomato sauce, and figs stuffed with orange ricotta and mint. We followed that with orecchiette with fave bean puree and mushrooms.
Trattoria del Caveoso – This is a simpler, less expensive restaurant but the food is still excellent. The €10 antipasti plate was delicious and varied, and there was a good choice of vegetarian pasta dishes— we had orecchiette with cherry tomatoes, caciocavallo cheese and rocket, and cavatelli with the local dried red chiles, caciocavallo and fried bread. We even got a complimentary limoncello after our meal.
How to Get to Matera
Matera is the ideal place to combine with a visit to the neighbouring region of Puglia (here are the Puglia towns we recommend). On both of our trips Bari, 70 km from Matera, was our access point—there's a major train station and an airport served by budget airlines. Search on Kiwi.com for the cheapest flights to Bari.
From Bari you can either hire a car if you are planning to tour the area—parking and navigating the streets can be tricky, but we managed it on our first visit—or take the train.
The train from Bari to Matera is run by a private company and is a slow commuter train that doesn't run on Sundays. You can see the timetable on the Ferrovie Appulo Lucane website; tickets cost €5 each way and it takes at least 1.5 hours.
Trains leave from the FAL station next to the main station in Bari. From Matera Centrale you can walk to the sassi in about 15 minutes (which is what we did) or take the "Linea Sassi" bus.
Matera is truly special—with a spectacular setting, fascinating history, and excellent cuisine, it's made even better by the undiscovered feel.
If you enjoyed this post, pin it!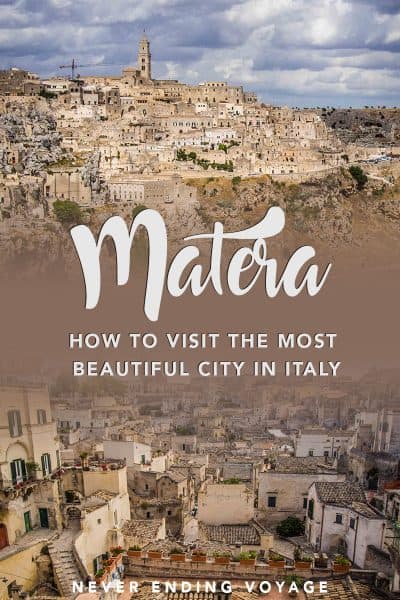 This post was originally published in November 2013 and last updated in 2021.
Thank you to B&B La Corte dei Pastori who hosted us for our two nights in Matera.