This page contains affiliate links. Please read our disclosure for more info.
SafetyWing is the world's first travel medical insurance developed specifically for nomads, by nomads. They cover people from all over the world.
Although it's aimed at digital nomads and remote workers, it's also a useful plan for anyone travelling long term, especially if you're unsure how long you'll be travelling for.
SafetyWing has several advantages over other travel insurance— you can purchase a policy when you are already abroad (with a few exceptions), pay every 28 days, and they cover COVID–19.
This detailed SafetyWing insurance review focuses on their Nomad Insurance, the most affordable plan, which we used. I explore the pros and cons, what exactly is covered, and how much it costs.
I also compare it to SafetyWing's Nomad Health plan, which is more comprehensive global health insurance, as well as to other long term travel insurance policies, World Nomads, True Traveller, and Heymondo (all of which we've used before).
Contents
This post was created in partnership with SafetyWing, but we chose to purchase insurance with them and genuinely think they are one of the best options for long term travellers.
Does SafetyWing Cover COVID–19?
Yes, SafetyWing does cover coronavirus (COVID–19).
SafetyWing says:
"Coverage works the same as any other illness as long as it was not contracted before your coverage start date, and does not fall under any other policy exclusion or limitation.

Testing for COVID–19 will only be covered if deemed medically necessary by a physician. The antibody test is not covered, as it is not medically necessary."
SafetyWing also covers quarantine outside your home country ($50 a day for up to 10 days) if it is required because of a positive COVID-19 test or if you are symptomatic and are awaiting test results. For this benefit, you must have purchased a minimum of 28 days of coverage.
What Makes SafetyWing Different from Other Travel Insurance?
These features stand SafetyWing Nomad Insurance apart from typical travel insurance policies.
Designed by nomads for nomads – They understand our needs and are continually adapting the product to better meet them.
Subscription model – You don't have to pay for a whole year upfront. Instead, you are charged automatically every four weeks. This is especially useful if, like us, you don't know how long you'll be outside your home country. You can cancel anytime.
You can buy while travelling – This is rare as most travel insurance companies require you to be in your home country at the time of purchase. It's ideal if you forget to buy insurance or your policy expires and you need to renew. SafetyWing is one of the best options for travel insurance when already abroad especially as cover is instant (some only start 2-3 days after purchase). Unfortunately, due to local regulations, you can not purchase cover while in Australia, Canada, or the US states, Maryland, New York, and Washington. For those destinations, buy before you arrive.
No limit on duration of travel – If you are travelling for over a decade, like us, it's no problem. After 364 days you'll need to renew your policy, but this is easy.
Travel with a one-way ticket – Unlike most insurance companies, SafetyWing covers you if you don't know when you'll be returning to your home country (as we never do) and don't have a return ticket.
Some coverage in your home country – Unusually, SafetyWing provides limited coverage when you return home. After being abroad for 90 days (or if you purchase 90 days of cover and go abroad during that period), you are eligible for home country coverage for 30 days (15 days in the US).
Covers adventure activities – You don't need to pay a premium for high risk activities as many are included as standard including horse riding, scuba diving, snowboarding, and bungee jumping. See below.
Covers riding a motorbike or scooter – For many digital nomads, especially in SE Asia, getting around by scooter is common. But most companies don't provide coverage, so it's fantastic that SafetyWing does.
No need to choose all destinations – We never know where we're going to visit over the next year, so it's helpful that SafetyWing provides worldwide coverage. You just have to choose your first destination and whether to include the US or not.
Clear pricing structure – There's no need for complicated quotes or choosing between multiple tiers, and there are no hidden costs. Pricing is based only on your age and whether you include the US.
Free coverage for kids – Up to two children under 10 per family (one per adult) can be included for free.
Focus on medical coverage – SafetyWing keeps costs low by focusing on the essentials for nomads, mostly emergency medical coverage, rather than including cancellation and other cover we're less likely to need.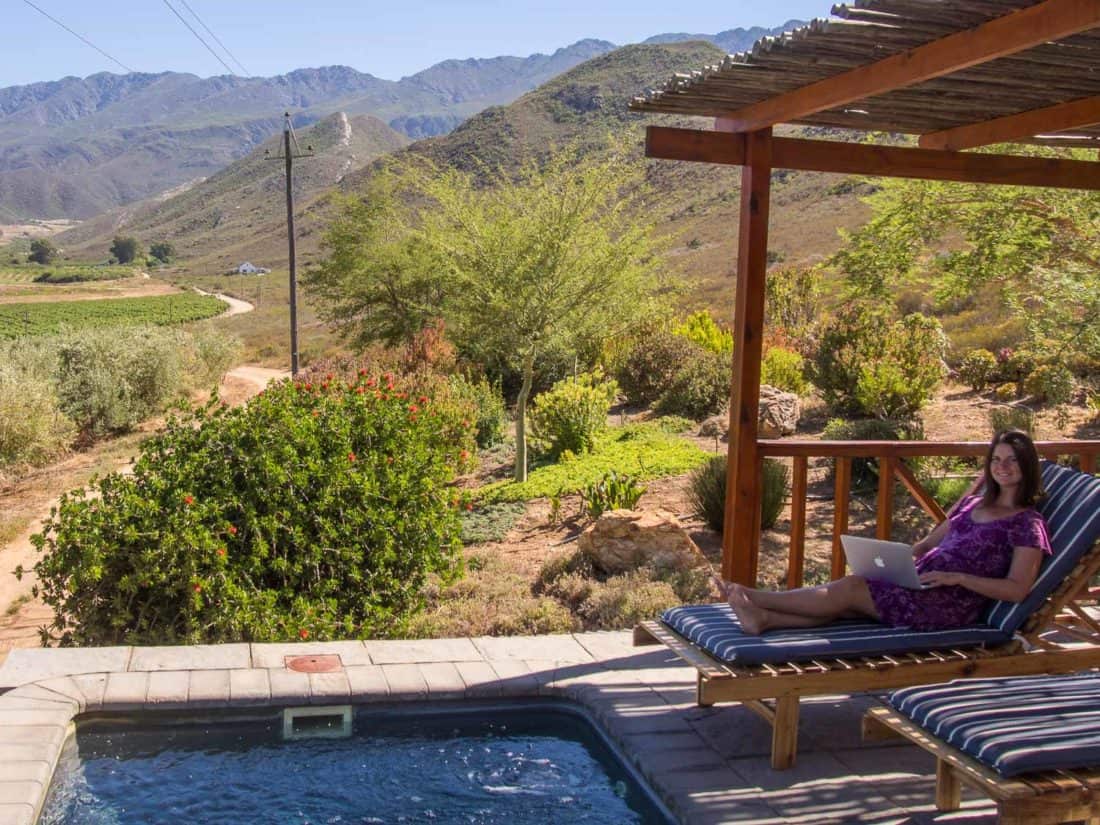 SafetyWing Coverage
Who Will SafetyWing Insure?
You are eligible for SafetyWing Nomad Insurance as long as you are:
Not a Cuban citizen.
Between 15 days and 69 years old.
Not physically present at the time of purchase in Australia, Canada, or the US states: Maryland, New York, and Washington.
Intending to travel outside of your home country. (For the US, you need the US add-on, which is not available for US citizens).
Not traveling to Iran, Cuba, North Korea, Russia, Belarus, Syria, and select regions of Ukraine: Luhansk, Donetsk, Crimea.
Countries Covered
You can be covered anywhere outside your home country except:
Cuba, Iran, North Korea, Syria, Russia, and Belarus.
USA (unless you have the US add-on).
Select regions of Ukraine: Luhansk, Donetsk, Crimea.
Unlike other travel insurance, you don't need to declare in advance all the countries you'll be travelling to, except for your first destination.
You also need to decide whether to include the US or not, as understandably, this increases the price significantly.
They also don't cover kidnapping or express kidnapping that begins in Afghanistan, Central African Republic, Democratic Republic of the Congo, Iraq, Libya, Mali, Niger, Nigeria, North Korea, Pakistan,
Somalia, Sudan, South Sudan, Syria, Venezuela, Yemen, or any country for which they are prohibited from transaction due to sanctions by the United States Department of the Treasury's Office of Foreign Assets Control (OFAC).
Activities Covered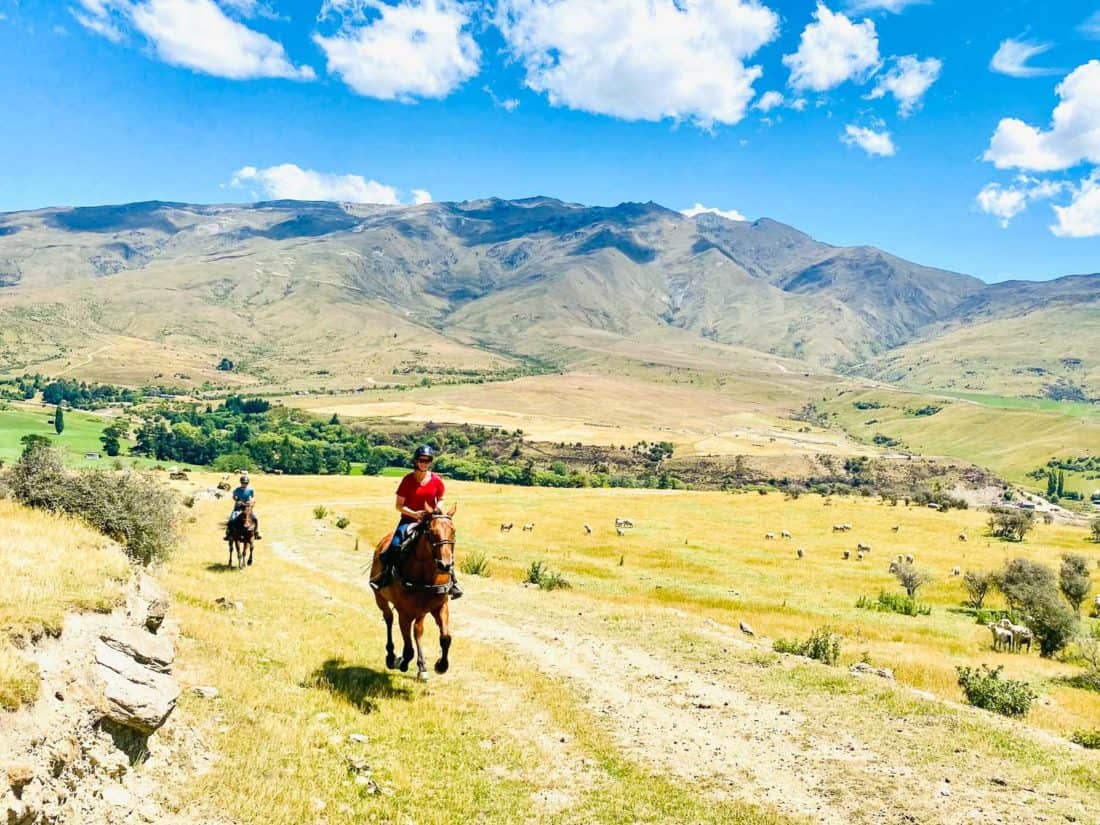 SafetyWing's Nomad Insurance policy covers many sports and activities as standard, but it's best to reach out to customer care to check if a particular activity is covered.
You can also check the full list of excluded activities on page 25 of the description of coverage.
Some of the adventure travel activities they cover include:
Bungee jumping
Camel riding
Canyoning
Cycling under 4,500 meters
Hiking up to 4,500 meters
Horse riding
Hot air ballooning as a passenger
Kayaking
Motorbiking (excluding motorised dirt bikes and racing)
Sailing
Scuba diving as long as you are certified (or accompanied by a certified instructor at depths less than 10 metres)
Skiing (not off-piste)
Snorkelling
Snowboarding (not off-piste)
Surfing
Waterskiing
Windsurfing
Ziplining
Zorbing
Some of the most notable exclusions include:
All-Terrain Vehicles
Base Jumping
Heli-skiing
Kitesurfing
Martial Arts
Luge
Mountaineering at elevations of 4,500 meters or higher
Parachuting
Parasailing
Racing
Snowmobile
Spelunking
Whitewater Rafting
Unusually, they cover motorbike and scooter accidents as long as they do not fall under any exclusions, such as racing and intoxication.
It's also notable that they cover skiing and snowboarding—winter sports usually cost extra with other travel insurance companies.
They do not cover organised athletics or professional sports or activities. And the sport or activity cannot be the main purpose of your trip.
Maximum Payout and Deductible
SafetyWing's maximum payout is US $250,000 ($100,000 for ages 65 – 69 years).
The deductible or excess is $250—this is the amount you'll have to pay if you make a claim, but only once per policy.
For example, if you have an accident and your medical expenses are $500, you'll have to pay the first $250 and SafetyWing will refund you the remaining $250 (if the claim is covered).
If you then have another accident or illness under that policy, SafetyWing will pay out the full amount as you have already paid your deductible.
Some items like emergency medical evacuation and emergency dental treatment are not subject to a deductible.
Medical
The main reason to purchase SafetyWing Nomad Insurance is to be covered for emergency medical expenses in case you have an unexpected illness or injury.
Eligible expenses could include doctor and hospital fees, ambulances, and prescription drugs.
SafetyWing travel insurance also covers emergency dental treatment necessary to resolve acute onset of pain (if treatment is received within 72 hours)—they will pay out up to $1000 with no deductible.
They provide coverage for emergency medical evacuation (if deemed medically necessary by the attending physician) up to $100,000 lifetime maximum ($25,000 for acute onset of a pre-existing condition), with no deductible.
Like with all travel insurance, you are not covered for routine checkups, preventative care, and cancer treatment.
Unfortunately, pre-existing conditions are not included either, although there's limited coverage for acute onset of pre-existing conditions (as long as they are not chronic or congenital conditions).
If you'd prefer more comprehensive health insurance while travelling, SafetyWing's Nomad Health plan offers global health insurance to cover your medical needs worldwide, including in your home country.
See below for more details about Nomad Health.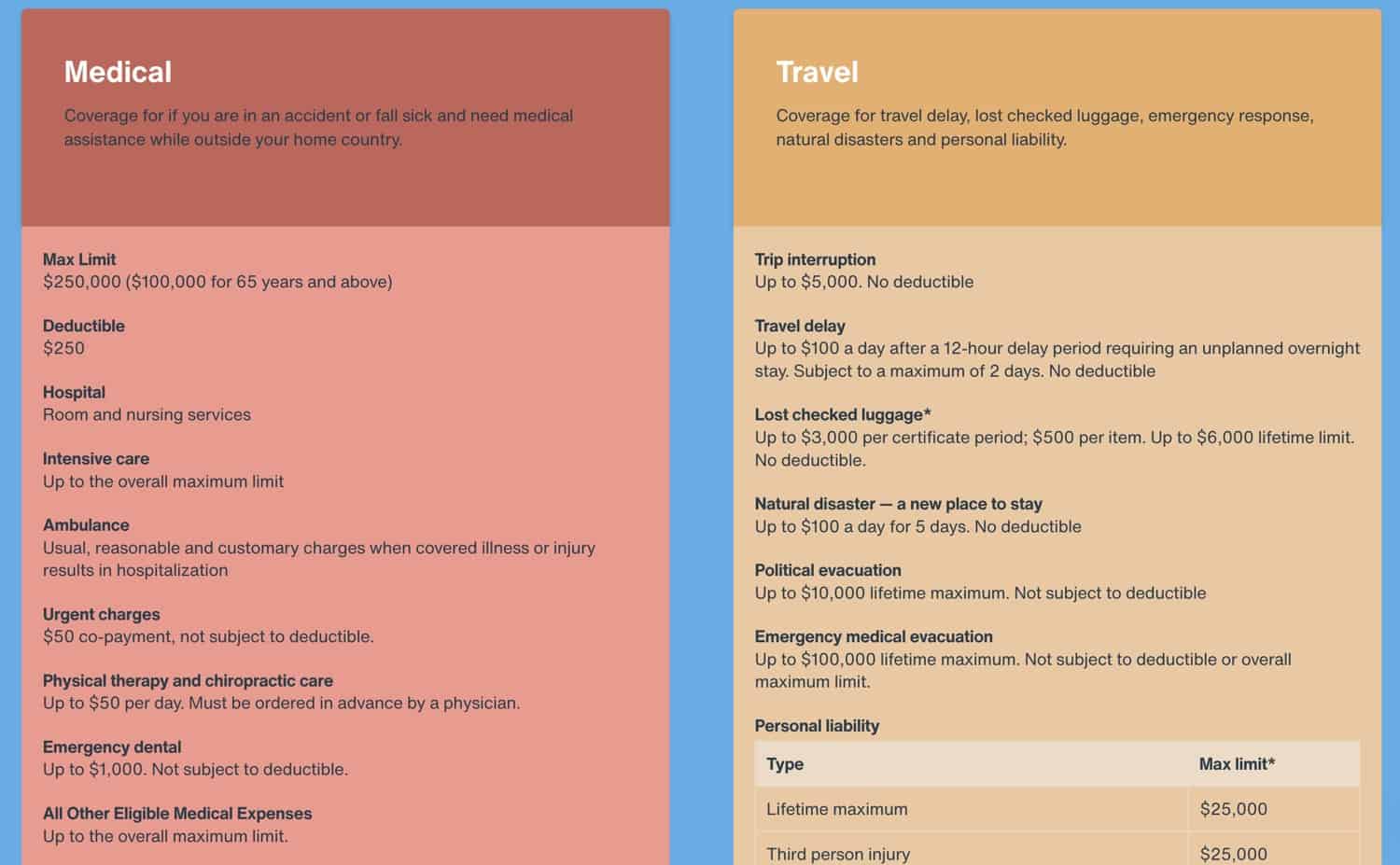 Baggage
SafetyWing insurance doesn't cover stolen baggage or electronics.
This doesn't bother us as our clothes aren't very expensive and the limits for electronics offered by other travel insurance policies are always too low to cover any of our devices. We make sure we have enough savings to replace our gear if necessary.
They do cover lost checked luggage up to $3,000 per certificate period and $500 per item with no deductible.
Other
Other travel insurance coverage provided by SafetyWing includes:
Trip interruption – Up to $5,000. This covers a flight back home if you have to end your trip due to the death of a close family member, destruction of your principal residence (more than 40%, caused by fire or weather), or after an emergency medical evacuation.
Travel delay – Up to $100 a day (maximum 2 days) after a 12-hour delay period requiring an unplanned overnight stay.
Natural disaster – Covers a new place to stay up to $100 a day for 5 days.
Political evacuation – Up to $10,000 lifetime maximum for transport to a safe country if the US Department of State has issued a level 3 or level 4 travel advisory after your arrival in the destination country. You must contact them within 10 days of the advisory being issued.
Personal liability – Up to $25,000. Car rentals are excluded. See pages 27 and 28 of the description of coverage for more details.
Accidental death & dismemberment – $12,500 to $25,000 ($2500-5000 for under 18s).
Bedside visit – Up to $1500 to cover transport for one relative to visit you if you are in hospital intensive care with a life threatening injury or illness.
Emergency reunion – Up to $50,000 (maximum 15 days) for transport, lodging and meals for one relative to visit you after an emergency medical evacuation.
None of the items above are subject to a deductible.
How Much Is SafetyWing Nomad Insurance?
SafetyWing has a clear and simple pricing structure. The only things that affect the price are your age and whether you want to include the US.
The standard policy costs a flat rate of US $45 which is automatically charged every 4 weeks until you cancel. Travel to the US costs extra.
Unfortunately, Nomad Insurance gets significantly more expensive the older you get. For over 50s, especially those travelling to the US, I recommend checking out Heymondo Insurance instead.
Here is the cost per age group charged every 4 weeks (prices in USD).
| Age | Excluding US | Including US |
| --- | --- | --- |
| 10 – 39 years | $45.08 | $83.44 |
| 40 – 49 years | $73.92 | $137.48 |
| 50 – 59 years | $115.92 | $226.24 |
| 60 – 64 years | $157.36 | $308.84 |
| 65 – 69 years | $157.36 | $308.84 |
SafetyWing does not cover those aged 70 and over.
You will automatically be charged a recurring payment 3 days before every 28 day period until you cancel or until 364 days have passed, when you need to renew.
You can also choose specific dates for your trip (from 5 days to 364 days) and pay a one-off fee, which might be a good option if you want to travel for less than 28 days or prefer to pay upfront for a longer trip.
Signing Up For SafetyWing Insurance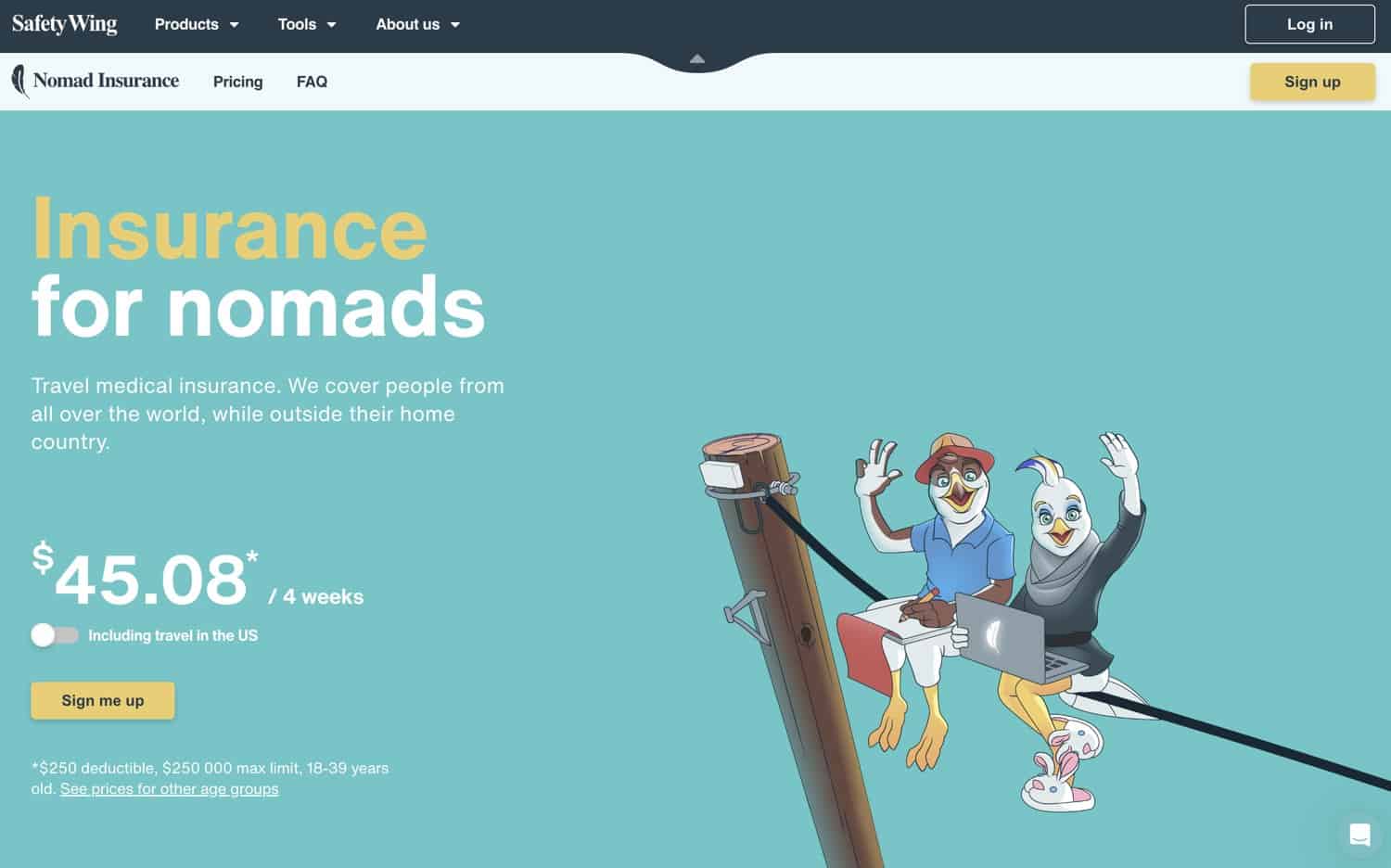 Signing up for SafetyWing travel insurance is easy.
First, create an account on the SafetyWing website by choosing an email address and password or logging in using Facebook. Then enter some details including your home country, date of birth, and address.
To activate your insurance, choose your start date and whether you will be travelling to the US or not.
You can also add family members or friends to your plan (as long as they have the same home country and are not aged 65-69).
You can pay by credit or debit card and you'll be charged for every 4 weeks unless you select specific travel dates and pay upfront.
It's easy to cancel at any time with one click and you'll still be insured until the last day you've paid for.
If you go home earlier than expected and you want a refund for the unused days, you can reach out to customer care and they will issue a refund.
Making a Claim with SafetyWing
SafetyWing's policy is administered by Tokio Marine, one of the largest insurance companies in the world.
We haven't needed to make a claim on our SafetyWing insurance yet, but the process seems fairly simple.
On the SafetyWing website click on "Make a Claim" in the dropdown menu under My Profile and it will walk you through the process.
First, fill out the claims form (this can be done digitally) and then upload it with photos of receipts and other necessary documentation to Tokio Marine's online portal.
All claims must be filed within 60 days of the end of your insurance.
Your claim should take less than 45 days to be processed and if approved, you will receive the money into your bank account by a wire transfer.
You are free to go to any doctor or hospital of your choice. Direct billing might be an option so you don't have to pay yourself (typically this is only for inpatient care). For this it's best to get assistance on choosing a hospital by calling the insurance helpline.
Otherwise, make sure to save receipts and relevant medical or police reports and test results.
Most reports of the claims process are really good. You can see reviews by people who have made claims on Trust Pilot.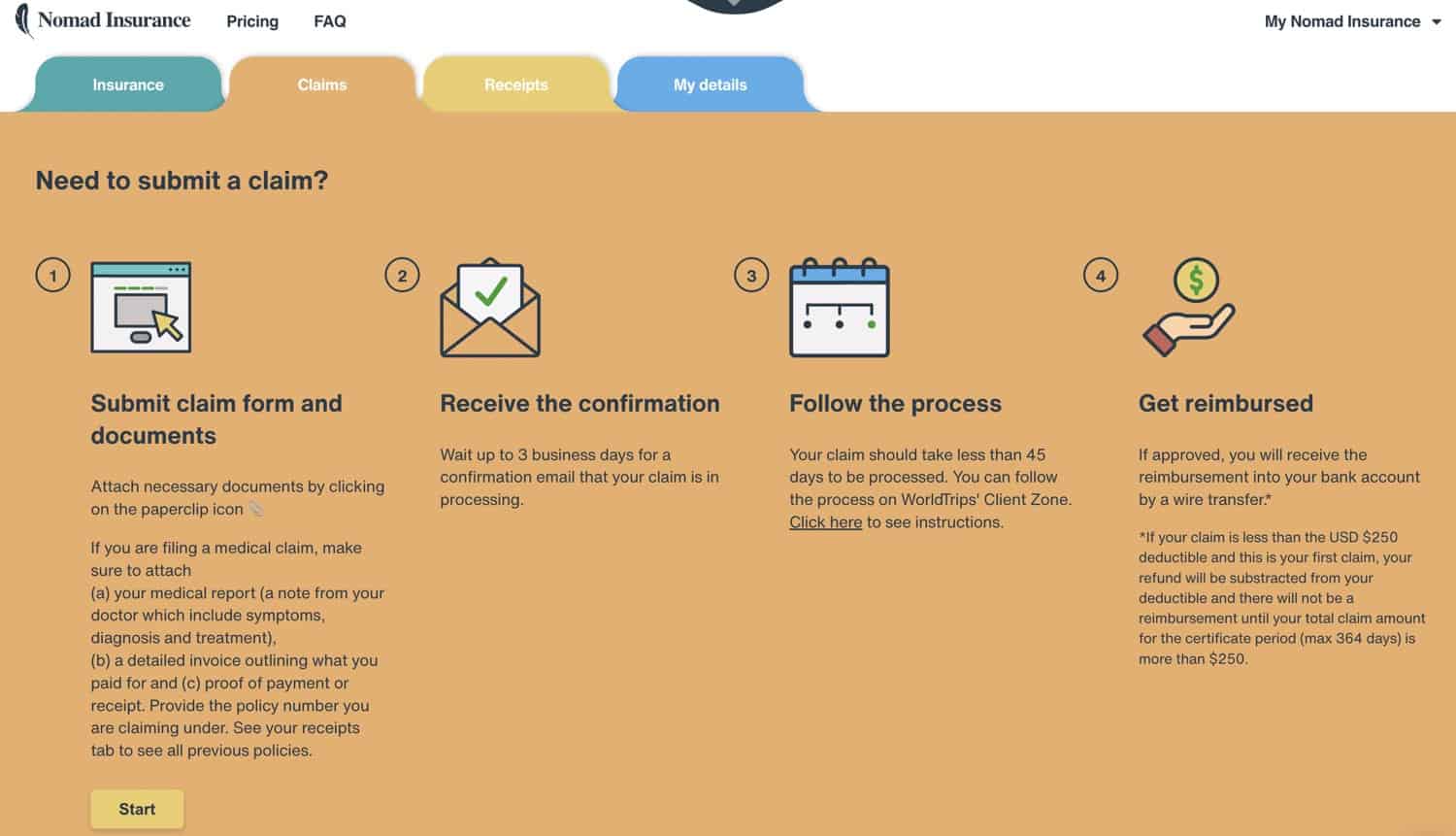 Downsides of SafetyWing Insurance
These are the areas where SafetyWing could be improved:
Low maximum payout – The $250,000 max payout is much lower than the millions in coverage offered by other travel insurance. While this should be enough coverage in almost every case, if you suffer a very serious accident in the US and have to stay in hospital for an extended period, there's a chance you could reach the maximum. SafetyWing says they have never had a claim that exceeded $250,000 and their goal is to make their policies affordable so that nomads don't go without insurance entirely.
No stolen baggage – It would be great if they offered an electronics add-on for digital nomads. Most travel insurance doesn't offer high enough electronics cover for laptops, though. If this is important to you, check out Heymondo's Premium plan for up to $2500 of cover.
No pre-existing conditions – This is standard with travel insurance but it's still a shame. Nomad Health is your best option to cover existing conditions.
No cancellation cover – This is something that most other travel insurance offers. Honestly, though, it's not usually relevant to digital nomads as it only applies to trips being cancelled before you leave your home country.
No coverage for some adventure activities – If you want to go whitewater rafting, parasailing or kitesurfing, you won't be covered.
Much more expensive the older you get – Each time you move into a new decade your premium shoots up.
Doesn't cover ages 70+ – Unfortunately, this is common with long stay travel insurance.
Doesn't cover certain destinations (see the SafetyWing Coverage section above for exclusions).
SafetyWing Nomad Insurance vs Nomad Health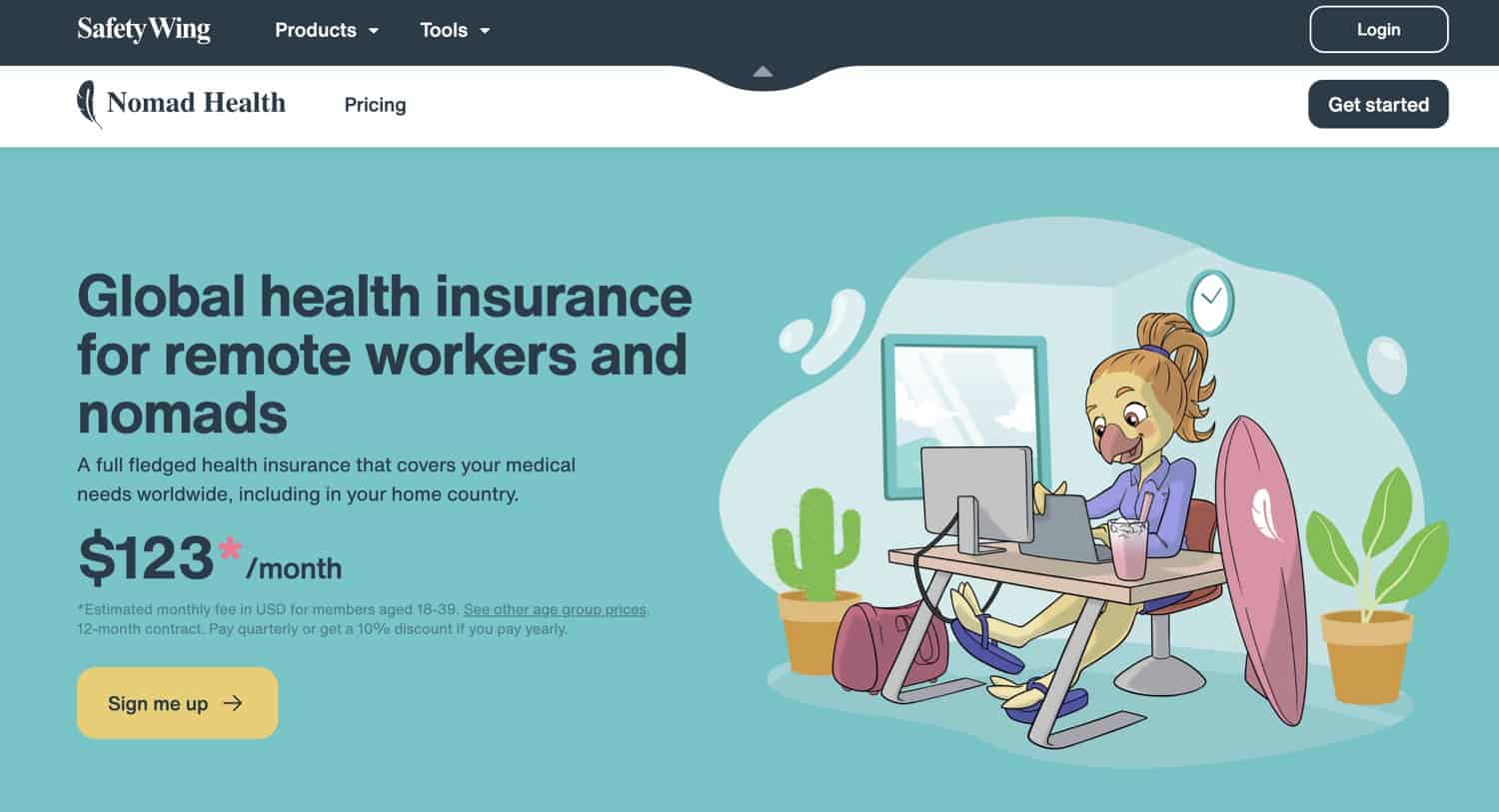 SafetyWing's Nomad Health plan is global health insurance for nomads and remote workers.
If you want comprehensive health insurance while you travel the globe, this could be a good option.
Compared to Nomad Insurance (reviewed above), it has the following advantages:
Coverage provided in your home country (except for US residents and a few other countries).
Covers cancer tests and treatment.
Covers approved pre-existing conditions (some may be excluded).
Claims are processed within 7 – 15 days.
Or they pay medical providers directly for scheduled treatments (over $250).
US $1.5 million maximum per policy year.
Premium plan includes routine dental, vision, screenings, vaccines, and mental health (limits apply).
Maternity care included in Premium plan.
Wellness benefits such as acupuncture, chiropractic care, osteopath and dietician visits and more.
No deductible.
Covers up to age 74 (but is much more expensive for older age groups).
Covers eligible medical expenses for adventure sports and activities (professional sports excluded).
The disadvantages of Nomad Health compared to Nomad Insurance are:
You need to apply – You must provide medical history before your application is approved and not all applicants can be covered.
Much higher cost – For individuals aged 18–39 years, it starts from $123 a month for the standard plan and $238 for premium.
30 days of coverage in the US, Hong Kong and Singapore. Option to add up to 6 months of coverage in the US and 12 months in Hong Kong and Singapore.
Minimum one year term – You can pay quarterly or yearly.
No coverage for non-medical expenses like lost checked baggage or trip interruption.
There are two Nomad Health plans. The Standard plan is cheaper, but doesn't include maternity or routine checks like dental and vision and has a 10% outpatient co-insurance (i.e you have to pay 10% of the bill).
The Premium plan has some extra coverage and there's no co-insurance (SafetyWing pays 100% of the bill). Maternity care is included, but this is subject to a 10-month waiting period and 20% co-insurance.
Nomad Health is worth considering if you want comprehensive health insurance that will cover more than just emergencies.
It could be a good option if you have a pre-existing condition (and it is approved), think you'll need more regular medical care including maternity, need health insurance in your home country, and/or want to cover against worst case scenarios like cancer.
For us, it's currently more cover than we need at a higher price than we're willing to pay (especially as we're in a higher price bracket in our 40s).
If we didn't have free healthcare in the UK, or weren't willing to return there for a serious illness (like cancer), we'd definitely consider it.
Get a quote and apply for Nomad Health here.
SafetyWing vs True Traveller
We used True Traveller insurance for eight years and would be happy to again, but it's only available for UK and EU residents.
We wanted to try insurance that's accessible to more of our readers, which is why we tried SafetyWing last year.
Like SafetyWing, True Traveller offers travel insurance after departure and for those travelling without a return ticket, and they cover COVID–19.
They offer three policies: True Value (for under 40s with the most basic coverage), Traveller, and Traveller Plus.
Here are the advantages of True Traveller over SafetyWing:
Much higher medical coverage at £10 million.
Much higher personal liability cover from £1 million to £2 million.
Cheaper if you pay upfront for a year – My quote for a 39 year old on a year-long trip worldwide excluding the US/Canada was the equivalent of £25/£33/£38 per 28 days. The price does increase if you add extra activities though.
You can choose from four travel areas: Europe, Australia and New Zealand, Worldwide excluding US and Canada, and Worldwide.
92 activities covered as standard and you can add more at an additional cost.
Option to include baggage cover and valuables at an extra cost, but again the valuables limit is so low (£450 to £750) that it's not useful for us.
You can extend your policy and get a 10% discount.
The disadvantages of True Traveller compared to SafetyWing are:
Only covers UK and EU residents.
More expensive for shorter trips – My quote for a 39 year old on a 28-day trip worldwide excluding the US/Canada was £85/100/111.
The maximum age they can insure is 65.
Winter sports coverage is only included at an additional cost.
They don't cover COVID–19 if you haven't been vaccinated or the country has an FCDO travel advisory against it.
If you purchase after departure, the policy but will not be valid for 48 hours.
For UK residents 65 years old and under, True Traveller offers more comprehensive insurance than SafetyWing, and if you can pay in advance for a longer trip, it will likely be cheaper.
I recommend getting a quote from True Traveller, though, as the price will depend on your age, where you are travelling to, the length of trip, and what activities and extras you want to include.
True Traveller does lack the flexibility of SafetyWing's subscription payment method and is much more expensive if you only want to insure yourself for a month or so at a time.
See our True Traveller insurance review for more details.
SafetyWing vs Heymondo
Heymondo offers a variety of comprehensive travel insurance policies including single trip, multi-trip, and long stay (over 90 days).
Their policies are available worldwide and cover COVID-19.
We used Heymondo for a 3-month trip to the US as it worked out cheaper and more comprehensive than SafetyWing (for us in our 40s).
Heymondo has these advantages over SafetyWing:
Much higher medical coverage from €3.5 million to €10 million (up to $500,000 for US residents)
Much higher personal liability cover up to €2 million.
Cancellation cover is included.
No excess/deductible.
Highest electronics limit (with the Premium plan you can pay extra for up to €2500 cover).
Rental car excess cover (with Premium plan)
Cheaper for over 50s travelling to the US (and possibly over 40s).
24-hour chat with a doctor on their app
The downsides are:
Much more expensive for under 50s. A 4-week trip worldwide for a US resident of any age costs $110 for their Top policy and $116 for Premium.
Limited adventure sports included (no ski cover)
If you purchase after departure, the policy but will not be valid for 72 hours.
While Heymondo does offer higher amounts of cover, it is much more expensive for under 50s not travelling to the US and doesn't cover as many adventure activities.
Click here for a Heymondo insurance quote (with a 5% discount for Never Ending Voyage readers).
SafetyWing vs World Nomads
World Nomads is a well-known travel insurance company that's popular with many nomads and long-term travellers. We used them ourselves for our round the world trip in 2008.
Like SafetyWing, they offer insurance when you are already abroad and travelling with a one-way ticket, and they cover most nationalities (currently excluding Europe).
It's difficult to do a direct comparison as World Nomads has different policies depending on your home country, and there's no clear pricing structure so you need to get a quote based on your nationality, age, countries you'll be visiting, and length of trip.
They also offer two levels of coverage—Standard and Explorer—and a variety of add-ons.
It's best to get your own quote, but I've based the World Nomads numbers below on a quote for a 39-year-old from California, USA and from the UK.
Compared to SafetyWing's Nomad Insurance, World Nomads has these advantages:
For some nationalities, much higher emergency medical coverage – In the UK it's £5 million or £10 million vs SafetyWing's $250,000 maximum payout. For US residents it's a lower $100,000, though.
Cancellation cover – Something SafetyWing doesn't provide. Although this only covers you before you leave your home country so is of limited use to nomads.
Stolen baggage cover – $1000/3000 of cover (or £1000/2000 in the UK). But the valuables limit is low. You can add additional high value items in some countries at an extra cost, but the maximum amount per item is £400 which won't cover most laptops, phones or cameras.
Rental car excess cover with Explorer plan in the UK or rental car damage in the US.
Covers a wider range of adventure activities and in some countries, you can add specific activities you want to be covered.
The disadvantages of World Nomads compared to SafetyWing are:
Much higher cost – My World Nomads quote for a US resident (all ages) for 28 days worldwide was $207 for Standard or $369 for Explorer for 28 days. Even paying upfront for a longer trip it worked out at $150 per 28 days. For UK residents up to 50, the same trip is £100/£125 for 28 days or it comes down to £42 per 28 days if you pay for a year upfront.
You have to choose your trip length and pay upfront – This can be difficult if you don't know how long you'll be away.
No COVID–19 cover for some nationalities – They do now provide COVID-19 cover if you are from the US, Canada, UK, Ireland and others, but not all countries are included. You won't be covered if there are travel advisories for the country you are visiting.
Lower medical coverage for US residents ($100,000).
Doesn't cover any time in your home country.
No free coverage for children under 10.
You have to choose specific countries or regions you'll be visiting or select worldwide.
While World Nomads does offer a higher amount of coverage for those outside the US, it comes at a much higher price.
It also lacks the flexibility of SafetyWing's subscription model.
Is SafetyWing Worth It?
Yes, SafetyWing travel medical insurance is ideal for digital nomads, remote workers, and long term travellers from most countries. It's flexible, affordable, and easy to sign up for.
No one likes paying for travel insurance, but it's important to have coverage in case anything goes wrong. Accidents and illnesses abroad do happen and without insurance, you could be left with a bill you can't afford.
Sign Up for SafetyWing
I hope my SafetyWing review has helped you decide if it's right for you.
You can get a quote for SafetyWing Nomad Insurance here or fill in your details below.
If you enjoyed this post, pin for later!