This page contains affiliate links. Please read our disclosure for more info.
For the first time ever we celebrated our nomadiversary on 1st March in the same country as we did last year.
Our 11th year as digital nomads certainly didn't go as planned. Reading over last year's travel highlights post, there was no indication that we knew what was in store for us, despite being written just a week before a pandemic was officially declared. COVID hadn't affected New Zealand yet, and aside from using hand sanitiser more often, our life continued as usual.
In the post we celebrated the success of our blog, when just a few weeks later our traffic and income would drop by 80% and stay that way for the rest of the year.
We still thought we'd leave New Zealand in April and continue with our most planned year of travels ever—French Polynesia, Hawaii, horse sitting in the English Cotswolds, Toronto to visit our new nephew, New Orleans, and Disney World for Simon's 40th, a trip we'd been planning for years.
Of course, none of that happened.
By the end of March we were in lockdown in New Zealand, borders were closed almost everywhere, and onward travel was impossible.
We spent a stressful day putting together a visa extension application—a day later New Zealand automatically gave all visitors an extra five months anyway. While our families wanted us to return to the UK, we felt safer in New Zealand—and it turns out we were right.
The next few months were a rollercoaster of emotion (which I documented in our lockdown diaries)—disbelief, fear, grief over cancelled plans, so much uncertainty, and most of all, despair that after a decade of work, when our blog was finally financially successful, we were losing it all.
But we also felt immensely grateful that we were safe and healthy in New Zealand, quarantined in a beautiful house by the sea, that we had savings to keep us going, and that we managed to get refunds for most of our booked trips.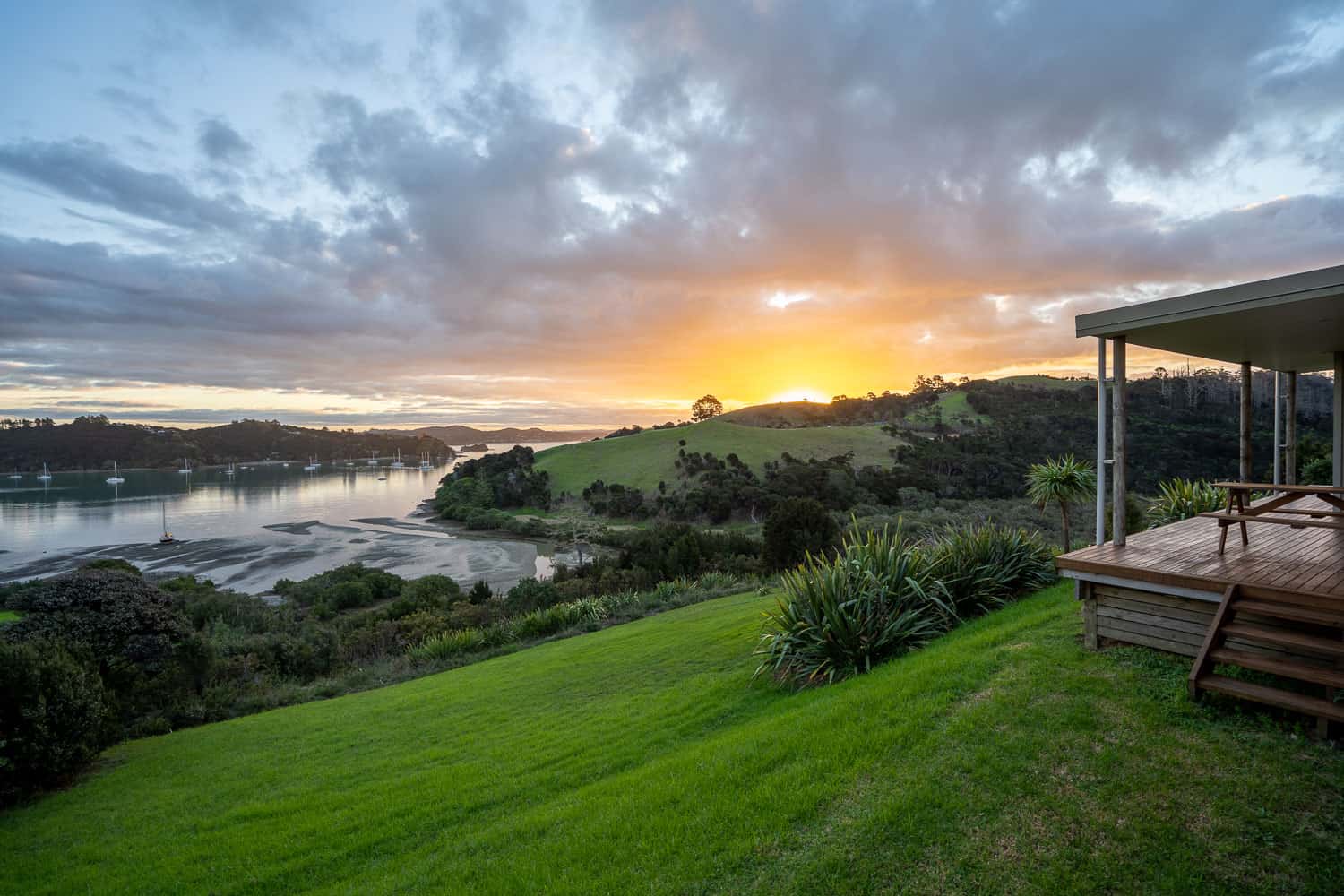 And then there was the guilt—pointless but hard to shake. After a strict two-month lockdown, New Zealand managed to eliminate COVID-19 and we were free to travel domestically again.
While our friends and family overseas were still stuck inside, we've been free to eat in restaurants, drink in bars, go to festivals and the cinema and bowling alleys, and explore this beautiful country.
So, in the end, despite being far from what we'd planned, and despite our ailing business and fear for our families, our 11th year on the road was still one full of joy and exploration.
We realise we've had a very easy pandemic compared to almost everyone, and that sometimes makes it difficult to share our experiences, which are in such stark contrast to what's possible or safe in most of the world.
But here are our highlights of our 11th year as digital nomads, all of which was spent in New Zealand.
The Unexpected Gift of an Extended Stay in New Zealand
The initial five-month visa extension was the first of three automatic extensions for the few thousand visitors still left in New Zealand (where the borders have been closed for a year).
Each was increasingly last minute, and in September and February, we were booked on flights before the reprieve and yet another decision to stay.
We've now been here for 17 months and, if we get the extra visa extension we're applying for, our total stay will be two years. Two years! The longest we've spent in one country in the previous decade was five months.
While pre-pandemic we wouldn't have chosen to stay here for so long, our extended stay has been an unexpected gift. We've fallen in love with the country—especially the stunning nature and laidback, outdoorsy lifestyle.
A longer stay has enabled us to learn to recognise the beautiful native birds, discover our favourite local wines, and hike numerous trails.
We've made friends who we've sung karaoke, bowled, played mini golf, and escaped rooms with. We've watched our friends' puppy grow up and took him for his first swim. We hosted Christmas in July. We celebrated Jacinda Ardern's landslide election victory. Simon even got to record three tracks in a professional music studio.
Having a rental car has meant we can accumulate some extra stuff, a novelty as we've lived out of a carry-on backpack for a decade. We still have limited clothes and are mindful about what we buy (and will get rid of it before we leave), but it's been nice to have some extra items for hiking and cooking.
We even have an inflatable standup paddleboard which has been a wonderful way to explore the beautiful lakes and bays.
Although we've managed to see much more of New Zealand than we ever expected, it still feels like there's so much to discover, and we're constantly torn between the pull to return to places we love and the urge to explore. It's a good problem to have and we couldn't be more grateful.
Learning to Sail in the Bay of Islands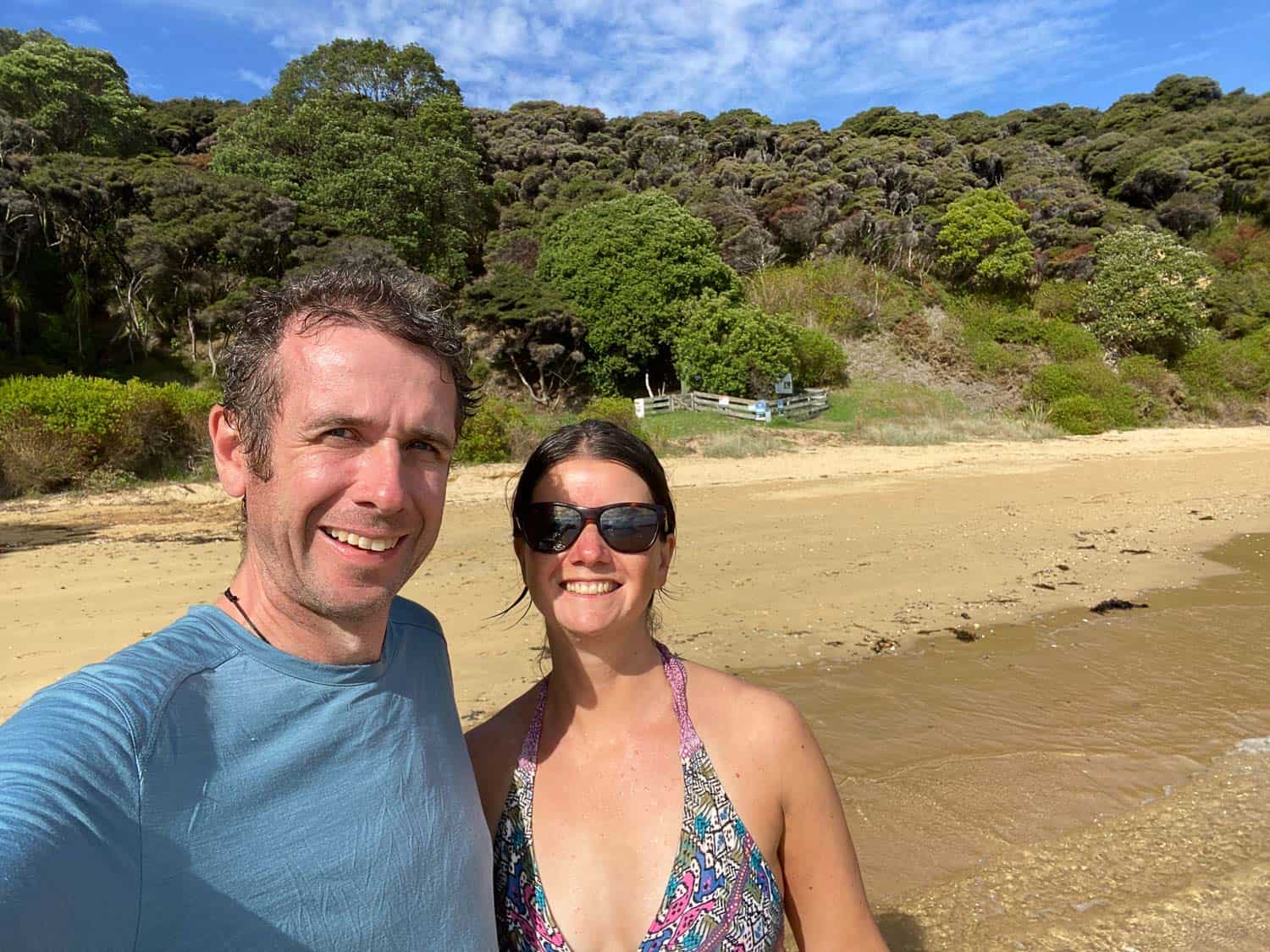 It feels like a lifetime ago, but just a year ago we did a six-day sailing course in the Bay of Islands in the far north of New Zealand. We lived on a tiny yacht and went out with an instructor for the first three days, and then we were on our own for the last three days, anchoring in quiet bays in some of the many islands of the area.
It was a challenging time with long days spent trying to process new information, struggles battling the wind, and fears that we hadn't anchored right and our boat would float away.
There were also many moments of joy—when the wind caught the sails just right, sunsets on the water, the sense of freedom being out at sea by ourselves, discovering islands full of native birds and empty beaches.
It was also our last week of normality. When we returned to shore, everything had changed. New Zealand had closed its borders, lockdown was imminent, and our blog traffic had dropped off a cliff.
Post-Lockdown Exploration in Northland
We arrived in Russell, a historic town in the Bay of Islands, the day before the national lockdown started. For our first seven weeks (we had to extend our initial stay) we didn't see much beyond the stunning view from our house, the nearby walking trail through the mangroves, and the local FourSquare mini supermarket (online delivery wasn't an option).
When COVID cases were under control and we were free to explore again, it took some time to adjust to our newfound freedom, but we soon found the joy in new places again.
We hiked around gorgeous Urupukapuka Island (one of my favourite places in New Zealand), visited the northernmost tip of the country at Cape Reinga, climbed up giant sand dunes, strolled on remote beaches, swam in a waterfall, learnt about Maori culture at Waitangi Treaty Grounds, and enjoyed lunch at a winery.
Every post-lockdown first we celebrated (first meal in a restaurant, first non-essential trip to a shop, first museum) helped us slowly return to normal.
A Restorative North Island Road Trip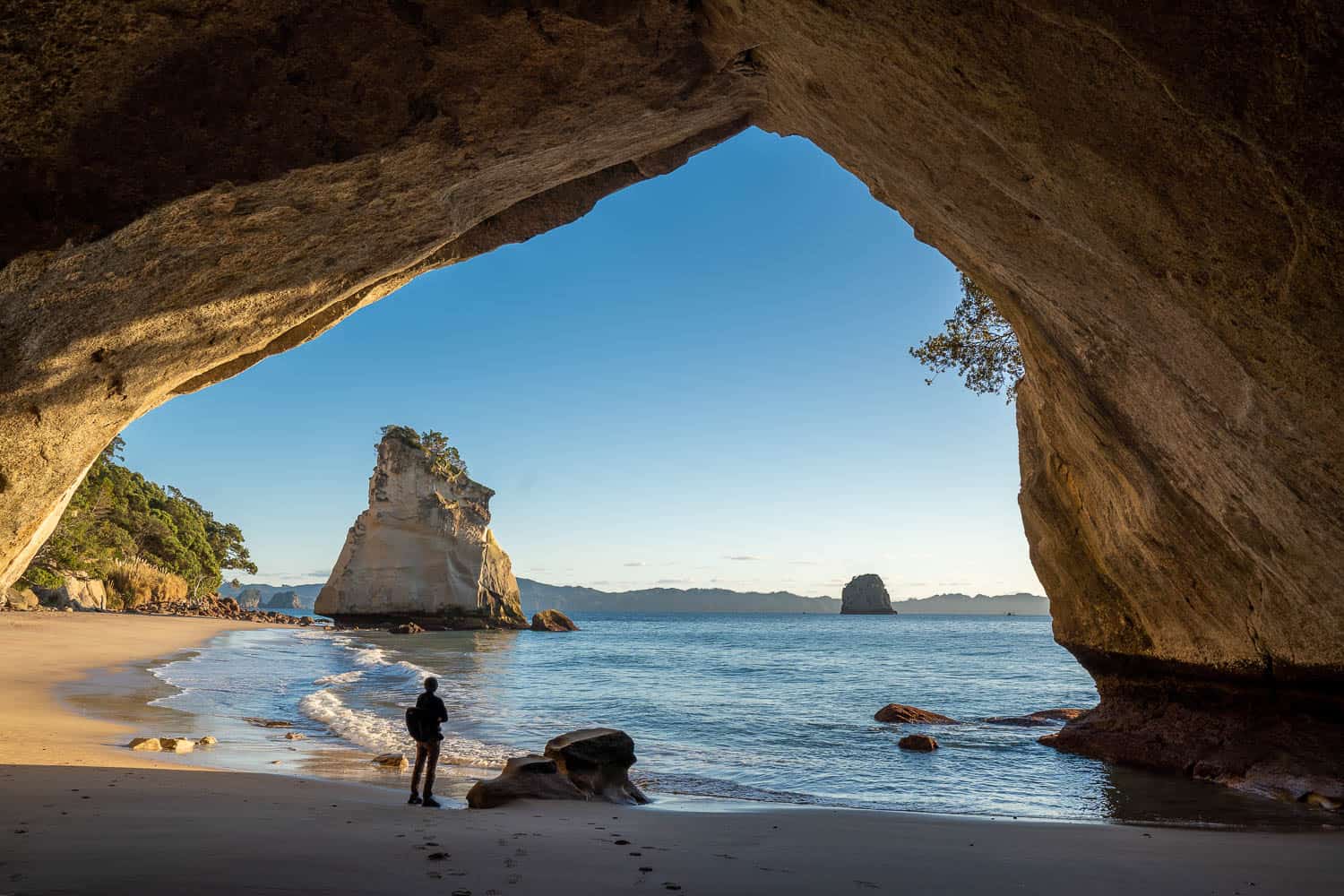 Three months after arriving in Russell, we left in mid-June for an early winter road trip down the North Island.
On the two-week trip to the Coromandel Peninsula, Lake Taupo, and Hawke's Bay, we hiked, swam in a hot river, visited a geothermal park full of colourful pools and bubbling mud pits, cycled to wineries in the rain, and readjusted to busy cafes and restaurants.
It felt like a reset between quarantine and normality—an opportunity to start afresh and put the stress and worries of lockdown behind us. Of course, nine months later, the pandemic anxieties haven't disappeared (especially regarding our families and business), but this trip did mark a turning point.
One particularly perfect day stands out in the gorgeous, tiny town of Hahei on the Coromandel. Early in the morning we hiked along the coast to magical Cathedral Cove, one of the most popular spots in New Zealand, but we had the famous view of the beach and rock stacks framed by the arch of a cave to ourselves.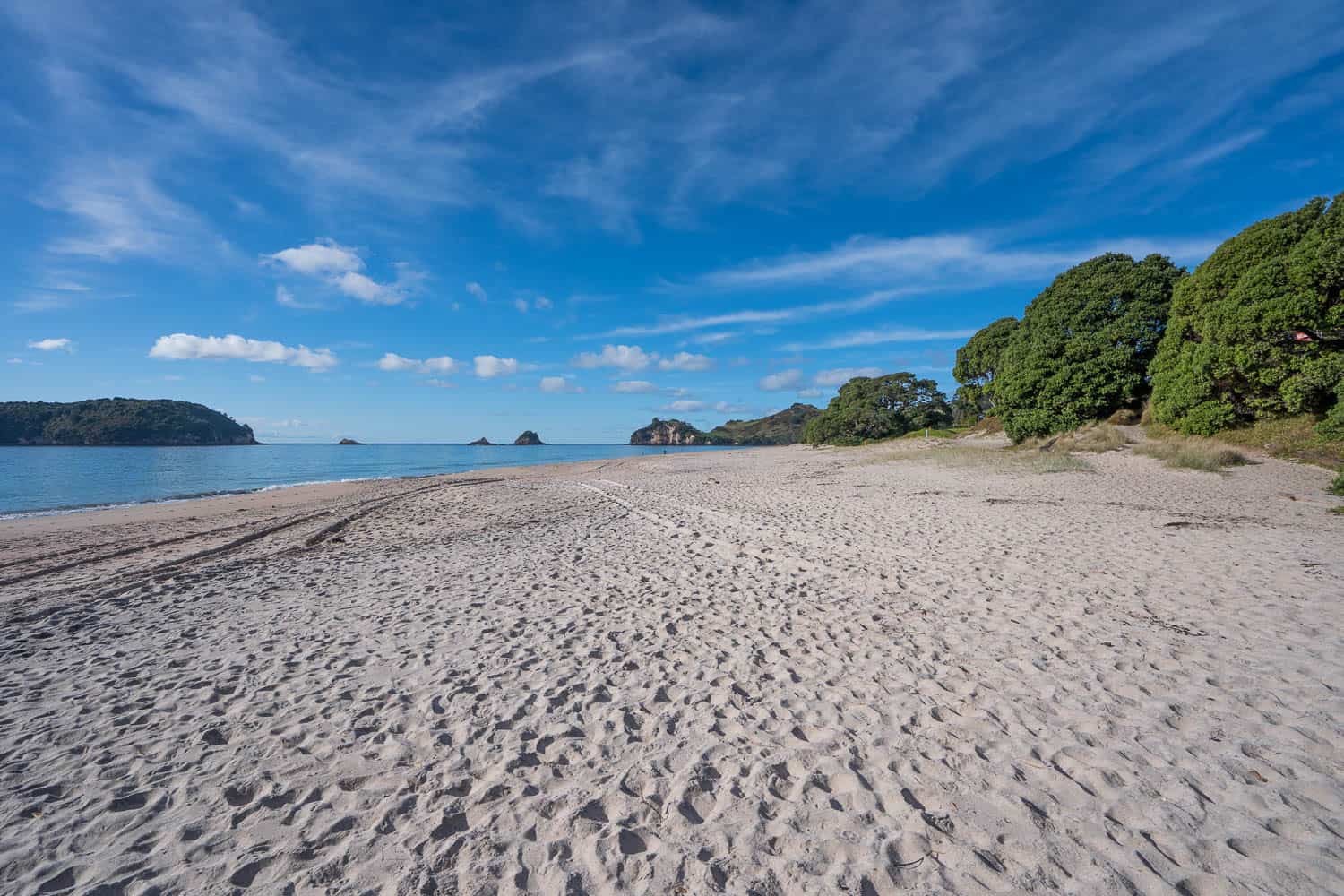 On the way back we stopped at another beach where I snorkelled with a stingray and spent the afternoon enjoying the winter sun on the powdery white sand of Hahei Beach (one of my favourites in the country).
Feeling at Home in Wellington and the Kapiti Coast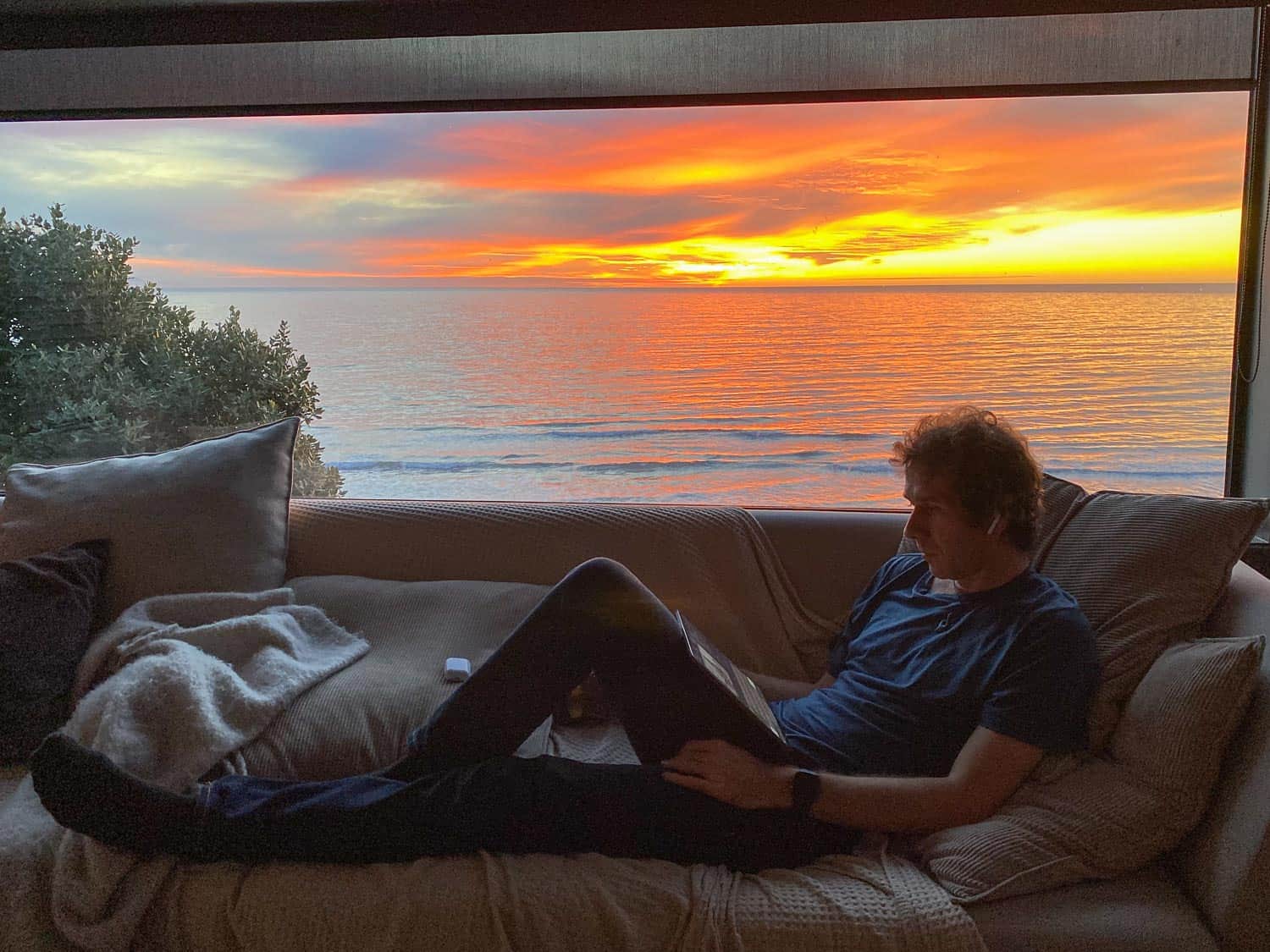 Wellington and the nearby Kapiti Coast is where we've spent the longest amount of time in New Zealand with three stays in the last year. Partly because we have friends there, partly because we fell in love with a beach house in the village of Paekakariki, and partly because it's a beautiful area with lots to do.
The great thing about Wellington is how it has all the delights of a capital city (delicious food, superb coffee, fancy cocktail bars, plenty of culture) in a compact size surrounded by nature.
Within a short drive of the centre there are beautiful beaches, rugged coastline, many hiking trails, and even a marine reserve where I snorkelled with an octopus and eagle ray.
Another North Island Road Trip
In September, after winter on the Kapiti Coast, our visa was expiring so we started off on our final road trip up the North Island for our planned flight back to the UK.
We hadn't made it far before the government announced another five-month visa extension. With COVID cases on the rise and winter approaching in the UK, it was an easy decision to cancel our flight and stay, but in the meantime, we continued with our road trip.
Highlights were seeing snow-capped Mt Taranaki, horse riding on a wild black sand beach in Raglan, admiring numerous beautiful waterfalls, taking a magical boat trip under a sparkling ceiling of glowworms in the Waitomo Caves (usually crowded with tour groups but almost empty on our visit), and exploring the wineries and beaches of Waiheke Island.
Our final stop before returning to Wellington was Tongariro National Park where Mordor was filmed for the Lord of the Rings films. The desolate volcanic landscape feels so different from the rolling green hills a few hours north (home to The Shire). Simon snowboarded down a volcano while I did a wonderful 18-km solo hike to the Tama Lakes.
Simon's 40th Birthday
Despite the disappointment of cancelling Simon's long-planned 40th birthday celebration at Disney World, we managed to have a brilliant time in Wellington, and of course, we were grateful we were able to celebrate without restrictions.
The evening involved dressing up as pirates (because why not?), craft cocktails in a speakeasy bar, a delicious multi-course vegetarian tasting menu at Hillside Kitchen, and a night in the artsy boutique hotel QT Wellington.
Summer Stays in Remote Baches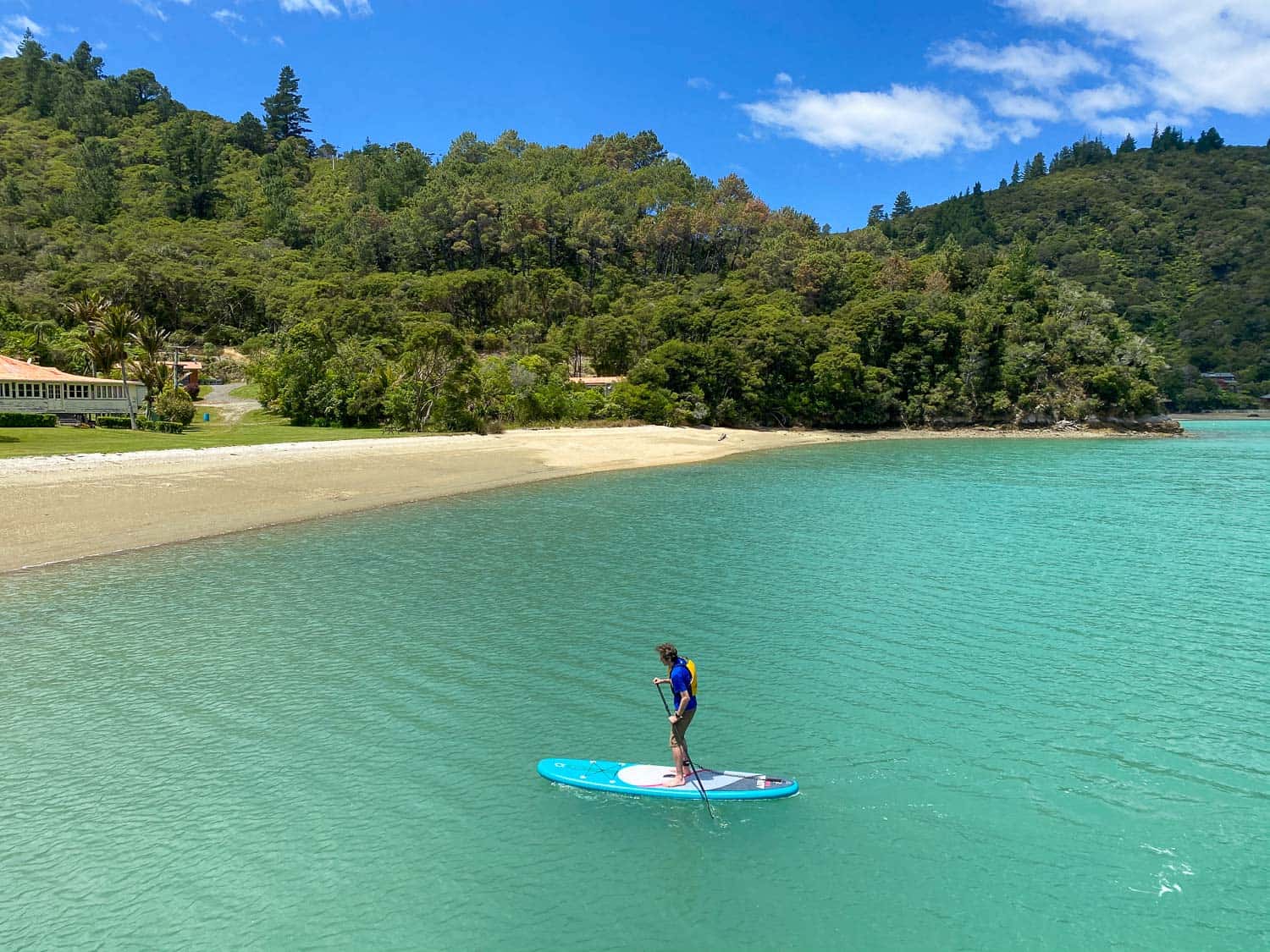 I enjoyed winter in New Zealand much more than I expected (it doesn't get too cold and there's plenty of sunshine), but when summer arrived in mid-December and we took the ferry to the South Island, it was glorious.
We started with a pre-Christmas digital detox staying at a couple of remote baches (Kiwi holiday homes). The first was in the Marlborough Sounds, a year after we hiked the 5-day Queen Charlotte Track and fell in love with the winding coastline of turquoise bays and forest-covered mountains.
It felt like a proper holiday where we didn't work or explore. We spent our days reading, playing games, doing jigsaws, enjoying the view, and swimming and paddleboarding at a nearby empty beach. Heaven.
Next up was another off-the-grid bach in Torrent Bay in Abel Tasman National Park. You can only reach this one-street beachside village by boat or long walk, and it felt wonderful to get away from it all. We hiked through the park, swam with stingrays, kayaked in the lagoon, and enjoyed sunset drinks on the beach.
We love Abel Tasman so much that we returned for our fifth visit in February—this time spending three nights at Awaroa Lodge for more hiking and beach time.
Rocks, Rivers and Beaches at Punakaiki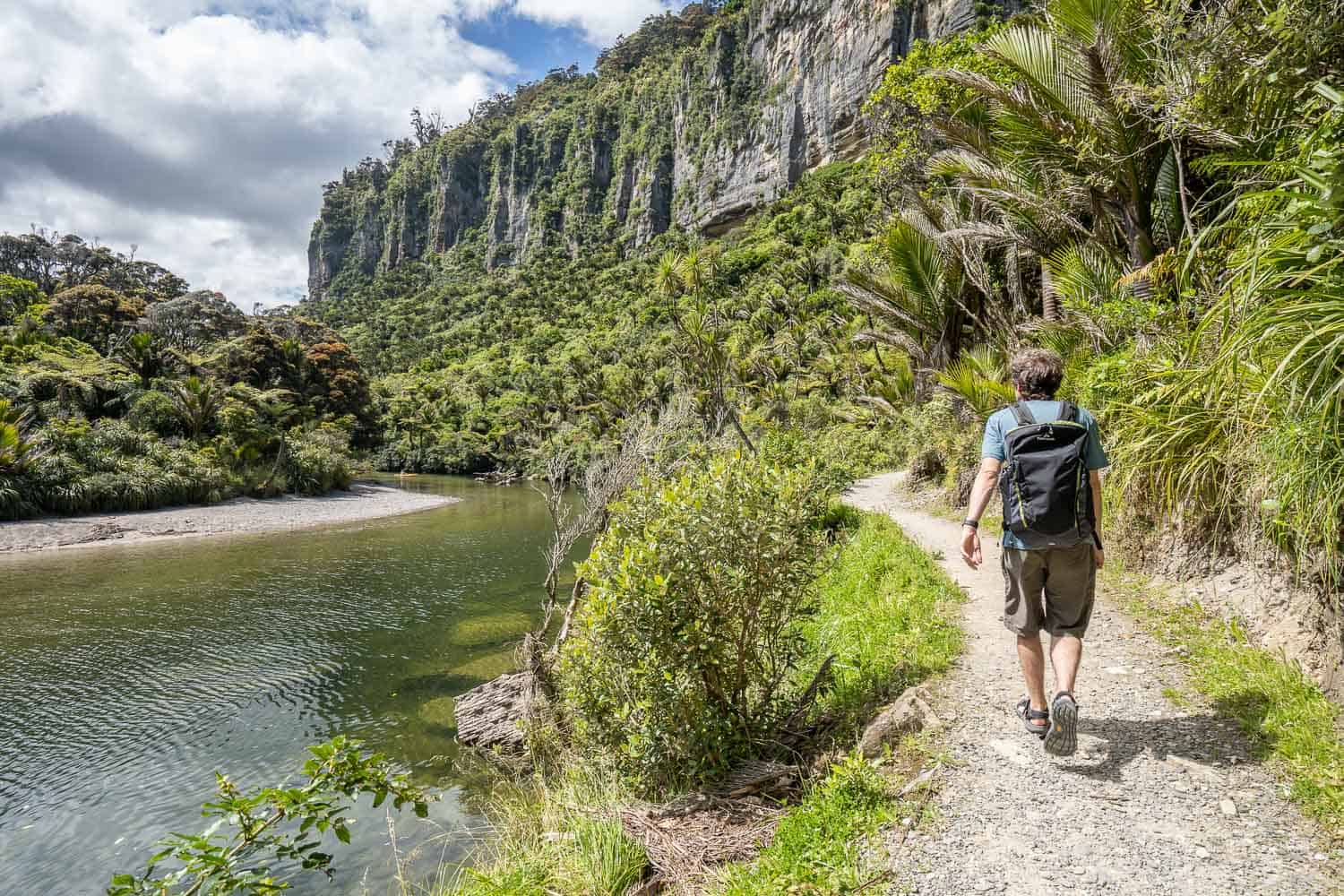 After Christmas in Nelson with friends, we made our way down the West Coast of the South Island, spending New Year in the little village of Punakaiki.
We loved the spectacular location wedged between wild beach and limestone cliffs covered in lush rainforest. We saw the dramatic Pancake Rocks, strolled on beautiful Truman Beach, and hiked the Pororari River Track.
Summer Days at Lake Hawea
We loved January at Lake Hawea (near Wanaka) so much last year that we returned to the same house this year. Summer life in this tiny lakeside town was just as wonderful, but this time we were prepared with a paddleboard and chairs and umbrella to make the most of hot afternoons at the beach.
We also went horse riding on the mountain paths at Cardrona, climbed a waterfall on a Via Ferrata trail (terrifying!), and I did a number of solo hikes including up Roy's Peak overlooking Lake Wanaka.
When I had the famous viewpoint to myself, it was a reminder of how different life is here with the borders closed—usually there's a queue for the classic Instagram shot.
Fiordland Without the Crowds
Fiordland National Park, in the far south of New Zealand's South Island, is one of the most stunning parts of the country.
Normally busloads of tourists arrive at Milford Sound for a cruise through the dramatic fjord, but with the borders closed, it now only has a trickle of domestic visitors.
We took advantage of the lower than usual rates and booked a few nights at the Milford Lodge, the only place to stay in this remote area.
Last year we did a day trip by small plane from Queenstown to Milford and then a boat cruise. This time we got closer to the water (and seals) on a kayak tour—the reflections of the rugged peaks in the calm water were just amazing. Usually 100 people sign up for the kayak trip in summer—on the day we visited, there were just six of us.
We also got to visit New Zealand's less visited fjord, Doubtful Sound, which was just as stunning. We did an overnight cruise (yep, going on a cruise during a pandemic was weird, but there were no COVID cases in the country), which was ideal as we got to experience sunset and sunrise out on the water. We also swam, kayaked, and saw sea lions and albatross.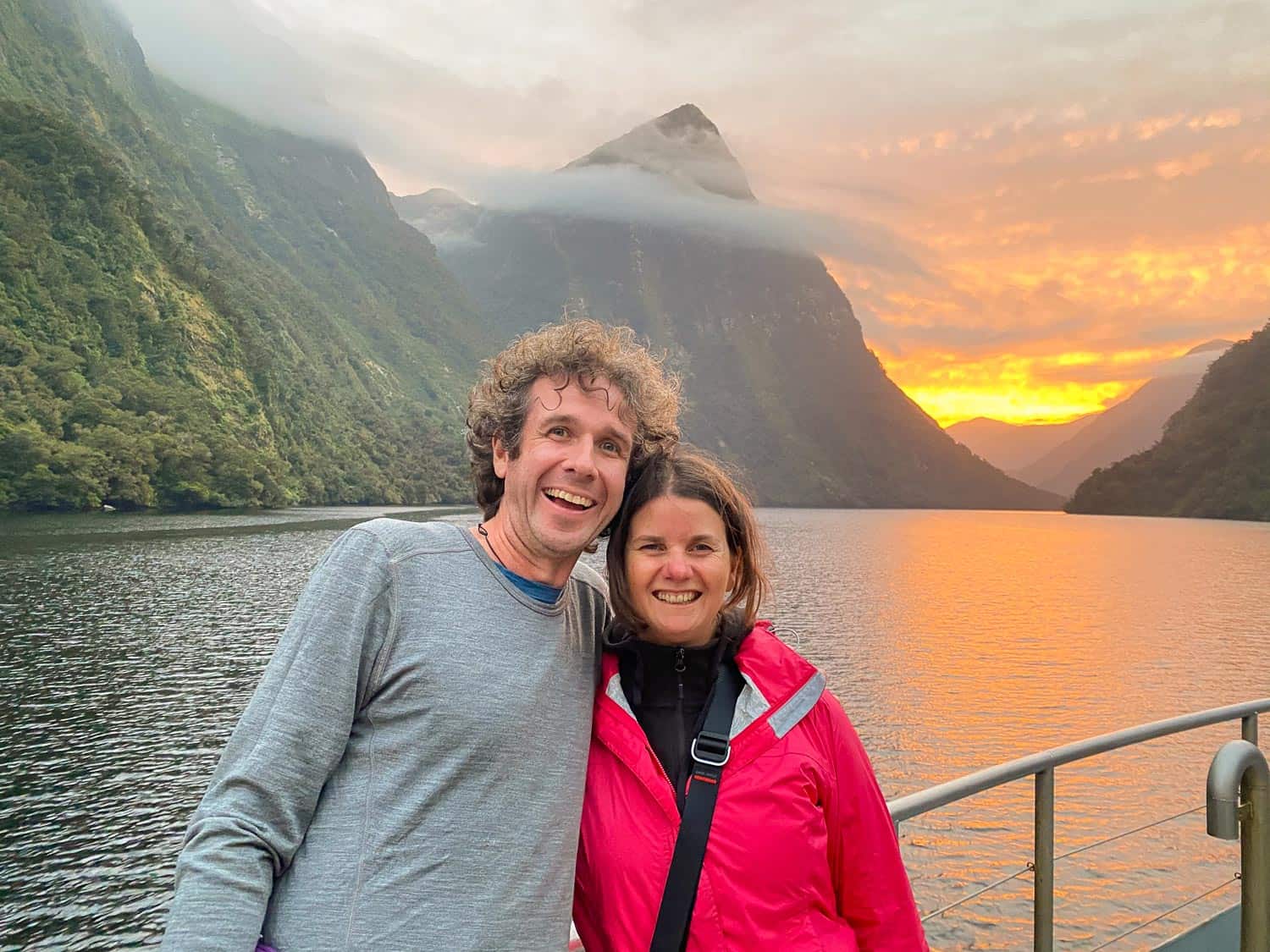 Wild Swimming
One of the gifts that New Zealand has given me is a love of wild swimming. I used to avoid swimming when it was too cold, but this country has so many beautifully clear aqua bodies of water (sea, lakes, rivers, waterfalls) that I was increasingly tempted to jump in.
During the second stage of lockdown (when we were allowed to swim), I really discovered the therapeutic benefits of cold water swimming. Even if it felt difficult to take the initial plunge, swimming enabled me to forget my worries, and I always felt amazing afterwards.
It then became a commitment and I continued to swim regularly throughout the winter (with water temperatures as low as 12ºC/54ºF). The colder it got, the harder it was to get in, but the greater the sense of achievement and invigoration once I'd done it.
Any swim is a good swim, but swimming into the shimmer of sunrise, sunset, or moonlight is even more magical. Swimming has now become an important part of my life and helps keep me calm.
Surviving the Pandemic (So Far)
A year ago we had no idea what would happen—if our business and travel lifestyle would survive, if we'd get sick, or if our friends and family would. The uncertainty and fear was painful.
While we are still a long way from normal, it does feel like there's hope now. Our traffic and income have started to slowly increase and the vaccine rollout is going well in the UK and other places.
I hope we're through the worst of it, and while I think 2021 is more of a time for careful domestic travel, we're optimistic international travel will return safely next year.
We still have our health and savings and income, and hopefully we can continue to enjoy beautiful New Zealand for most of this year.
I know we've been much luckier than most, and I do hope all of you are managing ok. There is light at the end of the tunnel of a very long year.
Thank you to New Zealand, who gave us a safe harbour, and to all of you who are still reading.
Lots of love,
Erin (and Simon)