This page contains affiliate links. Please read our disclosure for more info.
Malee Beach is a complex of luxury villas and stylish apartments on the southern end of Long Beach on Koh Lanta, Thailand. Many have pools and all are steps from the beach.
They are a great option if you're looking for Koh Lanta accommodation for families or for longer stays.
We've stayed before at the Sai Naam apartments and the beachfront villa A2 (one of our favourite places to stay anywhere in the world).
This review is of Villa F5, an ultra modern stylish villa one house back from the beach. The villa features three bedrooms, a large private pool and jacuzzi, and a sea view from the upstairs terrace.
Contents
Entrance
F5 stands out from the other villas in the area due to its angular shape and mysterious black wall.
It's not obvious where to enter at first—the large black door blends into the wall and you push it open to enter the garden.
It feels very fortress like, complete with a moat—the pool wraps around the front of the house and you cross a bridge to enter the house. It's certainly a dramatic entrance and we knew this was going to be special.
Living Area
Inside it doesn't disappoint. We felt like we'd stepped into the pages of a glossy magazine.
The living area is open plan with high ceilings and big glass windows letting in lots of light. The decor is modern with black tiled floors and white walls.
In one corner there's a cosy living area with a black leather sofa and flatscreen TV, DVD player and a selection of DVDs. The red rug and mural liven the otherwise minimalist space.
We loved details like how one of the stairs on the floating staircase extended to become the long stone dining table. This is where we worked with the constant temptation of the pool next to us, as the sliding glass doors lead straight to the pool and create a flow between indoor and outdoor spaces.
Kitchen
The shiny black kitchen has tons of space with an island worktop, two fridges (!), oven, microwave, dishwasher, and fancy fixtures.
There's a water machine for cool filtered water, and a welcome pack greets you with information about the island and some fruit, snacks, and drinks to get you started.
There is plenty of kitchenware, although being picky I would have liked a blender, rice cooker, and wok.
Bedrooms
Downstairs there are two comfortable double bedrooms, a bathroom, and a laundry room (you can even send dirty clothes down a chute from the master bedroom).
Upstairs is a large loft style master bedroom with attached bathroom and a small adjoining room with a cot and bed for a small child.
There are no windows up here but two frosted glass doors do let in some light. The bathroom is very stylish with his and hers showers and a porthole window with a sea view.
Each bedroom has air conditioning and a flatscreen TV.
Terrace
A walkway from the master bedroom leads to the upstairs terrace with a table and chairs where you can enjoy sea views and watch Koh Lanta's spectacular sunsets.
Pool
The outside area is a tropical paradise.
The long pool wraps around the front of the house and you have to swim under the bridge to get from one end to the other. There are seating areas built into the pool and we spent every afternoon cooling off here.
Water cascades from the jacuzzi in a giant rock under a frangipani tree.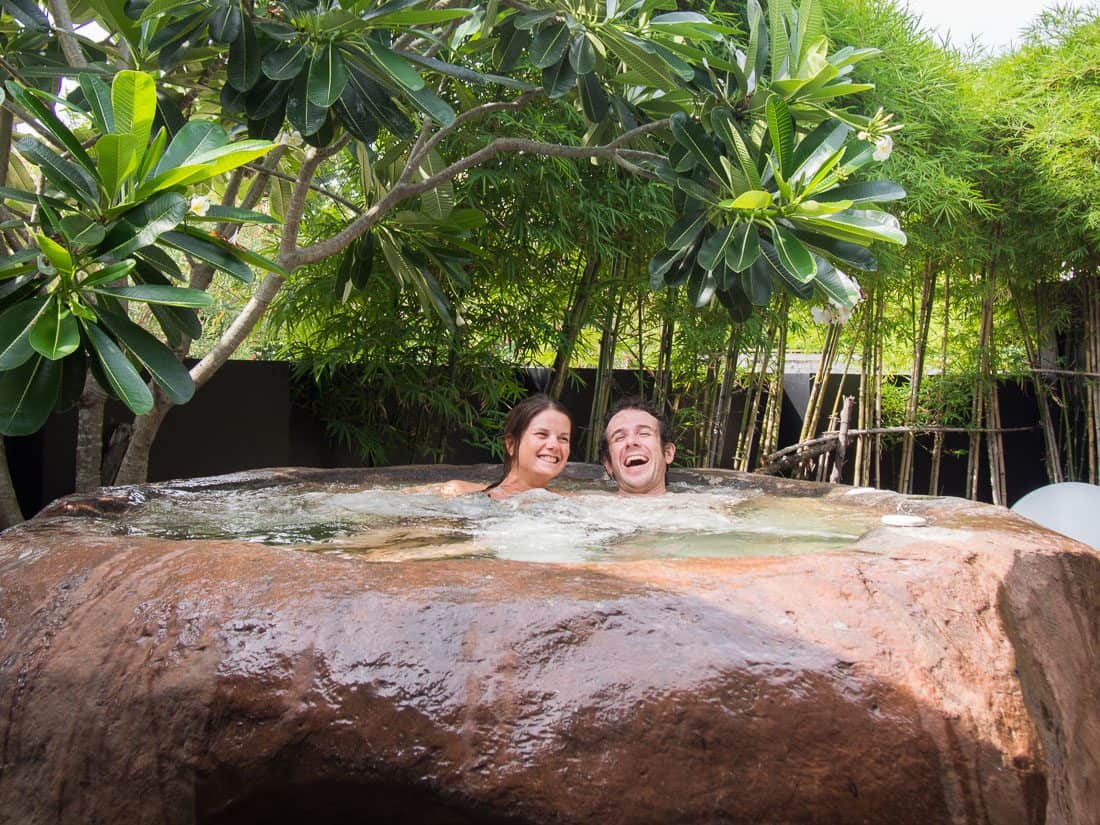 The wooden sala next to the pool is perfect for swinging in a hammock or lounging on the cushions, or you can work on your tan on the sun loungers.
My favourite place to work was curled up on the huge comfortable sofa overlooking the pool.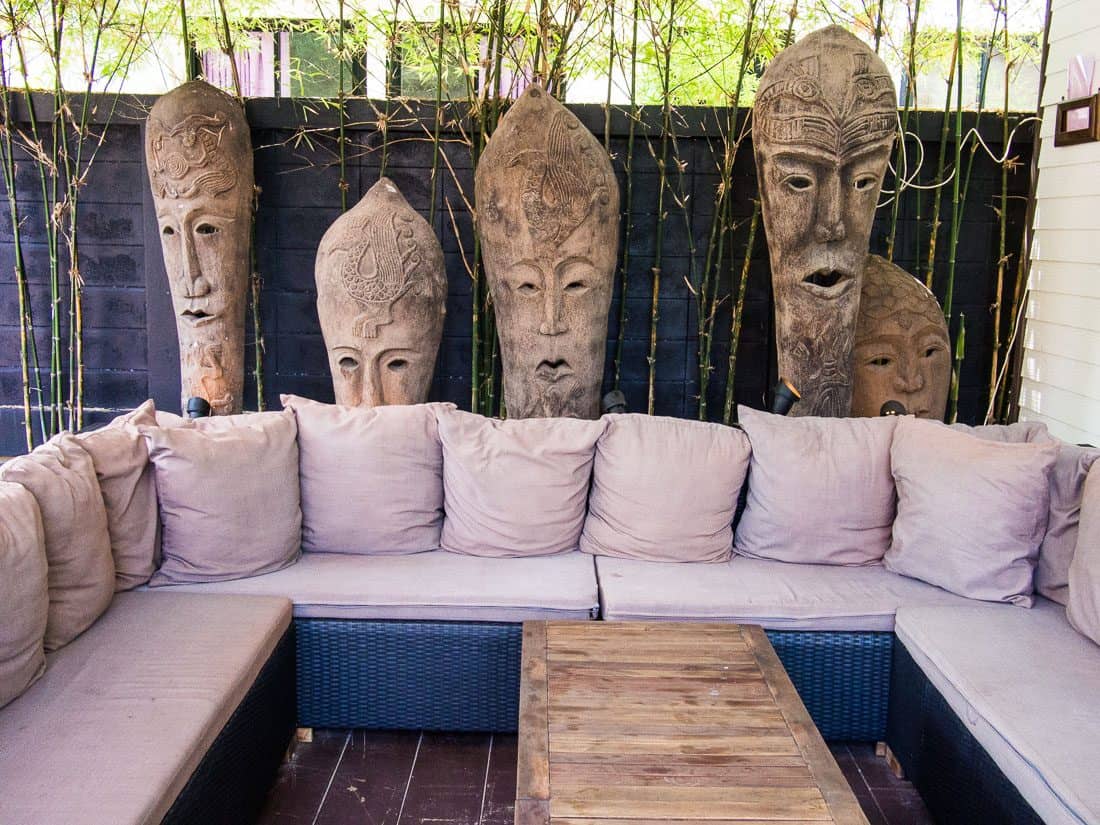 Area
We love Long Beach on Koh Lanta and think the Malee Beach villas have the perfect location on the quiet southern end.
The beach is just a one-minute walk away and there are plenty of shops and restaurants within a few minutes' walk. Try May's for great Thai, Red Snapper for delicious tapas, and Fruit Tree Coffee Shop (just next door) for excellent coffee, cakes, and breakfast.
See our Koh Lanta guide for more recommendations.
It would be easy not to venture far from the villa but having your own transport is the best way to explore further afield.
I recommend heading to the quiet beaches in the south of the island or across to the east side to the stilted wooden houses of Old Town.
Luckily use of a tuk tuk is included with the villa—these motorbikes with attached sidecars are a popular way for families on the island to get around.
Video Tour
Have a look around villa F5 in our video tour:
Highs
Stylish design
Lots of space and light
Close to the beach
Gorgeous pool and jacuzzi
Various comfortable seating areas
Well equipped, spacious kitchen
WiFi throughout the house
Use of tuk tuk
Lows
There is only air conditioning in the bedrooms and it gets really hot in the living area. We were there in the hot season (April), though, and it wouldn't be as much of a problem if you were spending most of the time in the pool or on the beach. As we were working it was an issue and we had to retreat to the pool in the afternoons (poor us!).
There's not much natural light in the master bedroom.
No blender, rice cooker or wok.
Summary
F5 at Malee Beach is a stunning villa with a unique modern design and plenty of space and light. The pool area is a tropical paradise and we loved the flow between inside and outside spaces.
Recommended For
Families with older children and groups of friends looking for a special place to stay.
Cost
Villa F5 sleeps up to seven people.
It costs from 25,000 baht ($772) a week in the low season (April to October) and up to 68,000 baht ($2007) a week in the high season. Electricity and water is extra. There are discounts for stays longer than three weeks.
For more information about F5 contact Sai Naam Lanta or you can book direct on Airbnb (minimum rental 3 nights).
Note: This post was originally published after our stay in 2014 and was updated in 2020.