This page contains affiliate links. Please read our disclosure for more info.
Our dream of living in a beach house came true when we stayed at beachfront villa A2 in the Malee Beach complex right on Long Beach on the Thai island of Koh Lanta.
As soon as we walked in the door we were astounded by the level of detail and love that had gone into creating this stunning, designer luxury villa.
We've stayed here a couple of times over the years and it's still one of our favourite places to stay anywhere in the world.
Read our post on what to do in Koh Lanta for more details on this gorgeous island.
Contents
The Villa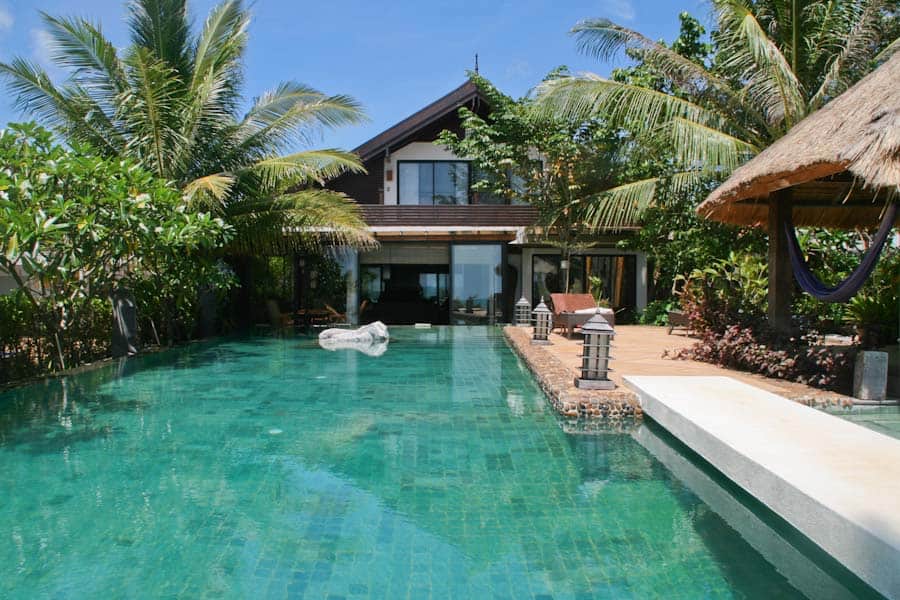 Malee Beach Villa A2 is a spacious four bedroom villa on two levels with a private infinity pool, the beach at the end of the garden, and even a cinema room.
There's fast WiFi throughout the house, and it's fully teched up with four flatscreen TVs with DVD players, one with a full range of cable channels, and of course, the huge projector screen.
There is A/C in all the bedrooms and cinema room but not downstairs.
Living Area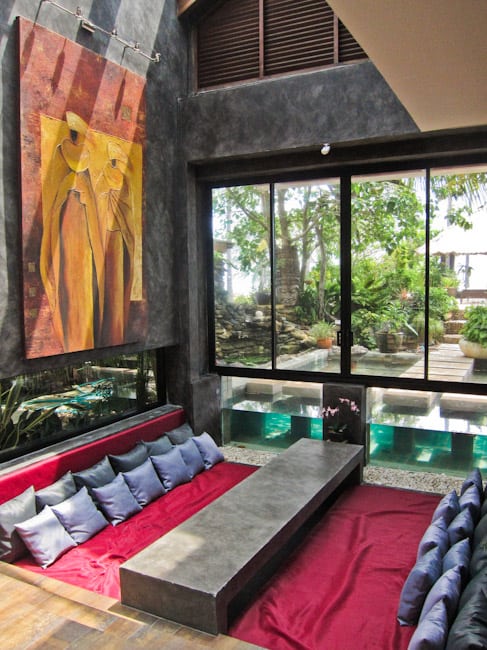 The living area is spacious, bright and open plan with double height ceilings and a glass roof that lets in lots of light. Big sliding glass doors and windows make the most of the view of the pool and the sea beyond.
Modern art painted and carved by local Thai artists decorates the house throughout and the furniture is both stylish and comfortable.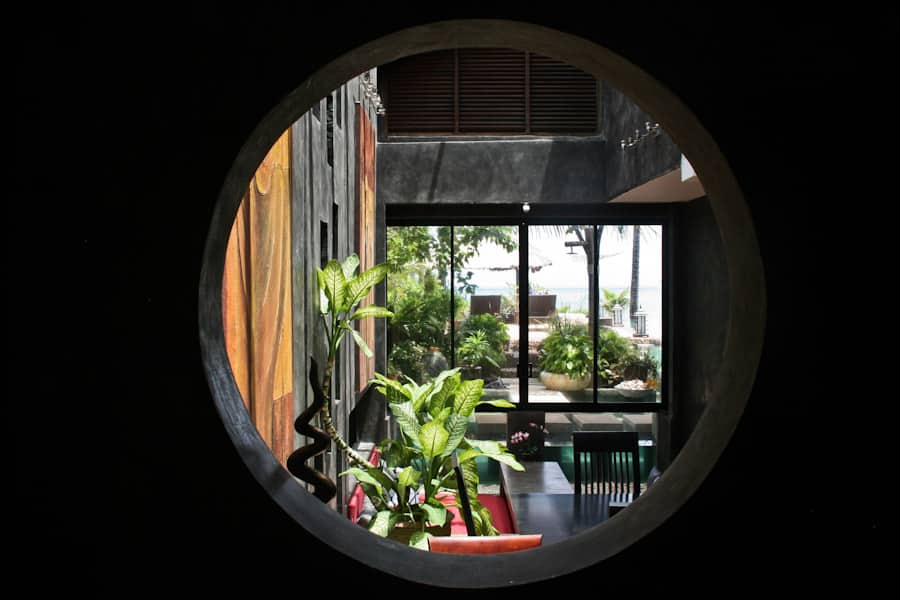 There are two living areas. Inside there is a large sunken sofa seating eight people with plenty of cushions and a view of the pool which comes right up to the house.
There's also a small table and a piano, which Simon loved as he hasn't had access to one in a long time.
Oh, and there's a rock garden inside too!
Our favourite living area was the glassed in terrace where you can pull back the sliding glass doors to make the most of the view and the sea breezes—with four good fans as well, this was the coolest spot downstairs.
There's a large dining table and three comfortable couches piled full of cushions, and a beautiful wooden floor carved with designs. The large flatscreen TV is hidden but at a press of a button emerges from a cabinet and you can watch DVDs or cable TV.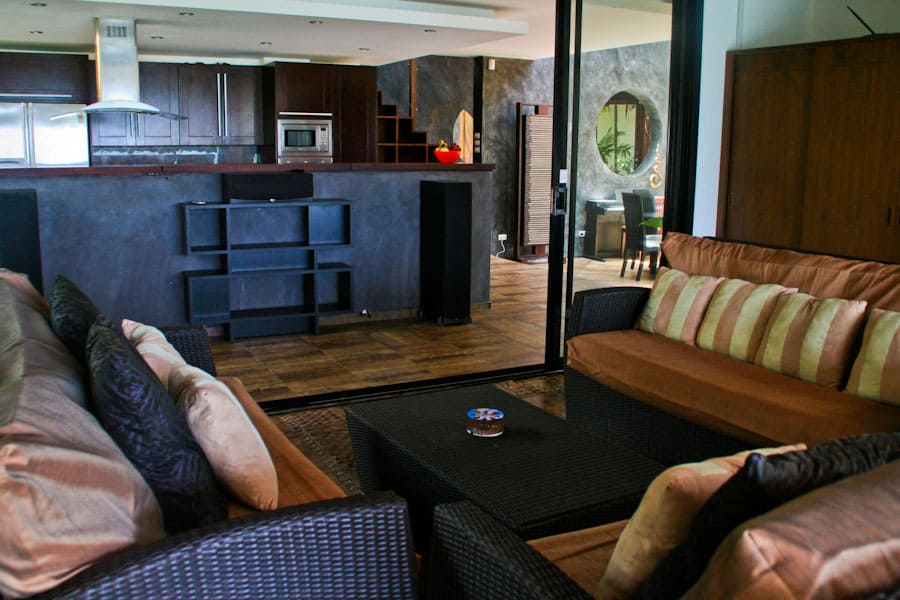 We loved the way the pool comes right up to the edge of the villa so you can see underwater. There's a seamless transition from inside to outside.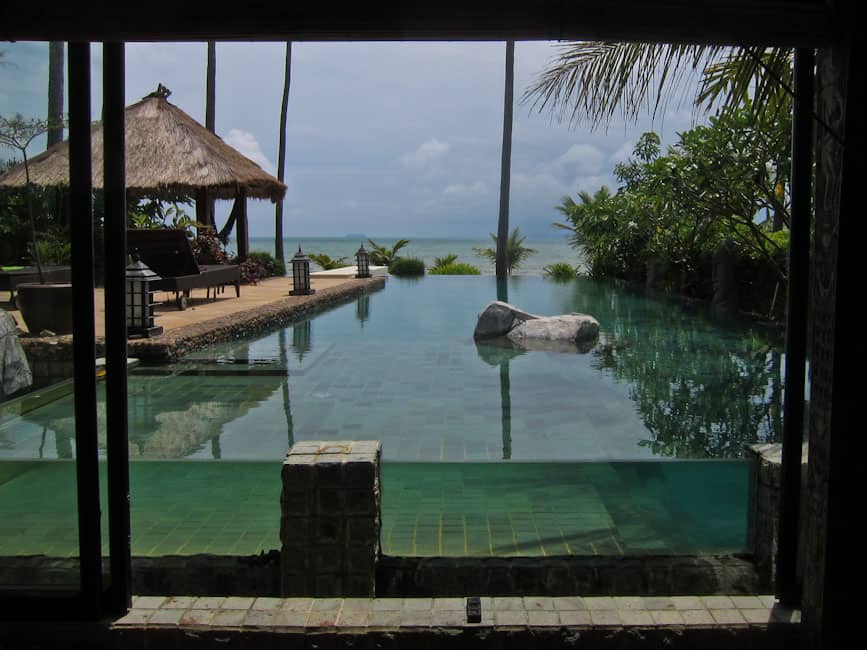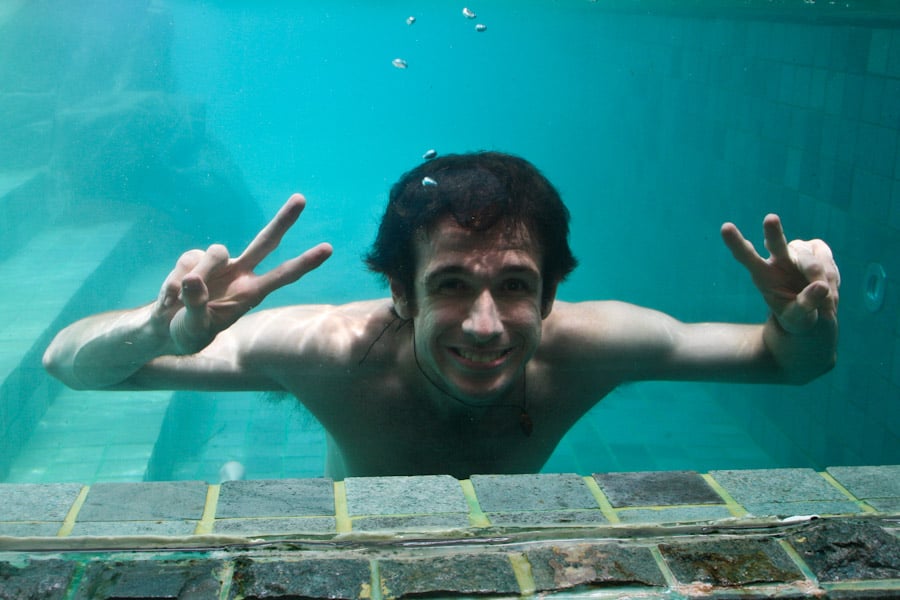 Kitchen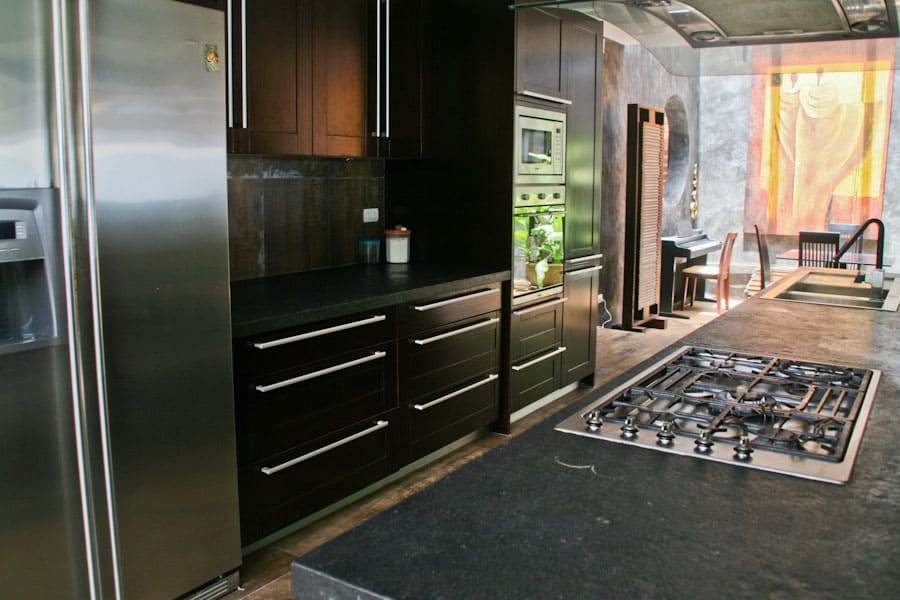 The kitchen is open plan between the two living areas and you can see the sea as you cook.
It's very well equipped with a five burner gas hob, oven, large fridge and freezer, dishwasher, microwave, blender, coffee maker, toaster, and water cooler for easy access to cold drinking water. The only thing we missed was a wok. There's also a washing machine downstairs.
Bedrooms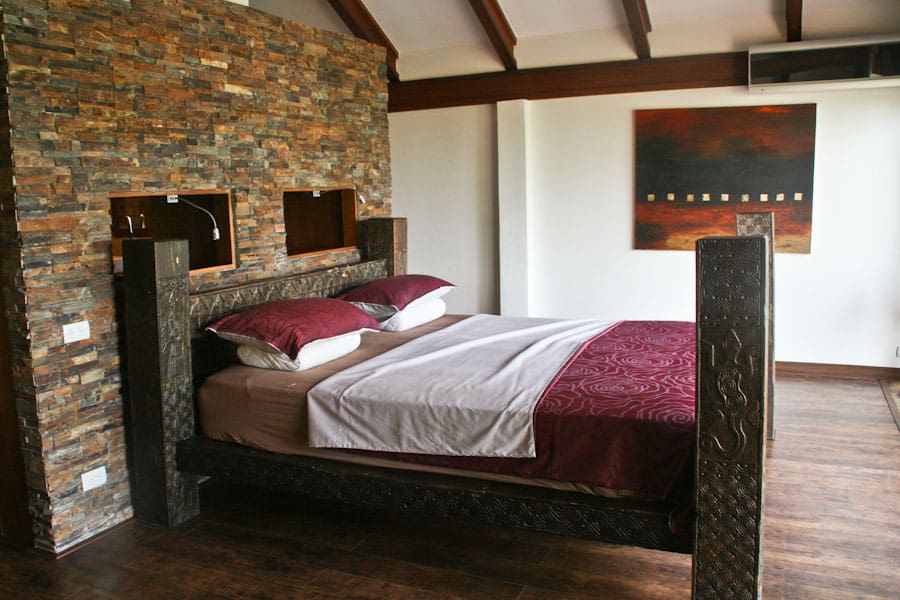 The master bedroom is upstairs in a large loft style room with high ceilings and exposed beams.
From the comfortable king size bed you can enjoy the views of the sea out of the sliding glass doors which lead to a terrace with table and chairs.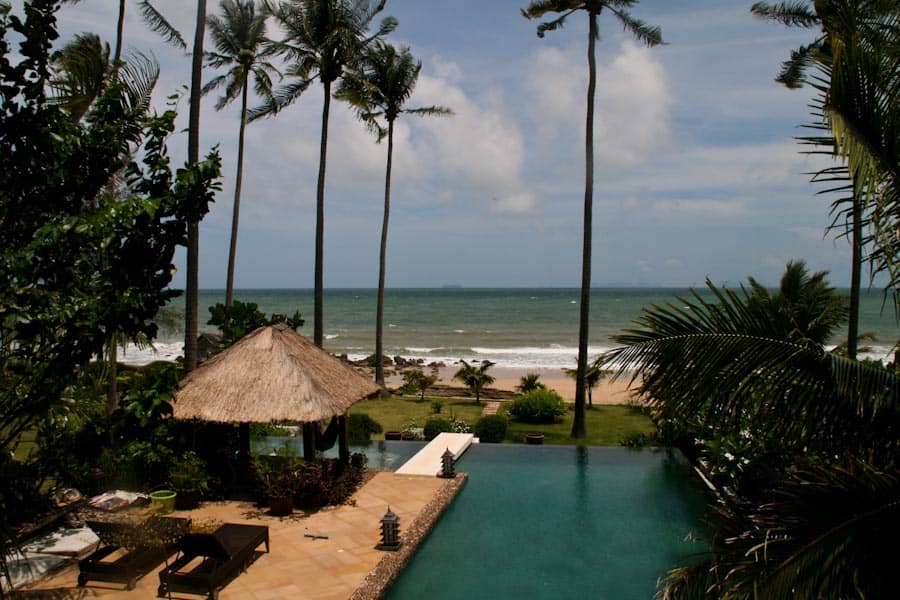 If you can tear your eyes away from the view there's a TV and DVD player. There is A/C but it takes a while to cool down such a large space.
The bathroom within the bedroom is open plan, so the lack of doors isn't for the shy. It's large and stylish with his and hers double shower heads.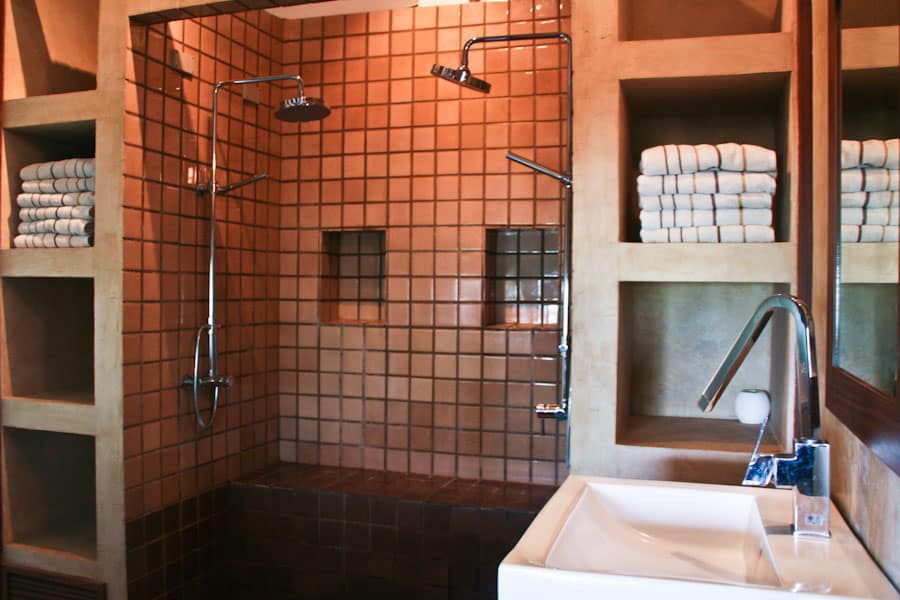 Downstairs there are three more bedrooms—two are good-sized doubles and one is smaller with bunk beds.
Since our stay the beds in the downstairs rooms have been updated to twin beds rather than queen beds. The lower bunk bed is a double.
We loved the way the bedrooms were hidden behind immense wooden carved doors – custom made and hand crafted by a Thai artist.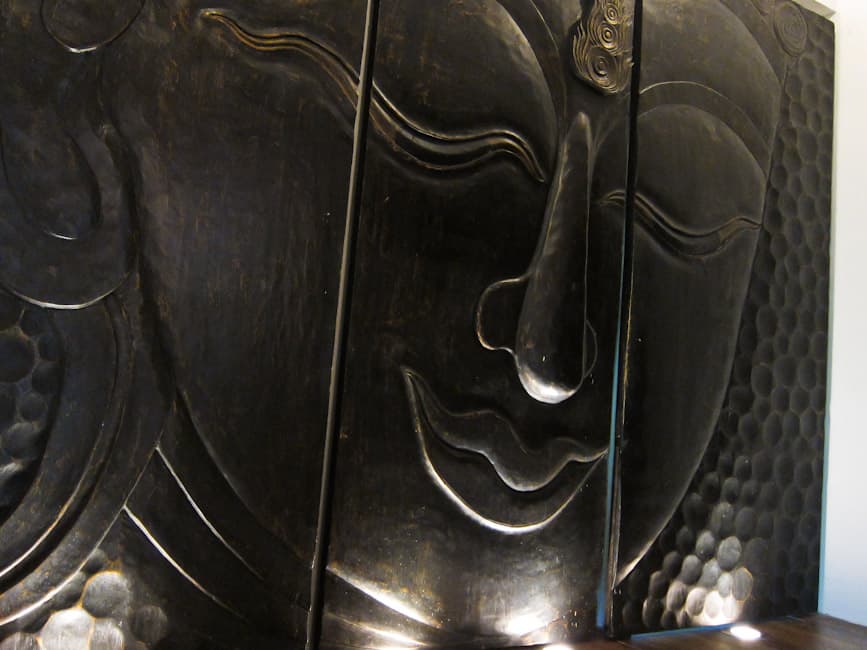 The downstairs bathroom is large with a glass wall with views of bamboo and a stone sculpture.
Cinema Room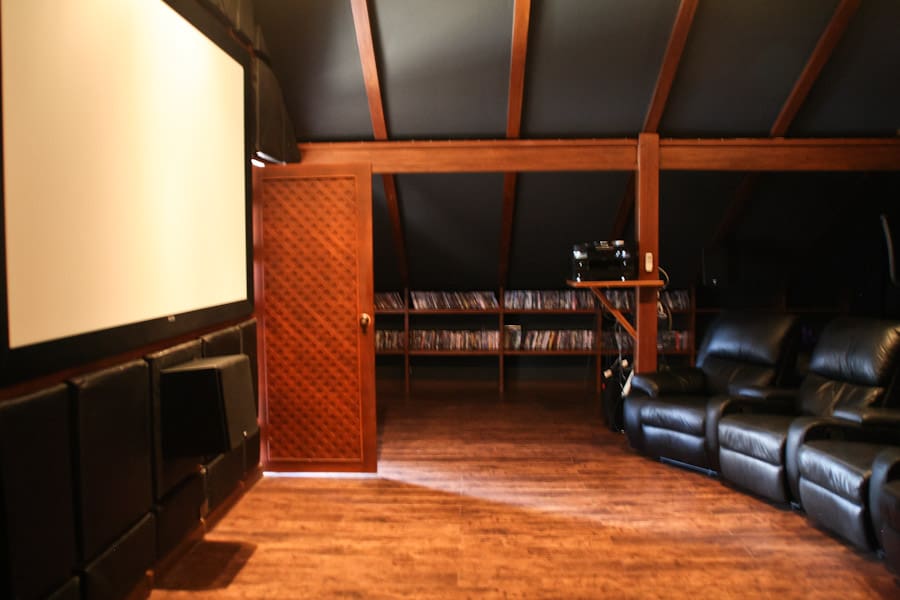 A real standout feature is the cinema room upstairs. How often do you get your own private cinema?
There are six super comfortable, fully reclining cinema chairs plus beanbags for watching a DVD from the vast collection on the projector screen. We made use of it every night and it makes a cool retreat from the heat.
There's also some gym equipment in here but with those comfy seats calling us we never got around to using it.
Pool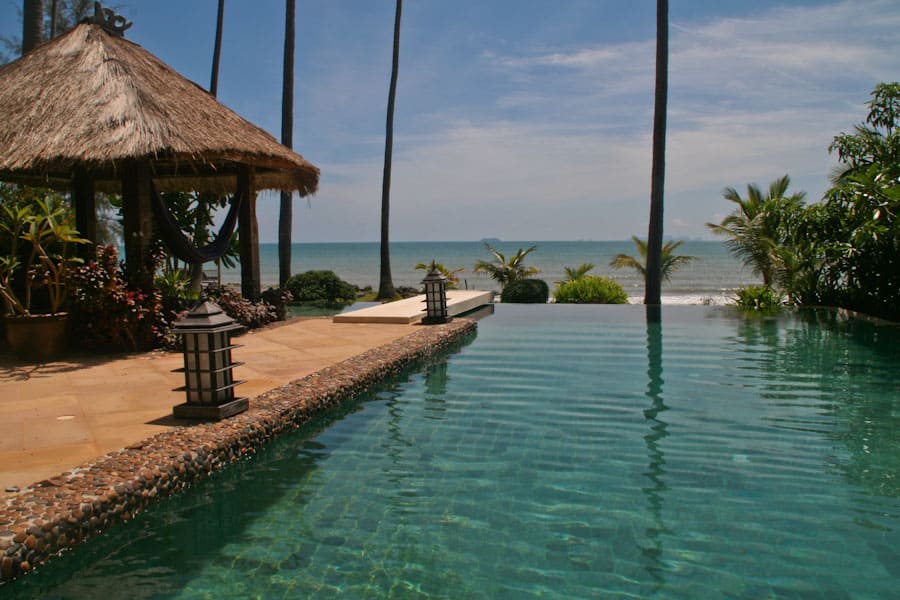 Ah, the pool. A large infinity pool, the turquoise reflecting the sea just beyond—you can't get much better than that. There's even a bridge that crosses the L-shaped pool to access the lawned garden and beach just a few metres away.
We spent hours here every afternoon—swimming, floating, gazing out at the sea from the underwater seats, and in Simon's case, somersaulting into the deep end. Or you can jump into the sea for a change of scenery.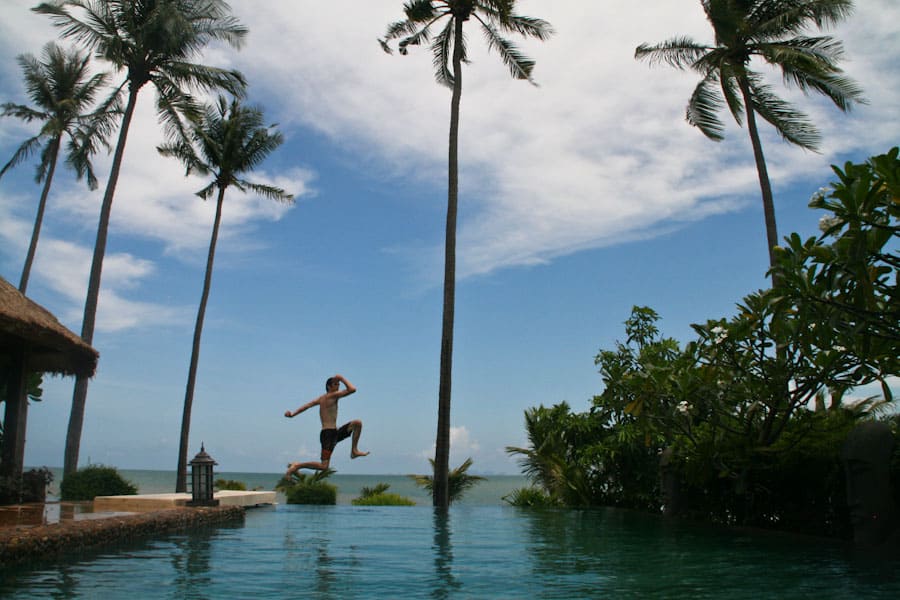 Above water there are a couple of sun loungers and a thatched pavilion with a hammock and mattress for lazing on.
The little details that we love so much inside continue out here—with the stepping stones over the pond to get from the terrace to the pool, the stone sculptures that overlook the pool, and the fact you can swim right up to the house—useful for putting in a drinks order!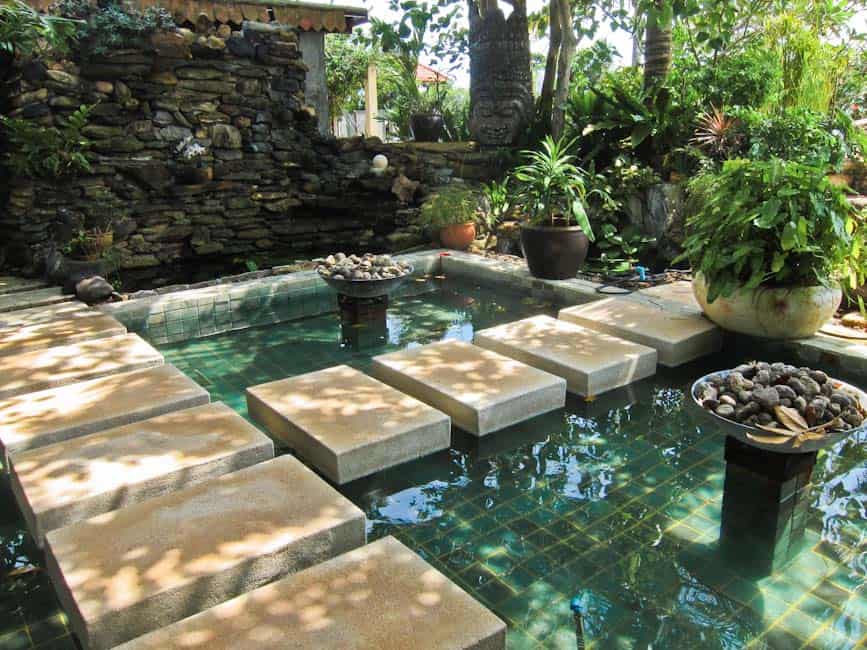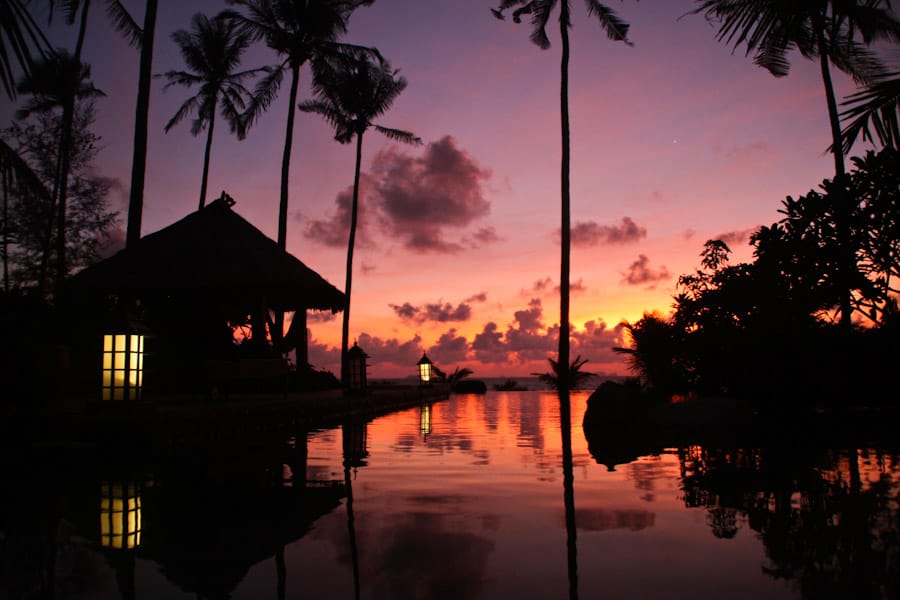 The sunsets here are spectacular and every day is different.

Area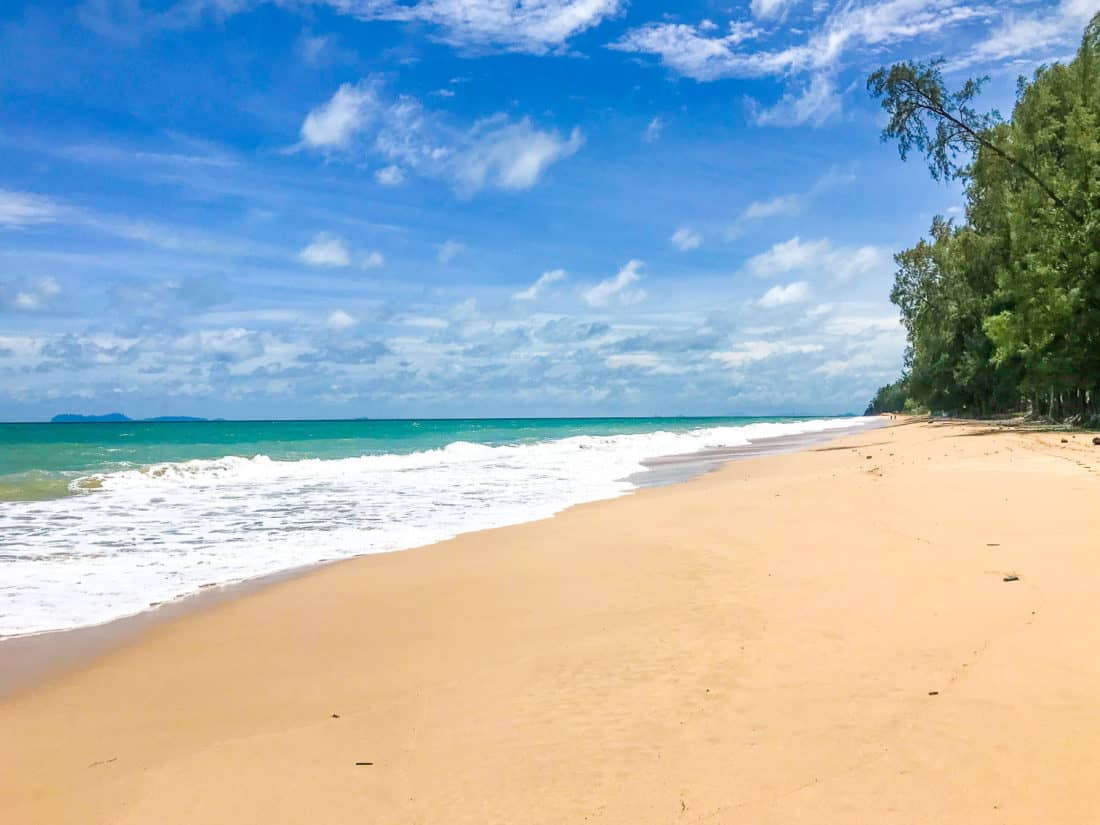 Although the villa is right on Long Beach, it's very quiet on this section of the beach and we heard nothing but the crashing of waves.
The beach directly out front is a bit rocky but a few metres to the right it's nice and sandy. Long Beach is 4km long so it's never crowded and is the perfect place for long walks, especially at sunset.
The sea is usually calm but Simon took advantage of the rainy season waves and used the villa's boogie boards.
Villa A2 is part of the Malee Beach villa complex at the southern end of Long Beach. There are plenty of excellent restaurants and shops in walking distance—see our Koh Lanta guide for some of our favourites. Beachfront restaurant Fat Turtle is just a few doors down.
Our post on where to stay on Koh Lanta gives more information about Long Beach and how it compares to the other beaches on the island.
You can manage without your own transport in this area, but renting a motorbike or car will give you more flexibility to explore the island.
Video
Have a look around beachfront villa A2 in our video tour:
Summary
Villa A2 at Malee Beach is a truly stunning beachfront villa—luxurious, spacious and designed with Asian style, plenty of love, and lots of attention to detail.
We have stayed in some amazing places on our travels but this ones takes the prize. For a special place to stay on Koh Lanta we highly recommend it.
Highs
Beachfront location
Gorgeous large infinity pool
Cinema room!
Stylish design
Flow between inside and outside spaces
Views from almost all rooms
Attention to detail throughout
Well equipped kitchen
Fast WiFi
Piano
Lows
It gets hot downstairs (but we were there in the hot season)
Recommended for: Families, and couples on a romantic break—it'd be a wonderful place for a honeymoon.
Cost
Beachfront villa A2 costs 40,000 baht ($1296) a week in the low season (1 April-15 November) and 91,000 baht ($2949) a week in the high season. Electricity and water are extra.
The villa sleeps up to eight people and the minimum stay is 5 nights. There are discounts for longer stays.
For more information visit Lanta Hideaways.
For more affordable accommodation at Malee Beach see our reviews of Sai Naam apartments and Pool Villa F5 (one house back from the beach).
This post was originally published after our first stay in 2012 and was updated in 2021. We were guests of the owners at Villa A2.