This page contains affiliate links. Please read our disclosure for more info.
We love the relaxed atmosphere and quiet beaches of the Thai island Koh Lanta.
We've visited many times over the years staying in a wide variety of accommodation from luxury resorts to self-catering apartments.
There are two ways of deciding where to stay in Koh Lanta.
You can choose the beach you want to stay on and find a hotel there or choose the type of accommodation that suits you (deluxe resort, mid-range hotel, beach bungalow etc) and find the best options on the island.
This post will help you with both approaches. I've included a breakdown of the different beaches, a few suggested places to stay, and more detailed reviews in each accommodation category.
We've stayed in many of these Koh Lanta hotels and apartments ourselves and some recommendations have been contributed by other travel bloggers.
I have included approximate costs per night in low season to give you a general idea, but prices vary widely depending on the time of year and how far in advance you book.
Koh Lanta accommodation prices are lowest from mid-April until October. It's rainy season and very quiet on the island (many restaurants and some hotels close), but it doesn't rain every day, and you can get fantastic deals of 50% off or more.
At the end of the post, there is a handy map with all the best hotels in Koh Lanta.
Contents
The Best Area to Stay in Koh Lanta
Koh Lanta is a 27km (17 mile) long island and it takes about an hour to drive from one end of the island to the other.
While you can easily drive all over the island in a day, it is worth thinking carefully about where you'd like to be located.
There's no public transport so you'll need to rent a motorbike (or car) or rely on tuktuks. Motorbikes are much cheaper and give you more flexibility, but accidents do frequently happen so only rent one if you have experience.
Koh Lanta's beaches (and sunset views) are along the West Coast. There's one road that runs parallel to the sea along the coast passing through various beach villages. It gets quieter the further south you go.
You can choose to stay on the main road (a five-minute walk to the beach), right on the beach, or down one of the lanes off the main road on the beach side (a few minutes walk from the sand).
There are also more hidden options in the hills above the beaches.
Staying on the beach is ideal—and there are options for all budgets—but you'll get a nicer room for your budget if you stay further away.
These are the main beaches on Koh Lanta from north to south.
Khlong Dao
The ferry from the mainland arrives at the village of Saladan on the island's northern tip. There's no need to stay here as the closest beach Khlong Dao is only a 5–10 minute drive away.
Khlong Dao is a 3km (2 mile) long sandy beach with (usually) calm water that's great for swimming.
There are bungalows and restaurants along most of the beach, but they are not allowed sun beds beyond the edge of their property, so there's plenty of sand to sit on.
We stayed near Khlong Dao on our recent three-month stay and loved it for morning runs and sunset walks. It's my favourite running beach as the sand is quite firm and flat (Long Beach has more of a slope).
Khlong Dao is also home to the best yoga studio on the island—Oasis Yoga, a one-minute walk from the beach. If you'd like to create your own yoga retreat, Oasis Yoga Bungalows is the perfect place to stay—their bungalows are lovely and affordable and there's a pool. Their cafe is my favourite place for lunch on the island.
Other great restaurants in Khlong Dao are Time for Lime (right on the beach and with cooking classes too) and Two Scoops (the best cake and gelato).
There are a number of 7-Elevens and souvenir/clothes shops, and it's very close to Lanta Mart, the only real supermarket on the island. There's a market on Mondays for fresh produce and street food.
Khlong Dao is a great place to stay on Koh Lanta. You'll have a shorter journey from Krabi, it's close to lots of restaurants and shops, and the beach is nice.
In high season it can be busier than the other beaches (in low season it's very quiet), but nowhere on Koh Lanta is too crowded. You'll also be further from the lovely beaches and National Park at the far south of the island.
Places to stay right on Khlong Dao beach include Banana Beach Resort for a mid-range family-friendly option and Royal Lanta Resort which has Thai-style architecture, a large pool, and sun loungers on the edge of the sand (it's very close to Oasis Yoga).
The luxury Avani Plus Koh Lanta Krabi Resort is on the other side of the hill at the end of the beach.
Long Beach (Pra-Ae)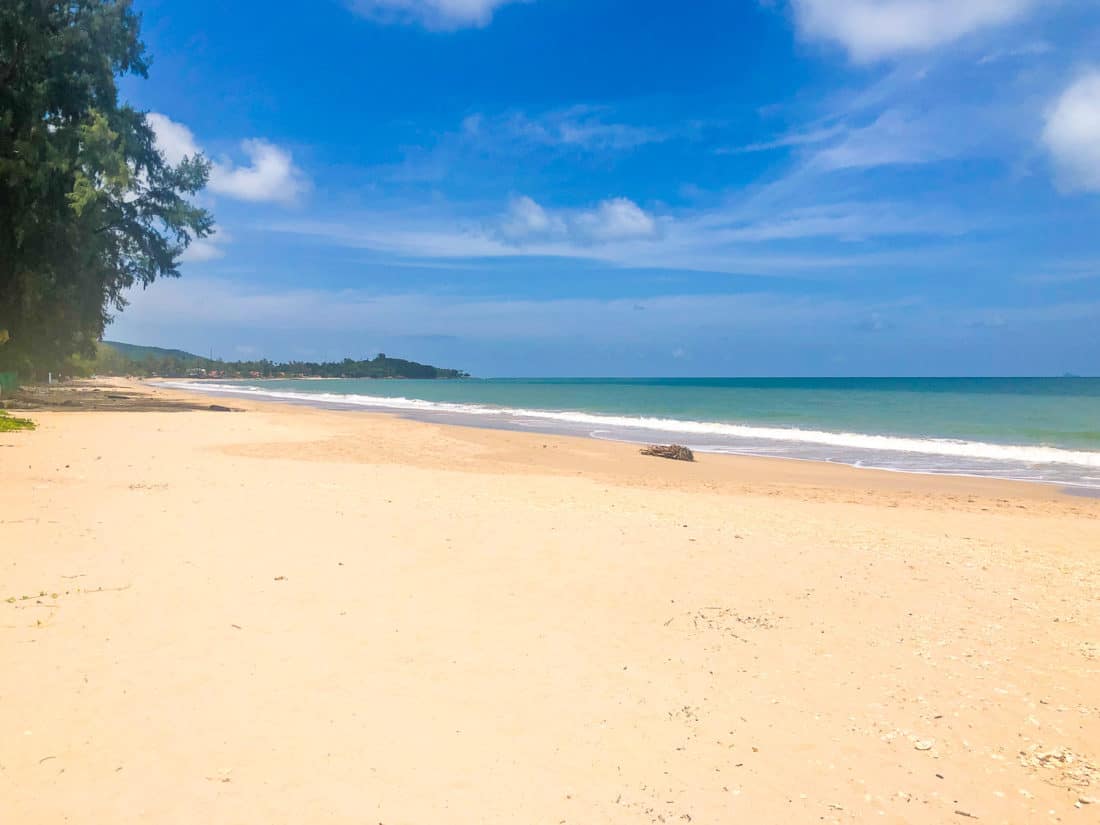 Long Beach, officially called Pra-Ae, is my favourite beach for longer stays. It's not much further than Khlong Dao from Saladan, but I think the 4km (2.5 mile) beach is a little prettier and it's also good for swimming.
As everything is spread out you can easily find a patch of sand to yourself.
There are hotels and restaurants along most of the beach, but there are also more isolated sections backed by casuarina trees.
There are plenty of good restaurants at Long Beach.
Red Snapper is one of the best restaurants on the island, and Fruit Tree Coffee Shop is great for breakfast and cakes.
Yawee and May's Kitchen offer good affordable Thai and Escape Cafe is right on the beach and has excellent coffee and Two Scoops gelato.
Le Colibri does good pizza, and vegetarian restaurant Happy Veggie is just south. There are many other options.
It's not far from Lanta Animal Welfare if you want to walk some dogs or play with kittens. There are a few gyms, Lanta Yoga studio (in high season), and a number of 7-Elevens and souvenir shops.
Long Beach has a wide variety of accommodation, so if you really can't decide where to stay in Koh Lanta, this is an excellent option for most people.
Layana Resort is my pick for honeymooners and adults looking for a quiet luxury experience right on the beach (see my review below).
We also love the luxurious beachfront villa A2 at Malee Beach—it's ideal for families and groups and has its own pool and cinema room.
More affordable options on the beach are Lanta Castaway Beach Resort, Long Beach Chalet (with Escape Cafe on site), and Lanta Casuarina Beach Resort.
There are plenty of cheap options a short walk from the beach (see budget section below)
Khlong Khong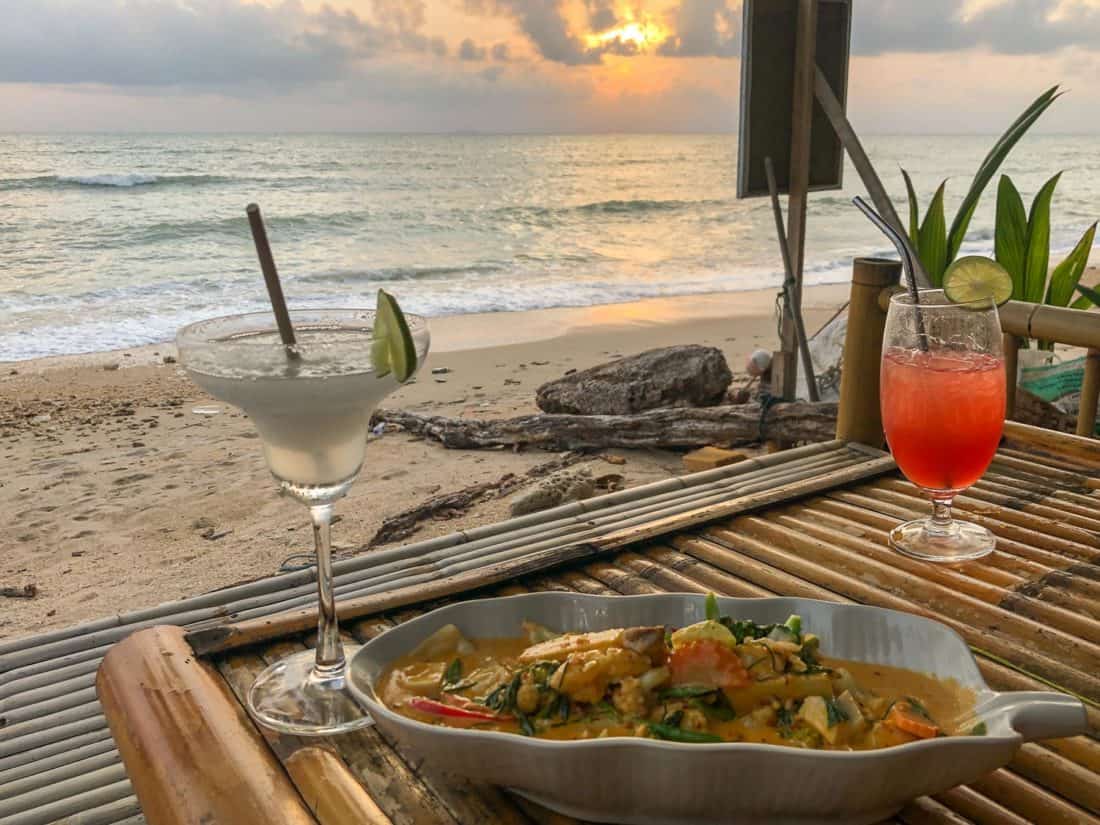 Khlong Khong is south of Long Beach, about a 15-minute drive from Saladan. It's not my favourite beach as it's narrower, quite rocky, and not ideal for swimming (you can't swim at low tide).
We did enjoy a few sunset walks after eating at Patty's Secret Garden.
There are quite a few restaurants in the area as well as casual bamboo hut bars on the beach including Coco Lanta Eco Resort which is a good option.
It's a popular area with backpackers and solo travellers and it can be good value.
Khlong Nin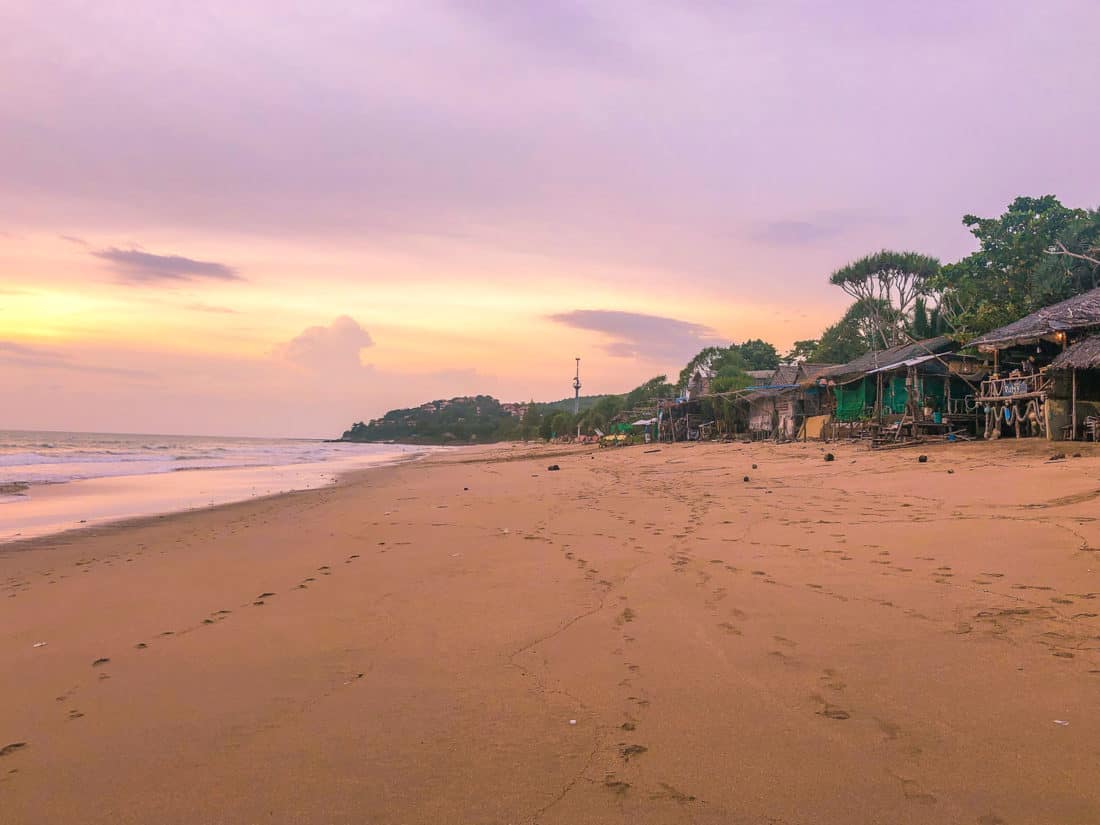 Khlong Nin has more of a village feel than the beaches further north as the road through it is smaller and tree-lined.
It's a good option if you want a quieter place to stay but not as remote as the southern beaches.
It's about halfway down the island so you can easily head north or south on day trips and Old Town is just across the island. The drive is 25 minutes from Saladan and the same from National Park (at the southern tip).
The beach here is nice. It's not as long as Long Beach and Khlong Dao (around 2 km), but you can still have a decent walk and swim.
There's more of a laidback, hippy vibe with lots of wooden shack bars and bungalow resorts on the beach rather than fancy resorts.
There's not as wide a choice of restaurants as further north, but there are still plenty of casual places and French Bakery does good pizzas and baguettes.
Rawi Warin, one of the best value luxury resorts on the island is just a short walk away (on a smaller separate beach)—the low season rates are fantastic and we loved our stay here.
More affordable options are The Narima Bungalow Resort and Harry's Sunset Bungalows.
Kantiang Bay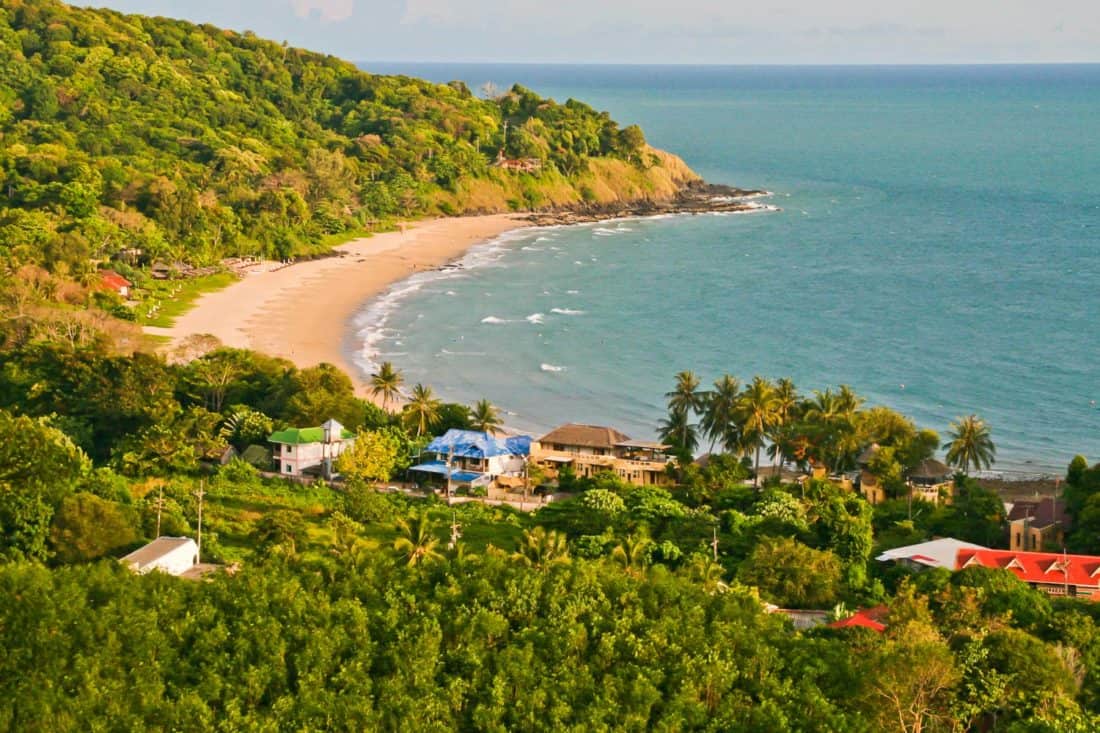 Kantiang Bay is in the south of the island, a 35-minute drive from Saladan and 15 minutes from National Park.
It's a fantastic, quiet place to stay if you don't mind the longer transfer from Krabi and less choice of restaurants and shops (if you have a motorbike it's less of an issue).
The 2km long beach is one of the most scenic on the island as the tree-covered mountains run right down to the wide and sandy beach. The water is calm and excellent for swimming.
The village is small but there are a few good restaurants like Drunken Sailors.
Kantiang Bay is home to two of our top picks for the best places to stay on Koh Lanta. The most luxurious resort on the island, Pimalai Resort, is on the hillside leading to the beach (with sun loungers right on the sand).
Baan Kantiang See is high up on a hill on the other side of the road, so it's less convenient for the beach, but the views from the pool and two-bedroom villas are outstanding.
Vacation Village Phra Nang Lanta is a good affordable option.
Far South
Past Kantiang Bay things get much quieter, so only stay down here if you want to get away from it all.
Nui Bay, Waterfall Bay (Ao Klong Jark), and Bamboo Bay (Ao Mai Pai) are all beautiful beaches that you may well have all to yourself.
La Laanta Hideaway Resort is the best option in the far south on the lovely, secluded Bamboo Beach. There's a pool overlooking the beach as well as sun loungers on the sand.
It's only five minutes from National Park but at least 45 minutes from Saladan.
Koh Lanta Old Town (East Coast)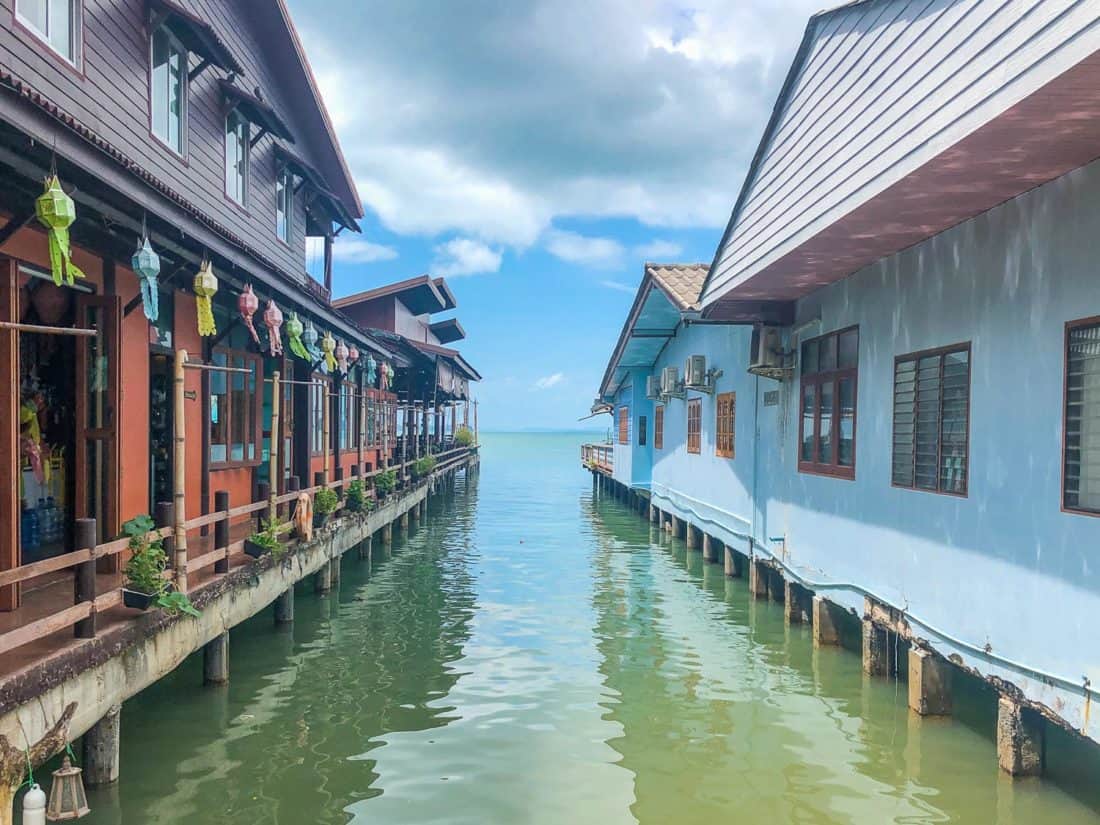 While most visitors stay on the West Coast, Koh Lanta's Old Town on the East Coast could be an interesting option if you are looking for something different.
The East Coast is quieter, greener, and less developed, but there are no beaches.
It's a 15-minute drive across the island to the nearest beach at Khlong Nin and you'll enjoy sunrises rather than sunsets.
The Old Town is a cute street of wooden houses on stilts over the water. All the buildings house souvenir shops and restaurants now, but it is very pretty.
We were surprised by how many people were around and businesses open in the low season—it actually felt livelier (to an extent) than the West Coast.
There are some interesting, affordable places to stay in Old Town such as Deep House Sea View with sea view bungalows from $29.
We love the delicious tacos at Baja Taco a five-minute drive south of Old Town.
Best Koh Lanta Luxury Resorts
Pimalai Resort (Kantiang Bay)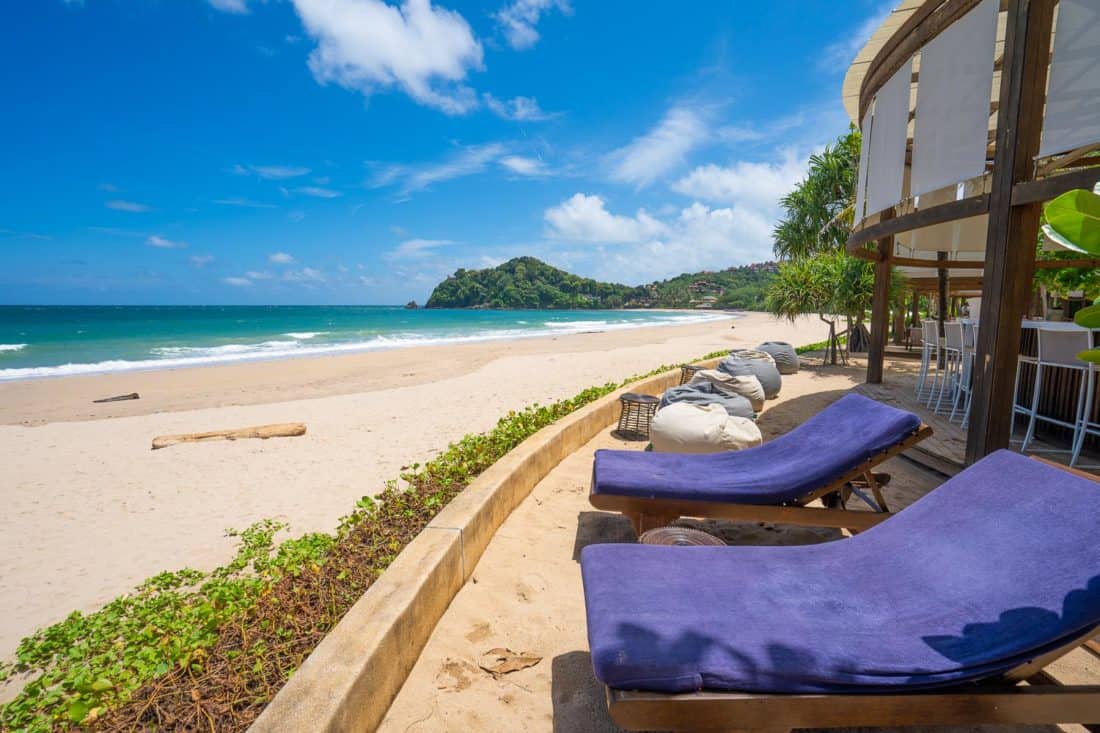 Pimalai Resort is the most luxurious 5-star resort on Koh Lanta. We stayed here for our 20th anniversary and it's definitely a special occasion destination.
The large resort is located on a steep jungle-covered hillside leading to a lovely stretch of quiet sand on Kantiang Bay.
If you don't like walking up hills the location could be a problem (although there are golf carts), but the views are spectacular.
On the beach there are sun loungers, water sports gear to borrow, and a bar and restaurant on the edge of the sand.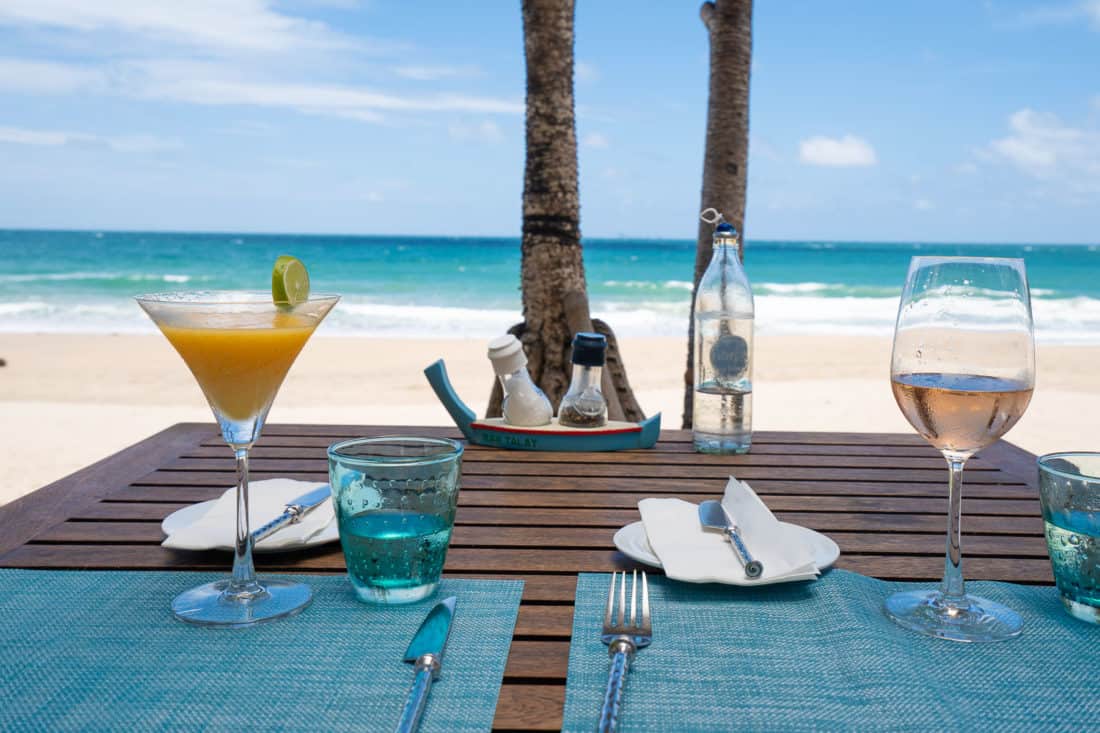 Heading up the hill you reach the first infinity pool with a sea view, comfortable loungers, jacuzzi, another bar, and a team who bring around complimentary ice water and fruit.
Nearby is a Thai restaurant where the lower rooms also have breakfast.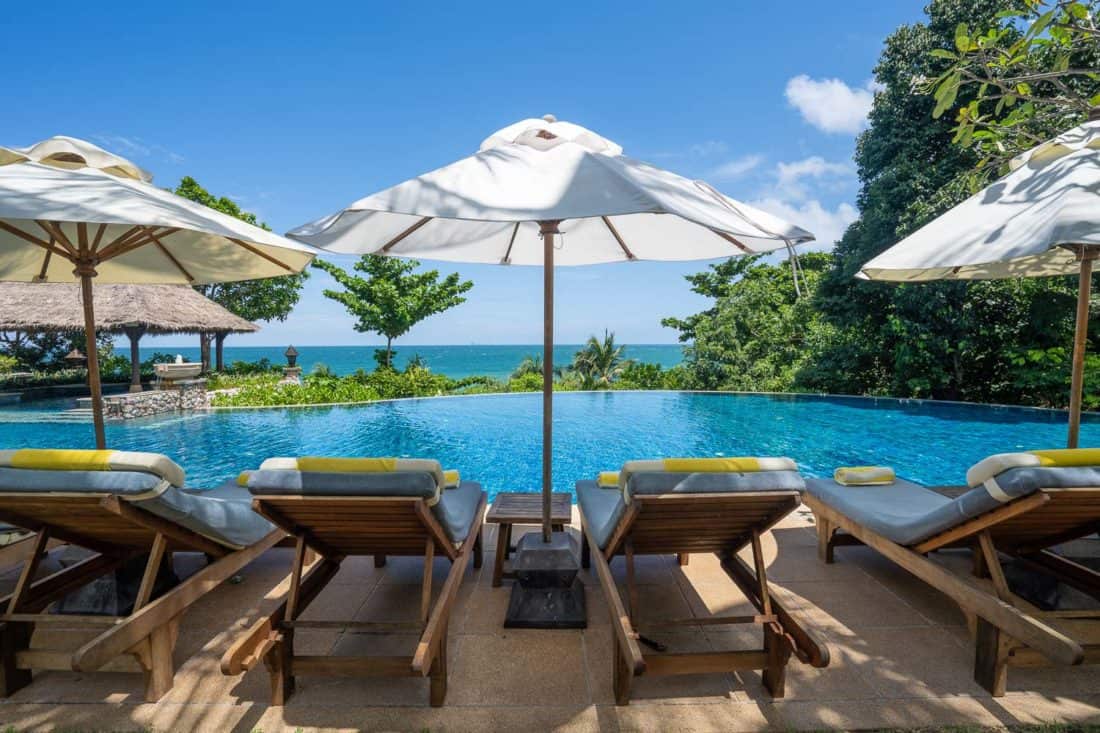 Continuing up the hill you'll find the reception and spa, then you have to cross the quiet road to reach the hillside section of the resort.
Here there's a sports centre and tennis courts and even further up the hill is the highlight of the resort—a huge infinity pool with stunning views down to Kantiang Bay.
It's definitely worth the climb up here. We especially loved the jacuzzi on the edge of the pool.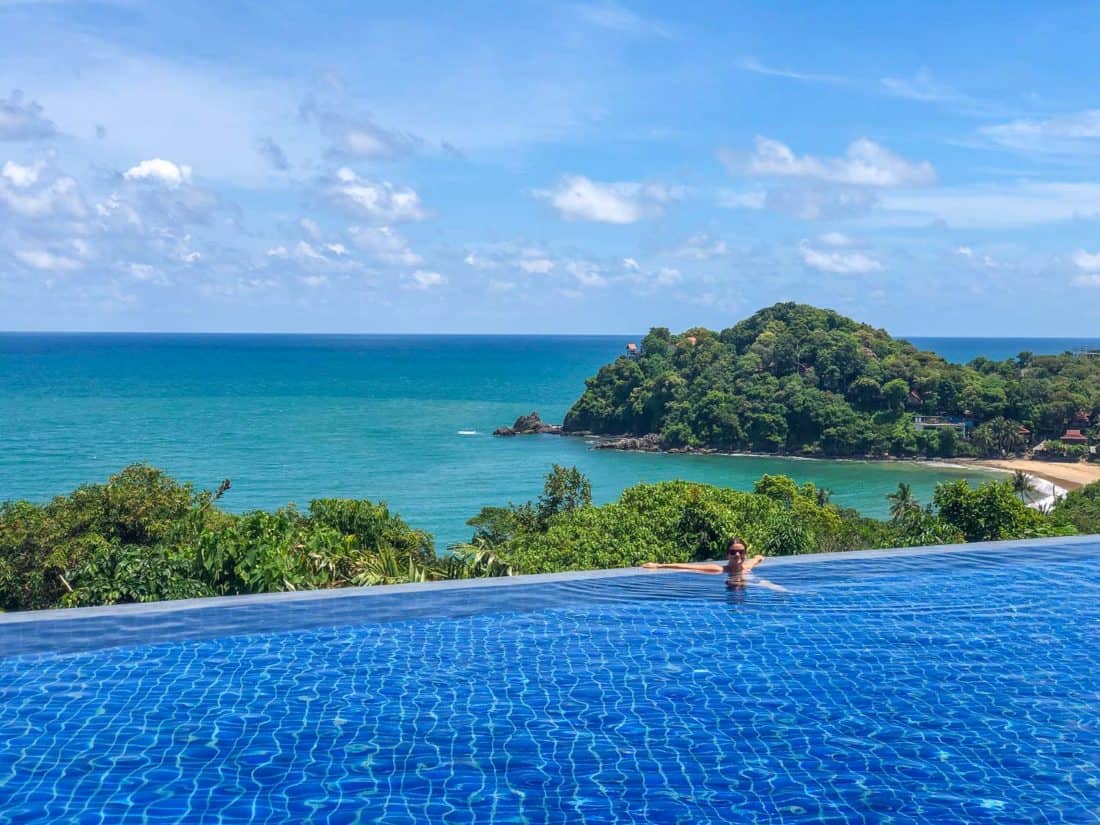 The Banyan Tree restaurant is next to the main pool and their fine dining restaurant Seven Seas is above that—come here for happy hour and enjoy the sunset.
We found the food better than the other resorts on the island but nothing special.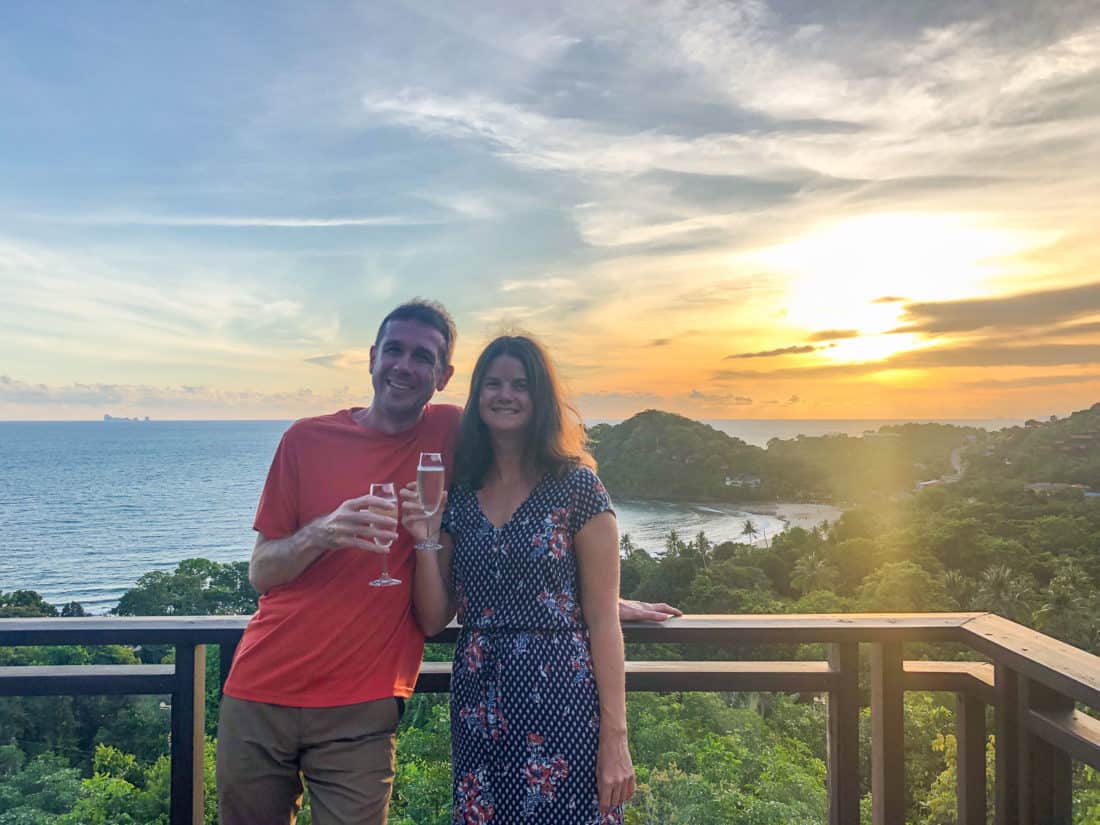 We stayed in the cheapest Deluxe Room in the resort's lower section. We requested the upper level which meant we had a sea view.
Our room was the nicest we stayed in on Lanta—spacious, bright, and surrounded by trees. The bathroom was massive, with a bath and a separate cubicle with a rain shower. Drinking water is free and comes in glass bottles.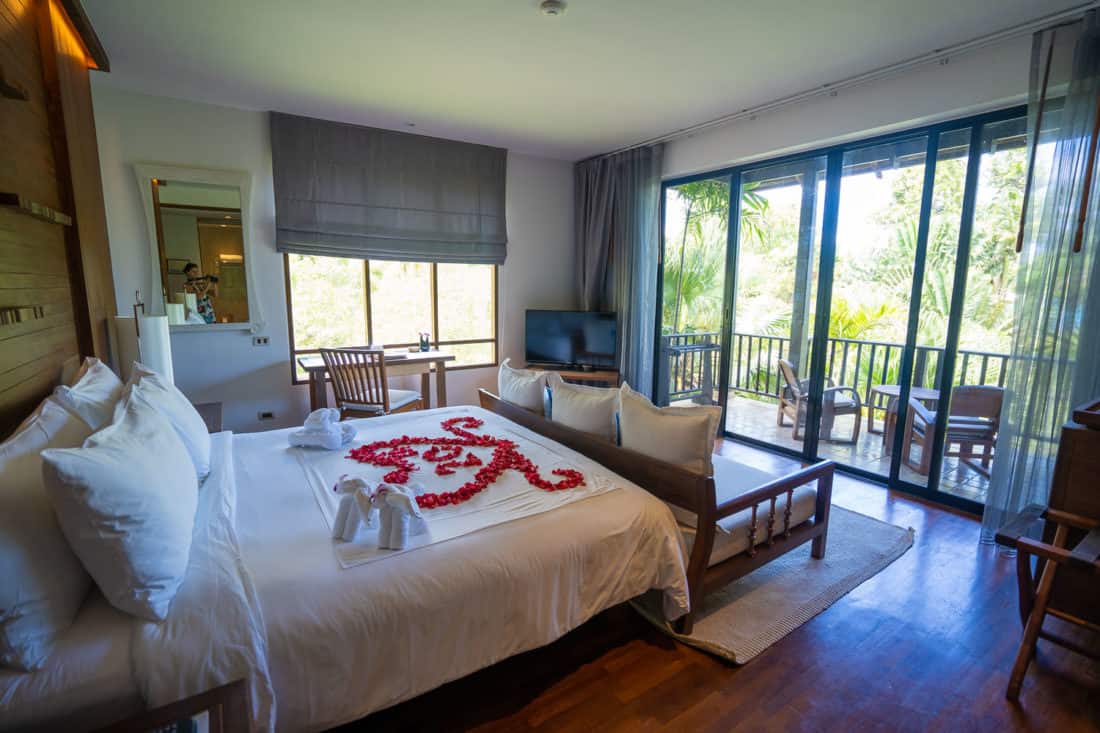 Pimalai Resort is also family-friendly, with family villas available and a packed schedule of daily kids' activities.
For those who want the ultimate luxury stay, there are beachfront villas and hillside villas with private pools.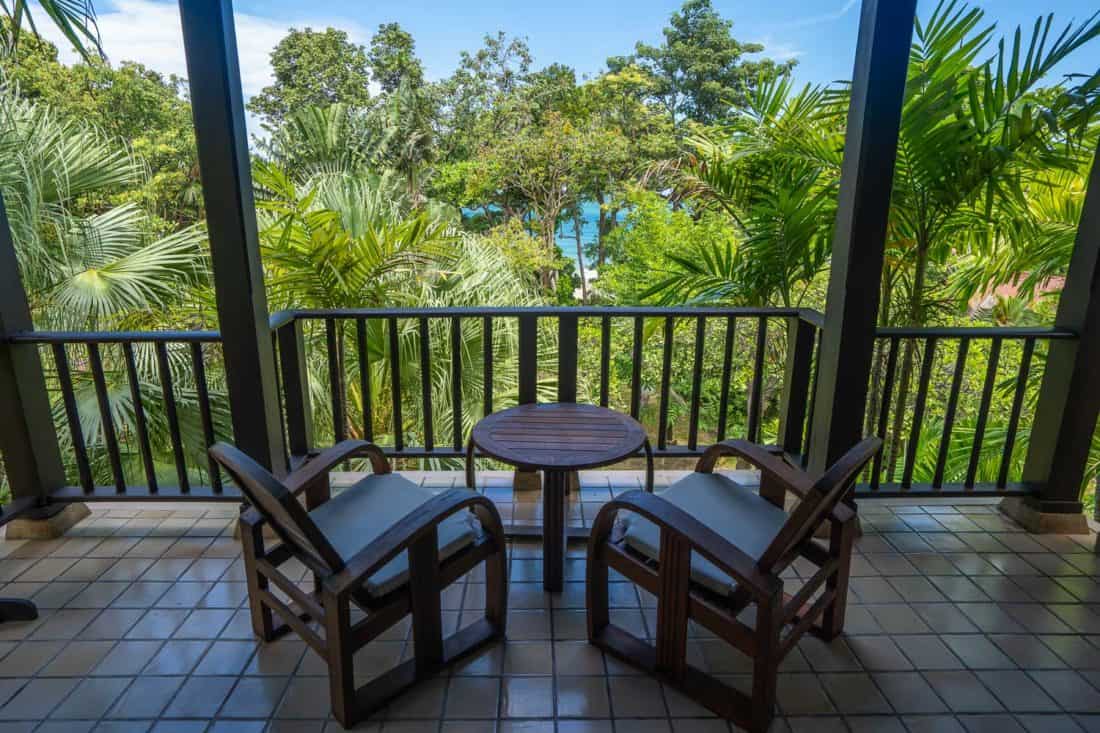 Pimalai was the best Koh Lanta beach resort we stayed at. Everything was just a little higher standard than elsewhere (with the exception of the breakfast buffet, which we preferred at Rawi Warin), the view from the main pool is truly special, and Kantiang Bay is a lovely beach to be on.
Rooms at Pimalai cost from $220 in low season. Check the latest rates here.
Rawi Warin Resort (Khlong Nin)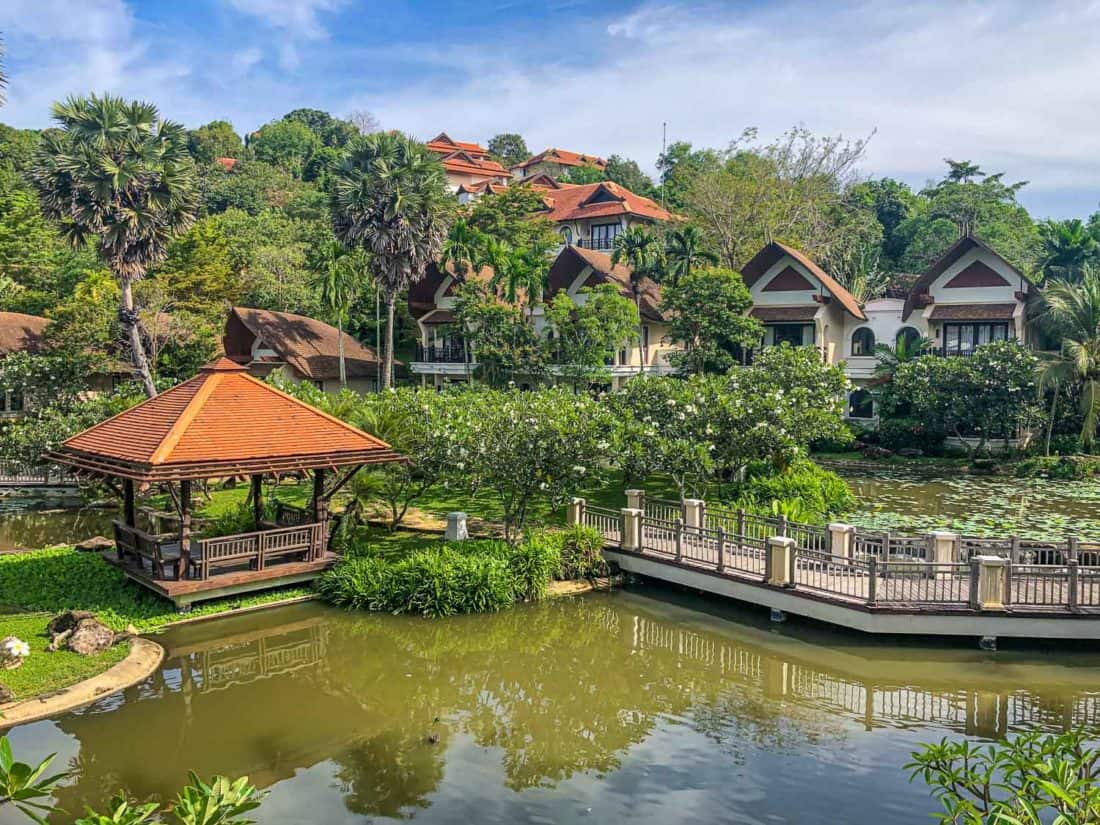 Rawi Warin is one of the best value luxury resorts on Koh Lanta with low season rates from $96 which is a steal.
We spent a blissful few days there in May when it was very quiet (only 4–5 other people at the enormous pool).
It's a beautiful resort set amongst the jungle with a large lily pond and a huge pool overlooking the beach. It feels like an oasis far away from the rest of Koh Lanta but is just a 10-minute walk from the restaurants of Khlong Nin.
The infinity pool is the highlight. We loved relaxing here on the comfortable loungers enjoying the sea views.
The two jacuzzis are great for lounging—the staff even brought Simon a beer while we were hanging out here.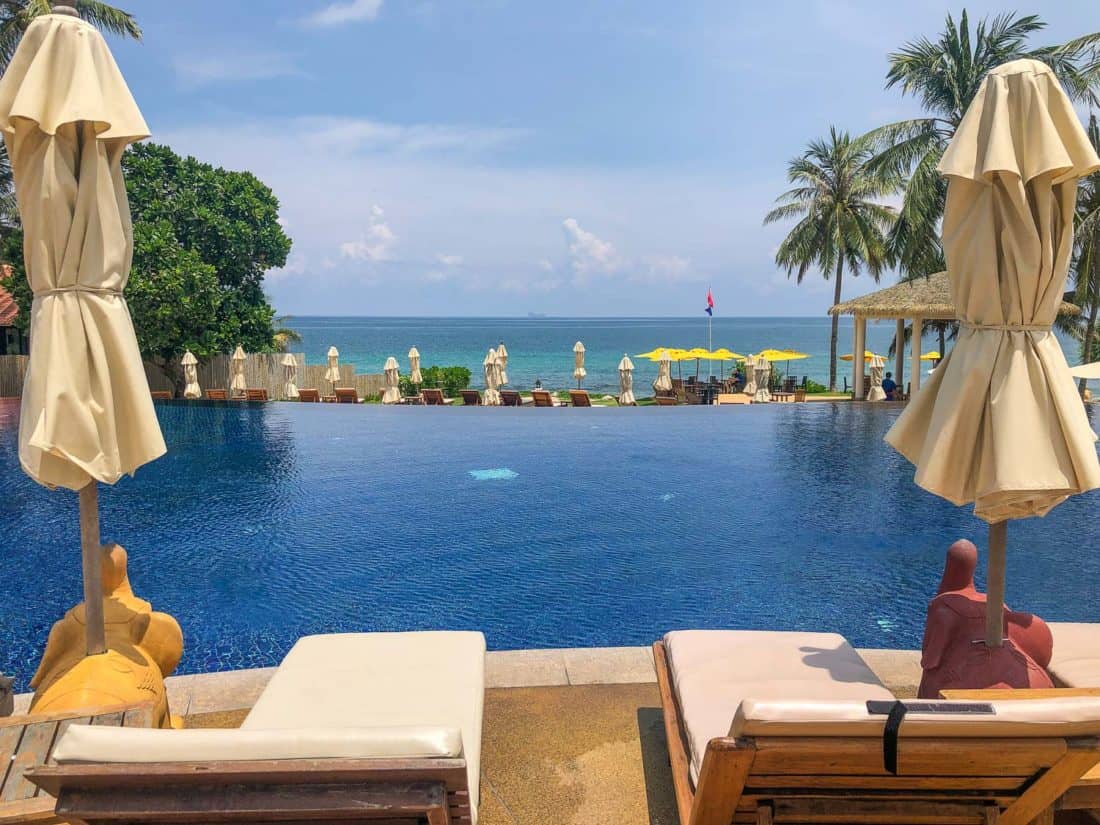 The pool is on two levels—the lower level is shallower and features a water slide for children. It can get noisy in the high season, but in the low season it was wonderfully tranquil.
For those without children, there's also a quieter lap pool and hillside pool.
In front of the pool is a bar overlooking the beach, ideal for lunch and happy hour sunset cocktails.
On our visit the vegetarian options were limited but we enjoyed the mango smoothies and chocolate ice cream sundae.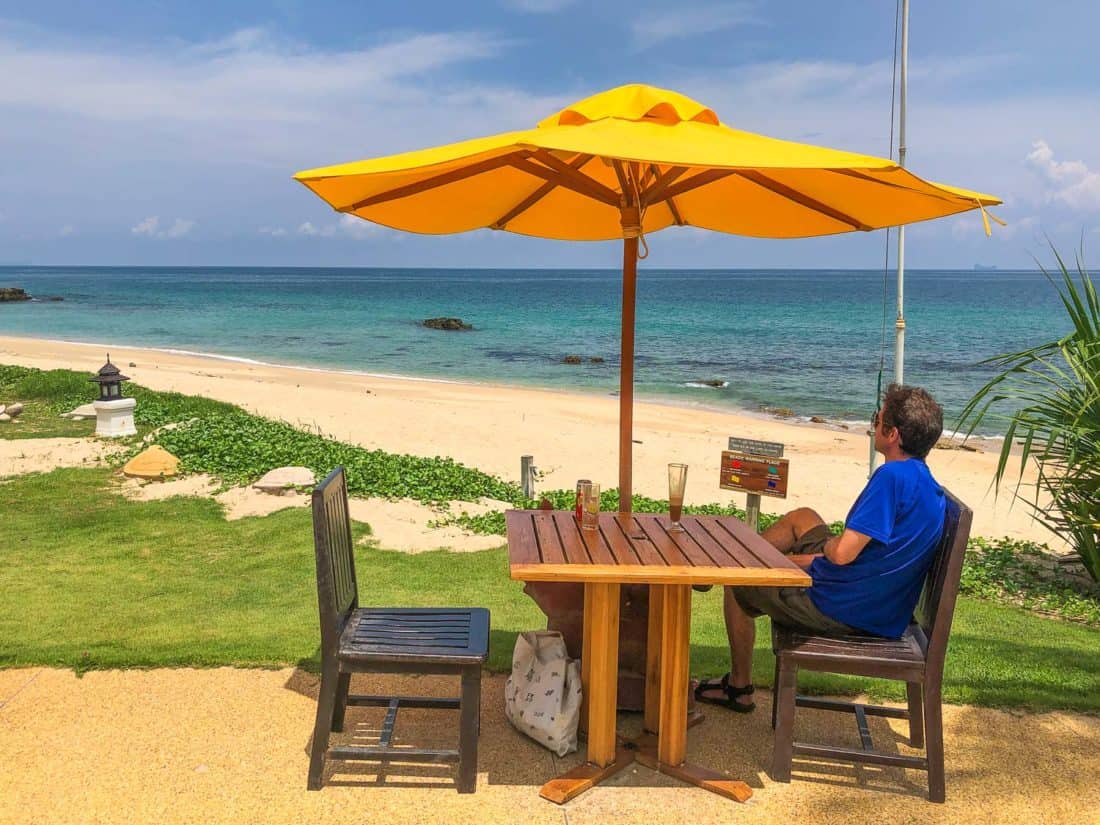 There are a few loungers on the beach which is lovely but not very large. We tried walking on the sand to Khlong Nin but got stuck by rocks, so you probably need to walk along the road.
The main restaurant overlooking the pond is a better option for dinner. They have two pages of vegetarian Thai and Western dishes.
The renowned breakfast buffet is served here and it's fantastic with lots of choice. The only downside was the coffee.
We chose the cheapest room which is up the hillside surrounded by jungle.
We didn't find it difficult, but if you don't want to walk up a hill, you can ask staff to take you in a cart or choose a more expensive room overlooking the pond.
There are also amazing looking villas right on the beach with private pools.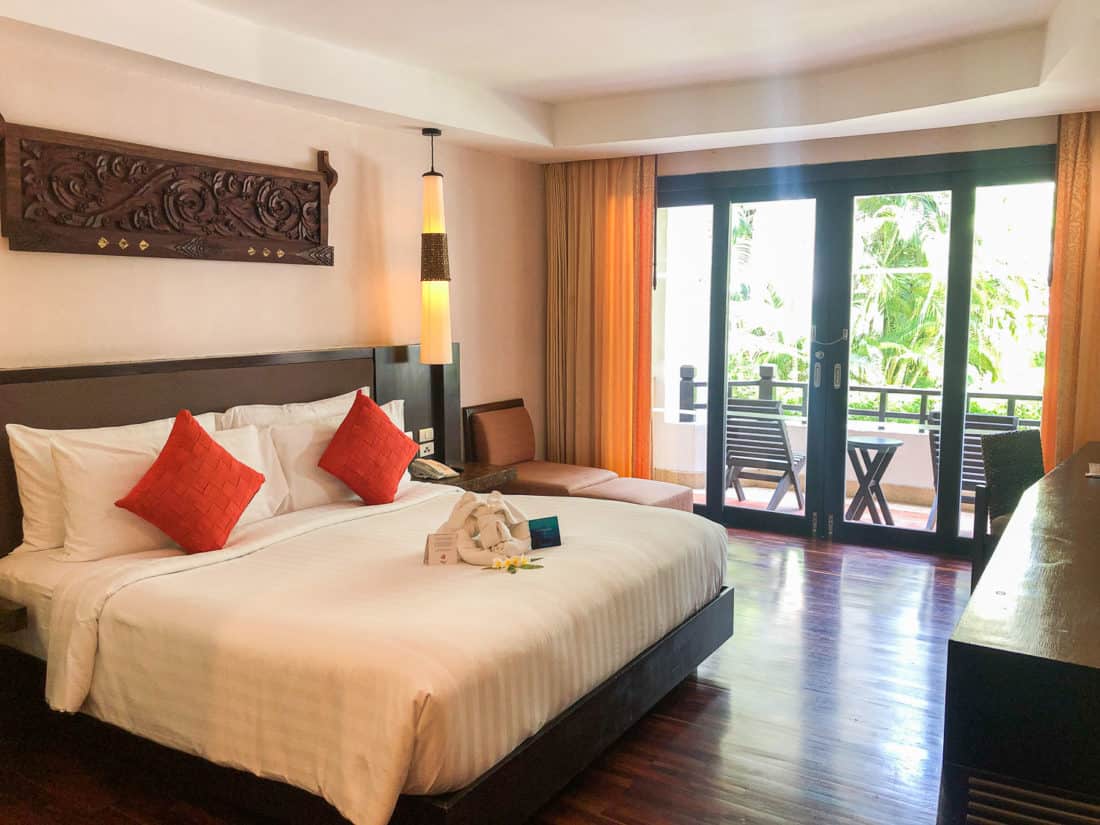 Our room was spacious and comfortable and had everything we needed. We appreciated that the complimentary water came in glass bottles (most other resorts use plastic) and that toiletries were in large reusable bottles.
The resort also has a spa, gym, tennis courts, table tennis, library, pool table, kids playroom, and daily activities (most for an extra fee) for adults and kids like yoga or cocktail making.
Rawi Warin Resort is an excellent choice for families and couples, although in peak season (like Christmas), couples looking for a quiet stay might prefer adult-only Layana. In off-season it's very peaceful and superb value.
Check the latest rates at Rawi Warin here.
Layana Resort (Long Beach)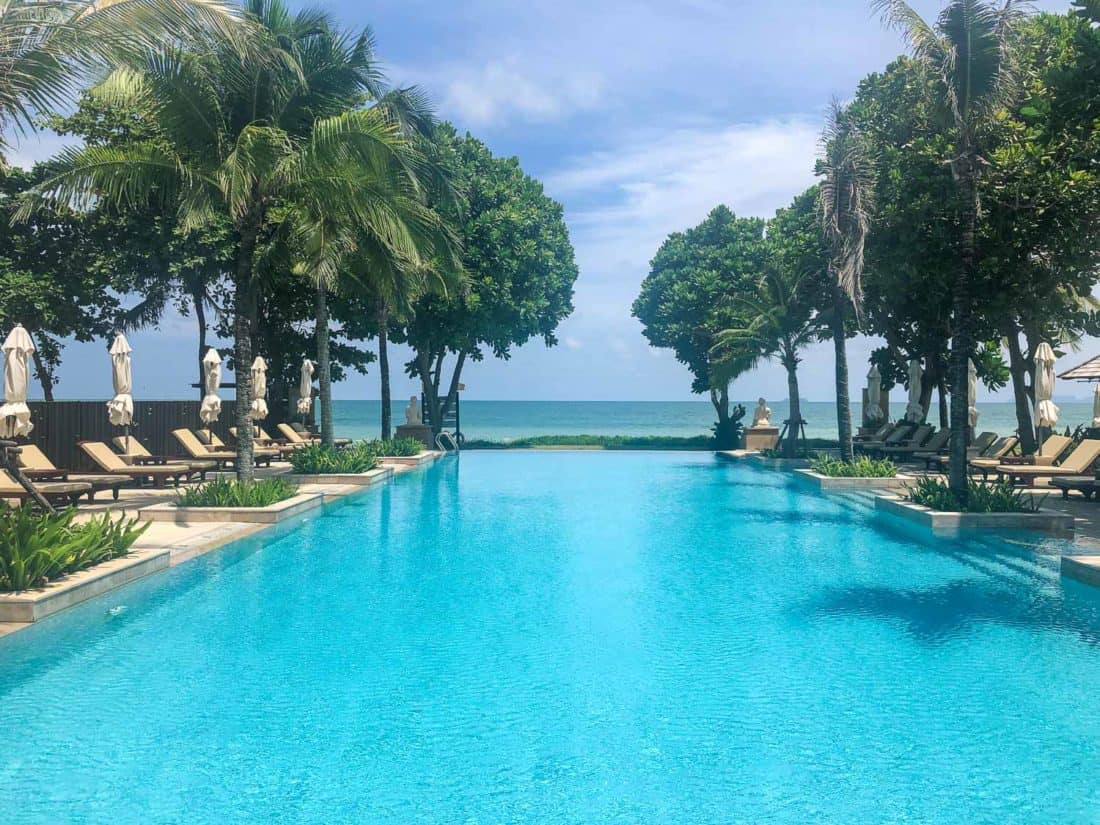 If you want to stay at a quiet luxury resort but be in walking distance of lots of restaurants, Layana Resort is ideal.
It's adults-only so couples might prefer it here during school holidays when other resorts could be busier with kids.
Layana is a smaller, more intimate Koh Lanta resort, but it has two large pools so there's plenty of space for everyone.
During our stay in June we only saw four or five other couples so it was especially quiet.
The grounds are pretty and all on one level leading down to the beach (unlike the jungle hillside locations of Rawi Warin and Pimalai).
Long Beach is one of our favourites—it's ideal for long walks and you can find restaurants in either direction.
We enjoyed relaxing at the main pool on the comfortable loungers. We appreciated that the staff brought complimentary ice water throughout the day.
Next to the pool is a large jacuzzi where I liked to sit and read. There are usually sun loungers on the beach as well, but these weren't set up in the low season.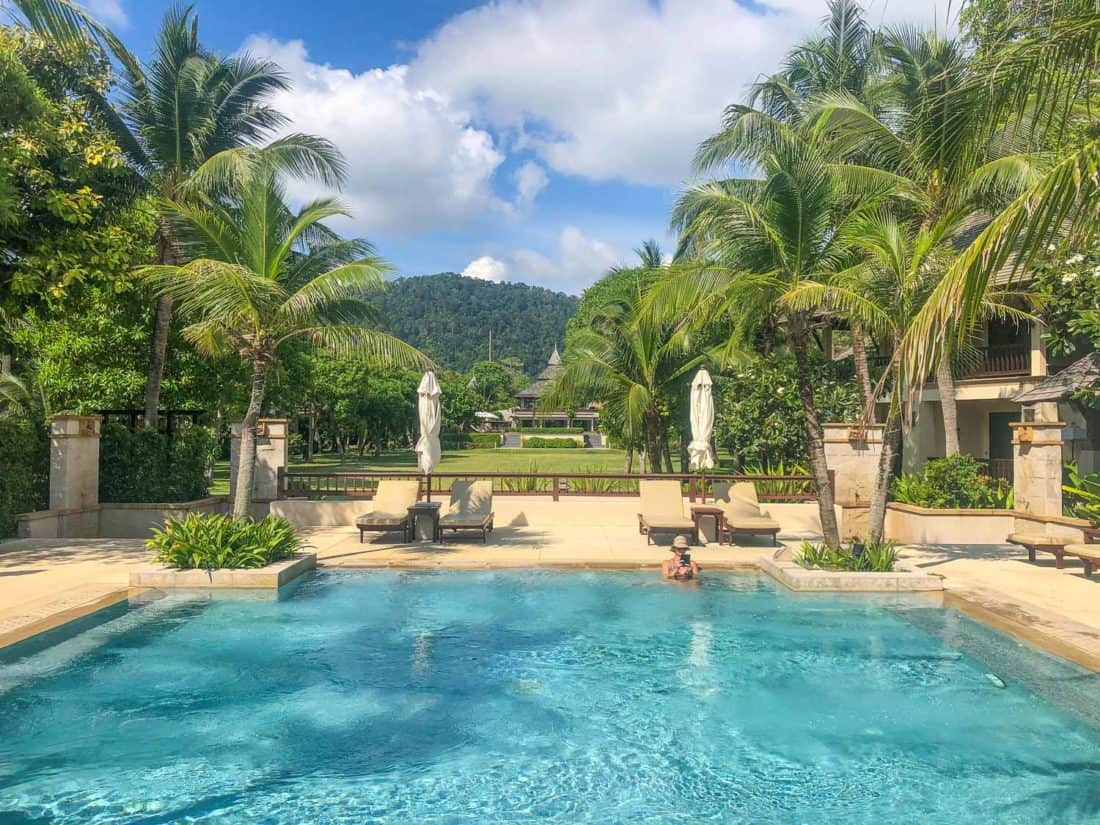 There's a bar and restaurant right on the beach. Vegetarian options are limited and we found the food a bit disappointing (except for the warm bread basket!), but meat-eaters seem to like it here. We did enjoy sunset cocktails at happy hour.
The breakfast buffet was pretty good and included eggs to order, cappuccinos, tasty pastries, and a selection of hot Asian dishes.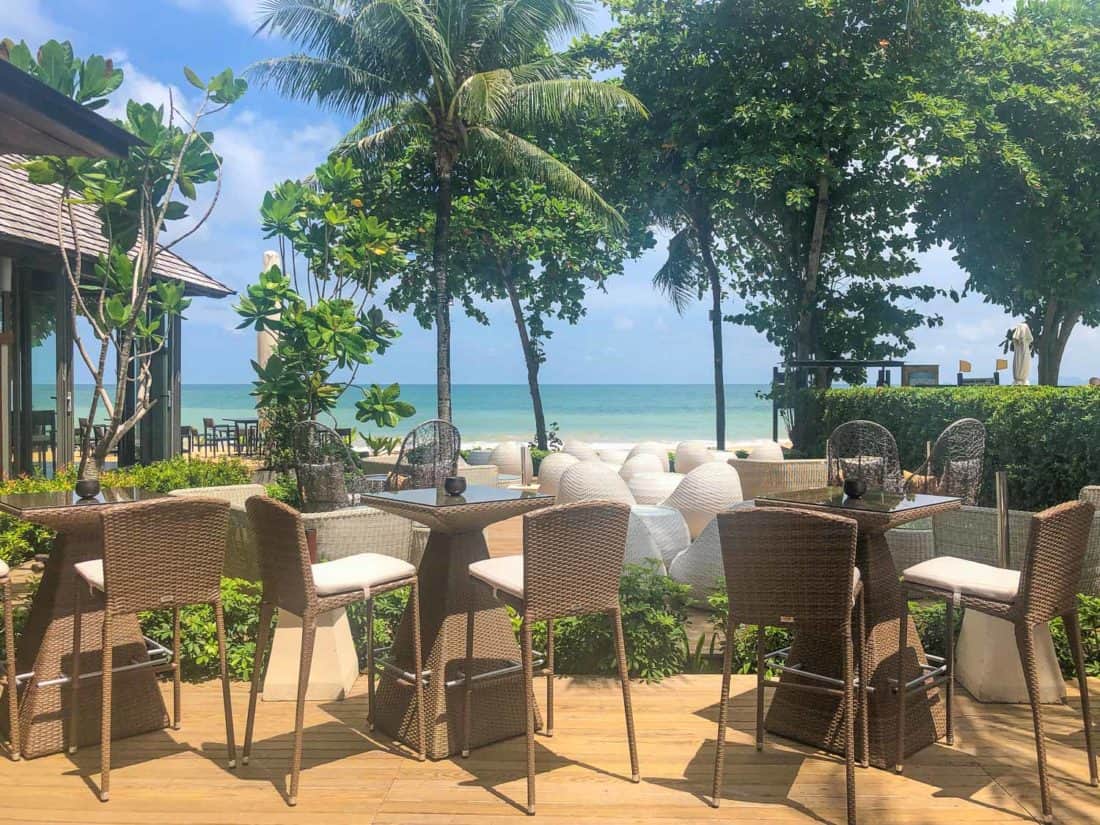 Other facilities include a spa, gym, library (with books and DVDs to borrow), daily activities, and free bikes.
We stayed in the standard Garden Pavillion Room which was comfortable and spacious and there was a sunken bath in the ensuite.
We liked the Nespresso coffee maker but wished they didn't use plastic for the water bottles and tiny toiletry bottles.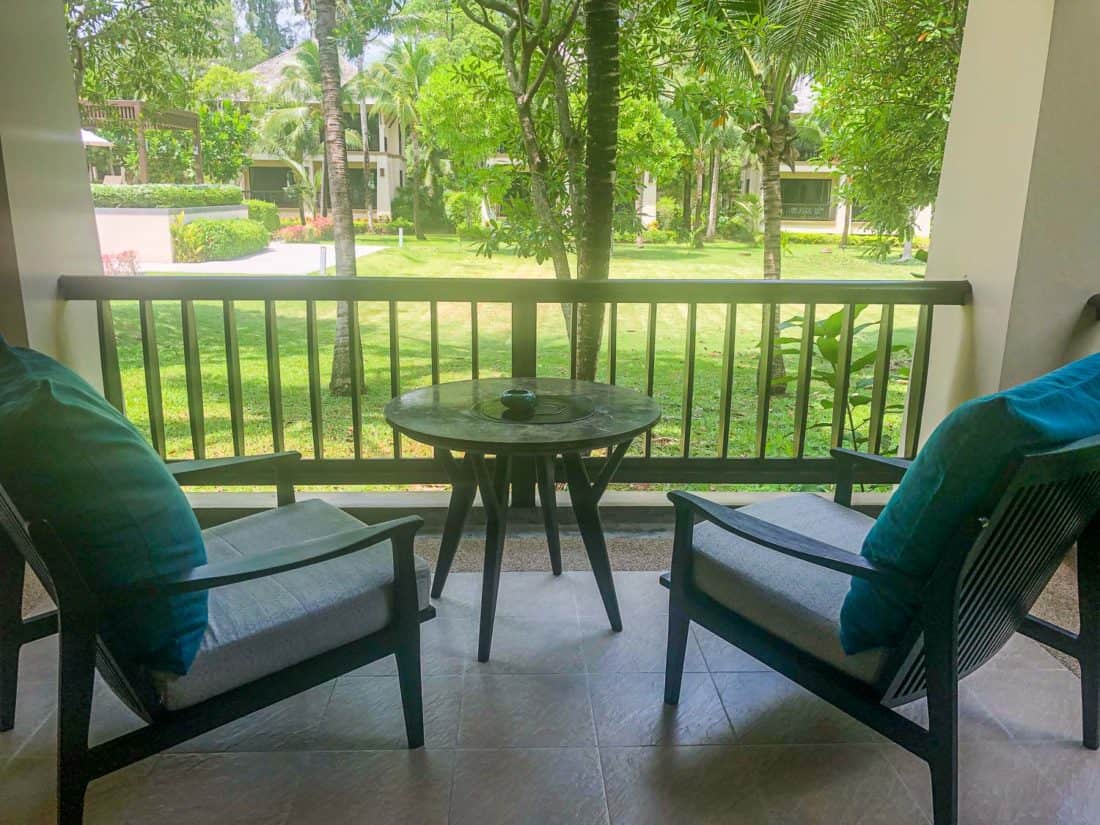 If you are willing to pay more, there are villas right on the beach.
We really enjoyed our stay at Layana. The location is ideal and it's perfect for couples who don't want noisy kids at the pool.
In the low season, our room cost $190 and I didn't think it was worth paying 2.5 times the price of Rawi Warin. In high season when everywhere is busier, it could be worth it.
Check the latest rates at Layana here.
Avani Plus Koh Lanta Krabi Resort (Khlong Dao)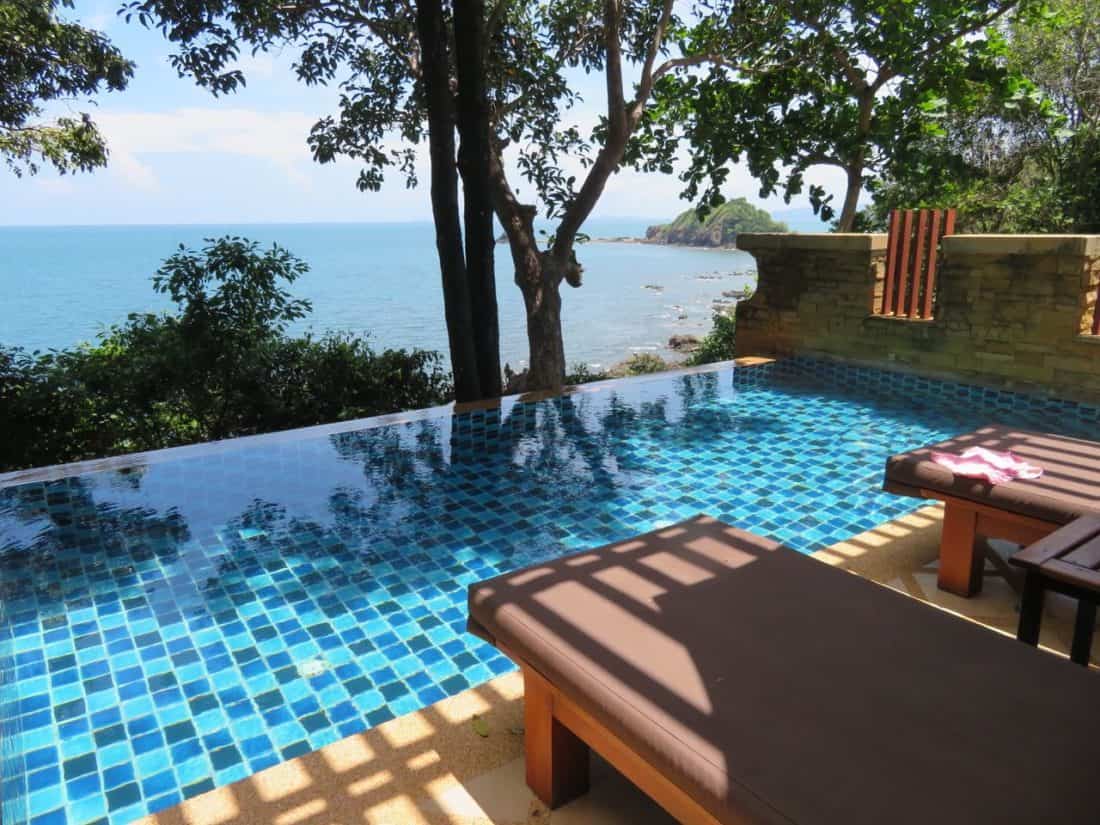 Recommended by Sally of Our 3 Kids Vs The World
Koh Lanta holds a special place in my heart as we spent part of our honeymoon there in 2003. We went back again in 2017, but we had three kids in tow this time.
We stayed at the Avani Plus Koh Lanta Krabi Resort (formerly known as Crown Lanta Resort & Spa) in a private villa with our own plunge pool and an amazing view across the ocean.
It was the most amazing place to watch those wicked Thailand sunsets.
The resort has a large pool with swim-up bar and a private part of Khlong Dao Beach just for guests. Most rooms at the resort have pool access.
There are four restaurants and the kids took a particular liking to the Reggae Bar, which is right on the beach and the second-best place to watch the sunset!
If I had to complain about anything at this resort, it would be getting around. The resort is located on a steep slope and walking up to breakfast each morning was pretty much my day's workout!
However, they have golf carts that drive around the resort and drop you wherever you want to go, right to your front door too!
Avani Plus Koh Lanta Krabi Resort is rated as a 5-star resort and rooms cost from $137 a night in low season. Check rates here.
Best Midrange Koh Lanta Hotels
Oasis Yoga Bungalows (Khlong Dao)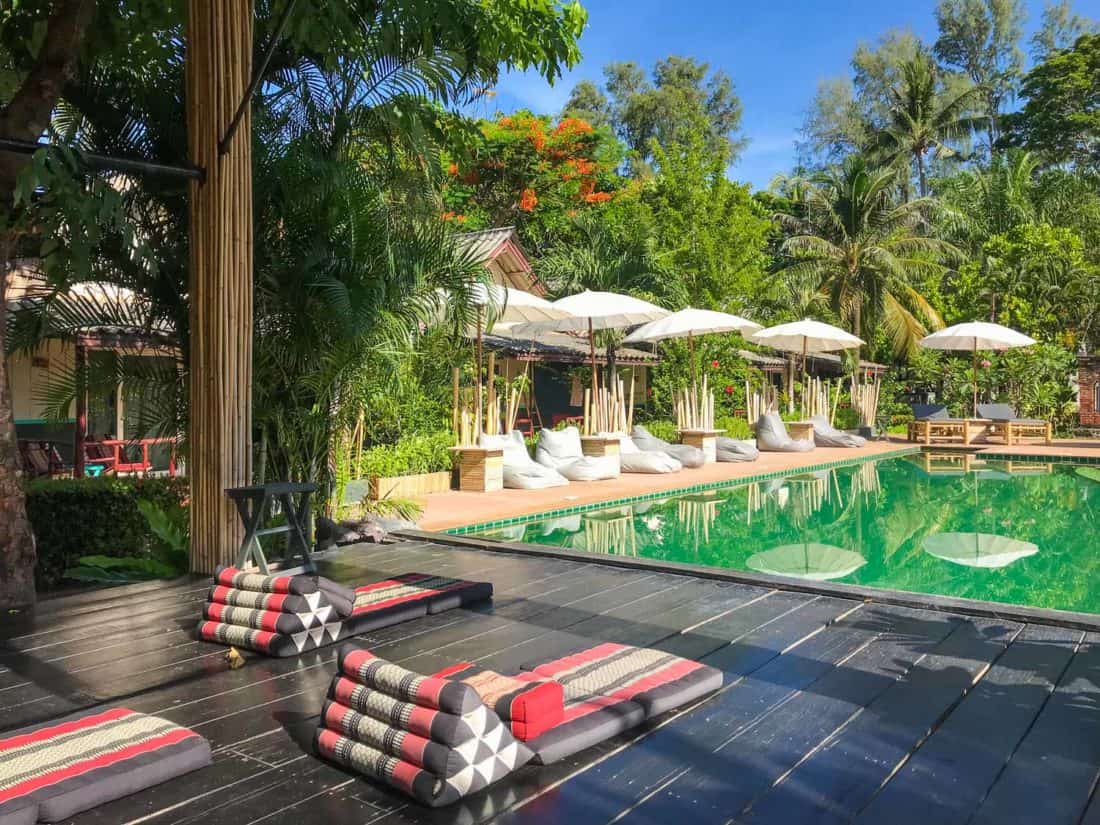 We didn't stay at Oasis Yoga Bungalows, but we visited almost daily for a month as it's home to my favourite yoga studio in the world, Oasis Yoga.
This intimate yoga resort is run by friendly American couple Farra and Kate and has a welcoming atmosphere. It's the best place to stay in Koh Lanta for yogis.
Farra leads one or two yoga classes a day and there are unlimited passes if you want to create your own yoga retreat.
Even if you aren't into yoga, this is a lovely place to stay with good-value, comfortable ensuite bungalows spread around the pretty gardens and overlooking the pool. It's only a minute's walk to Khlong Dao beach.
The onsite cafe is another reason to stay here. I ate here after most yoga classes and it's some of the best Western food on the island. There are plenty of options for vegetarians and vegans—I loved the bean burger and veggie tacos.
It's eco-friendly too. They don't use plastic straws and there's a refill station for your water bottle. Tea and coffee are also included.
Oasis Yoga Bungalows closes in the low season (from mid-May to September). In high season, air-conditioned bungalows cost from $48 a night. There are also larger family bungalows. Check the latest prices here.
Banana Beach Resort (Khlong Dao)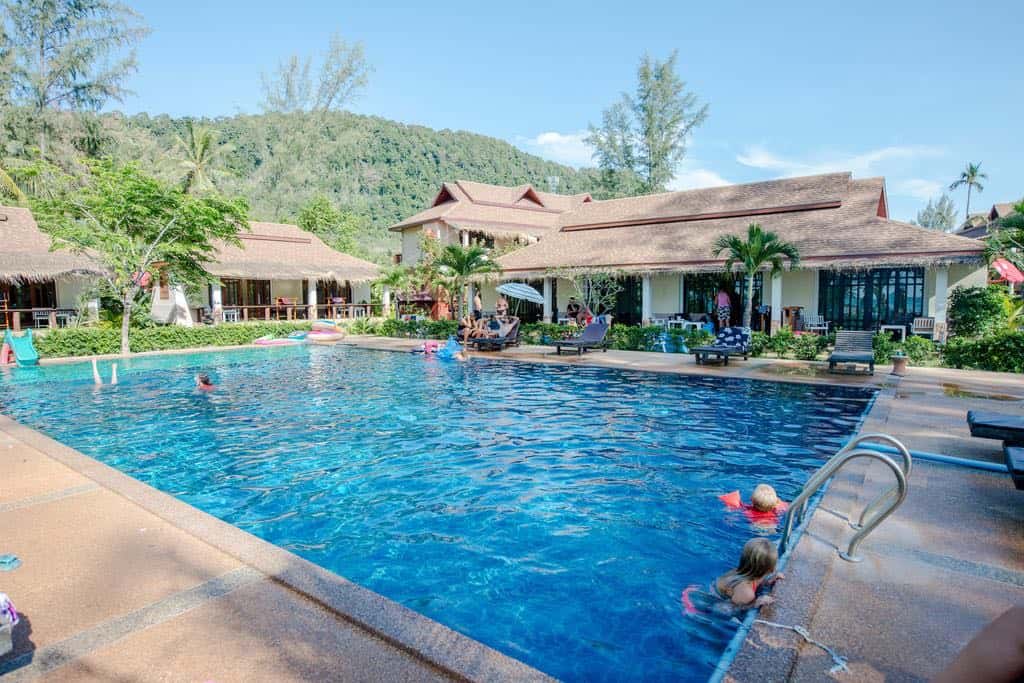 Recommended by Jenny of TraveLynn Family
If you're visiting Koh Lanta with kids and looking for a mid-range option, Banana Beach Resort, situated at the southern end of Klong Dao beach, is your answer.
We are a family of four who arranged to meet another family of four in Koh Lanta: in total four adults and four kids aged 2–5.
We had two sea view rooms next to each other with a double bed, bunk beds for the kids, ensuite, and a large adjoining balcony.
Rooms were basic but clean, and there is a fridge and kettle. The staff is absolutely wonderful. So polite and friendly, and they were always on hand to answer questions or sort something out for us.
There is also a restaurant on site that overlooks the beach and serves the usual dishes.
But the big hit with the boys was, of course, the pool. There's a separate kids' pool with a slide, although be aware that this pool was too deep for our two-year-old to stand up in. Our four-year-old was fine. And since our visit, they now have a playground.
For parents, make time to pop into the massage parlour next door which offers a range of treatments from 60-minute Traditional Thai massages to Swedish massages. I thoroughly recommend a facial and head massage.
Rooms at Banana Beach Resort cost from $57. The resort is closed in low season. Check the latest prices here.
Lanta Castaway Beach Resort (Long Beach)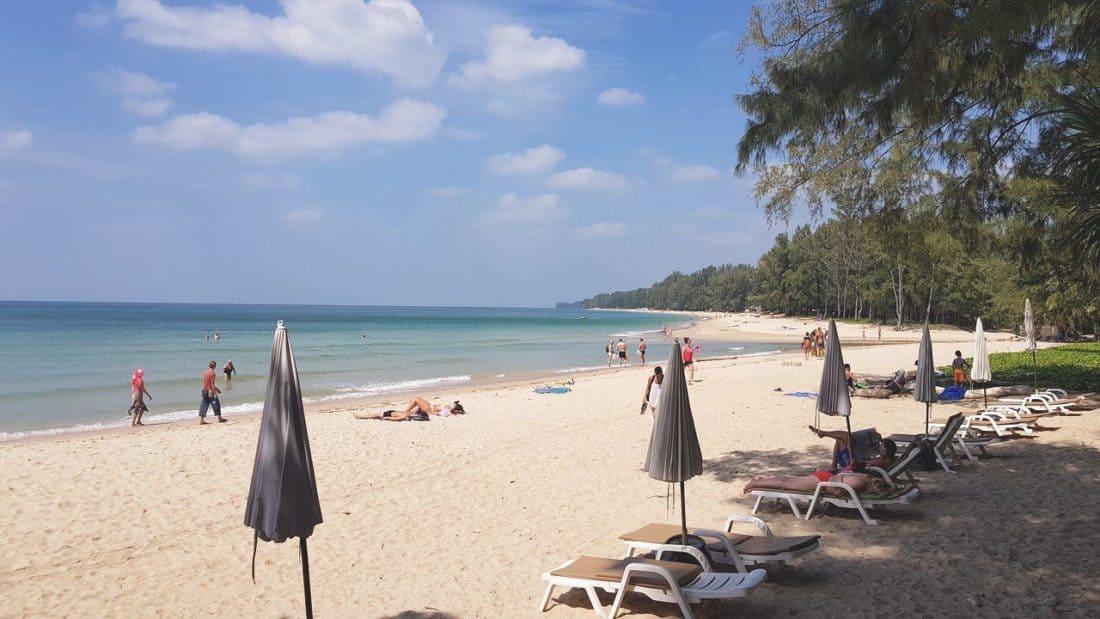 Recommended by Louis of TheNorthernBoy
If you're visiting Koh Lanta, I highly recommend a stay at the awesome Lanta Castaway Beach Resort.
You may have seen dreamy photos online of Koh Lanta beach bungalows. Well, the Lanta Castaway offers just that.
You will have your own bungalow metres from a stunning beach with amazing views. Bungalows have air conditioning, fridges, and balconies.
The grounds are well maintained by the friendly on-site staff. There is WiFi, a seating area overlooking the beach, and a very tasty restaurant with a varied menu.
A 7/11 shop is nearby if you need any snacks.
It's not the cheapest place on the island if you are on a backpacker budget, but if you can afford a night here, then I would 100% go for it.
The rooms, location, and sunset make it an extra special stay at Koh Lanta.
Rooms at Lanta Castaway Beach Resort cost from $84. They are closed during low season.
Check the latest prices at Lanta Castaway Beach Resort here.
Coco Lanta Eco Resort (Khlong Khong)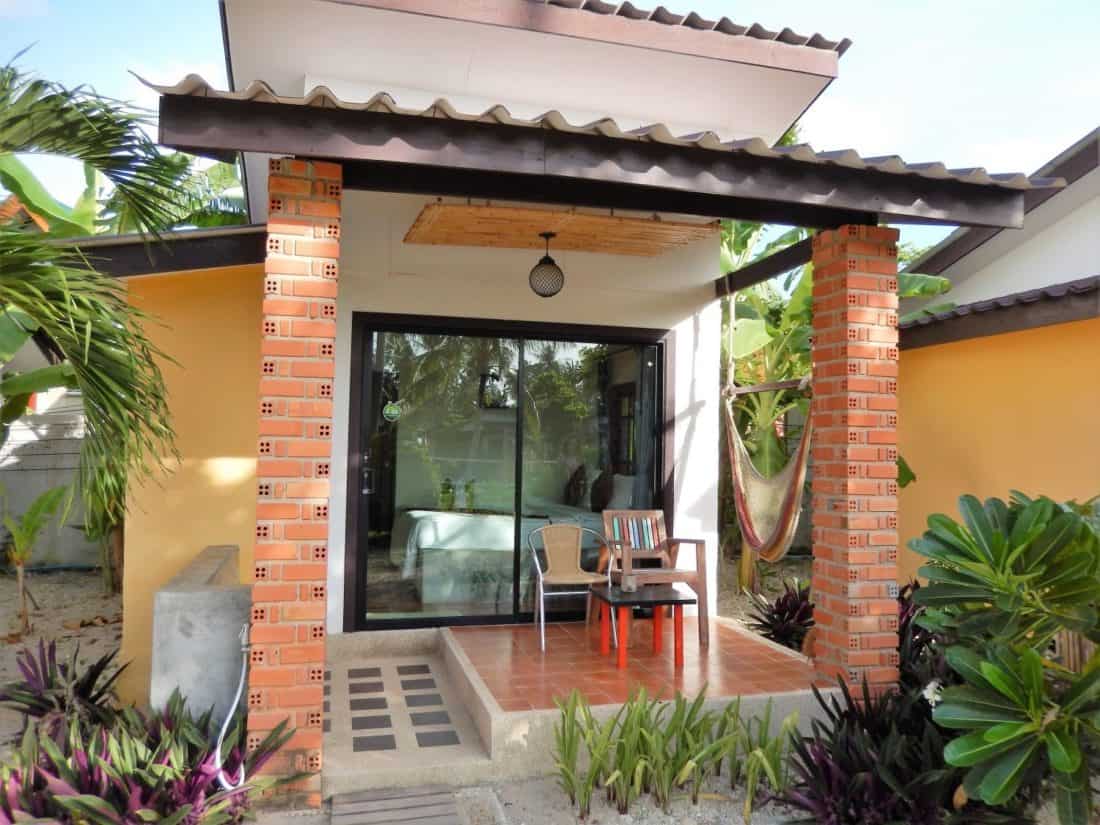 Recommended by Claire of Backpacking Bella
Sitting right on Khlong Khong beach is Coco Lanta Eco Resort, a 2-star hotel with an incredible swimming pool. It's perfect for couples and backpackers.
Glass-fronted bungalows face the gardens and include an ensuite bathroom with complimentary toiletries, air-conditioning, a TV, minifridge, safe and that all-important free WiFi.
Each has a terrace with furniture and even your own hammock.
The resort has its own laid-back restaurant and a large outdoor pool that is dreamy to swim in, under the shade of the coconut palm trees.
There's an amazing reggae beach bar called Freedom Bar, which is a fun place to hang out and play pool for the evening with the friendly staff.
During the day, you can take advantage of the massage service, gift shop, and on-site tour desk or just wander around the village.
The one downside is that this part of the coastline is not the best for sunbathing or swimming, as the beach is narrow and there are plenty of rocks before you hit the sea.
But who cares when you can enjoy a cool beer and make new friends at the bar or lie in an oversized hammock and watch the sunset? It's a blissful place to relax, Koh Lanta-style.
In low season rooms cost from around $33 a night. Check the latest prices here.
The Narima Bungalow Resort (Khlong Nin)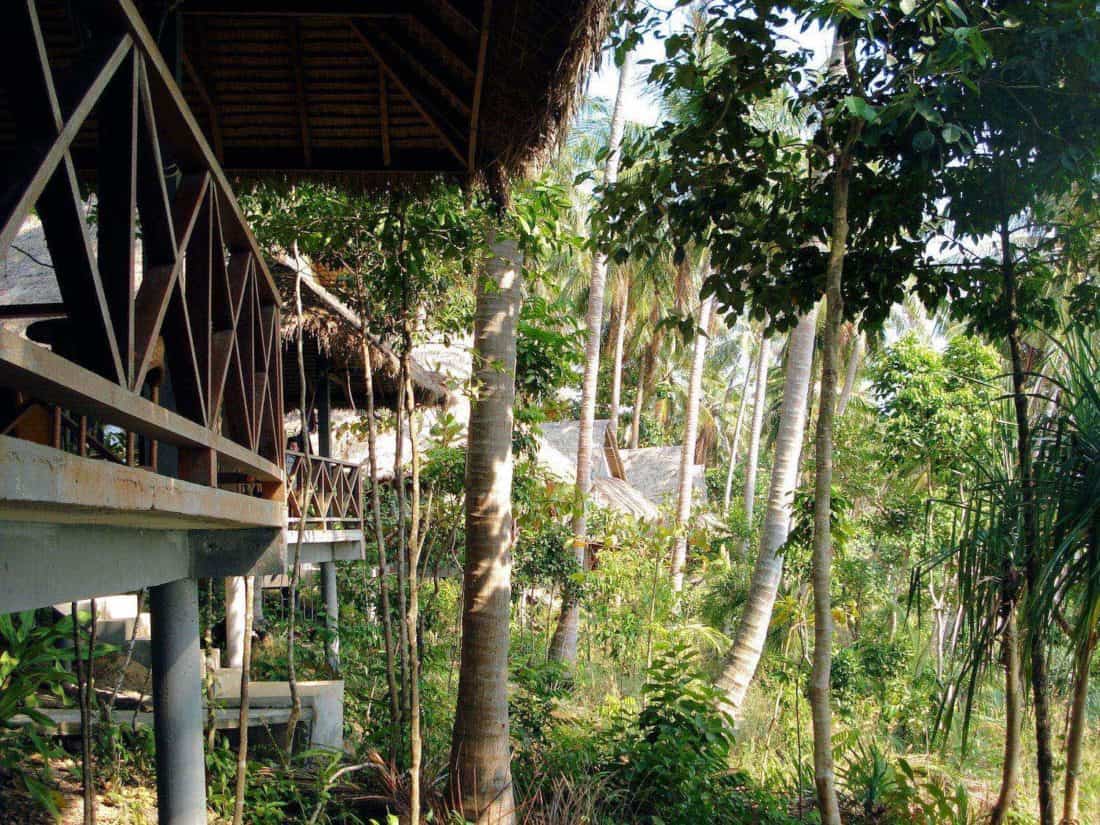 Recommended by Heather of Conversant Traveller
The Narima Resort is a pretty collection of traditional bungalows dotted along the shoreline fringed by a lush rainforest in southwestern Koh Lanta.
This 'eco-chic' resort is ideally located not far from the Koh Lanta National Marine Park on the southern tip of the island, and it's easily accessed by road from Saladan Pier where you'll arrive from Phuket or Krabi.
The 32 simple yet spacious bungalows feel private, and there's no better way to spend an evening than lounging in your hammock, beer in hand, watching the sunset over the sea.
We loved the three-tiered infinity pool that overlooked the private beach, complete with a jacuzzi whirlpool tub and children's pool, as well as the beautiful carved wooden furniture in the open-air restaurant (they do amazing Massaman curries!).
If you want to be in the thick of the action, you'll want to stay further north on the island, but we much preferred the peace of the south.
You can rent cars and bikes to take day trips around the island—we loved taking a 4×4 and heading down to the Marine National Park to snorkel off the more remote beaches that few tourists seem to reach.
Other tours can be arranged, from scuba diving and kayaking to cookery lessons and jungle trekking. We opted to go by speedboat to snorkel around Ko Rok and enjoyed a BBQ on the beach.
Definitely one of our favourite places in Thailand. Prices for bungalows start at $40 during low season. See the latest prices here.
Best Budget Koh Lanta Beach Bungalows
Ok Chawkoh Bungalow (Long Beach)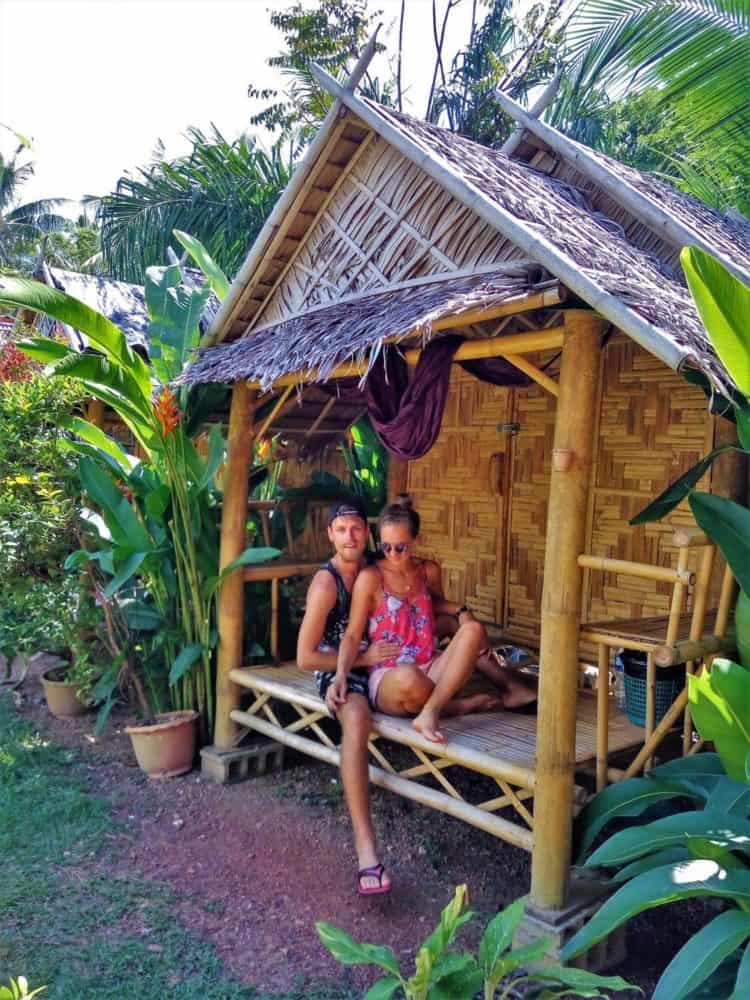 Recommended by Andrius of KATrippin
Ok Chawkoh Bungalow must be one of the most budget-friendly places to stay not only in the idyllic island of Koh Lanta but in the whole world.
The bungalows at Ok Chawkoh range from basic ones with just enough space for a double sleeping mat and a couple of backpacks to elaborate little houses with queen-size beds, private bathrooms, and air conditioning units.
What we liked about Ok Chowkoh was its cosy setup—the bungalows are arranged to face the internal garden away from the road, giving this place a sense of privacy.
Other free facilities include drinking water and a shared kitchenette, which contains a table with a kettle, a toaster and some basic kitchen utensils.
Unlike some of the other islanders, the owner speaks good English and is glad to help you get good prices on boat tickets, tours and can even rent you one of his motorbikes.
It's located just off the main road in Long Beach, close to many great restaurants and a five-minute walk from the beach.
Despite its great location, this place will certainly not break your budget. The variety of options available at Ok Chawkoh Bungalow means it can accommodate a range of customers, from shoestring backpackers to mid-range travellers.
We loved it and we hope you will too!
Basic bungalows start at $8 per night and deluxe from $18 in low season. See the latest prices at Ok Chawkoh Bungalow here.
Lanta Baan Nok Resort (Long Beach)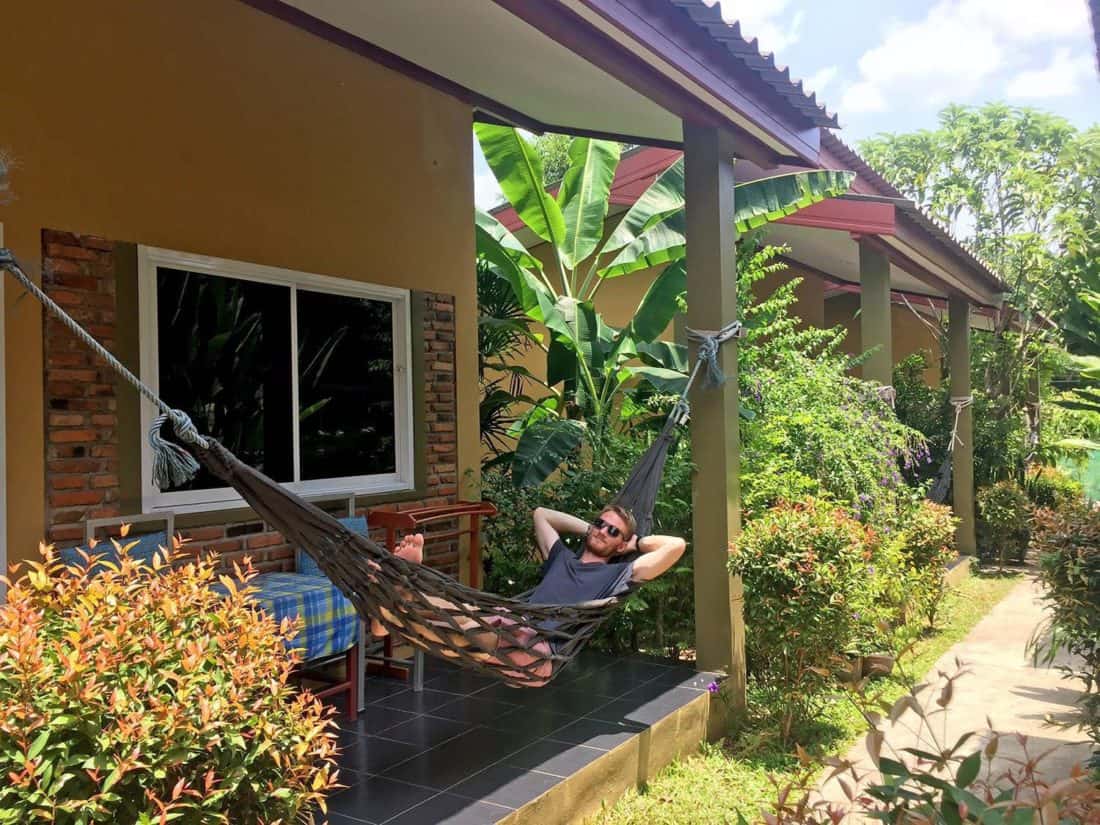 Recommended by Katie of Two Wandering Soles
Lanta Baan Nok Resort might not look like much when you're dropped off on a somewhat dusty street, but when the friendly staff lead you back through a path shaded by trees and tropical flowers, you'll be transported to a beautiful garden with clean and modern bungalows.
Each room has a terrace with a hammock, which is perfect for relaxing with your morning coffee, which is served free all day (albeit the powdered kind).
The rooms have comfortable beds, strong A/C, and clean showers with hot water—all luxuries when travelling in Thailand!
The staff at Lanta Baan Nok Resort are friendly and very helpful. They can help you arrange activities, rent motorbikes, and arrange transportation.
While you won't be spoiled with an ocean view from your room, the property is only a short 300-meter walk to the beach.
Starting at just $14 in low season, this makes a great budget option for travellers who want a comfortable yet affordable place to stay on Koh Lanta.
Check the latest prices at Lanta Baan Nok Resort here.
Lanta Andaleaf Bungalow (Khlong Khong)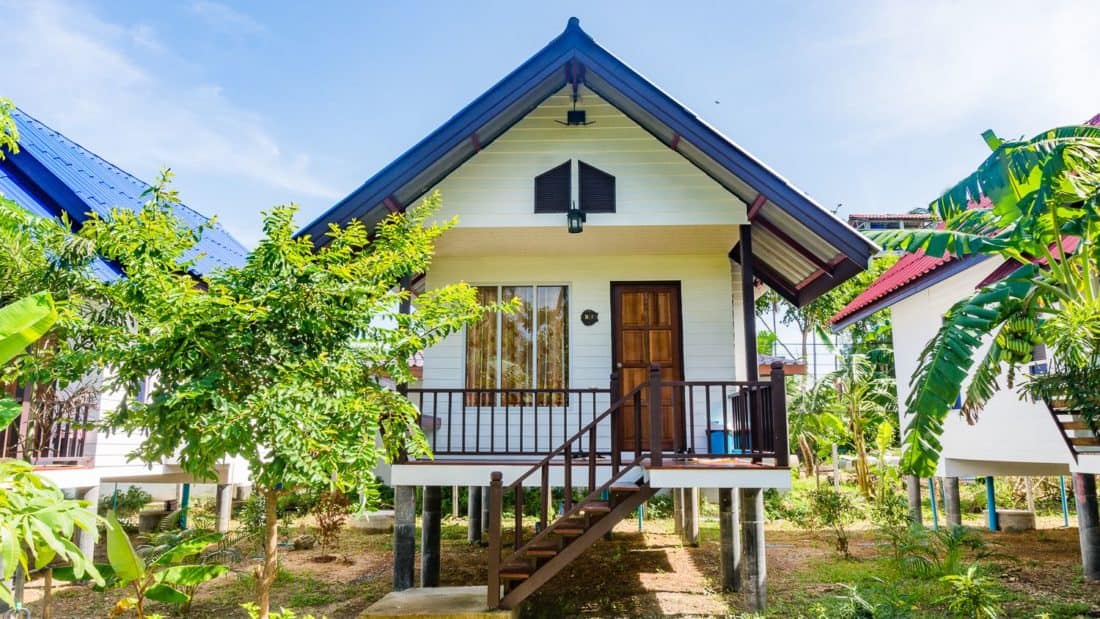 Recommended by Erick of Travelaar
Only a very short walk from the beach, in the west of Koh Lanta, lies Lanta AndaLeaf Bungalow.
The very kind host family arranged the bungalows around the circumference of the plot of land, creating an open space with a lot of greenery.
Besides the spacious interior of the bungalows, they all feature a king-size bed with an amazing mattress and an industrial-style-barren-concrete sort of bathroom. Pretty neat.
The area is equipped with a couple of WiFi access points, ensuring the connection is stable everywhere.
A pool in the centre would be nice, although it's understandable that a small place like this can't afford the luxury of a pool.
Prices are reasonable and start from $13 in the low season. Check the latest rates here.
Best Self-Catering Apartments and Villas in Koh Lanta
For families, longer stays or those who want to self-cater, here are some fantastic apartments and villas. If you are looking for a long term rental you can also post on the Koh Lanta Info Facebook group.
Malee Highlands (Khlong Dao)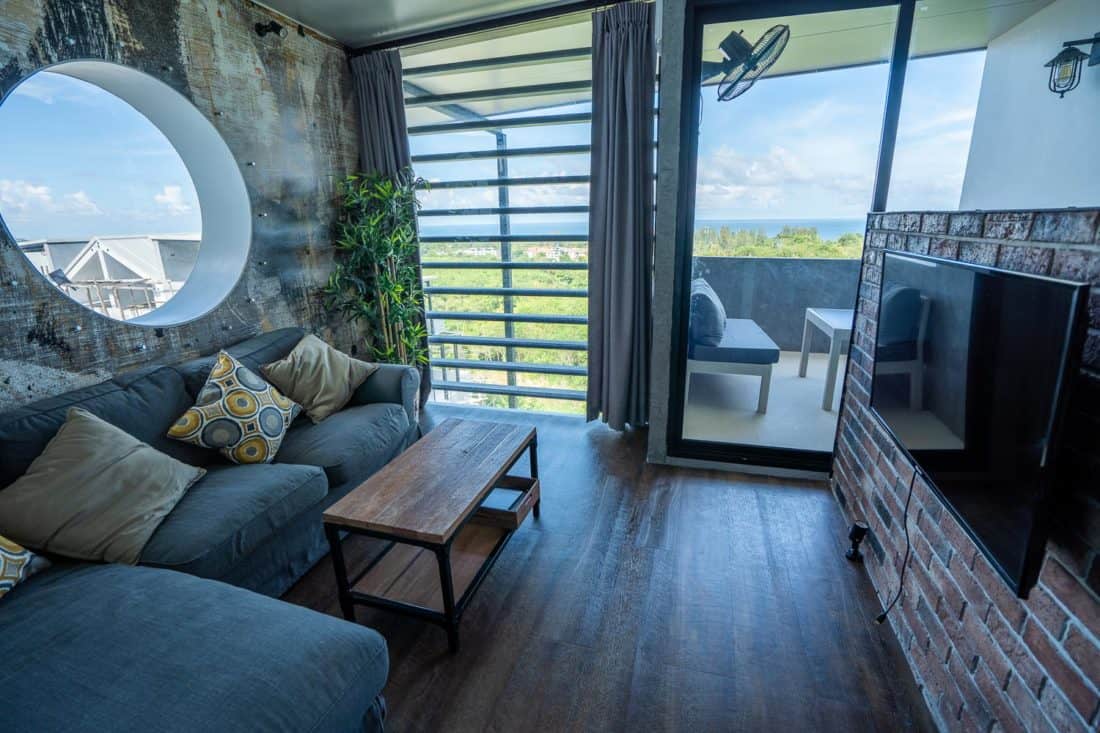 Malee Highlands is on a hill between Khlong Dao and Long Beach and has fantastic sea views and an onsite pool and bistro.
We spent three months here and loved it.
The luxury apartments are available to rent for a minimum of one month. There are a variety of options from one to three bedrooms all with terraces and sea views.
They are very stylishly decorated and well-equipped, and the WiFi is fast.
See my Malee Highlands review for more details.
Sai Naam Lanta Residence (Long Beach)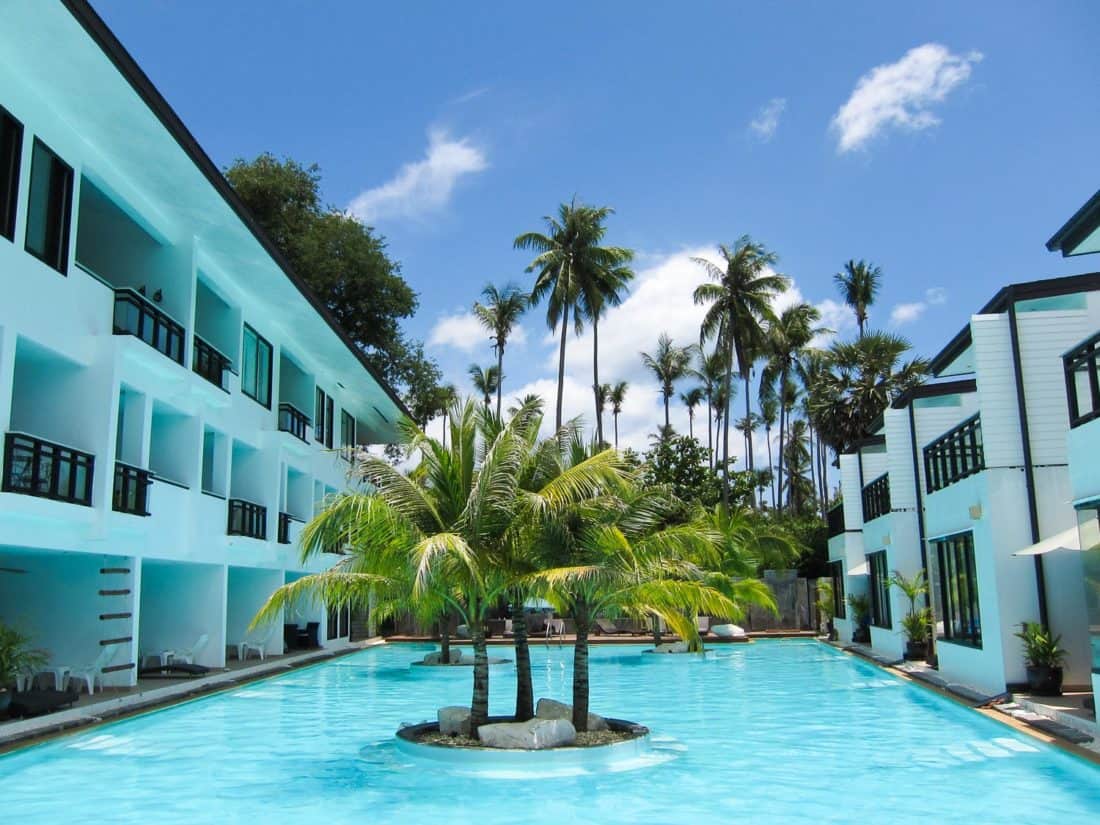 We've stayed at Sai Naam a few times and loved the comfortable apartments with direct access to the large pool.
It's only a minute's walk from the beach and there are many great restaurants in walking distance.
There are options from one to three bedrooms and it's especially good for families.
Check the latest rates here and see our Sai Naam Lanta review for more details.
Malee Beach Villas (Long Beach)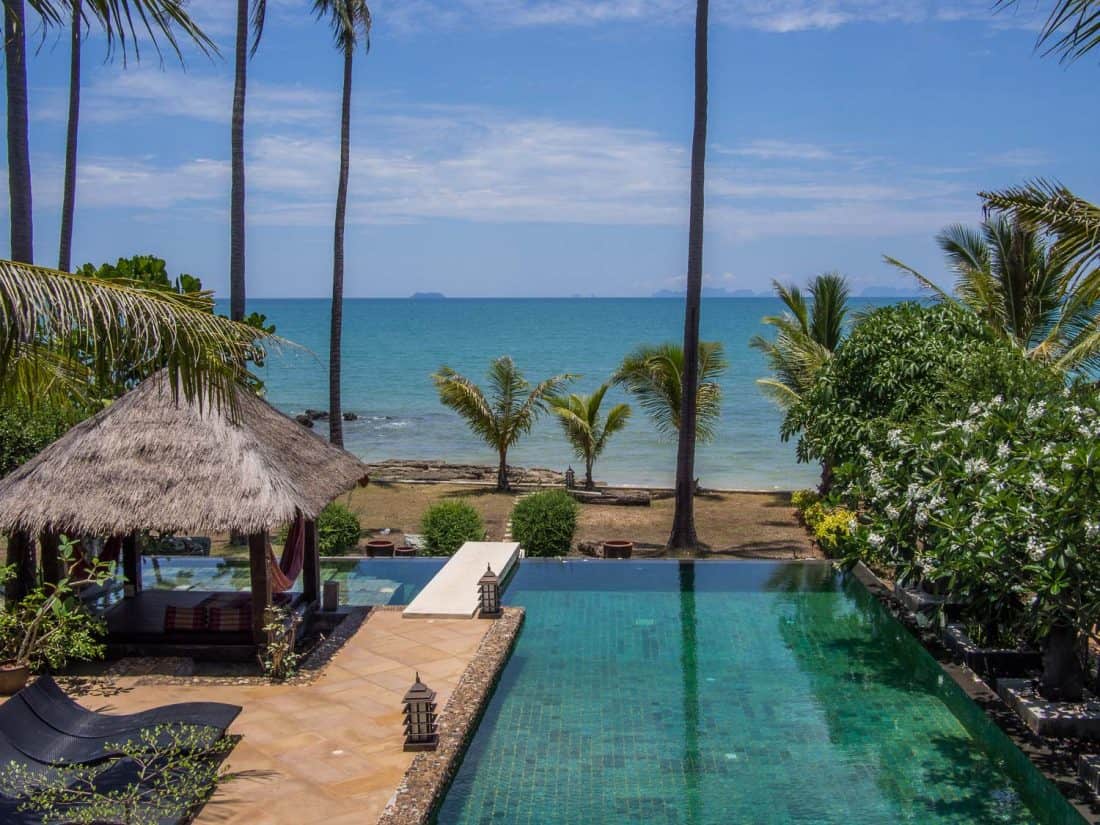 Sai Naam is part of the Malee Beach complex, which also includes a number of villas to rent that are ideal for families and groups.
Our favourite is the gorgeous beachfront villa A2 (see our A2 villa review) with four bedrooms, a private infinity pool, a cinema room, and a garden leading right to the sand.
The stylish villa F5 is also lovely and has a unique pool and modern design, while two-bedroom C12 is a more affordable option with shared pool.
Baan Kantiang See Villa Resort (Kantiang Bay)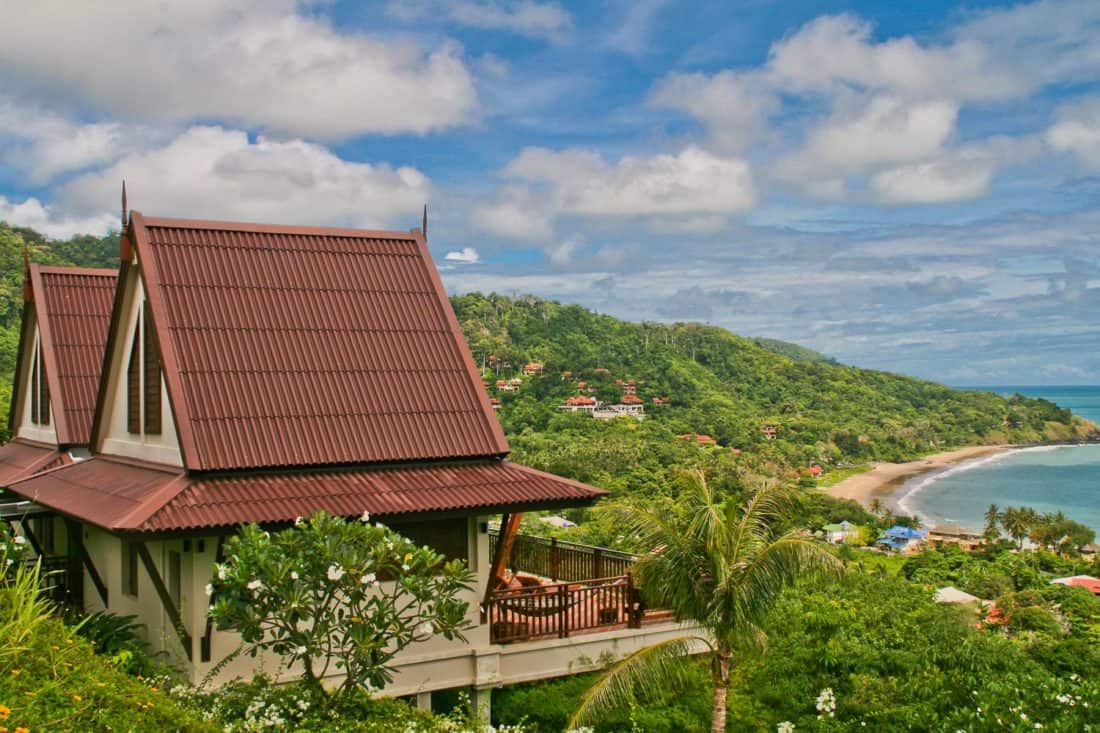 Baan Kantiang See features beautiful two-bedroom villas on a hill above Kantiang Bay with magnificent sea views.
We had a wonderful, relaxing stay here enjoying the view from our terrace and the infinity pool.
It's a 10-minute walk down the hill to one of the loveliest beaches on the island, but it's a steep climb back up.
It's best to have your own transport if you want to do lots of exploring.
See our Baan Kantiang See review for more details and check the latest rates here.
Escape Cabins (Long Beach)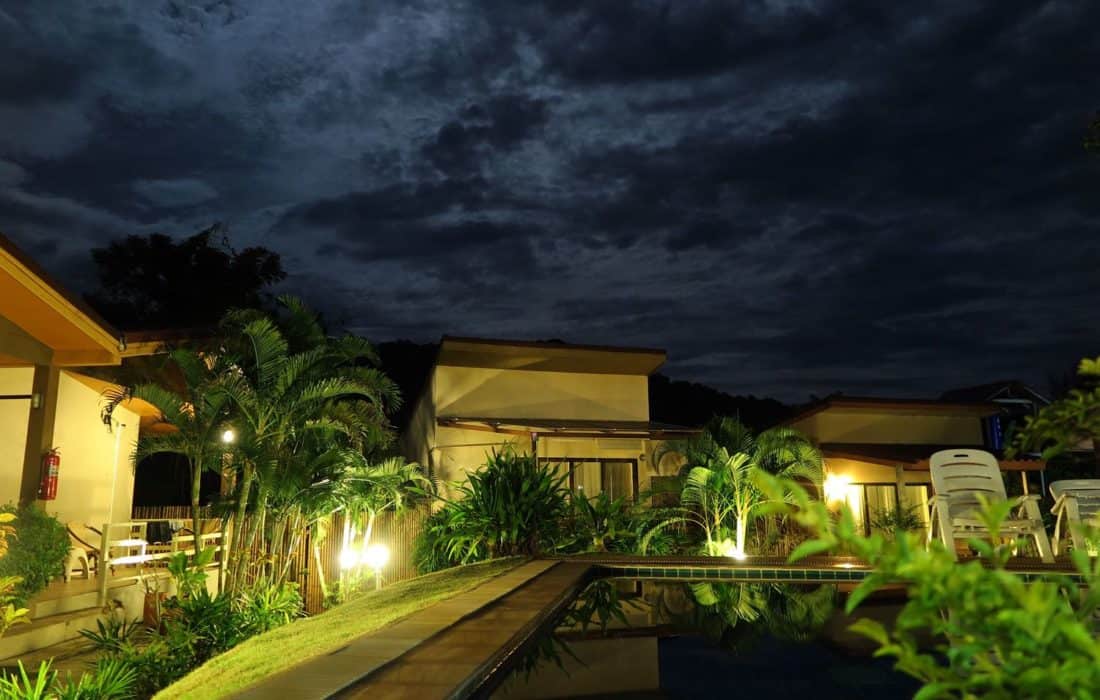 Recommended by Veronika of Travel Geekery
Escape Cabins is a wonderful Koh Lanta accommodation choice in the mid-range category. It's located within walking distance of Long Beach but on the quieter side.
A few of the bungalows feature a beautiful lush mountain view and there's a lovely pool to cool off in.
The bungalows differ in size and amenities. We stayed in the smallest one, but they also have large 'cottages' with an upper floor to accommodate a big family. Even the smallest bungalow features a kitchenette and a terrace.
Escape Cabins is managed by a lovely Japanese lady who is ready to give advice on boat trips, scooter rentals, and anything you might need on the island. We rented a scooter (with insurance!) through her too.
The WiFi can be spotty, especially the further away from the entrance (=the router) you are.
Koh Lanta Hotels Map
More Thailand Posts
Koh Lanta
Elsewhere in Thailand
If you enjoyed this post, pin for later!