This page contains affiliate links. Please read our disclosure for more info.
We were a little concerned at first. Baan KanTiang See Villa Resort is located a 30-minute drive down Koh Lanta's west coast, near the south of the island and far away from the island's hub of restaurants and shops. We felt even more isolated as we drove up and up a very steep hill at Kantiang Bay to get to the resort.
As soon as we reached the resort our first response was "wow" and we decided the location was perfect after all, with stunning views of jungle-covered hills leading into a golden curve of palm tree lined sand and green-blue sea.
We didn't want to be anywhere else and we soon realised why it's considered one of the best Koh Lanta hotels.
Contents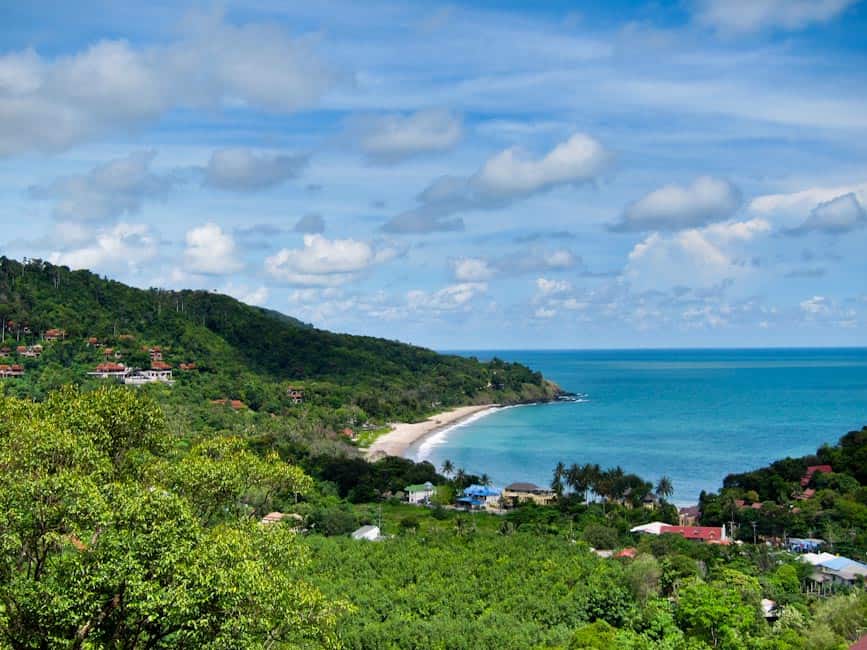 Arrival
After a welcome drink we were taken to our villa, and as we approached we couldn't believe the whole place was just for us. As we walked inside it was another "wow" moment when we saw the astonishing sea views from the spacious living room.
We knew instantly that Baan KanTiang See was somewhere special and as we explored our villa we fell in love even more and knew that it was going to be very hard to leave.
The Villas
There are only eight villas at Baan KanTiang See so it's a peaceful, intimate resort with a shared infinity pool (more on that later).
You feel close to nature with flower-filled gardens, the sounds of birds and cicadas, and monkeys playing on your terrace in the early morning.
Living Room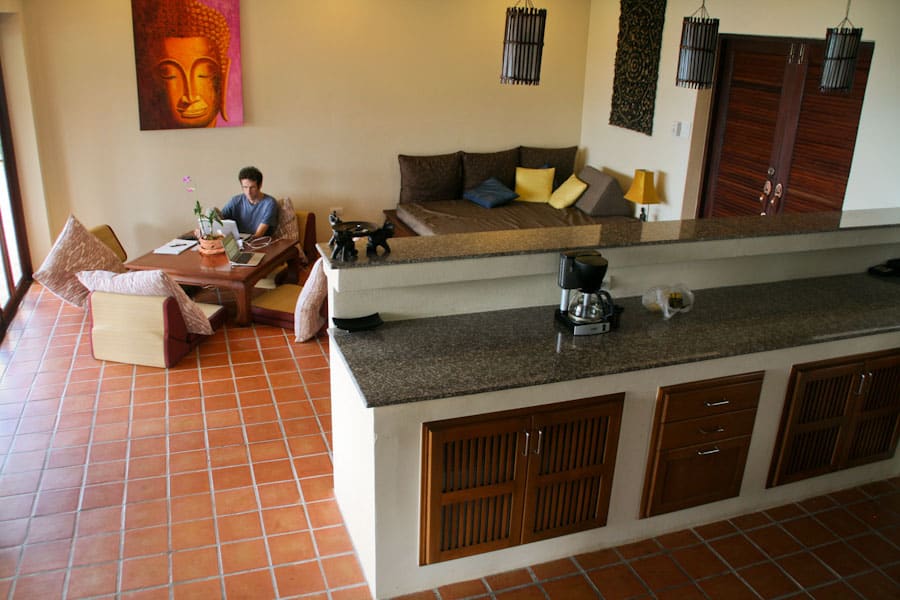 The villas are very large with two double bedrooms and two bathrooms. The spacious open plan living room and kitchen are bright and airy with double height ceilings and glass doors leading on to the terrace with sea views.
The décor is simple and elegant with terracotta floor tiles and Asian touches in the artwork and low table with cushioned seating.
The couch/day bed is massive and covered with cushions—just how we like it. There is certainly no shortage of places to lounge and the terrace provides plenty more options.
There's also a flat screen TV and the fast WiFi. There's no A/C in the living areas (there is in the bedrooms) but there are two good fans.
The glass doors open the full width of the room and with the hilltop breeze the heat is not usually a problem, but we were there in the hot season and A/C would have been nice in the afternoons.
Still, the heat was an excuse to jump in the infinity pool!
Kitchen
The kitchen is huge with lots of worktop space and cupboards, a real gas hob (it's usually electric in Thailand), coffee maker, blender, rice cooker, microwave, toaster and plenty of pots, pans and plates. The only thing missing is an oven but these aren't common in Thailand.
We also appreciated that some basic supplies and food were provided including washing up liquid and sponges, condiments, coffee, soft drinks and a beer, and a loaf of bread, eggs and ham for breakfast.
There's also a big container of filtered water which the staff replace when needed—we loved not having to worry about drinking water.
If you don't feel like cooking, the resort provides a home delivery menu from some of the local restaurants and you can just call reception to order.
Bedrooms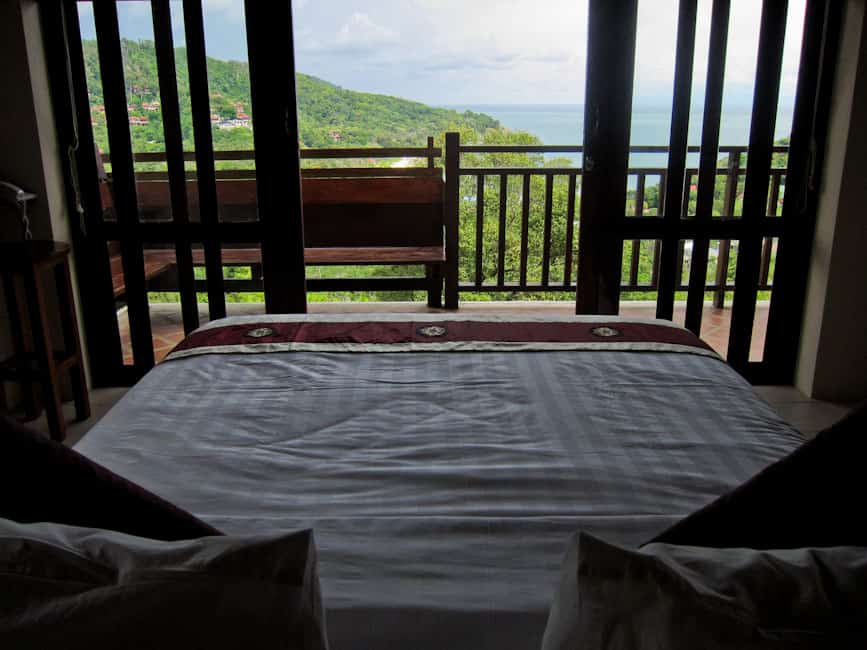 The bedrooms are stylish with high ceilings, a very comfortable double bed (with lots of pillows), wardrobe and day seat.
The stand out feature is the view. You can lie in bed and look out at the sea or the stars at night. The lightweight bamboo blinds provide enough privacy but also enable you to see out. The sun wakes you naturally in the morning and we loved waking up to that view.
The bedroom glass doors lead directly on to the terrace. The second bedroom has the same amenities and view, plus an ensuite, and the room is accessed from the other end of the terrace so feels quite private.
Bathroom
The main bathroom is made up of three separate rooms—the central sink area with lots of storage, the toilet, and the large outdoor shower where you can enjoy views of the trees and hills as you shower.
We loved the choice of two shower heads—a big rain shower head and a detachable one that's useful for washing sandy feet.
Terrace
The terrace is one of the things we loved most about Baan KanTiang See. At 78 m2 it's bigger than most hotel rooms and runs the length of the villa with access from both bedrooms and the living room.
There are plenty of seating areas to choose from—comfy padded sunbeds, reclining chairs, full length floor cushions, and a large dining table seating six people.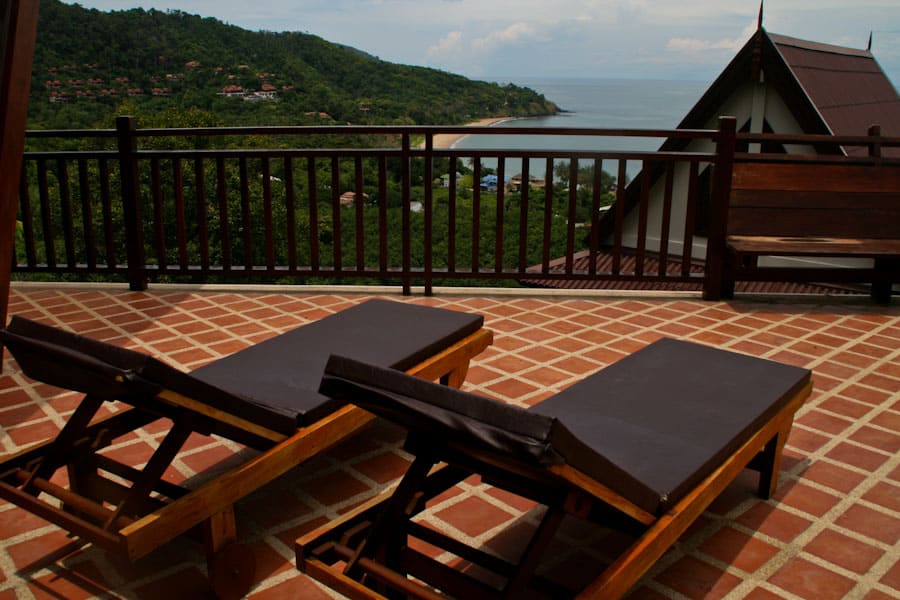 As the WiFi reaches the terrace we found this the perfect digital nomad office.
Facilities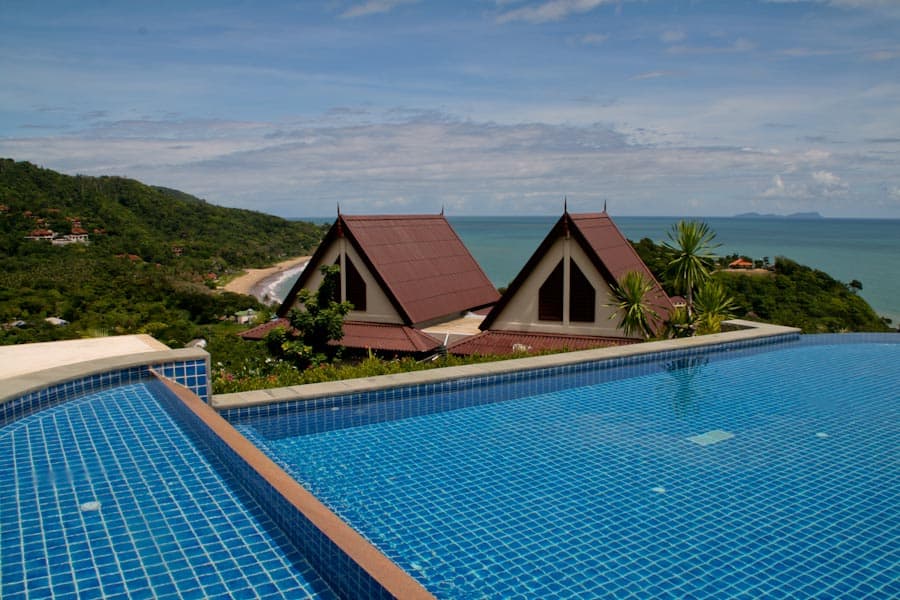 The helpful reception staff can arrange laundry, book trips and transport, and order food.
The only resort facility that really matters to us is the pool and Baan KanTiang See has an amazing one.
The infinity pool is shared with the other villas but we usually had it to ourselves. It was wonderfully relaxing swimming towards the sea and gazing out at more incredible views. We passed many blissful hours here.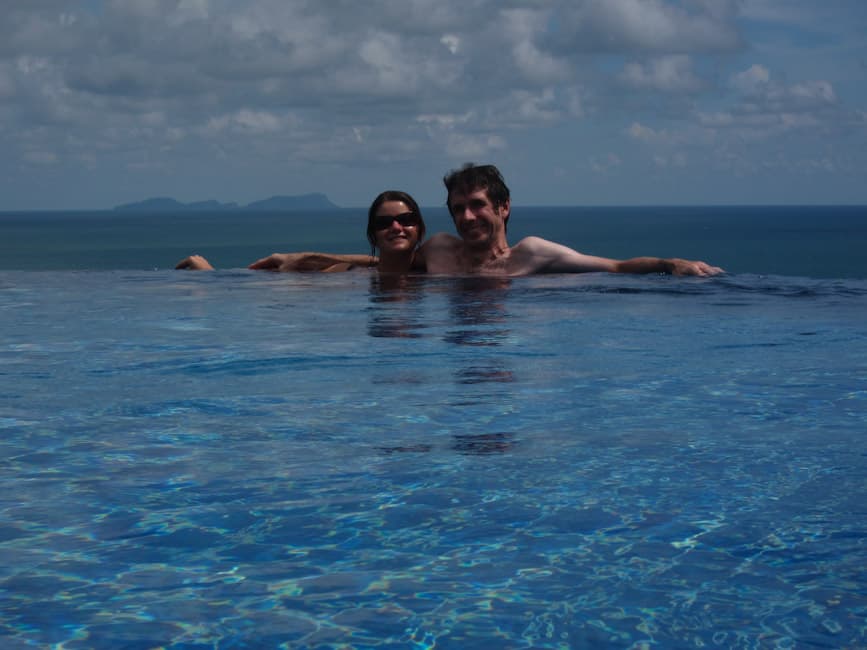 We also liked the seating area in the pool where you could cool down and read a book or turn on the jets to transform it to the "jacuzzi seat".
There are deckchairs by the pool but no sunbeds—you have these on your terrace though.
Area
Despite our initial concerns we loved the location of the villas. It feels very natural surrounded by jungle-covered hills and, of course, those amazing sea views.
It's a 10-minute walk down the hill to the beach and village. Kantiang Bay is one of the best beaches on Koh Lanta—a 2km stretch of golden sand that is never crowded.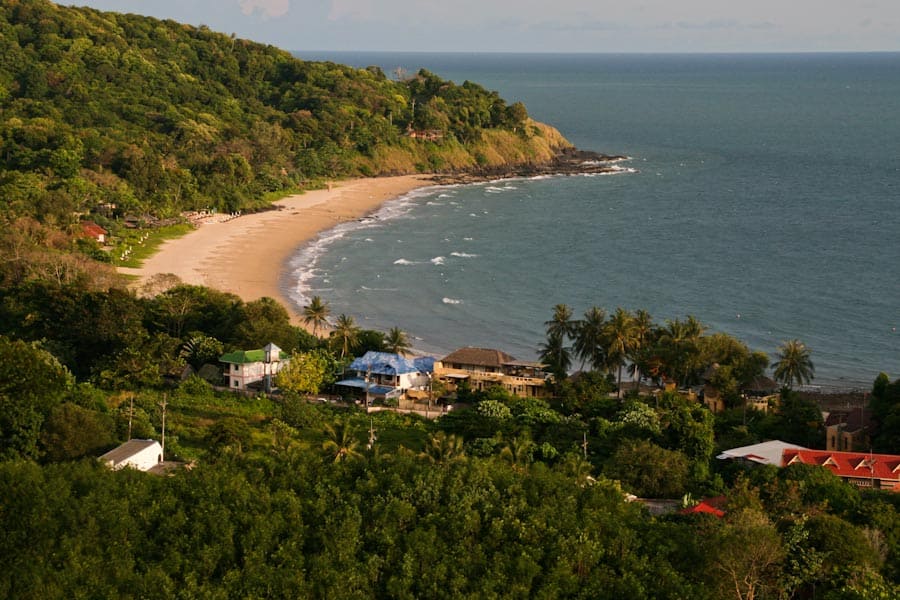 The village has a few restaurants and shops including a 7-Eleven and the excellent Drunken Sailors, which does tasty Thai food, sandwiches, burgers, smoothies and coffee. It's very vegetarian-friendly.
There are a few bars on the beach, but this isn't the place to come for partying.
There are plenty of opportunities for day trips if you can tear yourself away from the villa. We organised an excellent day scuba diving with Scubafish who are based at Kantiang Bay, and we went island hopping, kayaking, snorkelling, and swimming through the Emerald Cave on the 4 Island boat trip with Freedom Adventures who are also locally based. Most tour operators will pick you up from Baan KanTiang See.
Read our guide to the best things to do in Koh Lanta.
Other trips we recommend if you rent a scooter or car (or arrange a taxi) are to the even quieter Waterfall Beach south of Kantiang Bay and to the National Park at the southern tip of the island for hikes, a lighthouse, and an empty beach.
We do recommend having your own transport as it will enable you to explore the island and the walk up the hill to the villas is very steep—not fun in the heat of the day. The resort rents automatic scooters for 300 baht a day, but we negotiated a weekly rental with a travel agent in the village for 1000 baht.
Video Tour
Watch this video for a tour of our villa at Baan KanTiang See.
Summary
We loved Baan KanTiang See – it's a truly special place where you feel at home in a tropical location. The villas are spacious, very comfortable, and we couldn't get enough of that "wow" view.
Highs
Huge, comfortable villas.
Gorgeous sea view from every room.
Peaceful setting.
Massive terraces with generous seating.
Beautiful infinity pool.
Well-equipped kitchens.
Fast WiFi.
Friendly staff.
Monkeys!
Lows
Steep hill to get here.
No hand towels were provided although bath and pool towels were.
It's not on the beach.
No A/C in the living area.
Recommended for: Families and couples looking for a relaxing retreat without giving up home comforts. It's also very digital nomad friendly with plenty of comfortable places to work and fast WiFi.
Location
Baan KanTiang See Villa Resort is located at Kantiang Bay on the southwest coast of Koh Lanta. You can reach Koh Lanta in 2-3 hours from Krabi by private or shared minibus or ferry. You can get to Krabi by overnight bus or short flight from Bangkok.
Cost
A villa costs from 5000 baht ($162) in the off season (May-October) which for a family or two couples is good value. The villas can accommodate up to eight people (maximum four adults) with extra mattresses available.
Click here to see the latest prices at Baan KanTiang See.
If you are looking for a more traditional resort at Kantiang Bay, see our review of the luxurious Pimalai Resort in our post on the best places to stay on Koh Lanta.
This post was originally published after our stay in 2012 and was updated in 2019.
Thank you to the lovely staff at Baan KanTiang See who provided our villa.