This page contains affiliate links. Please read our disclosure for more info.
We fell in love with scuba diving on our first dive. We were a few metres under the sea off the coast of India's remote Andaman Islands and had just finished our training exercises when we came across a turtle.
He hovered calmly, chewing away at the coral, entirely unconcerned with our presence, before turning and swimming away, unaware that he had provided us with some of the most magical minutes of our lives.
We were hooked.
We ended up diving 20 times around the world on our year long trip in 2008, but we haven't had the opportunity since then and had almost forgotten how much we loved exploring the underwater world.
As scuba diving is one of the best things to do in Koh Lanta in Thailand's Andaman Sea, we were determined to get back under the water. Although we were terrified that we'd completely forgotten how to dive. Maybe it would all come back to us, but that's not something we wanted to risk finding out in the ocean 18 metres below the surface.
We needed some help.
Scubafish are one of the most respected scuba dive operators on Koh Lanta and were conveniently located near our Baan Kantiang See villa at Kantiang Bay. See our Koh Lanta hotels guide for more recommendations for places to stay.
Our first impressions of Scubafish were good—groups are no bigger than four people per dive master and, not only do they warn against feeding fish or touching anything underwater, but they actively engage in conservation projects like releasing clownfish and organising underwater cleanup events.
So we booked a refresher dive with them.
We were used to diving with basic dive operators, where we have to set up our own gear and lug it out to the boat (and diving gear is heavy!). The boats themselves were invariably small and we usually had to enter the water by throwing ourselves backwards over the side. We'd also had some negative experiences with dive masters that we didn't feel confident with and who engaged in unethical practices.
There was none of that here. Scubafish are by far the most professional diving operator we have dived with.
Their medium sized boat is big enough to have a toilet and plenty of space to spread out.
They take care of everything for you and their prices include all that you might need for a good day's diving—dive gear, pick up/drop off at your hotel, water and soft drinks, a chocolate croissant breakfast, lunch, and towels.
We were the only two in our group with our dive instructor Sara. On the boat out to the dive site she gave us a short quiz to refresh our knowledge, went through setting up our gear, and briefed us on the dive.
We covered the exercises we'd be doing and, more importantly, looked at photos of the fish we might see. By this point we were rather nervous, but her reassuring manner gave us confidence.
When we arrived at the Koh Haa dive site it couldn't have been more inviting – crystal clear turquoise water surrounded by craggy limestone islands.
Dive 1
We geared up, staggered clumsily under the weight to the end of the boat (there is no elegant way to walk in flippers) and stepped in. Soon we were going under and trying not to freak out at the unnatural feeling of breathing underwater.
Sara guided us to a sandy patch and we knelt down to begin our refresher exercises: testing our buoyancy; removing and recovering our regulator (yes, our air source!); and allowing water to enter our mask so we could practice clearing it.
It was all going so well until that last one. For some reason I just couldn't get the water out.
After a few attempts I had a minor panic, and like a newbie diver my first instinct was to get to the surface. Sara kept me calm though and talked me through it (which was an impressive feat underwater).
All along she was supportive and encouraging – giving us high fives when we successfully completed a task.
It didn't take long to finish the exercises and soon we were on to the fun part – exploring Koh Haa's lagoon. The visibility was incredible—more than 30 metres—and there was lots to see.
During the exercises we were focused on the act of diving, all too conscious of the most unnerving fact we were breathing underwater, but when we swam around our focus shifted to the otherworldly place we were now a part of. At that point, it was easy to relax and enjoy the ride.
We saw thousands of fish – small and large, of all colours. From Nemo the clownfish, to the cute puffy porcupine fish, hundreds of angelfish, and powderblue surgeonfish. We also saw a two metre long sea snake and a moray eel poking out of its coral hideaway.
One of the many highlights was swimming through a school of dozens of silvery barracuda and watching in amazement as they began to circle us.
Dive 2
Diving is hungry work. After the first dive, we took a break for a hot lunch aboard the boat.
There are a number of dive sites at Koh Haa so it was a short trip around the corner for our next one at Haa 1, which as it turned out was even better than our first.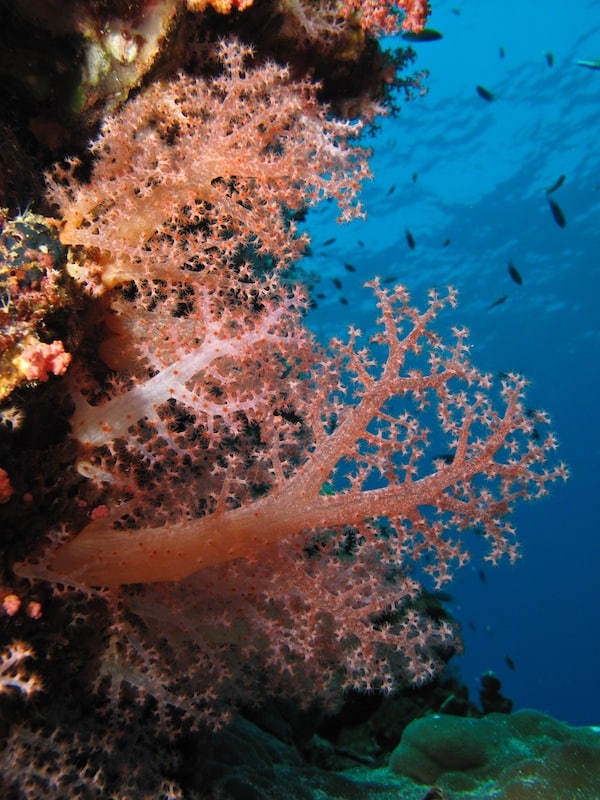 We swam along a giant wall of coral, a kaleidoscope of colour, with deep blue sea on one side and an underwater garden teeming with life on the other. Thousands of colourful fish swam through the delicate purple and white soft coral.
We saw grumpy titan triggerfish, shimmering green and blue as they munched on coral; stripy orange clownfish staying close to their protective anemone; black, yellow and white striped moorish idols slicing through the water, its fin trailing elegantly behind; and the cute spotted boxfish puffing up its tiny yellow body and swimming with minute, entirely insufficient looking fins.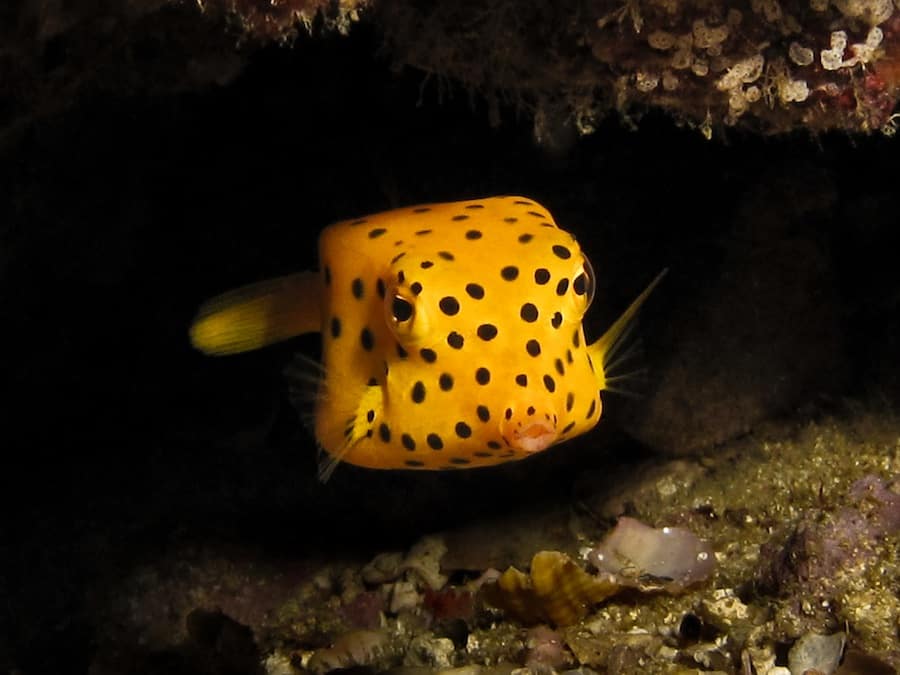 The big-ticket items are always fun, but there is just as much beauty in the small things. Sara encouraged us to stop, be still and look in one place to discover tiny hidden creatures like the vibrant nudibranch and bright blue sea slugs.
The highlight of our second dive was swimming through a narrow cavern called The Chimney. We entered the dark cave, pitch black at first but as we swam up through the passageway and looked up, the entrance was illuminated by light, glowing blue and with the silhouettes of hundreds of fish above us.
When we travel we seek the exotic, for experiences different from what we know. You can't really get more different than life under the sea and we highly recommend giving diving a try—it's a whole new way of exploring a place.
Summary and Costs
Scubafish Koh Lanta were the perfect dive operators and they are an excellent choice whether you want to try diving for the first time or are experienced underwater.
A one day dive trip with two dives costs 4600 THB ($150) including equipment rental and all other costs (boat, food, marine park fees, towel etc.). They aren't the cheapest option on Koh Lanta, but you get what you pay for with personalised service and quality gear. There are discounts for multiple days of diving.
All photos are by Natasha Lambelin from Liquid Lense, the underwater photography specialists.

Thanks to Sara and all the wonderful folks at Scubafish who provided us with this excellent day's diving.
This post was originally published after our dive in 2012 and was updated in 2019.