This page contains affiliate links. Please read our disclosure for more info.
While staying on Koh Lanta we took the 4 Islands boat trip with Freedom Adventures to explore the nearby Trang islands.
We spent the day snorkelling over coral reefs, kayaking through turquoise waters, and relaxing on quiet beaches, all while enjoying the gorgeous craggy limestone scenery.
The highlight was visiting the Emerald Cave at Koh Mook. It's a popular attraction so we waited on our boat outside the entrance of the cave for a quiet moment so we could avoid the large tour groups of Thais, who swam in a row, clinging to the life jacket of the person in front of them.
Waiting in this gorgeous location was no hardship, though, and Simon occupied himself by jumping into the sea from the top of the boat.
Finally, it was our turn and we swam inside the entrance to the cave. We saw straight away how the cave got its name—at the entrance where the light shines into the water it glows an emerald green, clear and brilliant.
As we swam further into the cave it became pitch black and the occasional screams of another swimmer somewhere in the darkness added to the eeriness. Simon and I tried to cling to each other so we wouldn't get lost, but swimming while holding hands is tricky.
We reached the end of the cave and emerged into the bright sunshine to see the astonishing sight of a hidden white sandy beach in a small isolated bay with limestone cliffs towering above.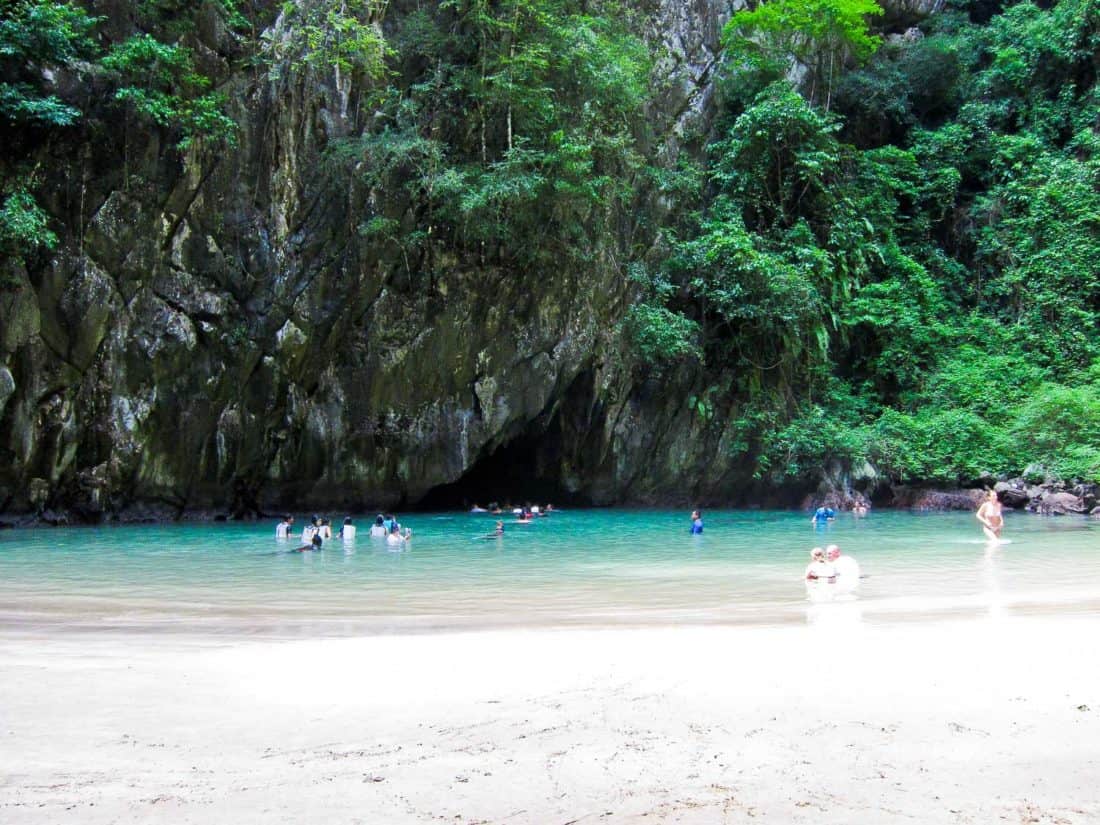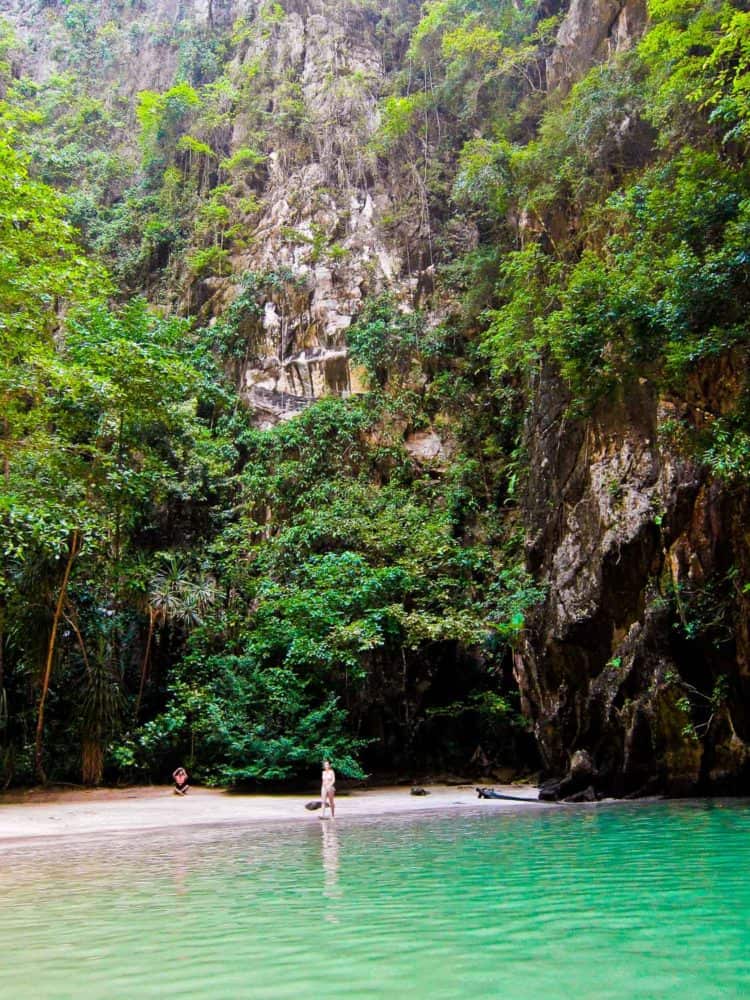 The beach can only be reached when the tides are low enough, and its isolated location made it a perfect hiding place for pirates' booty in the past.
We have never been anywhere like it and the swim through a dark cave only added to the adventure. It made the perfect end to a fun day of island hopping.
4 Island Boat Trip Details
There are many 4 Island boat trips from Koh Lanta to choose from, but we chose Freedom Adventures because their boat is large and comfortable (with a toilet), they limit groups to 16 people (there were only 4 of us in low season), and they bring kayaks. Our guide Ned was friendly and helpful and we had a hot Thai lunch cooked aboard the boat.
A full day boat trip costs 1600 baht ($51) per person including pick up/drop off from your hotel, lunch, fruit, water, soft drinks, kayaks, snorkelling gear and national marine park fees.
The 4 islands are closed from June to September.
If you are looking for a hotel on Koh Lanta, see our guide to where to stay in Koh Lanta with options for all budgets.