This page contains affiliate links. Please read our disclosure for more info.
Koh Lanta is the perfect Thai island for us. It's not too developed or crowded but has enough facilities to live comfortably.
We love the laid-back atmosphere, long empty beaches, jungle-covered mountains, and spectacular sunsets.
There are plenty of places to eat and things to do in Koh Lanta, and there's accommodation for all budgets.
We've visited three times and spent over five months on the island. It's the ideal island for both holidaymakers and digital nomads.
Below you will find our detailed Koh Lanta guide which includes our best tips on what to do in Koh Lanta, places to eat, where to stay, and how to get there. There is also a handy map with everything mentioned.
Contents
Koh Lanta Highlights Video
Take a video tour of some of Koh Lanta's highlights to see why we love it. It features the national park, many beaches, Khlong Dao Monday market, and a boat trip to Koh Rok.
The Best Things To Do in Koh Lanta Thailand
1) Tour Koh Lanta Island by Scooter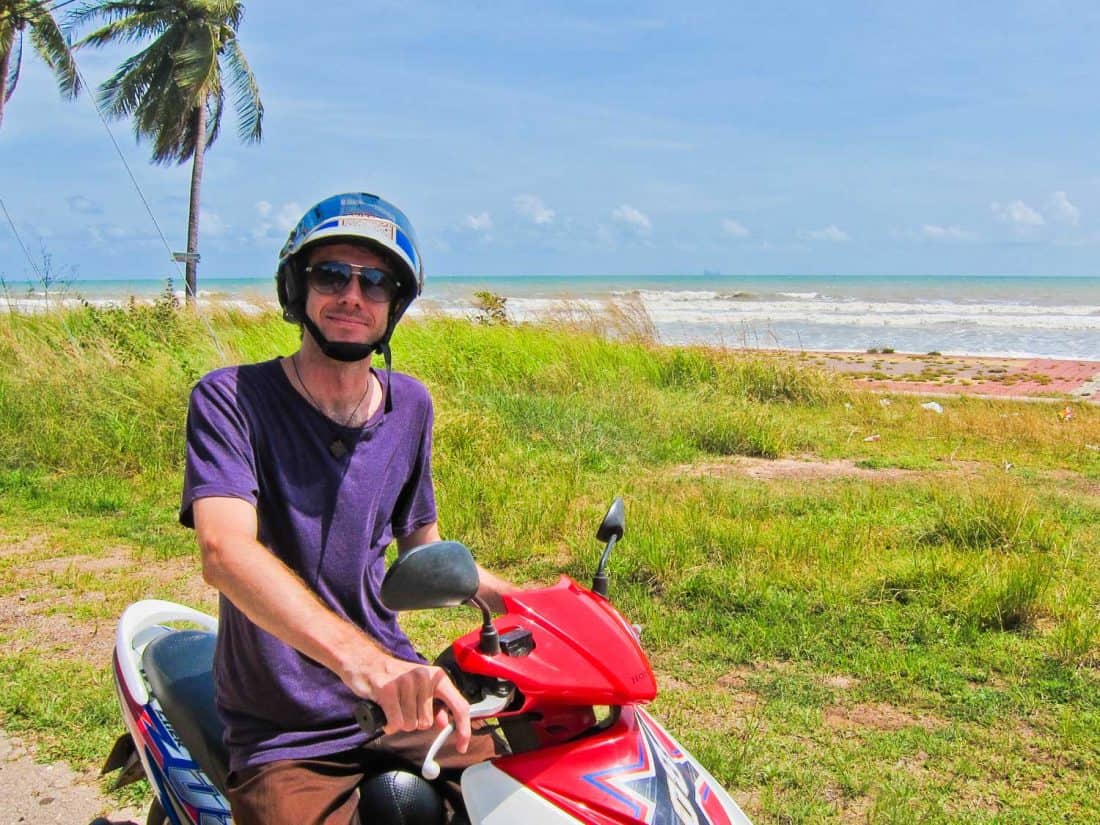 We do love zipping around on a moped, and Koh Lanta is a great place for it (much easier than the crazy roads on Koh Jum or in the busy cities).
Koh Lanta is quite a large island (27 km long) so having your own transport makes it easy to explore.
The roads are mostly paved (although with plenty of potholes), there is no traffic, and it's hard to get lost when there's only one road that goes around the island and a couple that cut across it.
If you rent a moped, you'll be able to explore many of our Koh Lanta itinerary suggestions below, but it's also just fun to drive around enjoying the views and stopping off at quiet beaches.
If you don't want to hire a motorbike, you could rent a car (much more expensive) or bicycle (but be prepared for the heat and big hills in the south).
You could also take a local taxi—a tuk-tuk with a sidecar attached to a motorbike, but this will be more expensive.
Read our Koh Lanta scooter post for tips on learning to drive and renting a bike.
If you rent a motorbike make sure your travel insurance covers you as accidents do happen. We recommend SafetyWing, which is available worldwide and covers riding a motorbike.
It's affordable (kids are even free!) and is ideal if you are on a longer trip as you can pay monthly.
You can purchase it outside your home country, so if you forgot to buy insurance before you left home, there's still time to buy a policy.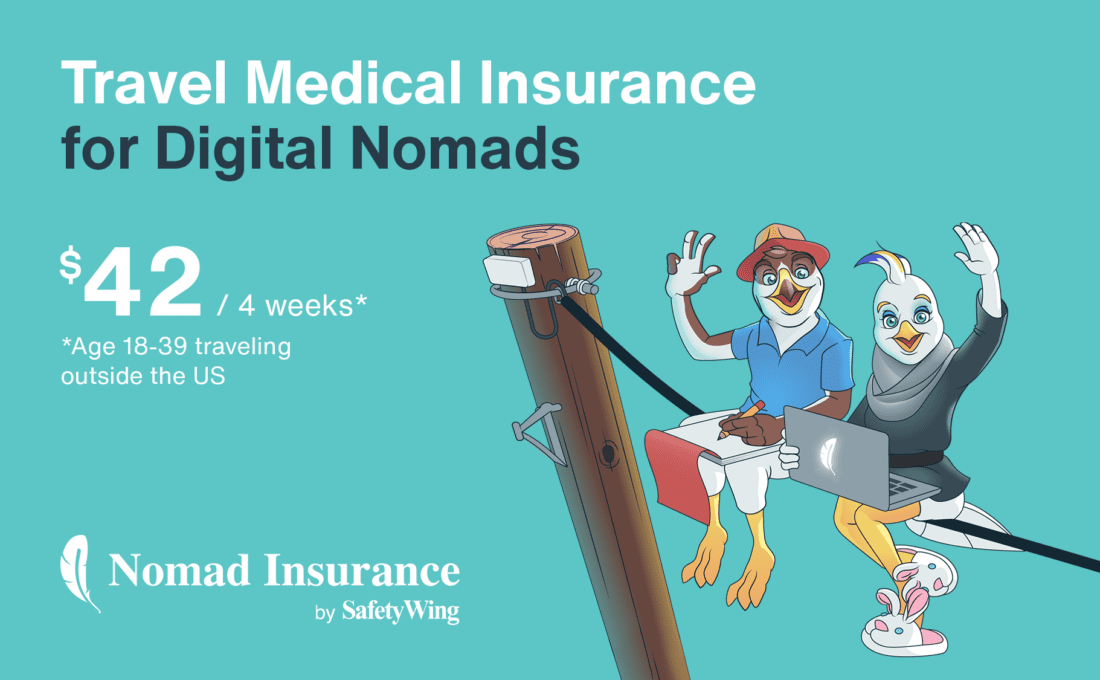 True Traveller is another option for UK and EU residents. My SafetyWing travel insurance review has a comparison of the top insurers.
2) Take a Walk on Long Beach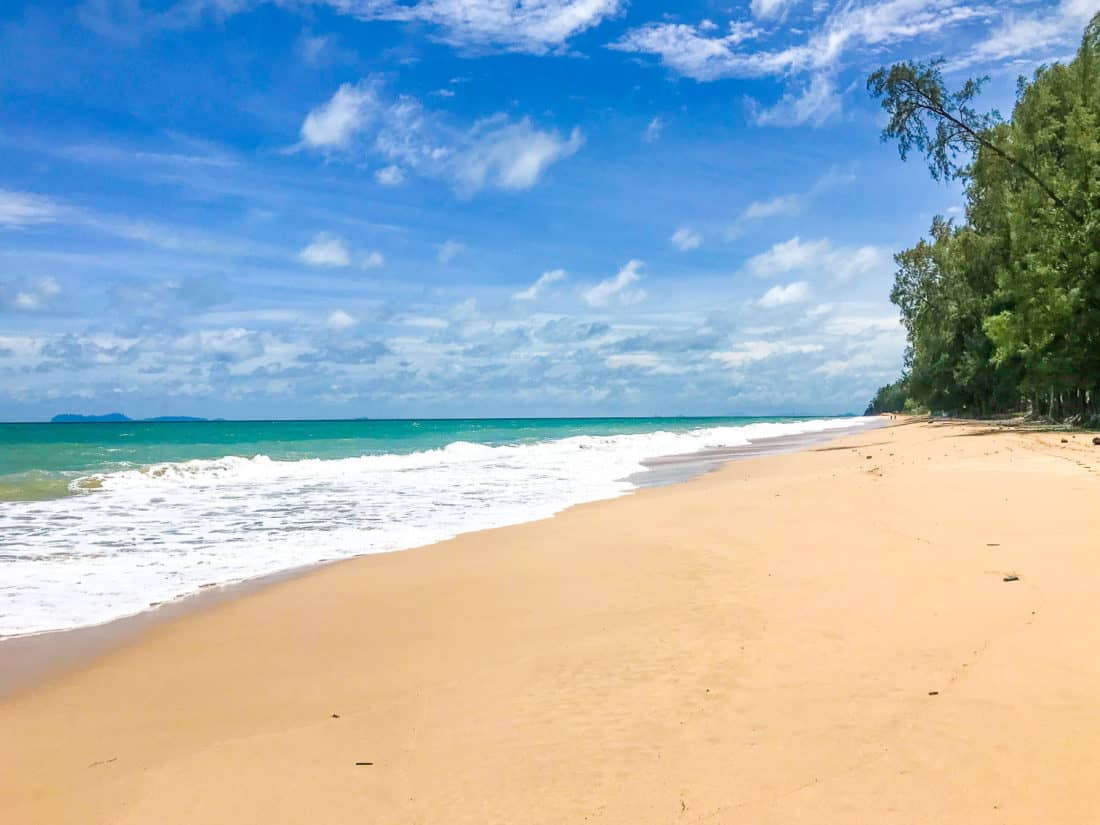 Long Beach (Pra-Ae) is the longest and one of the most attractive Koh Lanta beaches.
It's in the north of the island and is a great place to stay if you want to be close to the action as there are plenty of restaurants and a wide range of accommodation—see our post on the best Koh Lanta hotels for recommendations.
The golden sand is backed by casuarina trees and the warm clear water is perfect for swimming.
It never gets too busy as there's plenty of space for everyone. We love walking here at sunset.
Just south of Long Beach you can find the lovely small bays Relax Bay and Lanta Secret Beach (also known as Beautiful Beach).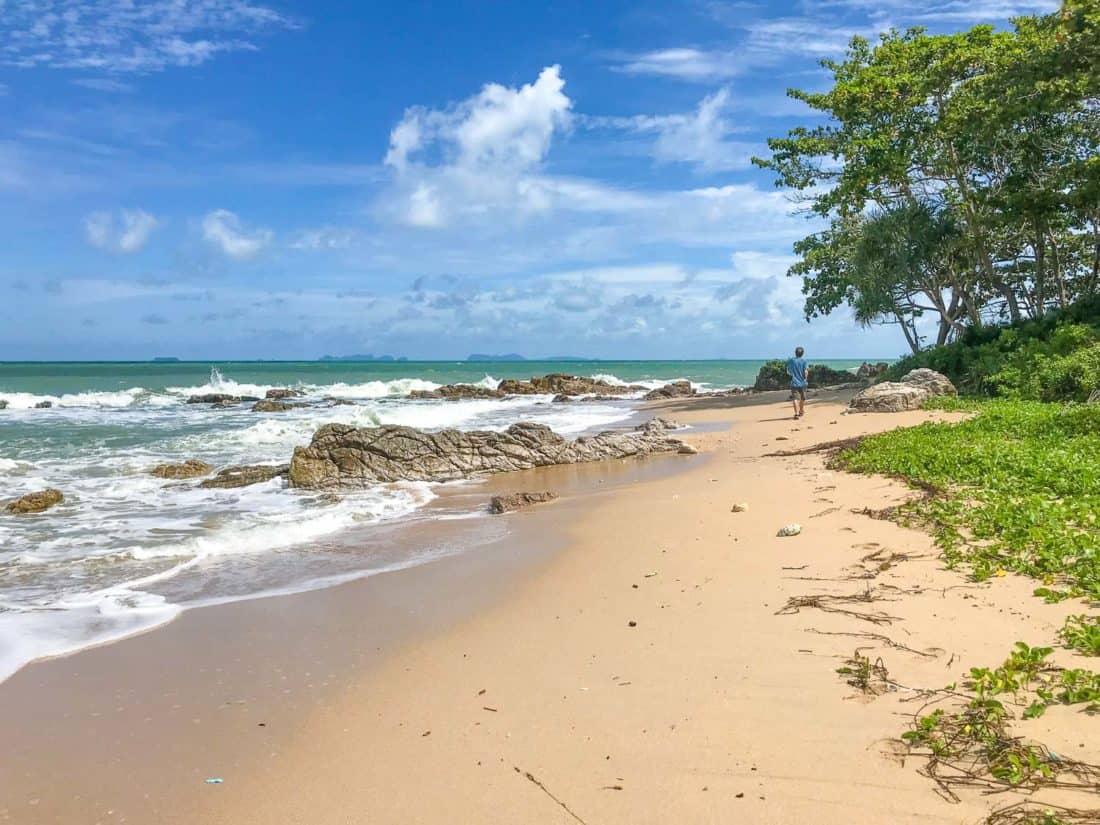 3) Laze on Koh Lanta's Southern Beaches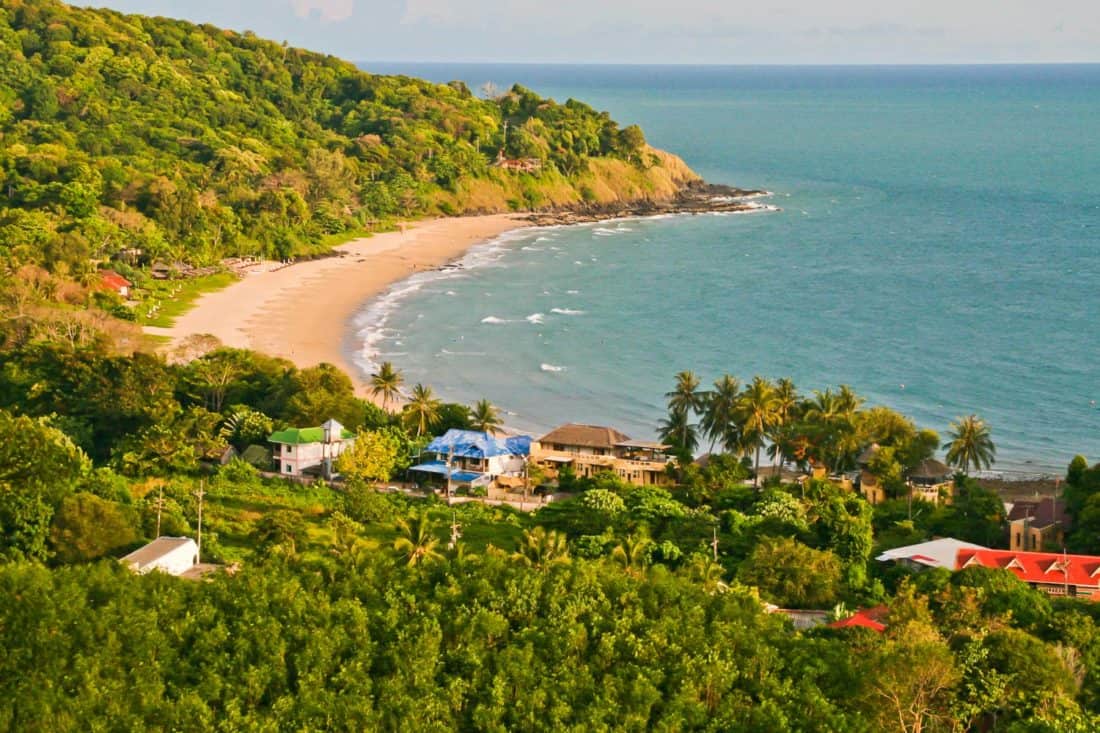 Koh Lanta beaches get quieter and even more beautiful the further south you go along the west coast.
Our favourites for day trips are at the very south—Kantiang Bay, Waterfall Bay (Ao Klong Jark) and Bamboo Bay (Ao Mai Pai).
You can combine a trip to Waterfall Bay with a hike to the nearby waterfall.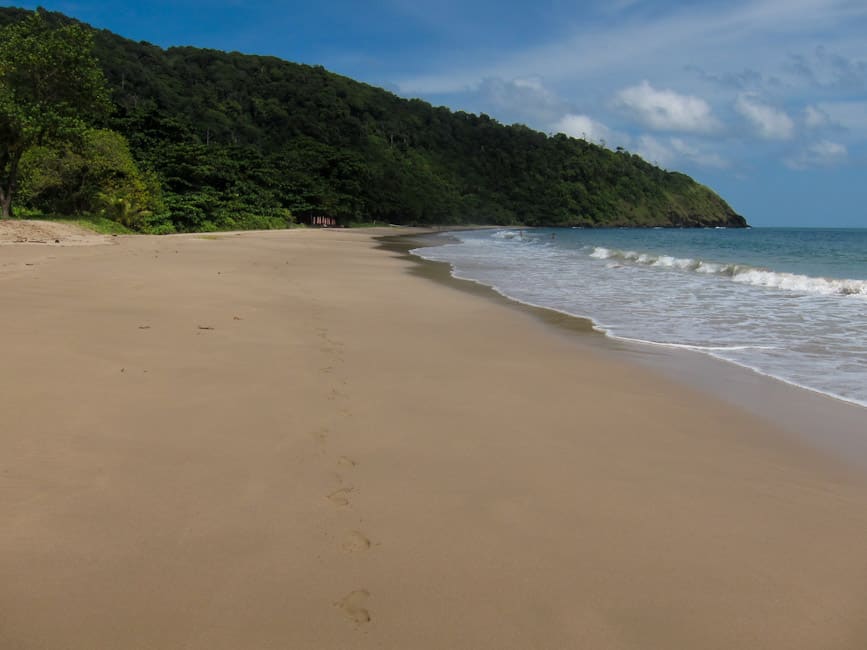 4) Explore Koh Lanta National Park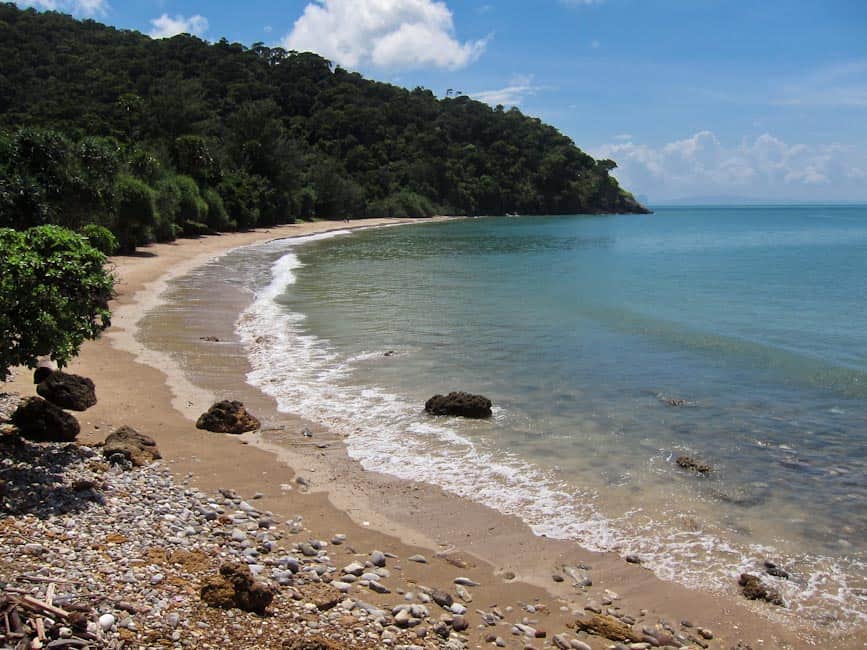 For another beautiful empty beach keep driving even further south until you reach the end of the road at Koh Lanta's National Park.
There's an entrance fee (200 baht/ $5.60 adults, 100 baht/ $2.80 for children 3-14 years), but you can then hike trails, visit the lighthouse, and relax on the beach.
Just watch out for the monkeys though—Simon got attacked by one that was trying to get into our bag in search of food. And please don't feed the monkeys and encourage this kind of behaviour.
If you do get scratched or bitten by a monkey (or dog) you'll need to get a rabies vaccination straight away and then four more at intervals over the following month.
5) Stroll Around Koh Lanta Old Town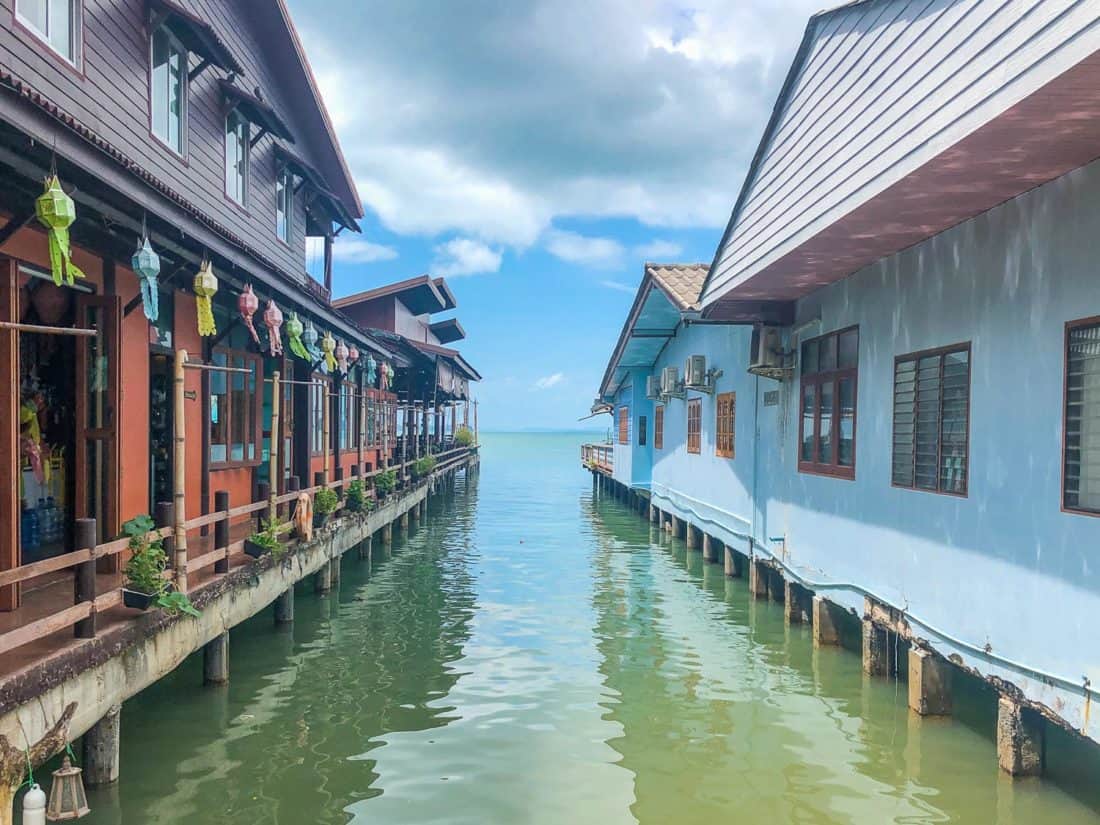 The west coast is where all the beaches are, but we also enjoy visiting the less developed east coast over the lush green mountains.
It's quiet and peaceful here with a few small settlements of simple bamboo huts and the historic Old Town—a village of teak stilted houses overlooking the sea.
There are only a few shops and restaurants so it won't take long to explore, but it makes a good break from the beaches.
Why not combine a few of the above tips with this Ko Lanta: Old Town Sightseeing and National Park Tour, which includes hotel pickup and lunch?
6) Island Hop on the 4 Island Boat Tour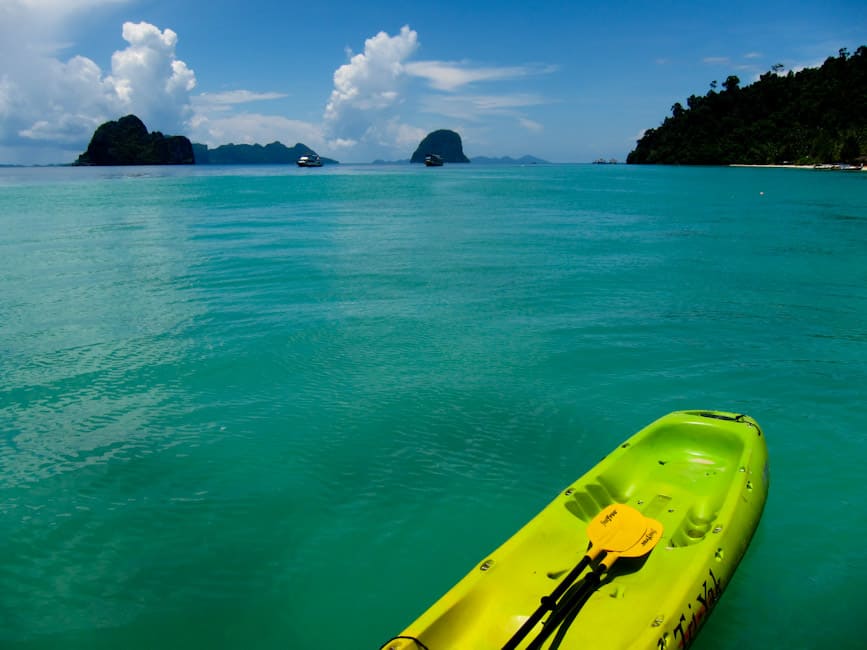 One of our favourite Koh Lanta activities was taking a day trip to visit the Trang Islands.
We spent the day snorkelling, kayaking, and island hopping around the gorgeous limestone islands.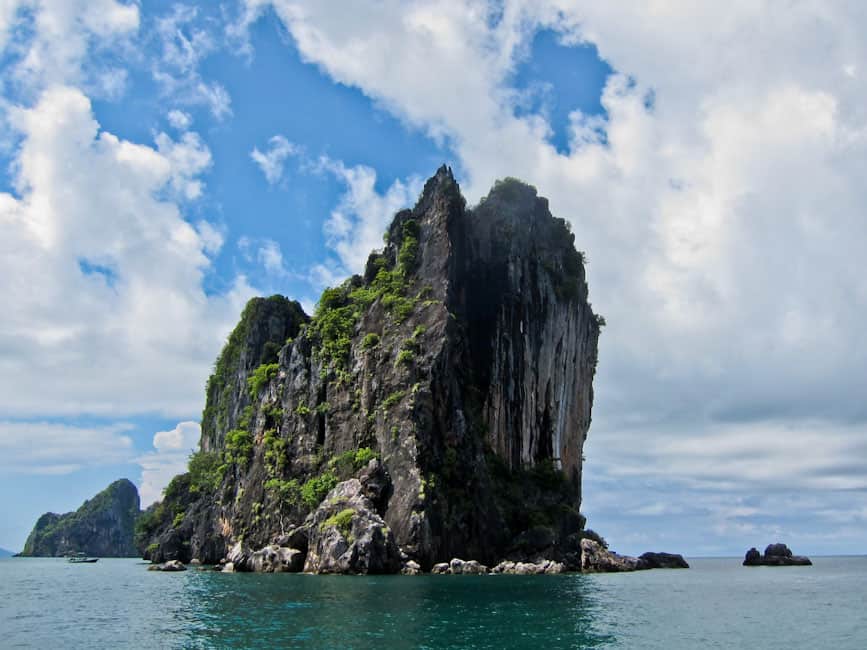 The highlight of the 4 island tour was definitely visiting the Emerald Cave.
Swimming through the cave the water really did glow emerald green before it became pitch black.
When we reached the other end of the cave we emerged into the sunlight to find a hidden white sandy beach surrounded by limestone cliffs. We've never visited anywhere like it.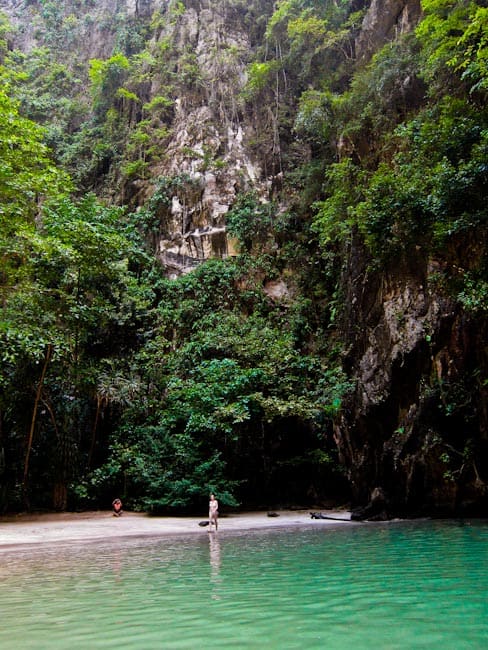 The tour company we did the trip with is no longer operating but there are many other options by speedboat or long tail boat.
Why not try this 4-Island Adventure Tour to Emerald Cave which includes snorkelling stops and a Thai buffet lunch.
Please note that the 4 islands are closed from June to September.
7) Go Snorkelling at Koh Rok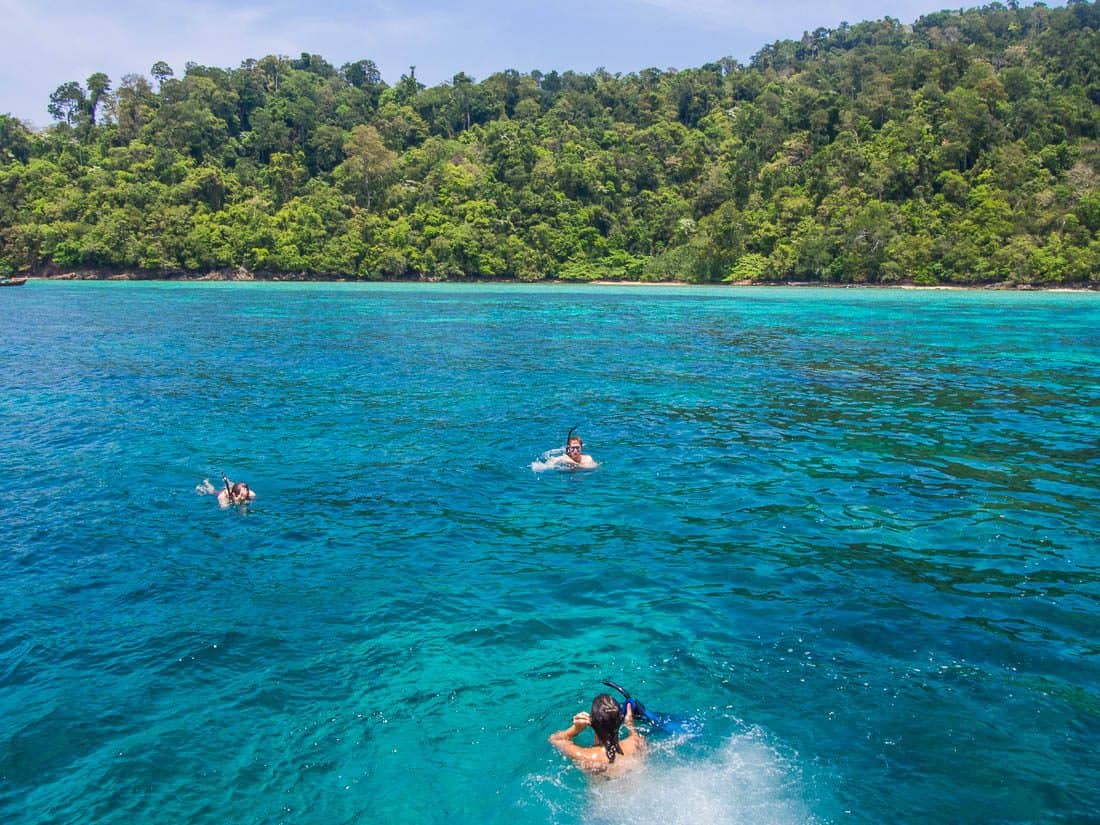 Another beautiful day trip from Koh Lanta is to Koh Rok, which has some of the best snorkelling in the area.
We chartered a boat here, and as there were six of us, this worked out only slightly more expensive than taking one of the group speedboat trips. Another advantage was that we got to visit quieter spots.
It took us about two hours to get to Koh Rok, but as we had plenty of space to relax, either undercover or on the sunny roof deck, this wasn't a problem.
During the day we had plenty of time at three different snorkelling spots, lunch onboard the boat, and time to relax on a private beach away from the other tour groups.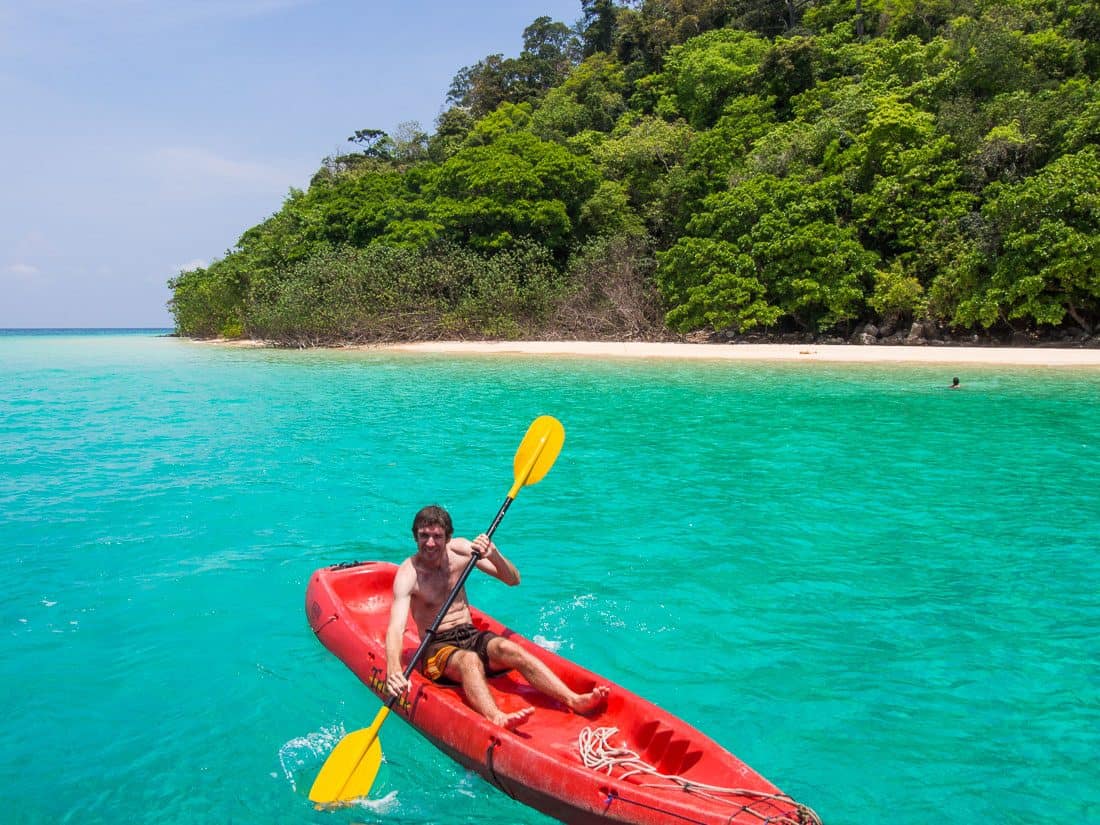 It was a true beach paradise with soft white sand and crystal clear turquoise water.
You can do camping trips to Koh Rok and it would be amazing to have this undeveloped island to yourself.
The snorkelling was decent, and we saw plenty of life including titan triggerfish, Moorish idols, false clownfish, and parrotfish.
If you only have time for one boat trip, I'd choose the Four Island trip to see the stunning Emerald Cave, but Koh Rok is also worth it.
If you are with a small group try this Koh Rok and Koh Ha Private Boat Tour which includes accommodation pickup.
Alternatively, this family-friendly Adventure Sea Tour to Koh Rok and Koh Haa, which includes pickup and lunch, is recommended.
8) Scuba Dive Into a Magical Underwater World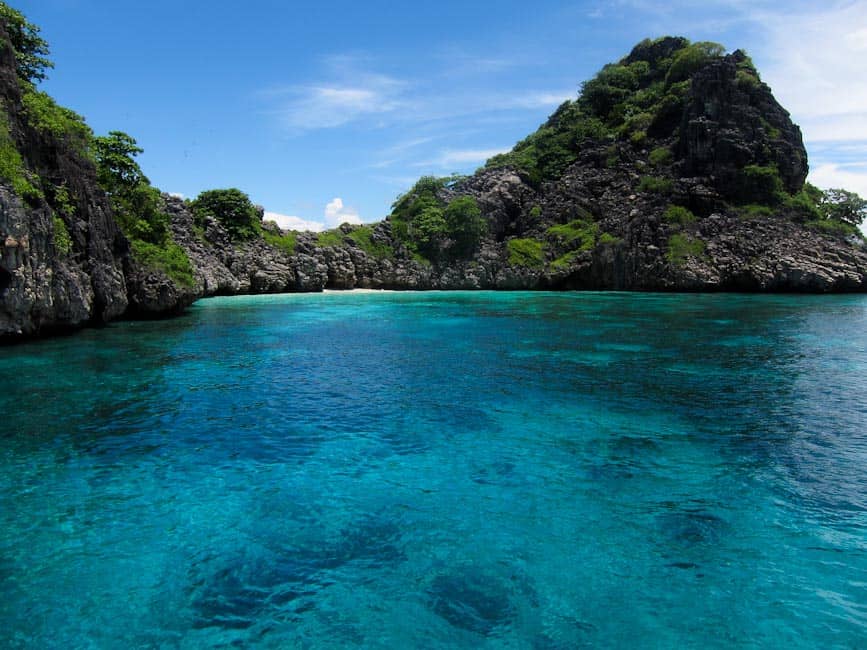 Although Koh Lanta isn't as well-known a diving destination as Koh Phi Phi or Koh Tao, it has some of the best dive sites in Thailand.
After our brief refresher course, we did two dives at Koh Haa.
The visibility was an incredible 30 metres, and we were able to fully appreciate the thousands of colourful fish and vibrant corals.
A highlight was swimming up through a narrow cavern known as The Chimney.
It's really a magical world underwater and we'd definitely recommend giving scuba diving a try.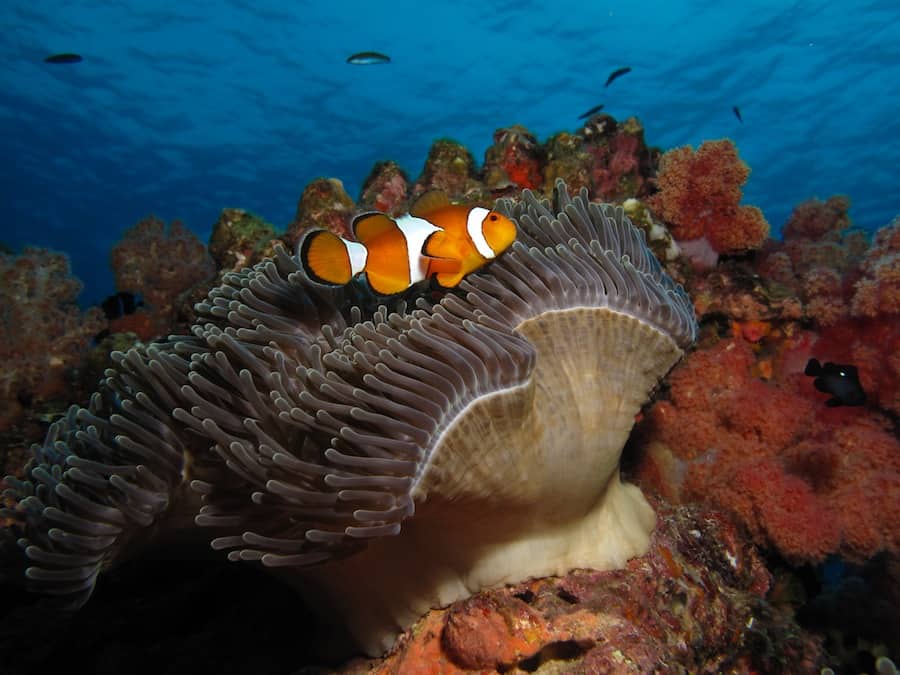 We dove with Scubafish, who have now closed. Another option is Phoenix Divers who offer this small group Koh Lanta Scuba Dive tour with an instructor, which includes pickups and lunch.
9) Watch a Mesmerising Sunset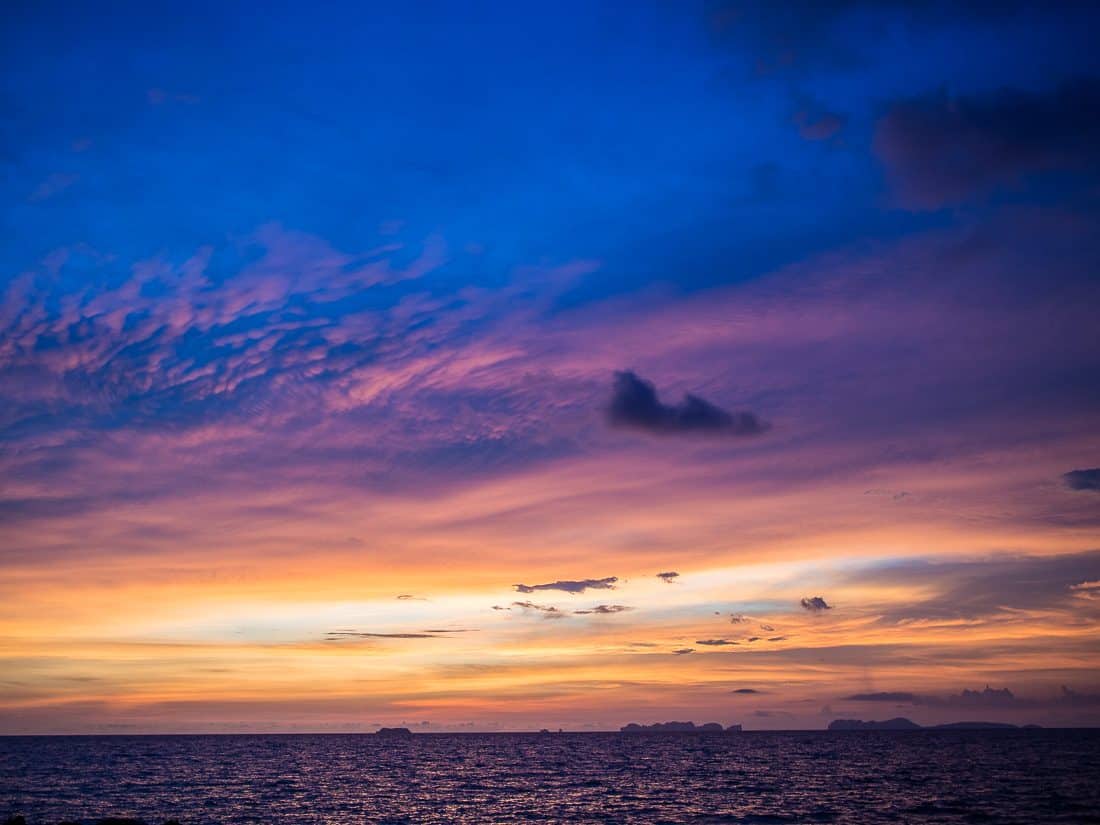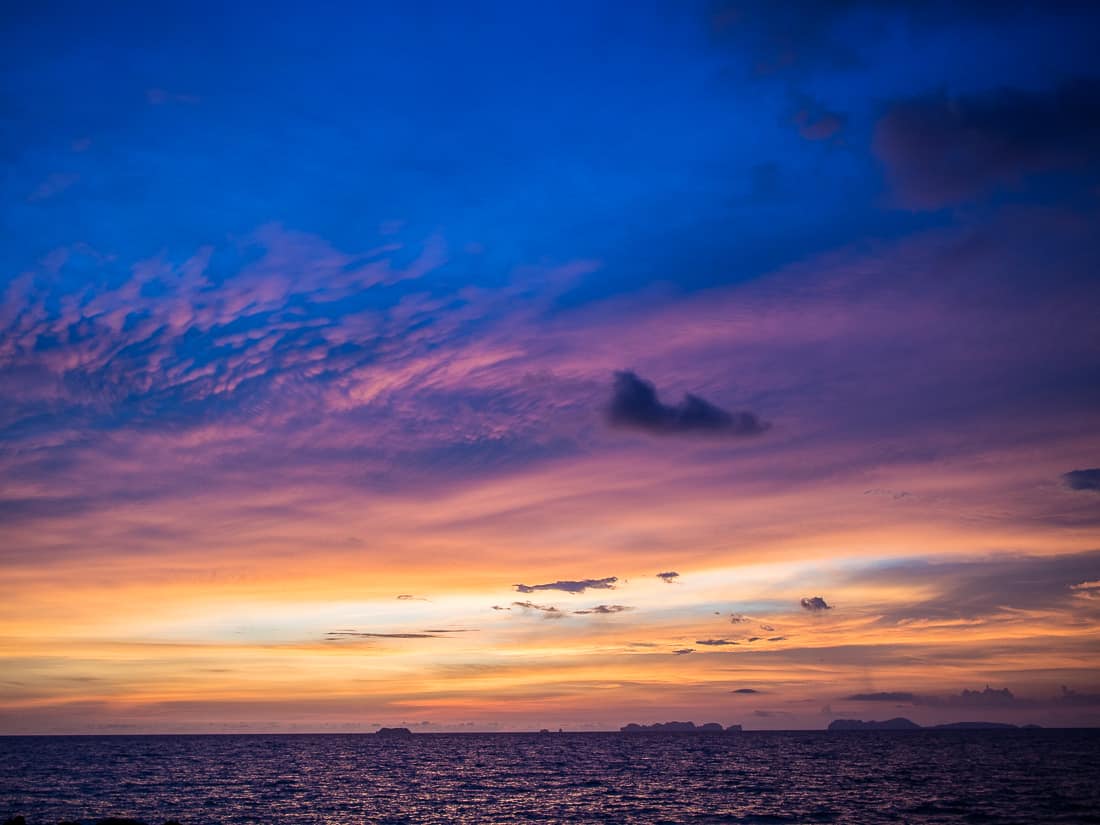 Watching the sunset is a must-do on Koh Lanta.
We've seen some truly spectacular sunsets on the island and made sunset walks along the beach a daily routine.
Khlong Dao, Long Beach, and Khlong Nin are all fantastic places to watch the sun go down.
For morning larks, why not try this Romantic Sunrise Gondola Tour at Tung Yee Peng.
10) Practice at Oasis Yoga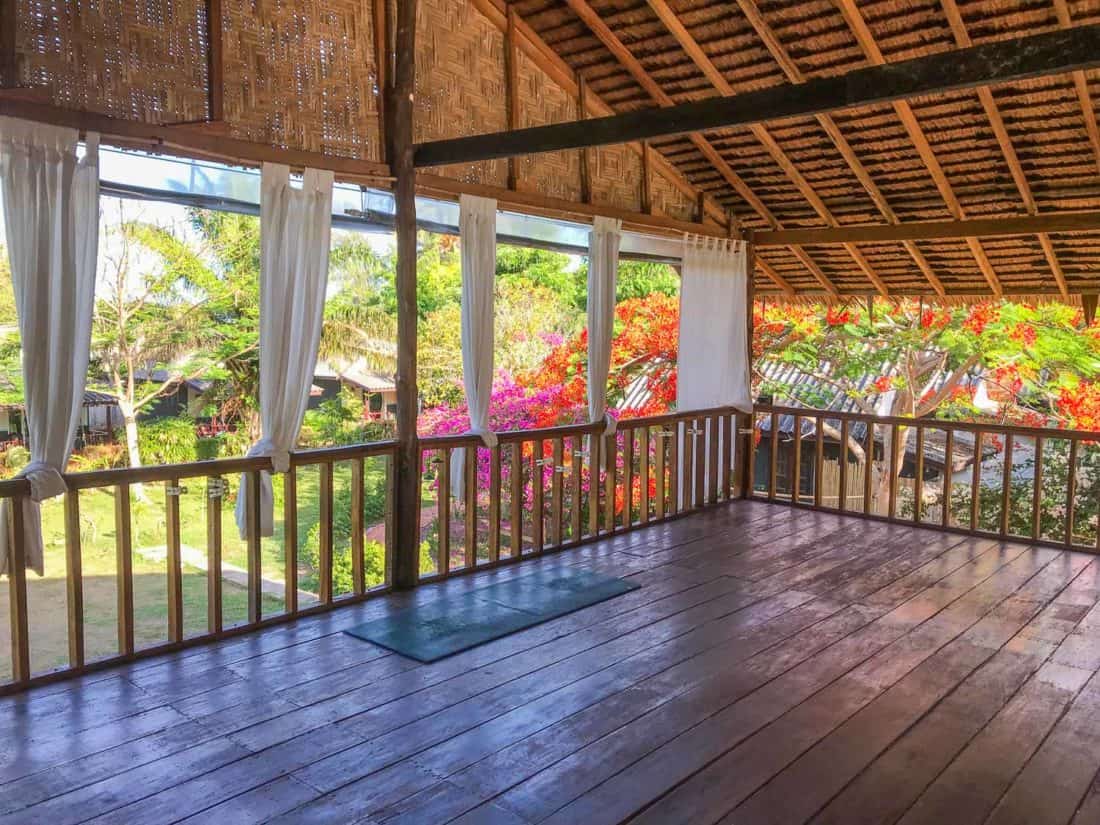 Oasis Yoga is the perfect yoga studio.
Classes take place in a stilted wooden treehouse in a lush tropical garden with the sea in front and the jungle-covered mountains behind.
The sounds of the waves and chirping birds helped me calm my mind and hold the most difficult poses, and I always came away ultra relaxed.
In addition to the yoga studio, they also have lovely bungalows and an excellent cafe.
There are usually two to three classes a day. The Flow class is the most energetic, but the instructor gives options for all ability levels.
Chill Flow is slower and stretchier, and Yin is very gentle with deep stretches that you hold for 3-5 minutes—it's as much about calming the mind and being still as it is about stretching.
Oasis Yoga is highly recommended whether you are completely new to yoga or an experienced yogi.
1 Class costs 400 baht ($11), or there are various multi-class passes available. See their website for the latest schedule.
11) Take a Cooking Class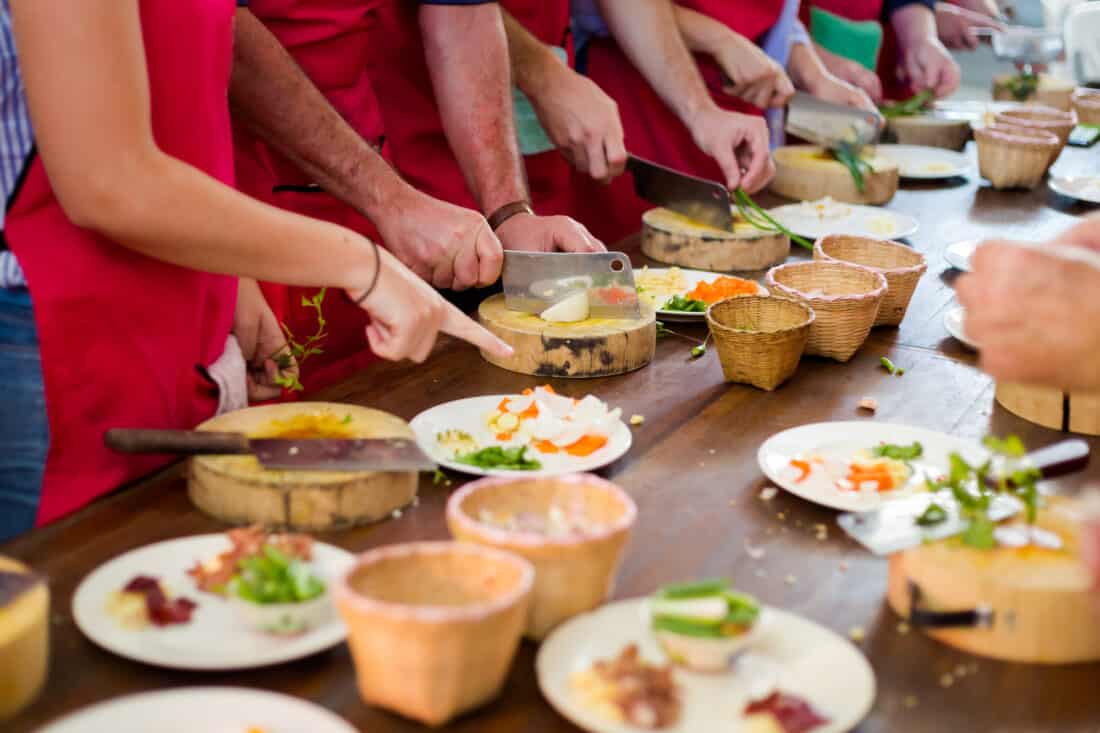 Beachfront Time For Lime on Khlong Dao is a great place to take a class (we enjoyed the food at their restaurant). You can read more about the Globetrotter Girls' experience with this Koh Lanta cooking class.
We didn't take a Koh Lanta cooking class as we'd already done one in Chiang Mai, but we recommend taking a class during your trip to Thailand. It's a great opportunity to spend the day eating (a lot!) and learn more about Thai food.
This Cooking Experience at Lanta Thai Cookery School looks good with a range of dishes to choose from, though you will have to enquire about vegetarian or vegan dishes.
12) Try a Traditional Thai Massage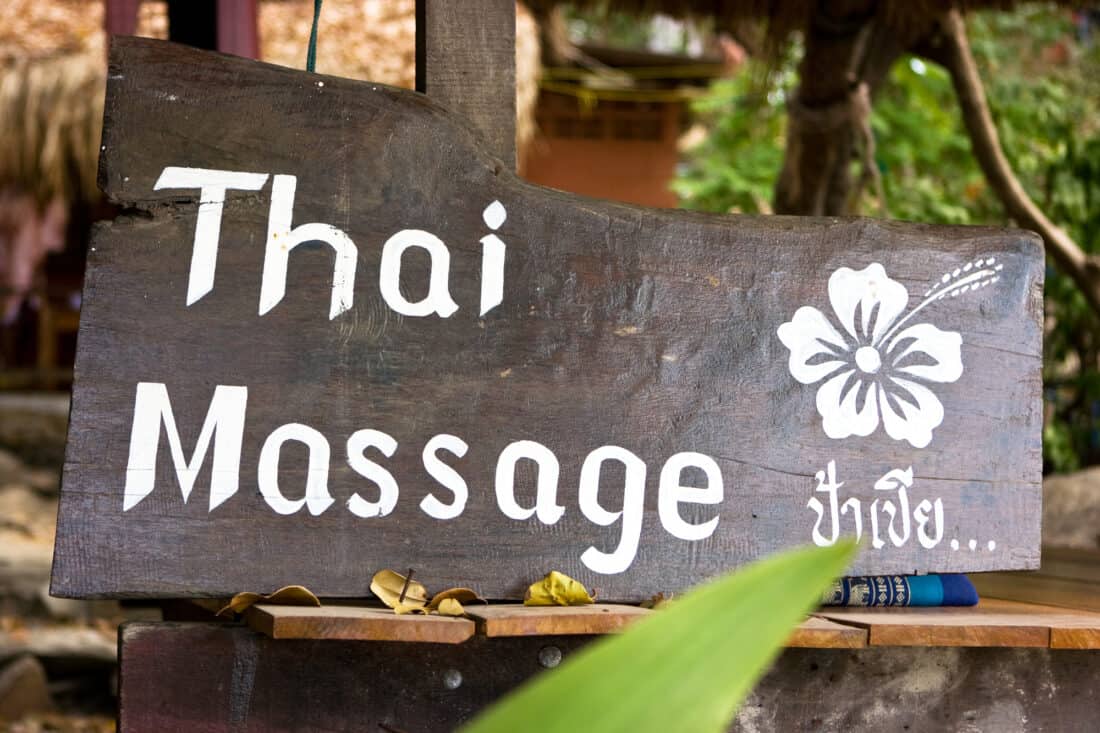 We aren't massage fans, so we didn't get one on Koh Lanta, but if you are then you'll want to take advantage of Thailand's excellent value massages.
If you wish to try a Traditional Thai massage, be aware that it won't be what you imagine.
Unlike western massages, where you lie down topless and have your muscles massaged, you stay clothed during a traditional Thai massage. Then, the practitioner uses pressure and stretching techniques to relax your whole body.
Basically, it's like assisted yoga; afterwards, you will feel energised and most definitely like you have been through a workout.
A tip on Koh Lanta, don't choose to get a massage in a space attached to a restaurant. It's hard to relax under the beady eye of nearby diners!
13) Walk Dogs at Lanta Animal Welfare
If you are wondering what to do in Koh Lanta on a rainy day, animal lovers can visit the non-profit Lanta Animal Welfare to meet the rescued cats and dogs and even take the dogs for a walk. There's also a vegan cafe.
14) Watch a Film Under the Stars at Lanta Cinema
Lanta Cinema is an excellent addition to Koh Lanta.
The outdoor cinema has plenty of seating under the stars and is based in Khlong Dao. There is a bar for cocktails, other drinks, obligatory popcorn and other snacks.
They show a mixture of Western and Thai (with English subtitles) films. Check their Facebook page for up-to-date schedules.
It is closed during low season.
15) Be a Trash Hero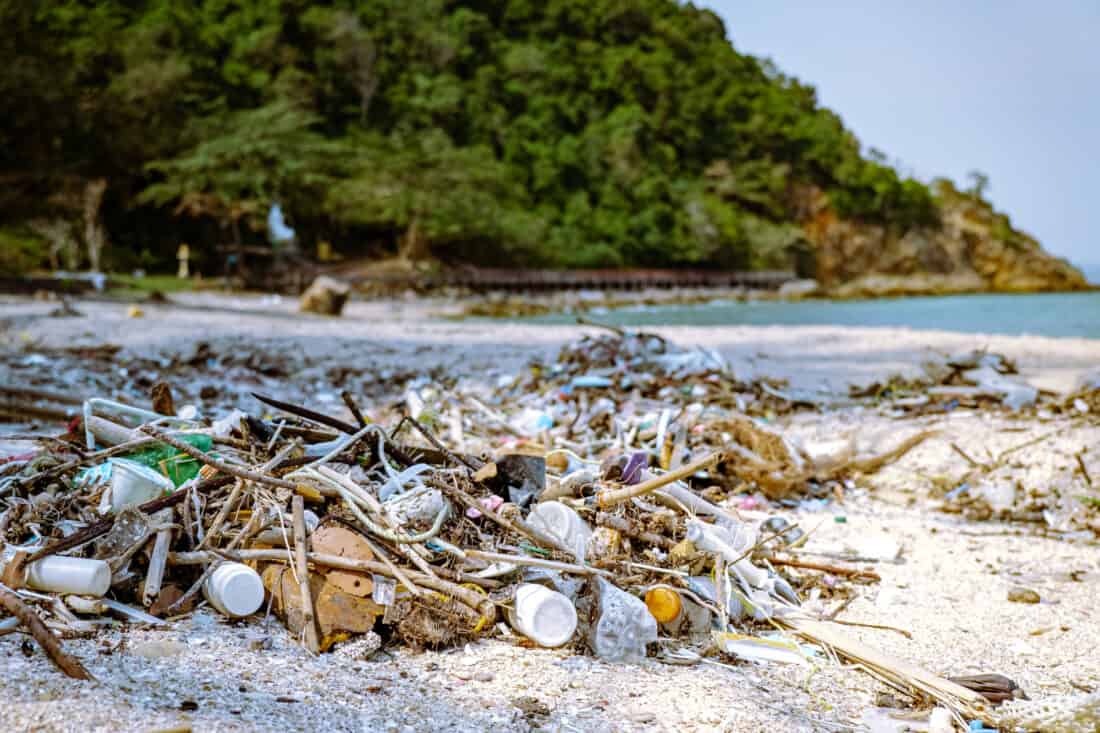 Rubbish washing up on the beaches is a big problem during the rainy season on Koh Lanta.
Help out by joining one of the Sunday beach cleanups run by Trash Hero Koh Lanta. It's amazing the difference two hours can make.
Where to Stay in Koh Lanta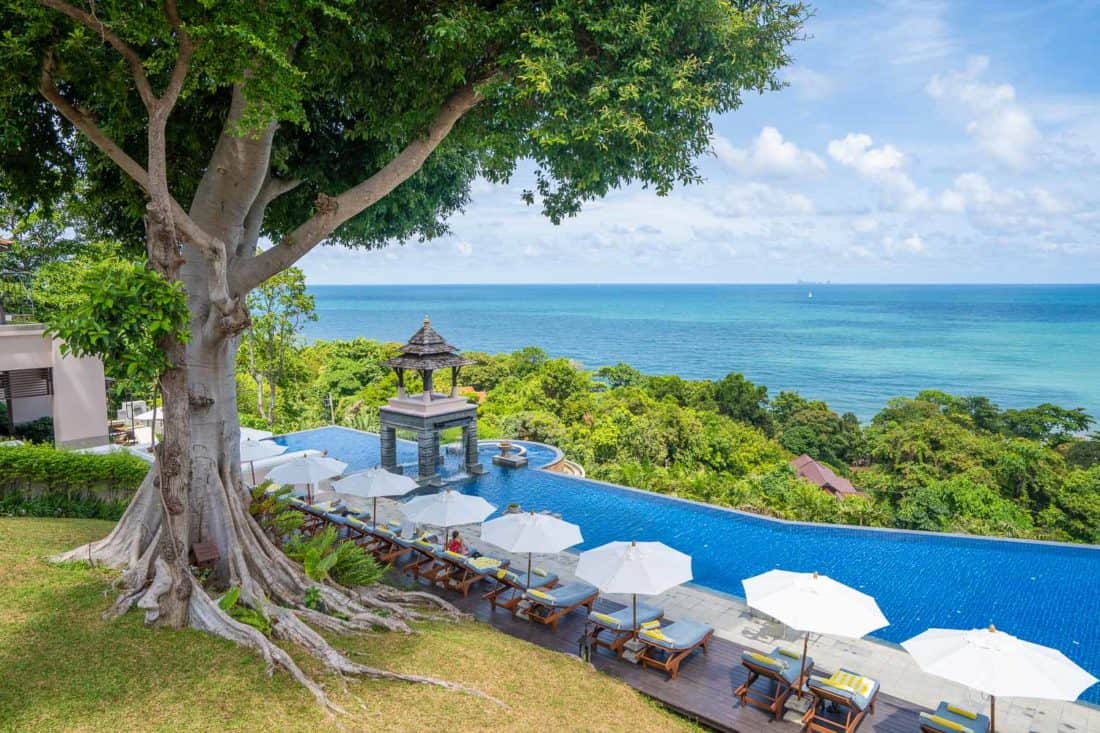 See my post on where to stay in Koh Lanta for a detailed comparison of the different beaches and reviews of accommodation from budget bungalows to luxury resorts.
All Koh Lanta's beaches are on the west coast, so most visitors stay in one of the beach villages here.
If you want to be closer to the ferry in Saladan and near lots of restaurants, I recommend staying on Khlong Dao or Long Beach.
For more of a getaway from it all, head further south to Khlong Nin (in the middle of the island) or Kantiang Bay.
The most remote hotel is LaLanta Hideaway Resort on quiet Bamboo Bay.
We often take advantage of huge low-season discounts and stay in luxury resorts.
Our favourites are Pimalai Resort at Kantiang Bay (the most luxurious) and Rawi Warin at Khlong Nin (the best value). These are also ideal for families as they offer family rooms and kids clubs packed with daily activities.
Layana Resort on Long Beach is the quietest for those without children as it's adults only!
Self Catering on Koh Lanta
We usually stay in apartments and villas on Koh Lanta with access to a kitchen.
For Western food like cheese, muesli, bread, and pasta we shop at Lanta Mart in Saladan.
Everything else we buy from Mai Yod Market, a vegetable shop in Saladan with a big selection of vegetables, fruit, fresh noodles, tofu and rice.
There are also markets on various days around the island where you can pick up fresh fruit and vegetables. It's in Saladan on Saturdays, Khlong Dao on Mondays and near the Koh Lanta bridge on Wednesdays.
Koh Lanta for Digital Nomads
Koh Lanta has become one of the most popular Thai islands for digital nomads since the co-working space KoHub opened at Long Beach.
We haven't tried KoHub yet, but it looks great with fast fibre optic WiFi, a garden workspace, and air-conditioned rooms.
It's a good option if you want to meet other digital nomads as there are regular social events.
The staff can help you find long-term accommodation and motorbike rental. They also offer all-inclusive packages including co-working, accommodation, and two meals a day.
There's plenty of affordable accommodation on the island, but apartments with kitchens are usually quite expensive (it's more expensive than Koh Phangan).
On our last three-month visit we stayed at Malee Highlands on a hill above Khlong Dao—the stylish apartments have fibre internet and are a good deal in low season.
It's usually cheaper to find somewhere once you arrive on the island (ideally before high season starts) by asking locals and posting in Facebook groups like Koh Lanta Info.
Where to Eat in Koh Lanta
These are the best restaurants on Koh Lanta we found. Most are on the western side of the island and we generally found the quality better on the road rather than on the beach. All these places have vegetarian options.
Khlong Dao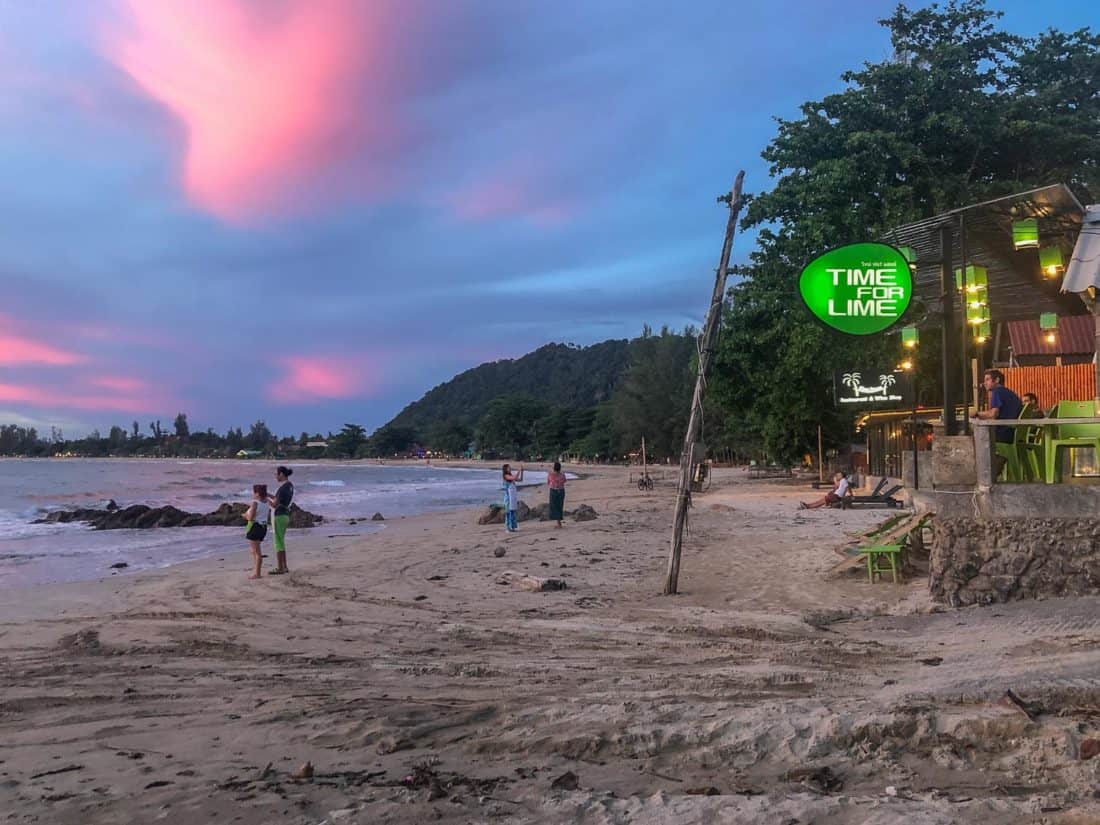 Our favourite beachfront restaurant on Koh Lanta. It's pricey, but we think it's worth it for the quality of food and sunset views.
A set Thai menu changes daily with meat and vegan options and includes three dishes, rice and a tasty Thailand in One Bite appetiser.
I'm a fan of the lemongrass and chile margaritas. They also run cooking classes.
They close for low season and reopen around mid-October.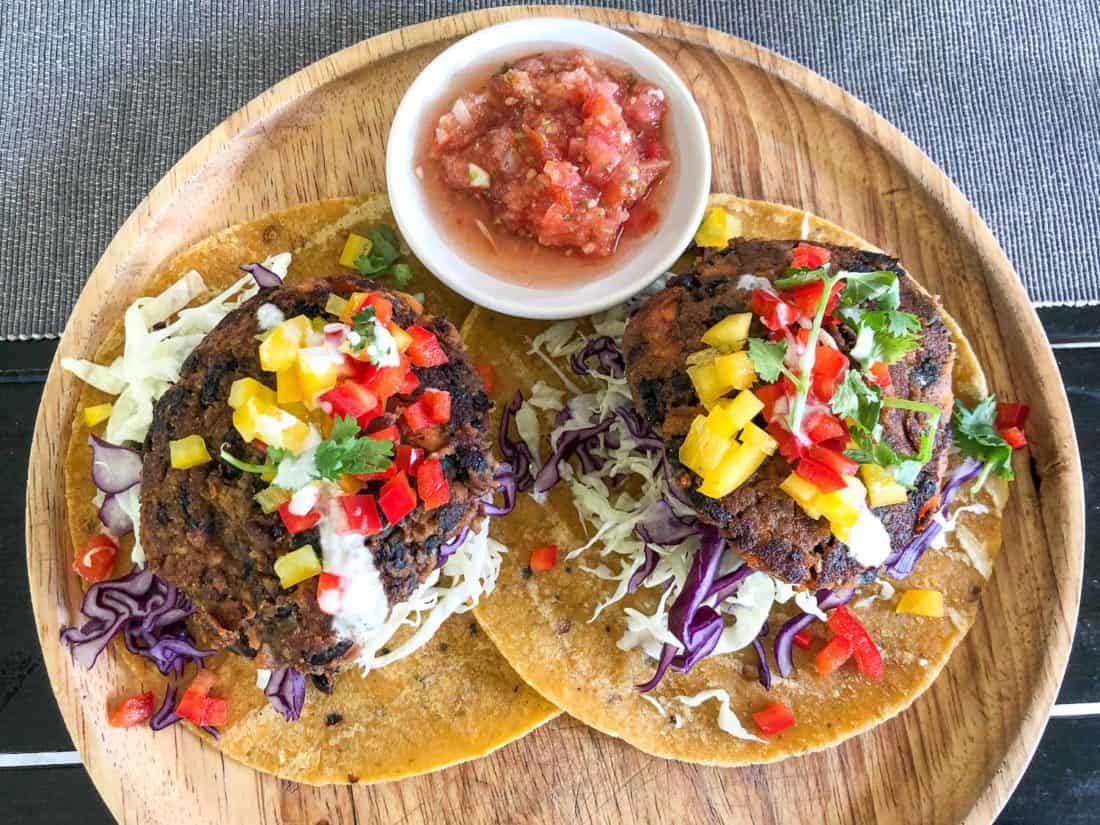 The Oasis Kitchen is my favourite place for lunch on Koh Lanta and I often went here after classes at the excellent yoga studio.
They make some of the best Western food on the island including breakfasts and delicious veggie tacos and bean burgers.
They have excellent kombucha and smoothies too. It closes in low season.
Tasty creamy gelato in interesting flavours and delicious cakes.
They change daily but we loved the banoffee pie, red velvet cake, and apple crumble—I'm a huge crumble fan and was amazed to find it so well done in Thailand.
They have air conditioning so it's a great place to cool off.
The Khlong Dao branch closes in the low season, but the one in Old Town stays open. You can also find their ice cream at various restaurants on the island like Happy Veggie, Malee Highlands Bistro, and Escape Cafe.
Long Beach
Red Snapper serves tasty fusion tapas and is the best restaurant on Koh Lanta.
There are plenty of vegetarian options on the creative menu, which changes regularly.
We enjoyed everything we tried including cheese and jalapeño croquettes, roast vegetables in a sun-dried tomato sauce, chickpea, jalapeño and orange salad, and the tasty bread with garlic butter and olives.
A simple, friendly Thai restaurant serving delicious food at low prices.
There are a few things that make them stand out from similar restaurants—there are over two pages of vegetarian options, they provide free iced drinking water, they use metal straws instead of plastic ones, and when you say you want spicy, they believe you!
The massaman curry and the fried red curry with tofu were both delicious. The tofu is deep-fried and much tastier than elsewhere on the island.
It's open every day including in the low season.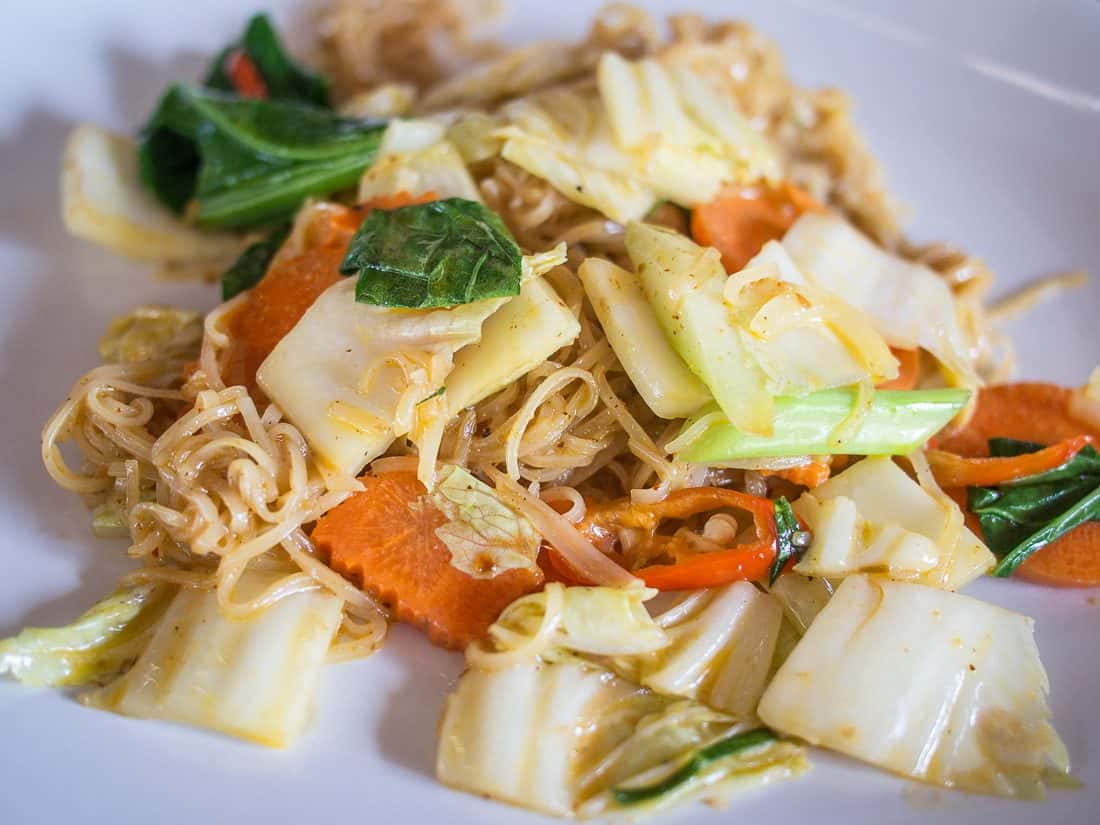 May's Kitchen is another friendly restaurant with consistently good food.
There aren't many vegetarian dishes on the menu, but they understand the concept and are happy to do vegetarian versions of everything, so just ask.
We loved the fried yellow curry with vegetables and the pad thai with penang curry.
Our friends raved about the Thai grilled beef salad and they even asked for a vegan version made with mushrooms which they said was fantastic.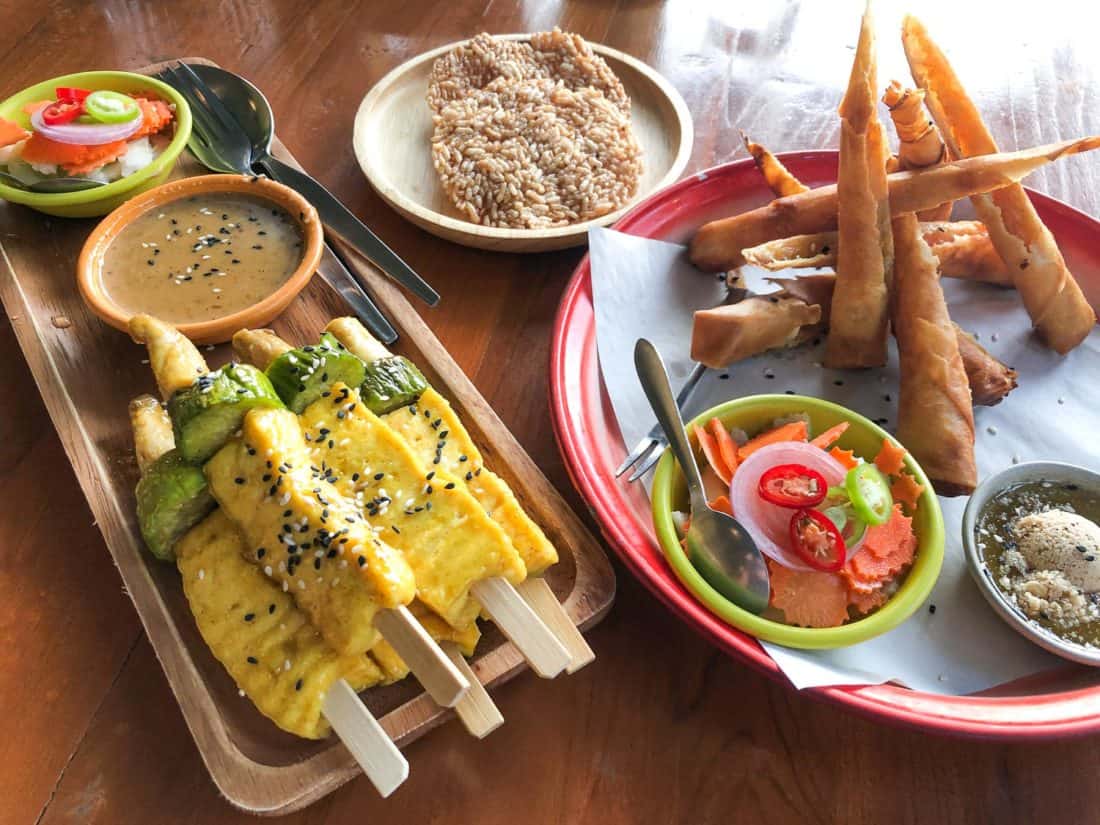 This vegetarian restaurant has a large menu of meat-free international and Thai dishes.
The food is a little more creative than the typical restaurant and they use red rice.
We particularly like the starters—the vegetable samosas and tofu satay. The veggie burger and stir fry were also tasty. It stays open all year.
This cute cafe is our favourite on Koh Lanta. The owner is very friendly and makes some of the best coffee on the island.
Their cakes are delicious (especially the passionfruit cheesecake) and they have vegan options and bliss balls.
Other items are probiotic honey lemonade, smoothies, salad specials for lunch, and excellent breakfast/brunch dishes including pancakes, waffles, avocado toast, and beetroot hummus on toast.
They also sell homemade granola, peanut butter, and coconut oil.
It's unusual to find a cafe that does quality coffee right on the beach. Escape Cafe has comfortable seating and platforms right on the sand so you can enjoy the view while enjoying a frappe or Two Scoops ice-cream.
A French restaurant that does good pizza and wine.
At the north end of Long Beach, Irie is a good option for vegetarians as everything can be made with tofu and they have some creative vegan salads like banana flower, wing bean, and cashew.
We also liked their western salad with sunflower seeds and feta and their tasty spicy potato wedges.
Khlong Nin
Simon's favourite pizza on the island. They also sell good baguettes and croissants.
Shanti Shanti is a cute French cafe with good coffee, crepes (the caramelised apple and cinnamon was so good) and homemade ice creams including interesting flavours like chai. They close in low season.
Kantiang Bay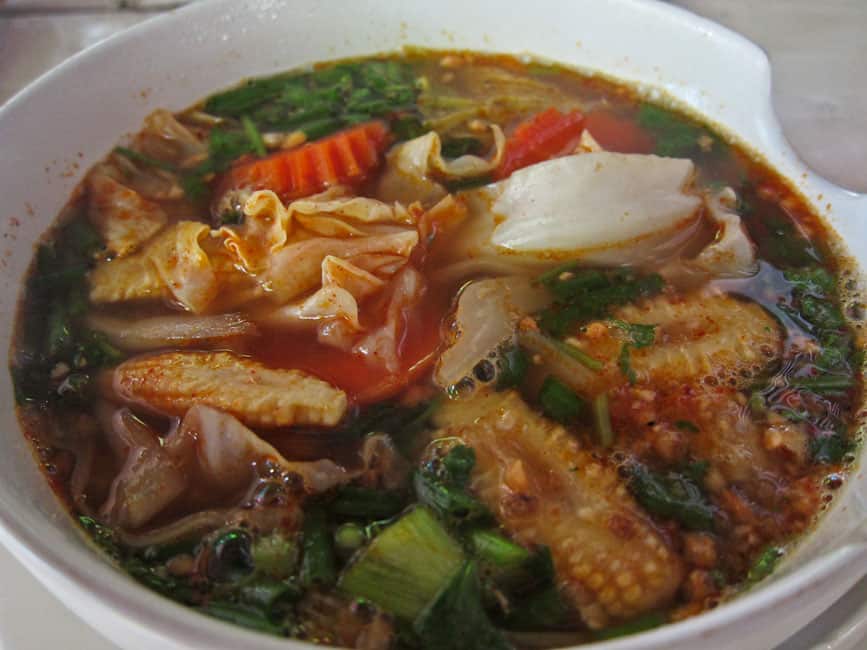 Drunken Sailors is one of those rare places that manages to do both excellent Western and Thai food.
The tom yum vegetable noodle soup, vegetable samosas, Tex Mex veggie burger, and passionfruit shakes are all delicious. It's also a good place for breakfast and proper coffee.
We appreciated that they don't tone the spice down for tourists (although you can ask them to if you want) and that you can order everything vegetarian or vegan.
All the Thai dishes are packed full of veggies, and you can choose to add meat as an optional extra.
The service is great, the atmosphere relaxed with hammock chairs and beanbags, and there's WiFi and books to browse or exchange.
East Coast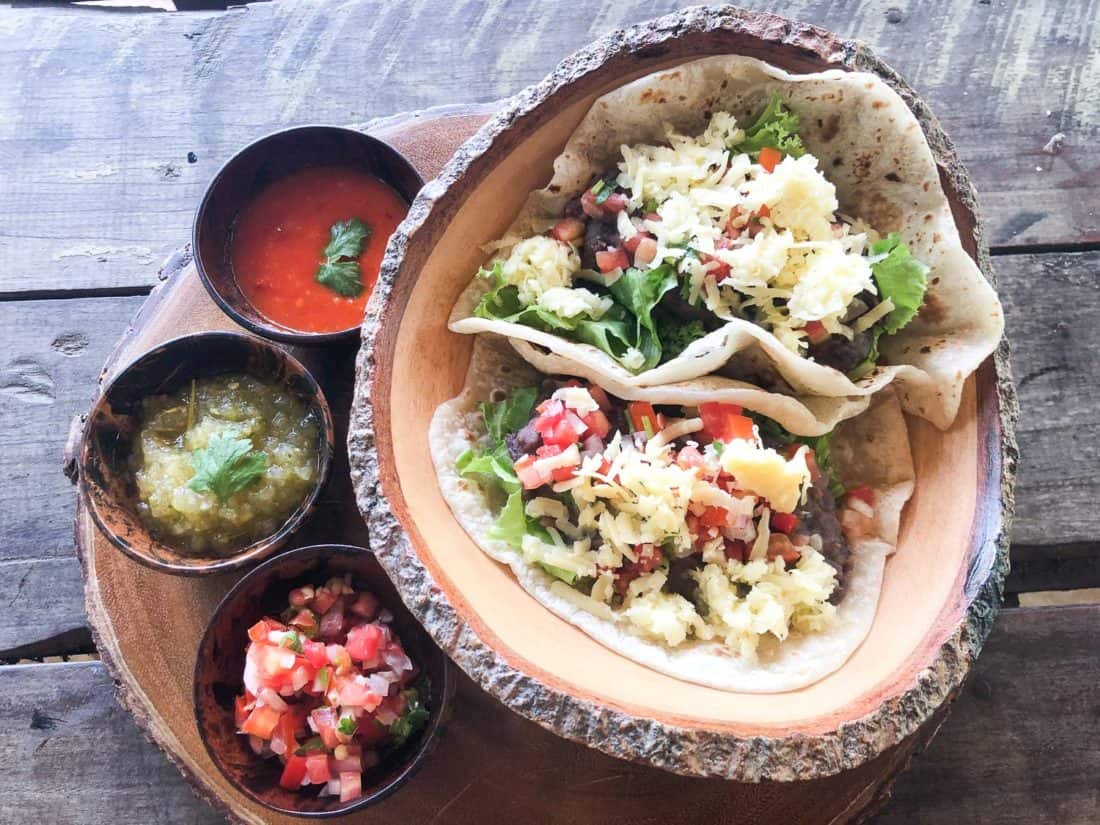 It's worth heading over to the East Coast to a quiet location beyond Old Town for the best Mexican food on the island.
This rustic restaurant overlooks the water (there are kayaks to rent) and has a small menu of surprisingly delicious tacos and nachos.
There are meat fillings as well as vegetarian options of refried beans (very tasty), mushrooms, or tofu. Tacos come with three very good homemade salsas. The margaritas are good too.
Afterwards, head to Old Town for a wander and an ice cream at Two Scoops (the branch here stays open in low season).
How To Get to Koh Lanta
AirAsia runs cheap flights from Bangkok and Kuala Lumpur and Scoot has direct flights from Singapore. Search on Kiwi to find the best deals.
Krabi Airport to Koh Lanta
Getting to Koh Lanta is fairly easy. Most people arrive on the island from Krabi on the mainland which you can reach by bus, train or plane.
The nearest airport to Koh Lanta is Krabi International Airport (KBV). From Krabi you can take the ferry or shared minibus (450 baht/ $12) to Koh Lanta. Both take about two hours (longer if you are staying in the far south of the island).
The minibus is more convenient than the ferry as they drop you off at your hotel. They are quite cramped and hot if you sit at the back though (the A/C didn't reach us very well). You can book minibus tickets at the airport when you arrive.
You could also get a private taxi (2800 baht/ $79), which would be a good option if you have a lot of luggage or have just arrived after a long flight. We did this on our most recent visit and it was much faster and more comfortable.
Koh Lipe to Koh Lanta
You can also travel to/from Koh Lanta by ferry to other islands in the Andaman Sea.
We took the ferry from Langkawi, Malaysia to Koh Lipe, Thailand (1.5 hours, 160 MYR/ $35), spent the night there (although it is possible to continue on), and then took the Tigerline ferry from Koh Lipe to Koh Lanta (3 hours, 1750 baht/ $49) which was an easy and comfortable, if expensive way to travel.
Ferries to other islands don't run in the rainy season.
Phuket to Koh Lanta
You can take a 1.5 hour ferry from Phuket to Koh Lanta that stops at Koh Phi Phi on the way (one hour from Koh Lanta) and costs 1500 baht/ $42.
When To Visit Koh Lanta
The high season on Koh Lanta is from November to March and this is when most people visit. The weather is dry and warm and the beaches look their best with calm water for swimming.
Prices are at their highest (especially over Christmas) and there are more people around, but it never gets too crowded.
The rainy season (or green season as it's known here) is from May to September. It's very quiet and you'll find empty beaches and some hotels and restaurants close.
Hotels reduce their rates by 50% or more. Some ferries and tours don't run.
The weather is mixed. Although there are days when it rains all day, it can also go weeks without raining (or just the odd shower at night).
The sea is rougher at this time of year and lots of rubbish washes up on the sand.
April and October are shoulder months. We've visited three times in April and think it's the perfect month—not too much rain and the beaches look good, but prices start to drop in the middle of the month. It is particularly hot before the rain arrives though.
Koh Lanta Map
Is Koh Lanta Worth Visiting?
Koh Lanta is our favourite island in Thailand and we'll be returning next time we're in Asia.
If you are looking for a relaxing Thai island away from the party scene but not too remote, then we highly recommend Koh Lanta.
More Thailand Posts
Koh Lanta
Elsewhere in Thailand
If you enjoyed this post, pin it!