We spent the last three months on Koh Lanta and it was lovely being back on our favourite Thai island. We stayed at Malee Highlands, a new apartment complex on a hill between Khlong Dao and Long Beach with stunning sea and mountain views.
Malee Highlands was created by Swedish couple Mia and Mattias Terngård, who also developed Malee Beach in Long Beach, which we loved. The new area has the same attention to quality with Western-style comforts.
Units are available to rent and buy. It's ideal for digital nomads looking for a comfortable place to live and work, as well as couples and families who are visiting Koh Lanta.
Construction is still ongoing (in July 2019) so not all the apartments and facilities are finished yet (but the main pool and bistro are open). The biggest downside right now is the building noise, but we did get used to it and it's not constant. Construction will stop during the high season so noise won't be an issue this winter, and in the low season you can take advantage of huge discounted rates.
When Malee Highlands is finished it will be very peaceful as it's in a secluded location but just a short drive from beaches, shops and restaurants. The sunsets here are phenomenal.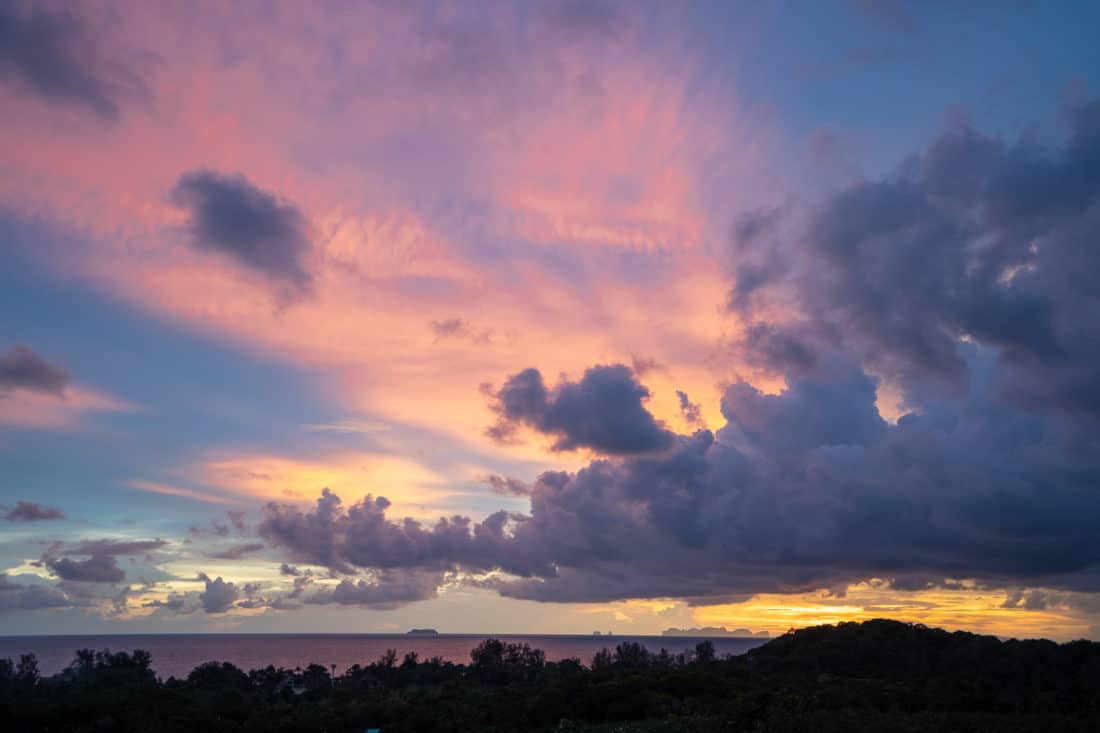 Disclosure: We were guests at Malee Highlands in exchange for creating videos, but we were under no obligation to write this review.
Contents
Malee Highlands Apartments
There is a wide range of apartments available at Malee Highlands from one to three bedrooms and all have unique features. Some are two stories, while others have private plunge pools or terraces with jacuzzis. All have gorgeous sea views and at least one small balcony to enjoy a glass of wine as the sun sets.
What makes Malee Highlands stand out is the high quality of their apartments. They are beautifully decorated in an almost NYC loft style and have all the comforts of home—a comfortable bed and couch, well-equipped kitchen, flat screen TV, washing machine (very unusual in Thailand), and homely details like cushions and artwork.
They are all key ready so you can move right in without needing anything. This is the first time in Asia that we've rented a place without having to buy loads of kitchen equipment.
There's also fibre WIFI which is the fastest we've had in Thailand and made working easy. We had speeds of 106 Mbps down and 95 Mbps up. If we ever had any issues with it, the staff was quick to sort it out for us. There are occasional power cuts in Koh Lanta, but they usually don't last more than five minutes or so and this is an issue everywhere on the island.
There's also WiFi in the Bistro if you want a change of scenery (we worked here while our apartment was cleaned once a week).
There's air conditioning throughout the apartments which we greatly appreciated as temperatures in the warmer months rarely go below 25ºC even at night.
Cleaning of the apartments takes place weekly and linens and towels are changed (for an extra fee).
Our Apartment: Chill House
We stayed in Chill House D4, a two-floor apartment with a bedroom and bathroom on each floor. It sleeps four people but as the second upstairs bedroom is small with bunk beds, it would work best for two adults and two children. There are gorgeous sea views from both floors.
Downstairs
On the ground floor is a kitchen and dining area which leads to a bathroom and the main bedroom. The bedroom is small, but it has been cleverly designed so that each side of the queen bed is accessible by a separate entrance on each side of the kitchen.
Each side of the bed has plentiful storage, a reading light, and power sockets for charging phones. The mattress is very comfortable and there are two quality pillows on each side. The lightweight comforters are twins rather than doubles in the European style. There's a flatscreen TV at the end of the bed.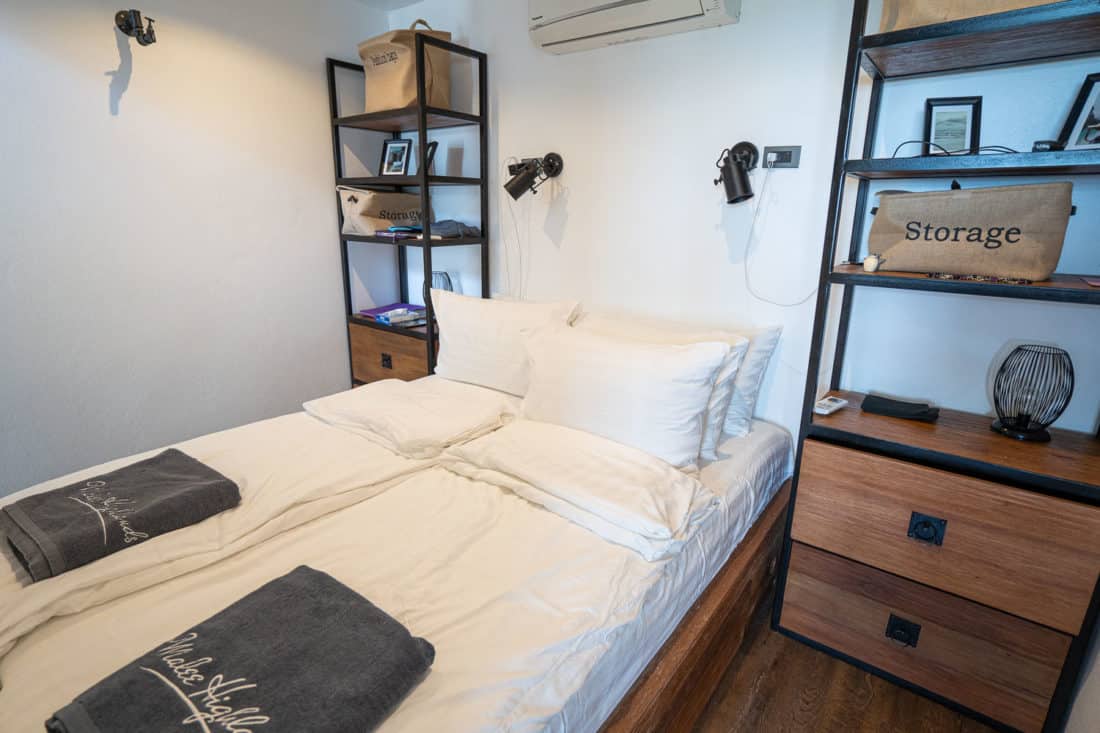 My initial concern was the lack of natural light in the bedroom. As it's at the back of the apartment there's no window, but the benefit of this is that you get sea views in the living areas instead. We found that if we left the sliding doors partly open we got enough light from the kitchen window to wake us in the morning (or close them if you want to sleep in).
All the other apartments have larger master bedrooms, so go with one of them if you want more space and natural light.
The kitchen is small but well-equipped with rare but important essentials like good knives, a blender, food processor, microwave, and toaster oven. There are even all the tools for baking a cake! We didn't quite manage that but we did bake cookies.
The only thing I lacked was a wok and rice cooker for Thai cooking, but I guess most guests eat out if they want to eat Thai food. We were able to buy them inexpensively on the island.
Unusually for Thailand, there's a combination washer/dryer which we found very useful. We also appreciated the drinking water machine where we had instant access to hot and cold filtered water. You can get refills of the water jugs on site.
The bathroom is high quality with a proper shower cubicle (no wet floors!) with both regular and rain shower heads. The water pressure isn't as strong as I'd like, but it's good enough and they are having to work with the limitations of Thailand.
Upstairs
Upstairs is my favourite room—a bright living room with a wonderfully large and comfortable L shaped couch. Seriously, a proper comfortable couch like this in SE Asia is so rare and it makes me very happy! It also features a number of cushions which I always appreciate and is one of the homely touches that many apartment rentals lack.
There's another large flat screen TV in the living room (this is where we did our Game of Thrones watching!).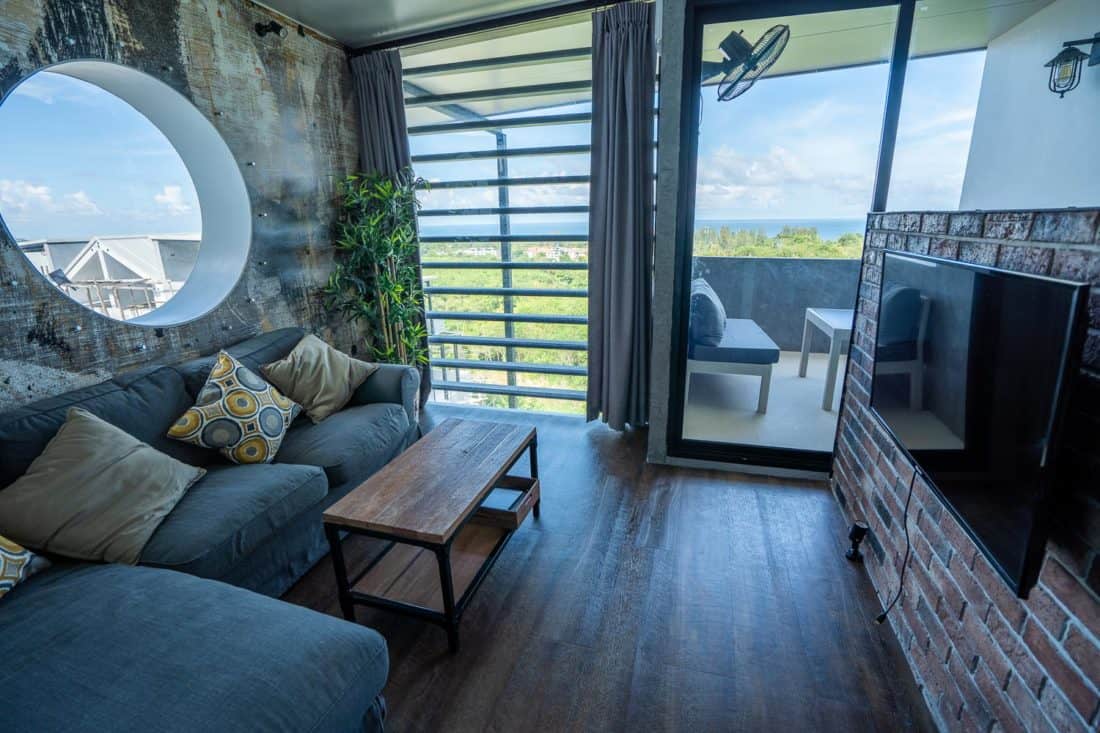 The floor to ceiling windows make the most of the sea views and sliding doors lead on to the terrace where there's comfortable seating, a table, and a fan. The sunset views here are amazing. A large drying rack is available—clothes dry out here in no time.
The small second bedroom is upstairs and consists of bunk beds, a cupboard, and yet another TV. Each bunk has a reading light and power socket. The bathroom next door is similar to the one downstairs.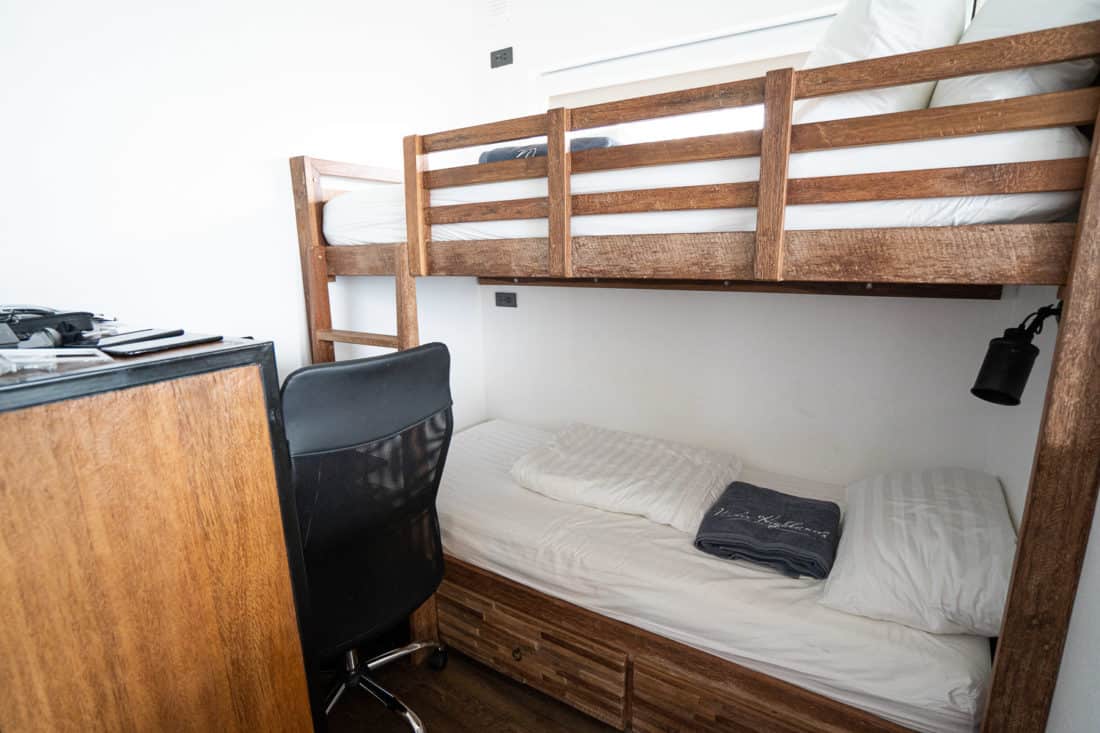 The only thing we found lacking in the apartment was a desk (some of the larger apartments do have them). You could work on the dining table, but it's not particularly comfortable and we wanted to keep it for eating. Simon bought a small desk on Lazada and set it up in the second bedroom. I was happy working on the couch.
Watch Simon's video tour of the Chill House:
Other Apartments
There's a variety of apartments at Malee Highlands and we got to know many of them as we were making videos.
Flexi House Mini is the smallest apartment with one bedroom, a small living room, and a balcony. There's an extra shared pool in the Flexi House and the balconies can be opened up to create one large space, so this could work well for groups.
Chic House Pool is one of my favourites. It has two bedrooms, large open plan lounge/kitchen, and a private plunge pool with amazing views.
Watch our Chic House Pool video:
Next door the Chic House Lounge is larger with two bedrooms plus a third loft bedroom and two terraces.
Chic House Lounge Deluxe is higher up the hill and is probably the most spectacular apartment. There are two bedrooms and a third loft bedroom, lots of space, and a high tech surround sound system and 65" Smart TV. The master bedroom has floor to ceiling views overlooking the sea.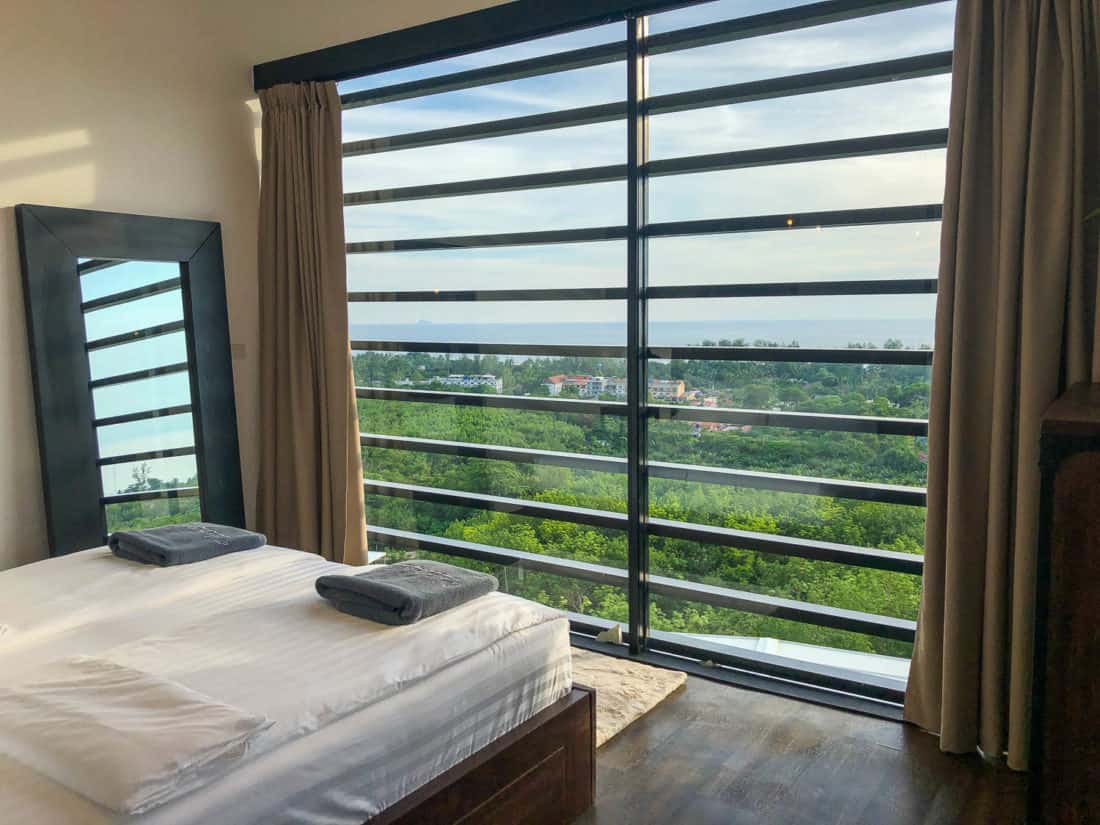 There are two terraces and the upper terrace is incredible. It has 360º views of the sea and jungle, multiple comfortable seating areas, jacuzzi, BBQ and kitchen area.
Watch Simon's video tour of the Chic House Lounge Deluxe:
Highlands Bistro
The Highlands Bistro overlooks the pool and has even better views than from our apartment, especially at sunset. It was very convenient having a restaurant on site for when we couldn't be bothered to cook or drive anywhere.
Currently there's a simple menu of sandwiches, salads, and burgers plus Thai specials. The menu doesn't look vegetarian-friendly, but they can make most things vegetarian and the staff is very friendly and flexible. They even got in some tofu especially for us.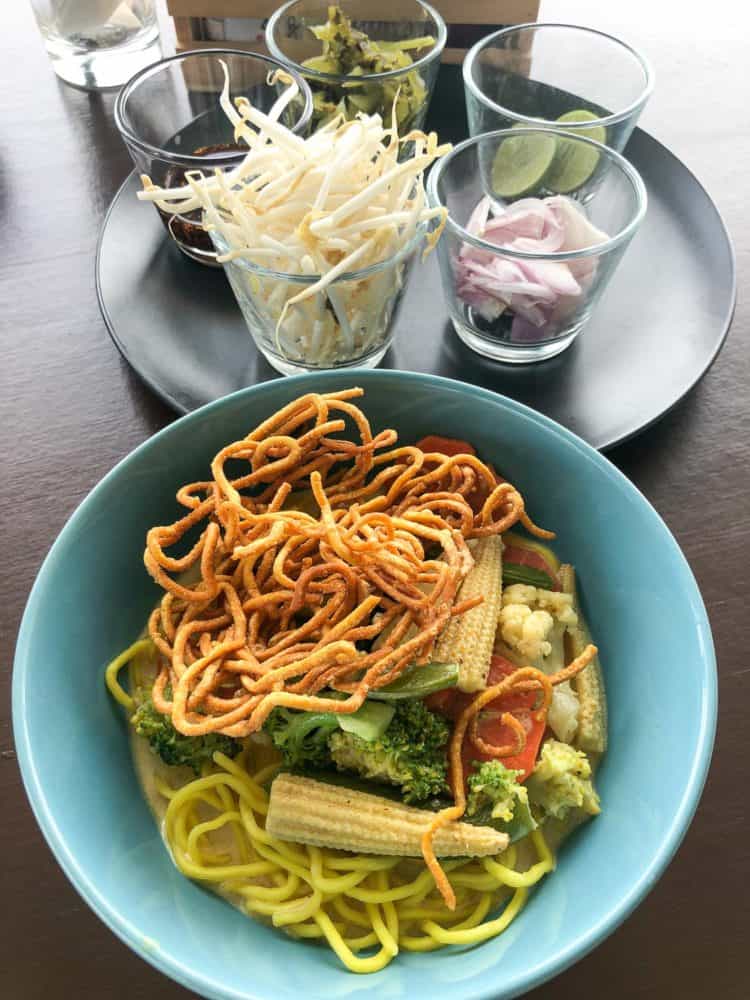 The dish we ate most often was the khao soi (a northern Thai curry noodle soup) which is excellent and comes with all the typical toppings. The Penang curry is also good and we enjoyed the mango passion shakes and frozen strawberry daiquiri.
Take a look around the bistro and pool (and see that famous sunset) in this video:
Famous Swedish chef Jesper Bogren will be taking over the bistro soon and a new fine dining restaurant will open by the end of 2019, so the food will get even better.
Pool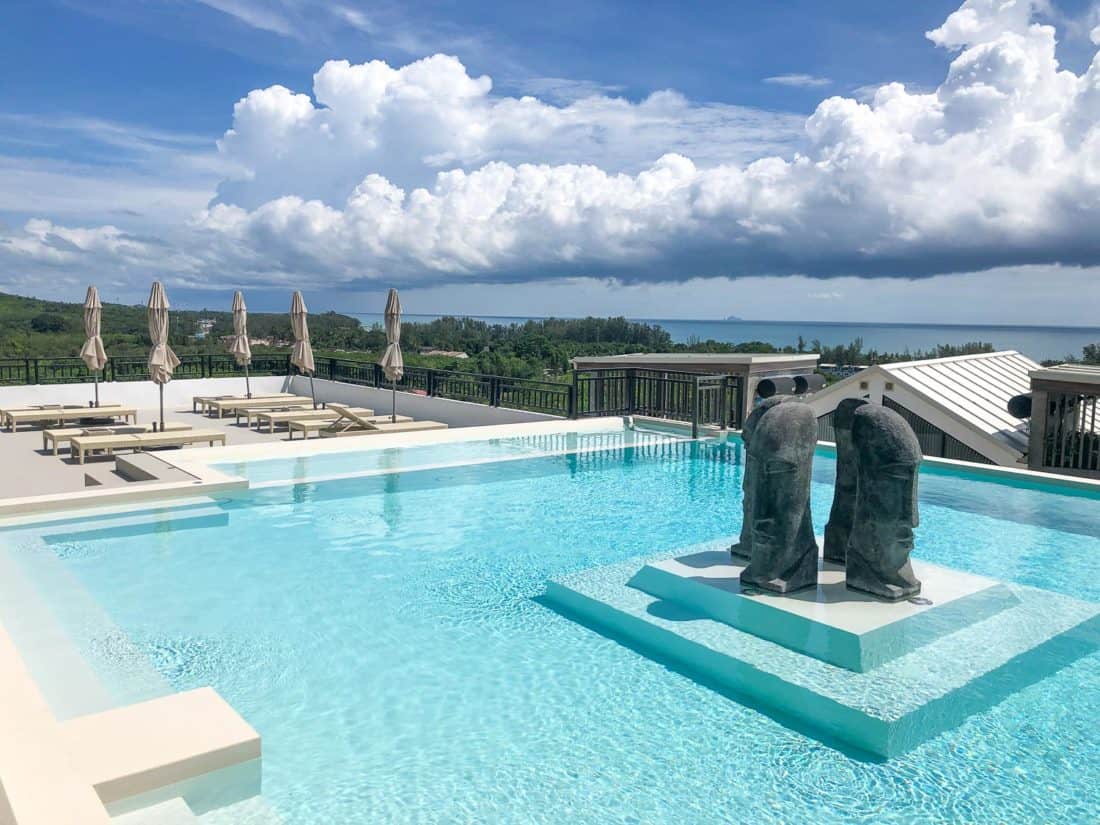 There's a lovely square pool with fantastic sea views next to the bistro. There are sun loungers and umbrellas and it was never too busy during our stay.
One side of the pool is shallower and ideal for kids and the other is deeper and is where I swam lengths. The water temperature is balmy. There's also a separate shallow pool next to it where you can sunbathe in the water or let small children splash around.
Future Plans
Mia and Mattias have big plans for Malee Highlands. They will be adding an adults-only pool, chill-out deck, spa and ice pool, gym, children's playroom, and a fine dining restaurant. We can't wait to return in a few years and see all the changes.
Location
From Malee Highlands it's about 1km down the hill to Khlong Dao beach where you can find shops and restaurants. The walk takes about 15 minutes but the climb back up in the heat is not much fun as the hill is very steep. I did often run it but had to go out just after sunrise.
It's best to have your own transport. It's only a few minutes motorbike ride to the beach. Cars are also available to rent and this is a good option for families.
The office can help you arrange motorbike or car rental which is really handy as you don't need to leave a passport as you would if you booked direct, and they had it delivered to us very quickly. We paid 7500 THB for a three month rental of a Scoopy in low season.
Khlong Dao, Long Beach, and Saladaan can all be reached within 10 minutes by motorbike (5 minutes for Khlong Dao).
Malee Highlands also has a free shuttle at designated times and stops, so you could manage without transport.
Costs
Apartments at Malee Highlands start from 21,000 THB (US$686 / €609) a month. Rates vary widely depending on the time of year and are lowest from mid-April until the end of July. WiFi is included but cleaning, electric, water, and laundry are extra.
Check the latest rates on the Malee Highlands website.
We really enjoyed our stay at Malee Highlands. The apartments are homely, comfortable, and well-equipped, and we loved the views. We look forward to returning when all the work is completed.
If you'd like more information about the island, see our Koh Lanta guide.
Enjoyed this post? Pin for later!