This page contains affiliate links. Please read our disclosure for more info.
Japan is a bewildering, beautiful country that is like nowhere else. There are so many amazing things to do in Japan that one trip is never enough—it has stolen our hearts and we can't stop returning.
From ancient temples to futuristic skyscrapers, tranquil tea ceremonies to over-the-top arcades, relaxing hot springs to cosplay go-kart rides, Japan has so much to offer everyone.
In this post I share the best things to do in Japan divided into the categories Culture (for unique things you can only do in Japan), Fun (for all the quirky and futuristic stuff), Food (because the food is extraordinary and you must eat as much as possible), Spiritual (for all those wonderful temples and shrines) and Beautiful (for the gorgeous natural scenery).
Even on a short visit to Japan, you can choose a few experiences from each category for an unforgettable trip.
Contents
Video: Best Things to Do in Japan
Watch our short video for ideas on what to do in Japan for an amazing trip.
Cultural Things to Do in Japan
These unique things to do in Japan are activities you don't find elsewhere and are the best ways of experiencing Japanese culture.
1) Spend a Night in a Ryokan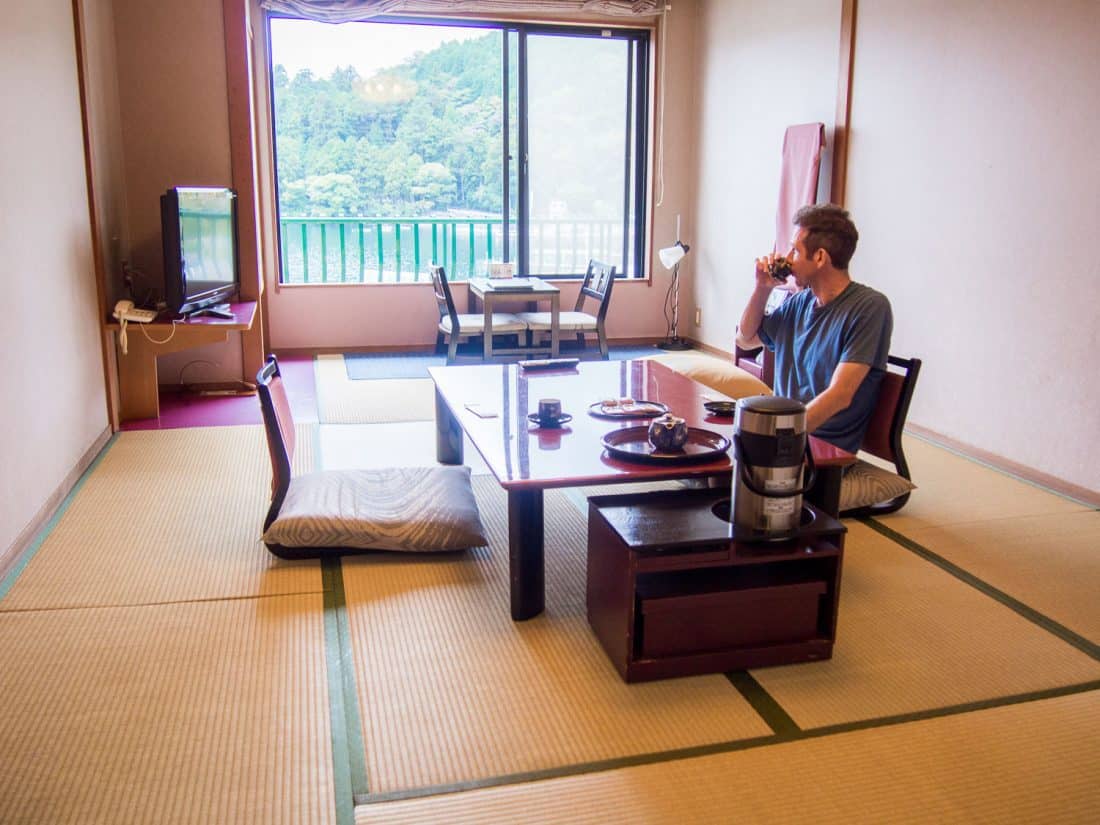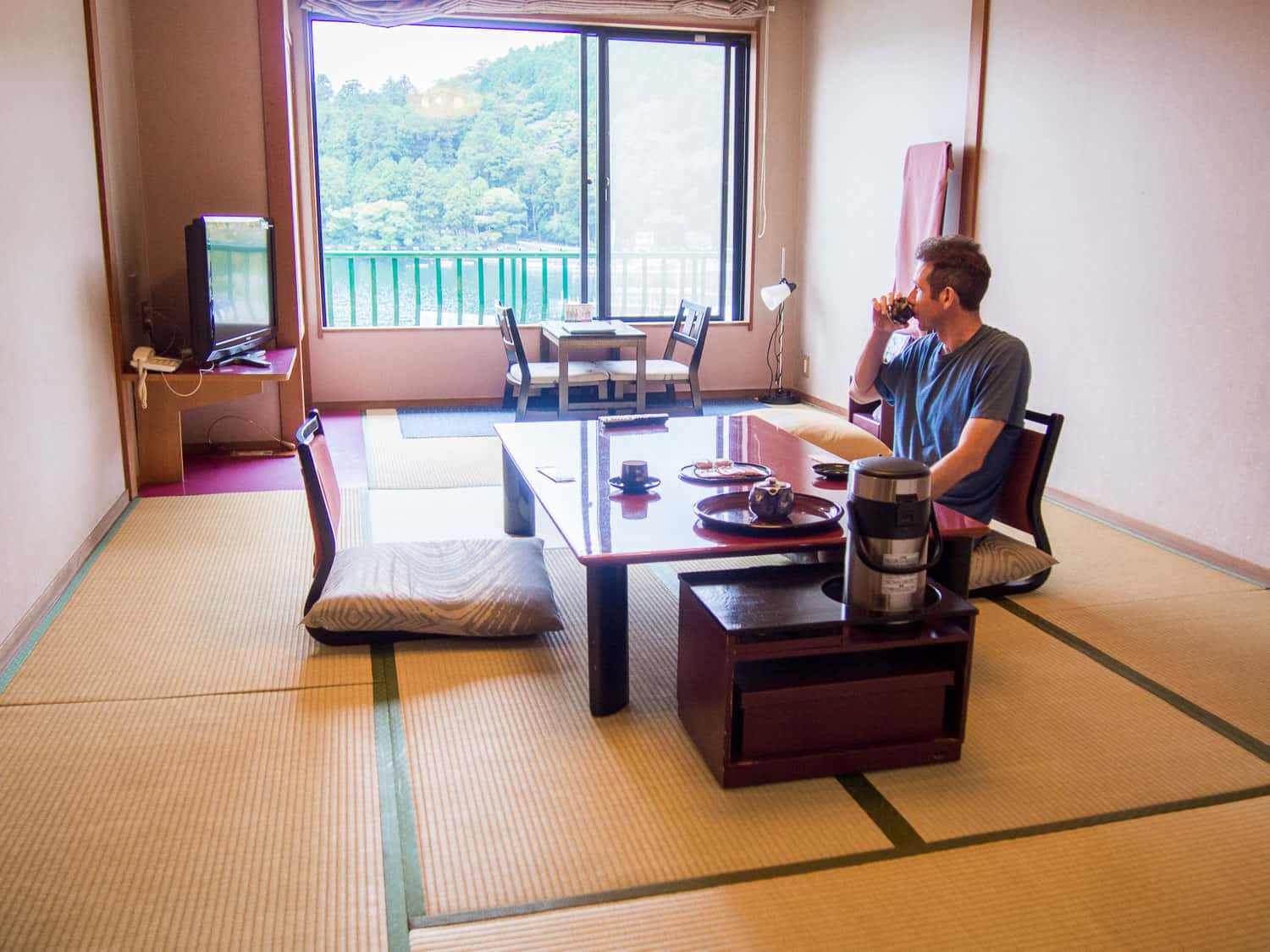 For at least one night of your trip, I highly recommend staying in a ryokan, which is a traditional Japanese inn.
Tatami mat rooms are elegant, minimalist spaces, usually with just a table and low chairs where you can enjoy green tea on arrival.
Breakfast and dinner are often included in the price and served in your room. The epic, multi-course meals are a highlight of a stay in a ryokan and have been some of our best meals in Japan.
Ryokans can often cater to vegetarians and vegans, but let them know any dietary requirements in advance (you don't get a choice of dishes).
After dinner, futons will be set up on the floor and can be surprisingly comfortable to sleep on.
Ryokans range from simple (such as guesthouses called minshuku) to ultra-luxurious, sometimes with private baths and views overlooking exquisite Japanese gardens.
They are more expensive than regular hotels but are well worth it for the experience.
We loved our stay at Hotel Musashiya in Hakone (a top spot for seeing Mount Fuji) where our room and the public Japanese bath overlooked Lake Ashi. It's reasonably priced and friendly, and the food was wonderful.
You can find many other ryokans all over Japan—search on Booking.com.
2) Soak in an Onsen
The classic Japanese experience is soaking in the steaming hot waters of an onsen (hot spring bath)—it's a must for your Japan bucket list.
Onsens come in many forms—indoor and outdoor, simple and luxurious, small and large. Most of them are shared, but some ryokans have private baths you can reserve.
Onsens can be a challenge for foreigners (they were for us at first!), as you must be completely naked (most are divided by gender).
Make sure you shower thoroughly before you get in the bath. It's worth getting over your fears as they are such a relaxing experience.
Soaking in onsens is one of the best activities to do in Japan in winter. In summer, the hot water is less appealing.
3) Wander Around an Onsen Town in a Kimono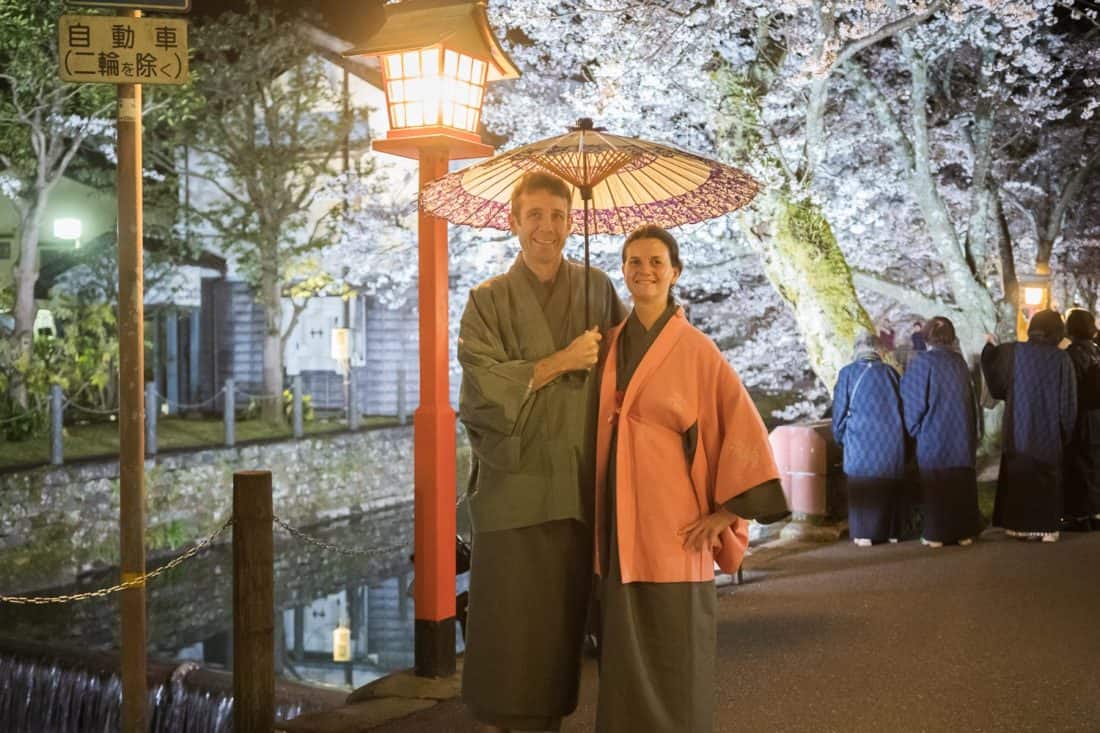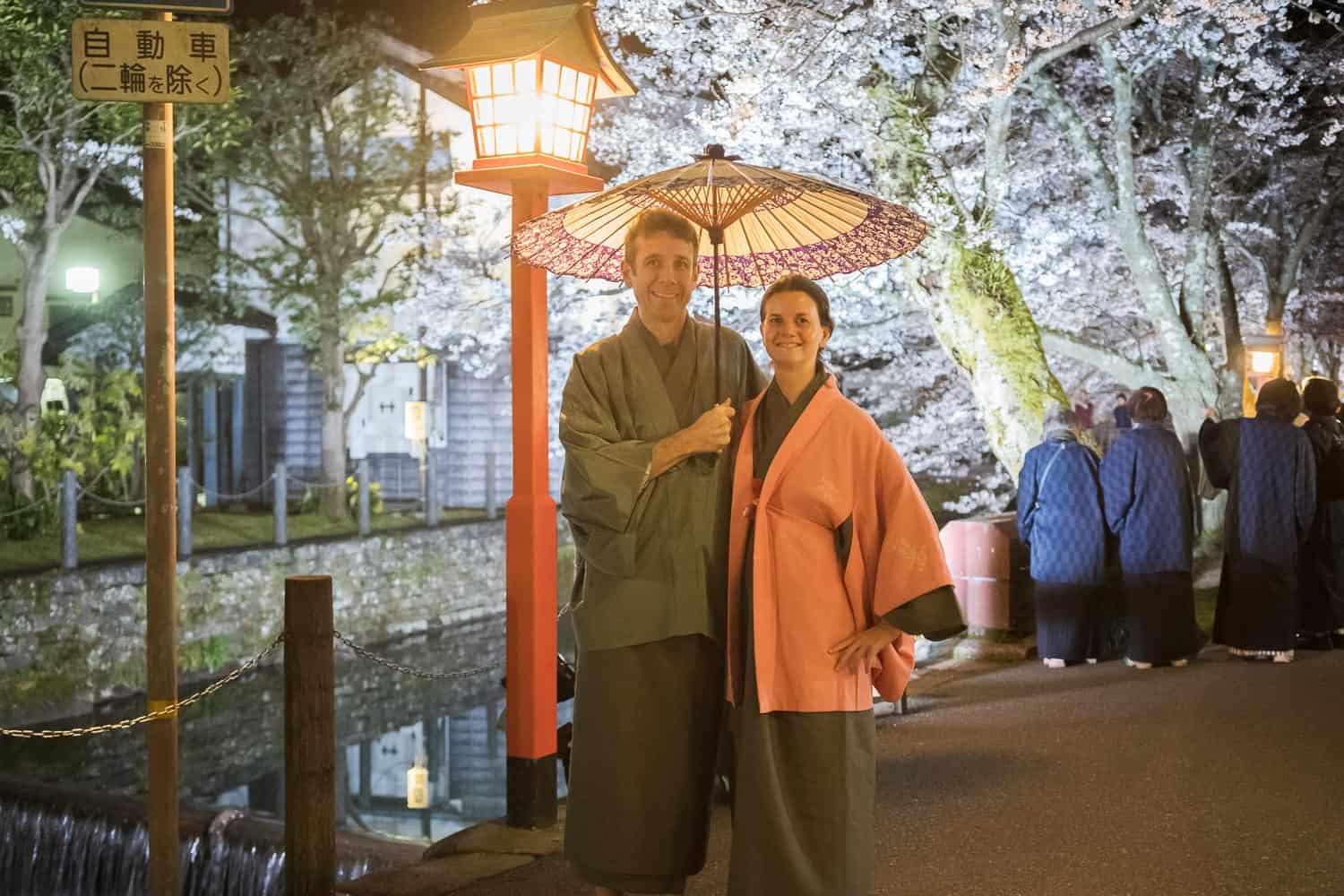 If you want the full onsen experience, head to an onsen town.
These small resort towns are usually in rural settings and feature many different onsens. They are popular destinations for the Japanese for relaxing getaways.
The best way to experience one is to stay in a ryokan. Some have their own onsens and usually include a pass to visit the other onsens in town.
After putting on the provided yukata (cotton kimono) and geta (wooden sandals), you head out to hop from one onsen to another and relax in the steaming waters.
There are many onsen towns in Japan. We loved Kinosaki Onsen, which is easily accessible from Kyoto and Osaka and is particularly pretty in the spring when the canals are lined with cherry blossoms.
We stayed at the friendly Morizuya Ryokan which has two small onsens available for private use in the afternoon—perfect for your first time.
Read more about Kinosaki Onsen and onsen etiquette.
4) Watch a Geisha Dance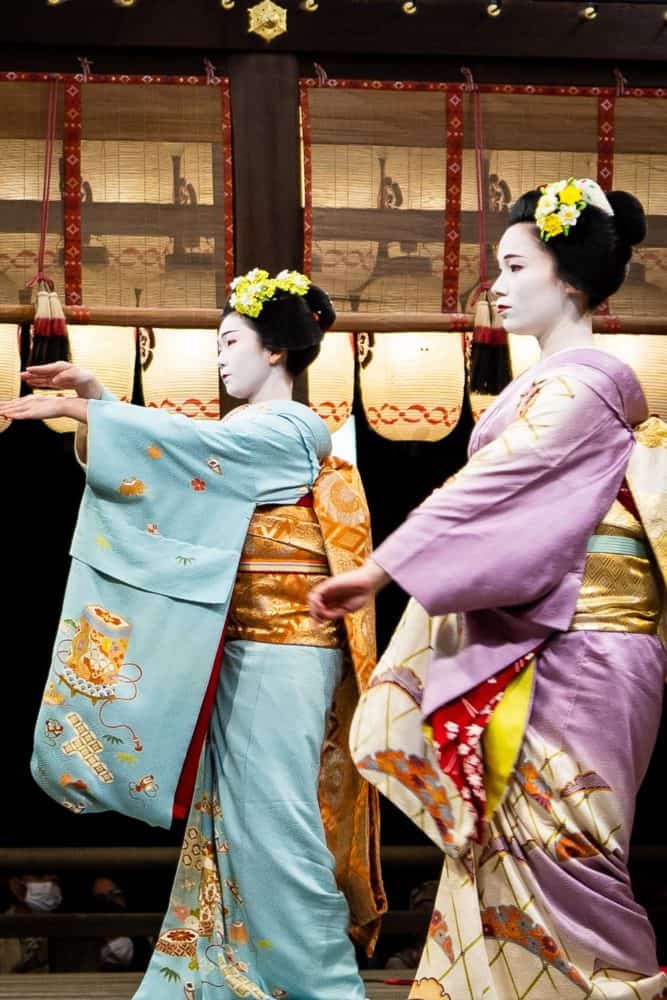 Geishas are one of the most fascinating aspects of Japan, especially if you've read Arthur Golden's popular novel Memoirs of a Geisha about these highly-skilled women who entertain using traditional arts.
It's hard to believe they still exist, but when we spent a month living on a traditional street in Miyagawacho in Kyoto (near the more well-known Gion area), we often saw them in brightly coloured kimonos emerging from wooden teahouses.
Rather than stalking geisha on the streets of Gion, I recommend watching them perform at one of the annual dances that take place every spring and autumn.
The most famous is the Miyako Odori in April, but we went to the Kyo Odori instead, which doesn't attract many foreign guests. It's one of our absolute favourite things to do in Kyoto.
The performance was spectacular, and it was fascinating to get a closer look at the extravagant kimono, ornate hairstyles, and iconic white makeup these graceful women wear.
Another option any time of year is to take a night walk in Gion with a local guide to learn about the history of geisha and perhaps encounter one.
Top tip: Miyagawacho is the perfect area to stay in Kyoto for spotting geisha without the crowds of Gion. We rented a studio on Vrbo that's no longer available, but you can search for more vacation rentals in Miyagawacho here. Options include this lovingly restored townhouse and this incredible samurai machiya.
5) Admire Ukiyo-e Prints
Ukiyo-e or Japanese woodblock prints are uniquely Japanese and flourished during the Edo Period from the 17th to 19th centuries.
The prints depict landscapes, regular life of ordinary people, and popular kabuki actors, sumo wrestlers, and geisha from the world of entertainment or "floating world".
You can see ukiyo-e in many cities in Japan. We enjoyed the small Ota Memorial Museum in Harajuku, Tokyo which displays rotating exhibitions—we were lucky enough to see the 36 Views of Mount Fuji by Hokusai including the famous Great Wave off Kanagawa.
6) See Sumo Wrestlers in Action
Sumo is serious in Japan and the national sport is steeped in tradition. Matches still include rituals that date back to its ancient origins as part of the Shinto religion such as purifying the ring with salt.
You can see sumo wrestling at one of the sumo tournaments that happen a few times a year or take a tour to a sumo stable in Tokyo to see the wrestlers' morning training session.
Tournaments happen in Tokyo in January, May and September and in Osaka in March.
I loved the novel The Street of a Thousand Blossoms by Gail Tsukiyama, which gave me a greater insight into sumo culture.
7) Watch a Kabuki Performance
Kabuki is a form of traditional Japanese theatre that dates back to the Edo Period. It includes drama, dance and music and the all-male performers wear elaborate makeup.
The best place to see a Kabuki performance is the Kabukiza Theatre in Ginza, Tokyo (English captions are available), but you might find performances in other major cities.
9) Dress Up as a Geisha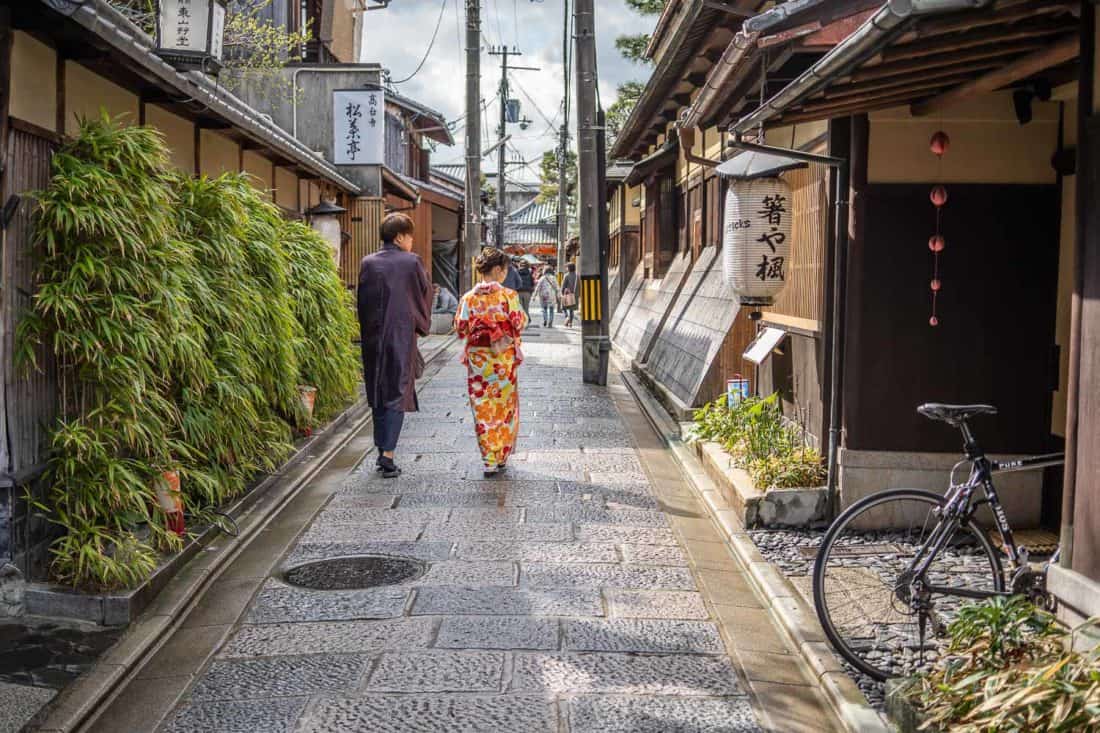 Hiring a kimono for the day and wandering the historic streets of Gion and Higashiyama is a popular activity in Kyoto with both Japanese and foreigners.
There are many shops in Gion and the surrounding areas to rent them (the Yasaka Shrine area is a convenient place to start). Check out this kimono rental shop (including optional hairstyling).
Another option if you want a more extravagant maiko outfit is this Maiko Makeover with professional studio photos.
Although Kyoto's ancient streets are the most common place to rent a kimono, you can find rental shops throughout Japan.
10) Gaze at Itchiku Kubota's Stunning Kimonos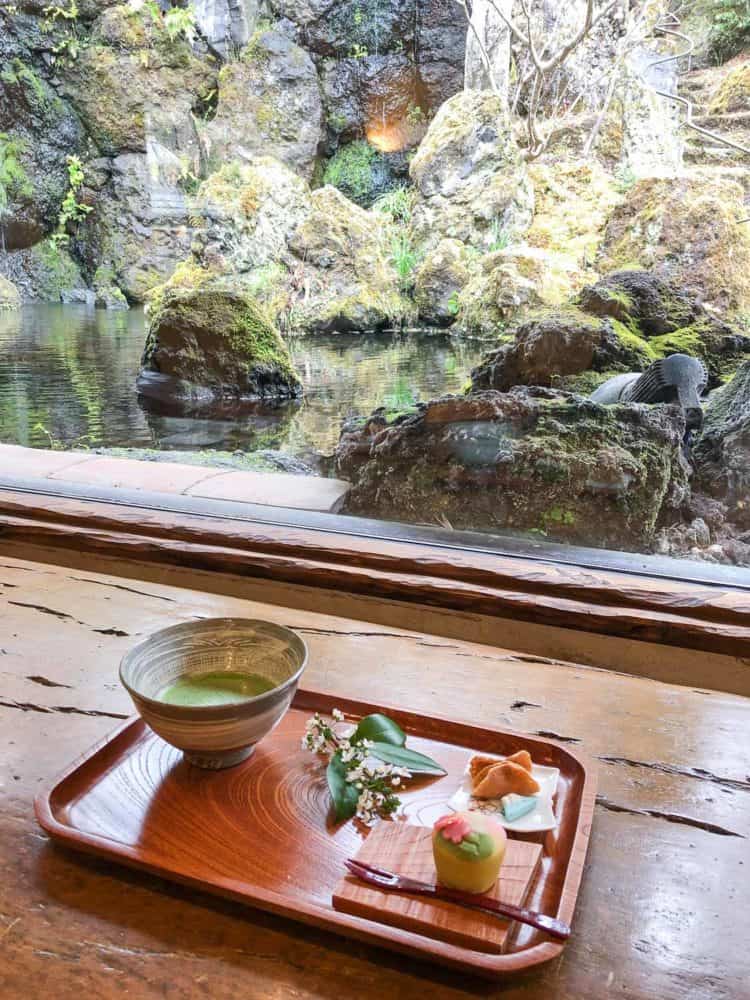 On a cloudy day at Kawaguchiko (when Mt Fuji did not emerge), we came across the Itchiku Kubota Art Museum on the shores of the lake.
We didn't expect much from a kimono museum, but Itchiku Kubota's oversize kimonos are exquisite works of art and we were blown away.
Kubota made it his life's mission to recreate a lost textile dyeing technique from the 16th century and the results are stunning.
His kimonos are full of colour and texture and depict nature such as the changes in Mount Fuji through the seasons.
This museum isn't on many things to do in Japan lists, but I think it's a hidden gem, especially if you visit the beautiful onsite teahouse too.
11) Pay Your Respects at the Hiroshima Peace Museum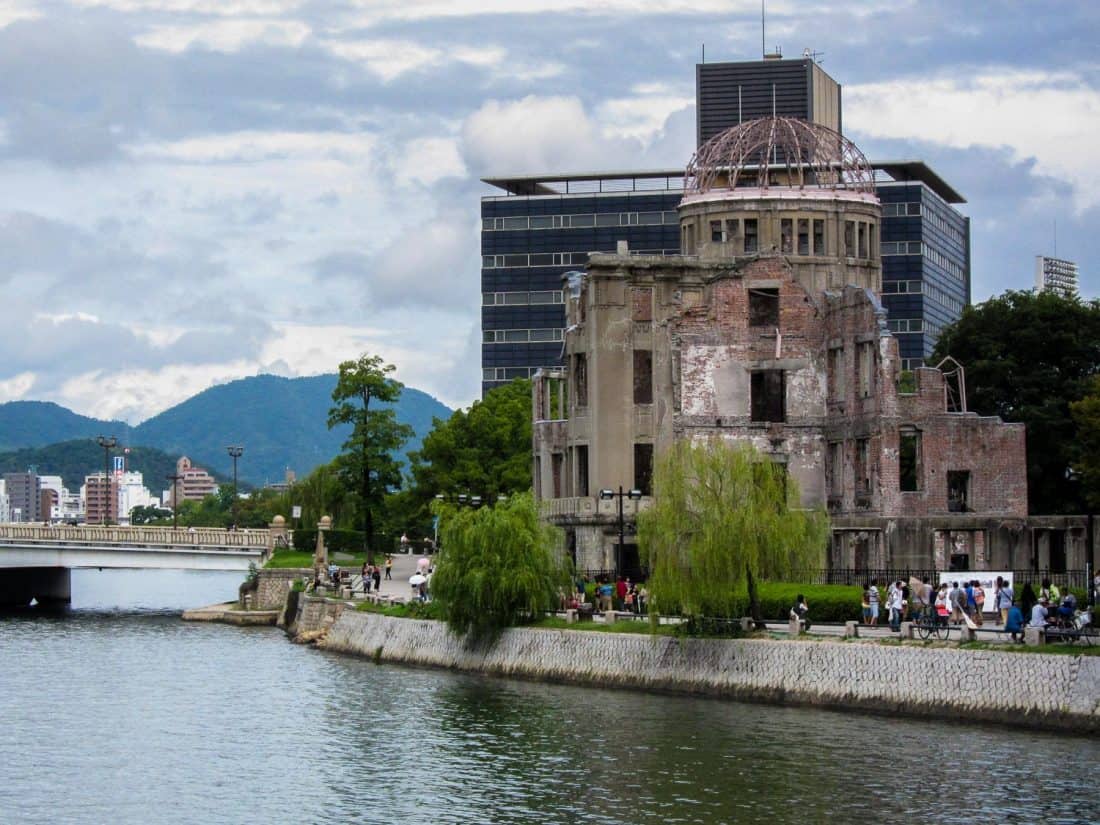 Head to Hiroshima to pay your respects to the victims of the atomic bombing at Hiroshima's moving Peace Memorial Park.
The park is beautiful and the museum is heartbreaking, riveting, and vitally important.
Afterwards, explore the modern city that was almost entirely rebuilt after World War II.
Fun Things to Do in Japan
12) Ride a Shinkansen (Bullet Train)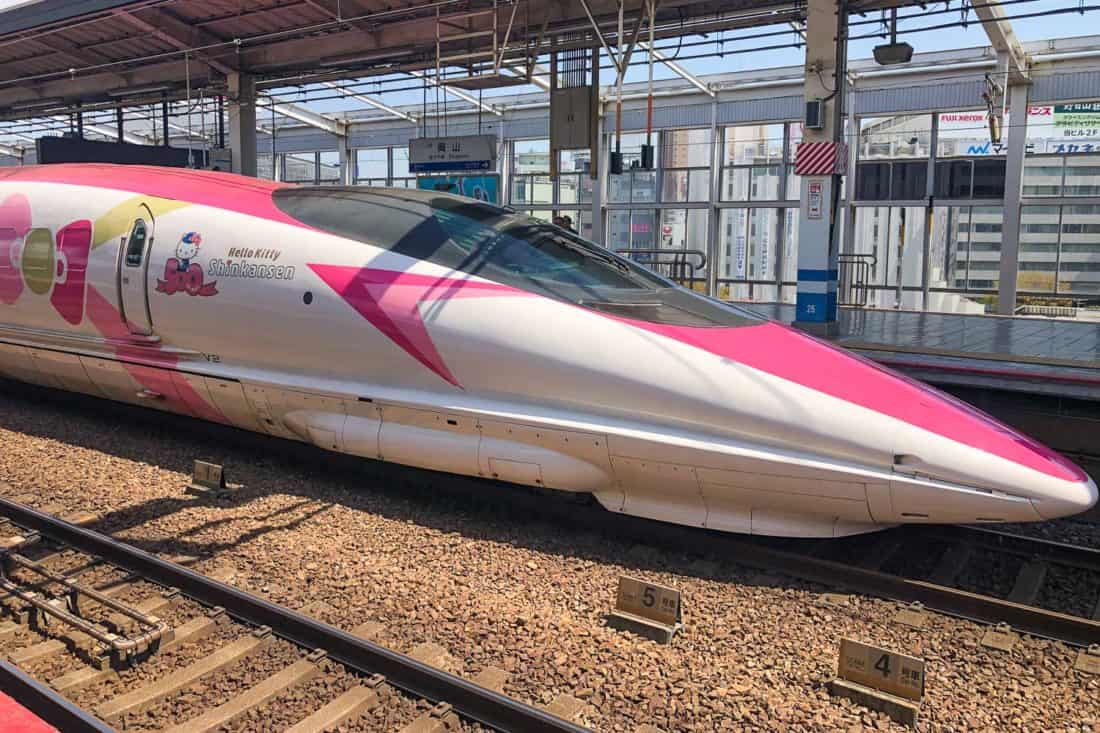 We adore train travel in Japan. The network is extensive and the trains are comfortable, clean, quiet, safe, and always on time (to the minute!).
Best of all are the shinkansen or bullet trains which travel at ultra-high speeds of up to 320 km/h (199 mph).
They make travelling between major cities very fast—Tokyo to Kyoto, a distance of 450km (280 miles) can be covered in 2 hours 15 minutes by the fastest shinkansen Nozomi.
You can even ride fun themed bullet trains such as the Hello Kitty shinkansen which runs from Osaka to Fukuoka.
Shinkansen are expensive, but a Japan Rail Pass makes them more affordable as you can hop on as many as you'd like without a reservation.
13) Go-Kart Around Tokyo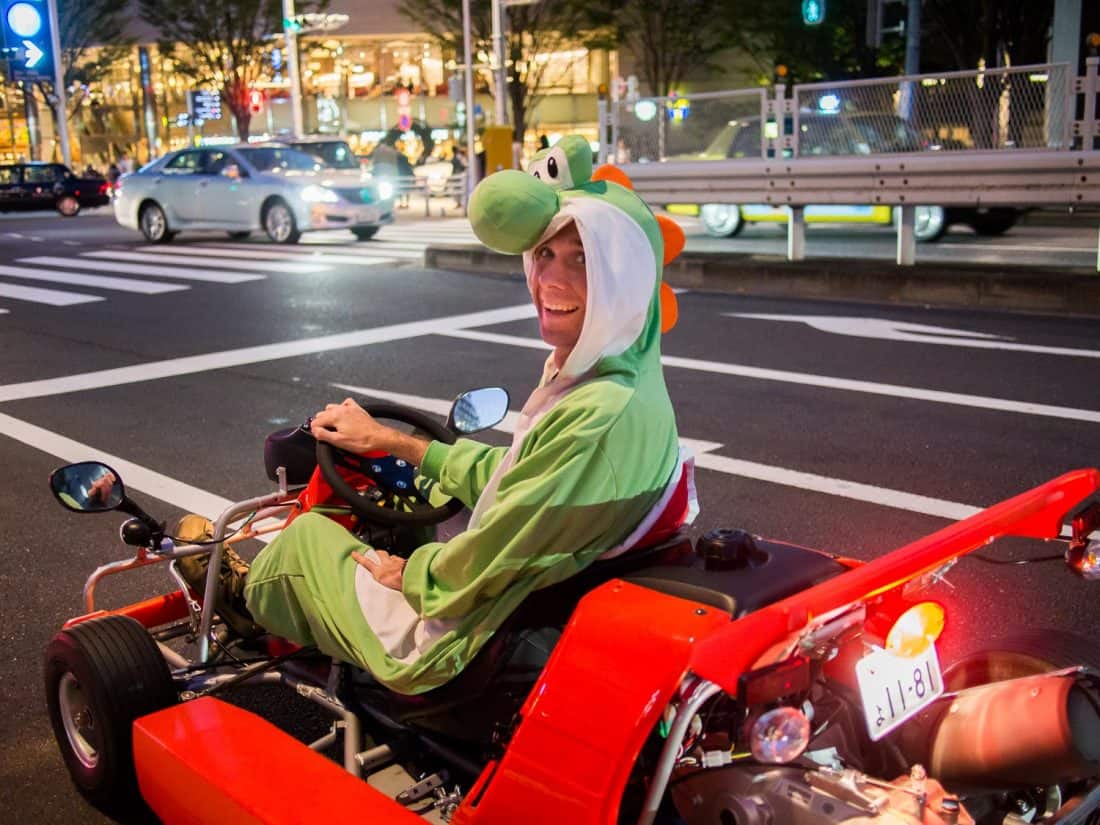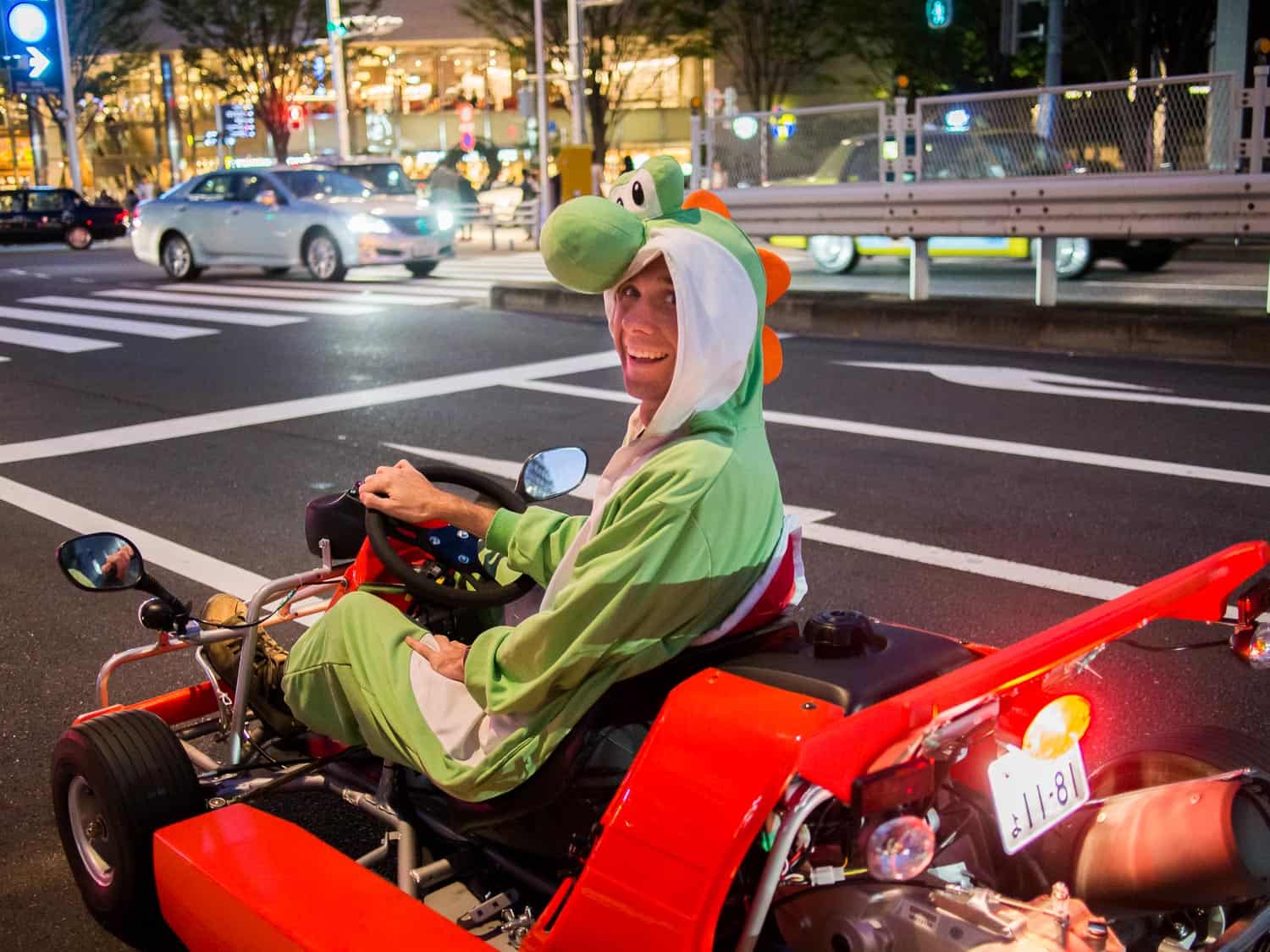 Go-karting in Tokyo tops our list of the most fun things to do in Japan! Where else in the world can you dress up as your favourite character and drive go-karts on the real streets of a major city?
I was terrified at first as we drove alongside buses and cars but ended up having so much fun!
You used to be able to dress up as Mario characters but Nintendo shut that down. You'll still have a range of costumes to choose from.
Important: Make sure you get an international driving permit from your home country before you come to Japan as they are strict about this requirement.
Check out the Tokyo go-karting tour here.
14) Enjoy a Day at DisneySea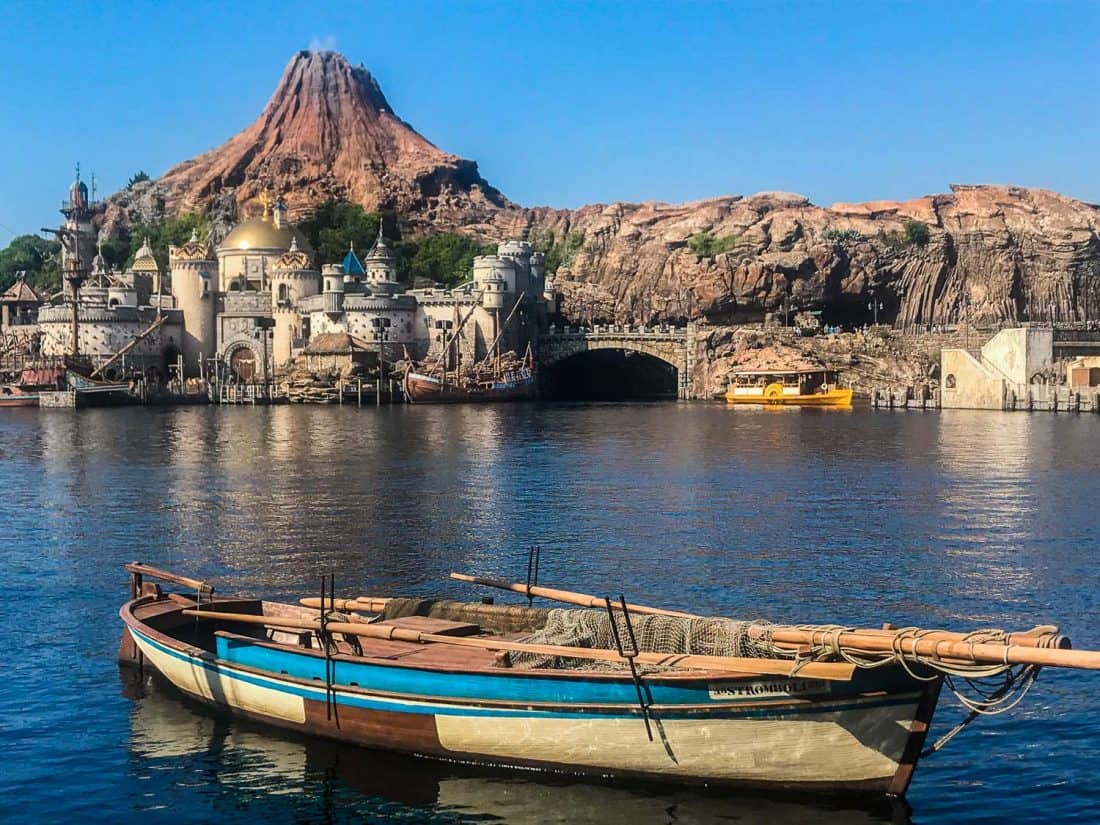 DisneySea is one of the best Disney parks in the world with a unique nautical theme featuring ports like Mysterious Island with an erupting volcano and Mediterranean Harbor which looks just like Italy.
There are many fun rides at DisneySea as well as more adult-orientated attractions like seeing a Broadway show or drinking a cocktail in a 1920s lounge aboard a cruise liner.
Disney is easily accessible from central Tokyo in about 30 minutes, but on our third visit, we stayed a short walk away at the inexpensive Hotel Mystays Maihama and loved avoiding rush hour travel and being able to take a break during the day.
I definitely recommend staying nearby if you want to visit the neighbouring Disneyland Tokyo park as well as you'll need two full days.
To avoid long queues on the day, purchase your Tokyo Disney pass in advance from authorised agent Klook.
15) Head up High for a City View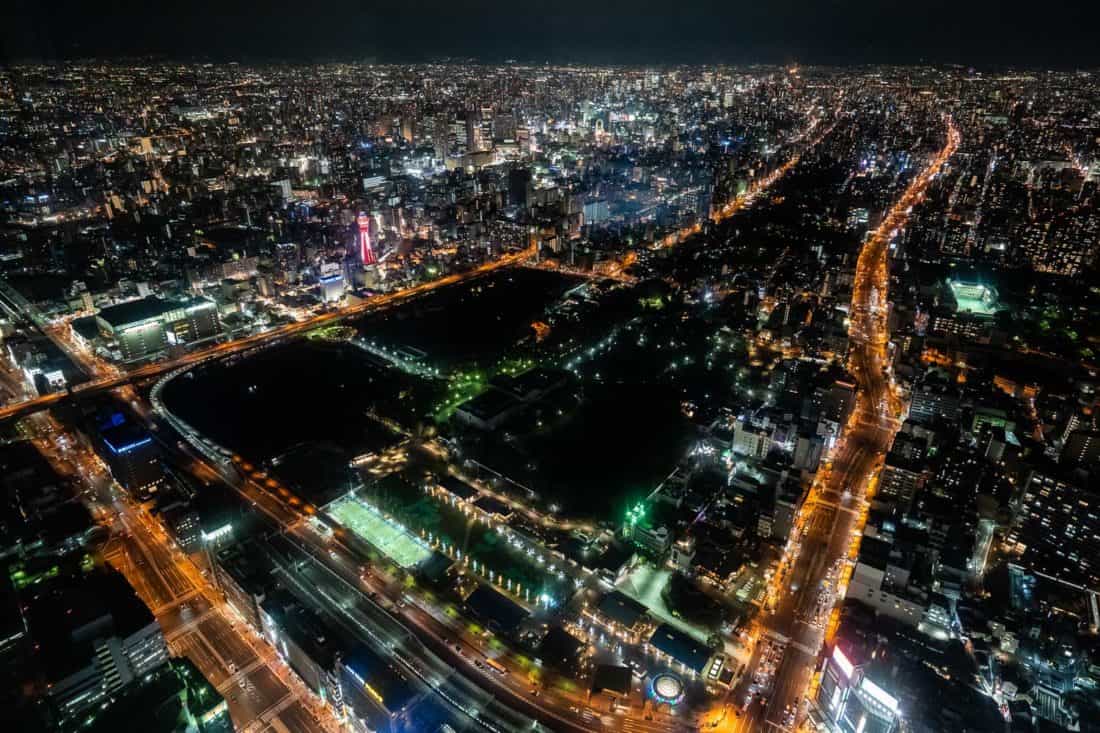 Japanese cities are vast and impressive with towering skyscrapers and neon signs. I think they are best admired from above at night, so head up to an observatory in one of the tall buildings.
My favourite observatory is Harukas 300 in Osaka which has 360º views from the floor-to-ceiling windows and a cool open-air garden bar.
In Tokyo, you can get a free view from the Tokyo Metropolitan Government Building in Shinjuku or enjoy VR rides along with the city skyline at the Sky Circus Sunshine 60 Observation Deck in Ikebukuro.
Tokyo Tower is another popular viewpoint and looks like a red Eiffel Tower. Or the new Shibuya Sky observation deck in Tokyo looks amazing.
16) Rent a Karaoke Booth
Karaoke is one of the most typical Japan activities—everyone from teenagers to businessmen loves it.
But don't worry if you are shy—there's no need to sing in public as in Japan you rent a private booth in one of the many huge karaoke buildings.
The rooms are equipped with comfy seating, microphones, TV, and a tablet which you use to choose from a wide selection of songs. You can even order drinks and food.
We went to a branch of the budget Karaoke no Tetsujin chain in Tokyo and were surprised that the cost included a drink—it makes an affordable night out.
17) Be Spirited Away at Studio Ghibli Museum or Park
If you are a fan of Studio Ghibli films like Spirited Away and My Neighbor Totoro, don't miss the whimsical Studio Ghibli Museum in Tokyo where you can see props and drawings from the animations in a quirky building.
You must buy your tickets on the 10th of the month for the following month—see the Ghibli Museum website for details.
Even better, the new Ghibli Park opened in November 2022 near Nagoya. The theme park doesn't contain any rides but is an immersive experience in the world of Studio Ghibli films.
Again, tickets need to be bought far in advance—check the Ghibli Park website for the latest information for international guests.
You must book separately for each area of the park (currently Ghibli's Grand Warehouse, Dondoko Forest, and Hill of Youth, with two more to come in 2023).
We are very excited to return to Japan to visit Ghibli Park!
18) Enter the World of Harry Potter at Universal Studios Japan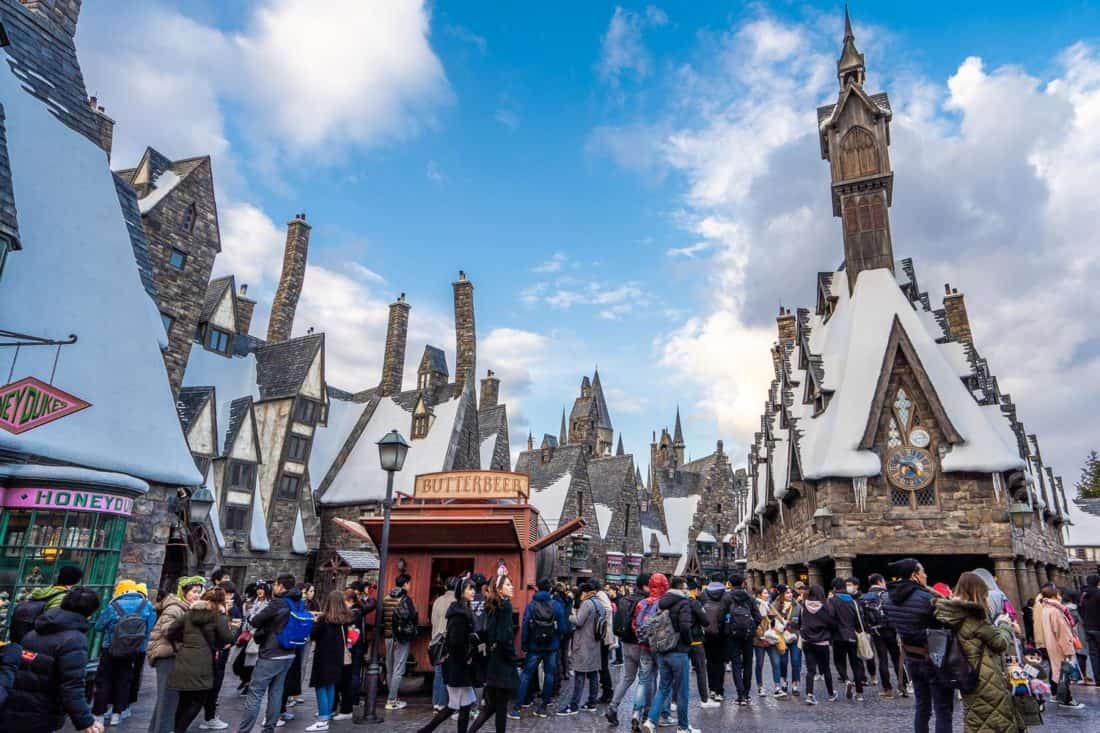 Universal Studios Japan in Osaka is a must for Harry Potter and theme park fans.
The highlight is the immersive Wizarding World of Harry Potter where you can wander the snowy cobbled streets, stroll through Hogwarts, drink butterbeer, shop for sweets in Honeydukes, and even cast your own spells if you buy a magic wand.
Elsewhere in the park, there are plenty of rides for thrill-seekers including Hollywood Dream and The Flying Dinosaur—the scariest rollercoaster I've ever been on!
The new Super Nintendo World also looks amazing. Note you may need a free timed entry ticket (or Express Pass) to enter this area.
See our favourite Universal Studios Japan rides.
The park gets extremely busy, so avoid weekends and buy your tickets in advance here from authorised agent Klook.
Consider purchasing an Express Pass to skip the queues on the most popular rides.
19) Experience Sensory Overload at the Robot Restaurant
Update: Robot Restaurant is currently closed and it's unclear whether it will reopen now that Japan is open to tourists again.
The Robot Restaurant is one of the weirdest things to do in Japan.
It's not actually a restaurant but is a bizarre, high-energy show featuring robots, dragons, ninjas, blue-haired dancers, creepy clowns, guitarists on swings, drummers, and lots of flashing neon lights.
It's incredibly loud, obnoxious, and hilarious.
20) Ride the Don Quixote Ferris Wheel in Dotonbori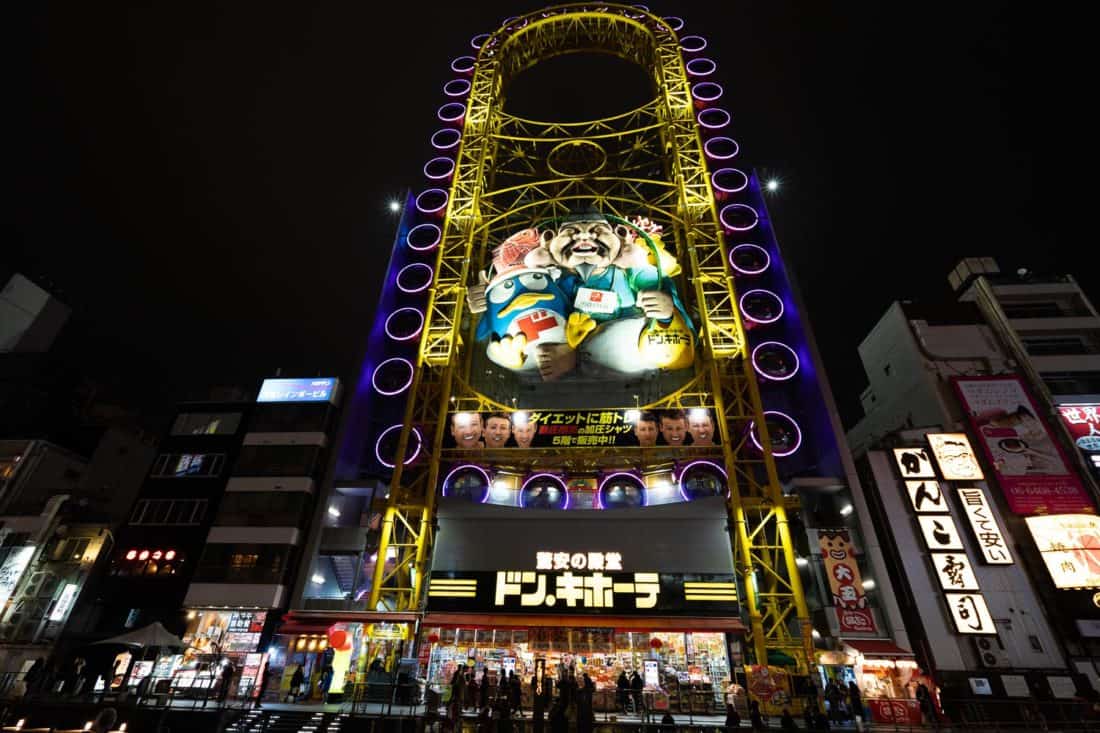 A nighttime visit to Osaka's Dotonbori neighbourhood is a must-do in Japan with its overwhelming display of neon, giant food models, and many restaurants and food stalls.
Overlooking the river you can ride a unique Ferris wheel in the building of the massive Don Quixote store (great for cheap souvenirs).
It's the strangest looking Ferris wheel as it's built onto the facade of the store and you ride in a capsule that follows an oval shape up to 77 metres high with views of the river and city.
Top tip: We recommend staying in the Shinsaibashi neighbourhood of Osaka. It's walkable to Dotonbori but is in a much quieter area with some great shops and restaurants nearby. Search for accommodation in Shinsaibashi here.
21) Play Taiko Drums in an Arcade
There are so many video game arcades in Japan that you won't be able to miss them (they are loud and neon!).
There's a wide array of games, and one of the most fun is playing the huge Japanese taiko drums.
If you want to play real Taiko drums, you can take a class in Tokyo (currently unavailable).
22) Get Lost in the Colourful TeamLab Planets Museum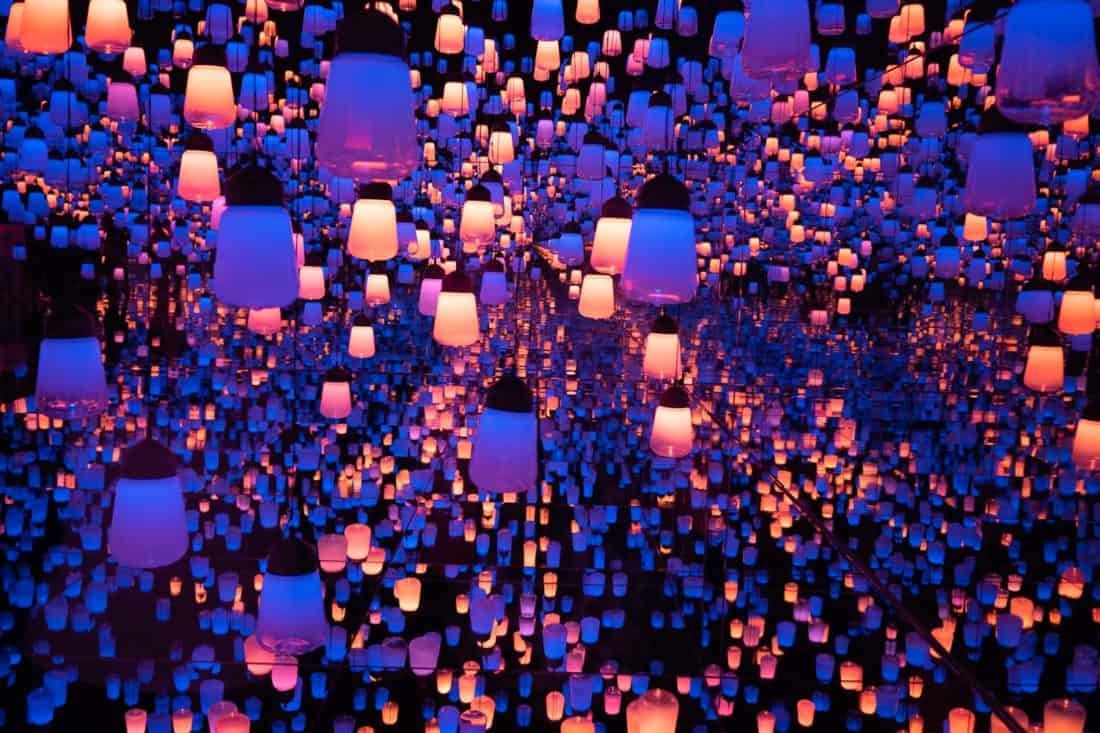 Don't miss the opportunity to see a TeamLab show in Japan. Their unique digital art museums are immersive experiences where you interact with colourful displays of light and sound.
We visited the TeamLab Borderless museum in Tokyo, which has now closed.
It has been replaced with TeamLab Planets, also in Tokyo (open until the end of 2023), which looks just as incredible and involves a flower garden and walking in water (wear shorts or trousers you can roll up).
I'm also excited that TeamLab Planets features a vegan ramen shop onsite!
TeamLabs are like no museums I've ever been to and are well worth braving the crowds for.
Book tickets to TeamLab Planets in advance here. You must select an entry time. I recommend choosing the first time slot of 9am and arriving just before opening.
I also want to visit TeamLab's new nighttime show at a botanical garden in Osaka.
23) Brave the Shibuya Crossing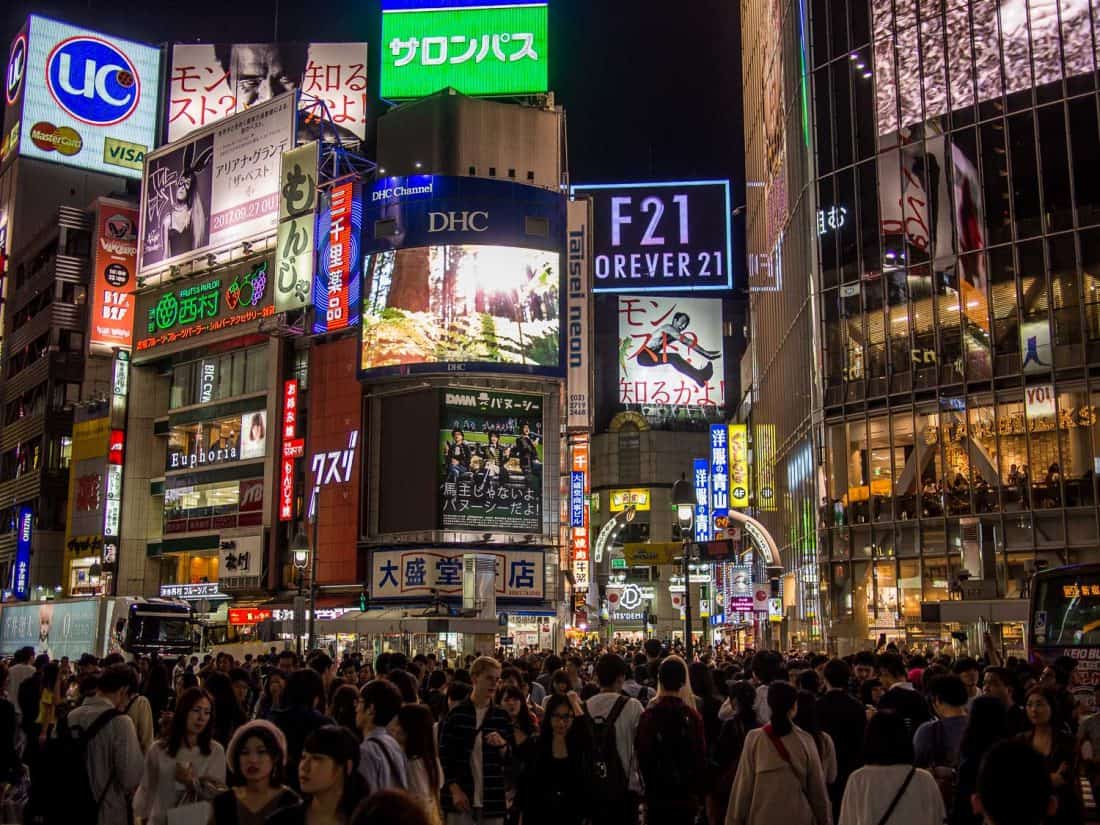 One of the most famous sights in Tokyo is the insane Shibuya Crossing, the world's busiest pedestrian crossing.
Outside Shibuya Station as many as 2500 people cross the road every time the light changes, somehow managing to avoid bumping into each other.
You can head into the crowd yourself or view the action from above in one of the neighbouring buildings (Starbucks is the most popular spot). It looks best at night when all the neon signs are lit up.
The new Shibuya Sky observation deck is another great place to see the crossing from above as well as 360º panoramic views of Tokyo.
Best Japan Activities for Foodies
Food in Japan is an adventure and an art form. Japanese cuisine is universally delicious and beautifully presented whether you pick up a snack from a 7-Eleven (yes, this is the only country I recommend this) or indulge in multi-course fine dining.
Being a vegetarian can be a challenge if you don't plan in advance, but follow our vegetarian in Japan tips and you'll eat some of the best meals of your life.
We love eating in Japan and there are many fun and tasty culinary experiences to enjoy.
24) Order Ramen from a Vending Machine
Ramen, or noodle soup, may have its origins in China, but there's now a no more classic Japanese food experience than enjoying a steaming bowl of ramen.
Not only is it utterly delicious, but it's also one of the quickest and cheapest meals you can find.
In the simplest ramen joints, you make your selection and pay at a vending machine at the entrance and then hand over your ticket to the chef behind the counter who will cook the soup of your choice.
Most ramen is made with meat (or occasionally fish) broth and topped with pork, but vegetarian ramen is becoming more common.
Read our vegetarian Tokyo guide for our favourite veggie ramen joints and look out for the chains Kyushu Jangara Ramen and Chabuton.
25) Make Your Own Takoyaki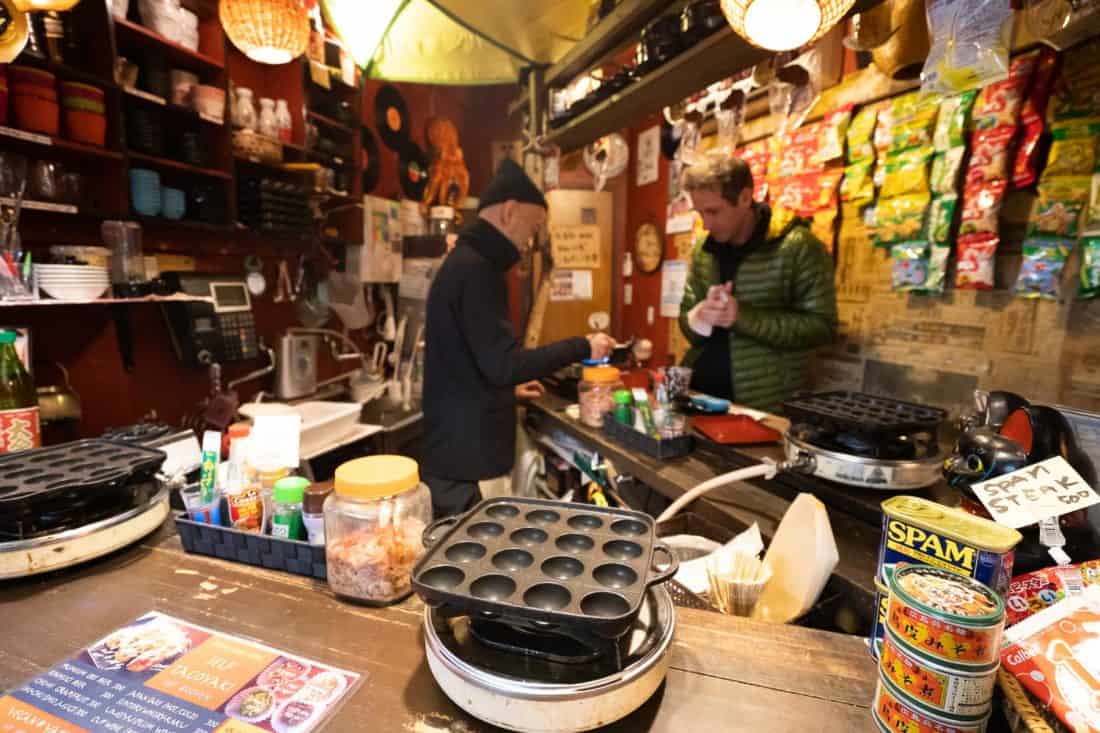 Takoyaki is a street food from Osaka that consists of batter cooked in ball shapes on an iron plate and stuffed with octopus.
It's not something vegetarians can usually eat, so we were ecstatic to find a tiny takoyaki stand in Osaka that not only does a vegetarian version but also lets you make your own.
It was fun making our messy takoyaki and filling them with green onion, pickled ginger, mushroom, konnyaku, puffed rice, and dried seaweed.
Sadly, the Self Tacoyaki Bar Iduco we visited has closed, but there are many other places to try takoyaki in Osaka.
The halal restaurant Matsuri (one of our favourite vegetarian-friendly restaurants in Osaka) has a make your own takoyaki experience.
An excellent way to sample takoyaki and many other delicious local eats is on this Osaka Food Tour.
26) Try Okonomiyaki
Okonomiyaki is another classic Japanese dish found all over the country but especially in Osaka and Hiroshima.
It's a thick savoury pancake made with a batter of flour and eggs and filled with cabbage and whatever else you want. Hiroshima-style okonomiyaki also contains noodles.
In some okonomiyaki restaurants, you make your own, while in others it's made on an iron griddle in front of you. It's a hearty and inexpensive meal.
Learn to make okonomiyaki on this Osaka cooking class.
27) Take a Cooking Class
A cooking class is one of the best things to do in Japan for foodies as you can learn more about Japanese food culture and take home recipes for your favourite dishes.
There's a wide variety of cooking classes available in Japan where you can learn to make sushi, ramen, tempura, or regional dishes like Osaka okonomiyaki.
We loved our class with Emi at Uzuki Cooking Class (now closed) who teaches home-style Japanese cooking in her kitchen in Kyoto. We made a series of beautiful vegetarian dishes using local ingredients.
Search for more cooking classes in Japan.
28) Indulge in a Kaiseki Meal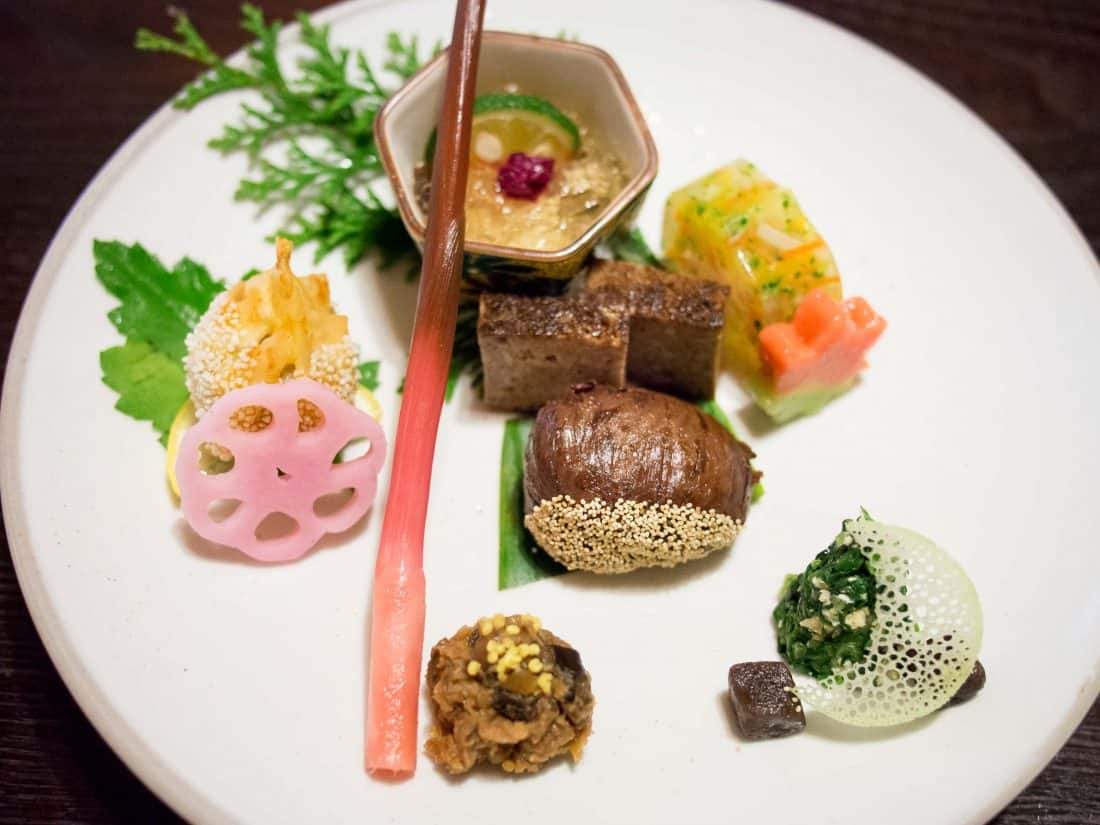 If ramen is one of the cheapest Japanese meals, kaiseki is the most expensive.
Kaiseki is a traditional multi-course meal of the highest quality. A series of small, exquisitely presented dishes are served to guests, usually in beautiful tatami mat rooms. Ingredients are always in season and the presentation enhances the seasonal theme.
Kaiseki meals can be very expensive, but they are a unique experience. Lunch is more affordable than dinner.
If you are vegetarian, look out for the meat-free alternative shojin ryori instead—our favourite place for this is Bon in Tokyo.
29) Drink Matcha with Wagashi
Matcha is a powdered green tea that has a richer flavour than regular tea. A classic Japanese activity is enjoying a bowl of matcha in a traditional tea house accompanied by wagashi, beautiful sweets typically made from rice, red beans, and sugar.
There are many tea houses in Kyoto—we had a great experience at Ippodo Tea Shop. We also loved the view from the tea house at Itchiku Kubota Art Museum in Kawaguchiko.
30) Learn the Art of the Tea Ceremony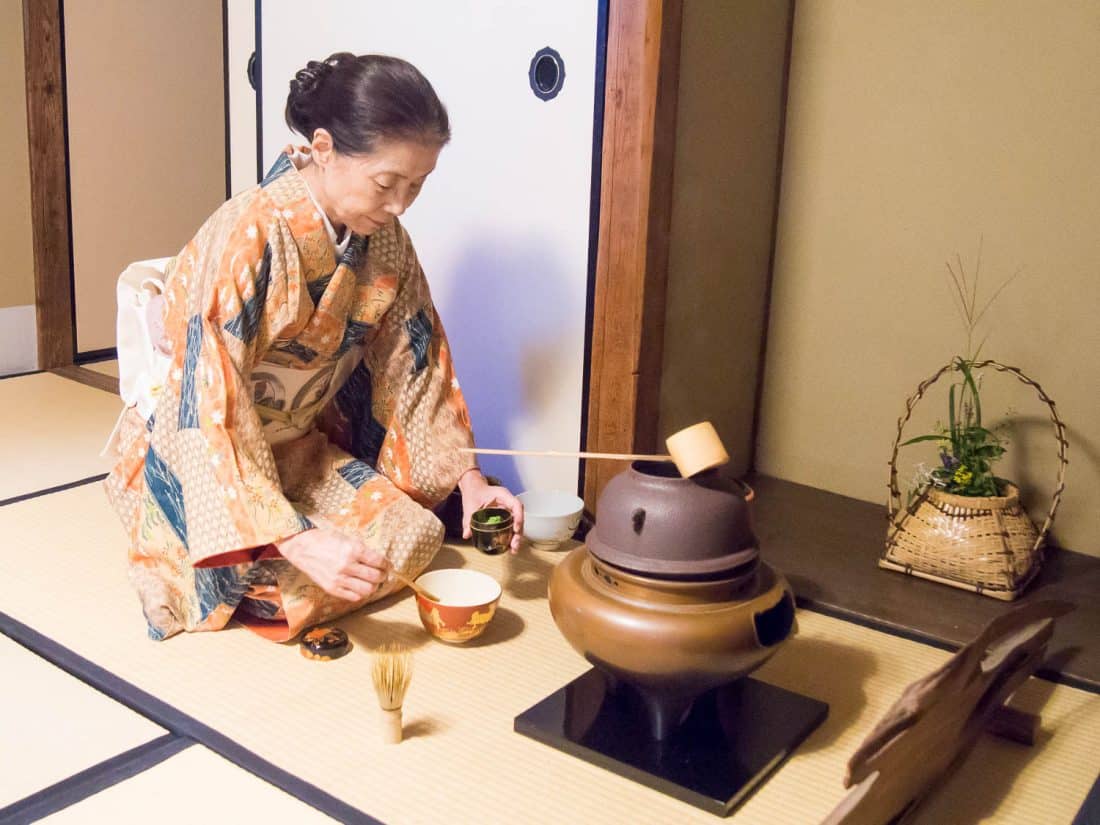 Tea isn't just a drink in Japan and I highly recommend experiencing a traditional tea ceremony to learn more about this important part of Japanese culture.
Kyoto is the home of the tea ceremony, so there are many options such as this tea ceremony near the Golden Temple. Some have the option of wearing a kimono which adds to the atmosphere.
We participated in a tea ceremony at the gorgeous Gyokusen-en Gardens in Kanazawa, which is harder to book than the suggestion above.
Ms Nishida, who is from the fifth generation of the family who owns the gardens, took us through the ritual and we learnt the appropriate phrases, how to appreciate the tea bowl, and the concept of "ichi-go ichi-e" which means cherishing the moment as it will never happen again.
31) Drink Sake at an Izakaya
From the tranquillity of a tea room to the boisterousness of an izakaya, Japan is all about contrast.
An izakaya is a Japanese pub where you can drink sake (rice wine), beer and other alcoholic drinks accompanied by small tapas-like plates of food.
If you don't feel brave enough to venture into an izakaya yourself, you can take this Osaka bar hopping food tour (vegan menu available) or this Shinjuku Tokyo bar hopping tour.
Note that smoking is allowed in some small bars in Japan. The legal drinking age is 20 years.
32) Eat Sushi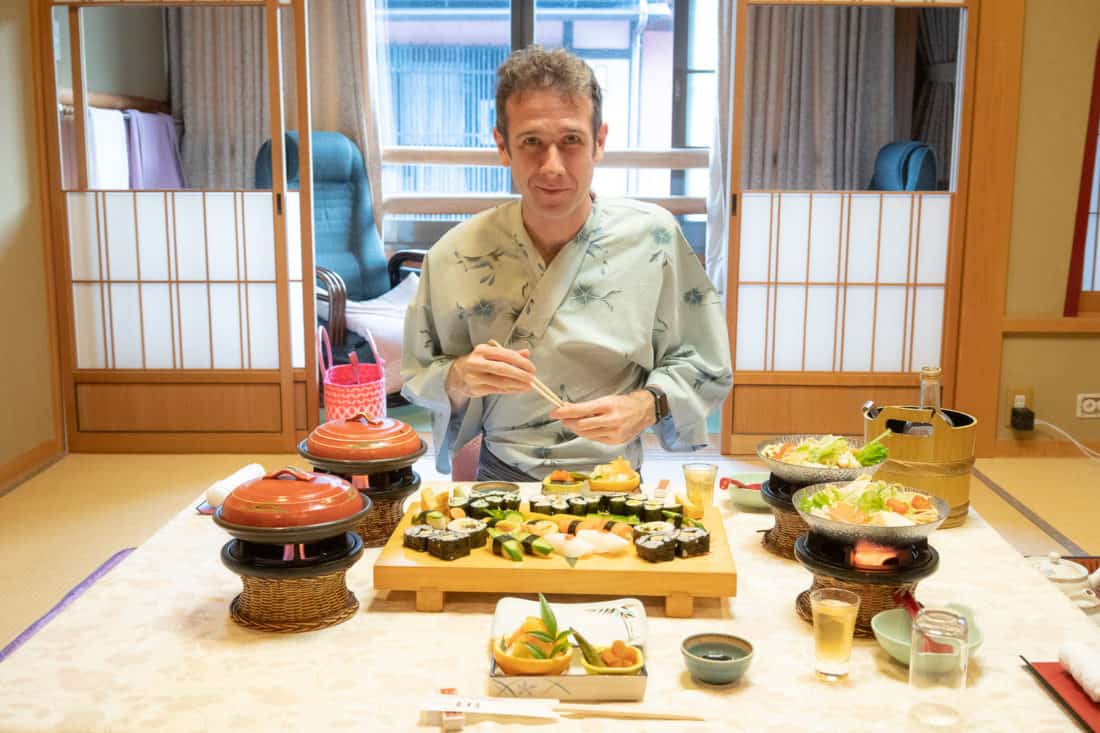 Sushi is Japan's most famous dish so, of course, you'll want to try it in its homeland. Eating sushi in Japan is different from elsewhere and there are strict rules—see this sushi in Japan guide for tips.
Sushi comes in many forms. While it all involves rice prepared with sushi vinegar, it doesn't all include raw fish. Vegetarian sushi made with tofu, cucumber, or other vegetables is harder to find, but you can read our vegetarian Japan guide for ideas.
You can eat sushi everywhere from convenience stores to fine dining restaurants. The most famous (and exceedingly expensive) restaurant is Sukiyabashi Jiro in Tokyo—you can learn more about the revered chef in the documentary Jiro Dreams of Sushi.
It's a difficult restaurant to get a reservation for. You must book through a hotel concierge service a few months in advance.
A more affordable option is Sukiyabashi Jiro Roppongi Hills, which is run by his son.
Another popular place to try sushi is the Tsukiji Fish Market.
33) Enjoy a Bento Box on a Train
A bento box is a Japanese lunchbox featuring a range of small dishes with a balance of flavours, textures, and food groups.
You can find them in train stations (where they are called ekiben and use local ingredients), convenience stores, and department store food halls.
This being Japan, they are works of art and very tasty. They are ideal for long train rides and picnics in the park.
A typical bento features rice, meat or fish, and pickled vegetables. Vegetarian bentos are not easy to find, but we did get one at Matsumoto in the Isetan department store near Shinjuku Station in Tokyo.
34) Hanami Under the Cherry Blossoms
Hanami is a Japanese custom of viewing the transient sakura (cherry blossoms) that bloom for a few weeks in spring (usually late March to mid-April in Tokyo and Kyoto).
The most popular way to enjoy the blossoms is with a picnic under the trees. The Japanese gather in large groups with food and drinks for parties that often last all day and into the night.
To enjoy your own hanami, you can pick up a bento box from a department store or there are many picnic options in convenience stores as well as beers and sake. Look out for sakura-themed items like mochi, kitkats, and even beer.
Our favourite hanami spots were Handayama Botanical Garden in Okayama and Shinjuku Gyoen National Garden in Tokyo where we enjoyed three picnics in a week under the late-blooming cherry trees.
Top Tip: Shinjuku is our favourite area to stay in Tokyo.
35) Order Hot Coffee or Soup from a Vending Machine
In Japan you'll find vending machines everywhere—in train stations, on almost every street corner, and even on hiking paths. They are very convenient as you'll never go thirsty.
Most vending machines sell drinks—cold green tea, milk tea, soft drinks, energy drinks, juice (some with jelly chunks), and water.
It's not just cold drinks, though—in the colder months you can buy a can of hot coffee, tea, and even corn soup to go!
You can tell they are hot as they'll have a red label (rather than blue for cold drinks). You can also find vending machines that sell alcohol.
It may not be the best coffee in the world, but Simon loved the convenience of being able to pick up a can of hot coffee anywhere, especially on cold mornings when we had a train to catch.
His favourite was Tully's—he found the more common Boss coffee (randomly advertised by Tommy Lee Jones) less appealing.
Spiritual Things to Do in Japan
Visiting a Buddhist temple or Shinto shrine is a must do in Japan even if you aren't religious (we're not).
They are diverse, beautiful, peaceful (sometimes), and fascinating with many rituals to observe. They are often set amongst lovely natural settings in forests or on mountainsides.
The best places to visit temples and shrines are Kyoto (Japan's capital for 1000 years until 1868) and Nikko (a UNESCO World Heritage Site a few hours north of Tokyo), but you can find them all over the country even in modern Tokyo and Osaka.
Read our Kyoto temples guide for more on the differences between temples and shrines.
36) Stay in a Temple at Koya-San
One of the most unusual things to do in Japan is to spend the night in a temple in the sacred mountain town Koya-san, about 90 minutes from Osaka.
Many temples offer shukubo or temple lodging where you can sleep in tatami mat rooms, soak in communal onsen baths, and enjoy delicious shojin ryori vegetarian Buddhist meals.
Early in the morning, you can join the monks for their chanting and fire ceremony.
We stayed in the cheapest temple accommodation, Haryo-in, but it's quite basic and not available to book online. Next time I'd pay more for one of the more traditional temples like 1000-year-old Eko-in.
37) Hike Through Torii Gates at Fushimi Inari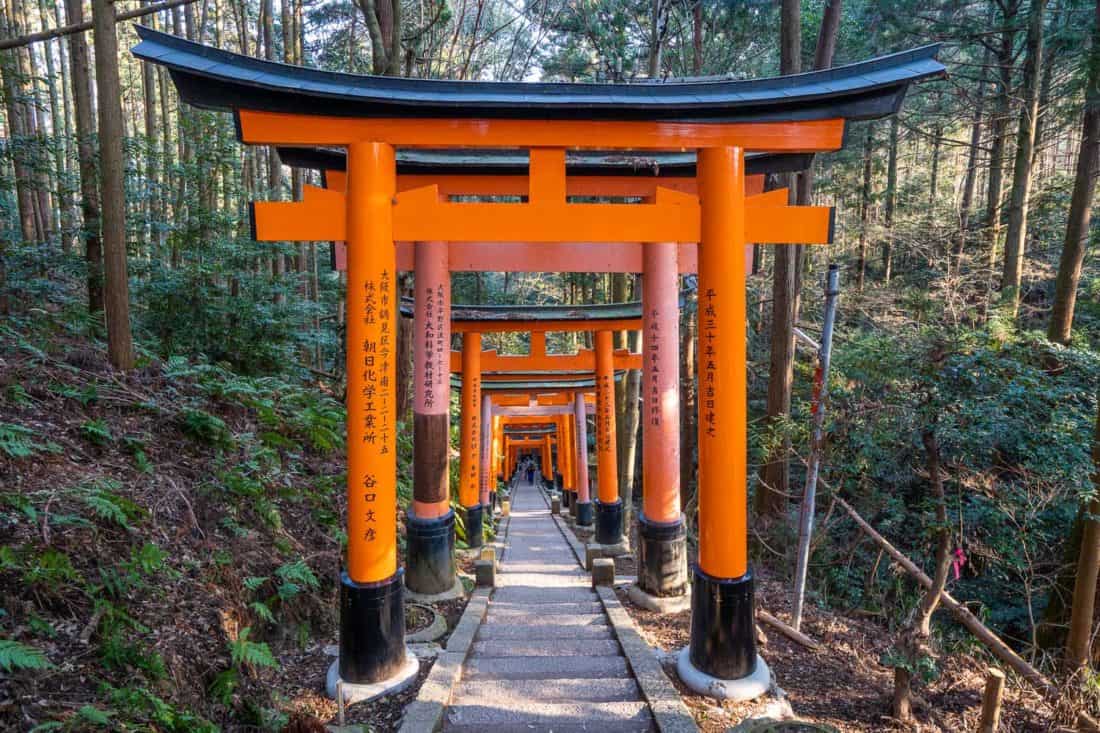 My favourite shrine in Japan and one of the most popular things to do in Kyoto is the unique Fushimi Inari.
Thousands of bright orange torii gates snake up through a forest on the side of a mountain and it takes about 90 minutes to complete the full circuit (which I recommend as it's much quieter at the top).
Fushimi Inari is one of the top tourist attractions in Japan and gets incredibly busy, so I highly recommend arriving before 7 am or after 8 pm to avoid the worst of the crowds.
Although I prefer it early in the morning, hiking it at night feels more adventurous with a slightly spooky atmosphere (watch out for wild boars!). The shrine is free and open 24 hours.
38) Visit the Golden Temple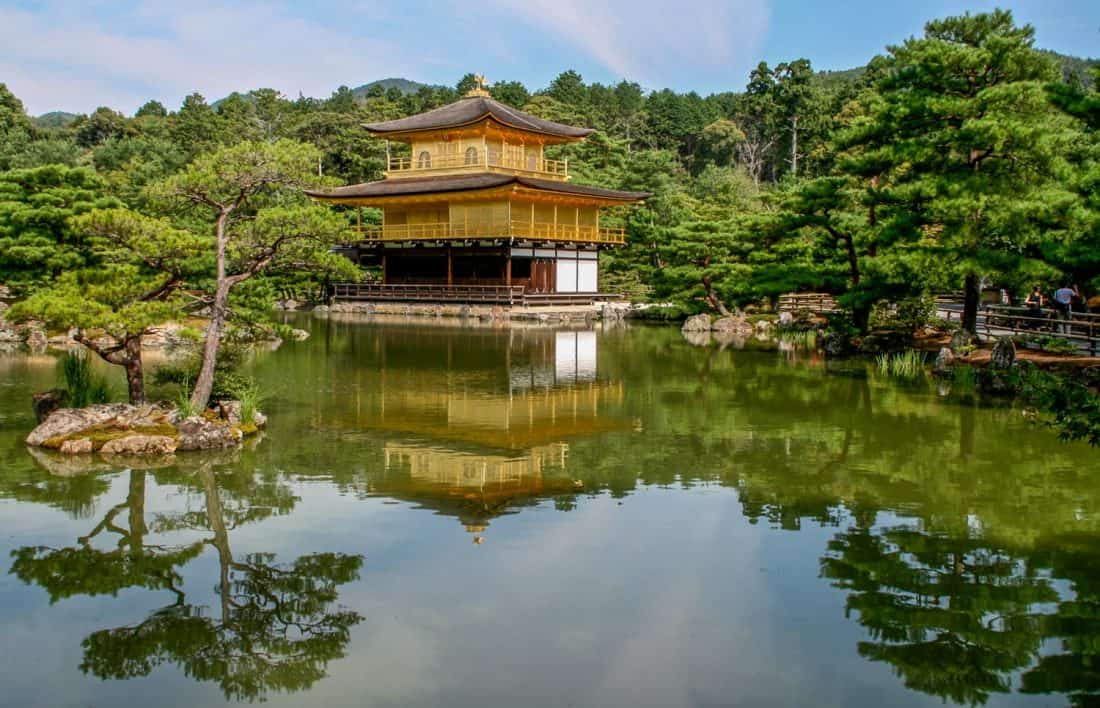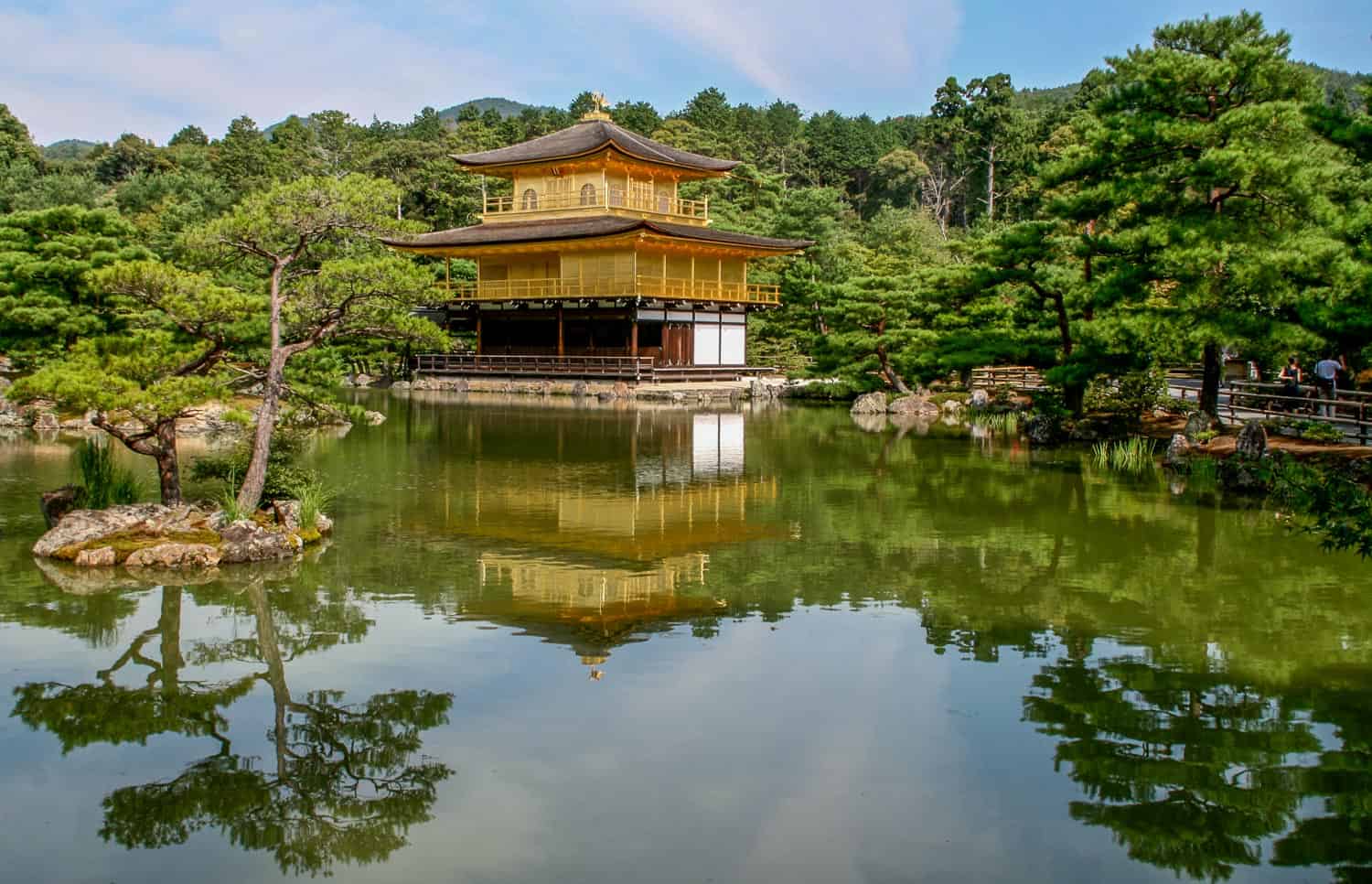 Another Kyoto highlight is Kinkaku-ji or the Golden Temple.
We expected it to be overrated (and it is very crowded), but the shimmering gold pavilion reflected in a pond amongst leafy gardens lived up to the hype.
39) Get Your Fortune Told at a Temple or Shrine
Omikuji are fortune-telling paper strips that can be bought at Japanese temples and shrines.
The fortunes range from great good luck to great bad luck (luckily the worst we've got is "pretty good"). Some of the more popular temples like the Golden Temple in Kyoto have fortunes in English.
If you get a bad fortune, make sure you leave it at the temple to avert the bad luck—there are dedicated areas to tie them. If it's a good fortune, you should carry it with you.
40) Meditate at a Zen Garden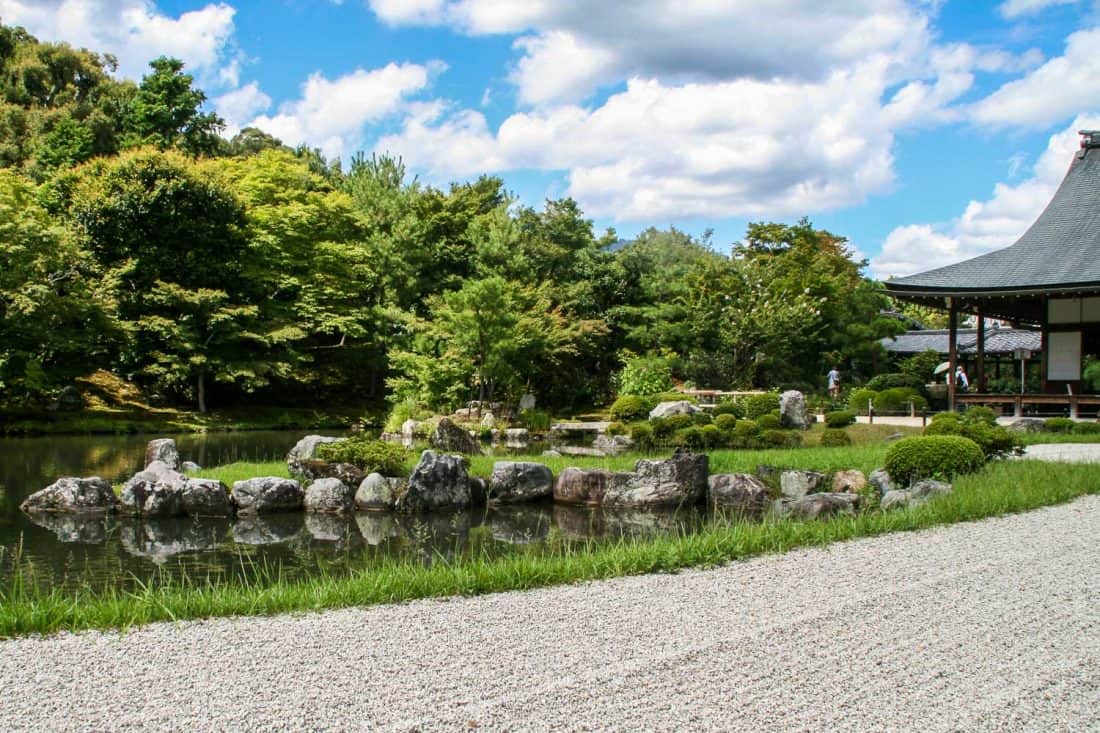 Zen Buddhist temples usually feature kare-sansui or dry landscape gardens made from rocks and gravel carefully raked into patterns that suggest rippling water. They are simple, elegant, and the perfect place to meditate.
Kyoto is the best place to find Zen temples. Ryoan-ji Temple is the most famous (and crowded), and we enjoyed the gardens at Kennin-ji and Kodai-ji (especially when the cherry tree is in bloom).
At Entoku-in we had the chance to create our own miniature garden.
41) Visit a Temple at Night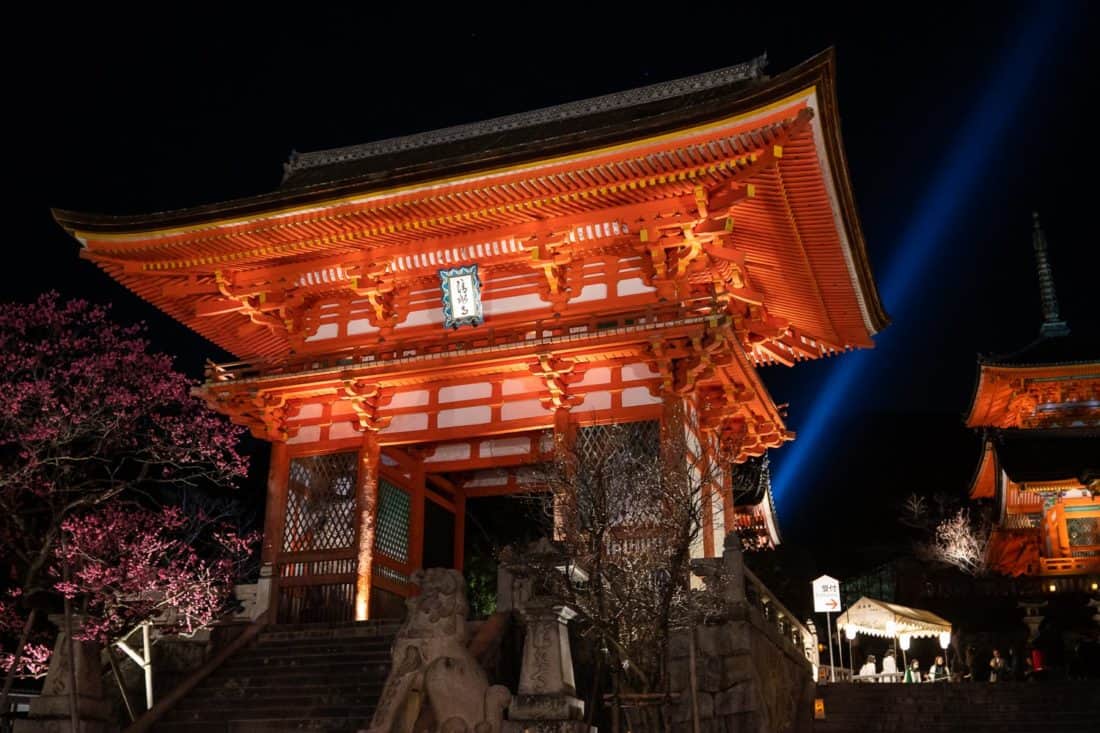 In the spring cherry blossom and autumn leaf seasons some temples open at night.
They are beautifully illuminated, sometimes feature special light shows, and it feels like a different experience visiting in the dark.
We especially enjoyed night visits to Kiyomizu-dera and Kodai-ji in Kyoto.
42) See the Giant Buddha at Nara
Nara is a wonderful day trip from Kyoto. It was Japan's first permanent capital and is full of historic treasures including many UNESCO world heritage sites.
The highlight is the immense Daibutsu-den (Hall of the Great Buddha) at Todaiji. It's the largest wooden building in the world and houses the 15-metre tall gold and bronze statue of Buddha that dates back to 751.
43) Explore the Temples at Nikko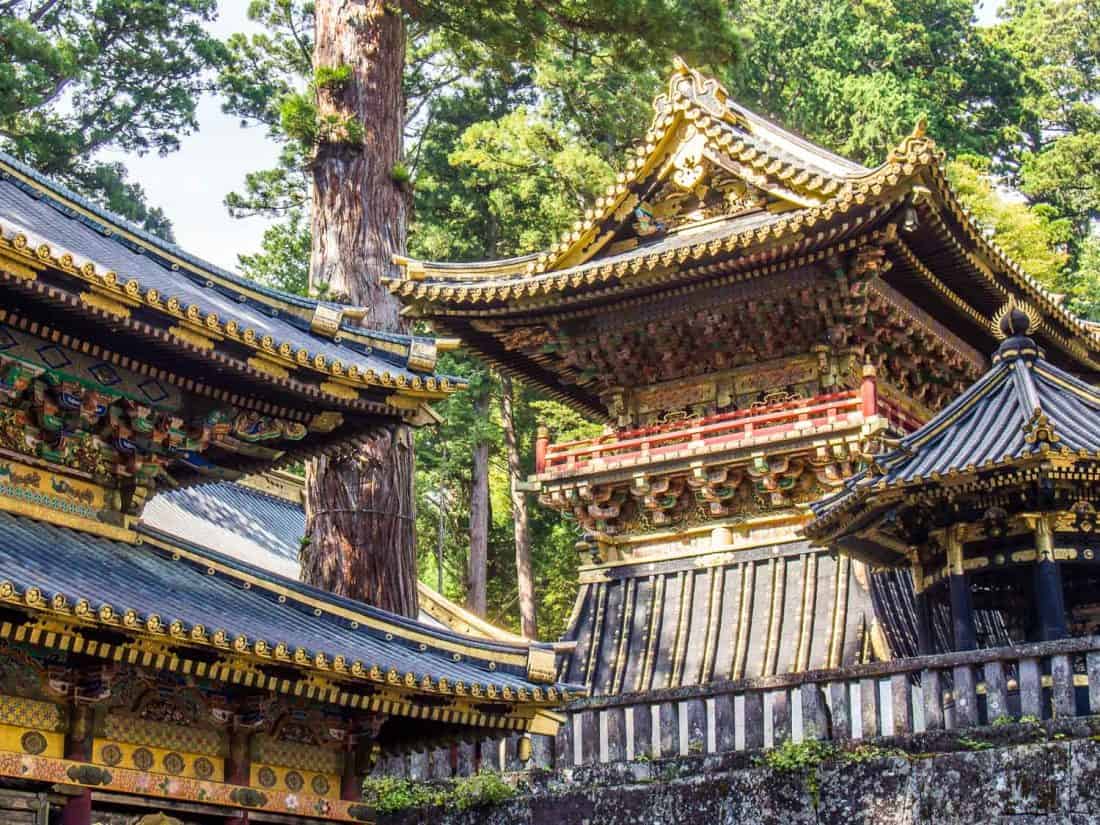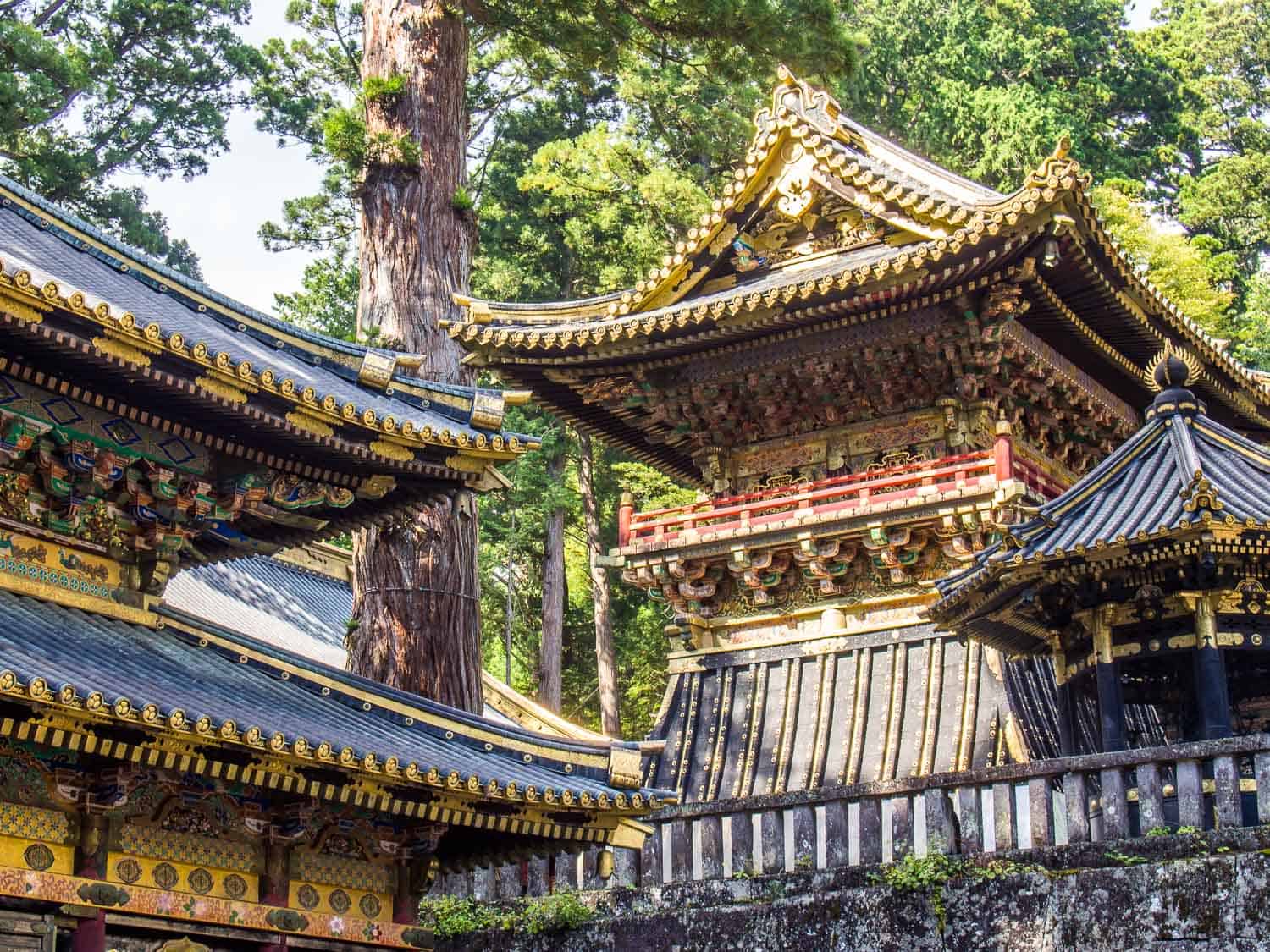 Temple fans shouldn't miss Nikko, a mountain town full of UNESCO World Heritage temples a few hours north of Tokyo.
Many people visit on a day trip, but it's worth staying overnight to get an early start and avoid the crowds.
Toshogu Shrine is the main attraction and features more than a dozen lavishly decorated red and gold buildings amongst huge, ancient cedar trees.
I also recommend playing games at atmospheric Futarasan-jinja and hiking up the mountain to the tranquil Takino shrine.
44) Get Off the Beaten Track at Otagi Nenbutsuji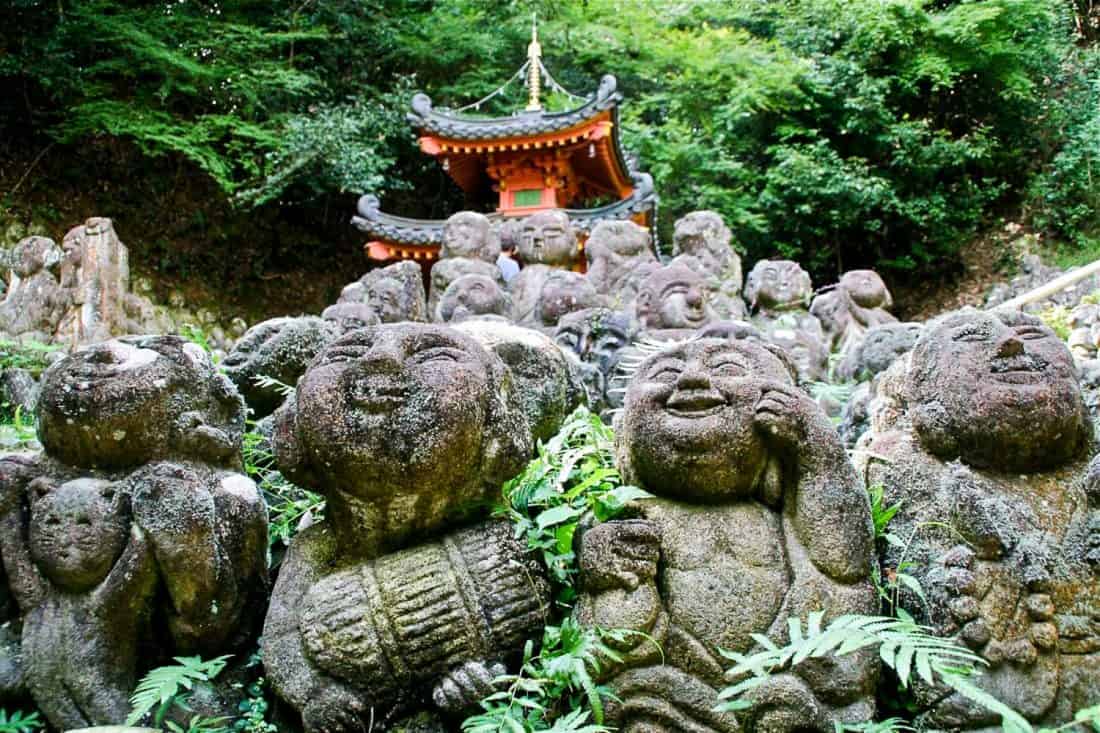 My favourite temple in Kyoto is the quirky Otagi Nenbutsuji in the lovely Arashiyama neighbourhood.
It's much quieter than other temples in the area, and the shady temple complex features 1200 stone sculptures of the Buddha's disciples all with different facial expressions and poses from scary to serene.
Best Beautiful Japan Attractions
There's so much more to Japan than the cities. You'll find many gorgeous mountains, lakes, islands, waterfalls, rivers, rice fields, and forests.
Temples and shrines are also often in beautiful natural settings, so see the section above as well.
Here are just some of the top things to do in Japan in nature. There are many other options to experience Japan on foot, bike, boat, and skis.
45) Attempt to See Mount Fuji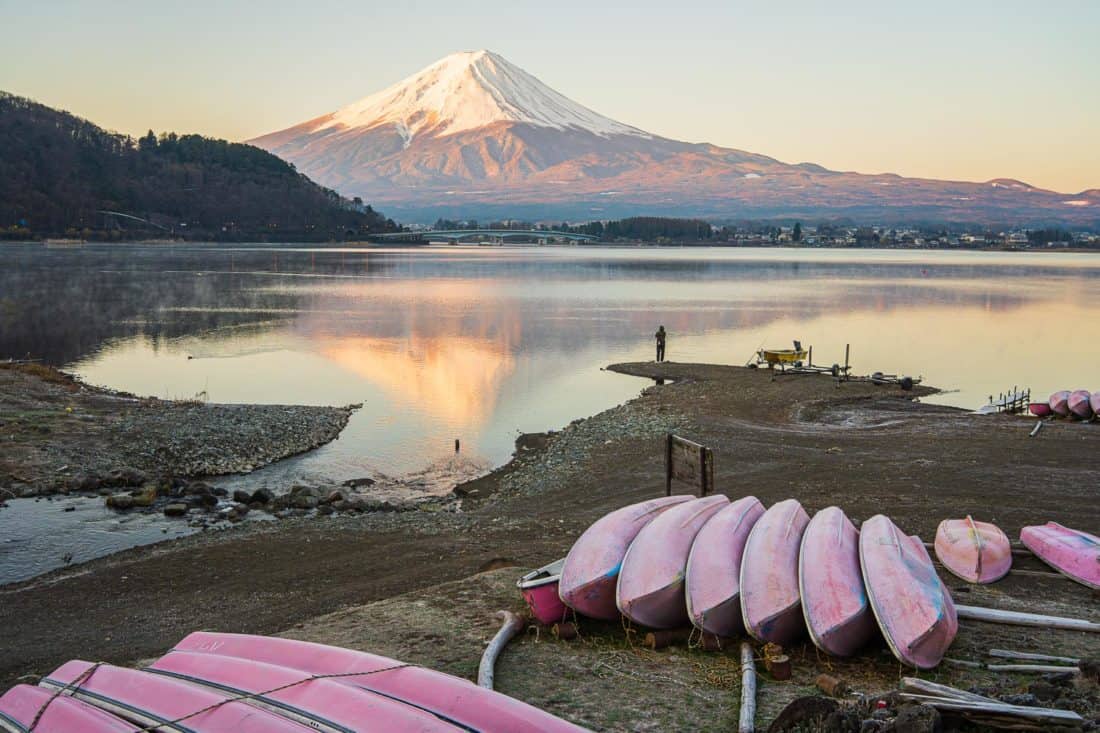 For many people the iconic Mount Fuji is a top Japan sightseeing spot. The perfectly shaped volcano is Japan's highest mountain at 3776 metres, and it's especially lovely in the winter and spring when it is snow-capped.
The best towns to see Mount Fuji from are the hot spring resort Hakone or the Fuji Five Lakes area (especially the lakeside town Kawaguchiko). We've enjoyed visits to both, but the view is better at Kawaguchiko as it's closer.
Mount Fuji is elusive, though, and is often obscured by clouds. It's best to allow a few days in the area to increase your chances of seeing the peak.
You can also climb Mount Fuji but only in July and August and it's a challenging climb.
In Kawaguchiko we stayed at Kawaguchiko Lakeside Hotel, which is close to the lake and has Mount Fuji views. It's not fancy, but it's reasonably priced for the area, and our room (with a separate living room) was our largest in Japan.
Read our guide to visiting Lake Kawaguchi for the best places to see Mount Fuji and other tips.
46) Loop Around Hakone
While Hakone is a great place to see Mount Fuji, it also has a lot to offer when the mountain is hiding behind clouds.
With the Hakone Freepass you get unlimited rides on transport in the area and can follow a fun loop which includes a pirate ship cruise across Lake Ashi, ropeway (cable car) up a mountain to Owakudani, an active volcanic valley, and a train through the mountains.
We loved staying at the modern ryokan Hotel Musashiya on the shores of Lake Ashi in Moto Hakone where we had fantastic views of the lake from our room and the onsen. It's close to Hakone-jinja shrine where a large red torii gate overlooks the lake.
47) Go Cherry Blossom Viewing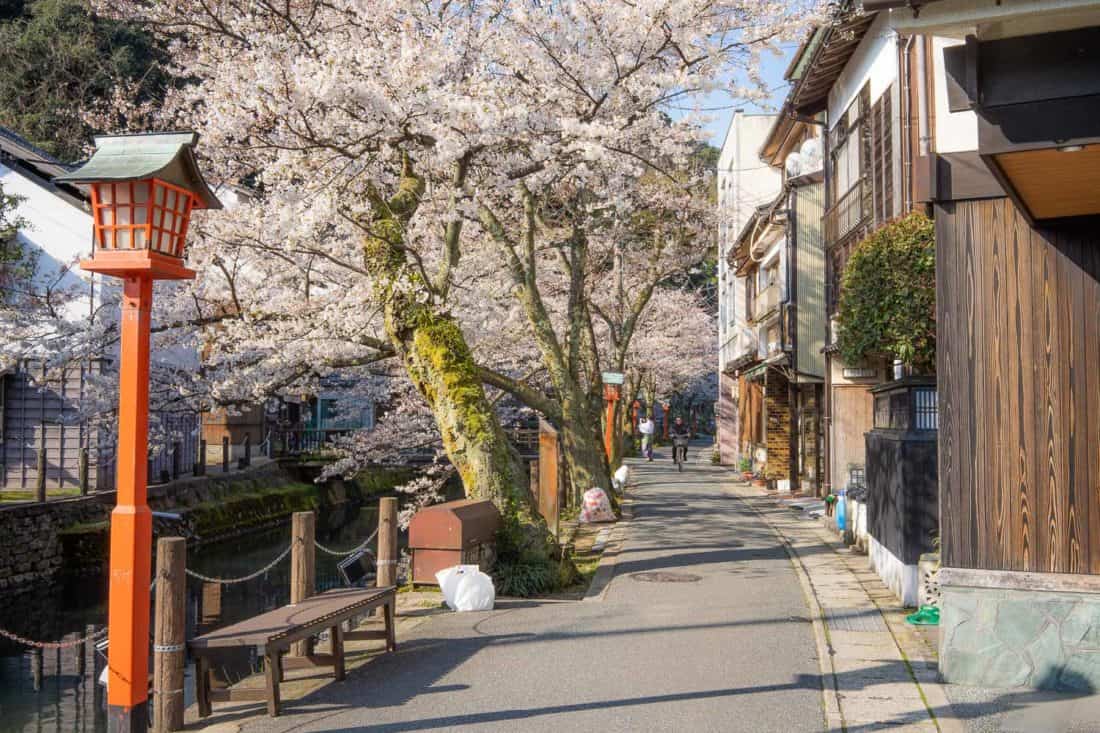 Japan in spring lives up to the hype. The fleeting sakura (cherry blossoms) are truly spectacular, and they are everywhere, not just limited to a certain park or canal.
It's a joyous time of year when locals hit the parks for hanami picnics and eat cherry-blossom-themed food.
Kyoto and Tokyo are excellent famous cherry blossom spots, but we also enjoyed Okayama where it wasn't as crowded.
Early April is usually the peak sakura season, but it is never guaranteed.
48) Cycle the Countryside
A fantastic way to experience rural Japan is by bike. We really enjoyed a group cycling tour with Satoyama Experience from the adorable town of Hida-Furukawa near Takayama.
We learnt about local traditions and cycled past rice fields, rivers, mountains, and idyllic villages.
We also did a DIY half-day trip along the Kibiji Bike Path past beautiful off-the-beaten-path temples, rice fields, and cherry blossoms.
From Okayama take the train to Bizen-Ichinomiya where you can hire a bike one-way to Soja then hop on the train back from there.
See my post on things to do in Okayama, Japan for more details on the Kibiji Bike Trail.
49) Walk Through a Bamboo Forest (But Not in Arashiyama)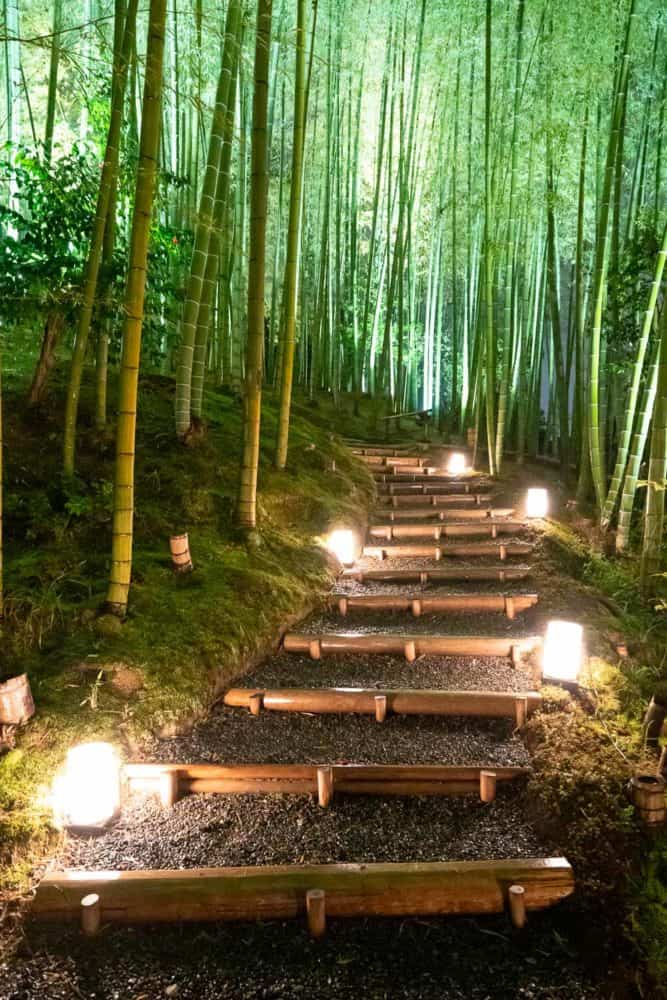 There's something magical and very Japanese about a bamboo forest with its towering green stalks swaying in the breeze.
By far the most popular bamboo forest in Japan is in Arashiyama in Kyoto, which is considered one of the best things to see in Japan.
Honestly, it's so crowded that I much prefer the smaller bamboo groves that you find in temples such as Kodai-ji. I encourage you to seek out a more peaceful bamboo forest for yourself.
50) Visit the Art Island of Naoshima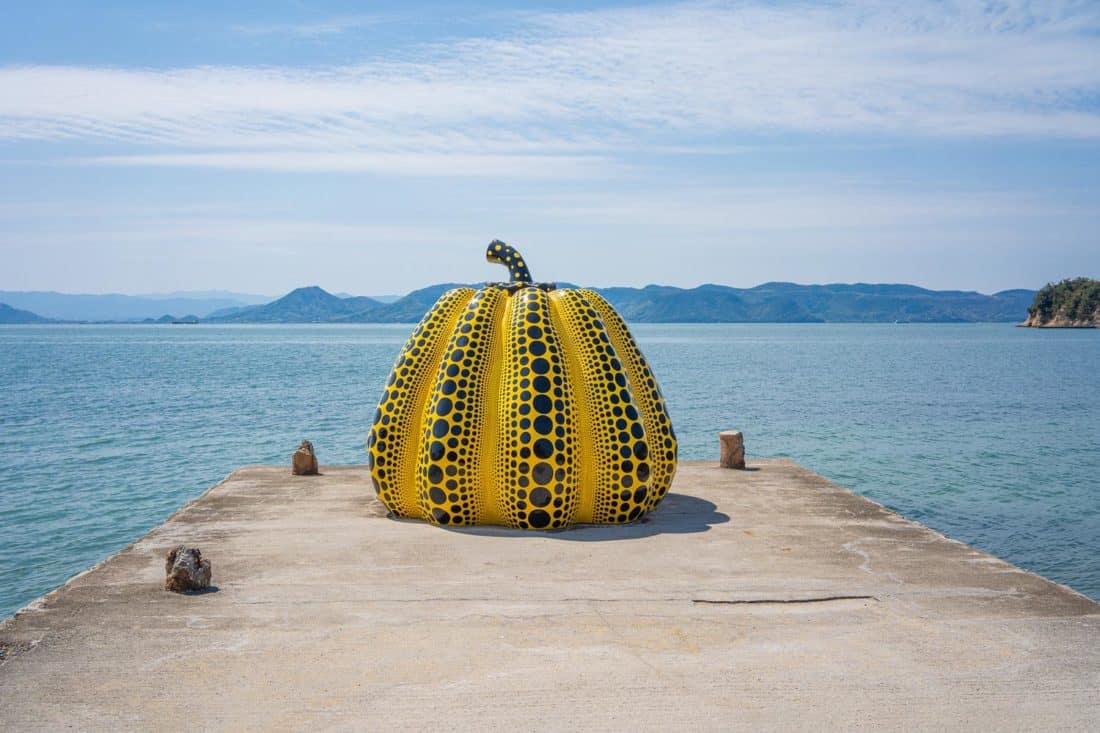 Naoshima is a rural island in the Seto Inland Sea that has been transformed into a hub of contemporary art. We visited as a day trip from Okayama and hired e-bikes to cycle the island (it's not very big).
As well as enjoying beautiful coastal views we saw Yayoi Kusama's famous yellow and red pumpkins and visited several art museums and the unique Art House Project with installations spread over abandoned houses.
See our Naoshima Island itinerary for everything you need to know for a wonderful day here.
51) Stroll a Japanese Garden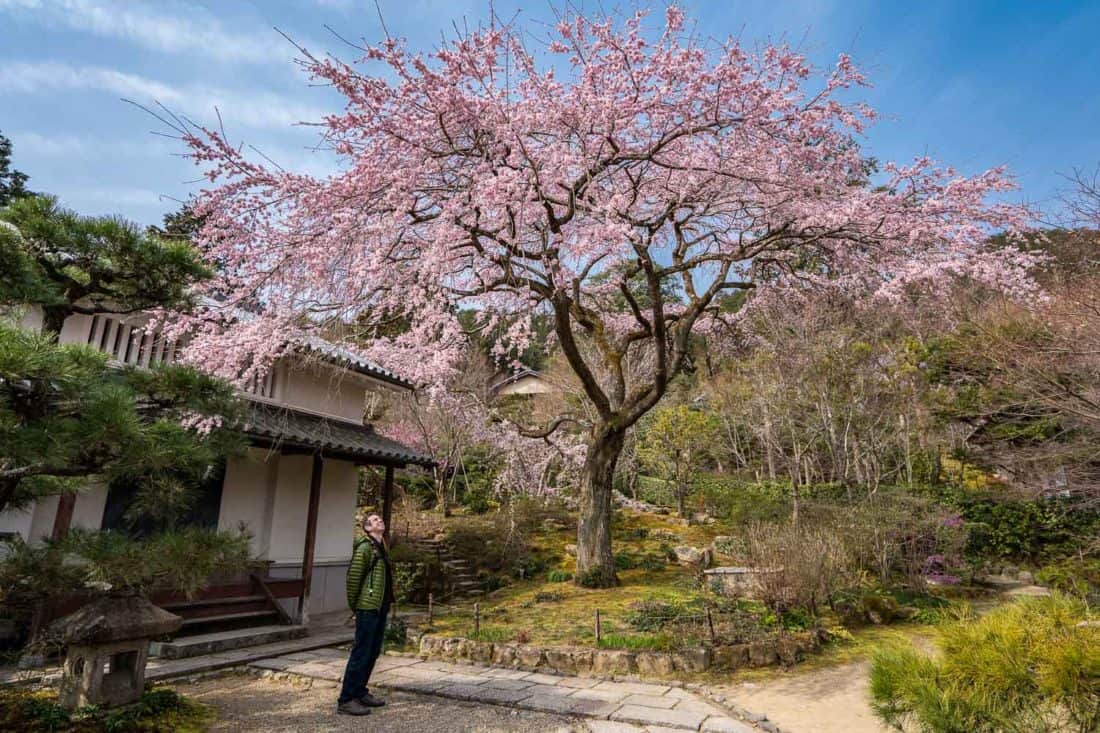 You can't visit Japan and not take a stroll through a traditional garden. There are many styles of Japanese gardens and they all highlight the beauty of nature and avoid artificial components where possible.
Classic elements include moss-covered rocks, carp-filled ponds, stone lanterns, wooden teahouses, maple trees, and cherry blossoms. Many are found at temples.
There are so many to choose from, but some of my favourites are the tiny but exquisite Gyokusen-en Gardens in Kanazawa, Shinjuku Gyoen in Tokyo, and the grounds of Jojakko-ji Temple in Arashiyama, Kyoto.
52) Hike the Historic Nakasendo Trail
The Nakasendo Trail connected Tokyo and Kyoto during the Edo period. Along the journey through the mountains there were many "post towns" where lords and samurai could stop to rest at traditional inns and soak in hot springs.
You can still do a half-day hike on the most scenic part of the trail from Tsumago to Magome (5 miles/ 3 hours).
A typhoon prevented us from doing the walk, but we still enjoyed our stay in the picture-perfect traditional Japanese village of Tsumago, which is well-preserved with many wooden buildings.
53) See Traditional Thatched Houses at Hida Folk Village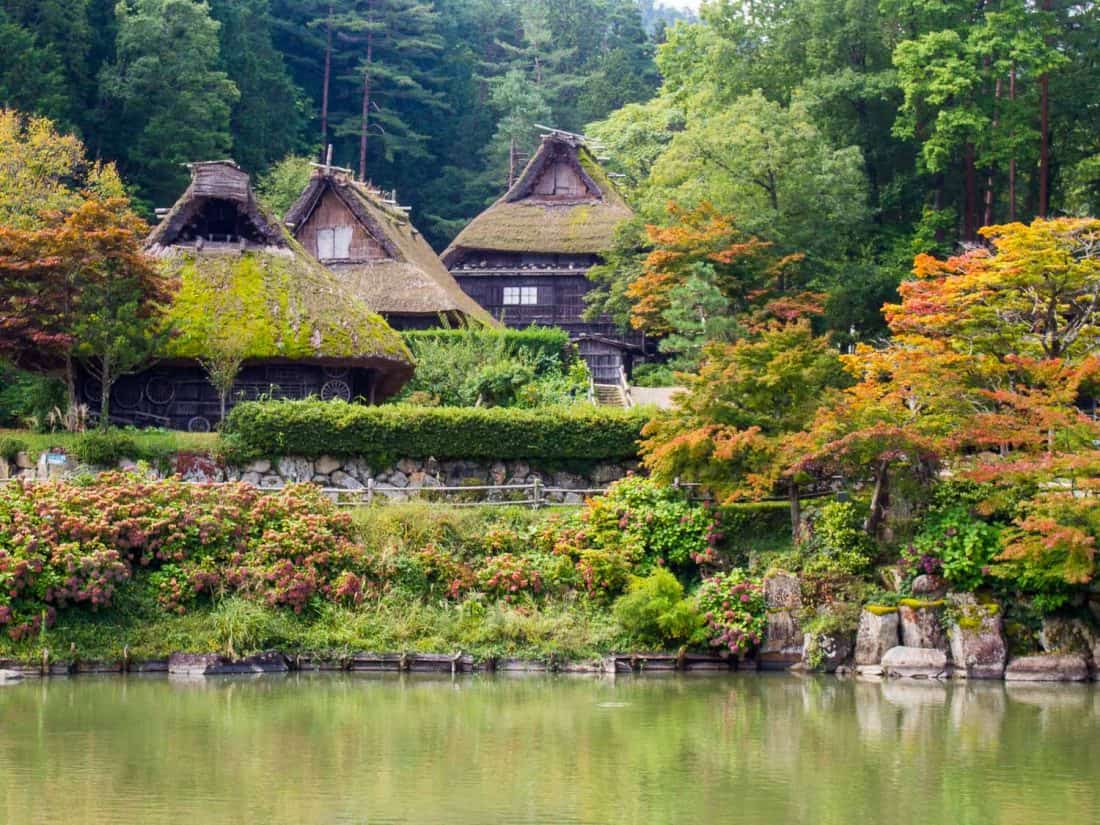 We thought the Hida Folk Village near Takayama would be too touristy, but the open-air museum is a beautiful place, especially in the autumn.
It features traditional thatched houses from across the Hida region that were moved to the museum in 1971. It was fascinating to see what life was like for rural Japanese in the Edo period.
Another option if you have more time is to stay in one of the Gassho-style thatched houses in the village of Shirakawa-go (50 minutes by bus from Takayama).
54) Walk from Kibune to Kurama
A worthwhile half-day trip from Kyoto is to take a 30-minute train ride to the village of Kibune in the Kitayama Mountains. From there you can walk through the forest over the mountain to Kurama-dera, a temple with fantastic views.
Continue to the village of Kurama where you can have a tasty vegetarian lunch at Yoshuji or soak in an onsen before hopping on the train back to Kyoto.
Or in the summer you can hike it in the opposite direction and finish with a meal on a platform over the river in Kibune.
It's an easy, peaceful, and beautiful escape from the city.
Planning Your Japan Itinerary
See our post on the best places to visit in Japan for our top recommendations.
Kyoto and Tokyo are the most popular destinations for first-time visitors and are a good combination for seeing the traditional and modern sides of the country.
I also recommend spending at least one night (more if you have time) in more rural locations such as Hakone (for Mount Fuji), Takayama (for traditional wooden houses), Nikko (for temples), or Koya-san (for an overnight temple stay).
Here's our recommended Japan 2 week itinerary.
Japan Travel Tips
See our other Japan blog posts for more tips:
I hope this post has given you plenty of ideas for what to do in Japan. Enjoy exploring this weird and wonderful country!
If you enjoyed this post, pin it!