This page contains affiliate links. Please read our disclosure for more info.
It is difficult deciding where to stay in Tokyo, especially for your first time here, as it's such a huge city with many diverse neighbourhoods.
Although it's easy to get around by train and metro, I prefer to walk where possible so wanted to stay in an area with lots to do and tasty eats nearby.
The number one priority when choosing the best area to stay in Tokyo is good transport links.
The size of the city can be overwhelming and sights are spread out, so you need to be able to get around easily. Taxis are expensive so it's best to use the trains and metro—there's a massive complicated network in the city.
Ideally, choose somewhere to stay on the JR Yamanote train line which makes a loop around the city and many of the main attractions are accessible from it.
On our last few visits, we also chose to stay within walking distance of a major JR train station—Shinjuku and Shibuya—so that arriving and leaving the city would be easy, without an extra train trip.
You'll also save money on transport costs by choosing Tokyo accommodation in an area with plenty of things to do, shopping, and restaurants within walking distance.
We've stayed in three different areas on our four visits to Tokyo—Nishi Ogikubo, Shinjuku (twice), and Shibuya.
I think Shinjuku is by far the best place to stay in Tokyo. In this post, I'll share why as well as tips on where to stay in Shinjuku and alternatives in other parts of the city.
Contents
Why Shinjuku Is The Best Area to Stay in Tokyo
It Looks Like Classic Tokyo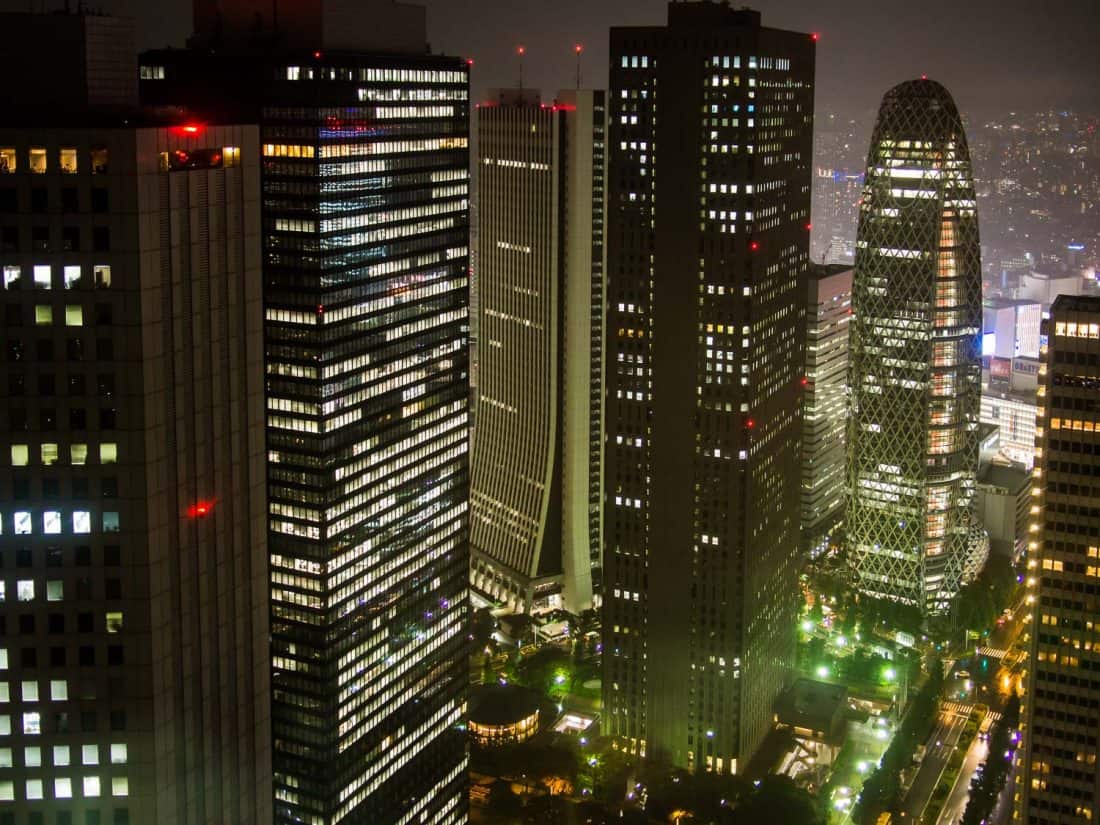 Shinjuku is the modern Tokyo you dream of—a futuristic city of neon lights, towering skyscrapers, huge electronic stores, noisy arcades, gaudy pachinko parlours, and busy train stations.
There's a great mix of business, shopping, entertainment, food, and quiet parks.
There's a bustling atmosphere and just walking the streets is exciting—especially on your first visit to the city when you can't get over the fact that you are finally here!
There's always plenty going on, but we didn't find it overwhelmingly crowded, and there are quiet streets and parks to escape to.
Shinjuku is the world's busiest station, though, so avoid it at rush hour.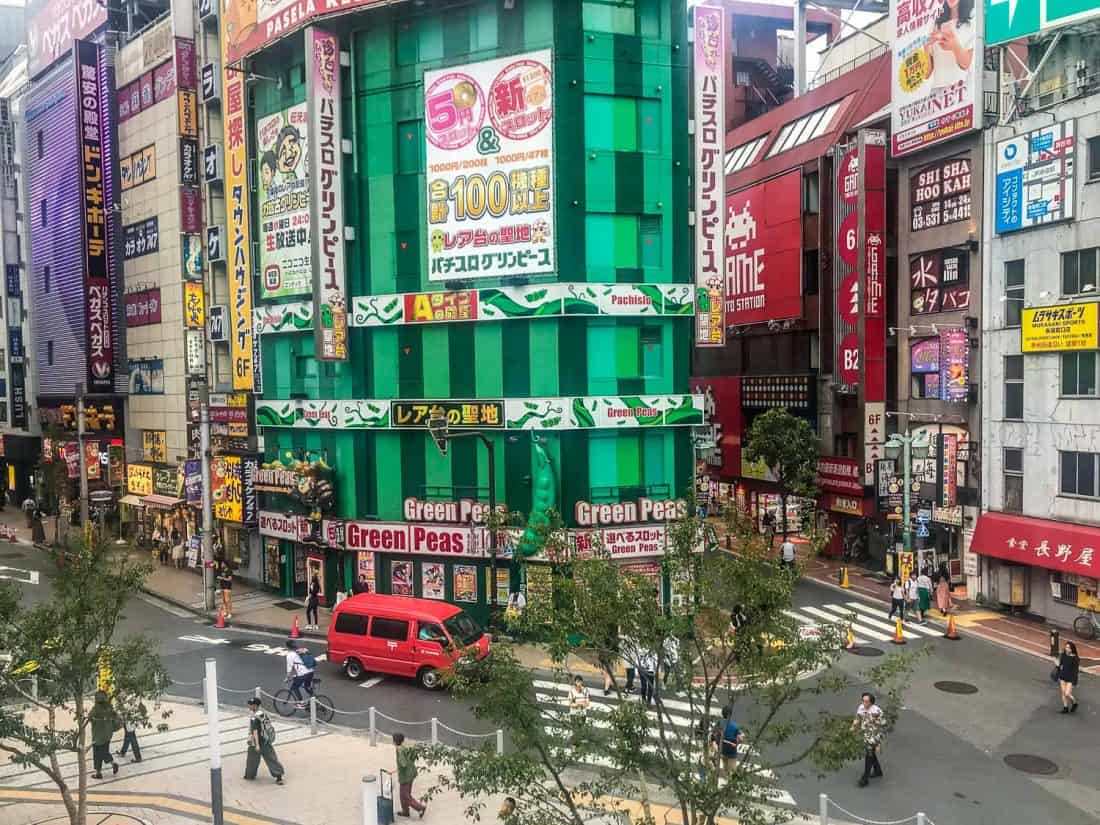 Memory Lane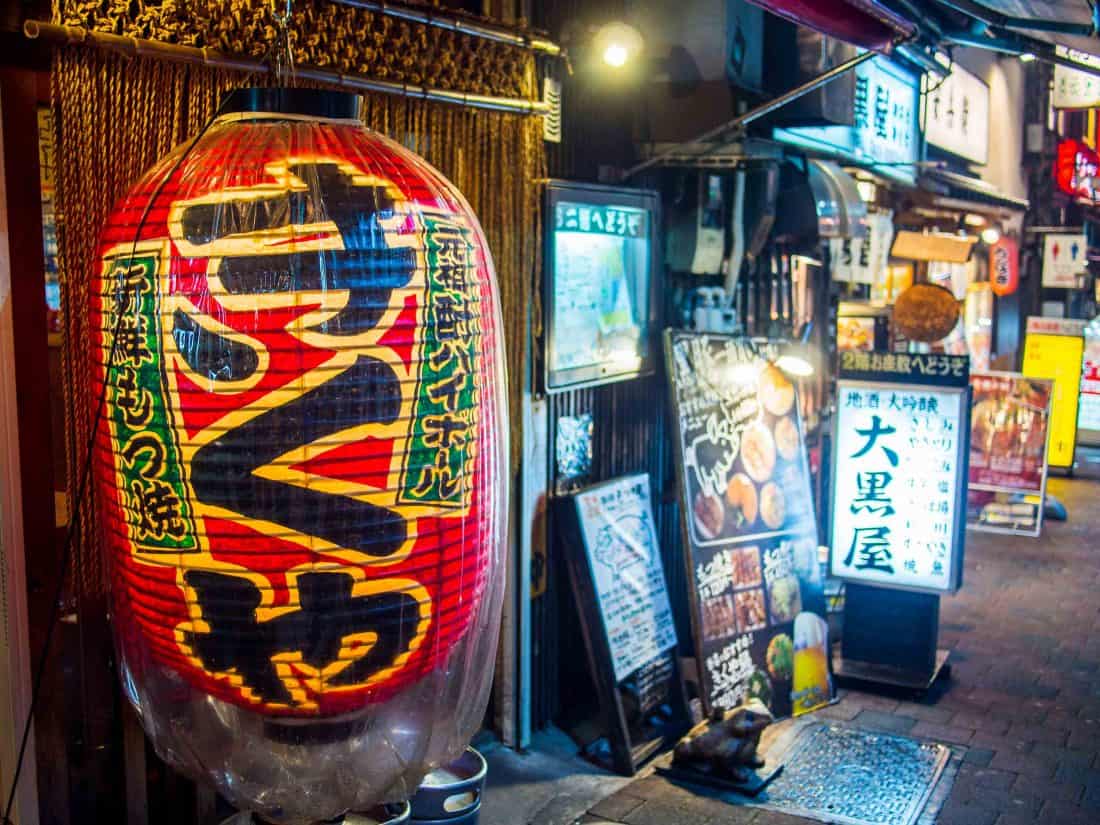 One of the things I love most about Shinjuku is the mix of modern and traditional.
Memory Lane (Omoide Yokocho) is my favourite street in Tokyo, and although it's right next to Shinjuku Station and neon billboards tower over it, it feels like you've stepped back in time as you wander the narrow alleyways that have barely changed since WW2.
It's a great place to grab some yakitori from one of the tiny restaurants that seat just a few people at the counter.
Delicious Varied Food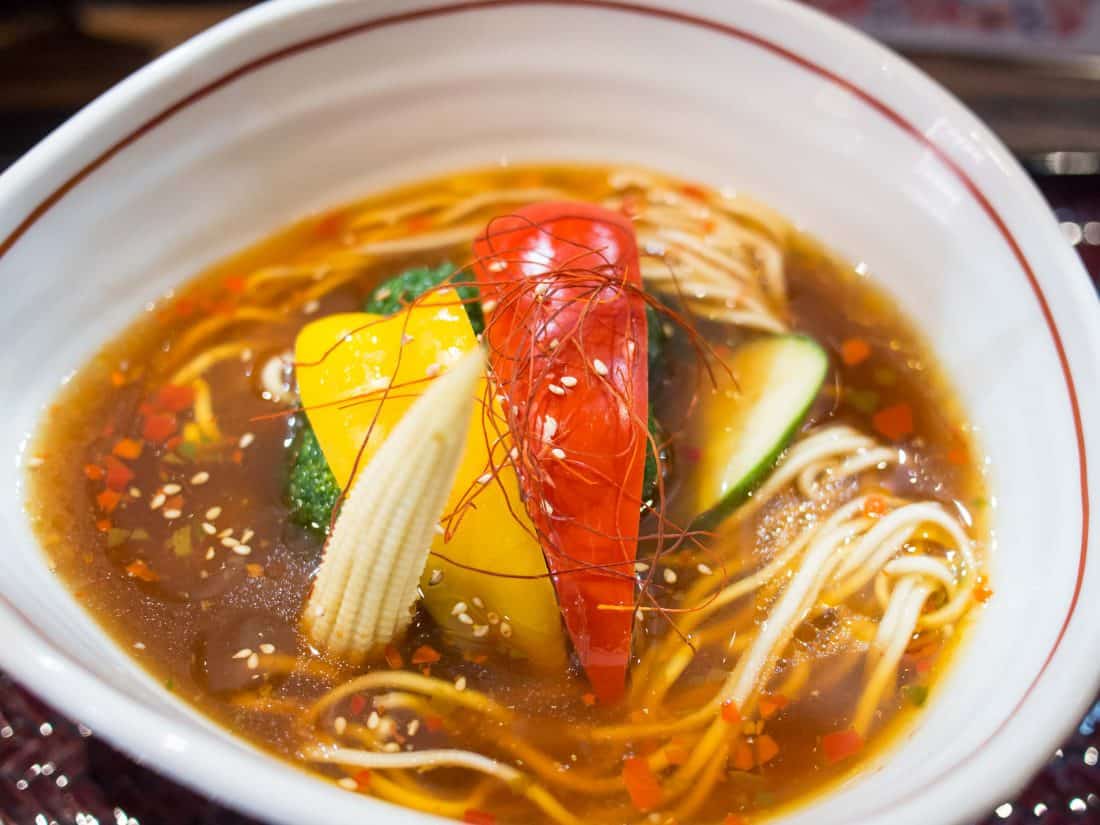 Shinjuku is one of the best locations for foodies in Tokyo.
Even as vegetarians we had a vast amount of choice within a 15-minute walk of our apartment from high-end kaiseki to vending machine ramen joints. There is something for every taste and budget.
Here are our favourite places to eat in Shinjuku:
Zen – Delicious okonomiyaki cooked on the grill in front of you with traditional and modern varieties including vegetarian options.
Tsunahachi – High-end tempura without the high prices. Get the lunch set for the best deal.
Curry House CoCo Ichibanya – The Memory Lane branch of this curry chain has a vegetarian menu.
See my guide to vegetarian restaurants in Tokyo for more details.
Walking Distance to Sights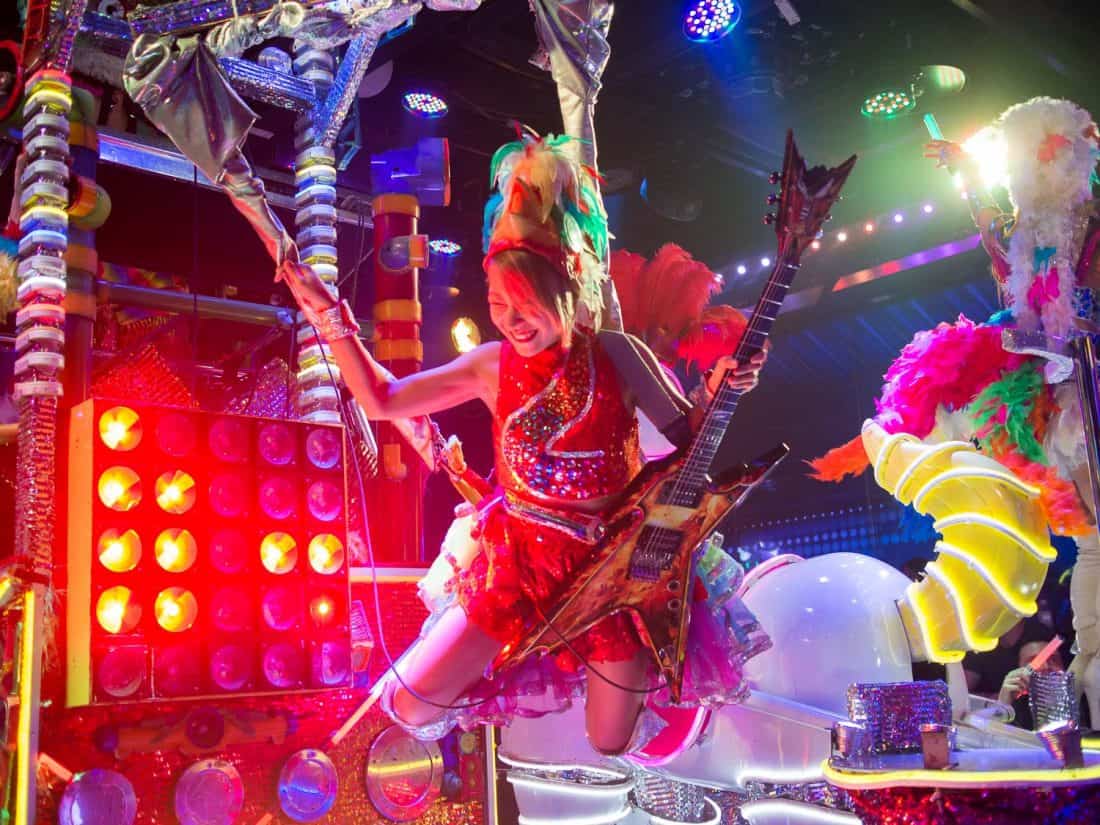 There are lots of things to do in Shinjuku:
Tokyo Metropolitan Government Building – Get a free view of the Tokyo skyline. In the mornings you might see Mt Fuji and at night you can see the city lit up.
Shinjuku Gyoen National Garden – One of Tokyo's most beautiful parks. It's especially lovely in cherry blossom season. On one visit in mid-April, we missed the main sakura season, but there were lots of late blooming trees that were perfect to enjoy a picnic under.
New York Bar at the Park Hyatt Tokyo Hotel – Recreate a scene from the film Lost in Translation and have a cocktail with a view on the 52nd floor.
Robot Restaurant (Now Closed) – The most insane show you'll ever see. Read our Robot Restaurant review.
Yoyogi Park and Harajuku – It's a longish but pleasant walk from Shinjuku.
Read my guide to cool things to do in Tokyo for more details.
Transport Links
Shinjuku is extremely well connected for exploring the city.
The train lines we found most useful were the Yamanote line which makes a loop around many of the city's main areas and the Chuo line which heads to Tokyo Station (for bullet trains) and out to the Ghibli Museum.
There are also metro lines, direct access to the airport on the comfortable Narita Express, and direct access to Hakone (perfect if you want to take a day trip to see Mount Fuji).
Golden Gai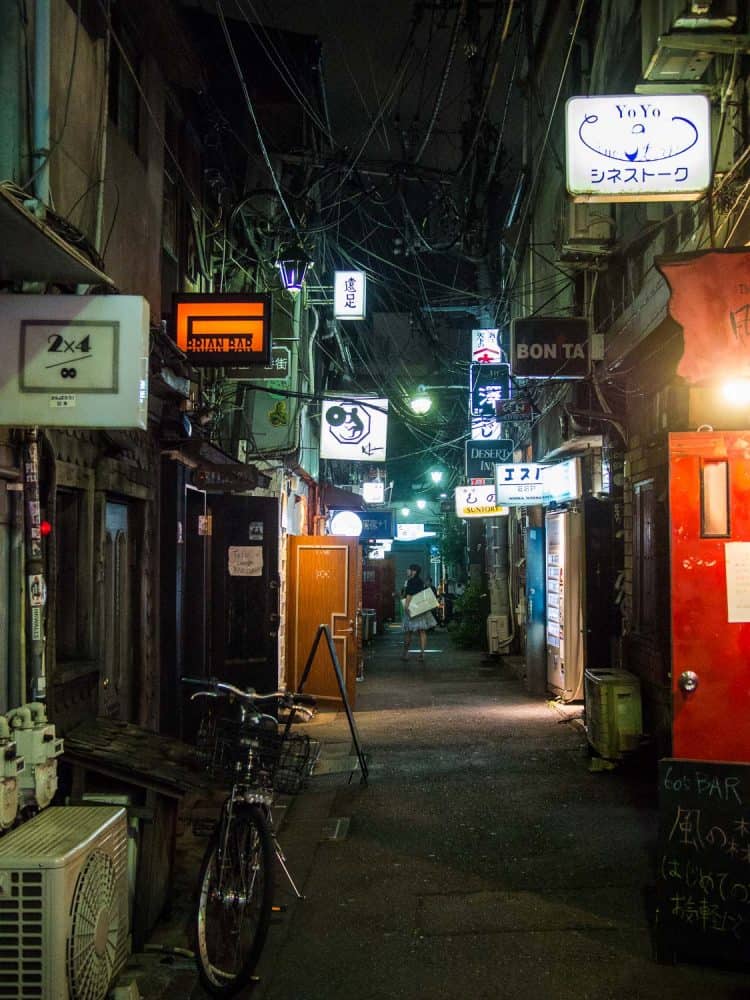 If you are looking for nightlife, Shinjuku has plenty of options.
The most atmospheric place to bar hop is the unique Golden Gai, a network of narrow lanes with dozens of tiny bars.
Shopping
We're not shoppers but even we couldn't resist exploring Shinjuku's many stores.
There are huge electronics shops like BIC Camera and Yobobashi where you can find an incredible range of computer and camera equipment; department stores like Takashimaya and Isetan for clothes, homeware, and fantastic food basements; and Uniqlo for affordable but quality basic clothing.
There's something for everyone from high-end fashion to discount souvenirs.
For more details see our guide to the best things to do in Shinjuku including shopping, views, parks, and cultural experiences.
Affordable Accommodation
What surprised me most about Shinjuku is how affordable accommodation is considering it's the best area to stay in Tokyo.
Again you have something for everyone from luxury hotels to budget hostels plus some of Japan's more quirky accommodation like love hotels, capsule hotels and manga kissa.
Read our Japan Accommodation Guide for details on the range of options.
Where to Stay in Shinjuku
When choosing where to stay in Shinjuku, keep in mind the different areas—west of the station is the business area, east is for shopping and nightlife, and northeast is the Kabukicho red light district and Golden Gai for nightlife and entertainment.
This is Japan, so the red light district doesn't feel dangerous or even that seedy, although we were never there late at night.
Our favourite area to stay is east Shinjuku, close to Shinjuku Sanchome subway station and Shinjuku Gyoen National Garden.
Anywhere within a 15-minute walk of the main Shinjuku train station would be ideal.
Apartment Rentals in Shinjuku
We've found renting apartments in Shinjuku to be better value and more convenient than hotels.
The cheapest are studio apartments that are very small (you have to pay a lot for space in Tokyo) but usually well-equipped with a washing machine, tiny kitchen, and WiFi.
They usually have self-check-in and hosts provide detailed instructions on how to find the apartment.
Search for apartments in Shinjuku here.
Hotels in Shinjuku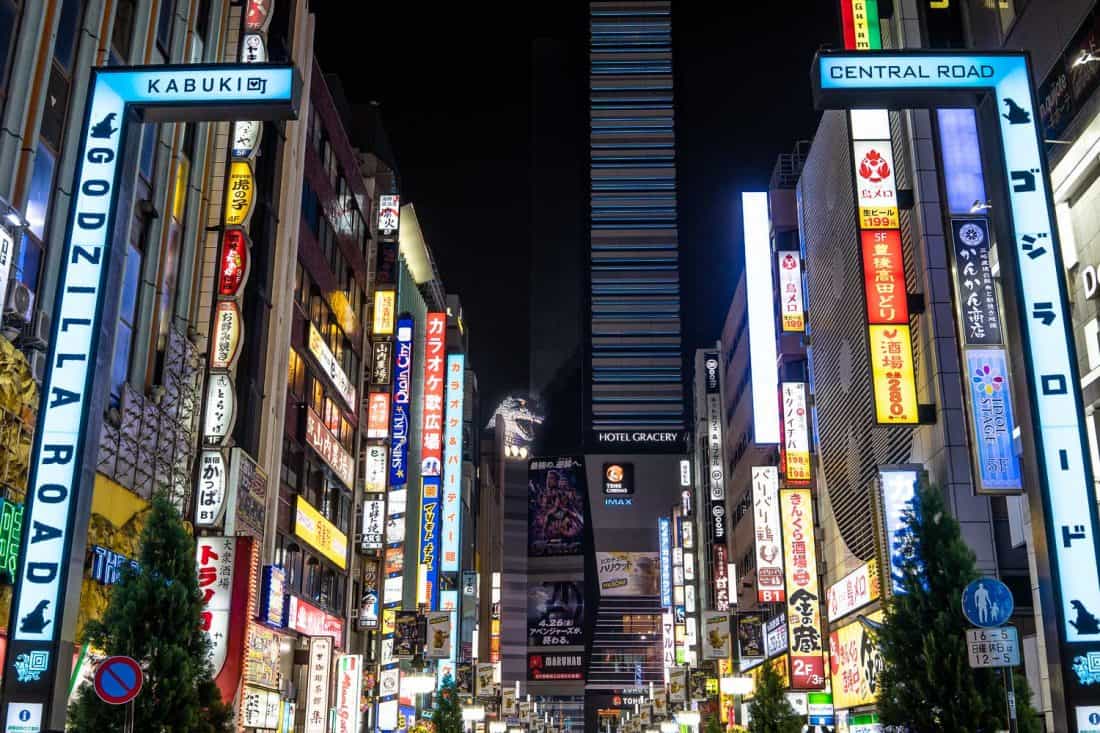 If you'd prefer a hotel in Shinjuku, here are some options that look ideal:
Luxury
Hotel Park Hyatt Tokyo – If my budget were unlimited I'd stay here for luxury rooms (from $800) and fantastic views of the city. It's where the movie Lost in Translation was filmed and is one of the best hotels in Tokyo.
Mid-Range
Hotel Gracery Shinjuku – Comfortable rooms in the perfect location in the heart of the action. There's even a giant Godzilla head on the roof! From $150.
Hotel Sunroute Plaza Shinjuku – A popular mid-range hotel very close to the station with comfortable rooms from $130.
Citadines Shinjuku Tokyo – Stylish studio rooms with kitchenette a 15-minute walk from the station from $130.
Budget
Imano Tokyo Hostel – Japanese-style double rooms with shared bathrooms from $70 and dorm beds from $24.
Book and Bed Shinjuku – A unique capsule-style hotel with little cubicles amongst stacks of books. Don't expect much privacy or comfort, but it could be fun for a night.
Search here for more hotels in Shinjuku.
Staying in Shinjuku vs Shibuya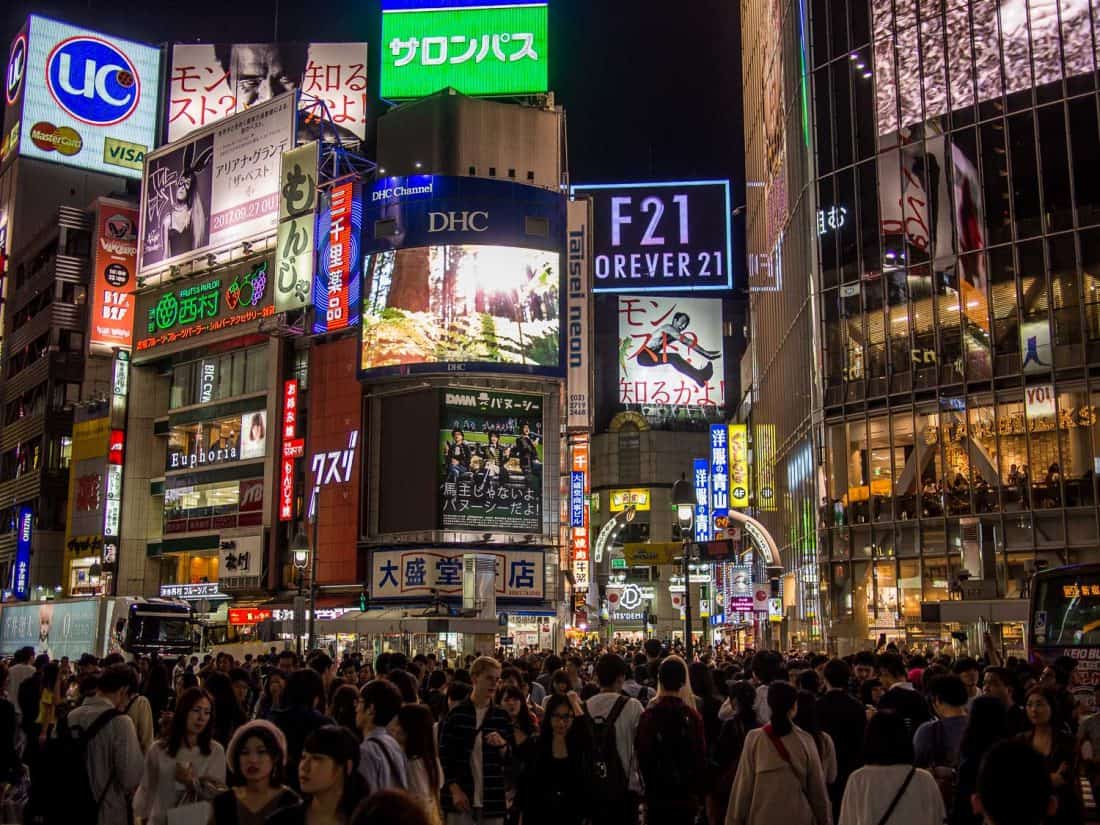 Like Shinjuku, Shibuya is a convenient place to stay with good transport links and lots going on.
It's home to the famous Shibuya Crossing and is popular for shopping and nightlife, especially with teenagers.
It's in walking distance of Yoyogi Park and Harajuku for alternative fashion shops and teenagers in crazy outfits.
We didn't like staying in Shibuya as much as Shinjuku, though.
The crowds were overwhelming, and although we stayed in a quiet area, we had to walk down a busy street to get to the station.
Accommodation is more expensive and we didn't find the food as good as in Shinjuku.
Hotels are usually quite expensive in Shibuya (and even more so in Harajuku).
One option is Shibuya Hotel En, which has small rooms in the heart of the action from $160.
Search for hotels in Shibuya here.
Where to Stay in Tokyo: Other Areas to Consider
Although I recommend Shinjuku as the best place to stay in Tokyo for most people, you might want to consider one of these other neighbourhoods.
In general, the west side of the city including Shinjuku and Shibuya are busy and modern, and the east is quieter and more traditional.
This map shows the main stations in the areas mentioned below.
Asakusa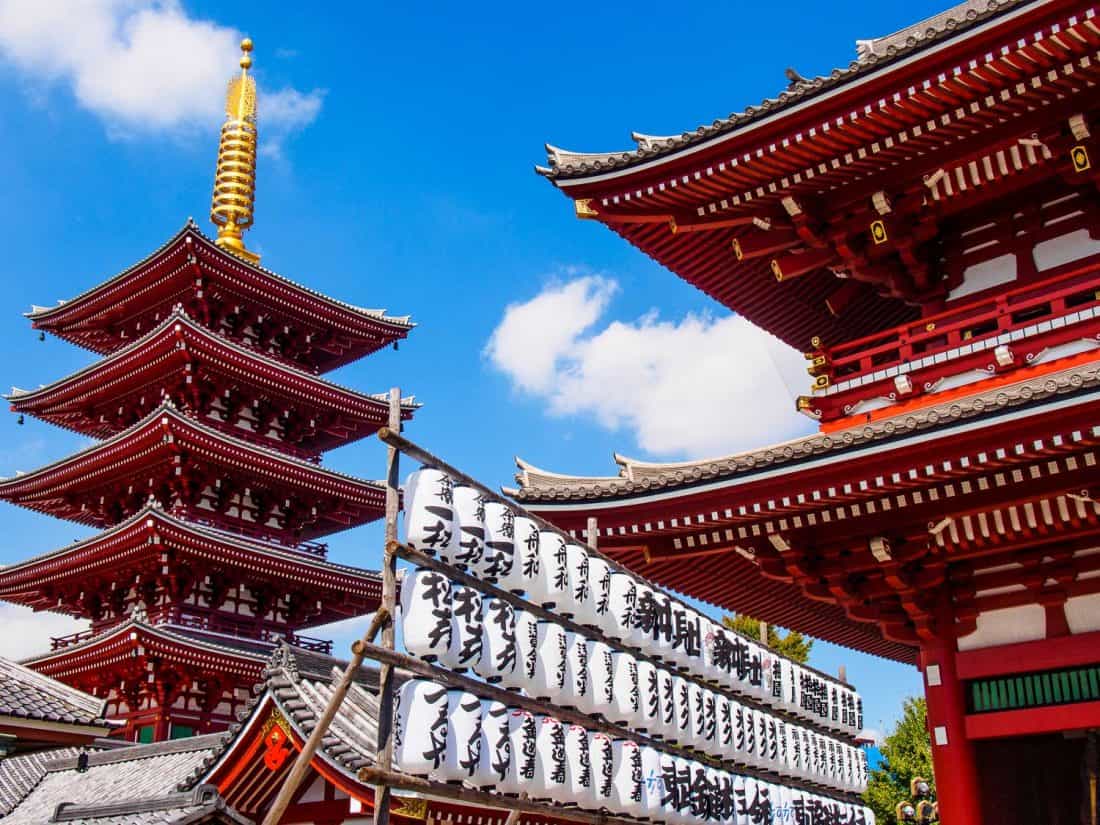 If you are wondering where to stay in Tokyo on a budget, consider Asakusa, a quieter, more traditional neighbourhood in the east of the city.
It's home to the famous Sensoji temple and you'll find many traditional restaurants in this area.
It's a little out of the way, so it'll take longer to get around the city, but there are still many transport links.
Search for hotels in Asakusa here.
Tokyo Station
The biggest advantage of staying near Tokyo Station is the transport links as you can easily get around the city as well as take the bullet trains around the country to places like Kyoto.
It's also near the Imperial Palace and park.
There isn't as much of an atmosphere or many things to do in this part of the city, though.
The five-star Marunouchi Hotel is one of the best hotels near Tokyo Station. It's just a few minutes walk away and has double rooms from $250.
Search for hotels near Tokyo Station here.
Off the Beaten Track
If you don't mind having to take the train to all the sights you can save money, get more space, escape the crowds, and experience local life by staying in a neighbourhood off-the-beaten-track.
This can work well for stays of a week or more.
On our first week-long trip to Tokyo, we stayed in a great value apartment in Nishi Ogikubo.
We loved the quiet but interesting neighbourhood with its antique shops, vintage clothes stores, and narrow streets full of tiny restaurants.
It was only a 15-minute train ride from Shinjuku, but we did end up finding the extra distance inconvenient.
Summary
I definitely think Shinjuku is the best place to stay in Tokyo, especially for first-timers, as it's affordable, accessible, and has plenty going on.
But Tokyo is such a wonderful city with great transport links so I'm sure you'll have a fantastic time wherever you choose to stay.
Where is your favourite area to stay in Tokyo? Leave a comment below.
Tokyo Tips
See our posts on cool things to do in Tokyo and the 14 best things to do in Shinjuku.
For our food recommendations, see our guide to the best vegetarian restaurants in Tokyo.
Book Tokyo accommodation well in advance if you are travelling in the late March to mid-April cherry blossom season or November autumn foliage season.
Get a Suica card to use on all trains and metro lines in Tokyo. It's much easier than figuring out which ticket you need for a particular line.
Use Google Maps and Navitime to check train times and distances and to see how far your accommodation is from the places you want to visit.
Buy an Airalo e-SIM before you arrive in Japan so you have data for directions.
Our guide to planning a Japan trip has lots more tips.