This page contains affiliate links. Please read our disclosure for more info.
Living by the beach is a dream for many digital nomads, but it's not always easy to find a suitable place. WiFi can be too slow, accommodation too expensive, or small islands just too remote for longer stays.
p

In SE Asia the best beach destination we'd previously found for working was Koh Lanta in Thailand, which was the perfect mix of convenience without too much development. Finding affordable rentals with a kitchen isn't easy, though, and on our latest trip we wanted to try a different island.
My first choice was Koh Tao which is popular for long-term stays with many bloggers like Alex in Wanderland. As we were initially only planning a four-week stay (after entering the country on a one-month visa exemption), to make things easier I wanted to rent a house or apartment on Airbnb even though I knew it would be more expensive than finding a place once we arrived.
Unfortunately, Airbnbs on Koh Tao were limited and expensive so I broadened my search to other islands in the Gulf of Thailand. Koh Samui seemed too developed, so I looked at Koh Phangan instead—the medium sized island that's just a 30-minute ferry ride from Samui so convenient for the airport there. Koh Phangan had a lot more choice on Airbnb from cheap and basic to fancy beach houses.
We ended up booking a Thai-style wooden house across the road from Hin Kong beach and that's where we've been living for the last month or so. It's not cheap (about £600/ $800 a month) but it's much nicer than the standard Thai rentals.
Our landlords actually lived here so the house is well-equipped and there are lots of homely details like cushions and throws. The WiFi is the fastest we've ever had in Thailand (30 Mbps down/ 11 Mbps up) and most restaurants have good WiFi too (plus there are some co-working spaces if that's your thing).
Best of all is the huge terrace where I'm writing this now from the comfy sofa (another rarity in Thailand). I'm surrounded by trees and have a view of the sea. There's plenty of space for yoga, a hammock and cushion chairs for relaxing, and a table for meals.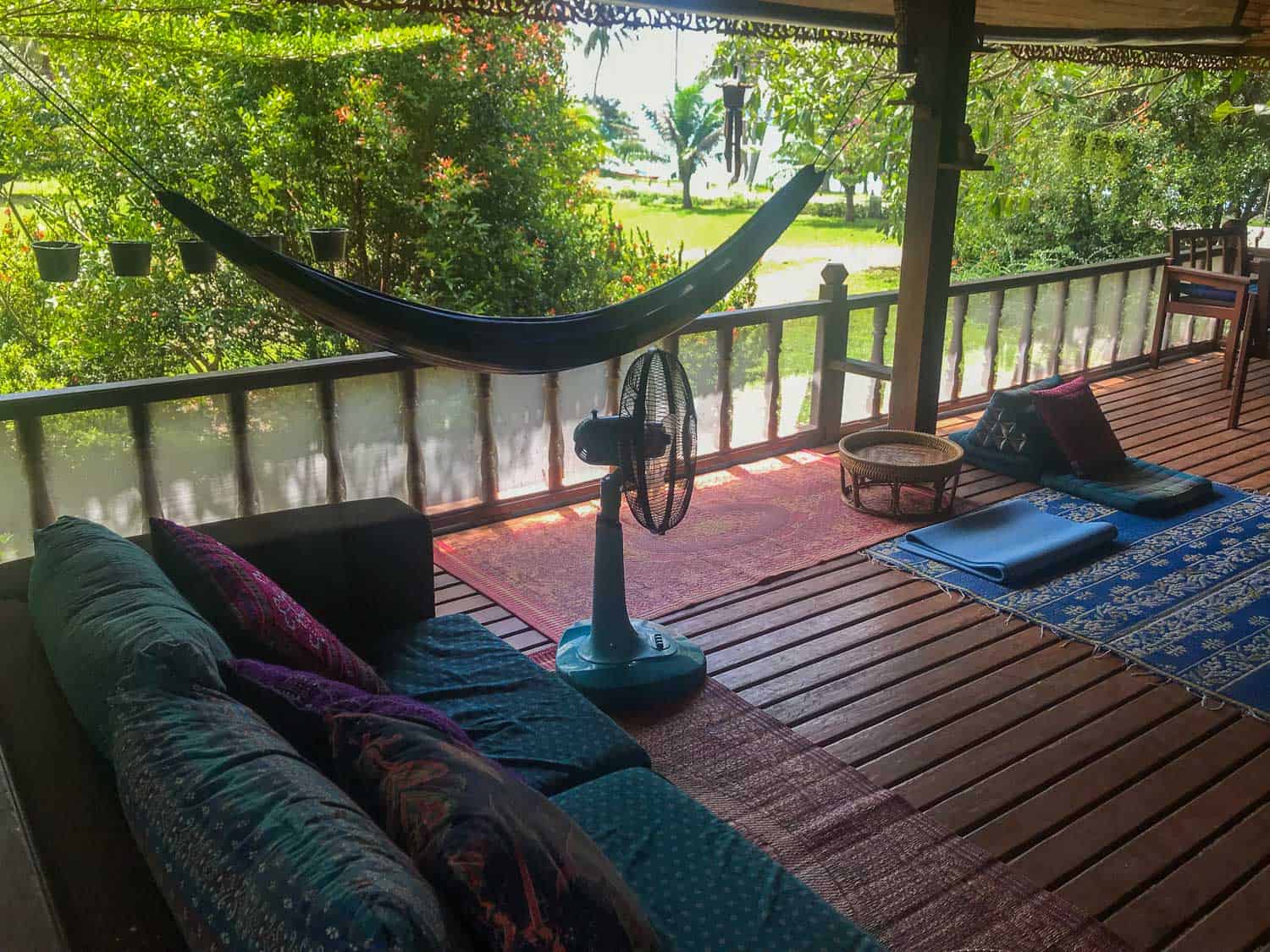 Unfortunately, the beach across the road is too shallow for swimming, but it's perfect for morning runs and spectacular sunset walks out on the sandbar. Just being by the sea feels calming.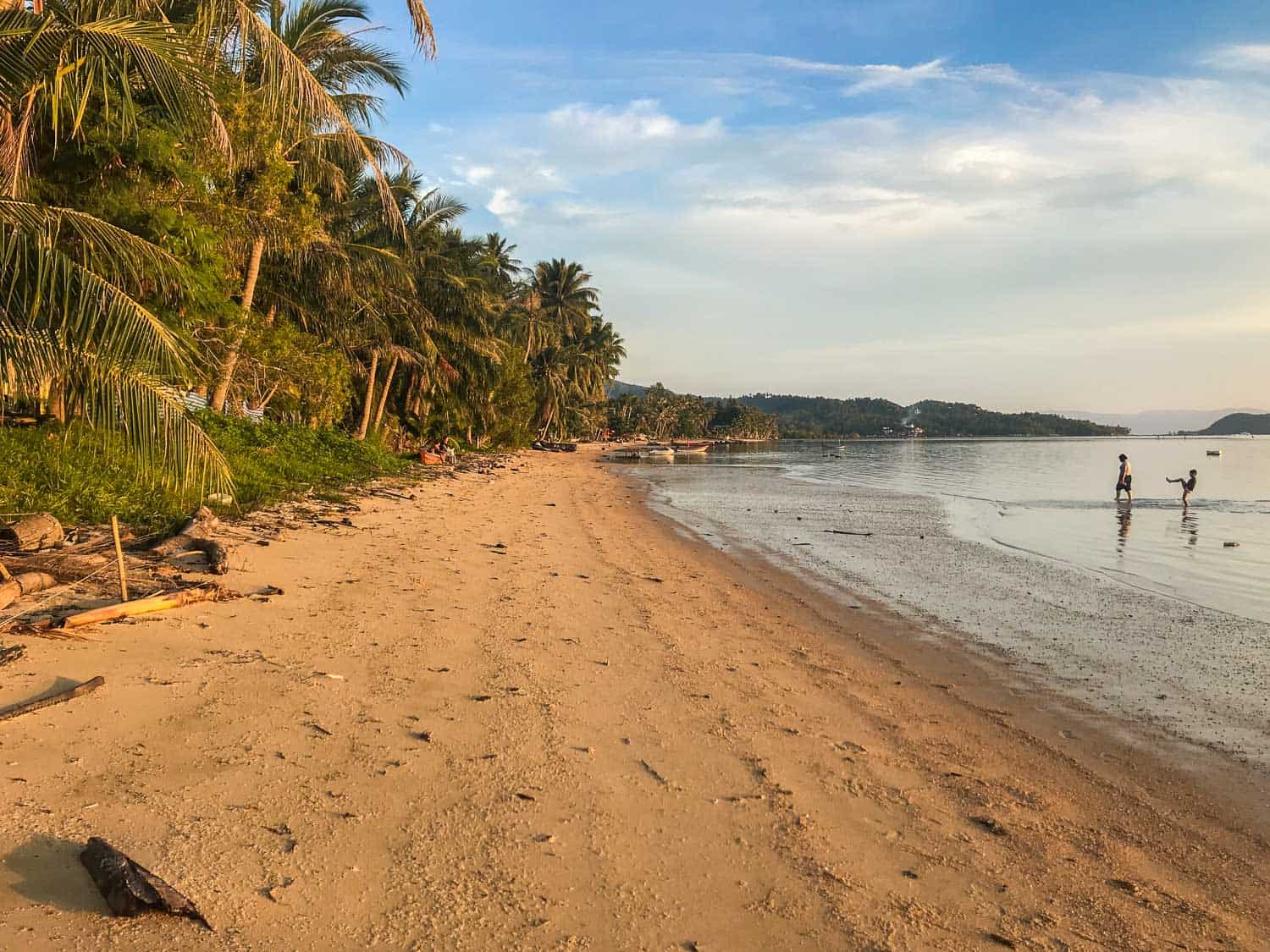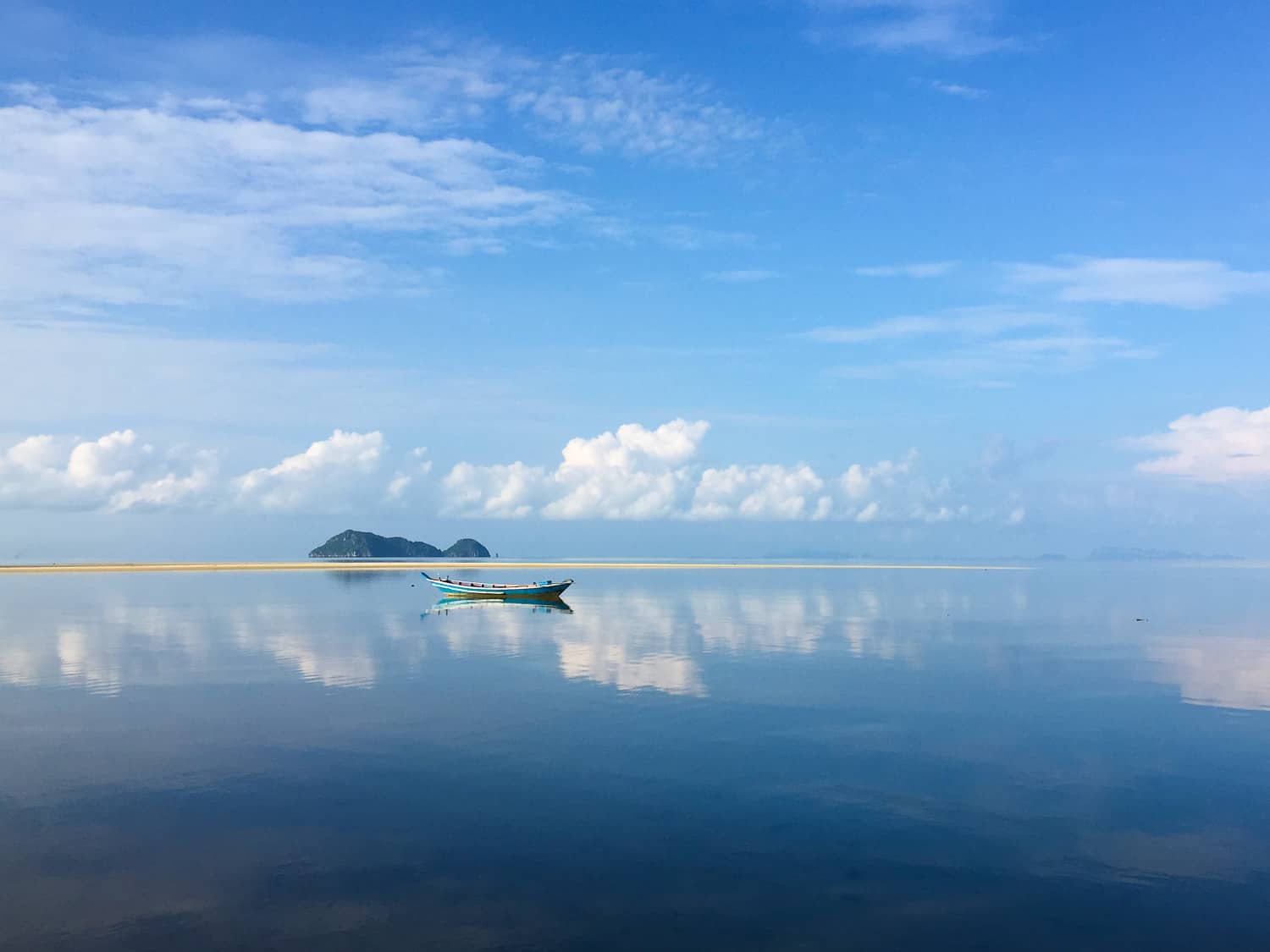 There are plenty of other lovely beaches to explore. We love heading out on our motorbike (which you really need to get around as the shared taxis are infrequent and overpriced) and driving along the quiet, green west coast with hills on one side and sea on the other.
Our nearest place for a swim is Zen Beach where we relax under a palm tree on the powdery sand and float in the blue-green water. We're slowly working our way around the beaches on the island, but work and rain (it's rainy season in this part of Thailand) have meant we haven't explored as much as we'd like.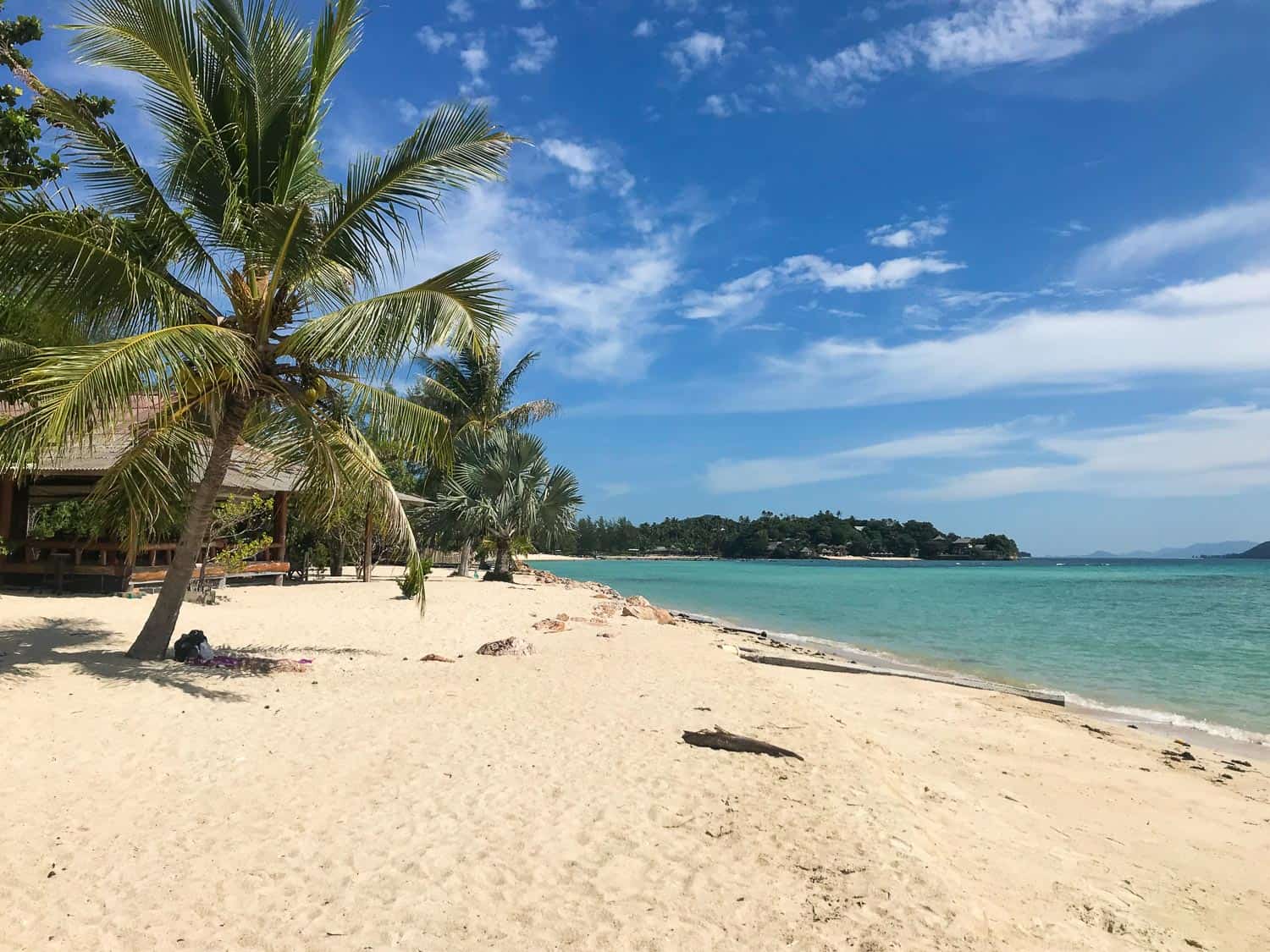 Koh Phangan is an island I had previously avoided because it's famous for its full moon parties where 20-something backpackers get wasted on the beach, and that's really not our thing. But the parties only happen once a month on Haad Rin beach and they are easy to avoid. We're on the opposite side of the island, about a 30-minute drive away near the quiet village Sri Thanu which is known for yoga studios and vegetarian restaurants. It's very chilled and we've been living a blissfully quiet life.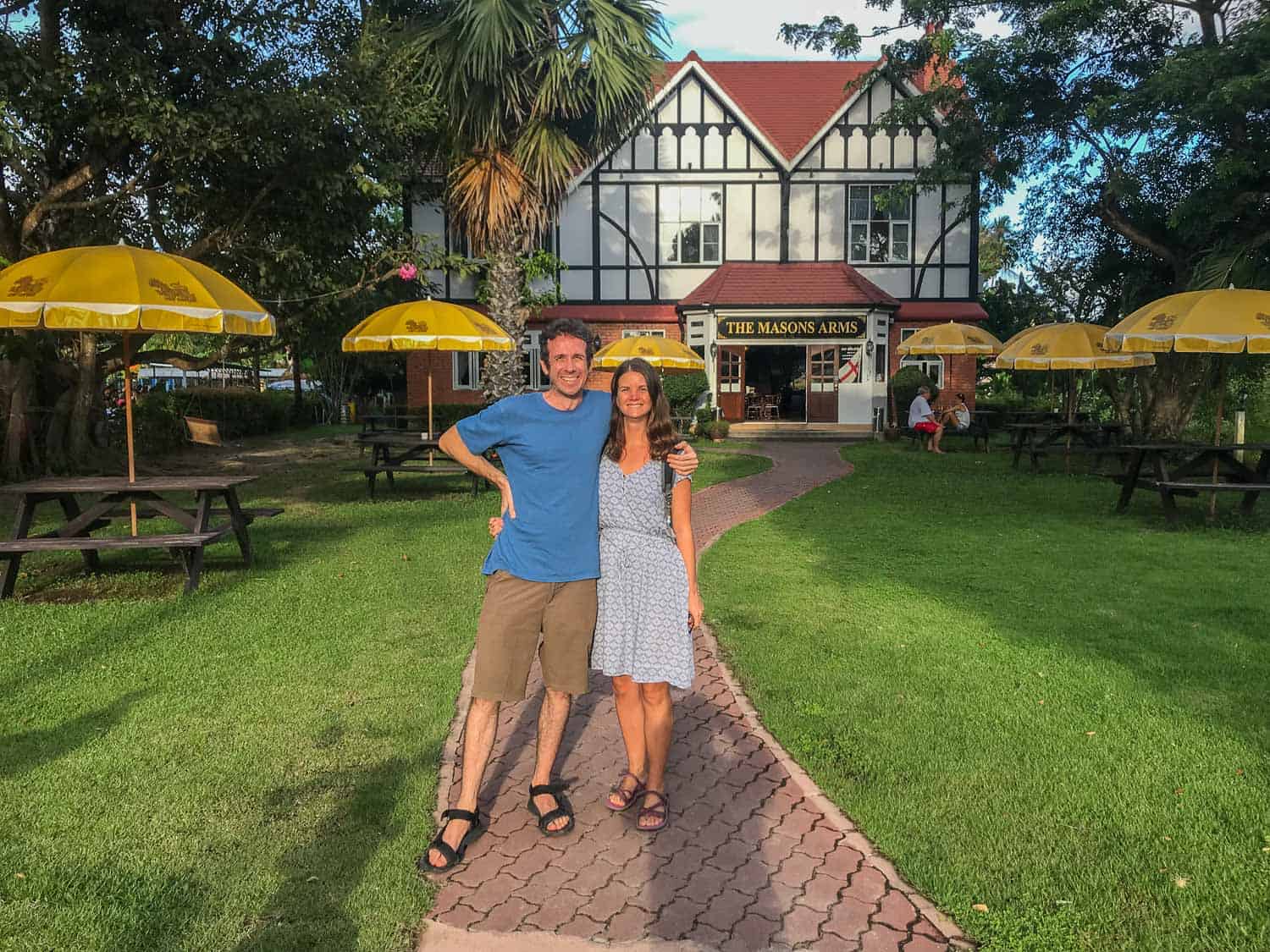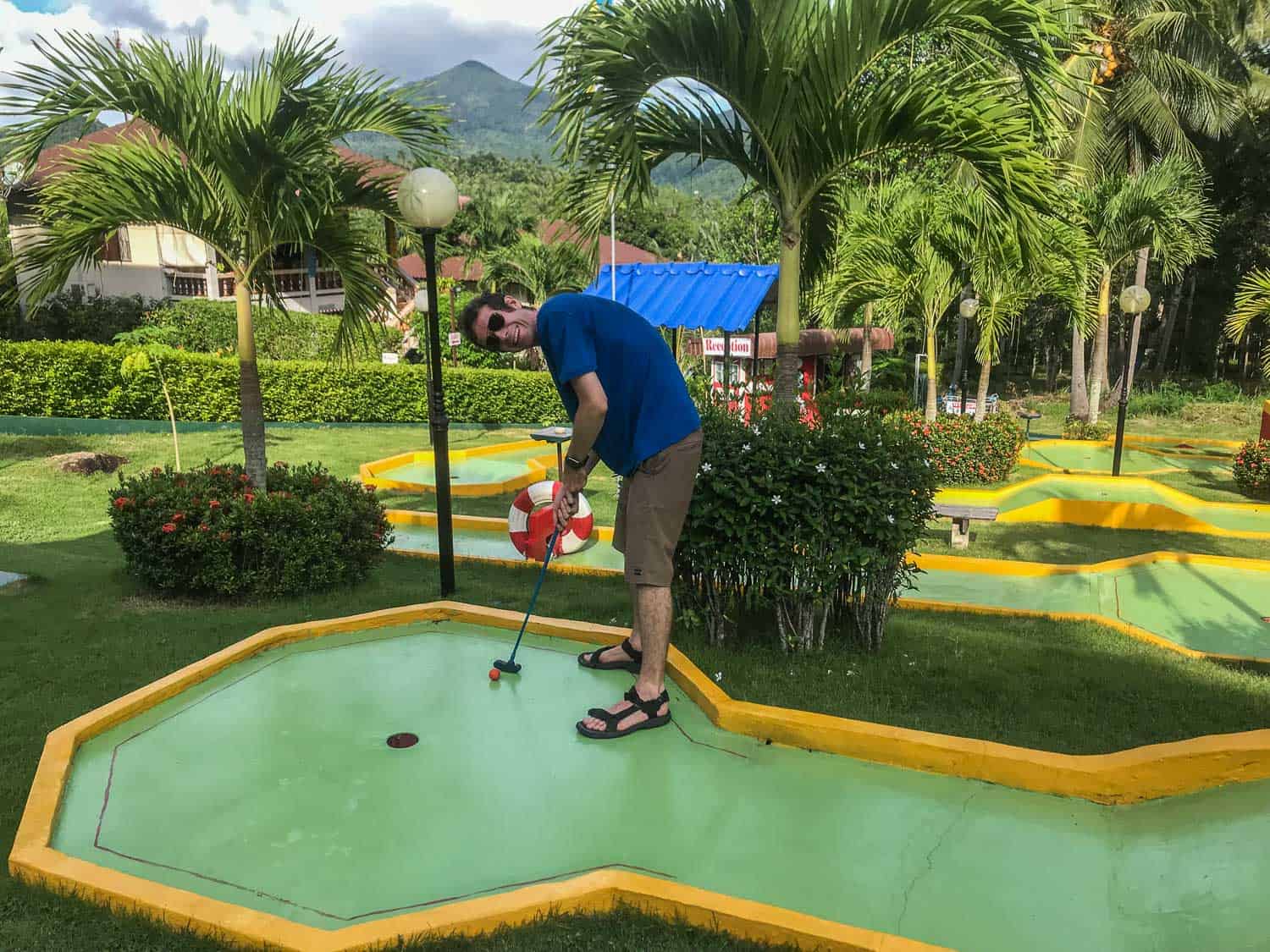 Like Koh Lanta, Koh Phangan has the ideal mix of convenience without being too developed. There are supermarkets in the main town Thong Sala, good WiFi, and houses for rent, but no shopping malls or massive hotels like on Samui.
The island has been a great place to catch up on work (I've been writing about Japan and Simon has been redesigning this website) with beach breaks when needed. We decided to extend our stay to seven weeks and were easily able to get a one-month visa extension on Koh Samui, a trip we combined with a cinema visit and delicious Italian meal at Duomo in Chaweng.
The one downside (other than the rain at this time of year) is that we've found the food a bit meh once we got over the initial novelty of Thai food again. Perhaps we've been spoilt by our recent stays in Japan and Ubud, though.
There are some good places (in Sri Thanu Bee's for Thai, Taboon for Middle Eastern, and Crave for veggie burgers are our favourites), but we've also had a lot of average meals, especially at the vegetarian and vegan restaurants. At least it's easy to avoid meat here as most restaurants have vegetarian options. There's a produce shop in Sri Thanu so we've been taking advantage of the cheap vegetables, rice noodles, and tofu and cooking for ourselves.
We leave Koh Phangan in a few days for our road trip around Oman, but it's somewhere we'll definitely consider visiting in the future—preferably in the dry season and when we have more time to explore. It's ideal for digital nomads who are looking for a place to work by the sea with good WiFi and affordable house rentals.
Koh Phangan Practicalities
To get to Koh Phangan from Koh Samui Airport (which has frequent flights from Bangkok with Bangkok Airways) take the 30-minute Seatran ferry. Tickets at the airport cost 400 baht ($12) including the 10-minute minibus transfer to the Bangrak pier. There's no need to book in advance unless you are arriving within a few days of the full moon party.
If you want to rent a house in advance look on Airbnb.
For the cheapest rentals wait until you get to the island. There are lots of signs for houses to rent or you can look on the Koh Phangan Conscious Community Facebook group (the public group, not the closed group that doesn't allow rental listings). I've seen places from 8000 baht ($244) a month.
For high-quality rentals contact Rachel at Koh Phangan House & Villa Rentals. She rented us the place we stayed and was very helpful and organised. Her monthly rates start from about 10,000 baht ($305).
We rented our automatic scooter from a motorbike shop called Tik in Sri Thanu. It cost 3000 baht ($92) a month for an old bike and we left a 3000 baht deposit (most places want you to leave your passport which I don't recommend).
If you enjoyed this post, pin it!