This page contains affiliate links. Please read our disclosure for more info.
Food is one of the reasons we returned to Bali for a second extended stay. Ubud is one of the most vegetarian-friendly places in the world with many affordable restaurants serving delicious, healthy (and not so healthy), plant-based local and international cuisine. And this vegan heaven just keeps getting better.
We were away for less than 18 months, but in that time many new Ubud vegan and vegetarian restaurants opened serving everything from home-cooked Balinese curries to gourmet Mexican and vegan galettes. I wrote about 30 fantastic restaurants in my vegetarian guide to Ubud and now there are even more wonderful options.
Here are the best new vegan and vegetarian restaurants in Ubud to try.
The current exchange rate is approximately $1 = 14,500 IDR and £1 = 18,500 IDR.
Contents
1) Siboghana Waroeng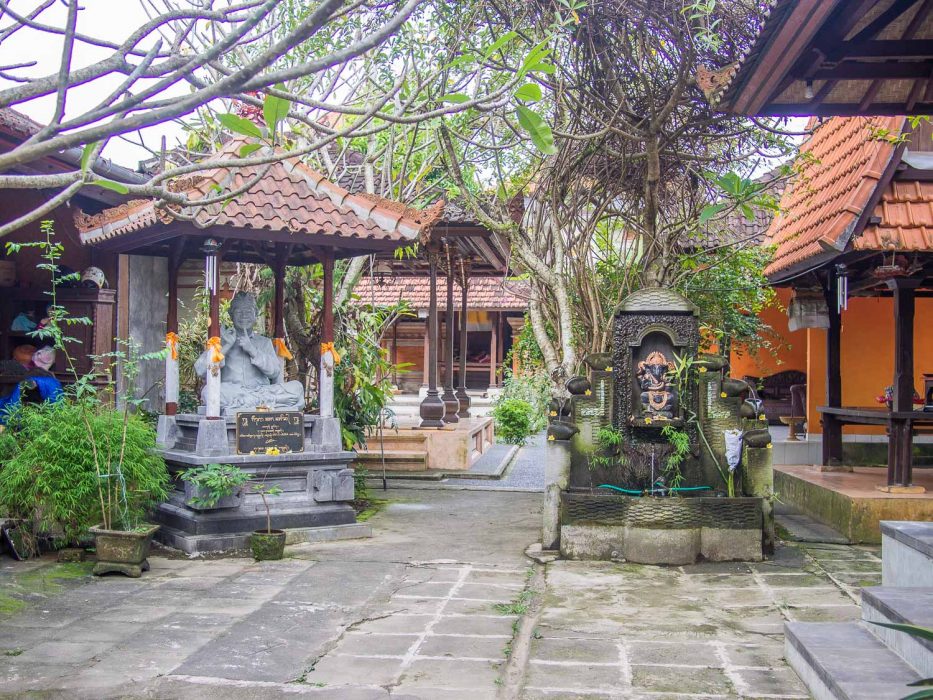 Siboghana is one of our new favourite places to eat in Ubud. It's set in a family compound south of the centre and the Balinese dishes feel like home-cooking. Everything is vegan and cooked in coconut oil with no MSG. The food is flavourful, delicious and incredibly good value.
The only downside is that the food takes a while but that's because everything is cooked to order. You can't go wrong but the nasi campur is a highlight with red rice, vegetable curry, sayur urap vegetables, tempeh, satay, crispy mushrooms, begedil potato cutlet, and a dollop of spicy ginger sambal.
Whenever we visit we're the only people there, which is a shame as it's the best value place in Ubud for delicious Balinese vegan food.
Cuisine: Vegan Balinese.
Cost for a Main Dish: 15–30,000 IDR.
Details: Jalan Made Lebah 36. 12 – 9pm every day.
Website: Siboghana Facebook page.
2) Sawobali Vegan Buffet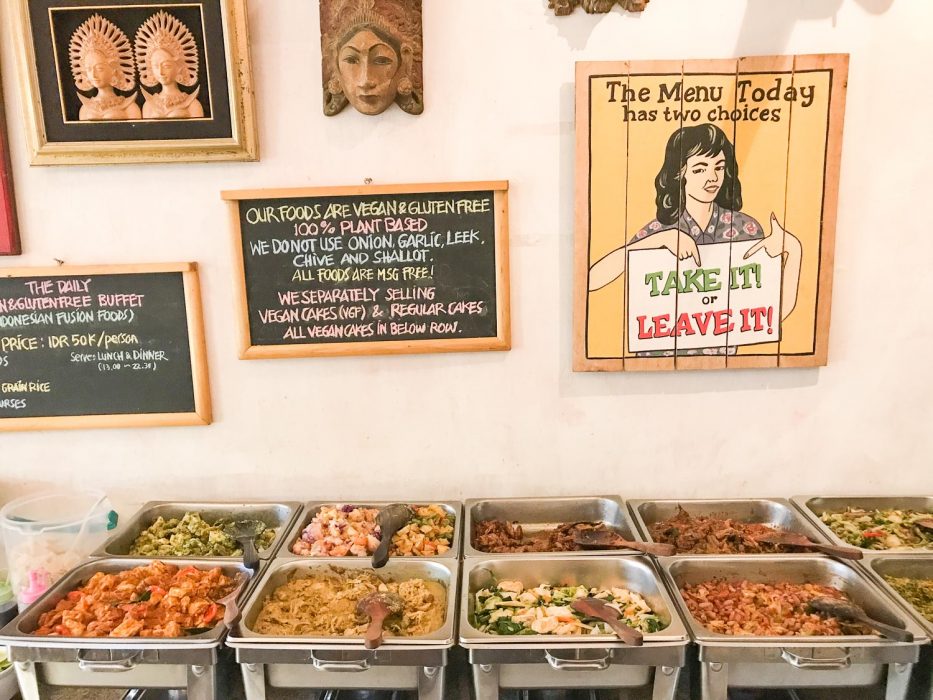 Sawobali is another welcome addition to the Ubud vegan scene and we're regulars at their all-you-can-eat vegan buffet. I'm not usually a buffet fan, but the food here is fresh and tasty and it's perfect for a quick, inexpensive meal. For 50,000 IDR you can choose from 10 hot dishes, a soup, rice, and salad. Water is also included.
They describe the food as Indonesian fusion so there are classic local dishes like tempeh, tofu, curry, and vegetables, and more international dishes like a delicious tomato eggplant dish that tastes like an Italian melanzane parmigiana without the cheese. Everything is vegan, gluten-free, and made without onions or garlic.
Sawobali also has a range of cakes including vegan and gluten-free options.
Cuisine: Vegan Indonesian Fusion.
Cost for a Main Dish: 50,000 IDR for the buffet.
Details: Jalan Hanoman 73 opposite Coco Supermarket. Buffet from 1pm – 10.30pm every day.
Website: Sawobali Facebook page.
3) Veggie Karma
Next door to Sawobali is Veggie Karma, a new Chinese vegetarian restaurant that offers something a bit different from other vegetarian restaurants in Ubud. It's a nicely decorated space overlooking a garden.
Our favourite dishes were the mapo tofu and the braised eggplant. Both are described as "mild" on the menu but they were actually pretty spicy and very flavourful. The BBQ noodles were a bit too sweet. Although the food was good we were put off by the tiny balls of soy meat that were in every dish. They were small enough to ignore, but as we're not fake meat fans it has put us off returning (I'm not sure if you could ask them to leave it out).
Cuisine: Vegetarian Chinese.
Cost for a Main Dish: 50,000 IDR plus 10% tax.
Details: Jalan Hanoman 73. 11am – 9.30pm every day.
Website: Happy Cow listing.
4) Sayuri Healing Food Cafe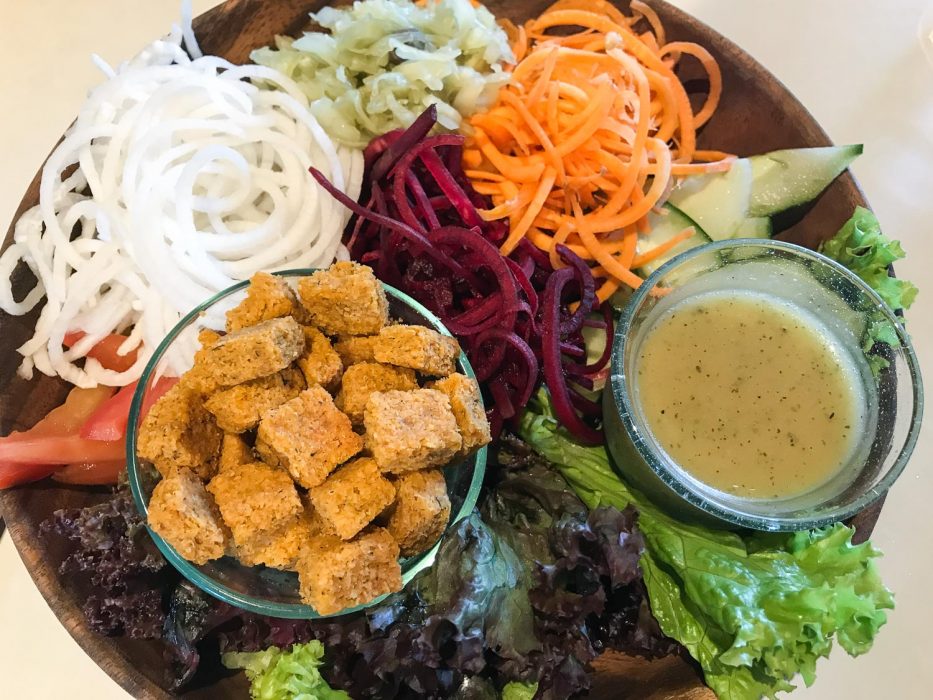 Ubud is the raw vegan capital of the world and Sayuri is another new addition. It's my favourite of the raw restaurants with a bright space, fast WiFi, and delicious healthy food. I love the bowls that come with lots of veggies, sauerkraut, and a choice of dressing and toppings. The "cheese" croutons are amazing and I couldn't believe they were made from coconut (sadly on my second visit they weren't crunchy though).
I'm a fan of the Pick Me Up green smoothie with berries and pineapple so it doesn't taste too "green". You can also have it as a smoothie bowl with a choice of toppings—the coconut cinnamon chips are delicious. The raw desserts look tempting.
Although I loved Sayuri, Simon is not a fan (he doesn't like any of Ubud's raw restaurants!), so if you're not into raw food this might not be the place for you. If you are looking for a flavourful, creative, and healthy meal, then give it a try.
Cuisine: Raw vegan with a few cooked dishes.
Cost for a Main Dish: 59,000 IDR plus 15% tax and service.
Details: Jalan Sukma Kesuma 2. 9am – 10pm every day.
Website: Sayuri Healing Food.
5) Lazy Cats Cafe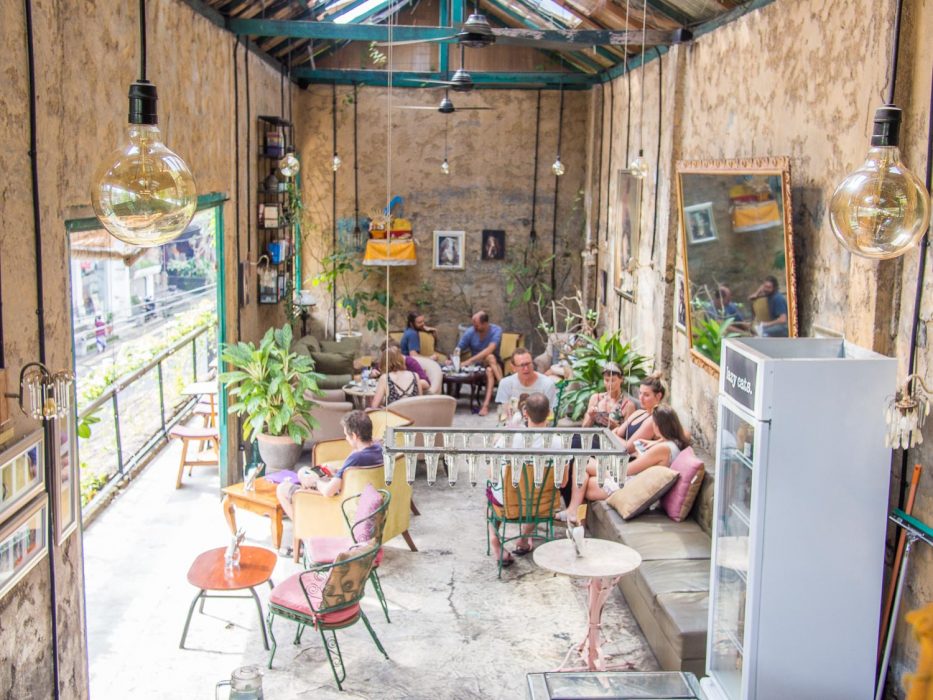 Lazy Cats is an Instagrammable cafe with cool artwork and comfy armchairs overlooking the main road of Ubud. The WiFi is fast (10 Mbps down/20 Mbps up) so it's the perfect place to work over a leisurely breakfast or lunch. The coffee is excellent and all the food is vegetarian with vegan options available (they have cashew-coco milk and yoghurt).
Breakfast includes delicious pancakes—both the Chocoholics and Colada (pineapple and coconut) were delectable, as were the hash browns topped with caramelised onions and sour cream. The green smoothie bowl was good, but not quite as good as my favourite at Sage.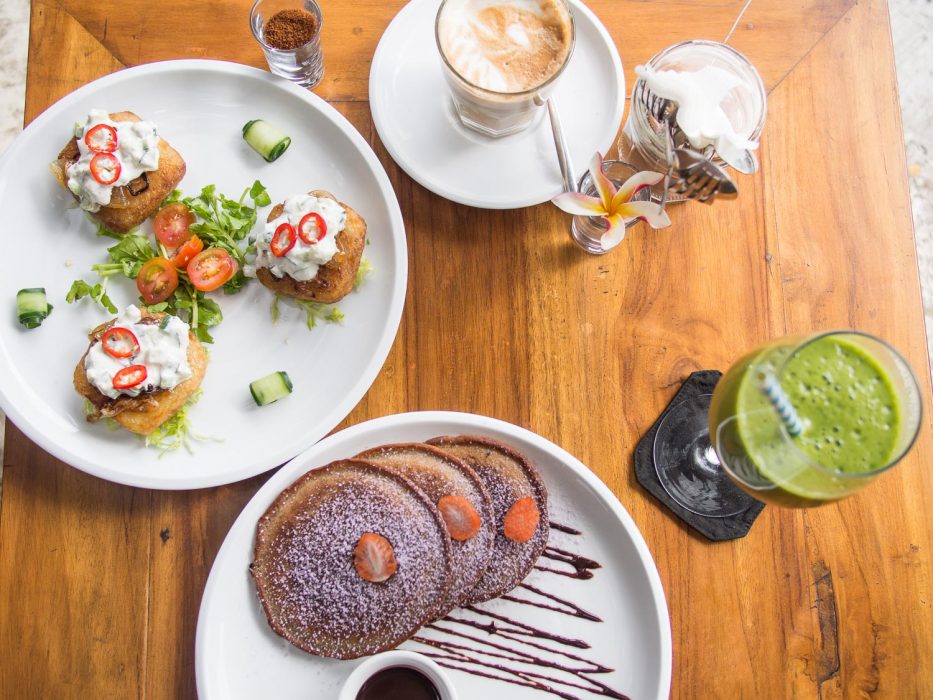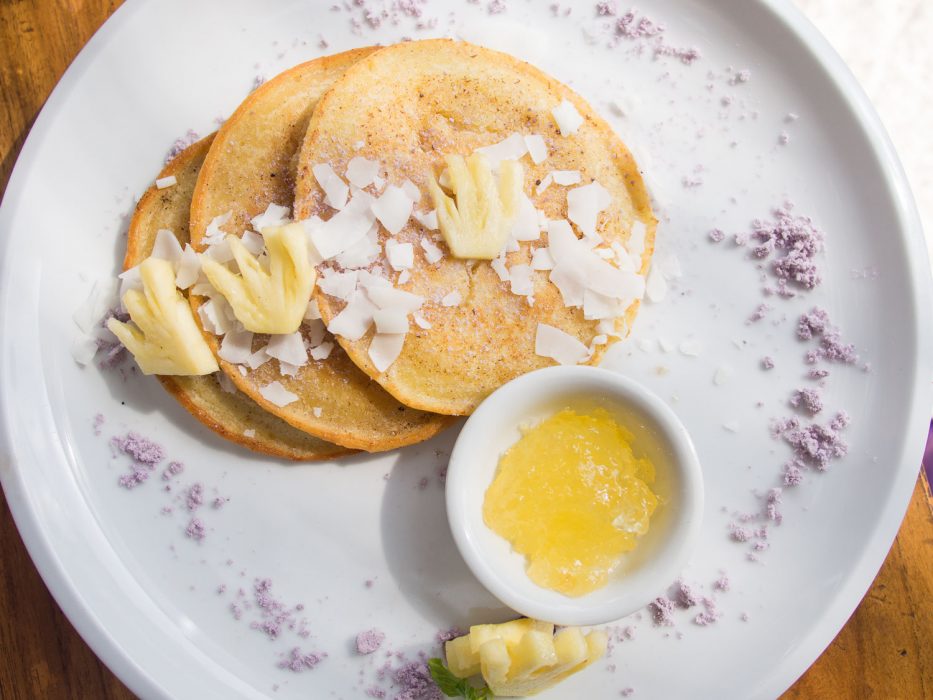 Lunch options include wraps, salads, quesadilla, and a BBQ tofu bowl. From 7pm they serve interesting-sounding cocktails and tapas—we'll be back to try those.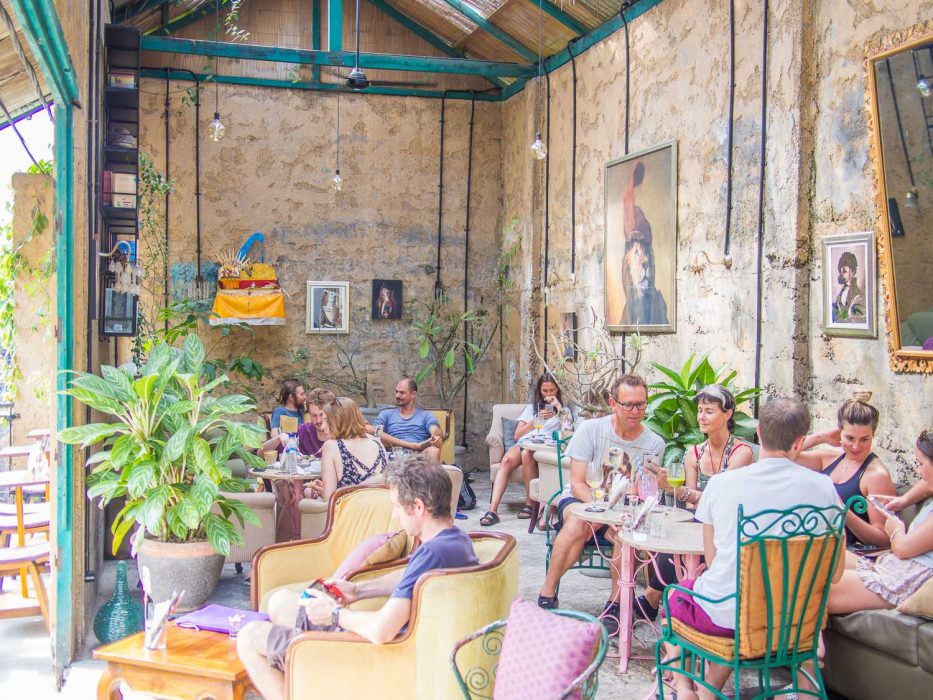 Lazy Cats is a welcome addition to Ubud with creative food, fast WiFi, and comfortable seating.
Cuisine: Vegetarian international.
Cost for a Main Dish: 50-65,000 IDR plus 16% tax and service.
Details: Jalan Raya Ubud 23. 8am–10pm. Closed Mondays.
Website: Lazy Cats Facebook.
6) La Pacha Mama
La Pacha Mama is a stylish vegetarian Mexican restaurant in a dramatic high-ceilinged bamboo structure in Penestanan. With cool decor, regular live music, and attentive staff who learn your name, it doesn't feel like anywhere else in Ubud.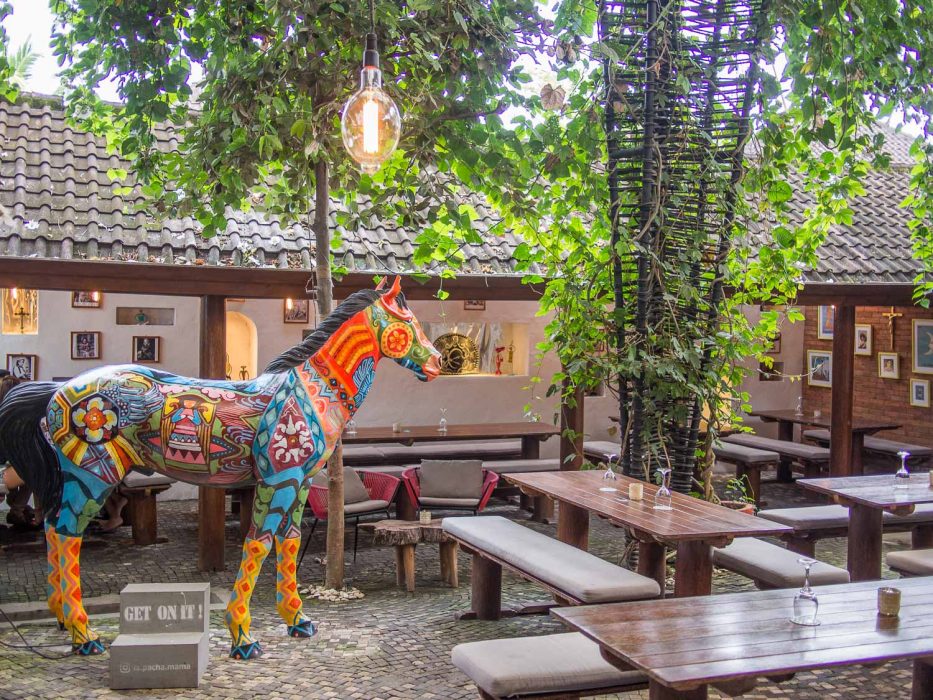 The Mixed Platter is the best way to try a little bit of everything—nachos, guacamole, quesadilla, burrito, flauta and cauliflower buffalo wings. Perfect for sharing with friends over a cocktail (Simon recommends the espresso martini).
I didn't enjoy the mains quite as much. The tempeh tacos were small and the filling wasn't very exciting (the tempeh tacos at Sage are far better). They do make their own authentic corn tortillas, though—the only place we've found in Ubud that does. The jackfruit burrito was good but just felt like it was missing something.
Dessert was fun—a chef came out and flambeed my bananas in tequila in front of me.
We enjoyed our meal at La Pacha Mama—the decor, service, cocktails and some dishes are excellent—but it's expensive and the food didn't quite live up to my expectations. We will definitely return, but not as regularly as we do for Mexican at Sage and Taco Casa.
Cuisine: Vegetarian Mexican.
Cost for a Main Dish: 80,000 IDR plus 16% tax and service.
Details: Jalan Raya Penestana Kelod 1. 4–11pm every day.
Website: La Pacha Mama.
7) Mumbai Station
Mumbai Station has just a few tables in a small garden (bring mosquito repellant!). They serve a couple of curries but their speciality is masala dosas (Indian crispy rice pancakes stuffed with spicy potato) with a choice of chutneys. We love dosas and these are authentic and delicious. All the food is vegan and gluten-free.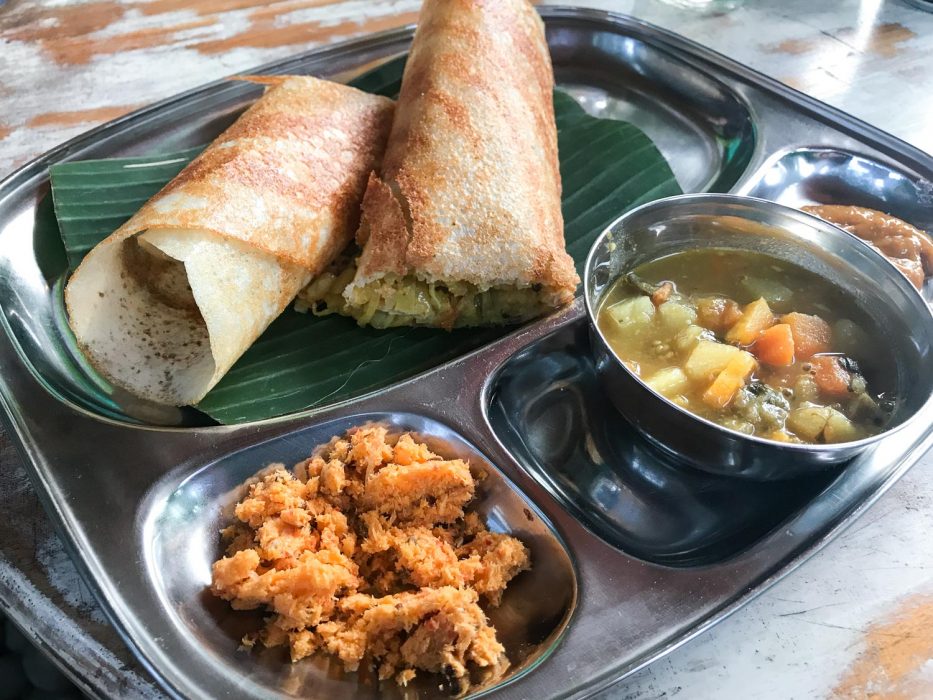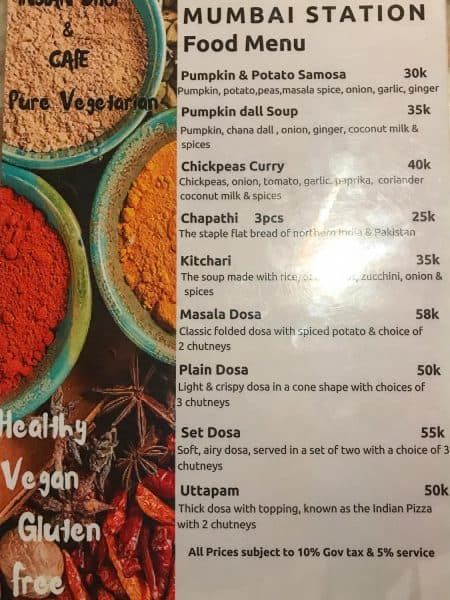 Cuisine: Vegan Indian.
Cost for a Main Dish: 58,000 IDR for a dosa plus 15% tax and service.
Details: Jalan Raya Sanggingan 90. 9am to 9pm every day.
Website: The Shala Bali (the hotel where it is located)
8) Warung Makan Rama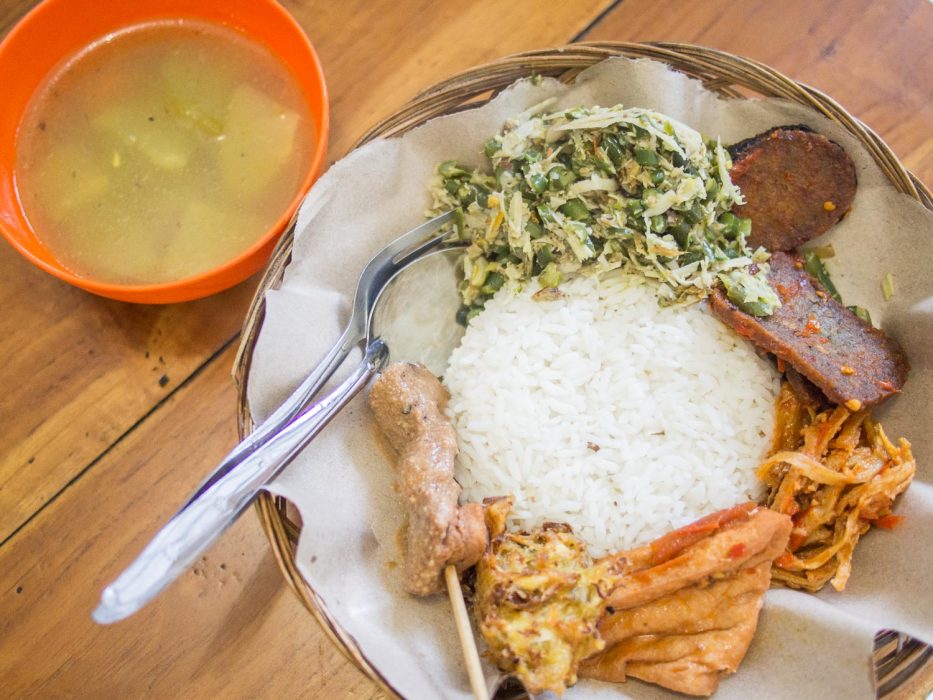 Most vegetarian restaurants in Ubud cater to foreigners but Warung Makan Rama is a simple, local place on busy Teges road south of Ubud (on the way to Goa Gajah temple). There are just two tables and a small menu of local dishes including fried noodles and rice. The nasi campur was more flavourful than I expected with white rice, various vegetables, spicy tempeh, tofu, soy meat satay and a simple potato soup.
The food is nothing special but if you are on a budget, this is the place to come—at 15,000 IDR for nasi campur and even less for other dishes, it's a bargain.
Cuisine: Vegetarian Indonesian.
Cost for a Main Dish: 10–15,000 IDR.
Details: Jalan Raya Teges. Listed at Suparna Hari 2 (previous name) on Google Maps.
Website: Happy Cow listing.
9) The Spell Creperie
The Spell Creperie serves authentic, organic French galettes (savoury) and crepes (sweet). It's mostly vegetarian with lots of vegan and gluten-free options marked on the menu. Downstairs you can relax on cushions on the floor and upstairs you can eat on tables overlooking frangipani trees and a family temple opposite.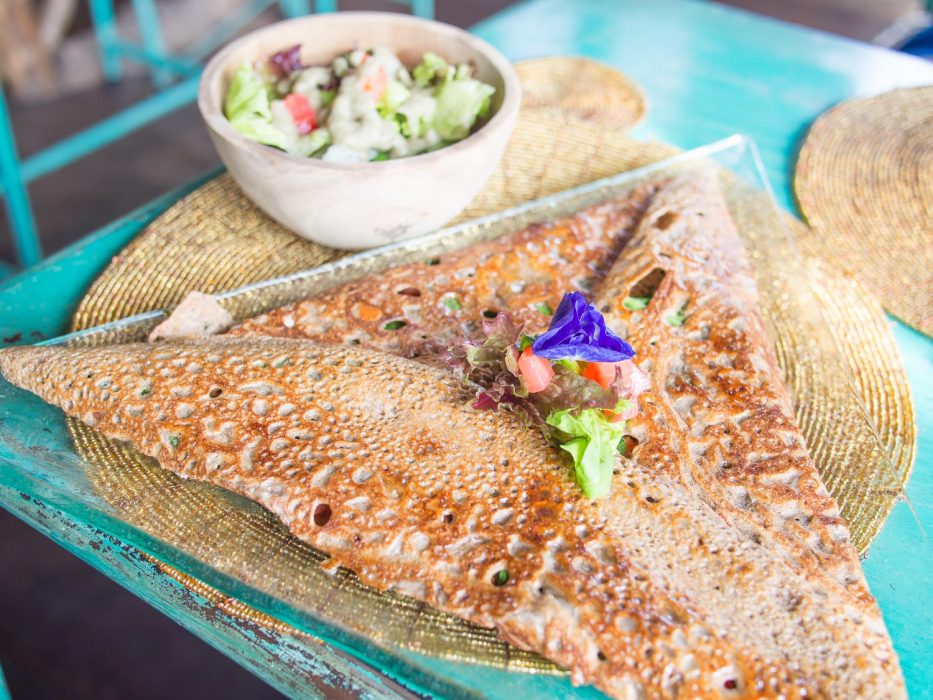 You can choose from the menu or create your own. I enjoyed my Gandalf galette with goats cheese, tomato, rocket and honey with a small side salad. The Secret crepe was even better topped with delicious salted caramel, caramelised apples, cashews and coconut cream.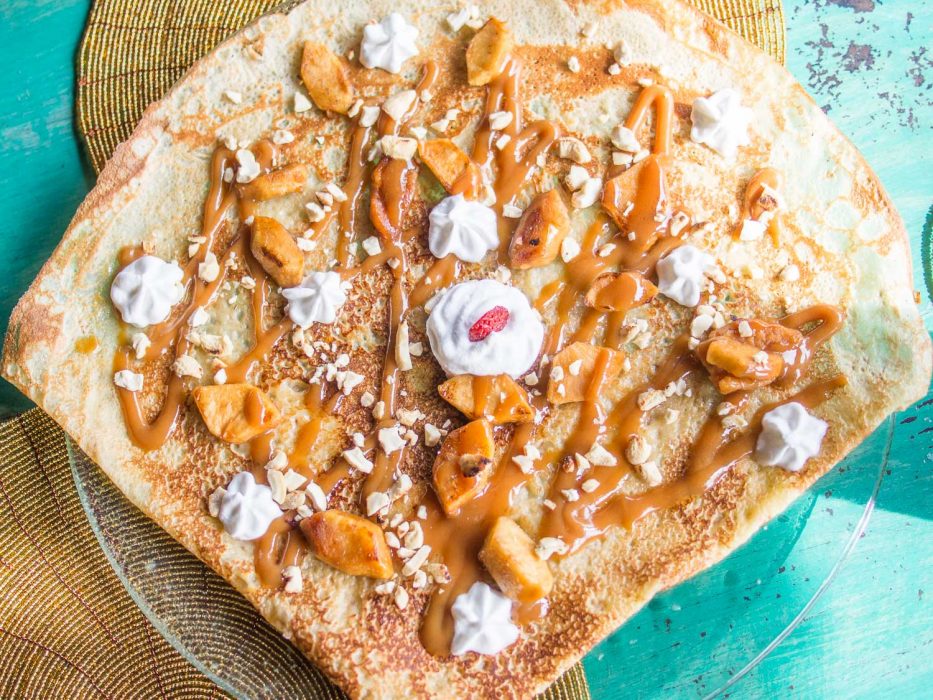 Cuisine: Meat, vegetarian and vegan French.
Cost for a Main Dish: 55–75,000 IDR plus 15% tax and service.
Details: Jalan Gootama. 9.30am –11.30pm every day.
Website: The Spell Creperie.
Don't miss my original vegetarian Ubud guide, which includes our favourites like Melting Wok, Sage, Moksa, The Elephant, and Wulan, which we still visit regularly.
New Vegan Ubud Restaurants Map
Where to Stay in Ubud
Our favourite place to stay in the centre of Ubud is Desak Putu Putera Cottages in a quiet jungle location with fantastic views. It feels like an oasis from the chaos yet is walkable to most of the restaurants on this list and is on the same street as Sayuri (plus two other great vegan restaurants, Wulan and Nine Heaven) and only five minutes from The Yoga Barn.
The comfortable rooms are clean, spacious and have air conditioning, mini-fridge, decent WiFi, powerful hot showers, and balconies. The pool is lovely, and the staff are very helpful and can arrange transport or motorbike hire. It's reasonably priced at 561,600 IDR ($42) a night.
You can find more homestays, guesthouses and hotels in Ubud here.
If you are staying for a month or more there are plenty of houses to rent, often in tranquil rice fields a short drive from the centre.
If you are in Ubud for yoga, check out my detailed Ubud yoga guide with reviews of all the main studios.
Ubud is a vegan and vegetarian heaven and it keeps getting better! I hope you enjoy trying these restaurants as much as we did. Let us know if you have any more suggestions.
If you enjoyed this post, pin it!