This page contains affiliate links. Please read our disclosure for more info.
After a few months living in Ubud we decided to celebrate Simon's birthday with a long weekend on Gili Air, a small island off the coast of Lombok and just a few hours boat ride from Bali. The Gili Islands trio includes Gili Trawangan, known as the party island; Gili Meno where you go to escape it all; and Gili Air which is often described as "just right". We wanted somewhere quiet but with a good choice of restaurants so we chose Gili Air.
I love small islands and Gili Air certainly is—the sandy path around the island is only 5 km and can be walked in just over an hour. There are no cars or motorbikes—just small ponies pulling rickety colourful carts and bicycles that often get stuck in the sand. There are no huge resorts, although hotels and simple bungalows line the beach road, and the few ATMs are a recent addition. It's a place to unwind and embrace the low key vibe.
There are things to do on Gili Air—diving and snorkelling trips are popular, and you can rent stand up paddle boards and translucent kayaks—but we didn't manage to do any of them. Maybe it was the heat, or we were just in serious need of a break, but we felt content doing nothing much at all.
We breakfasted on banana pancakes overlooking the turquoise water in our hotel Sunrise Resort. We snorkelled off the beach a few steps from our room, swam in the pool, or retreated to the air conditioning of our comfortable room. We read, gazed at the sea, ate cake every afternoon. I enjoyed a yoga class at the lovely H20 studio in the centre of the island. We stayed off the internet. No work, no email, no pressure to do anything. Bliss.
Each evening when the heat became bearable we'd walk around the island and watch the sun sink below the horizon and turn the sky purple and red and orange. Beach bars beckon with bean bag chairs and happy hour cocktails to accompany the view.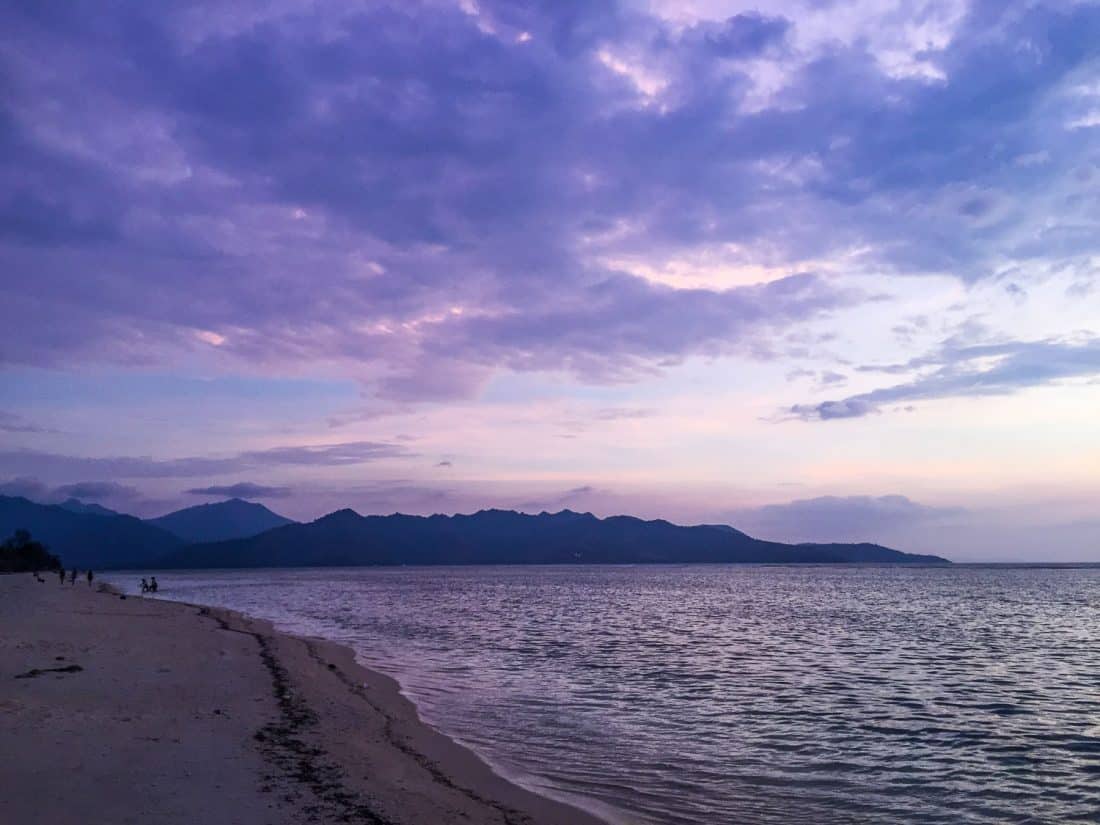 We made it up for sunrise one day (staying at Sunrise Resort it seemed necessary) and greeted the day with a clear view of erupting Mount Rinjani that has caused so many flights to be cancelled.
Gili Air's beach didn't live up to our paradise island expectations (they rarely do). It's narrow on the east coast where we stayed and lined with restaurants instead of palm trees. On the west coast it's wider and quieter, but covered in broken coral and not as powdery white as the photos suggest. But the sea is clear and turquoise and bath water warm. As we fell into our lazy island routine our critical minds let up and we appreciated Gili Air for what it is—the perfect place to relax.

Sunrise Resort
For Simon's birthday we wanted to stay somewhere special and chose Sunrise Resort on the Southeast coast just a 10 minute walk from the harbour. We felt we'd made the right decision as soon as we arrived hot and sweaty and were greeted with a cool towel and drink—just what we needed.
Sunrise has a range of rooms starting from $45 and we stayed in two of the most expensive options—the second row suite with sea view ($125), and the deluxe room ($90) overlooking the pool.
Suite
The suite is huge and luxurious. Downstairs there's a bedroom with a comfortable four poster bed and a multitude of pillows which always makes me happy, a day bed, armchair, and desk; a dressing room; and a massive open roofed bathroom that felt like a pleasant living space with a palm tree, bamboo, and volcanic stone bath and his and hers sinks. There's A/C in the bedroom (which we definitely needed), a fridge (although no minibar drinks except free water), and hot water (which we didn't really need!). The bedroom was a bit dark without much of a view, but that's what the second level is for.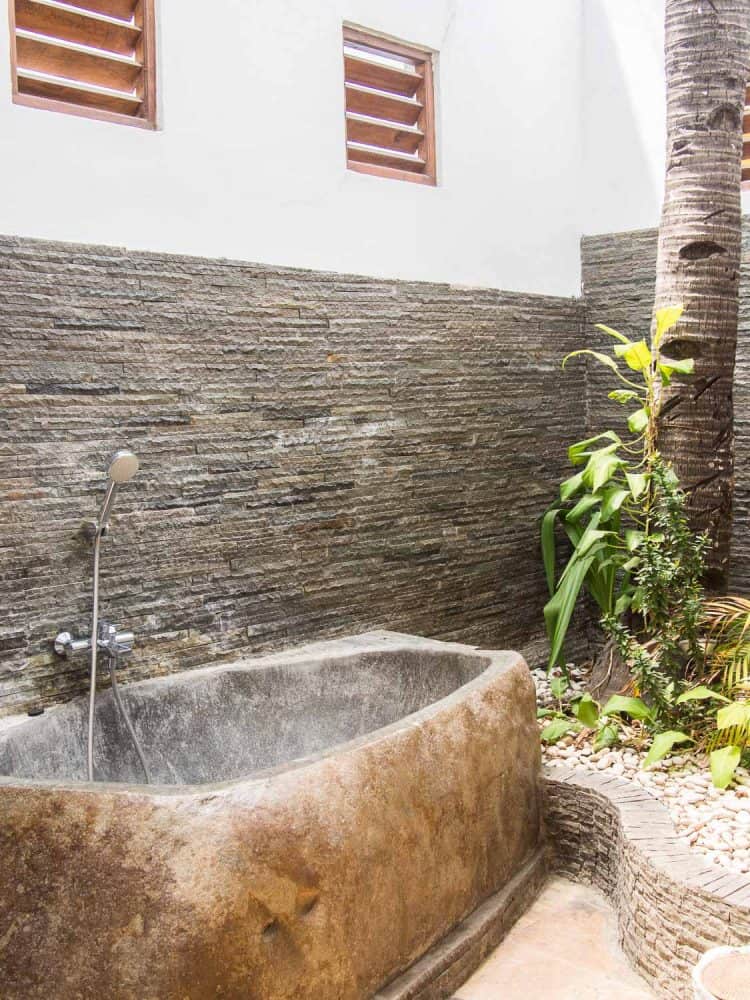 Upstairs is a large open sided living area with sofa, sun loungers, and hammocks. As we were on the second row our sea view was restricted by the suites in front. We wish we could have taken advantage of this lovely space more but it was so hot we usually retreated to the cool bedroom.
I appreciated the details in the suite—fresh flowers scattered everywhere, wooden floors, essential oil toiletries, individual reading lights, and a kettle with an array of different teas and coffee.
Deluxe Bungalow
After a few nights we moved to the two-storey deluxe lumbung (bungalow) overlooking the pool. It's cheaper than the suite but felt almost as nice with a comfortable bed, day bed, funky pink feather lamp, and large attractive bathroom. A ladder leads up to the roof where there's a large living area with hammocks and bean bag chairs overlooking the pool. The bedroom was a little dark, and felt less private than the suite (as more people walk past the pool) but we were just as comfortable in the deluxe.
The Resort
Sunrise is right in front of one of the best snorkelling spots on the island which is accessible in low and hide tide. It was very convenient to be able to rent snorkelling gear for 50,000 IDR ($3.70) a day at the kiosk next door and jump right in. The coral is mostly dead but there were plenty of colourful fish to enjoy.
I was disappointed with the beach at Sunrise—I'd seen photos of sun loungers right on the beach and it was one of the reasons I'd chosen the hotel. It turned out the beach was too narrow for that, and I think this might have changed in recent years. There are sun loungers on a sundeck just a few steps above the beach so you can still enjoy the view and access the sea easily. The restaurant and beach is separated from the rooms by the sandy road that runs around the island, but this seems true for almost all the accommodation on Gili Air.
The beachfront Le Cirque stands out from the usual restaurants on Gili Air. We loved the colourful wooden furniture and lanterns and the sea view. The breakfast buffet was included in the room rate and was pretty standard although we appreciated the made to order banana pancakes and omelettes. Later in the day we enjoyed the eggplant feta rolls, greek salad, aloe vera juices, cappuccino, and decadent chocolate mousse cake.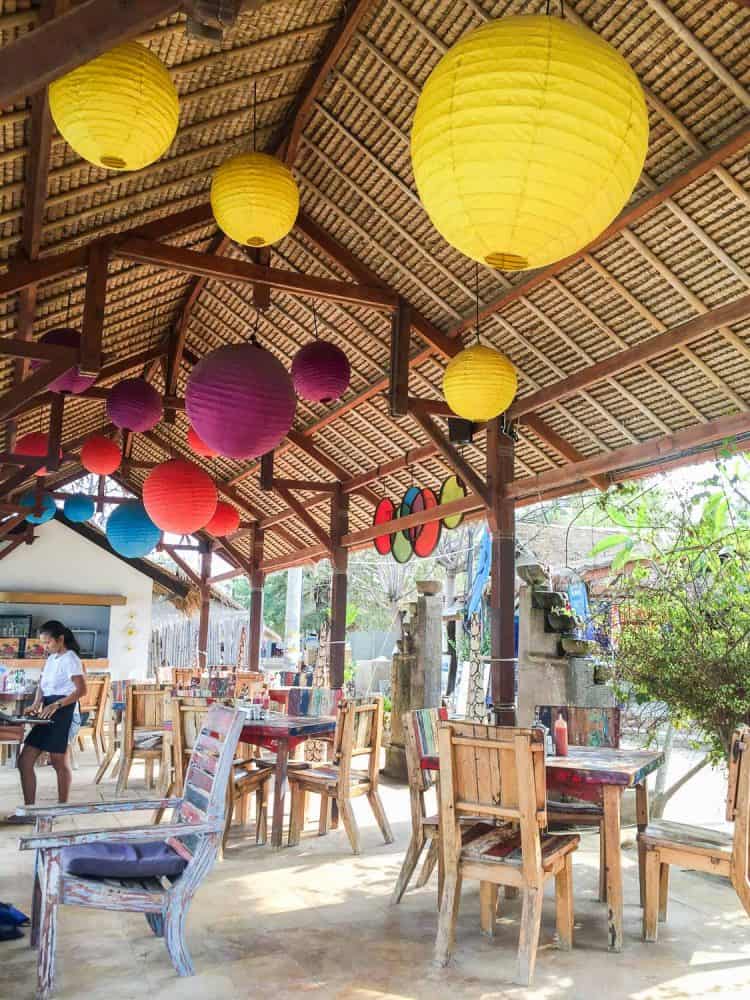 The pool was a highlight at Sunrise with a free form shape in a lush tropical garden full of frangipani, bougainvillea, and hibiscus flowers. It is a good size and unusually has a 3 metre deep end. The pool is used for training by the onsite dive shop but they didn't usually take too long. There's also a kids pool and plenty of sun loungers, although they weren't too comfortable (cushioned loungers would be better).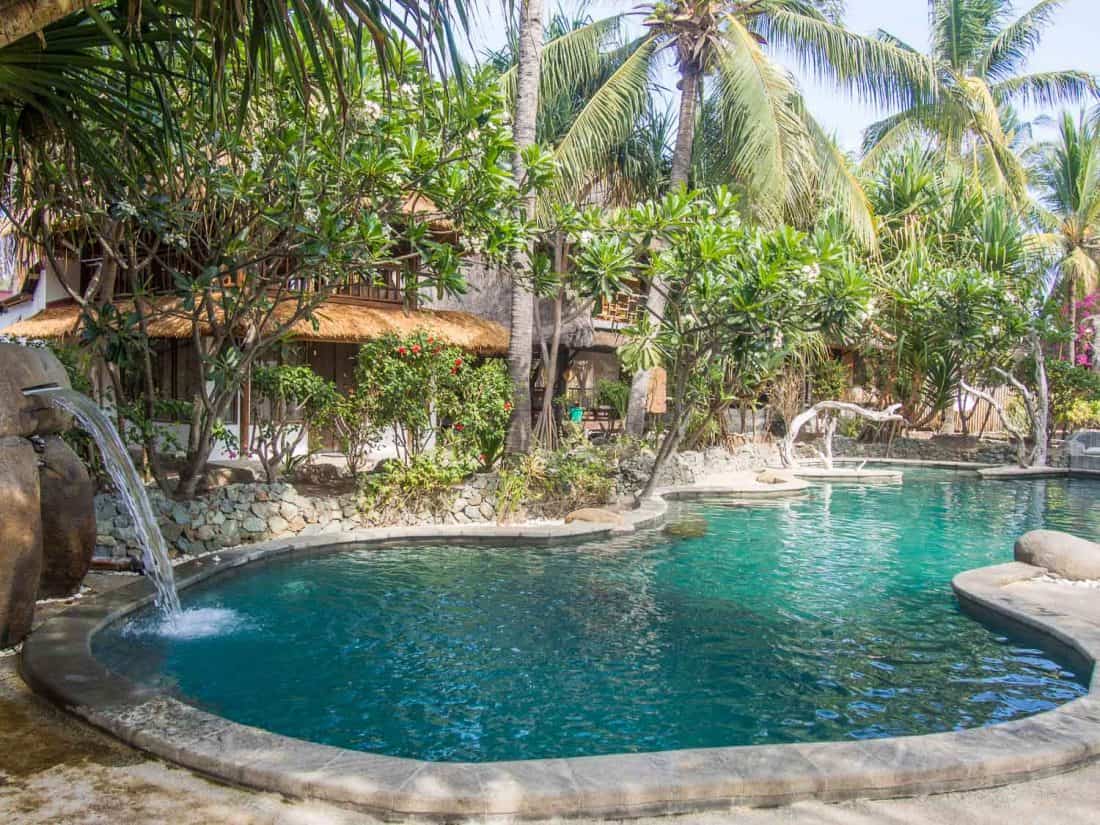 Overall we were very happy with Sunrise Resort's comfortable rooms, lovely pool, onsite restaurant, and convenient but quiet location close to the harbour and many restaurants. The beach was the only downside—we preferred the wider, less developed stretch of sand on the west coast, but I've heard low tide can prevent swimming here, there are fewer restaurants, and it's a longer walk from the harbour. I'm not sure where the perfect place to stay on Gili Air is but Sunrise was an excellent choice for our luxury birthday break.
Where to Eat on Gili Air
Coming from Ubud our expectations weren't high for the food on Gili Air, so we were surprised that we didn't have a bad meal. Nothing was outstanding (except Classico pizza) but everything was enjoyable.
Classico Pizzeria – Hidden down a sandy lane in the centre of the island this Italian-run restaurant is a gem and serves the best pizza we've eaten in Asia. The margherita pizza is superb, and we loved the candlelit tables and Latin soundtrack (a nice change from reggae and cheesy pop).
The Mexican Kitchen – Not the best Mexican food ever but it was pretty tasty, has lots of vegetarian options (including a raw vegan menu), and a wonderful sunset view. From 5-7pm you get free guacamole and chips with any cocktail.
Mowie's – The sunset spot so get here early for cocktails, creative salads, and sandwiches on bean bag chairs on the beach. Excellent hand cut chips and they even have raw desserts.
The Waterfront – A good lunch spot with comfy cabanas above the water and quite a few vegetarian options. We liked the Thai red curry and feta, avocado and tomato wrap. The greek salad wasn't as good as Le Cirque's and the tempeh burger wasn't great.
Scooperific – You can find these ice-cream stands all over the island.
We prioritised eating in nicer restaurants on the beach so didn't get to try the cheap warungs serving Indonesian food—see this post by Mostly Amelie for some inexpensive, vegan-friendly options.
Getting to Gili Air from Bali
The quickest way to get to Gili Air from Bali is by speedboat. The listed prices online are around 600,000 IDR ($44) each way including pickup from hotels in Ubud or the southern beach towns, but everything is negotiable in Bali and you shouldn't pay that much. We went to a travel agent in Ubud and ended up paying 600,000 IDR ($44) per person return, but we probably could have got it as low as 200,000 IDR ($14.70) each way if we had shopped around more or bargained harder.
In theory, it should be an easy journey—an hour or so in the minivan from Ubud to Padang Bai, and an hour or so in the speedboat to Gili Air. In practice, it took us five hours to get there and six hours to get back. There's a lot of waiting around, stated departure times are unreliable, and everything took longer than it was supposed to. We also ended up on a different boat than the one we thought we booked with the agent. Our Semaya boat was fine but hot as they don't turn on the air conditioning. There seem to be bad reviews of all the boat companies so I'm not sure if there are any good options.
To get around Gili Air you can walk, rent a bicycle, or take a horse cart. We were glad we stayed close enough to the harbour to be able to walk to our hotel so that we didn't have to support the use of the sad looking horses.
Gili Air may not be our perfect island paradise but the turquoise sea is much calmer than on Bali's surf beaches and the laid back vibe made for a relaxing digital detox and birthday treat.
Thank you to Sunrise Resort who hosted us on Gili Air.