This page contains affiliate links. Please read our disclosure for more info.
Last night on the way home from dinner we got caught up in a parade. A mass of people took over the road in a slow procession—the men in sarongs, shirts, and white head cloths carried tall umbrellas and masks of the Barong, a hairy lion-like creature from Balinese mythology; the elegantly dressed women in fitted batik sarongs, lacy blouses, and brightly coloured sashes balanced pyramids of fruit offerings on their heads. The pling pong of gamelan music accompanied the parade, with musicians playing gongs and drums and cymbals as they walked.
The event wasn't unusual—in Ubud we witness processions all the time. Temple ceremonies are a vital part of life here, and everyone seems to be constantly celebrating one or preparing for the next—streets are decorated, teenage boys practice their dance moves, women weave baskets for offerings. We can never follow the significance of the many ceremonies—it could be a temple anniversary, full moon celebration, day to honour one of the gods, or a cremation.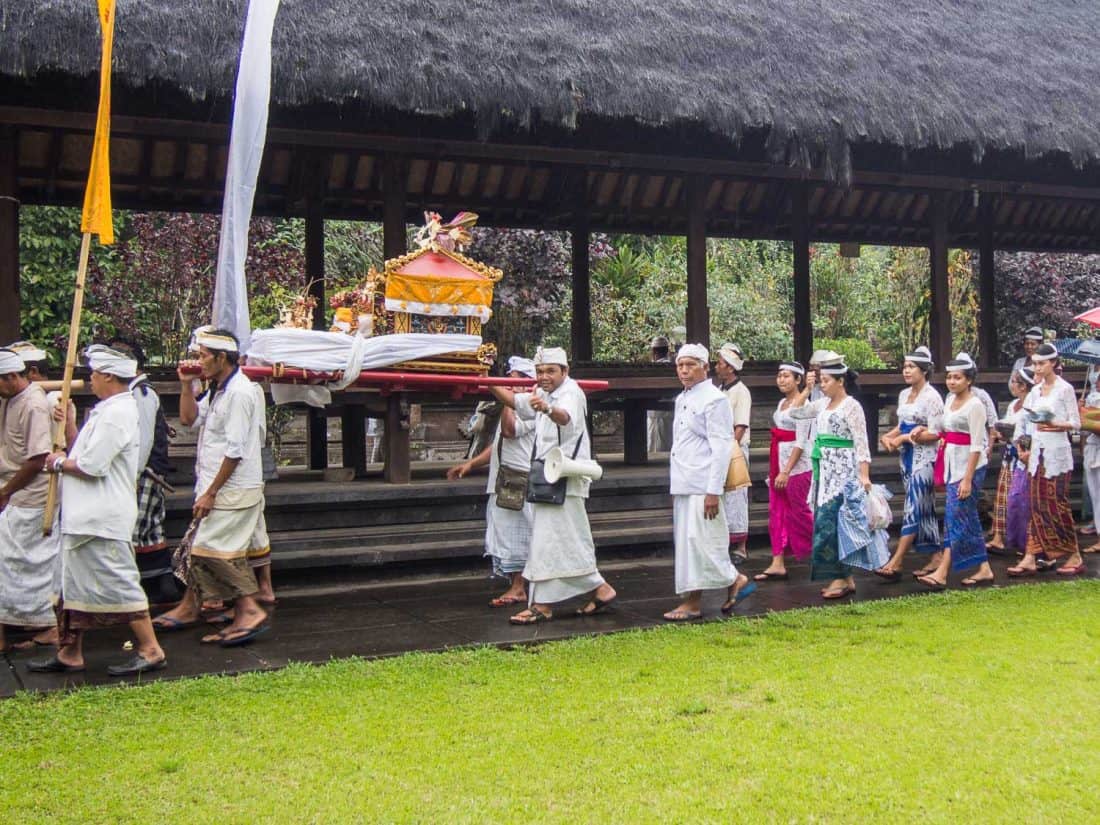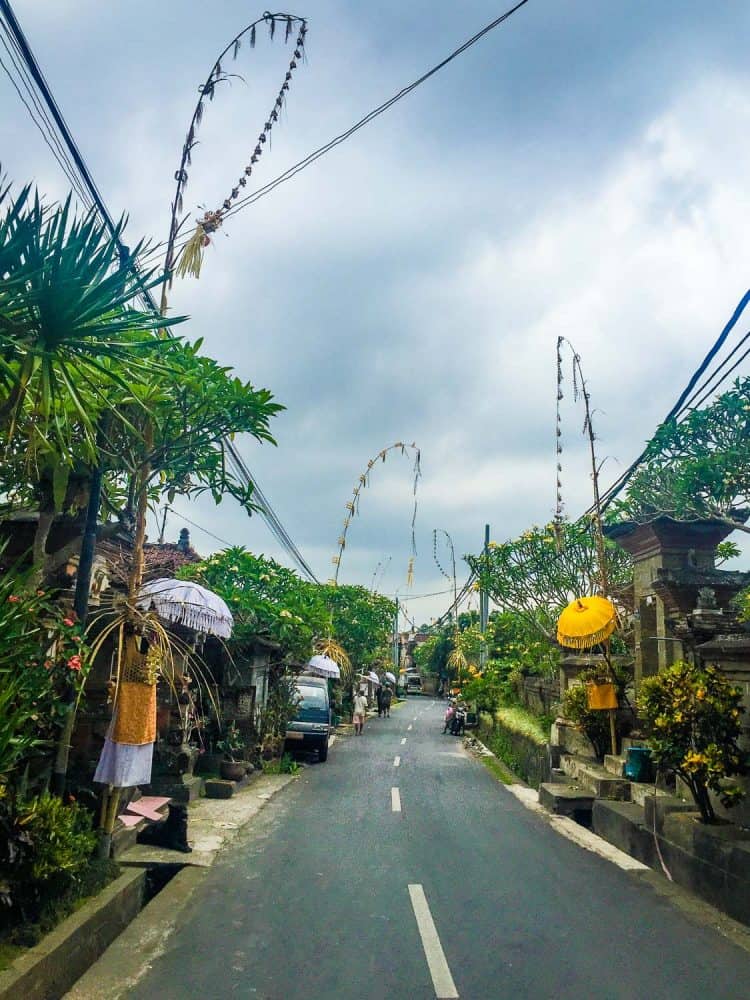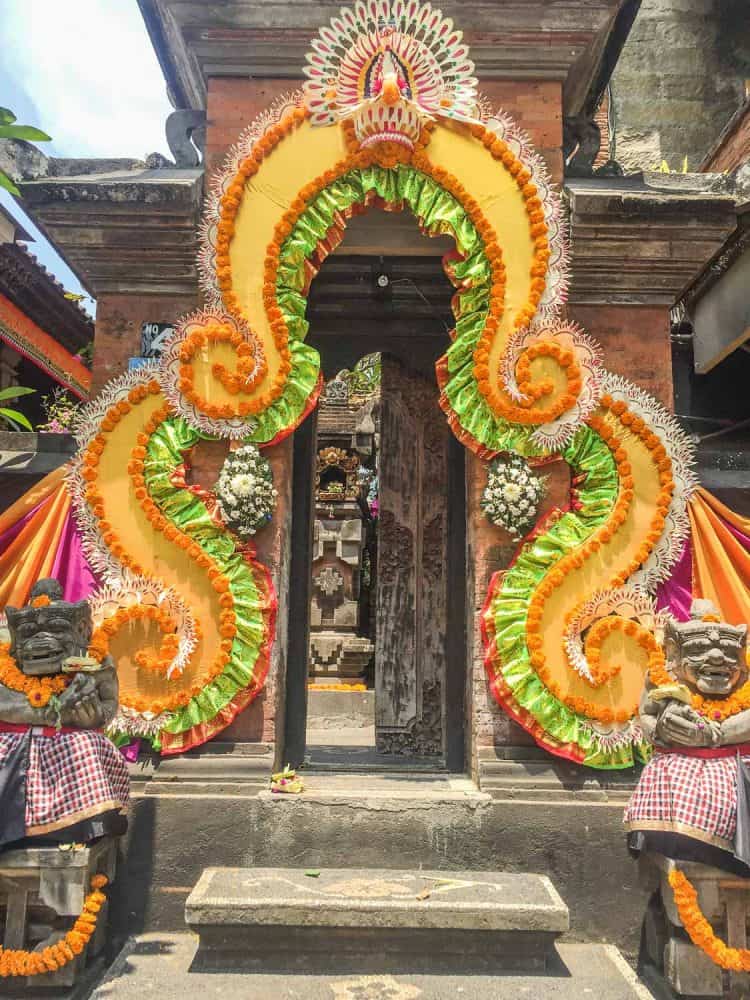 Some people complain that Ubud has become overdeveloped and touristy, and it has, but it doesn't seem to affect the traditional way of life here. There are so many things we love about living here—the vibrant green rice paddies, the delicious food, the profusion of yoga studios—but it's the Balinese people and culture that make this place magical, unlike anywhere else we've visited.
Bali is the lone Hindu island in Indonesia, the most populous Muslim country in the world. Balinese Hinduism is distinct from that in India as it is blended with indigenous spiritual beliefs and Buddhism. One delightful aspect is the practice of leaving daily offerings (canang sari) to the gods. These little baskets are made from woven coconut leaves and filled with colourful flowers and perhaps some food, most commonly rice but we've seen bread, crackers, and even cigarettes. Families make dozens a day and you see them everywhere—in homes, shops, and on the streets. The incense that drifts from them fills the town with a heady scent. Ubud has a rich tradition of painting, crafts, and dance, and in the offerings the Balinese make the everyday beautiful.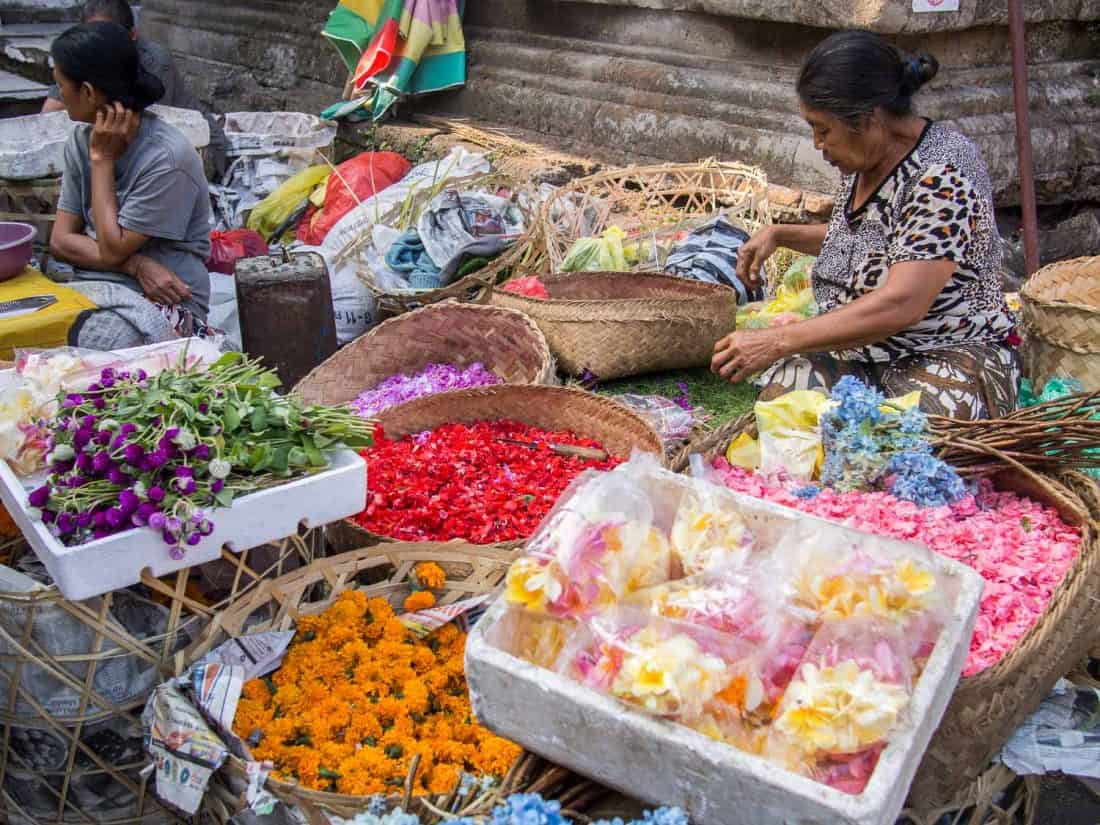 Our love for Ubud has blossomed over time, with each day bringing new discoveries. In our first few days, staying in the centre of town, we wondered why on earth we were here. It had changed so much from the sleepy village we remembered from our short visit seven years ago. It's much more developed, there are endless souvenir shops, the traffic can be awful, and there's even a Starbucks. But Ubud rewards a longer stay, revealing pockets of beauty and serenity amongst the chaos—the ornate stone carvings of the many temples; family compounds that look like temples and hide beautiful gardens; the lotus pond behind the Starbucks; walking down a narrow path and finding ourselves amongst the rice paddies; attending a yoga class at Taksu Spa right in the centre of Ubud and feeling like I'd entered a magical jungle temple.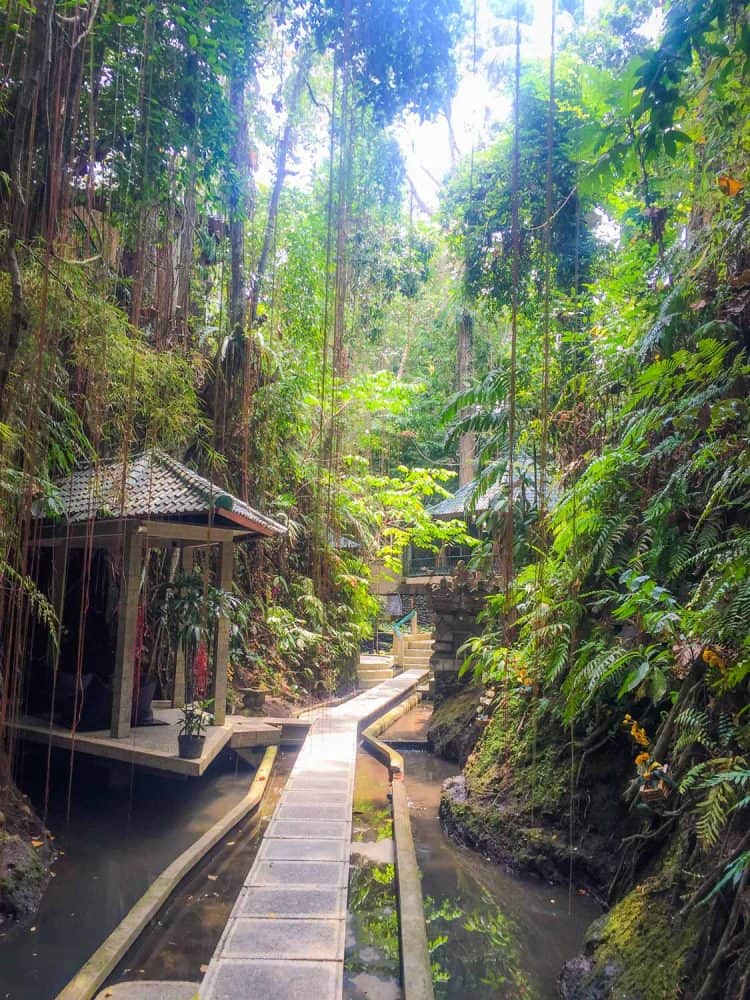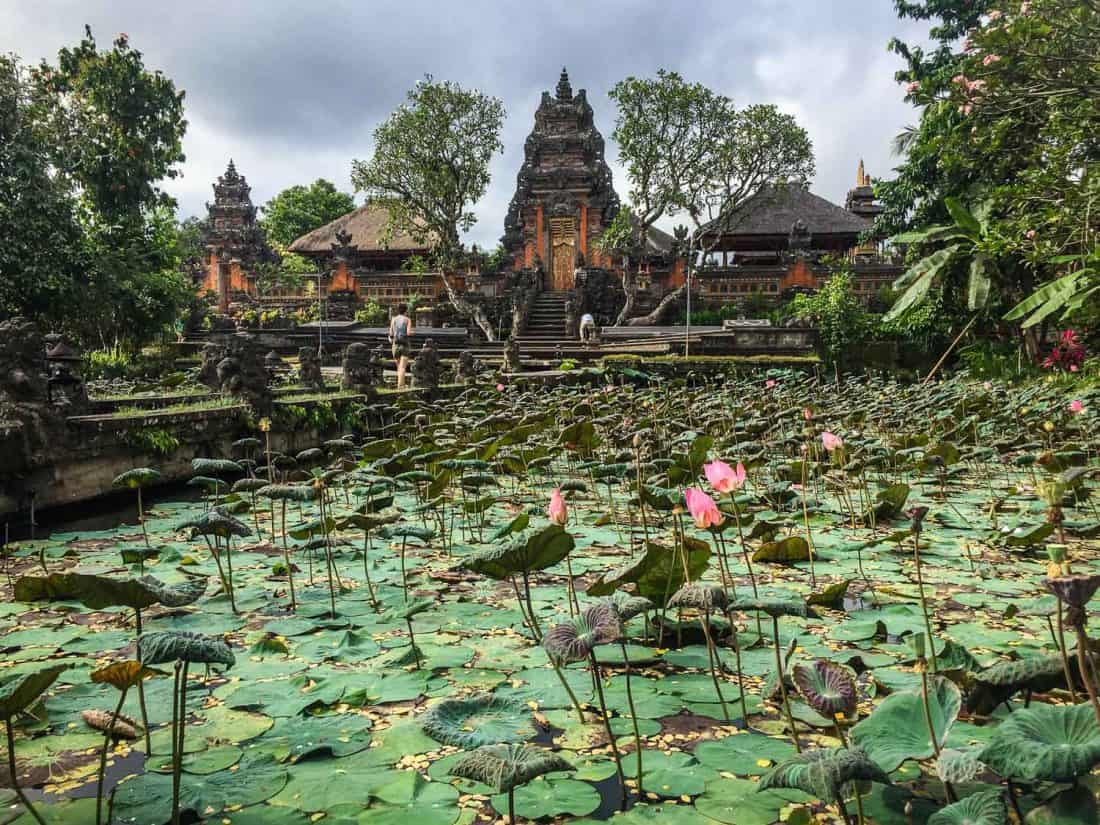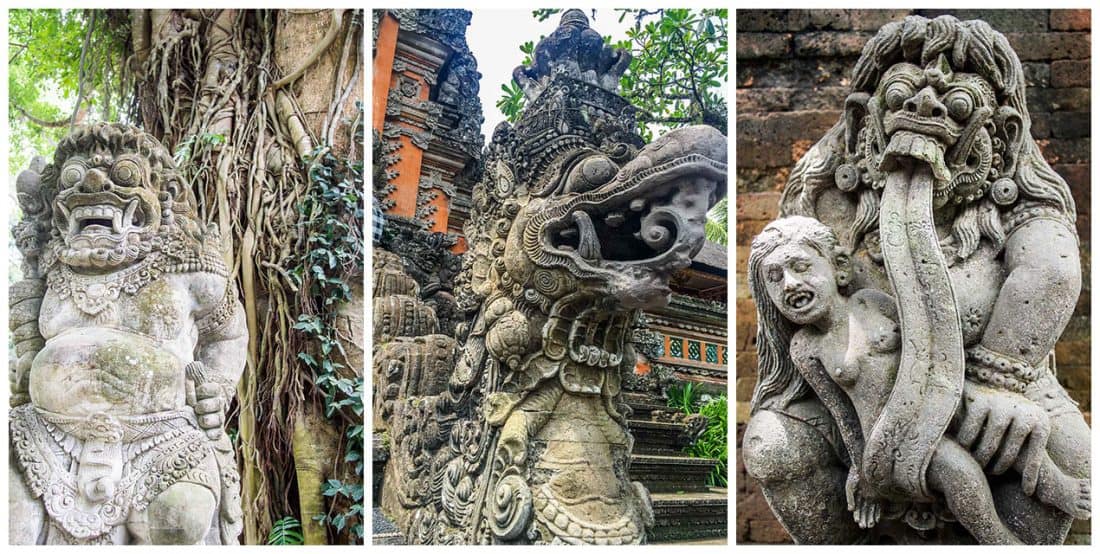 Some gems are hidden in the busy centre of Ubud, but the outskirts are the real highlight. The swaying rice fields, drooping banyan trees, and plunging ravines; the everyday village life of early morning vegetable shopping and temple ceremonies; the radiant colour scheme—lime green rice paddies, hot pink bougainvillea, and even the luminous yellow of the petrol sold in vodka bottles by the side of our road. Riding our motorbike around is always a pleasure.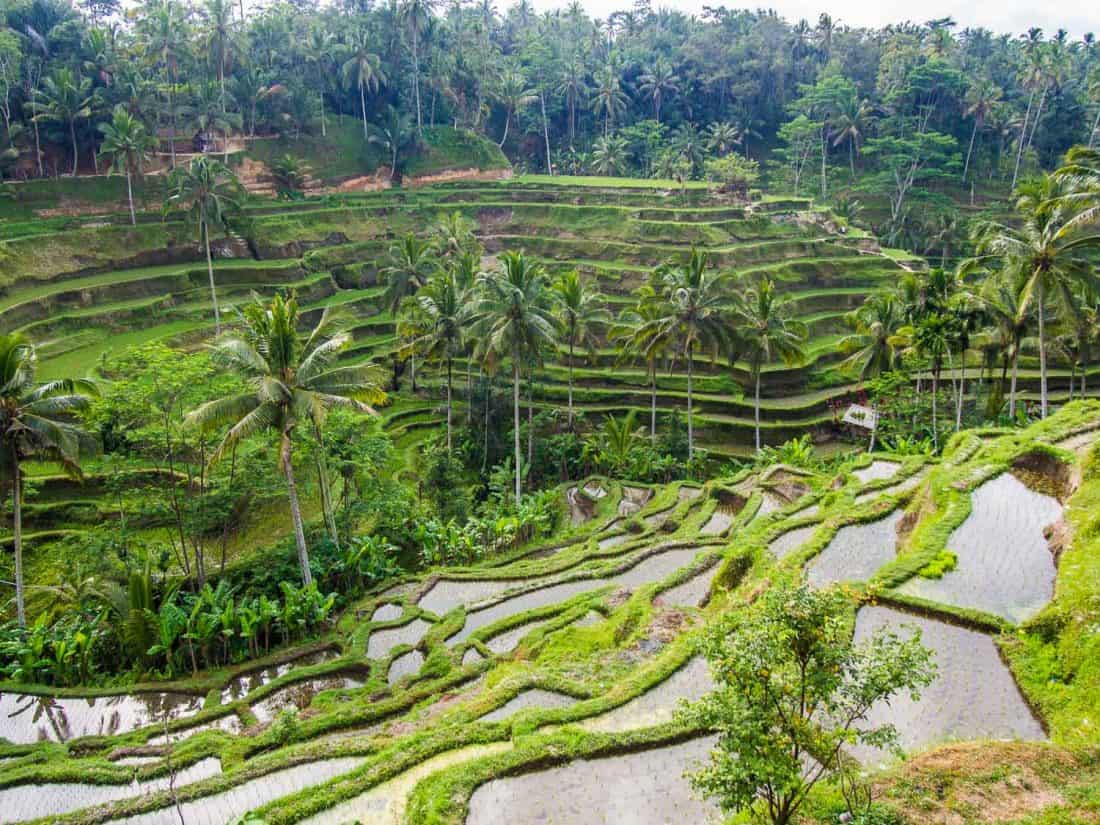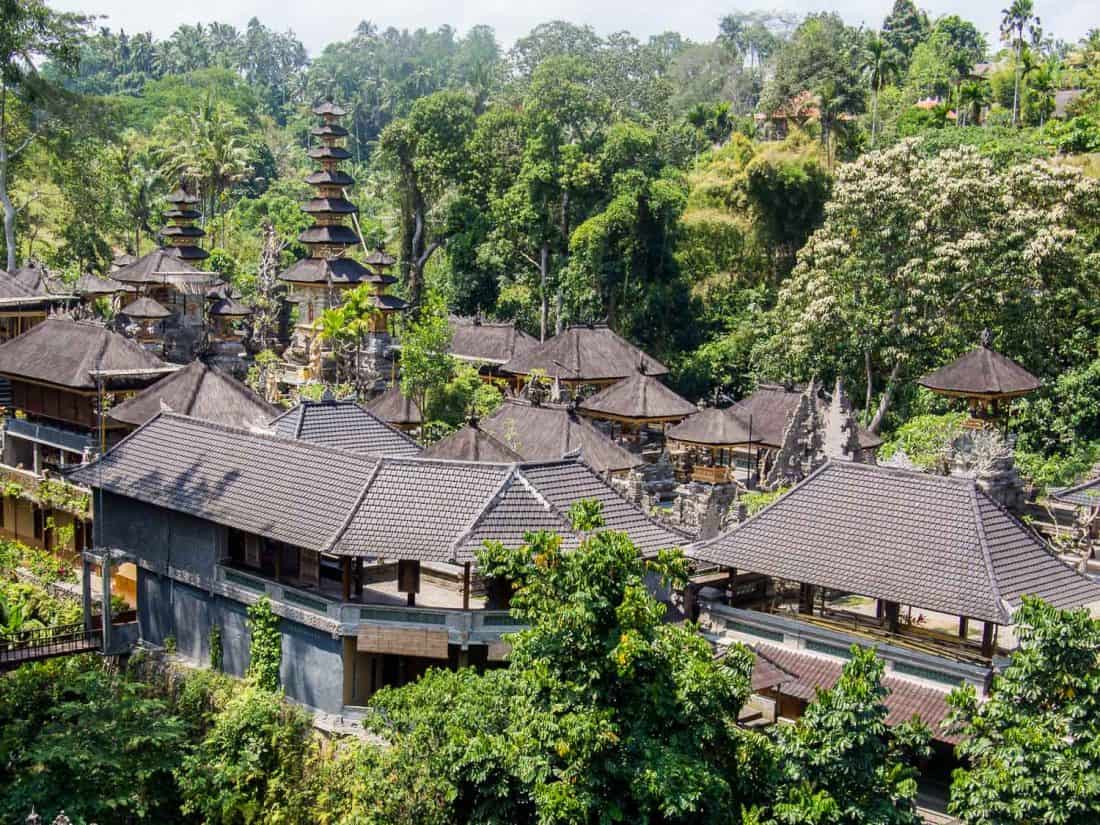 One of the unexpected joys of living in Ubud has been watching the life cycle of rice. When we moved into our house the paddies outside were empty fields of mud, palm trees reflected in the layer of water that covered them. In our first week we watched women ankle deep in mud planting the seedlings. We willed on its growth and a month later we had an impressive green carpet; two months on and it was long and lush; nearly three months later and it is turning golden and heavy with rice seeds. We're hoping we'll see the harvest before we leave and the cycle will be complete (update: we did!).
A narrow path leads through the rice fields to our house. The kitchen is open air taking advantage of the view of our pool and garden and the jungle covered gorge that plunges down just beyond. Despite being less than a 10-minute scooter ride from town we feel immersed in nature here, amongst orchids and frangipani, papaya and banana trees, swaying coconut palms and bamboo. A giant gecko lived in our kitchen until the neighbour's cat got him; a dragonfly landed on my kindle as I read by the pool, allowing me to marvel at its lacy wings; the frogs, crickets, and geckos join in a raucous nightly chorus, while the birds and roosters compete in the morning.
Our life here is simple. We usually get up at 6 am and Simon draws while I run and/or take a yoga class. We work in the mornings and I take a long lunch break for swimming and reading by the pool. Towards sunset we often go for a walk—the Campuhan Ridge is our favourite spot—or out to dinner. Ubud is one of the most vegetarian-friendly places in the world and there's a wonderful variety of delicious, inexpensive, and mostly organic food to choose from—tempeh coconut curries, nasi campur (rice and lots of vegetable and tempeh dishes), gado gado (vegetables and peanut sauce), raw vegan lasagna, fancy tasting menus, even excellent Mexican. It's easy to be healthy (green juices and raw cakes abound) but there are plenty of treats too.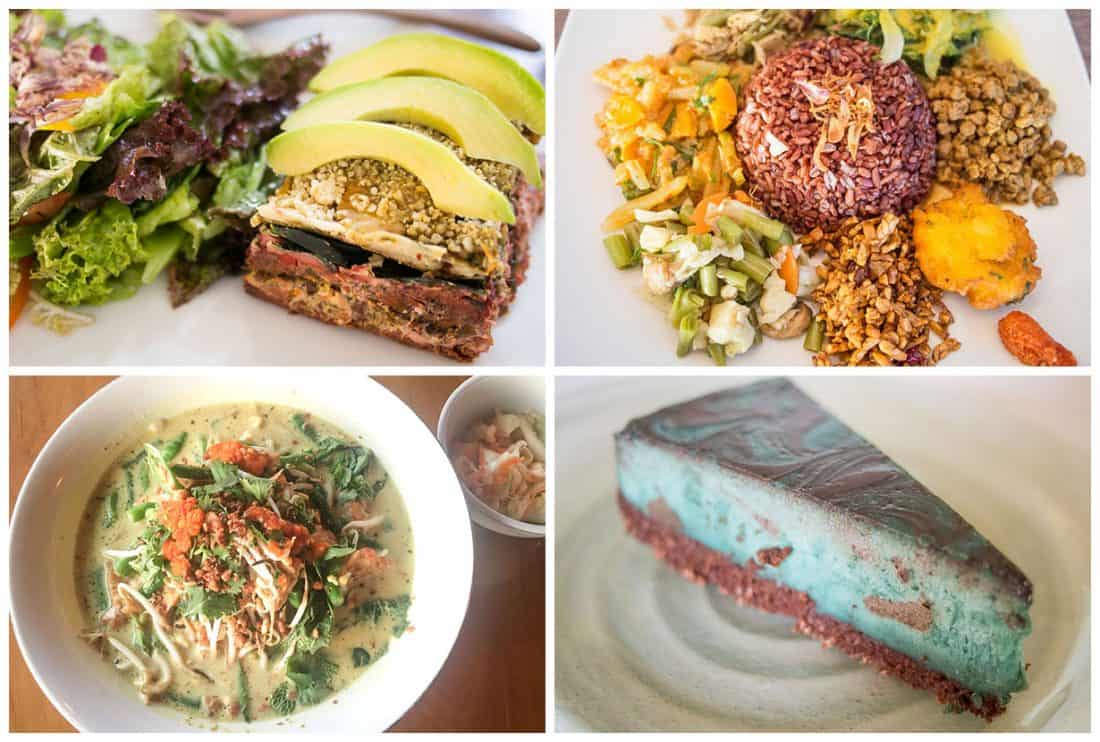 On days off we have visited nearby temples and art galleries, learnt to cook Balinese food, cycled through the countryside, and lazed on beaches.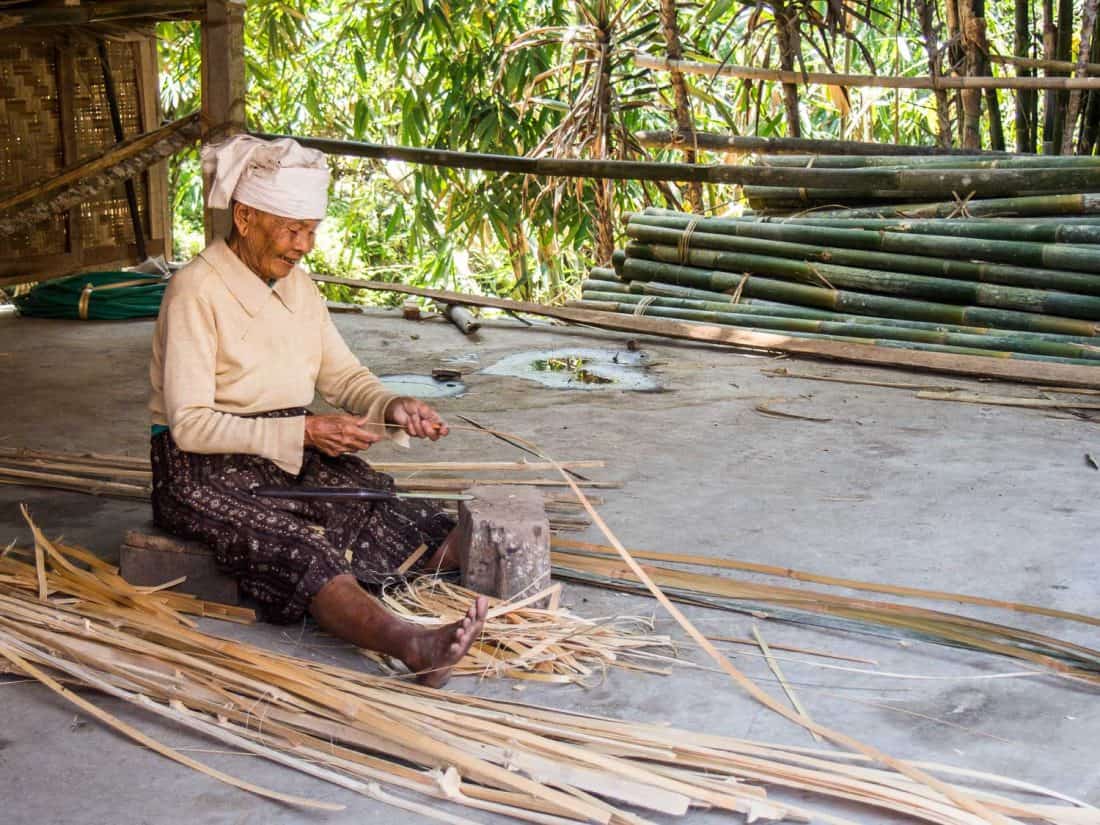 Whenever we take a trip away we're always happy to return to Ubud; right now it feels like home. It's the perfect digital nomad combination of nature, culture, good food, yoga, low cost of living, good internet, and many beautiful houses to rent. We are here for four months—the longest we've stayed in one place since Chiang Mai in 2011—and I know we'll be back.
If you are tempted by life in Ubud see my post on finding a house to rent in Ubud, our living in Ubud guide, our cost of living in Ubud, a guide to yoga studios and vegetarian restaurants, and how we got a 60-day tourist visa in London and visa extension in Ubud.
Thanks to Victoria of Bridges and Balloons who initially inspired us to visit with her lovely post on their digital nomad life in Ubud.