This page contains affiliate links. Please read our disclosure for more info.
Chiang Mai in northern Thailand is a popular location for expats, retirees, and digital nomads, who are tempted by the ease of living and the blend of familiar and exotic.
It has everything you need, from cinemas and shopping malls to international cuisine, but it's not a bland Westernised city.
It has a fascinating culture with hundreds of Buddhist temples, their golden spires shimmering on almost every street in the Old City and captivating Buddhist festivals.
Its superlative food scene is abundant with inexpensive food stalls and dozens of vegetarian restaurants.
Life in Chiang Mai is more laid back than chaotic Bangkok, it's compact and easy to get around (although traffic has definitely increased), and you can escape the city to the mountains, waterfalls and lakes that surround it.
Apartments are readily available, WiFi is ubiquitous, and the cost of living is low. It's no wonder that many people settle into the Chiang Mai lifestyle and end up staying longer than they planned.
If you decide to try living in Chiang Mai, our guide is packed with top practical tips on visas, transport, accommodation, healthcare, things to do in Chiang Mai and more.
At the end of the post, you will find a map with everything mentioned.
Contents
Before Your Trip
Visas
COVID-19
Since 1 October 2022, Thailand lifted their COVID-19 restrictions so passengers are no longer required to present vaccination certificates or COVID-19 test results upon arrival.
Entry Requirments
In an effort to boost tourism post-pandemic, most visitors to Thailand now receive a visa-free entry of 45 days on arrival at airports or land borders.
This is currently in effect until 31 March 2023 so please check the current advice if travelling after this date.
This can be extended at the Chiang Mai Immigration office (about 3-7 days before the expiry date) or another Thailand immigration office.
For longer stays, it's best to get a single entry 60-day tourist visa before you arrive in Thailand. These are valid for three months and are available at Thai consulates in your home country (we got ours in England before our first visit) or in surrounding countries like Laos (which we did on our second visit), Malaysia and Cambodia.
This can be extended for an additional 30 days at immigration offices.
There is also a Multiple Entry Tourist Visa that is often called the six-month visa. You have to apply for this in your home country and it's a lot more expensive and has stricter requirements than the single-entry visas.
Although it is valid for six months from the issue date, you can only stay in the country for 60 days at a time. You can leave and return to get another 60 days as long as your entry is before the "Enter Before" date on your visa.
You can extend any entry on the Multiple Entry Tourist Visa for an additional 30 days.
Technically you can keep getting new tourist visas indefinitely (and many people do), although you could be refused at any time, and it is getting increasingly difficult. This Complete Thai Visa Guide for 2022 is a useful post.
Travel Insurance
Health insurance is essential for any trip in case anything goes wrong. As we only stay in Chiang Mai for a few months at a time, we use travel insurance.
Make sure your policy covers riding a motorbike if you'll be hiring one.
On our last Chiang Mai trip we used True Traveller, but it's only available for travellers from the UK and Europe.
SafetyWing

Since then we've discovered SafetyWing, which is available worldwide and is very affordable. It's designed by nomads for nomads and is ideal for those on longer trips.
We love its flexibility—you can purchase it abroad when travelling on a one way ticket, pay monthly, cancel anytime, and you don't need to choose your destinations (just decide whether to include the US or not).
It's also great for travelling families as up to two kids under 10 are covered for free.
Get a quote from SafetyWing here or use the widget below:
Read more about how to buy travel insurance while abroad.
Arrival in Chiang Mai
Phone and Data Plans
Moving to Chiang Mai, one of the immediate things to do is to pick up & top up a prepaid Thai SIM card from one of the ubiquitous 7-Eleven stores.
The main mobile network operators are AIS, TrueMobile H & Dtac, with most offering Tourist SIM cards.
Ideally, if your phone supports it, eSIMS are now available to purchase and activate before you even arrive in Thailand.
Here's more information on buying a SIM card for Thailand.
Money
Current exchange rates for the Thai baht: $1 = 38 baht, £1 = 42 baht, €1 = 37 baht.
We access our money with ATM machines but unfortunately, most Thai banks charge a fee of 220 baht/ $5.80 for international cards (in addition to any fees your bank at home may charge).
AEON used to be fee-free but they now charge 150 baht/ $4 and they can be tricky to find.
You can find AEON ATMs in the Electronics Plaza building (1st floor) on Chang Lor Rd just outside the moat; in the Central Airport Plaza mall (3rd floor); and in the Central Festival mall (3rd floor near the ice skating rink).
The cost of living in Chiang Mai really depends on how long you stay and your style of living.
Many budget solo travellers staying for a few months live off $650 a month. This updated 2022 post gives a useful overview of the cost of living in Chiang Mai.
Getting Around Chiang Mai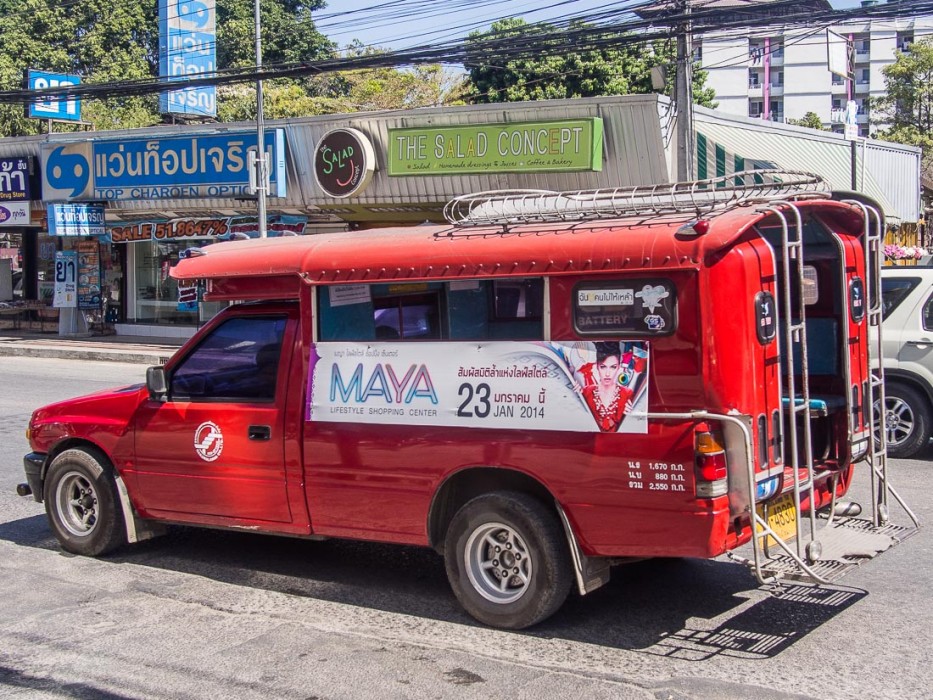 Chiang Mai is a compact city and is easy to get around. Although it is walkable, traffic can get busy so the quickest way to get around is on a scooter.
We rented an automatic scooter for 2500 baht a month—there are many rental places in the Old City.
You don't need to show a driving licence but obviously, it's a good idea to have some motorbike experience before driving in Chiang Mai, as accidents do happen.
Renting bicycles is also popular with those who don't want to drive a scooter, and you can walk to many places.
Taxis are only really available at the airport, a 10-minute drive from the Old City (150 baht/ $4 fixed fee into town).
Around town, you can hire three-wheeled tuk-tuks or more common are the red trucks songthaews which are the only public transport option.
Songthaews are a flexible way to get around as you can just flag any down, tell the driver your destination, and if it's going there, you can hop on with the other passengers for a fare from 20 baht/ 50¢. You can also hire the whole songthaew if it's empty.
Where to Live in Chiang Mai
Neighbourhoods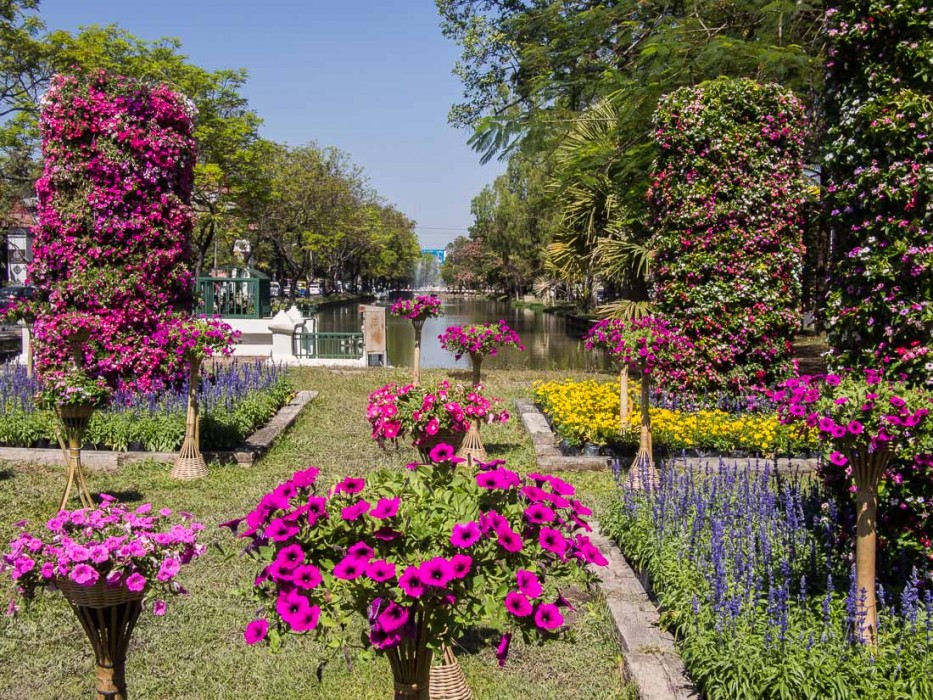 The centre of Chiang Mai is the Old City which is surrounded by a square moat and sections of the old city walls. It's a compact, walkable area.
There are many temples and narrow leafy streets, and limited development. Most tourists stay here but affordable long-term apartments and houses are limited.
Suthep Rd and Huay Kaew Rd lead from the western side of the moat towards Doi Suthep mountain.
Nimmanhaemin Rd is the city's hippest area, popular with Thai students from the nearby Chiang Mai University and with many cafes, restaurants and boutiques. It is also the best area to live in Chiang Mai for digital nomads.
For families, the Riverside area provides the perfect laidback blend of cafes, boutique shops and a local market without being too far from the centre.
Further south of the city is peaceful Hang Dong, another family-friendly neighbourhood. It's close to lots of Chiang Mai's natural attractions, such as the Grand Canyon Water Park and the Chiang Mai Night Safari.
Lots of schools and playgrounds are concentrated in this area too.
Accommodation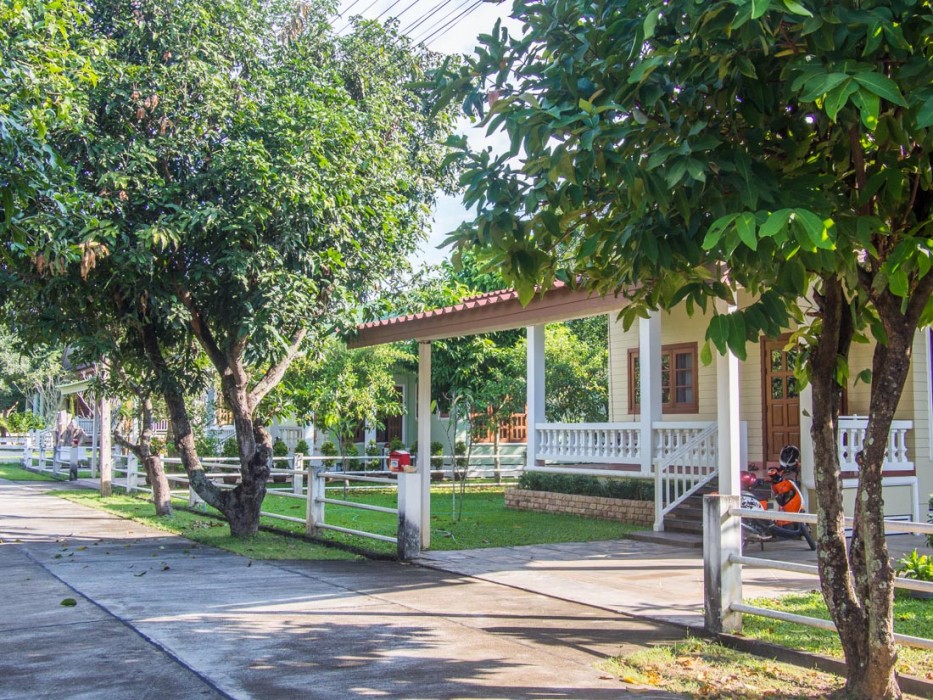 One of the reasons Chiang Mai is so popular with digital nomads wanting a break from their travels for a few months is the number of apartments available.
It's best to stay in a hotel or guesthouse (look for options on Booking.com) while you search for an apartment, as it's cheaper than booking in advance.
If you are only staying for a month or so, then the easiest option is to negotiate a monthly rate with a guesthouse or choose a serviced apartment.
Many of these are glorified hotel rooms with just one room and no kitchen except for a fridge and perhaps a microwave.
They usually have WiFi and air conditioning and many people, especially solo travellers, are happy with them as they are from around 15000-25000 baht per month.
If you want a nicer apartment with at least one separate bedroom and a kitchen, and perhaps a pool and gym, you usually need to rent for at least three months and you'll have to pay a lot more, perhaps 35,000-100,000+ baht a month.
Prices go down if you commit to a longer stay.
If you are staying for at least 6-12 months, then prices are a lot more affordable and you have the option of renting a house.
Electricity, water and sometimes internet are usually not included in the rent.
If you want anything more than a simple studio apartment without a kitchen, then it's easiest to get an agent to help you find somewhere.
Options include Expat Homes, Perfect Homes, and Chiang Mai House.
Living and Working in Chiang Mai
Weather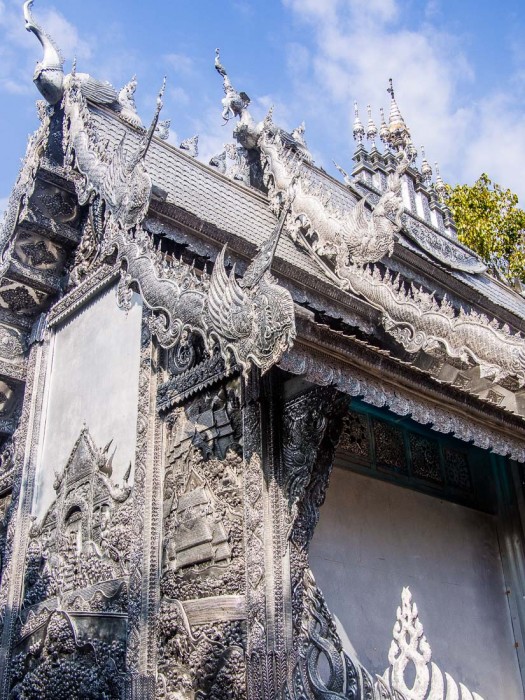 The most popular time to visit is the cool season from November to February. It's usually dry and sunny, with temperatures up to 30 C in the afternoon.
Mornings and nights in December and January, especially around the end of the year, can get pretty cold (10-15 C), especially on the back of a motorbike, so bringing some warmer clothes is a good idea.
The hot season is from March to June, and from mid-February to March, the city can become very smoky and polluted as farmers in the surrounding area burn their fields.
This is probably the worst time to be in the city and many expats try to head down to the islands or abroad.
The rainy season is from July to October. The end of October can be a great time of year as everything is green, the sky is clear, and there are fewer tourists.
It's also a good time to arrive to find an apartment before the high season starts.
Learning Thai
You can get by with English but it's helpful to learn at least some basic phrases and numbers.
I did the online Mango Languages Thai course and found it really helpful.
I like the format of the course, which covers useful phrases straight away and uses repetition in the quizzes to help vocab stick in your memory.
The cultural and grammar notes and the way it breaks down exactly what a phrase means so you can construct your own sentences were also really helpful. There's a 2-week free trial to see if you like it.
Memrise and Google Translate are also useful tools for learning basic Thai and day-to-day.
If you are more serious about learning Thai, you could attend a language school. Many schools offer one-year education visas if you sign up for a course.
Water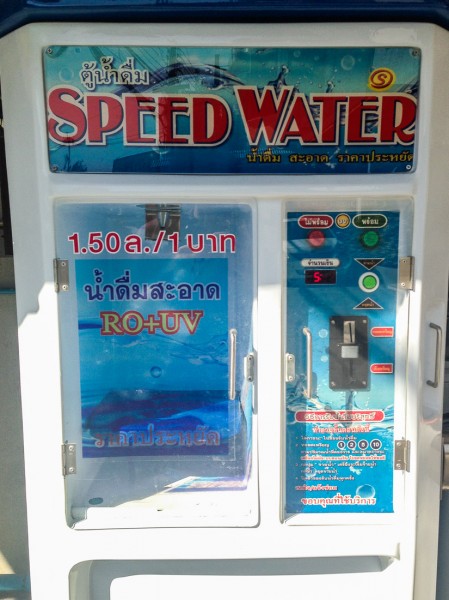 We found the tap water safe enough to use to clean our teeth and wash vegetables but most people don't drink it.
To save money and plastic, use the water filtration machines that are found on streets all over the city.
You can take bottles to fill up for just 1 baht/ 3¢ for 1.5 litres. However, make sure you look for machines that are well-maintained and in clean locations, ideally near a condo.
Another option once you are settled is to set up a home delivery service for water in reusable bottles.
Dewdrop is a popular water home delivery service.
Co-Working Spaces
We choose to work at home but many Chiang Mai digital nomads work in the hundreds of cafes all over the city.
For something more formal, Pun Space is a popular co-working space, as is CAMP (Creative and Meeting Place) located in the Maya mall.
Here's a list of more recommended co-working spaces in Chiang Mai.
Healthcare
Healthcare in Chiang Mai is good and we know a number of people who've had operations at the hospitals.
We go to Dr Morgan at the Health Care Medical Clinic. She was trained in the US, speaks excellent English, and prices are reasonable.
You don't need a prescription in Thailand for many medications like antibiotics or contraceptive pills. There are plenty of pharmacies in the city, even the British brand Boots.
Hairdresser
There are many hairdressers where you can get a haircut for a few dollars but most don't speak English.
We went to New York New York hair studio based and were happy with the results.
Vera has worked in New York and speaks perfect English so you get a proper consultation.
National Anthem
The Thai national anthem is played in public places at 8 am and 6 pm every day and you are expected to stop what you are doing and listen in silence.
This is particularly noticeable at the Saturday and Sunday walking street markets, where the crowded street comes to a standstill.
A different song, The King's Anthem, is also played before every film at the cinema along with photos of the King—make sure you stand up for it.
Where to Shop in Chiang Mai
Groceries
The cheapest place to buy fruit, vegetables, noodles, tofu, rice etc, is in one of the many local markets.
For western treats like cheese and bread, the best supermarkets are Rimping (which also has organic vegetables), Tops, and Central Food Hall in the Central Festival mall.
It's expensive but if you have a craving for some extra-mature cheddar, then it's oh-so-good!
Household Goods
Big C and Tesco Lotus supermarkets are the best places for household goods like bedding and kitchen equipment.
Note that flat top sheets are difficult to find. Most Thais seem to sleep under light-patterned duvets without a cover.
We bought a pack in the Big C that included a duvet, fitted bottom sheet, and pillowcases.
Gifts, Crafts and Textiles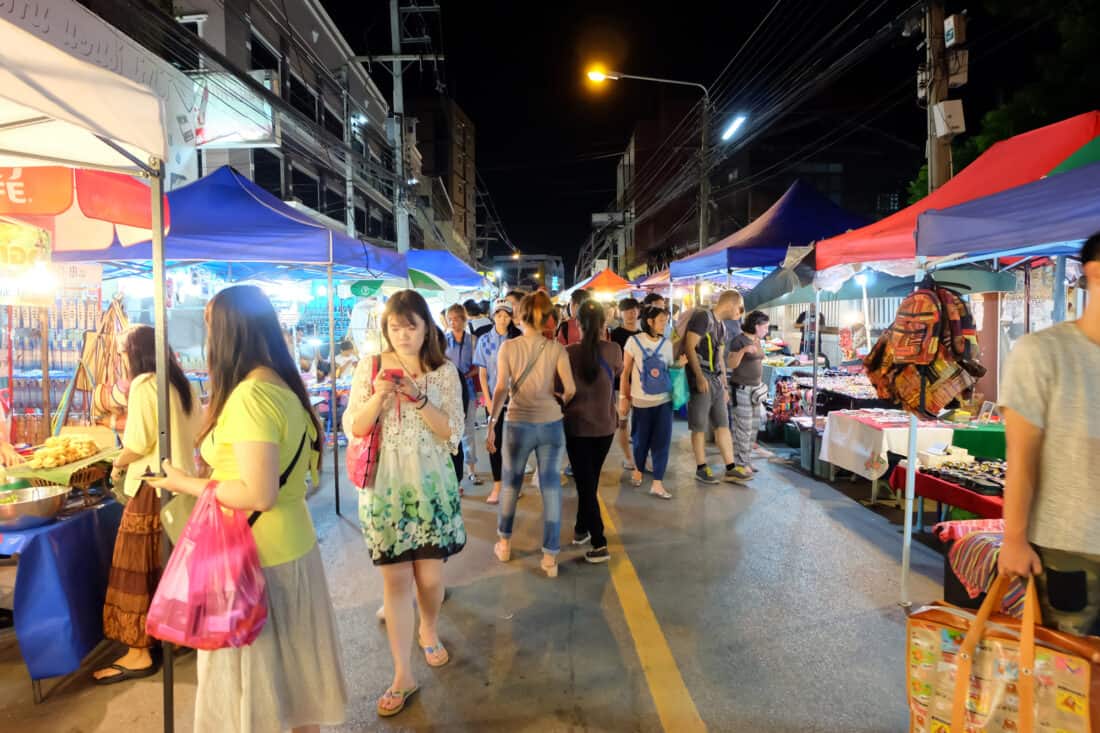 There are two popular walking street markets with lots of street food stalls in Chiang Mai.
The Saturday night market is on Wualai Road near Chiang Mai Gate, and the Sunday night market is on Ratchdamnoen Rd near Tha Phae Gate. If you want to avoid the crowds, get there around 5 pm.
There is also a Night Bazaar on Chang Klan Rd every night but the quality of the products isn't as good.
Electronics
Pantip Plaza on Chang Klan Rd is a good place for cheap electronics and accessories.
Power Buy is Thailand's main electronic retailer that has stores across the country.
Fitness in Chiang Mai
Running Routes
I've written a guide to running while travelling, which has lots of tips to get you started, including how to avoid the heat and traffic of SE Asia (get up early!).
Chiang Mai isn't a wonderful place to run but it's doable. Here are my main running routes:
Moat – Running around the moat can be quite pleasant early in the morning before there's too much traffic. It's about 7km around the square route, you can't get lost, and the pavement is in good condition and mostly free from obstacles. You can add some extra distance by doing the 500m laps around the small park in the SW corner.
Chiang Mai University Campus – The pavements are in decent condition, it's quiet early in the morning, and there's a small lake.
Chiang Mai University Meeting Hall Park and Nimman sois – You can do 1km laps around the park on Nimmanhaemin Rd and extend it by running up and down the quiet sois off Nimman.
Wat Umong and around – The roads near this Wat are relatively quiet.
Trail run to Wat Pha Lat – If you don't mind running uphill, this is a lovely escape from the roads. The start of the trail is about 3km from Nimman along Suthep Rd and it takes you through the forest part of the way up Doi Suthep. Don't enter the Wat wearing skimpy running clothes. If you are hardcore, you could run all the way up Doi Suthep.
Huay Tung Tao Lake – The 4km circuit around this lake just off Canal Rd is the most pleasant place to run but it involves a 15-minute drive out of Chiang Mai.
Gyms, Swimming, Yoga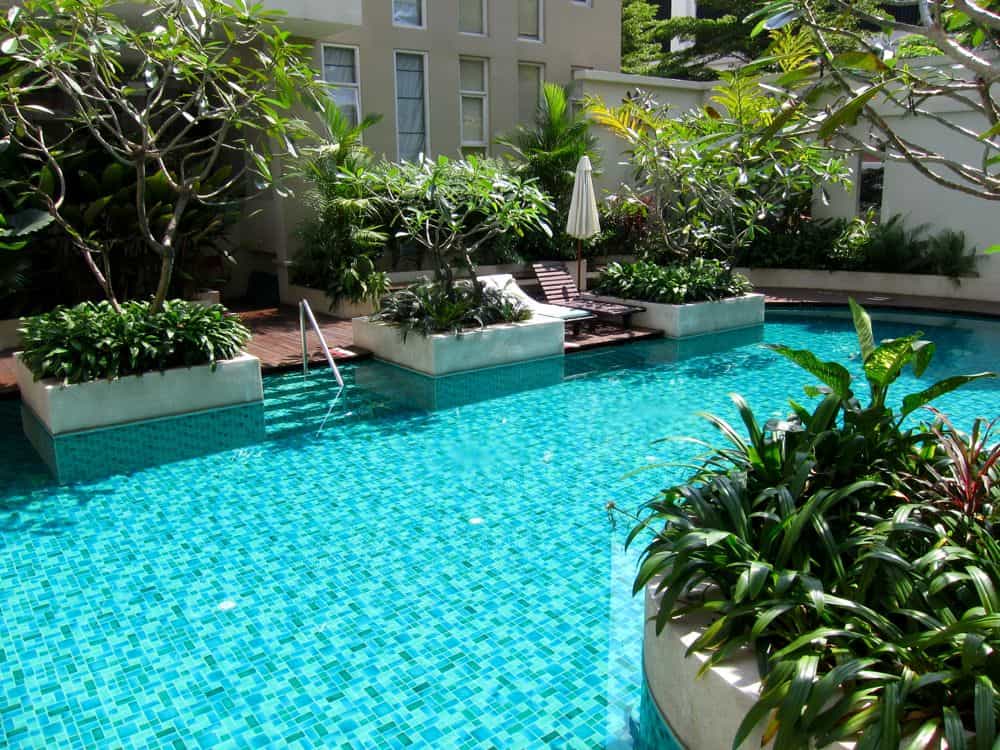 Here's a list of gyms in Chiang Mai.
This is a good list of recommended swimming pools in the city, and many hotels charge a day-use fee to use their pool.
We joined the pricey Kantary Hills hotel's fitness club as it was nearest to our house, and the pool is lovely.
We took an introductory yoga class at Yoga Tree in the Old City and there are many other yoga studios to try.
Best Things to Do in Chiang Mai
As this is a guide to living in Chiang Mai rather than visiting as a tourist, I won't go into too much detail about the activities on offer.
Here are just some suggestions on the best things to do in Chiang Mai.
Cinemas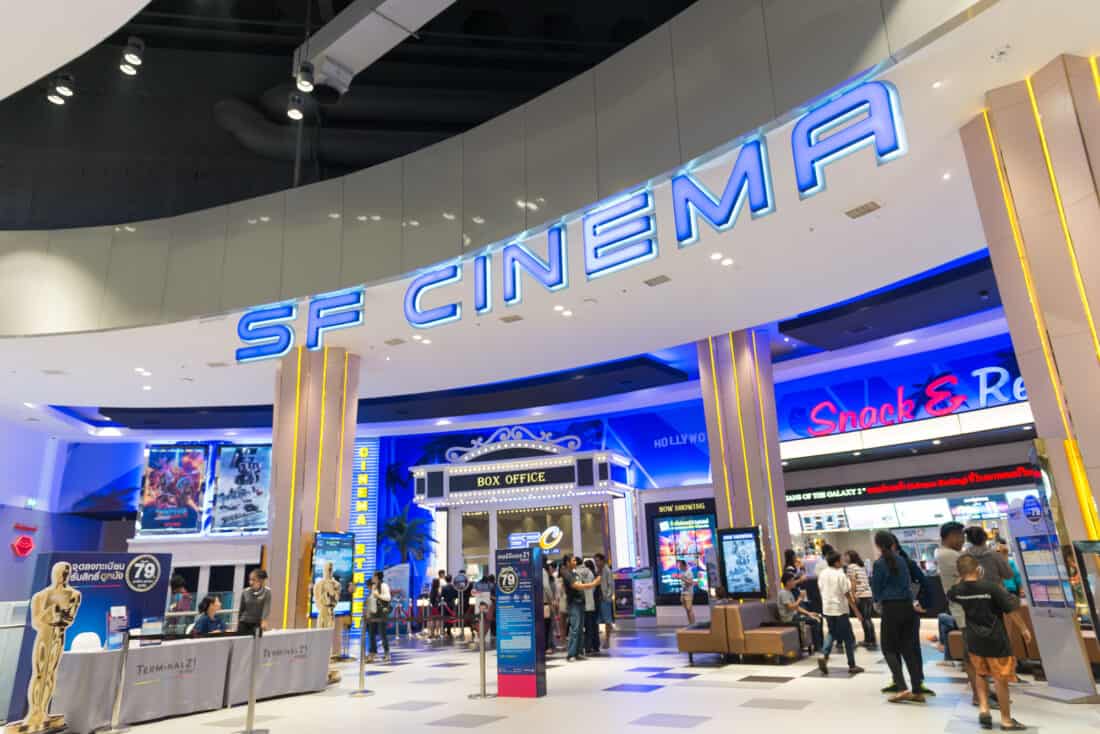 We love going to the cinema in Thailand—it's inexpensive and the theatres are very comfortable.
It's especially great when you want to escape the heat, although take an extra layer of clothing when the aircon gets too much.
You will typically pay around 130 – 180 baht / $3.40-$3.90, premium seats are often not much more and first-class lounges are around 500 baht/ $13+ per seat.
A nice option is there are sometimes sofas for couples at the back from 350-800 baht/ $9-$21.
These are the cinemas we've been to:
SFX in Maya mall – This has a convenient location at the corner of Nimmanhaemin and Suthep Rd. It's slightly cheaper than the cinemas below.
Major Cineplex at Central Festival Mall – This has an IMAX cinema and a 4DX cinema where your seat moves and you are sprayed with water/air in line with the action. Simon loved the 4DX but I hated it (it made me feel sick), and it costs from 150 – 550 baht/ $4-$14 depending on the screening time.
Events and Festivals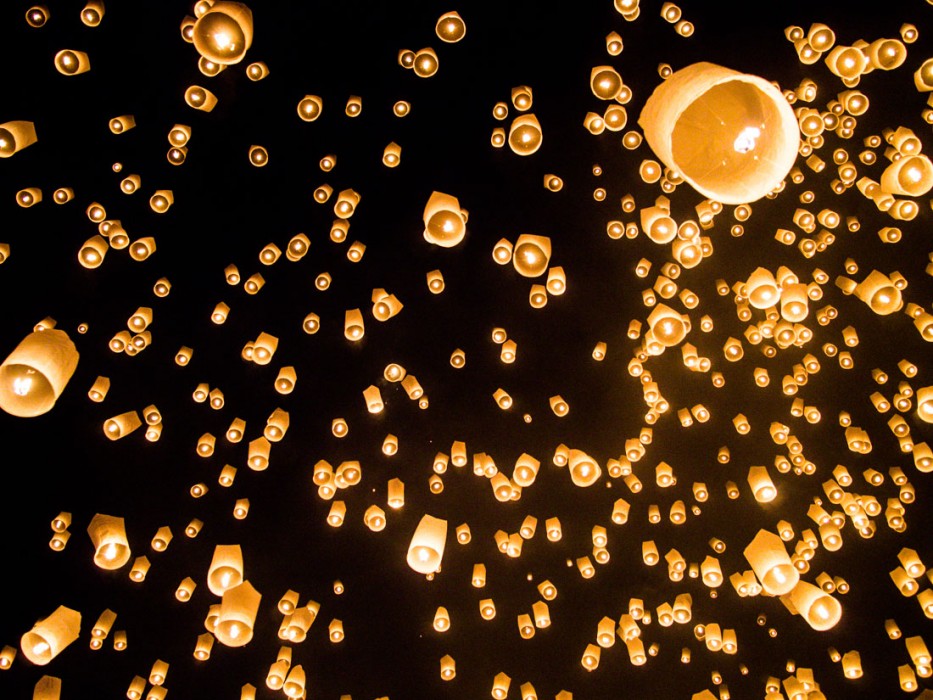 There are many festivals in Chiang Mai. A favourite of many is the mass lantern release that takes place during the Yi Peng festival in November.
Around this time, there are other Yi Peng and Loy Krathong activities, including parades and the release of banana leaf boats onto the river.
Thai New Year, or Songkran, is celebrated with a multi-day mass water fight in mid-April.
Explore the Chiang Mai Countryside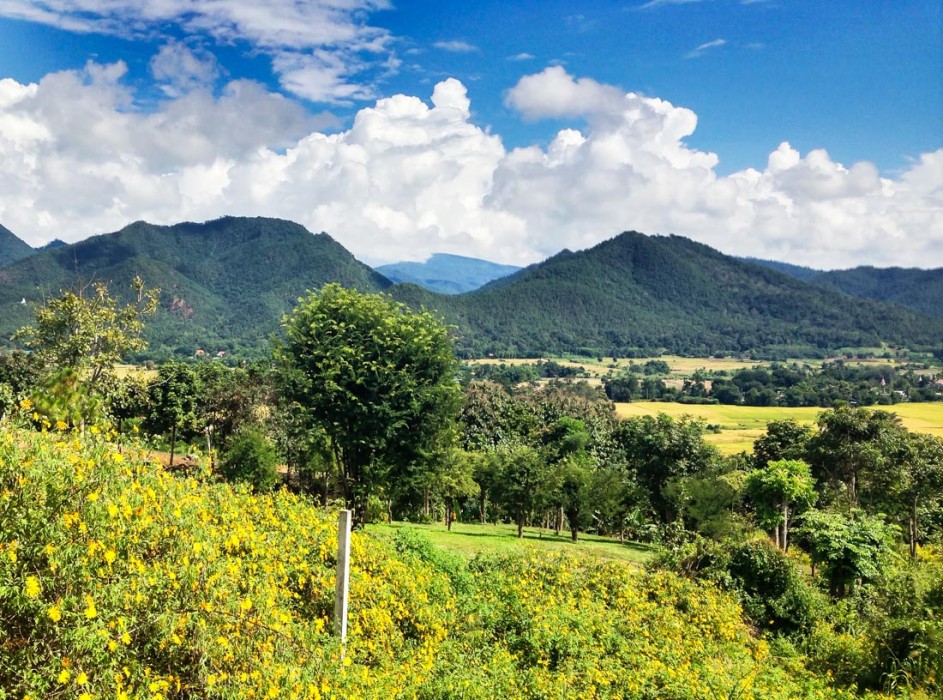 Sometimes, in Chiang Mai expat living in the city can get too much and you need an escape from all the traffic.
Quiet places inside or close to the city include the grounds of Wat Umong, the trail to Wat Pha Lat or all the way up Doi Suthep, and Huay Tung Tao lake.
It's easy to get into the countryside from Chiang Mai. You could try this 1-day Samoeng Loop Motorbike Tour into the mountains past waterfalls, botanical gardens and rural scenes.
It is also worth taking a few days away to Chiang Dao, which was our favourite getaway from Chiang Mai.
As well as lush green mountains, there are also atmospheric limestone caves which are fun to explore.
If you only have a day, why not try this small group Chiang Dao Cave Trekking tour, which includes pickup from Chiang Mai.
The peaceful mountain town of Pai is also a popular destination. It's a long windy road to get there, but once you do, you will find canyon walks, beautiful waterfalls, a waterpark and hot springs.
Visit the Many Beautiful Wats
We do recommend exploring the many Wats in Chiang Mai.
They are all gorgeous and fascinating and range from the golden Wat Pra Singh to the tall ruins of Wat Chedi Luang, complete with stone elephants and many more.
Be sure to climb up the 306 steps to visit the mountainside Wat Phra That Doi Suthep too. It is often a busy complex but the beauty of the temples and nearby natural attractions make it worth a trip.
Take a Cooking Class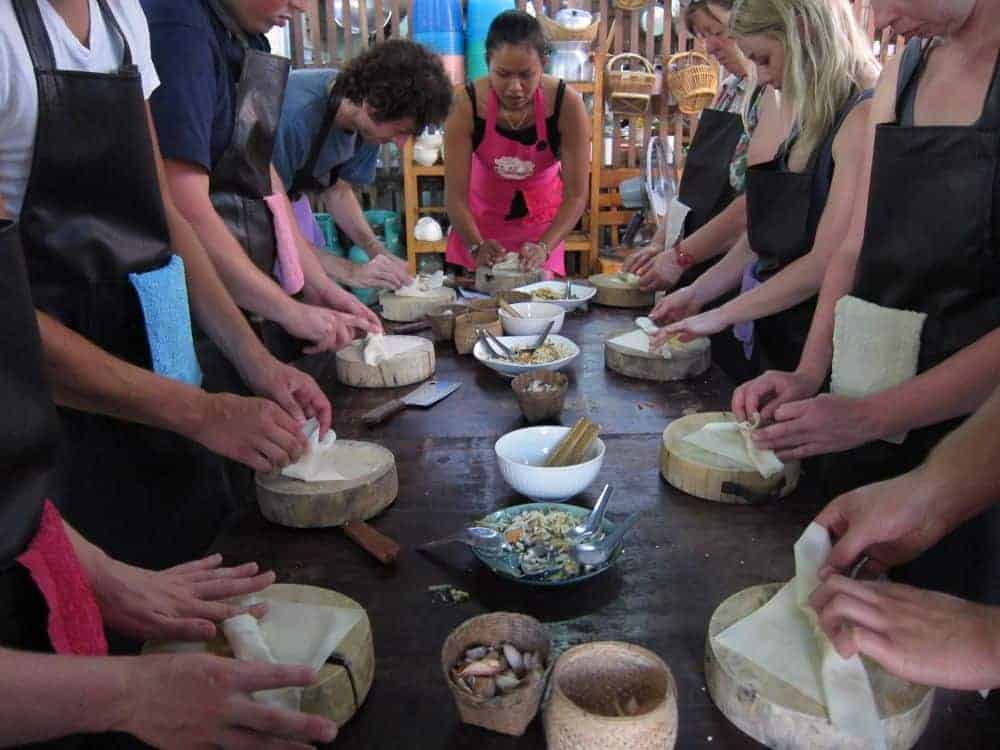 After dining on all the delicious food in Chiang Mai, you will be tempted to book a cooking class as we did.
There are a large number of schools to choose from, but a typical class will include a market visit to learn about the diversity of fresh produce that is used in Thai cooking.
This is then followed by an opportunity to cook a variety of delicious dishes.
This small group Authentic Thai Cooking Class looks good as it also includes visiting an organic farm.
Support the Elephant Nature Park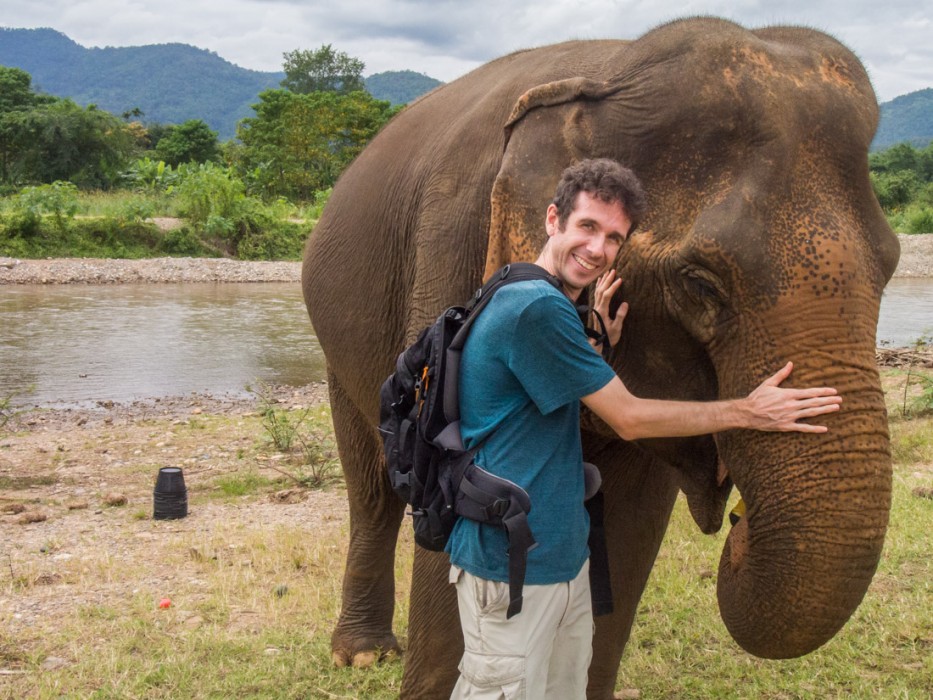 Elephant tourism is, unfortunately, big business in Chiang Mai. Thankfully the cruel practice of riding elephants has now, for the most part, been phased out.
There are several elephant sanctuaries but beware, many are anything but for the elephants in their care, 'training' them to perform and chaining them up at night.
Happily, visiting the Elephant Nature Park is a rewarding ethical experience. It's a true sanctuary for rescued elephants, including those that are disabled, blind, orphaned or victims of abuse.
The elephants roam freely in a peaceful natural environment in a valley surrounded by mountains and jungle.
Elephant Nature Park is also the only sanctuary in Thailand to be supported by the Save Elephant Foundation.
Rehabilitation and environmental restoration are also at the heart of their conservation work.
Summary
Chiang Mai is definitely an ideal place to put your slow travel ambitions into action.
It's a relaxed city that has the perfect blend of old and new and rewards you the longer you stay.
If you want to start an expat life in Chiang Mai, I would recommend the I Love Chiang Mai Facebook group as they have lots of answers to many questions related to living in the city and a list of apartments.
Chiang Mai Map
More Thailand Posts
If you enjoyed this post, pin it!