This page contains affiliate links. Please read our disclosure for more info.
What's your perfect island like?
We like long, empty, white sandy beaches with warm turquoise sea, a lush green jungle interior with lots of coconut trees and tropical flowers, and very little traffic. We don't want a completely deserted island though as we'd like a comfortable beach bungalow with wifi for work, the choice of a few decent places to eat and some activities like diving and snorkelling.
It didn't seem like we'd find our perfect island in Thailand where development has gone crazy and the images we see of gorgeous beaches hide the realities of sex tourism, rampant over development, pollution and hordes of tourists getting wasted on buckets. In fact, we avoided Thailand's beaches when we were last in SE Asia and headed for Malaysia instead. But our friend told us that it is possible to find quiet, unspoilt Thai islands and this time we headed to Koh Mak.
Koh Mak is located on the eastern Gulf Coast, so it's much nearer than the southern islands, just a 5 hour comfortable AC bus and 1 hour speedboat ride away from Bangkok. Our bus was half full, mostly with foreigners, but they were all heading to the neighbouring party island Koh Chang, and we were the only ones unceremoniously chucked off the bus in the middle of nowhere and told to wait for a car to take us to the Koh Mak boat. It was one of those times when you realise how much trust you place in strangers when travelling. Within five minutes we were on our way to the pier where we transferred to the comfortable speedboat.
It was October, off season, and on our first day on Koh Mak we saw a total of four other tourists, two were on the boat with us, and not many locals. It felt a little eerie, like a ghost island, and we wondered if we had gotten more than we bargained for when wishing for a quiet island. It didn't take long for us to sink into the relaxed pace of life though and enjoy the blissful peace. Over the weekend things picked up a little, and although the beaches remained thankfully empty, our favourite restaurant was hopping on Saturday night with six other people!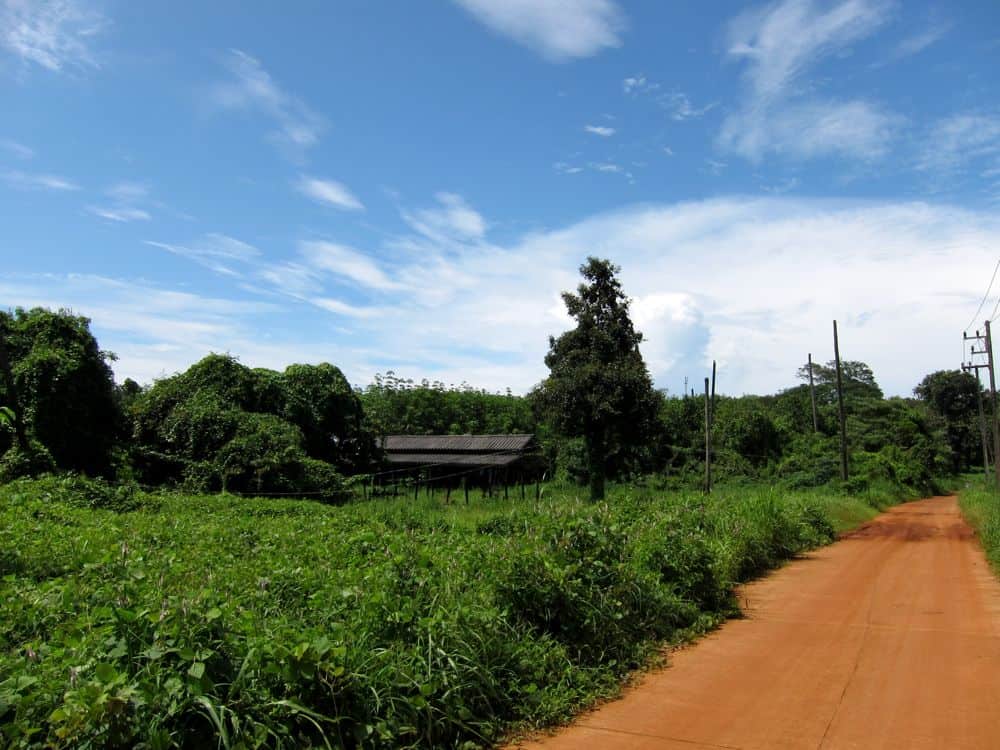 Koh Mak did a great job of meeting our ideal island requirements. I'd describe the sandy beaches as golden rather than white (yes, the Cook Islands have spoiled us), but they were empty and undeveloped, lined with coconut trees rather than big hotels and the sea was warm and clear.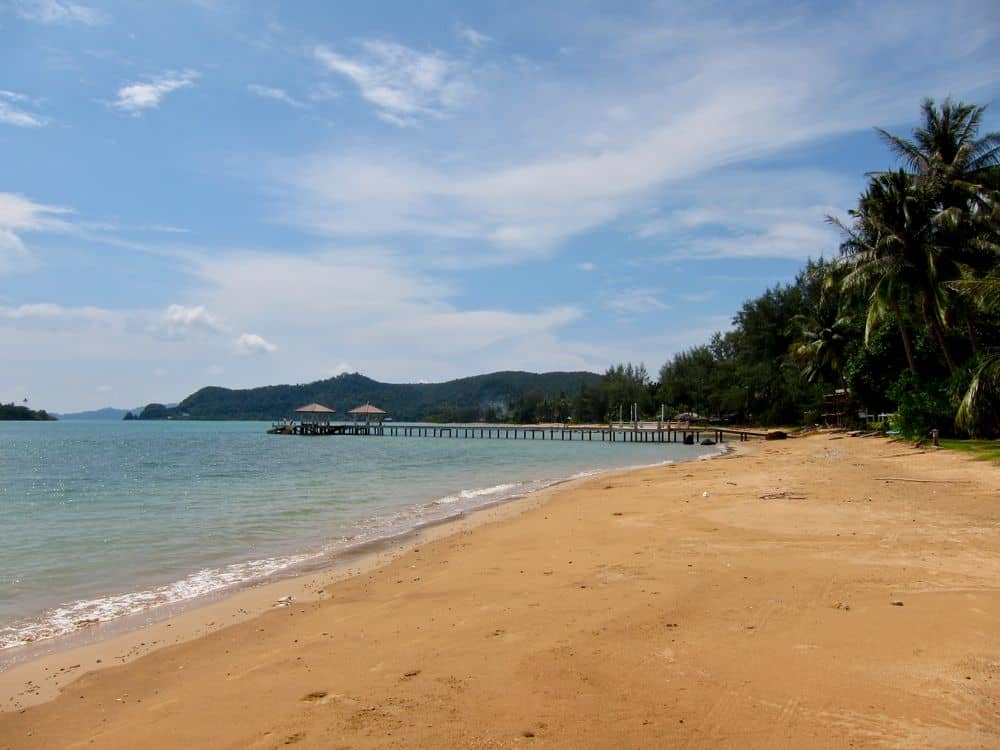 We stayed on a small hill in the centre of the island with wonderful views across the jungle and coconut plantation covered interior to the sea beyond. Koh Mak has mostly unpaved roads of orange dirt with only a few cars. Most people ride mopeds, which is a good way to explore the 16 km2 island, although we were happy walking the quiet lanes. The loudest things on the island are the cicadas, which can reach deafening levels.
One of the things I love most about the tropics are the beautiful, colourful flowers. Different varieties are found all over Koh Mak.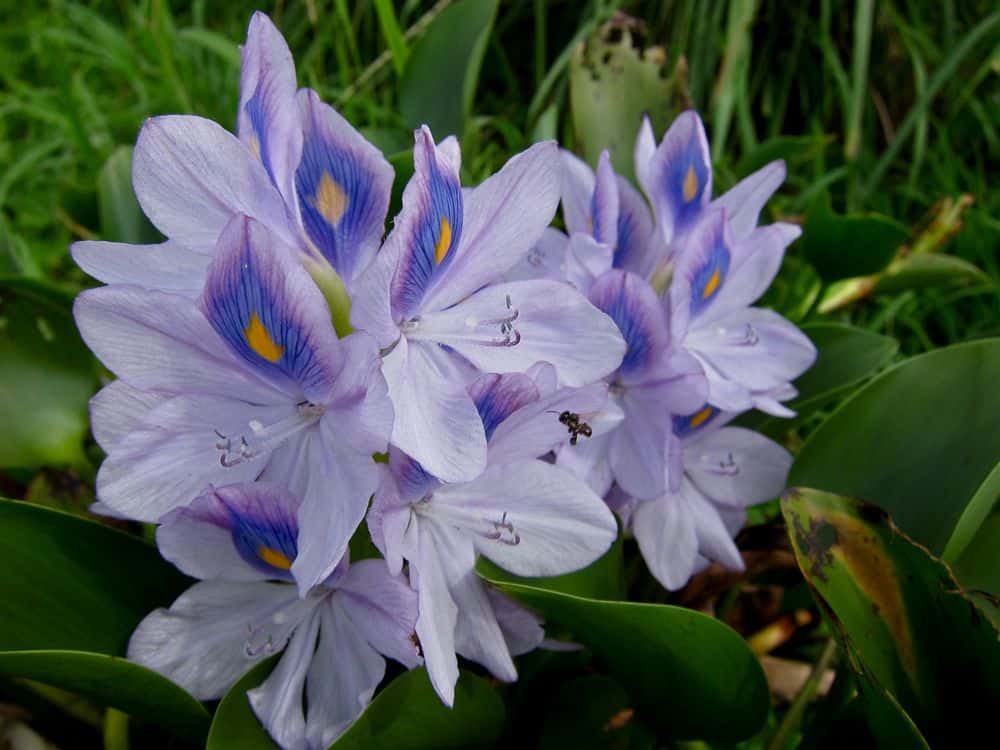 This is the busiest road in town…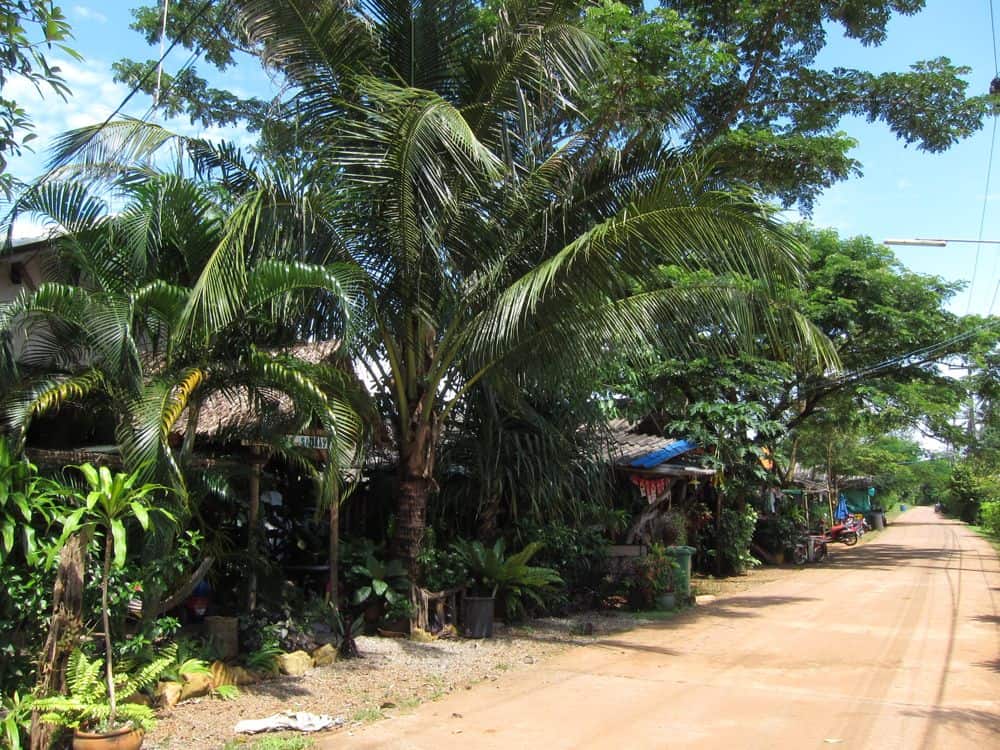 At first the row of about five tourist restaurants didn't look promising. We feared the "same same" menus you often find in places like this, and we couldn't find any street stalls or local eateries as alternatives. Luckily we found a big vegetarian menu at Hawana Bar & Restaurant, and the friendly lady who runs it cooks delicious, spicy (to taste) meals in the open kitchen.
The food was so good and reasonably priced (50-70 baht/ US$1.60-2.30) that we ate here twice a day for four days, working our way through the menu. Huge watermelon shakes, stir fried vegetables with red curry and vegetable noodle soup were our favourites.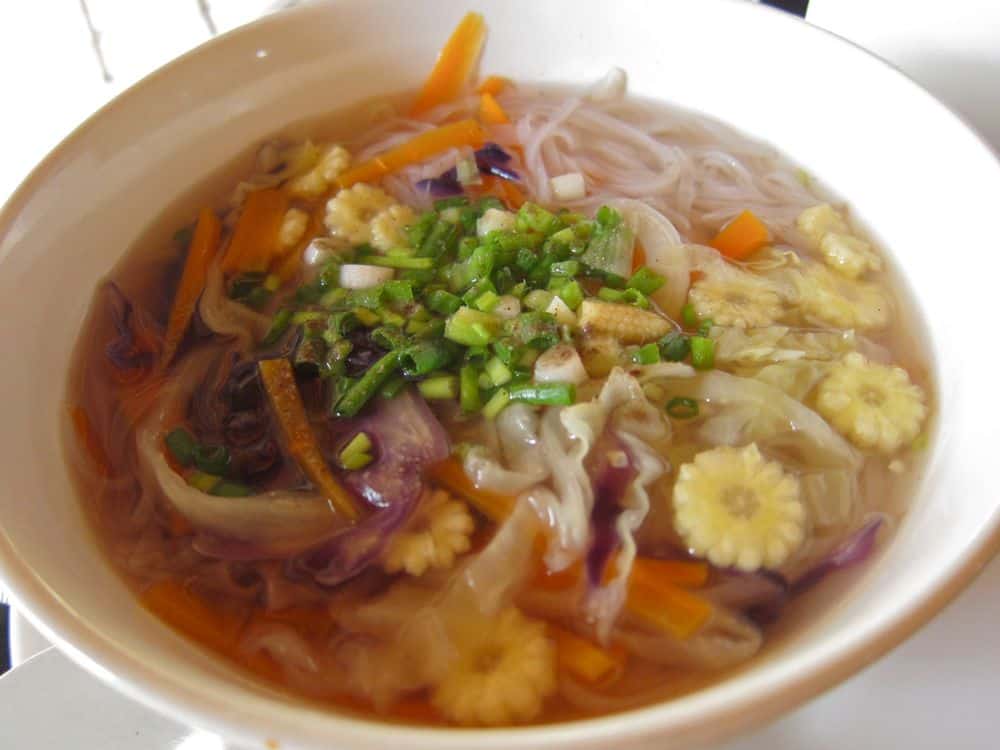 Although Koh Mak is a quiet island, and the owners seem committed to keeping it that way, there is still plenty to do. You can get a massage, take a cooking class, ride an elephant along the beach, take a boat trip to neighbouring islands, rent a motorbike, kayak to a deserted island, or arrange a snorkelling or scuba diving trip. But somehow it is easy to pass the days lazing on the beach and taking sunset strolls.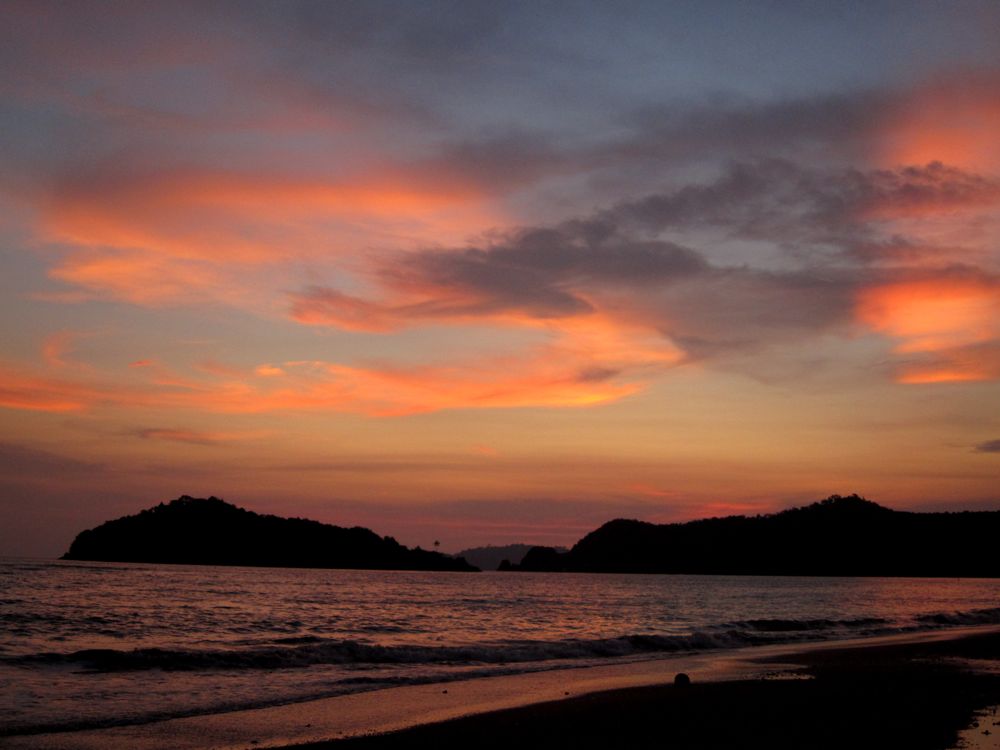 How to Get to Koh Mak
The Koh Mak guide has useful information on the island including how to get there and bus times. On the way there we took the bus from Bangkok Ekkamai station to Laem Ngop Pier. It doesn't seem you can get this bus back to Bangkok, so you have the choice of a tourist minibus from the pier or getting a taxi to Trat and picking up the government bus there (we did this).
Our hotel stay on Koh Mak was sponsored by Good Time Resort.