This page contains affiliate links. Please read our disclosure for more info.
This is a guest post by Amy Cham, a good friend of ours who also sold everything to start a new life abroad. Amy and her partner Kath spent four months exploring Southeast Asia and Japan, and are now putting off looking for work in Australia. In true digital nomad style Amy wrote this in the back of her campervan in the Australian outback!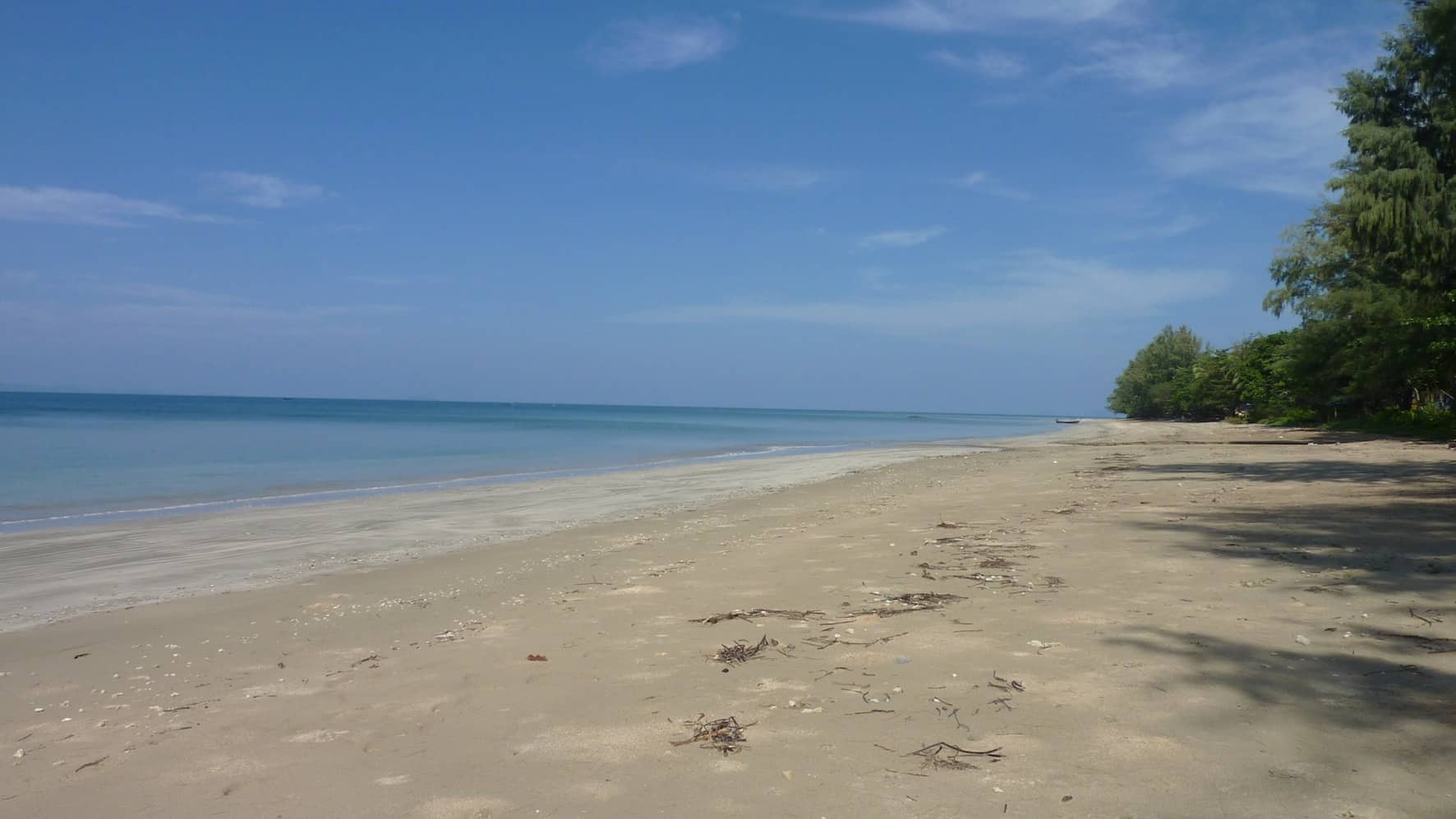 Okay, firstly yes, Thailand being the original backpackers destination in SE Asia does rather unfortunately mean that parts of it are extremely overdeveloped, and overcrowded with tourists determined to party hard all day and night. Despite this though it is worth remembering that there is a reason for this – Thailand's many wondrous islands are the jewels in its crown! There may not be so many left untouched but with a little homework and love of travel you can still find some quiet gems…lucky for you we've done this for you!
Koh Jum
When most people travel to Krabi their island destination is mostly Koh Lanta. However, if you ask for Koh Jum the ferry will stop halfway in the sea, you will then transfer to the waiting longtail boat, and wave goodbye to all the Koh Lanta tourists as you head to your true island getaway, so getaway you can't even arrive by pier!
If you want true peace and quiet then Koh Jum is your ticket. The beaches are sandy white with pristine clear waters, when you look along the shoreline you can only see palm trees as the beach outfits are (so far) spaced out 10-15 minutes away from each other. The nearest village for supplies is a 30 minute walk, oh and electricity only runs for 4 hours every night (turns out you don't need more than that!).
For a treat stay with Sal and Ray at Woodland Lodge where for 500 Baht you'll get a lovely decent sized wooden hut, set back in their peaceful garden, and with a (partial) sea view. Strapped for cash but still want to stay on the best part of the beach? No problem, head left of Woodland Lodge and Dera will set you up with a basic bamboo hut for 150 Baht!
Koh Phayam
Another small island, this time the jump off point is north of Krabi in Ranong. Despite not having the best beaches Koh Phayam is still worth a visit for its laidback vibe, helped too by the fact that there are no roads as such, only paths big enough for the moped taxis that shuttle you back and forth. Again electricity only comes on in the evening, and pretty much the only thing to do during the day is to read and laze around.
Most people head for the main beach of Ao Yai to surf and boogie board, if you do though do yourself a favour and don't stay at Bamboo Bungalows. Let's just say they were overpriced considering there were little friends of some sort in their beds!
For our money forget that beach and head over to the beach further north and stay at the family run Jansom Bungalows, where for a bargain 350 Baht you'll get a large beautiful wooden lodge with the biggest tiled bathroom we've ever seen in a beach hut! Sure the huts are at the rocky end of the beach but at low tide you can get your very own private alcove to swim in, or just head left up the beach to the sandier part.
Oh and there are also a couple of cool veggie restaurants on the island that do a mean chai and delicious salads.
Koh Mak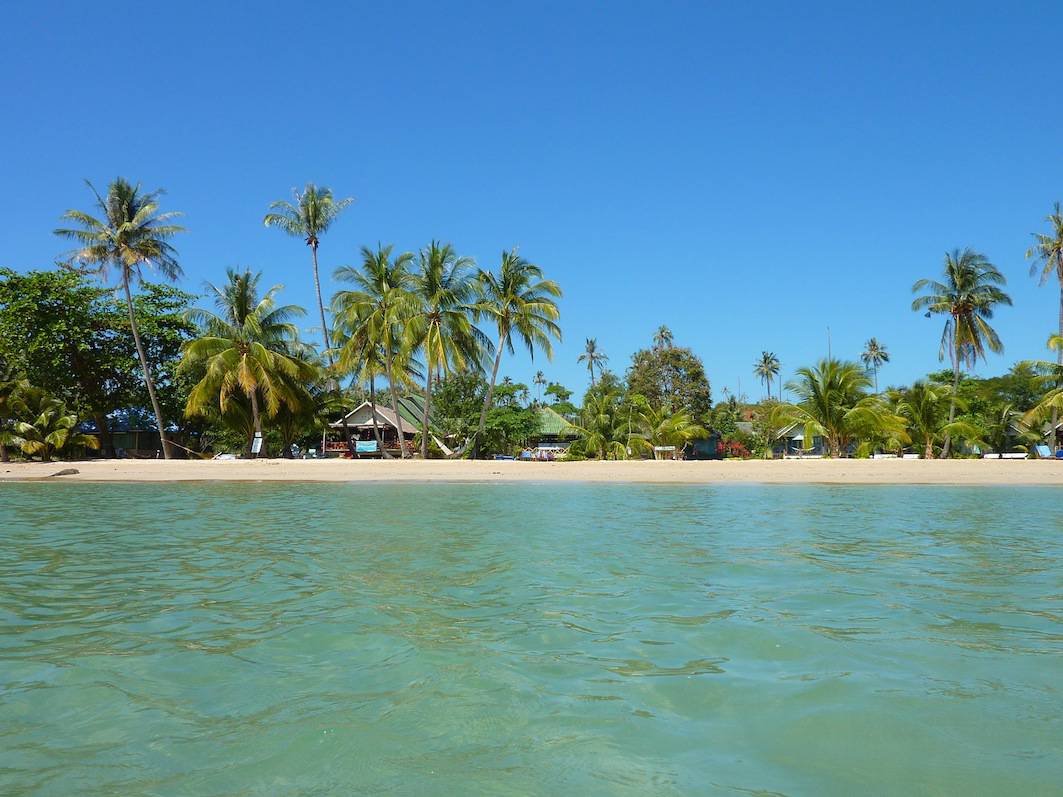 This time moving off the Andaman Coast to the Gulf Coast Koh Mak is the easiest to travel to from the others mentioned. Just get a direct bus from Bangkok to Laem Ngop, and then jump onto a speedboat to the island. Moving to the Gulf Coast though does also mean moving away from the budget end of the scale.
We stayed here over Xmas and New Year and it was definitely our treat but worth every baht. Think lush green palm trees against bright blue skies. Think white sandy beaches with turquoise crystal clear waters. Yep, this is the one for you.
Again it is lovely and quiet (albeit a bit more developed than the other islands mentioned), and for those who want to break things up you can always go diving or rent a moped and hunt out the sculptures straight out of the Milk Bar a la A Clockwork Orange.
We stayed at Holiday Beach Resort where cool dude Pom will make sure you're well looked after. Go to www.kohmak.com for current rates that aren't Xmas ones!
About Amy
Firstly, some background. My partner and I had a crazy notion last year, we decided to pack our jobs in (with a recession we thought it'd be only charitable to give our jobs to those less fortunate!), sell all of our belongings, rent our house out and book a one way flight out of the country. 4 ½ months on we have travelled to China, Thailand, Vietnam, Japan, Cambodia, Malaysia and recently landed in sunny Australia!
Erin's note: Thanks Amy for the guest post. We avoided Thailand on our last trip as we like our beaches very quiet, but we'll definitely check out some of these when we are next in Asia.
I have just heard from Amy that Koh Jum now has 24 hour electricity, so get there soon as it will start getting more visitors.

In Part 2 of Ways to Get Away From It All Amy will share more of her travel secrets. This time onsens in Japan.