This page contains affiliate links. Please read our disclosure for more info.
Our ferry sat quietly in the middle of the ocean. With nothing but green-blue sea all around and a jungle-clad island in the distance, we'd reached our stop. The silence was broken by the sound of old, unmuffled diesel engines as the long tail boat sent by our hotel, Ting Rai Bay Resort, pulled up alongside and attached itself to our boat.
We very carefully clambered on (Simon has a history of falling into large bodies of water) and set off for Koh Jum, leaving the other passengers to continue their journey to Krabi.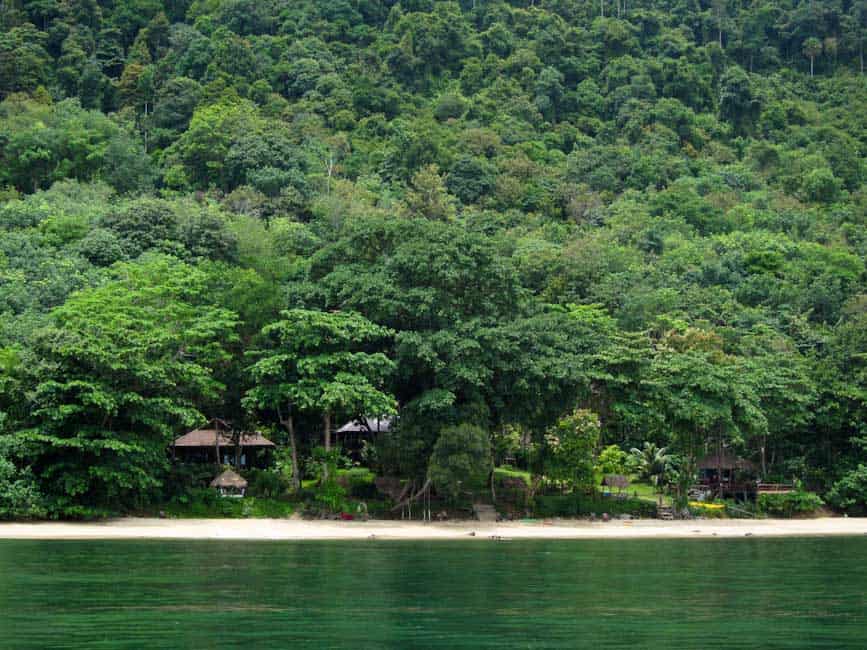 We had come from Koh Lanta – a relaxed but nevertheless developed island in Thailand's Andaman Sea, complete with big resorts, 7 Elevens, and air conditioned coffee shops. Just an hour away is Koh Jum – an island that many Thailand holidaymakers haven't heard of, despite the fact that it's just across from the famous party island of Phi Phi.
We had loved our experience on the quiet island of Koh Mak a few months prior and were excited to try an even more relaxed island.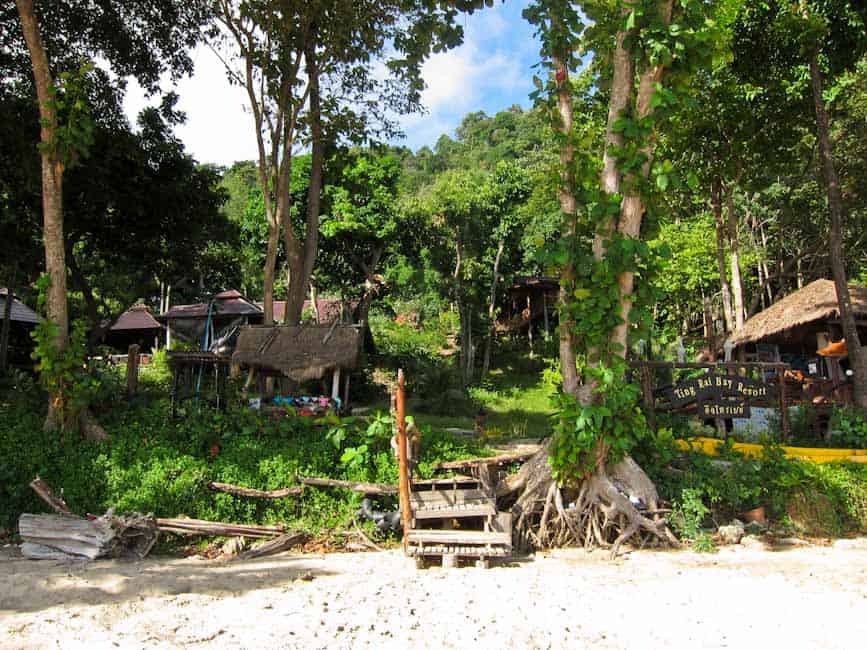 Our taxi boat pulled up on an almost deserted golden sand beach and we splashed our way to shore. Ting Rai Bay Resort's bungalows cling precariously to the steep jungle-covered hillside overlooking the beach. The owner Taam greeted us with a big Thai smile and a welcoming cold beverage.
Nothing says 'tropical island' like finding a flower in your drink.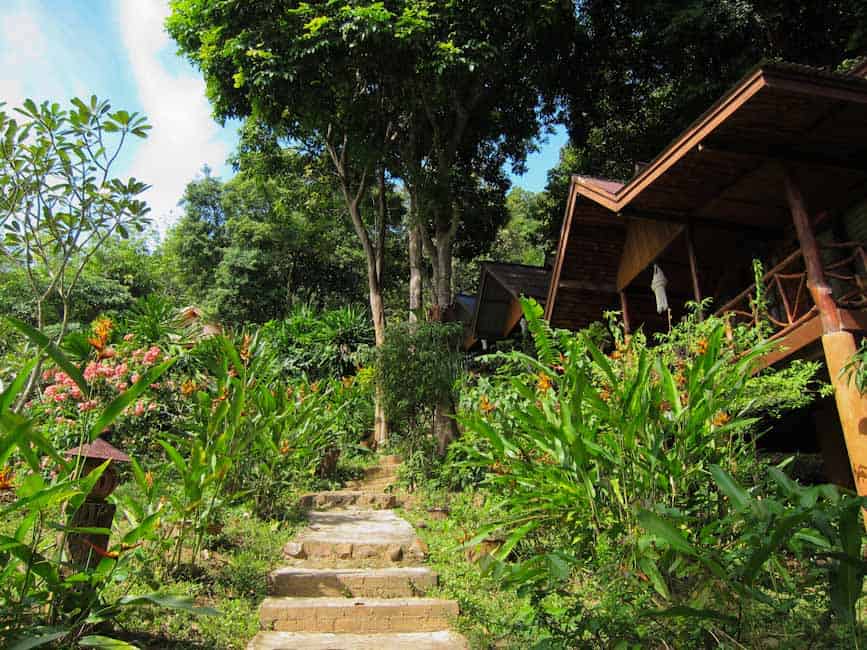 After giving us a hand-drawn map and a quick introduction to the island we made our way up the hill to our room.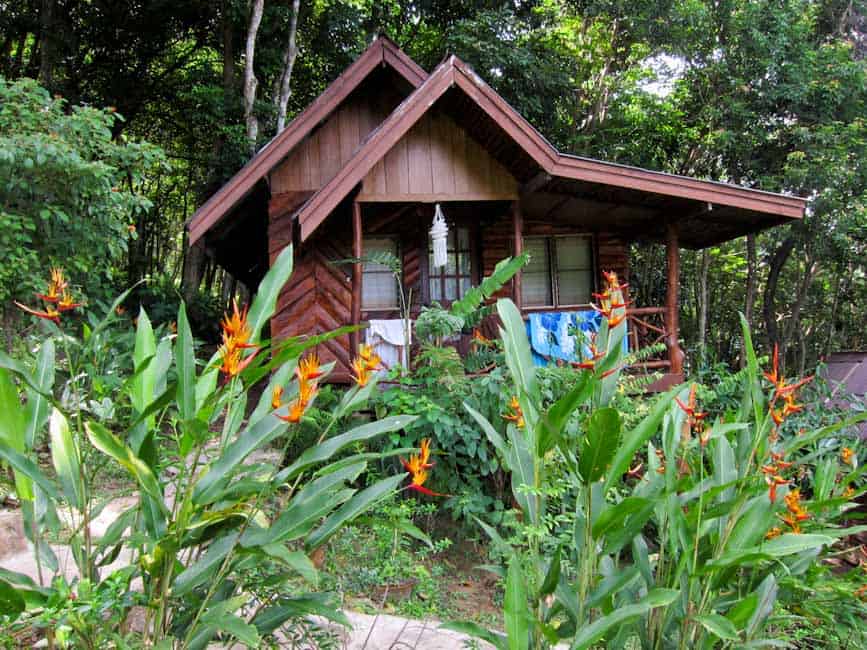 Our rustic wooden bungalow was simple but more spacious and comfortable than your average beach hut. As with the welcome drink there were touches more usually seen at luxury resorts like the four poster bed draped with romantic white mosquito netting, and the swan-shaped towel.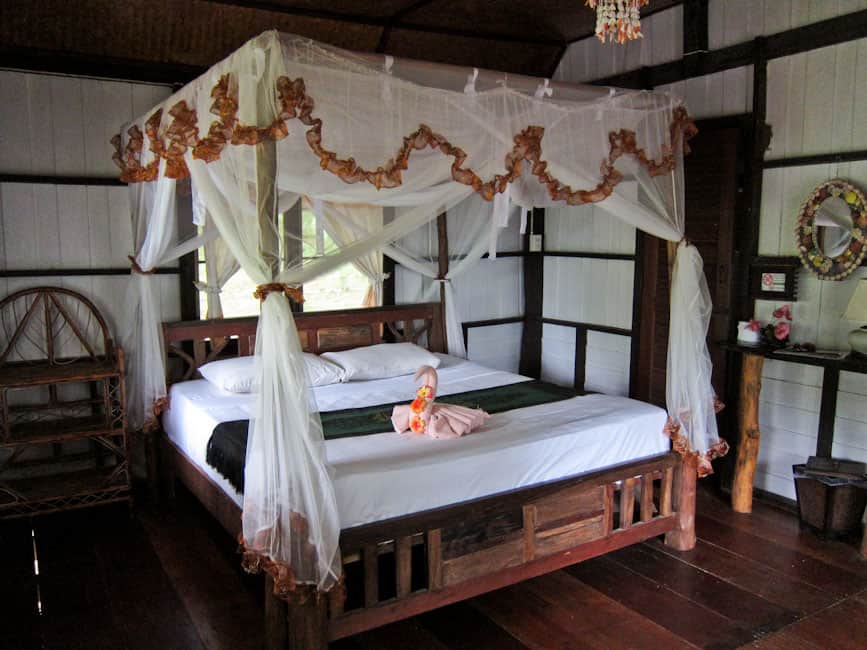 This is not a luxury resort though – the bathrooms are basic with no hot water and there's a fan but no A/C. But as Koh Jum only got electricity a few years ago we were lucky we had that. Incredibly for such an undeveloped island the resort does have satellite internet in the restaurant which is surprisingly fast and reasonably priced at 40 baht a day up to a maximum of 100 baht per stay.
The thing we loved most about our bungalow was the setting. Behind us was a wall of jungle rising up the hillside, to the left was the sea, and from our verandah we looked onto the lush green garden full of brightly coloured tropical flowers and butterflies. It's a unique combination of jungle and beach with cicadas roaring in the trees and monkeys playing on the sand – and on our bungalow roof in the early morning!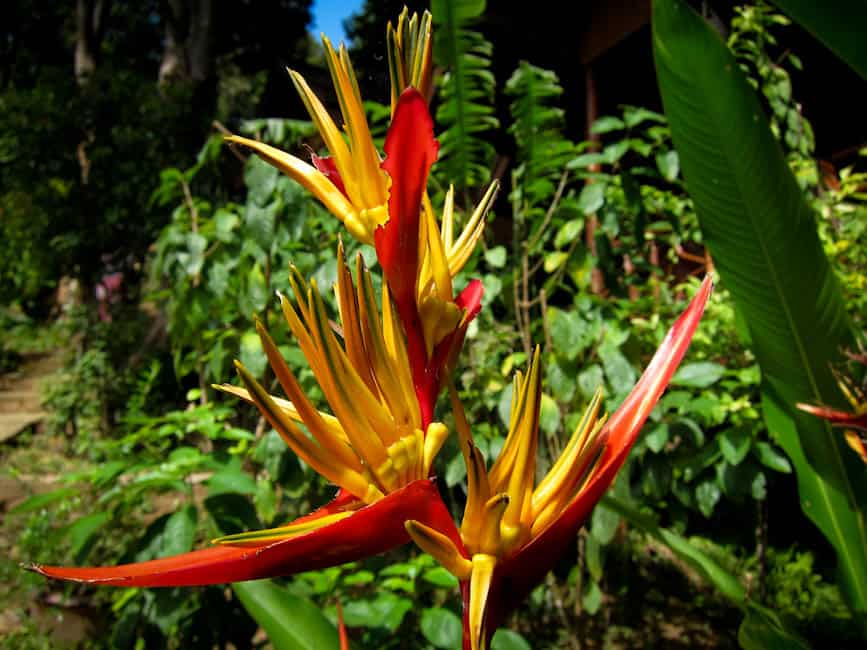 Ting Rai Bay feels very isolated and is one of the quieter parts of the already quiet island of Koh Jum. We'd arrived by boat and there are rocks at either end of the beach so it doesn't feel like it's possible to leave the bay that way (although it is possible with some clambering), and there is no sign of a road. It wasn't until our third day that we discovered there is a road up the hill, beyond the resort and into the jungle. I say road but it's more a treacherous dirt track – read more about our adventures tackling that.
You certainly don't come to Koh Jum to party – it's a place to relax and get away from it all. Lie on the beach, laze in a hammock beneath the giant twisted bodhi tree, and take sunset strolls along the sand. If you are looking for more excitement there are boat trips to Koh Phi Phi or snorkelling at Bamboo Island. You can also rent a motorbike and explore the jungle, fishing villages and beaches of Koh Jum.
We also discovered that it is possible at low tide to clamber over the rocks at the end of the beach to get to Magic Beach – a small, deserted bay of golden sand. If you want a beach to yourself this is the place to come. We witnessed a spectacular sunset here – the sky was on fire, ablaze with shades of pink, orange and purple.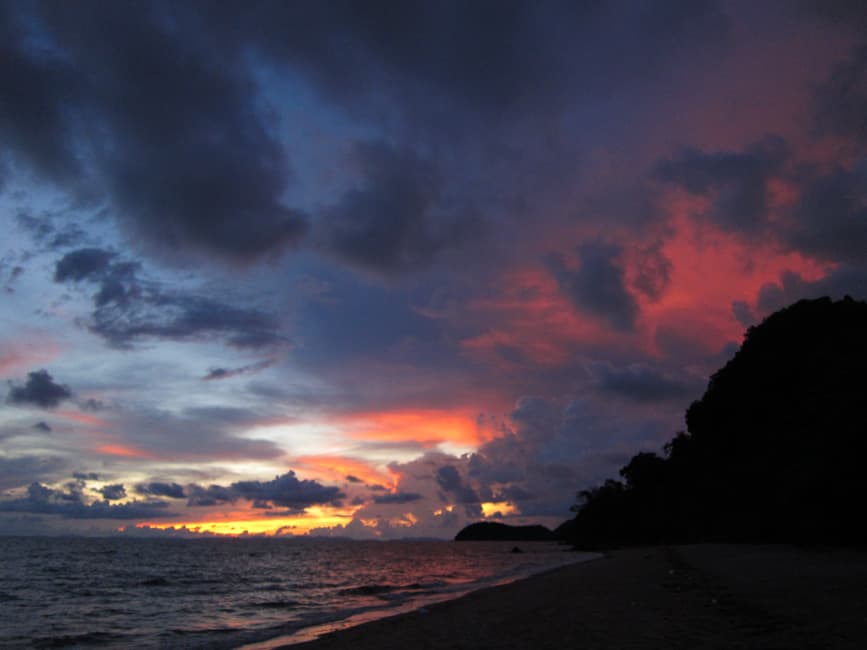 Of course, we have to work as we travel so it wasn't all relaxation for us. We took advantage of the WiFi and, as the sun set over the spectacular sea views from the spacious restaurant, we concluded that there were much worse places to work.
At first we missed the bakeries and coffee shops of Koh Lanta but it doesn't take long to ease in to the slow pace of life on Koh Jum.
We highly recommend it as a place to relax and to discover a Thai island that hasn't been overdeveloped and polluted like so many of its neighbours.
Ting Rai Bay Resort Summary
The jungle setting, friendly staff and relaxed atmosphere set Ting Rai Bay Resort apart. It's an escape from the world, but without giving up all of your comforts.
Highs
Jungle and beach setting
Quiet, relaxed atmosphere
Friendly and helpful staff
Comfortable beds
WiFi (the only budget resort on Koh Jum that has it)
Monkeys!
Lows
No A/C (in April it was hot)
No hot water
Ants and mosquitoes
The sea is quite rocky
Recommended for: Anyone looking for a quiet, relaxing escape. It is popular with families and couples.
Location
Ting Rai Bay Resort in located on the northern end of Koh Jum, often referred to as Koh Pu. The easiest way to get there during high season (November to April) is by ferry from Krabi or Koh Lanta. The journey takes an hour in each direction and costs 400 baht. It's a good idea to book your hotel in advance so they can pick you up from the ferry by longtail boat.
You can reach Krabi from Bangkok by overnight bus or plane (Air Asia are usually the cheapest).
Cost
Ting Rai Bay Resort has bungalows from 600 baht. Our deluxe bungalow was more spacious and cost 900 baht. There is also a large beachfront bungalow for up to four people for 2500 baht.
For more information see tingraibay.com.
Thanks to Ting Rai Bay Resort who provided our accommodation on Koh Jum.