This page contains affiliate links. Please read our disclosure for more info.
Burma (or Myanmar) is one of the least visited countries in Southeast Asia and has been ruled by a military dictatorship for fifty years. Many campaign groups urged a tourist boycott of the country until 2010 when democracy leader Aung San Suu Kyi was finally released from house arrest and changes slowly began to take place in the country.
There is still a long way to go to bring democracy to the country but Aung San Suu Kyi's victory in the recent by-elections has brought hope for change to many people.
There have been relatively few tourists visiting the country but in the last year there has been a significant increase. Things are changing quickly, not just in the political situation, but on a practical level for travellers. It's a country that needs some planning – you can't just turn up as visas and money need to be arranged before you arrive.
Here is some up to date information from our trip to help you plan you own travels in Burma.
Burma or Myanmar?
Whether to call the country Burma or Myanmar is a complicated issue. The military junta changed the name from Burma to Myanmar in 1989, after a popular uprising when thousands were killed. Many governments (including the US and the UK), pro-democracy groups and media outlets such as the BBC continue to call the country Burma. A statement by the UK Foreign Office says: "Burma's democracy movement prefers the form 'Burma' because they do not accept the legitimacy of the unelected military regime to change the official name of the country. Internationally, both names are recognised."
In the country almost everyone refers to it as Myanmar and so did we when we were there. When writing about it on this website we have chosen to use Burma as it is more well known internationally and out of respect for the pro-democracy movement's wishes.
You'll need to make up your own mind. You can read more about the issue on the BBC and Washington Post.
Visas
You will need to arrange a 28 day visa before you arrive in Burma, but these aren't difficult to obtain these days. The nearest place to get one is in Bangkok. It costs 810 baht and takes 48 hours (or you can pay 1250 baht for a same day visa). See Travelfish for details on how to apply. We haven't heard of anyone being refused a visa but in the work history on the application form it's best not to mention any journalism work.
We flew directly from Chiang Mai to Yangon so to save ourselves a trip to Bangkok we got an agent in Chiang Mai to get the visa for us. We used P & P Travel and it took about a week and cost 2,500 baht.
Getting There
If you want to explore Burma you have to fly into the country. While you can cross the border from Thailand into Burma at Mae Sai, this is only used as a visa run as you can only visit Tachilek, the town on the Burmese side of the border and not travel beyond there.
The usual route is from Bangkok to Yangon and the cheapest airline is Air Asia. As we were in Chiang Mai we flew direct from there to Yangon with Air Bagan (flights on Thursdays and Sundays at 5.20pm). They are more expensive than Air Asia though. Ours cost 5700 baht each booked through the Chiang Mai travel agent Travel Shoppe. You can email them for a quote at [email protected].
You don't need to book an outward flight before you arrive but be prepared to be patient if you plan to book an Air Asia flight while in Burma – it is possible but the internet is very slow.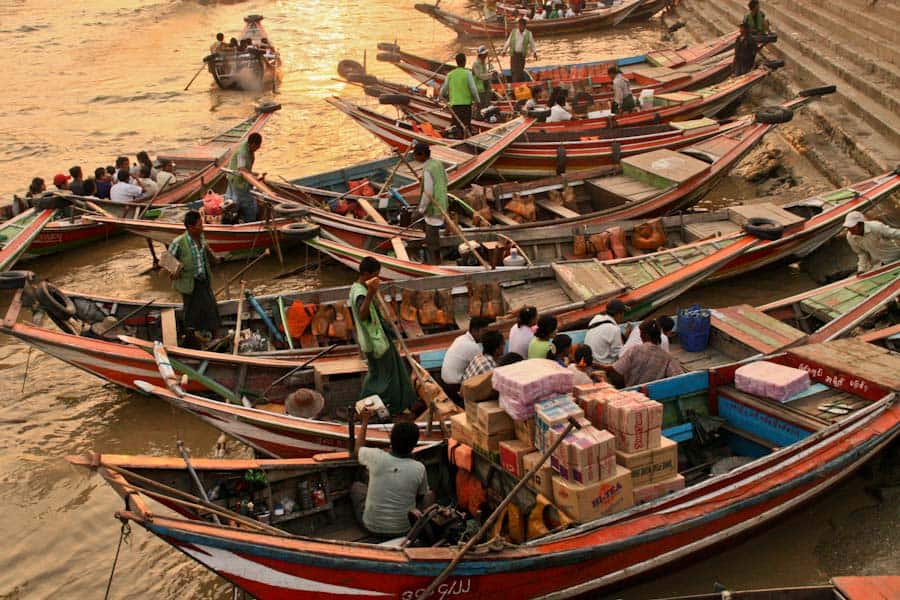 Money
Getting Your Dollars
Once you have your visa and flight to Burma your next big task is getting your spending money. There are no ATMs in the country and you must bring all of your cash as US dollars. To make matters more complicated the bills must be pristine – no creases, bends, spots or marks of any kind. They also need to be printed after 2006 and not contain the serial numbers beginning with CB, BC or AB.
Don't leave the process of changing your cash to the last minute. You may need to go to multiple banks and money changers to find enough pristine new bills.
We changed our money in Chiang Mai in a number of places but had the most luck getting new bills at the Panda Exchange around the corner from Starbucks at Tha Phae Gate.
Make sure you keep your money pristine once you have it. Do not fold it and make sure the corners don't bend. We found our bills stayed flat when kept inside a plastic ziploc bag and stored in our money belt. We kept some in a notebook as well, just in case.
Changing Money in Burma
The money changers in Burma really are strict. We had one bill rejected as it had a minute smudge on it. Luckily we found hotels and travel agents to be less fussy and were able to use our smudged bill there. We also had a few bills that had a small stamp from the money changer on it and had no problem using these – to be on the safe side I'd avoid stamps if possible though.
You will pay for hotels, ferries, flights, trains and some entrance fees in dollars, and everything else in the local currency kyat (pronounced chat). You'll get the best rate of exchange in Yangon so you'll probably want to change about half of your budget into kyat there. It is possible to change dollars to kyat in other parts of the country though.
It used to be that the official exchange rate was far below the black market rate so everyone used the black market to change their dollars to kyat. The situation has now changed and we changed our money at the AGD Bank on Sule Paya Rd between the Sule Paya and Anawrahta Rd. We got a rate of 805 kyat per dollar, which is less than the 850 we could have got on the black market but we heard so many stories of people getting ripped off by the street money changers that we went with the safe option.
Costs
Burma is more expensive that other countries in Southeast Asia, especially for accommodation. As tourism has increased rapidly in the last year there is a shortage of hotels and prices have increased significantly.
We usually paid $22 or $23 a night for a fairly basic but decent double room with ensuite and air-conditioning. You could save by going for a fan room with shared bathroom but I think doubles are still at least $15 in the main tourist destinations. Breakfast is always included.
Tourists pay double the local rate on buses and the overnight trip from Yangon to Bagan cost 15,000 kyat ($19).
Local food is cheap though. A dish at a street stand cost from 500 kyat ($0.60) and even in restaurants we could eat for 1000 kyat each ($1.25). Tourist restaurants obviously cost more.
We spent $63 a day for two people ($31.50 a day each) plus $137 each for internal flights.
It's a good idea to take more than you expect to spend as you don't want to run out.
When to Go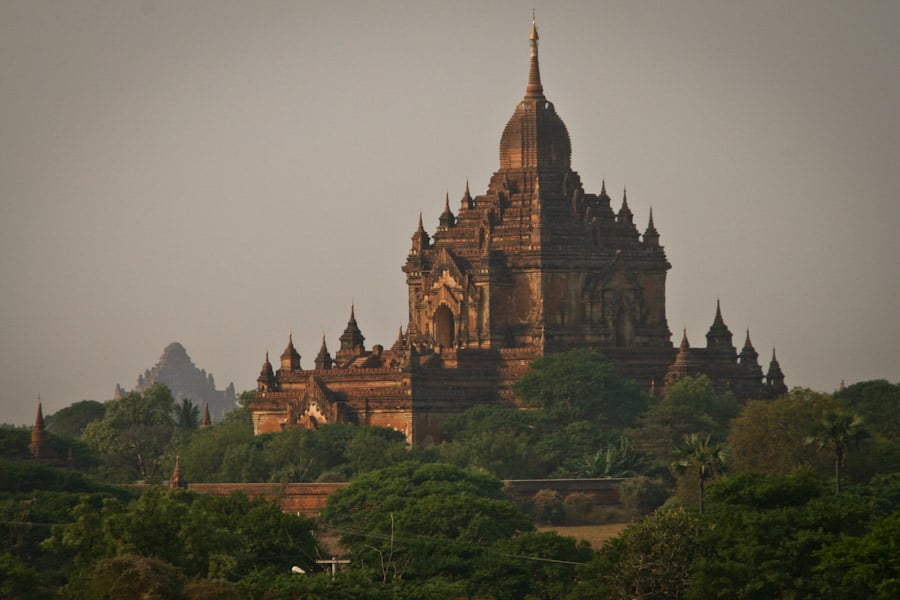 The best and most popular time to visit is December – February when the weather is cooler and dry. We visited during the March – May hot season and did indeed find it steaming hot with temperatures up to 40 degrees. We wouldn't recommend this time of year as the skies were very hazy from the farmers burning their fields and the landscape was dry and brown. On the plus side there are less tourists than in the high season and we found it easier to get hotel reservations than people who visited earlier in the year.
Getting Around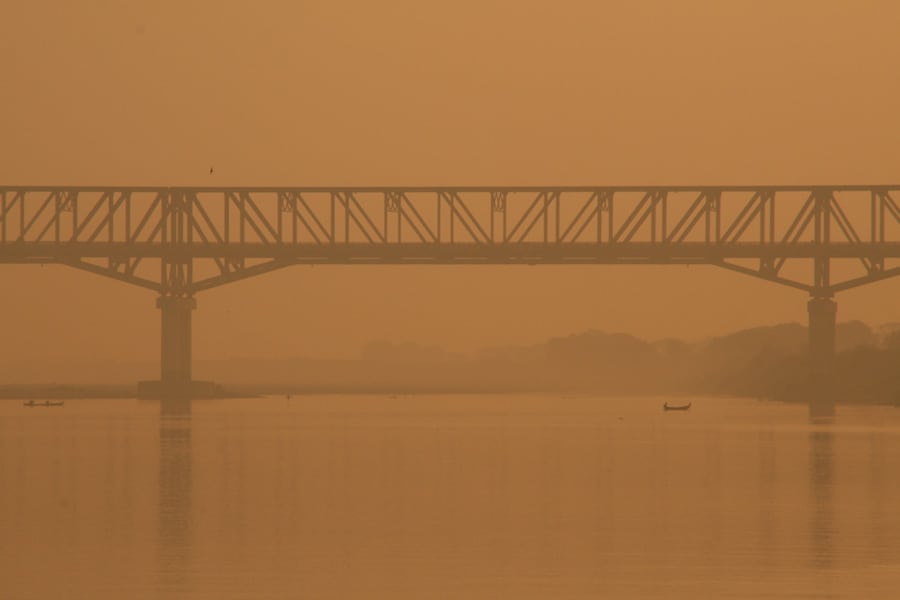 You might want to consider a few internal flights as the trains, buses and roads aren't in great condition and journeys are time consuming. That said the overnight bus from Yangon to Bagan was much better than we expected as there is now a new road for most of the way. We were told to take warm clothes as the A/C is usually set to arctic but luckily we were able to turn our vent off so we didn't have a problem.
We travelled by boat from Bagan to Mandalay and it was much more enjoyable than the bumpy bus journey with plenty of space to spread out. In March the local boat took two days so we went with the tourist boat ($30) which left at 5.30am and took about 12 hours. It was a comfortable and enjoyable journey and it was interesting to watch life along the river.
We flew from Mandalay to Heho for Inle Lake ($44 each) and from Heho to Yangon ($87 each). It saved us a lot of time and energy.
One thing to bear in mind is that bus stations and airports are usually located about an hour outside of the city (Yangon, Mandalay and Inle Lake) and taxi rides can cost about $10 to get into town (or $25 from Heho to Inle Lake) so share with other travellers if you can.
Hotels
There is a shortage of hotels in Burma so it's a good idea to book in advance. Most hotels aren't online so calling is the best way to make a reservation. We usually booked a day or two ahead and had no problems but in the high season we heard that people often struggled to find a place.
Here are some hotels that we recommend:
Mother Land Inn 2 in Yangon – This was the best budget guesthouse we stayed in with clean rooms, friendly staff, free airport pickup, and computers with pretty fast internet. We liked the Burmese options for breakfast too. The only downside is the location about a 30 minute walk from the centre of Yangon. Our double ensuite room with A/C cost $23.
May Kha Lar in Nyaung U, Bagan – Although the rooms were shabbier and darker than at Motherland this was still a good option with a really friendly owner and a good breakfast including pancakes, fruit, eggs, toast and coffee/tea. Our double ensuite room with A/C cost $23 or a room with shared bathroom is $15. Telephone: 061 60304.
Princess Garden Hotel in Nyaungshwe, Inle Lake – This is our top pick and completely worth the $36 for a double. Everything was perfect here – the lovely individual bungalows with verandahs and views over the surrounding countryside; the lush gardens full of butterflies and flowers; the refreshing swimming pool; the free bike hire; the reasonably priced mini-bar; the big breakfasts including pancakes; and the little touches like a different fruit shake served free every afternoon.
We loved the quiet location on the edge of town but only a short walk away. It felt peaceful and rural next to a canal with views of the mountains and the neighbours were locals in thatched huts rather than other hotels. Telephone: 081 209214.
Note: Powercuts are frequent everywhere in Burma, especially Mandalay, so a head torch comes in useful.
Internet
Internet cafes are fairly common but the connection is very slow. The best connection we found was at Motherland 2 in Yangon and in Mandalay. I have also heard that Pyin U Lwin has high speed internet.
WiFi was more common than we expected. Our hotels in Bagan and Mandalay had WiFi and we saw it advertised in a number of restaurants in Bagan. We also used the WiFi at the Pancake Kingdom restaurant in Nyaungshwe (Inle Lake).
Generally though it was so slow that we only used it for the essentials. Don't expect to be able to do anything complicated like Skype or upload photos.
Reading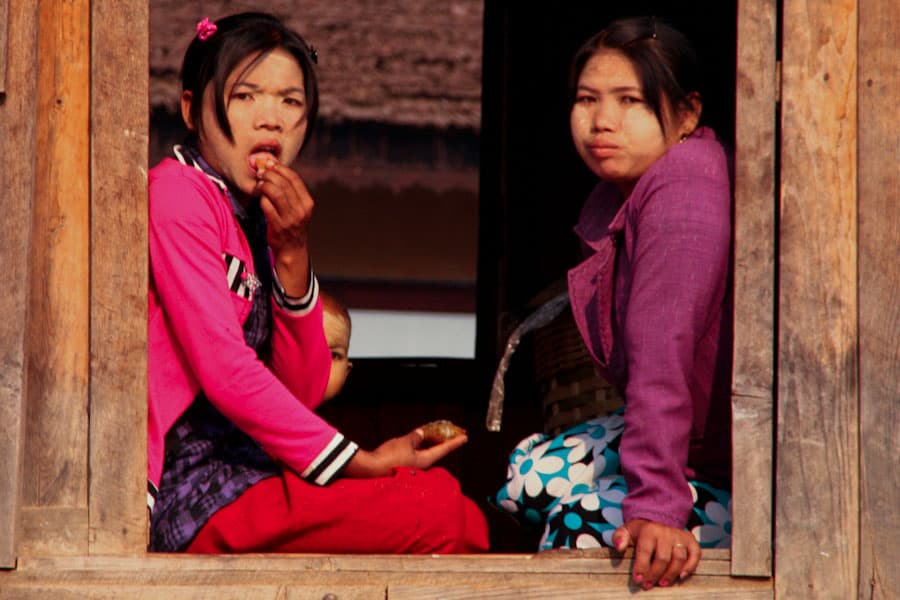 It's important to educate yourself about Burma's recent history before you visit. We were lucky to have access to the excellent Best Friend Burmese Library in Chiang Mai and we also bought some books for our Kindle on Amazon.
Here are some books we recommend:
Lonely Planet Myanmar – A good introduction to the politics and culture and the most up to date guide for hotel listings etc. We found hotel prices to have gone up by about $5.
From The Land of Green Ghosts by Pascal Khoo Thwe – A moving, beautifully written, and inspiring true story of a student from a Padaung tribe who gets caught up in the resistance movement and is forced to flee from the military and live in the jungle with guerilla fighters. A chance meeting with a Cambridge University don leads to him being rescued and sent to Cambridge to study. It's a great insight into the life of ethnic tribes, recent Burmese history and the problems of the regime but from a personal viewpoint.
Little Daughter by Zoya Phan – The true story of a girl from a Karen village who was forced to flee after her village was attacked by the Burmese military when she was 14. It tells the story of growing up in a Karen village and how everything changed when they had to escape through the jungle and eventually live in a refugee camp in Thailand.
Finding George Orwell in Burma by Emma Larkin – As the author travels around Burma and learns about the political climate there she discovers disturbing similarities to Orwell's 1984.
The River of Lost Footsteps by Thant Myint-U – A history of modern Burma that looks at events in the past to explain the situation in the country today.
Letters From Burma by Aung San Suu Kyi – Short essays on different aspects of Burmese culture, traditions and politics.
Perfect Hostage by Justin Wintle – A biography of Aung San Suu Kyi although it goes back further into Burmese history especially to the time of her father Aung San and the fight for independence from the British.
The Trouser People by Andrew Marshall – A British writer follows in the footsteps of a little-known Victorian colonist Sir George Scott to visit hill tribes in Shan State. As well as a travelogue you learn about the history of British rule and the current political situation.
The Lizard Cage by Karen Connelly – This is a novel but is based on the author's extensive research and the real experiences of political prisoners in Burma. It's an incredibly tragic but beautifully written story of a dissident singer imprisoned in solitary confinement for 20 years.
The Glass Palace by Amitav Ghosh – Another excellent novel and an epic multi-generation saga set in Burma, India and Malaysia from the British invasion of Burma to current times.
Twilight over Burma – My Life as a Shan Princess by Inge Sargent – An interesting true story of an Austrian woman who married a Burmese prince from the Shan states and became the princess of Hsipaw until the military coup in 1962 when he was taken prisoner and probably killed.
It's worth planning your trip to Burma and reading up on the country more than you usually would. It's a complicated country and you'll be rewarded with a greater understanding of the people, culture and political situation.
For photos, quirky details and cultural insights see our post 35 Random Observations About Burma.