This page contains affiliate links. Please read our disclosure for more info.
Burma (or Myanmar) is unlike anywhere else we have travelled. Sitting between India and Thailand we found elements of both – the gentle Buddhism of Thailand mixed with the chaotic street scenes of India. But most of the sights, smells, tastes and experiences were completely new to us. These are some random observations from our time travelling around the country.
Politics
1) Burma has been ruled by a brutal military dictatorship for 50 years but the oppression of its people is hidden from view and the average traveller won't see any signs of it. There are only occasional hints when talking (cautiously) to local people.
2) In the last year some positive changes have taken place – many political prisoners have been released and censorship has eased. The most outward sign of a changing political climate are the previously illegal posters of pro-democracy leader Aung San Suu Kyi now found on walls of restaurants and tea shops everywhere.
3) We were lucky enough to be in Burma for Aung San Suu Kyi and her party the National League for Democracy (NLD)'s victory in the by-elections. It was the first free and fair election in the country in over 50 years, and although the NLD only has 6.4% of the seats in parliament the people we spoke to were jubilant and very hopeful for big changes in the country.
4) In 2005 the military government unexpectedly moved the official capital 200 miles north of the previous capital Yangon where they created a new city Nay Pyi Taw. The move was widely condemned as expensive and wasteful.
5) Power cuts are annoyingly frequent. The government's line is that the hydroelectric power is affected by water shortages in the dry season, but a local we talked to said this didn't explain why the new capital is still bright with street lights on its empty roads.
6) There are no ATMs in the country so travellers must bring all of their money in US dollars. Notes must be pristine to be accepted – no bends, creases, tears or marks.
People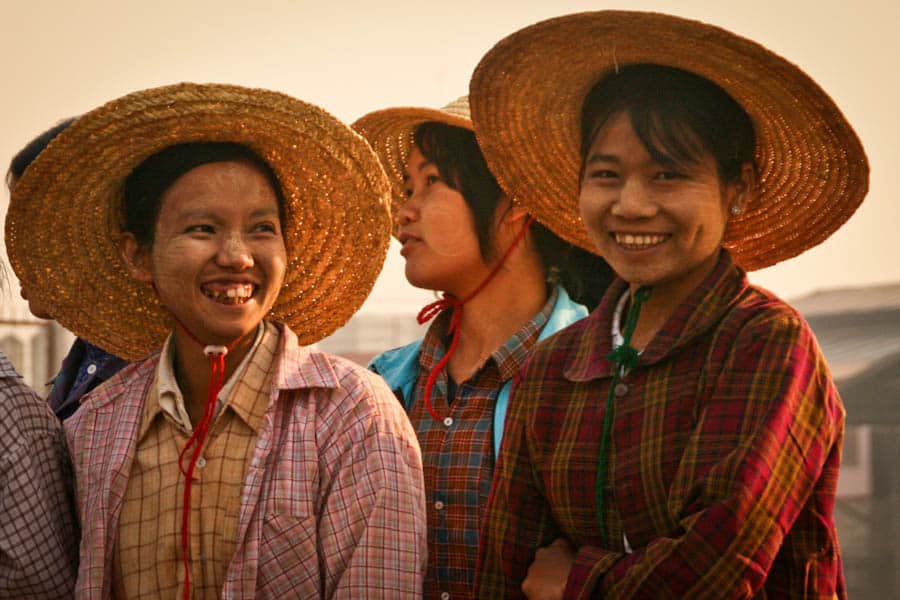 7) The Burmese people were a highlight of our trip – friendly, welcoming, and often very excited to meet us. We were smiled at and chatted to, pointed and waved at, and occasionally hysterically laughed at (that may have been our attempts to speak Burmese).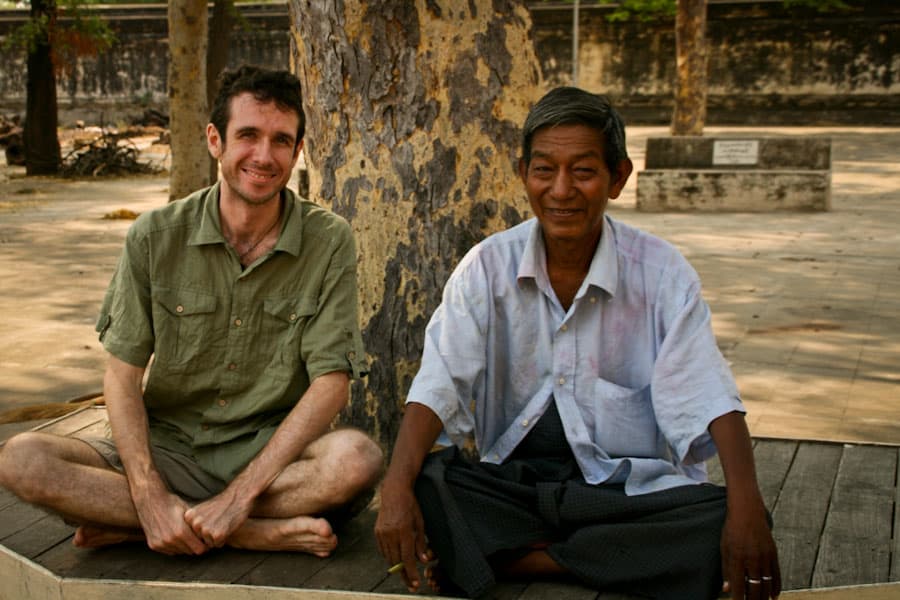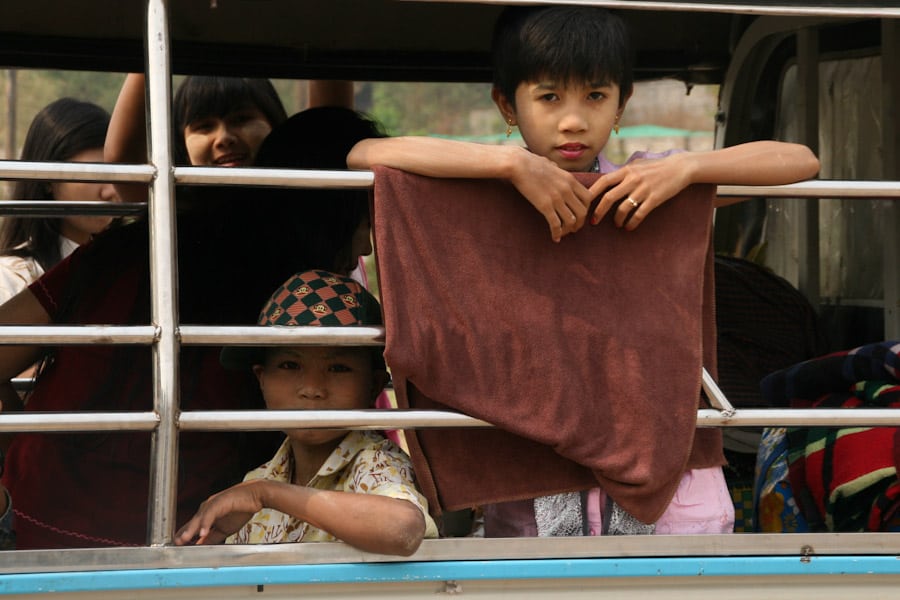 8 ) Groups of people loved having us take their photo.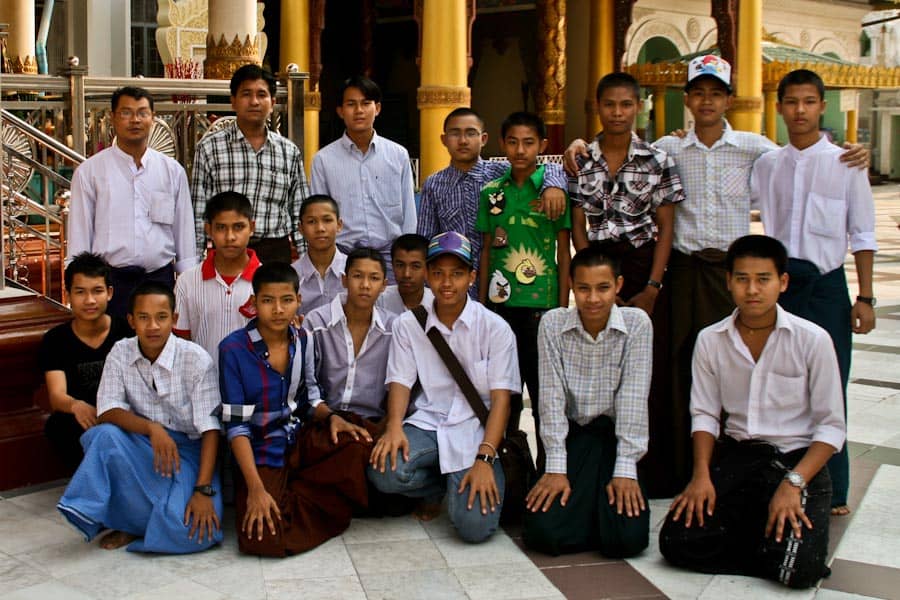 9) The most common item of clothing is the longyi – both men and women wear these colourful sarongs.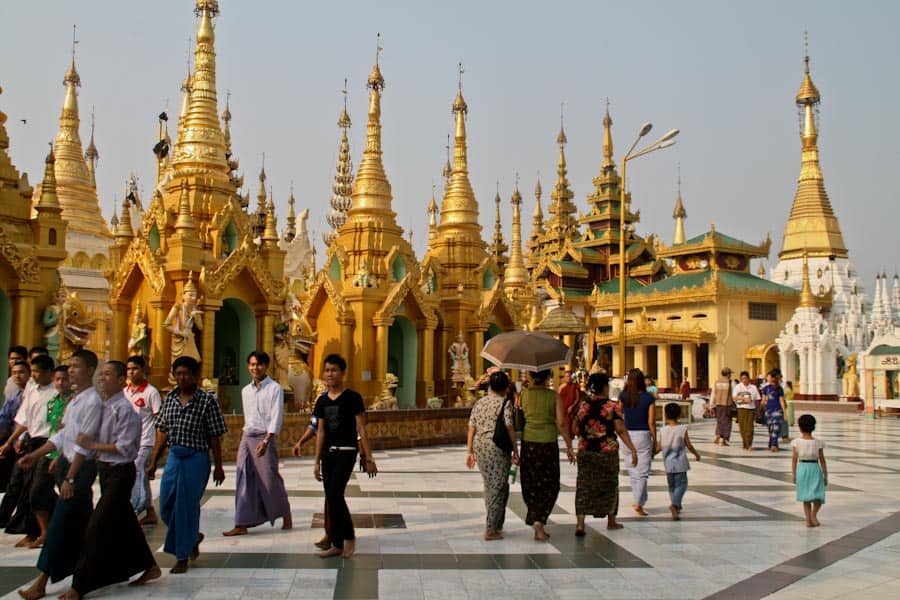 10) Women's faces are smeared with thanaka, a paste made from ground bark that protects from the sun and acts as makeup with many different designs.
11) Burmese people are obsessed with English football. Huge crowds watch all the games in smoky tea shops and telling people we were from Manchester or England always elicited big smiles and cries of "great football!"
12) The Burmese love chewing betel. A tiny stand is located on every street corner with the ingredients laid out – small pieces of areca nut, tobacco and spices are wrapped in a green betel leaf pasted with slaked lime, folded up, and popped in the mouth. The resulting blood red juice is splattered on pavements and stains people's teeth everywhere.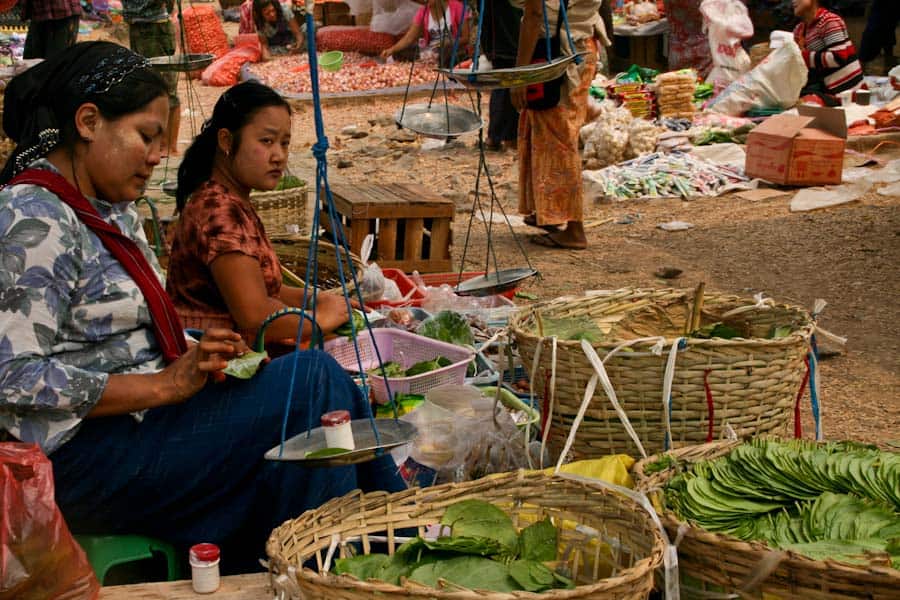 13) People also love smoking cheroots – cigars wrapped in green leaves.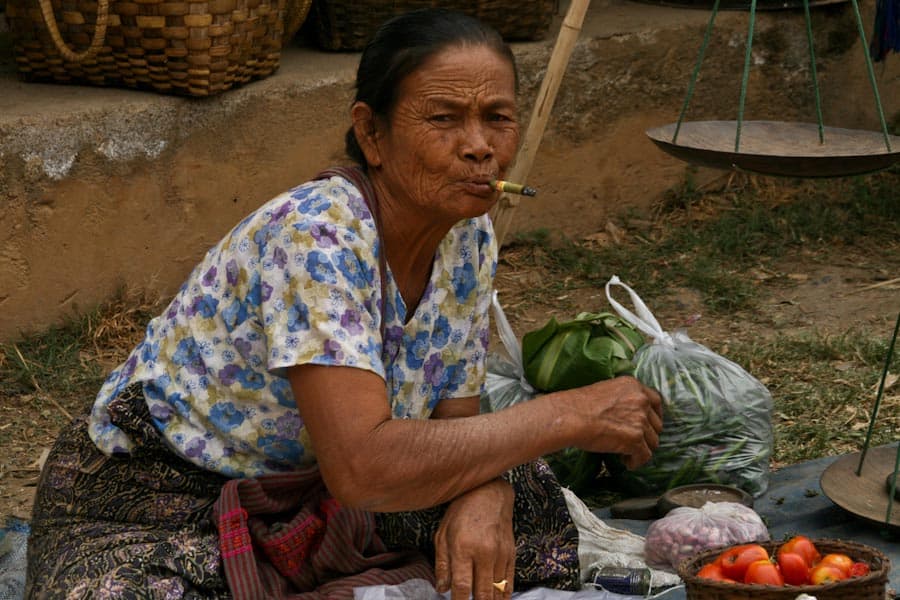 14) Burmese women have an impressive ability to carry heavy loads on their heads.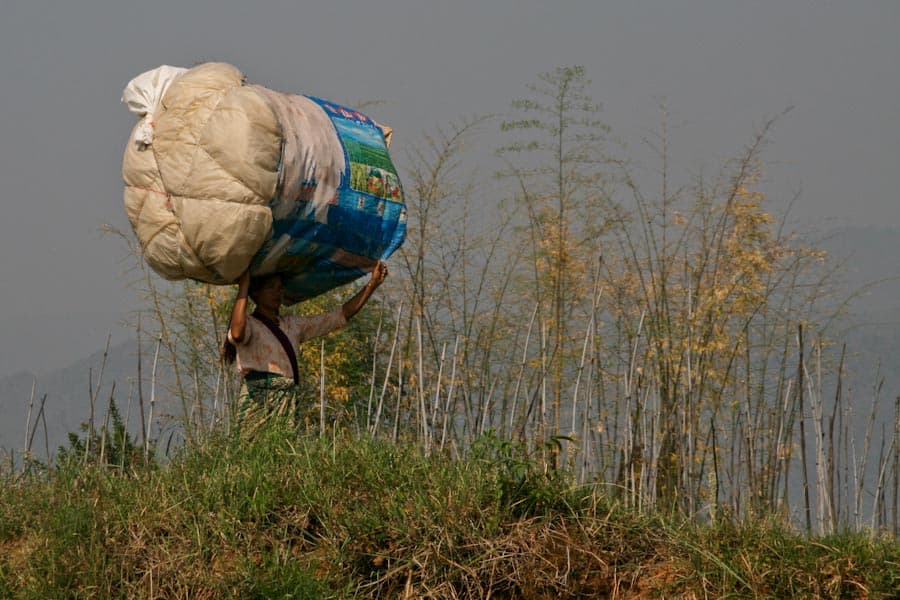 15) Fishermen at Inle Lake row their dugout canoes with one leg wrapped around a paddle, balancing on the end of the boat with the other, leaving their hands free to cast nets.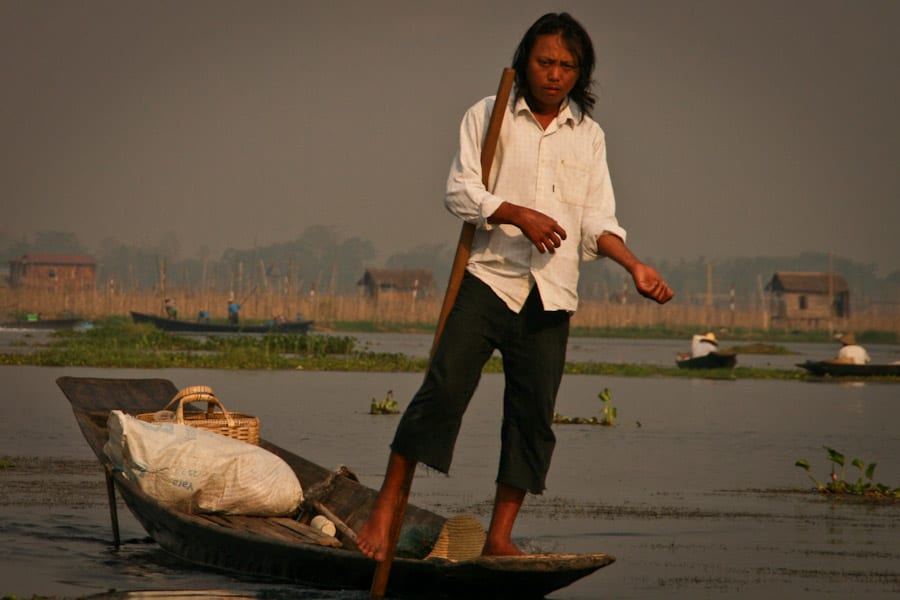 16) Child monks seem more common than adults and all wear maroon robes, in contrast to the saffron of neighbouring Thailand. At dawn you'll see them walking in a neat line to collect alms.
17) Squares of gold leaf are applied to Buddha images as a way of making merit. Some sacred statues have had so much gold leaf applied that they are now unidentifiable.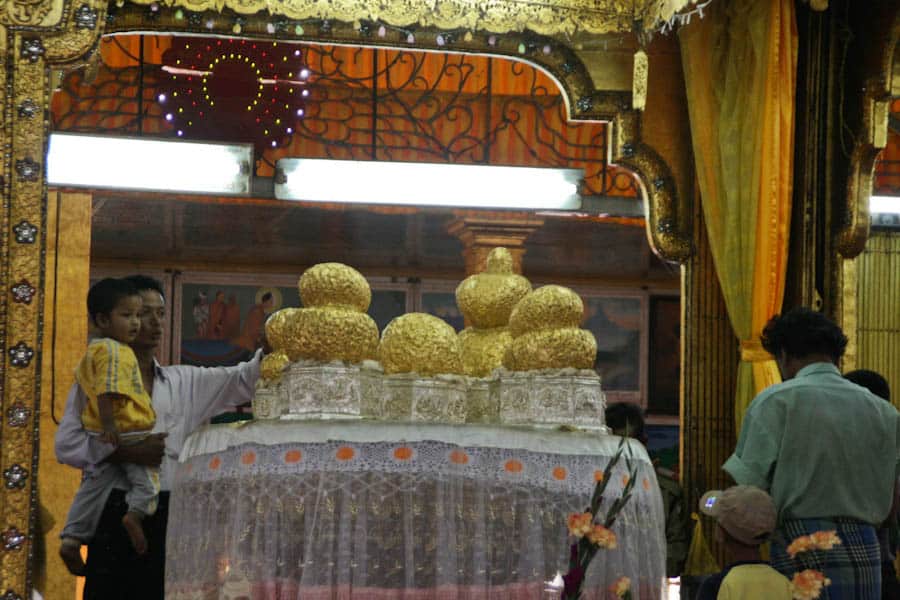 Food
18) Tea shops are to Burma what pubs are to England. They are places to chat, drink, eat, and watch sports.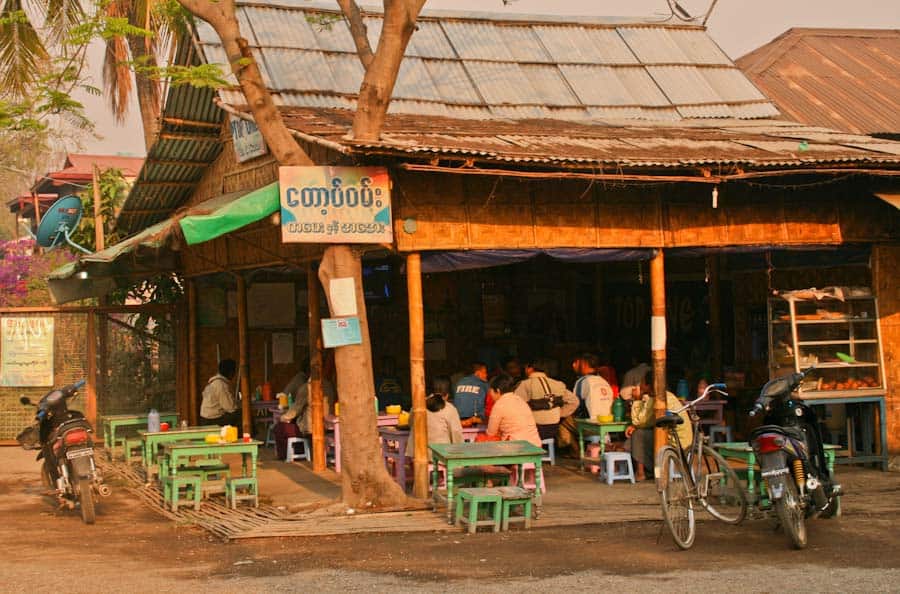 19) Seating in tea shops and food stalls is on tiny child-size stools.
20) Burma is one of the few countries where tea is eaten as well as drunk. Pickled tea is served with sweet jaggery as dessert, or mixed by hand with fried peas, peanuts, garlic, toasted sesame, garlic, tomato, chilli and lime to make the delicious lahpet thoke (tea leaf salad).
21) Noodles are eaten with chopsticks but other meals are eaten with a spoon in the right hand and a fork in the left which is used to push food onto the spoon.
22) Green Chinese tea is served in tiny cups for free at restaurants, food stalls and tea shops (you pay for the sweet black milky tea).
23) The Indian influence means that Indian food is common – we loved the all you can eat thalis for $1.20 and samosas and other fried street snacks.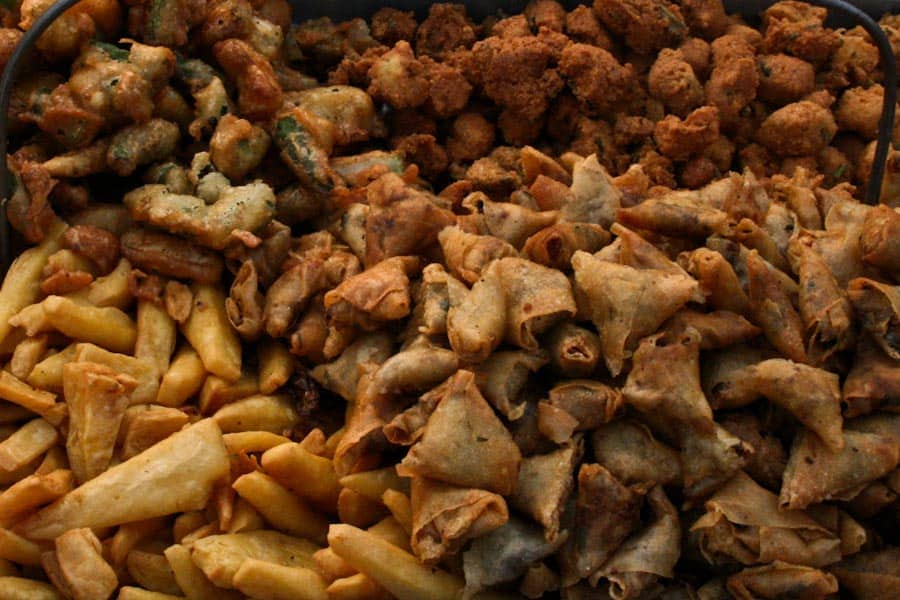 24) There are no Western chain stores or restaurants in the country.
Transport
25) Trishaws are different from those elsewhere in Asia – there are two back to back seats next to the bike, one facing forward and one backwards. They are usually ridden by longyi-clad, wiry old men.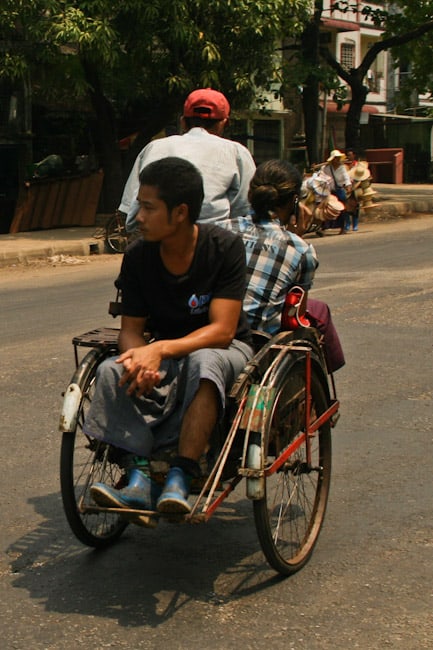 26) Horse cart is a common form of transportation in small towns.
27) Bullock carts are used as transportation in rural areas and we saw young boys riding, walking and washing their buffalos.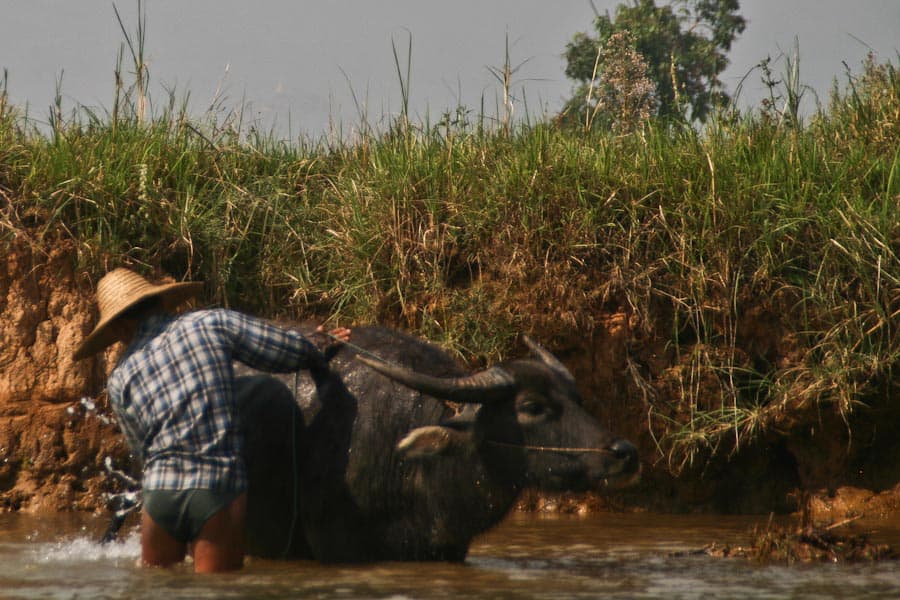 Street Scenes
28) Clay pots of water with cups are found on street corners everywhere – free for everyone to take a drink.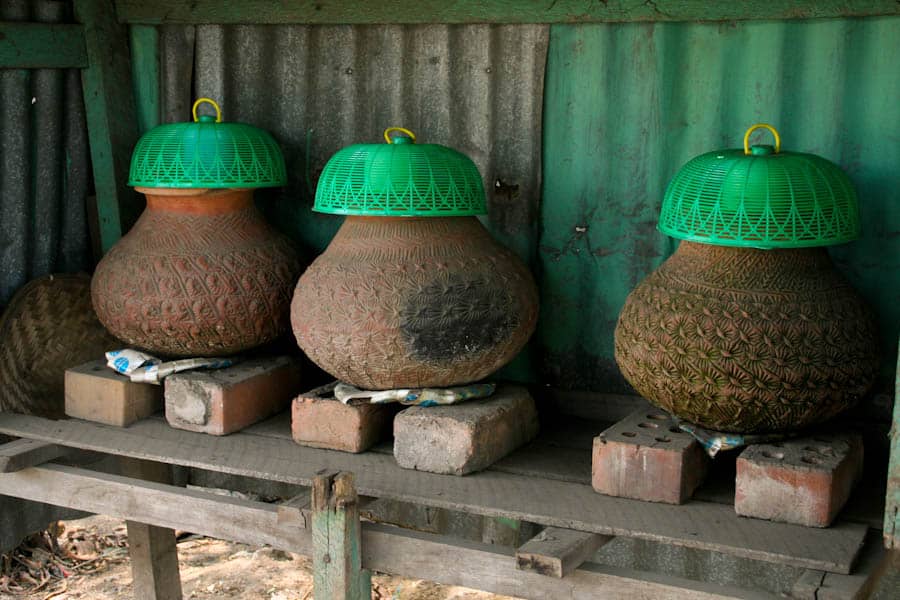 29) Mobile phones have only recently become more popular in Burma. The most common form of communication is the landline phones found on tables on the pavement.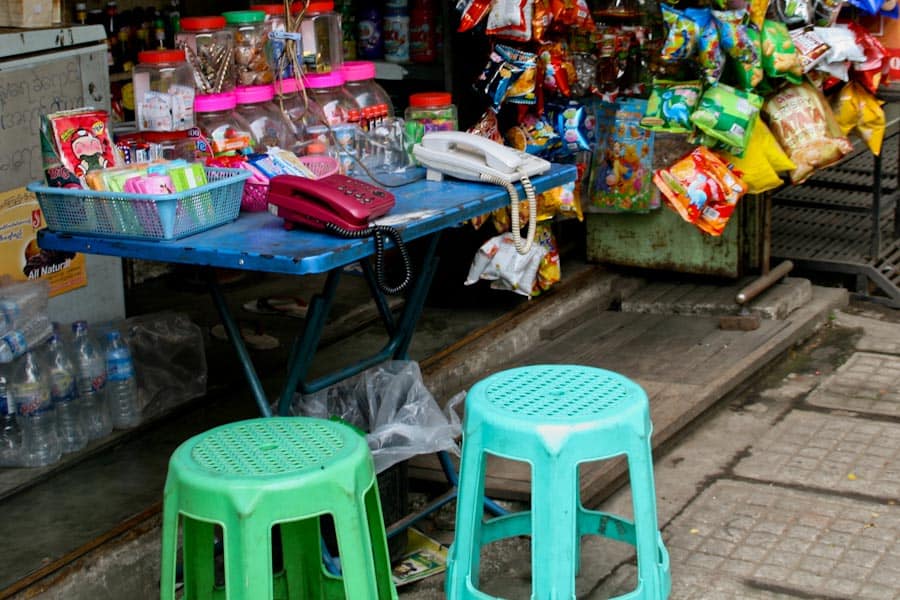 30) Post in Yangon is delivered by clipping it to long ropes which are hoisted up to each apartment.
31) Despite being a poor country there is very little begging.
32) The river is used to wash everything – people, laundry, dishes, buffalo, and even motorbikes.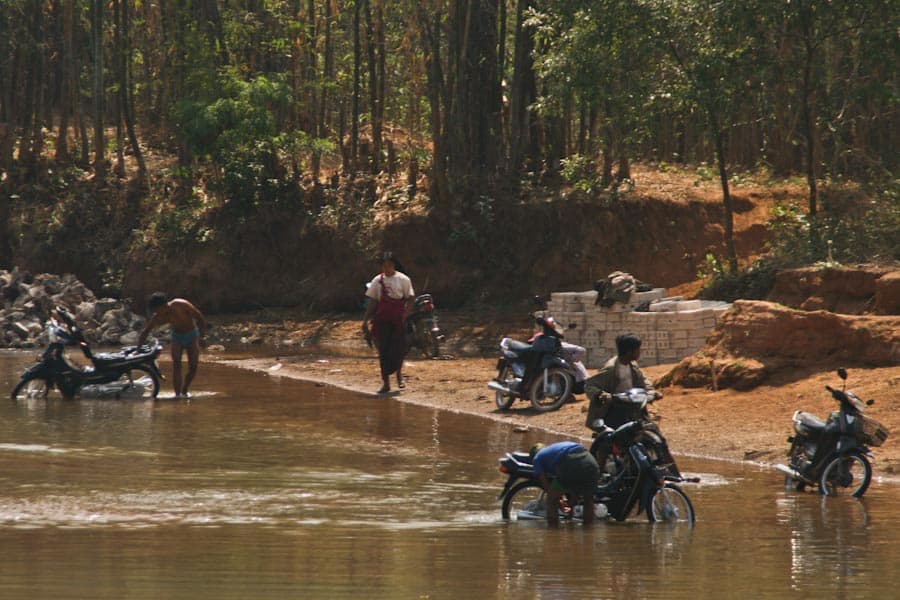 33) There is a TV in every restaurant, tea shop, and even temples.
34) Angry Birds t-shirts and other merchandise are crazily popular.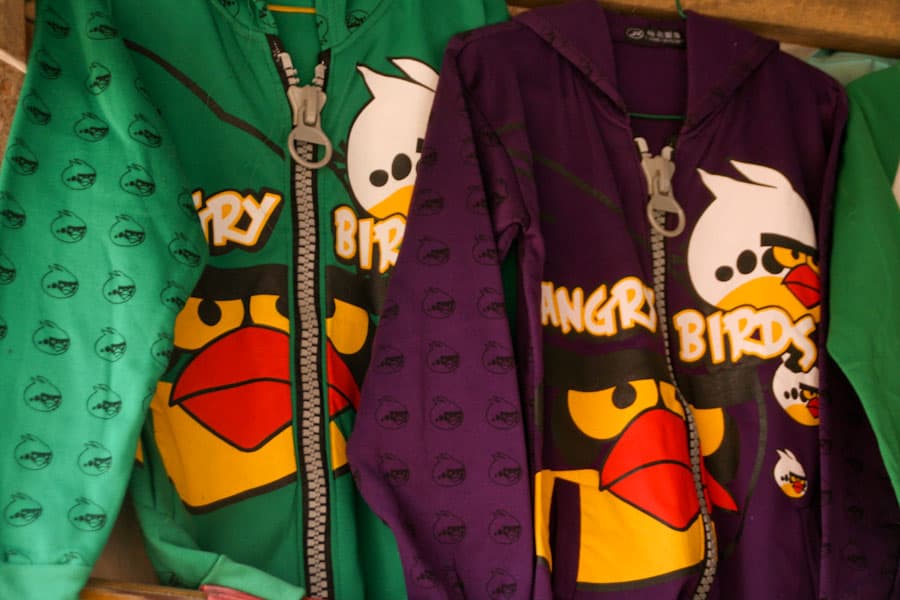 35) Motorbike drivers like to liven up their vehicles – we heard one motorbike play It's A Small World every time it braked.
If you'd like to visit Burma read our post on how to plan your trip.