This page contains affiliate links. Please read our disclosure for more info.
It took less than an hour for us to realise that driving to Burma was a mistake.
We could have been napping on a comfortable bus, but instead we found ourselves hunched on the back of our 125cc moped driving further up into the mountains as the icy wind whipped at our faces.
It hadn't begun well. Our attempt to get an early start had left us crawling our way out of Chiang Mai through thick morning traffic, but it wasn't until we left the city and were able to get past 40km an hour that we realised exactly how cold it was. As the driver, Simon bore the brunt of the wind tearing at his face and hands and any time he tried to speed up the pain became unbearable and we slowed right back down.
And it wasn't just the cold—riding at speed on a motorbike without a full face visor was incredibly loud. We felt like we were riding inside our own personal tornado.
We needed to leave Thailand to restart the second two months of our double entry tourist visa, and the Burmese border at Mae Sai is the nearest place from Chiang Mai. Most tourists take a minibus and do the visa run in a day, but the idea of spending a day on a bus felt like a waste and we were tempted by the idea of an adventure. It would be our first motorbike road trip and we'd get to see more of northern Thailand.
The first leg of our drive was supposed to take three hours, but two hours in and we were only a third of the way to our overnight stop in Chiang Rai. This was no fun.
We stopped at a hot spring surrounded by tourist shops and cafes. Simon warmed up with a surprisingly decent cappuccino and we bought some cheap gloves. Simon also improvised a t-shirt balaclava which made him look like an angry dissident but kept his ears warm. Thanks to the extra layers, we were able to gradually pick up speed.
The route improved too – the mountain roads were quiet, windy and fun to ride. We passed green rice paddy fields, stilted wooden huts, pink and red flowers, and women selling piles of tangerines by the side of the road. As we drove further into northern Thailand we could track our progress by the fruit sold at the dozens of identical stalls lined up on the roadside – tangerines, then pineapples and finally, in the cooler hills, strawberries.
Five hours later we made it to the outskirts of Chiang Rai and stopped to see the White Temple (Wat Rong Khun) and we realised our epic journey had been worth it. This contemporary temple was the most extraordinary we had ever seen – ornate, extravagant, dazzlingly white, and full of gothic details that we spent hours exploring.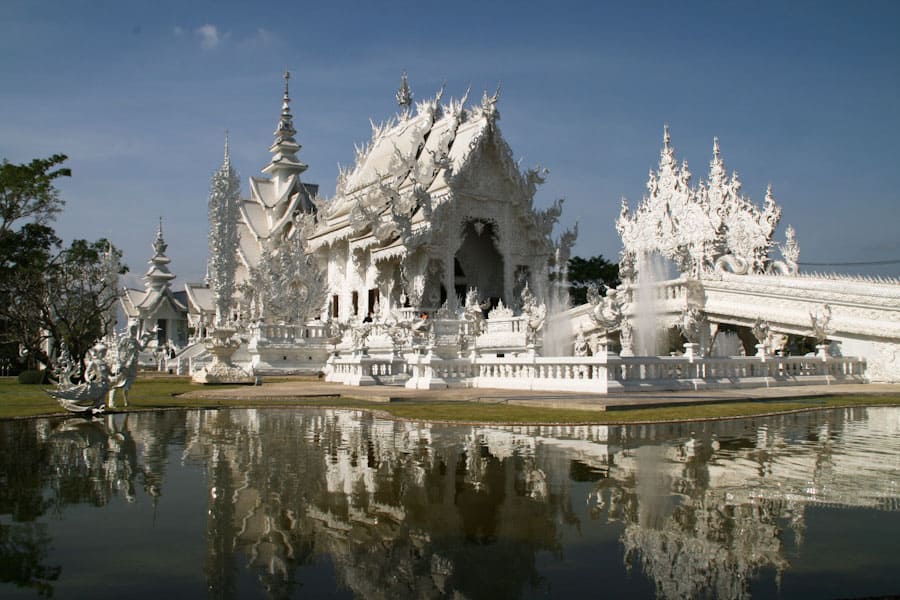 We didn't think anywhere else in Chiang Rai could top the White Temple, but the Black House (Baan Dam) did. The estate of Thai artist Thawan Duchanee features 40 contemporary buildings influenced by traditional Thai styles, almost all in black, set in peaceful gardens. Each is filled with Duchanee's art work and collections from around the world – sculptures, wood carvings, and animal skins, skulls and bones, often fashioned into bizarre furniture.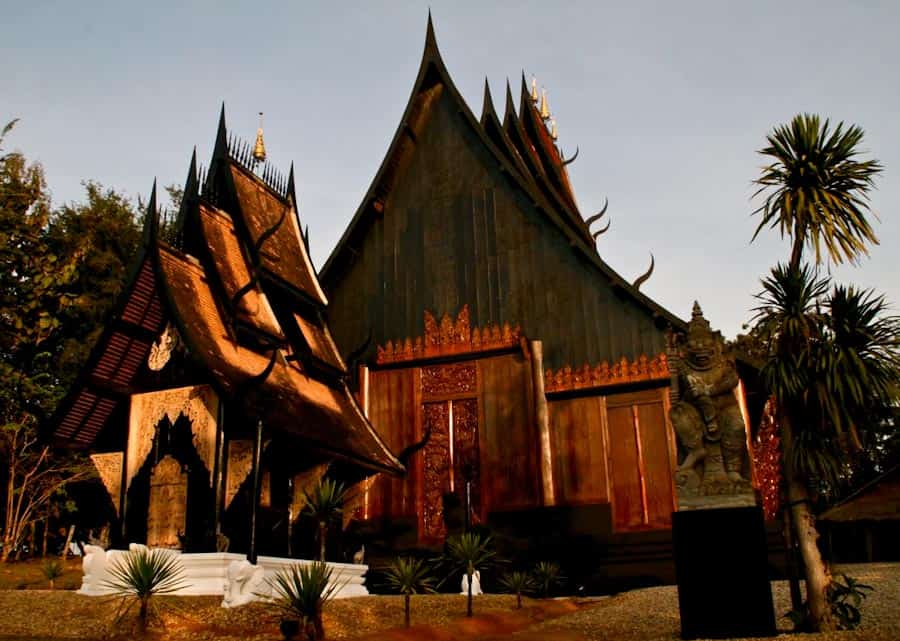 We spent the night in Chiang Rai, and although we didn't think much of the city, it's a good place to break the journey and the White Temple and Black House make it definitely worth a visit.
The next morning we set off for the Burmese border under dark clouds. At times it felt like we were driving through a post-apocalyptic wasteland with dusty, industrial towns of concrete, and the bitter smell of burning fields.
Things grew quieter and more attractive as we left the towns behind and the mountains got closer. We passed sweet-smelling pineapple stalls, fields of sunflowers, and dozens of strawberry vendors. We couldn't resist stopping and were enticed to sample the strawberry, lichee and mulberry wines despite it only being 10am. Still, 100B ($3.25) was a bargain for a bottle.
It took about 1.5 hours to reach Mae Sai where we had the easiest border crossing ever – there were no queues and the Burmese border officials knew why we were there. After paying the 500B entry fee we could have headed straight back to Thailand but instead we exchanged our passports for a temporary identity card and walked over the bridge to Burma (or, officially, Myanmar).
Immediately we were surrounded by tuktuk drivers selling trips to long neck villages. The market didn't provide any respite – here it was cigarettes and viagra instead. We hadn't experienced this kind of intense sell since India and as the only non-Asians around we were easy targets. Even more odd were the child monks begging – some very persistently – which we have never experienced anywhere else.
Burma felt dustier and more traditional than Thailand. Cycle rickshaws waited on corners; people wore colourful longhi rather than jeans; and women's faces were stripped with thanaka, a beige makeup. We bought samosas from a street stall and headed back to Thailand – we had a long trip to Chiang Mai ahead of us.
Despite having a lot more ground to cover on our second day, the ride was much more enjoyable. Riding together on a motorbike is a strangely solitary experience – it was too loud to talk but this created space for our thoughts to flow and to notice details of the landscape we were passing through.
Simon grew in confidence and we often reached speeds of 80 or 90 km/h which, on the back of our moped, felt like certain death – I didn't dare move. At these speeds there was no room for error: every pothole or gravel patch could be fatal. This alone makes it a much more visceral experience than a car journey.
Stretches of the return journey were spectacular, especially zooming around the curves of a windy mountain road. In towns we passed dogs on motorbikes, songthaew packed full of orange-clad monks, and the ubiquitous giant billboards of the King.
A straight, traffic-clogged road through uninspiring scenery in extreme cold or heat just isn't fun; whereas winding through empty mountain roads beneath the shining sun is pure joy. The speed is exhilarating and the sense of freedom intoxicating. Our first motorbike road trip may have had a challenging beginning, but by the end we were hooked.
Tips for Driving a Motorbike to Mae Sai
Driving from Chiang Mai to Mae Sai is a long trip but we do recommend it for intermediate drivers. Here are some tips to get the most from your trip.
Chiang Mai to Mae Sai is an over 500km return journey. If you want to do it as a day trip take the bus. Although we know people who have driven it in a day it's a long way and it's much better to break up the journey in Chiang Rai or Mae Sai. If we did it again we'd spend more than one night in northern Thailand as it was exhausting.
You can hire mopeds in Chiang Mai for around 150B a day (or we pay 2400B a month). We spent around 400 – 450B on petrol.
We stayed at the Baan Bua guesthouse in Chiang Rai for 400B for an ensuite double. It was basic but spacious enough with a hot shower and pleasant garden setting.
The White Temple is 13km south of Chiang Rai and the Black House is 10km north. Both are free and we highly recommend visiting them.
Wear lots of layers of warm clothes. It'll be hot in the cities but very cold on the mountain roads on the back of a motorbike, especially in the early morning.
A motorbike helmet that covers your face would be ideal, but if not wear sunglasses even if it's not sunny as they will protect your eyes from dust and bugs.
Pack light, especially if there are two of you on the motorbike.
Motorbikes are expected to keep to the far left of the road to stay out of the way of cars. Be aware though – coming across a bike driving towards you on the wrong side of the road isn't unusual!
You don't need a map if you are just driving from Chiang Mai to Mae Sai via Chiang Rai. It's a very easy route: take the 118 from the centre of Chiang Mai until it hits Highway 1. Turn left here and it takes you all the way to Chiang Rai and beyond to Mae Sai.