This page contains affiliate links. Please read our disclosure for more info.
On our motorbike road trip to Burma we stopped in Chiang Rai and visited the extraordinary, ornate, dazzling White Temple. We were sure nothing could top that experience but just 10km north of Chiang Rai we found a place that blew us away even more.
You can't help but compare the Black House (Baan Dam in Thai) to the White Temple. At first they seem like exact opposites – the White Temple is south of Chiang Rai, a gleaming white vision of heaven, and a popular tourist attraction. The Black House is north of the city, dark and full of death, and is far less well known. But both were created by Chiang Rai natives, both artists with ambitious visions. The White Temple is Chalermchai Kositpipat's masterpiece, and the Black House is the estate of Thawan Duchanee – both projects are ongoing and will take decades of work before the artists are satisfied they are complete. Both are unique creations unlike anything else we've seen.
The Black House feels hidden and mysterious – it's a little tricky to find, receives very few foreign visitors, and there are no signs to explain the displays.
As you approach the first thing you see is the huge Lanna-style vihara of charcoal black wood with a steeply pitched, multi-tiered roof. Although it resembles a temple it isn't a religious building and inside you'll discover a long dark wooden table, animal skins hanging from beams, and an exhibition of contemporary paintings.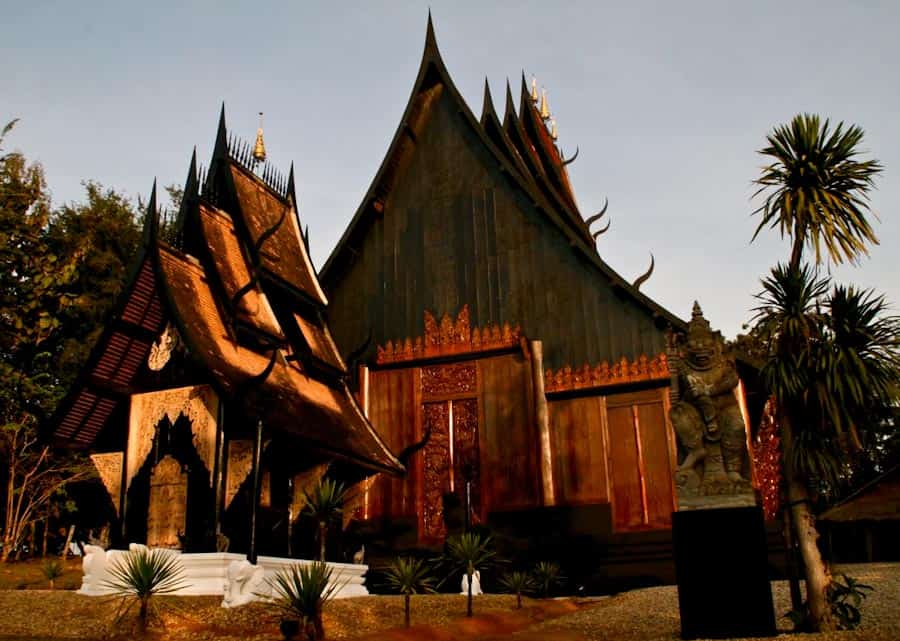 As at the White Temple is was the craftsmanship and attention to detail that impressed us – the graceful swirled peaks of the roof…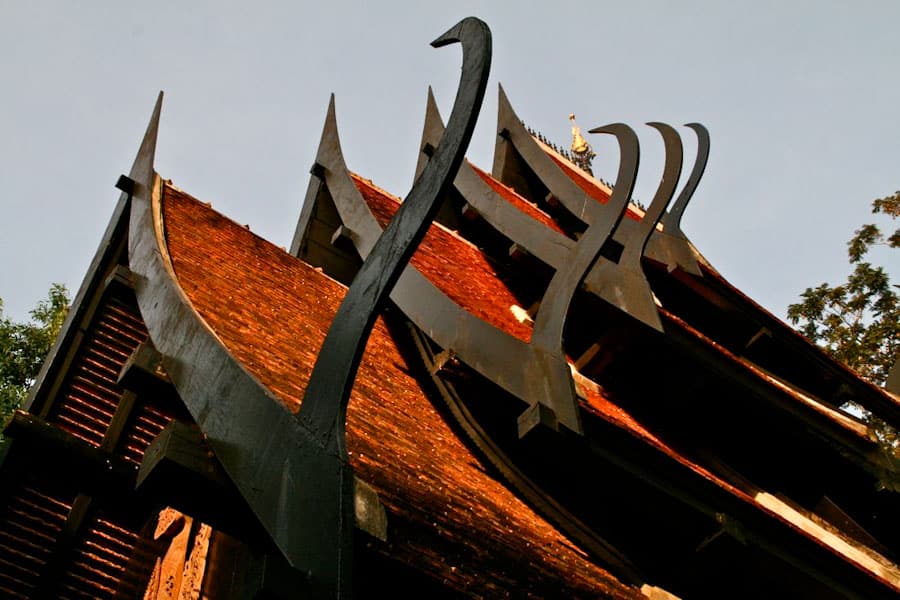 And the intricate wood carvings on the side of the vihara, glowing in the late afternoon light.
The main building would be worth a visit alone but at the Black House there is much more to explore. Duchanee's estate is a complex of 40 small galleries inside buildings of diverse architectural styles, spread out amongst the peaceful gardens. They display his collection of artwork – sculptures, wood carvings, and furniture created by him, and collected from around the world.
This isn't your usual art collection though. It has an organic feel with wooden structures housing many animal skulls, bones and skins.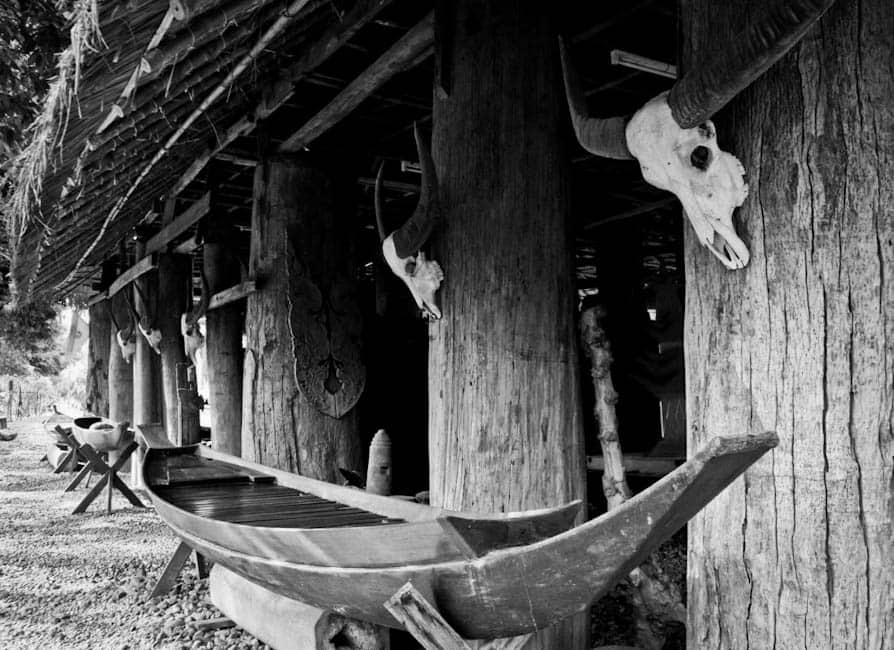 Animal teeth pinned to a wooden pillar: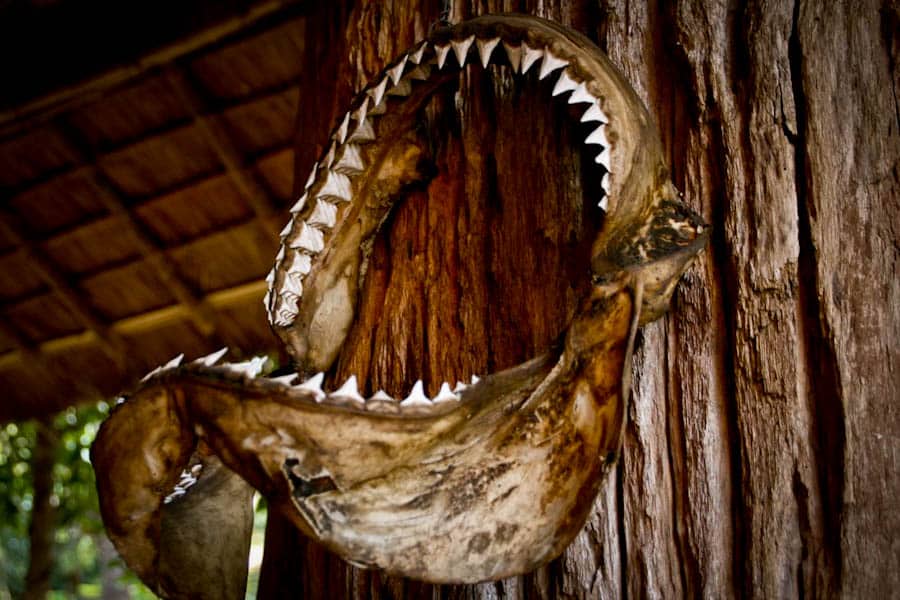 Honestly, as vegetarians we felt a little guilty for enjoying a place so full of animal death, but we couldn't help but be impressed by the craftsmanship and vision in this unique place. We can only assume/hope that the animals weren't killed just to be displayed here.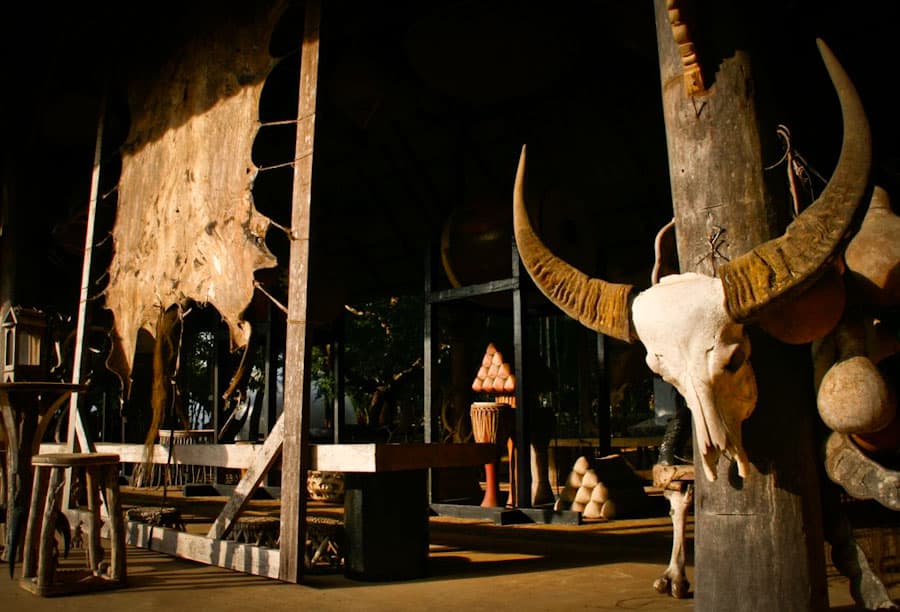 An entire elephant skeleton was laid out under a stilted black pavilion: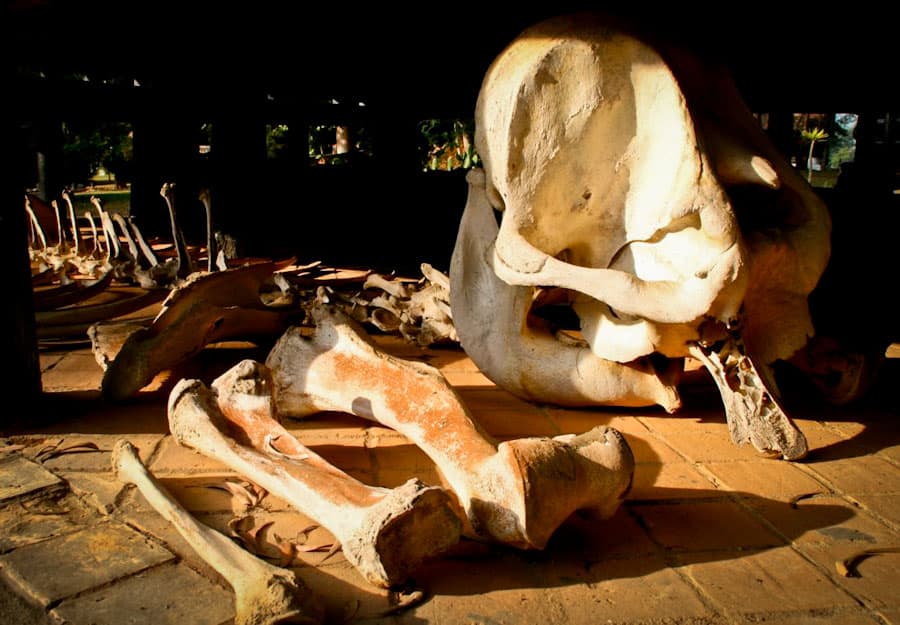 It's a quiet, mysterious place with new discoveries around every corner, always surprising. Duchanee combines elements of traditional Thai architecture with influences from around the world and a contemporary twist.
The gardens stretched on and on and we kept stumbling upon more buildings hidden in shady corners. As we peeked inside we never knew what to expect. We certainly didn't expect this bizarre bathroom with wooden birds hanging from the high ceiling.
In the furthest reaches of the grounds the structures become even more surreal, less natural, and depart from the signature dark colours. The Black House has been a work in progress for over 35 years so I imagine these were more recent additions.
The most surprisingly and strange building of them all, that we decided was a cross between a pig and a dinosaur, contained an extravagant bedroom of animal skin rugs and gothic teak furniture.
This chapel-like building looks simple on the outside.
But inside we found the perfect setting for a rock star photo shoot. Simon was happy to play the rock star of course…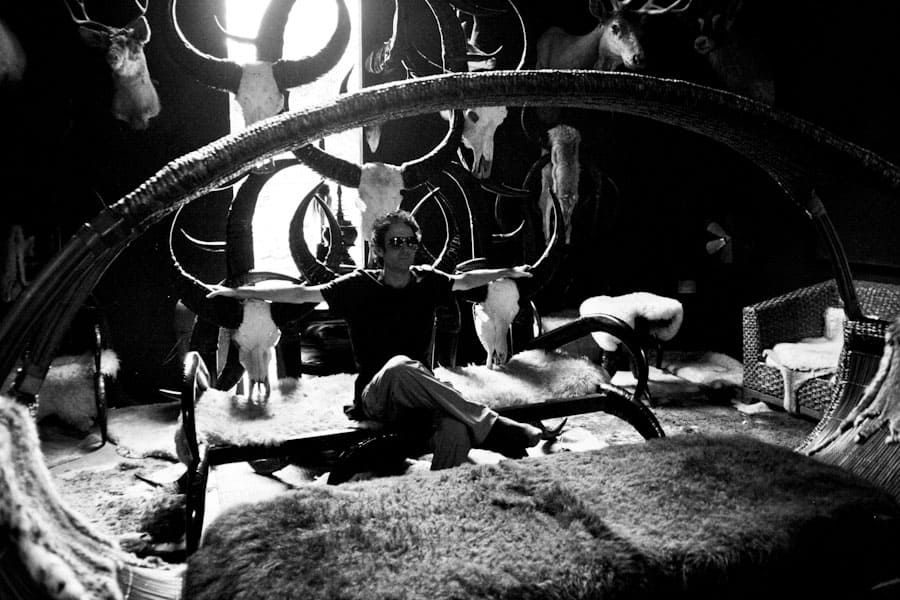 Inside the chapel all of the furniture was made from skulls and bones; and stag heads, furs and peacock feathers filled up every available space.
The Black House is one of the most unusual, bizarre, and innovative art sites we have ever visited. Every turn brought new surprises and we could have spent all day exploring every building, every carefully-crafted detail.
Chiang Rai appears at first to be an unexciting, provincial city but we discovered that it is actually a remarkable centre of cutting-edge creativity. Chalermchai Kositpipat's White Temple and Thawan Duchanee's Black House combine Thai traditions with contemporary ideas in a unique way.
The city's art scene is growing and we noticed many signs to artist studios on the outskirts of town as part of the Cultural Bureau's Artist Open House initiative. Take the time to explore and you'll discover that Chiang Rai has more to offer than first impressions suggest.
Visiting The Black House
The Black House (Baan Dam) is located 10km north of Chiang Rai at Moo 13, Tambon Nang Lae, Ban Dhu. It can be difficult to find and English signage is limited. If you follow these directions carefully you should be fine though. It'll be easier with your own transport or in a taxi.
Follow Highway 1 north of Chiang Rai and look out for the University. 2km past the University keep an eye out on the left for a purple sign with the name Thawan Duchanee. 100m past that there is a brown wooden sign with 13 on it (for Moo 13), go left here and follow the road until you get to a blue sign with four places on it written in Thai. Turn left here and look for the Black House a little further along on the left.
The Black House is open from 9am to 12pm and from 1pm to 5pm every day. Entry is free.
Also don't miss the White Temple while you are in Chiang Rai, 13 km south of the city, also just off Highway 1.