This page contains affiliate links. Please read our disclosure for more info.
The cost of travel in Japan puts many people off visiting. We wouldn't have travelled there ourselves if we hadn't had the opportunity to spend three and a half weeks housesitting in Kyoto.
Yes, it is expensive, at times shockingly so, but it probably doesn't cost much more than many places in Western Europe and it was utterly worth it.
There aren't many places in the world that have such a unique and fascinating culture, yet it's a developed country where everything just works. The people are wonderfully polite, the trains are comfortable and always on time, accommodation is of a high standard and the food is delicious.
So how much did five and a half weeks in Japan cost us?
We've broken the expenses down into the housesitting period where we had no accommodation expenses and access to a kitchen, and our travelling around Japan period.
These costs are for two people.
Currency: GBP
Summary

| Country | Total Spent | Days in country | Cost per day |
| --- | --- | --- | --- |
| TOTALS: | £2,665.98 | 38 | £70.16 |
| Housesitting Japan | £712.56 | 24 | £29.69 |
| Travelling Japan | £1,953.42 | 14 | £139.53 |
Breakdown

| Country | Accommodation | Food | Transport | Entertainment | Other | Total Per Day |
| --- | --- | --- | --- | --- | --- | --- |
| Housesitting Japan | £0.00 | £20.63 | £5.58 | £3.44 | £0.04 | £29.69 |
| Travelling Japan | £48.57 | £30.00 | £46.36 | £14.21 | £0.39 | £139.53 |
Currency: USD
Summary

| Country | Total Spent | Days in country | Cost per day |
| --- | --- | --- | --- |
| TOTALS: | $4,212.25 | 38 | $110.85 |
| Housesitting Japan | $1,125.84 | 24 | $46.91 |
| Travelling Japan | $3,086.40 | 14 | $220.46 |
Breakdown

| Country | Accommodation | Food | Transport | Entertainment | Other | Total Per Day |
| --- | --- | --- | --- | --- | --- | --- |
| Housesitting Japan | $0.00 | $32.60 | $8.82 | $5.44 | $0.06 | $46.91 |
| Travelling Japan | $76.74 | $47.40 | $73.25 | $22.45 | $0.62 | $220.46 |
This is the breakdown of how much this works out on an average daily basis.
Notes on Our Expenses
See the summary of our Japan travel costs on our second trip to Japan in 2017 in our Japan itinerary.
Housesitting
We found our Kyoto housesit through Mind My House. Japan housesits don't come up very often but it was a great opportunity to get to know the city and save a lot of money. Kyoto was a great place to be based. There is so much to do in Kyoto and in the surrounding areas, and it's not as hectic as Tokyo.
We mostly cooked for ourselves. Supermarkets aren't cheap, especially for fruit and cheese, but there are some bargains like fresh noodles for 50p. We ate out about five times, always at lunch when it was cheaper. We did eat at a few quite expensive restaurants though.
Transport included the metro and bus around Kyoto plus a few longer train journeys to Nara and Kibune.
Entertainment was almost all entrance fees for Kyoto temples and shrines which are often about 500 yen (US$6.50) although there are plenty of free ones too.
Other covers miscellaneous items like postcards and toiletries.
Spending £30 ($47) a day for two people in Kyoto is a bargain and we are so glad we found the housesit. If you had to add accommodation expenses but were able to self-cater as much as we did this budget would go up to about £95 ($149) a day for two based on staying in an 8000 yen double ensuite room in a hostel.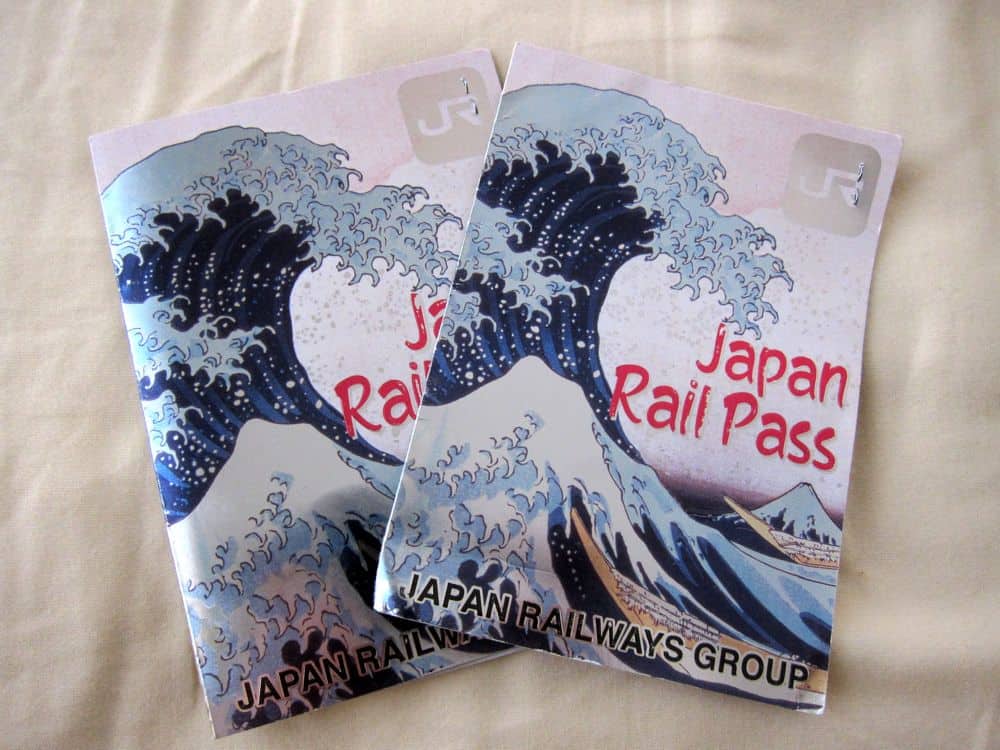 Travelling Around Japan
This is when things start to get expensive and more accurately reflect the cost of travelling in Japan.
We bought a 7 day Japan Rail Pass for 28,300 yen each – a whopping $368 or £234. This does save you a lot of money if you want to ride the bullet trains (which you do, they are awesome). This isn't much more than a return trip from Tokyo to Kyoto would cost.
The additional travel costs were local metros and trains, especially in Tokyo, and trains to and from the airport. We took a taxi once. Our trip from Osaka – Koya-san was also not included in our rail pass (it's for Japan rail only) so this was extra.
We spent the week with a rail pass on a whirlwind tour of the country, followed by a week in Tokyo. We stayed in double rooms in business hotels and hostels, and the more expensive traditional rooms in a temple and a ryokan (traditional inn). Our ryokan was on the budget end of the spectrum but still cost 17,430 yen ($226/£144)! It's the most we've ever paid for a place to stay but it does include a gourmet, multi-dish breakfast and dinner, and it's worth splashing out for the experience.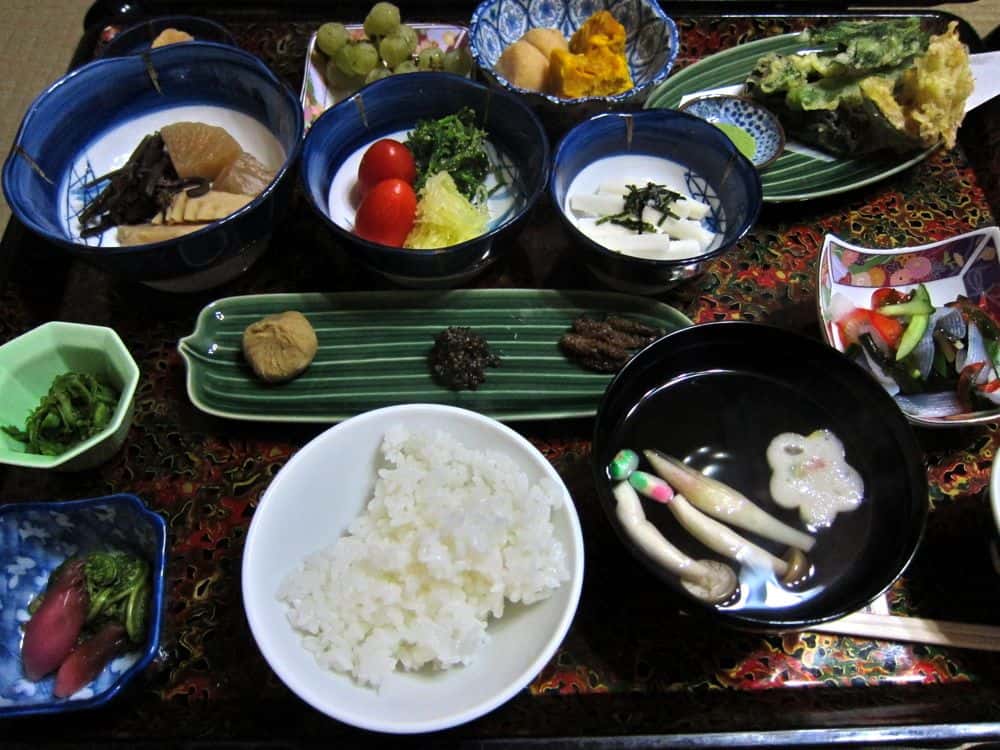 We ate out for most meals except for a few we cooked in Tokyo. As vegetarians we can't always eat at the cheap noodle places where you can eat for 500 yen ($6.50). We found a budget meal was usually around 1000 yen each ($13). Drinks can really add up, even coffee and soft drinks. A coffee break for two could cost 900 yen ($12). We tried to avoid it but in the middle of a typhoon we sometimes needed a retreat.
Our entertainment budget is mostly made up of two-day tickets to Disney Tokyo at 10,200 yen ($132) each. It was worth it though to see the uniquely Japanese twist on Disney and we really loved the more adult focused park Disney Sea. We spent 12 hours just there so it was good value for money!
Our apartment in Tokyo was subsidised, so adding the full apartment cost to our budget would take our total daily budget while travelling up to $256 (£162) a day for two people. Ouch!
Money Saving Tips for Japan
If you can find a way to get free accommodation by housesitting or couchsurfing you will save a lot of money.
For big cities use sites like Booking.com to get the best rates at business hotels. It can be cheaper than a hostel.
See our Guide to Accommodation Options in Japan to find out which type of accommodation is cheapest and is best for you.
Self cater as much as you can and eat in cheap noodle places, often found near train stations. Don't forget to splurge now and again though and enjoy the amazing Japanese cuisine.
Alcohol is expensive. If you do drink buy beers from a vending machine or convenience store instead of bars.
Stick to tap water and the free tea with meals. Soft drinks are very expensive in restaurants – again we only drank them from vending machines or convenience stores.
Don't tip. It's not expected here and can even offend.
Get a Japan Rail Pass. It's expensive but worth it as the only affordable way to ride the super efficient, fast and comfortable bullet trains.
Walk as much as possible to save on metro and local bus costs. Don't even think about getting a taxi.
Usually I recommend travelling slowly to save money, but due to the cost of rail passes and accommodation Japan isn't really the place to hang out if you are on a budget.
It's undeniable, Japan is expensive, but for us it was worth every penny.
If you enjoyed this post, pin it!