This page contains affiliate links. Please read our disclosure for more info.
We never expected to spend nearly five months in Bali. The island didn't make the best first impression—it seemed touristy and overdeveloped—but it rewards a longer stay, and over time our love for it grew. By living in a village outside Ubud, we got to see beyond the souvenir shops and congested roads, and learnt more about the fascinating local culture that is so different from anywhere else we've visited.
1) Bali is overdeveloped and traffic clogged.
2) Bali is a paradise of lush green rice paddies, beaches, volcanoes, temples, and friendly people.
3) The island is a pocket of Hinduism in Indonesia, the world's most populous Muslim nation.
4) The arts flourished in Bali after the exodus of the Hindu elite from Javanese kingdoms in the 16th century, when Islam spread across the archipelago. Dance, painting, and wood and stone carving are still common.
5) Balinese Hinduism is different from in India. It's more animistic—the Balinese worship Hindu gods, but also the gods of the earth, mountains, and sea. There's no untouchable caste and arranged marriages are very rare.
6) Temples are everywhere—in homes, offices, rice fields, beaches, and by lakes. There are even more small shrines—like the one in our garden where our landlord's wife or daughter would come every few days with offerings.
7) Daily offerings (canang sari) are made to the gods. These little baskets are made from woven coconut leaves and filled with colourful flowers and perhaps some food, most commonly rice, but we've seen bread, crackers, and even cigarettes. Women make 25-50 per day for their family and place them in homes, businesses, and on the street.
8) Temple ceremonies are frequent—the Balinese take part in dozens a year at their family, village, and district temples. You'll often see processions of locals in traditional dress, the women with towering pyramids of fruit balanced on their heads as offerings.
9) To enter a temple, everyone, male and female, must wear a sarong. Women wear batik sarongs with lacy blouses and colourful sashes; the men wear sarongs, shirts, and white head cloths.
10) Cremation ceremonies are elaborate and involve whole communities. As the costs are high, people are often buried (sometimes for years) until they can be part of a mass cremation.
11) The gamelan is the soundtrack to Bali—this percussive focused orchestra is an important part of ceremonies.
12) Bali has an ancient dance tradition, with most dances connected to Hindu rituals.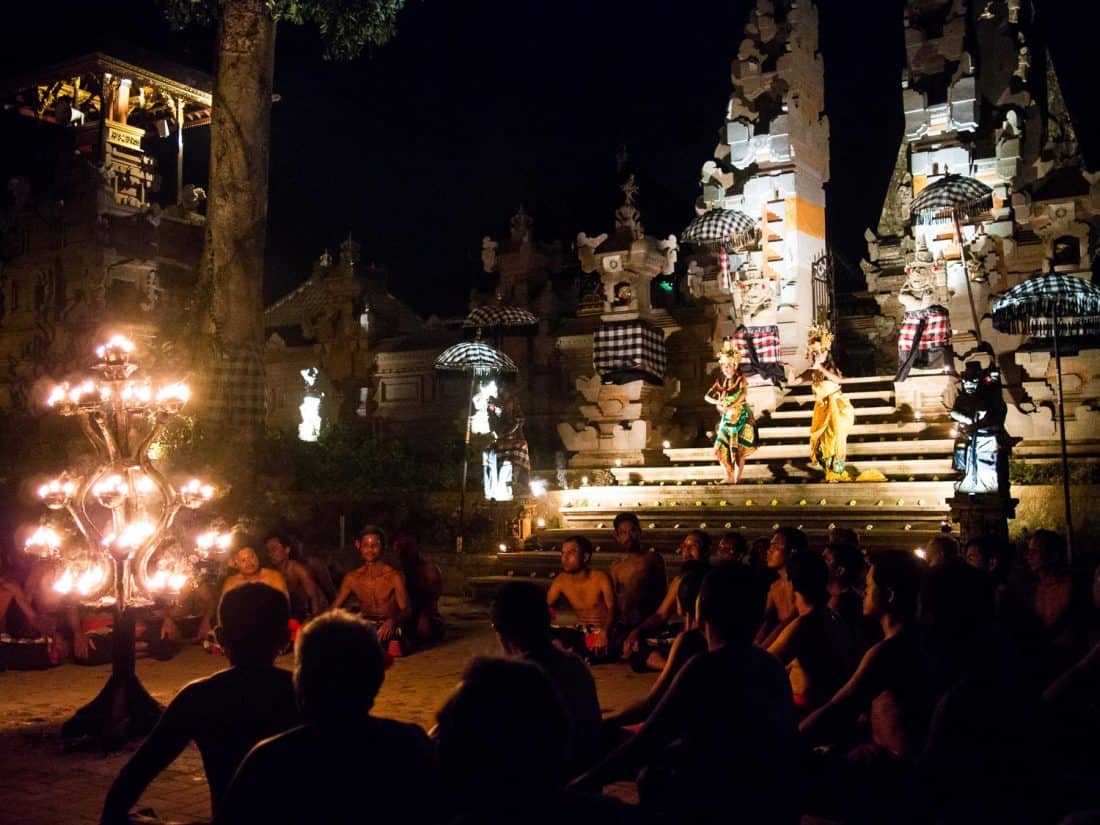 13) Don't be surprised if you see a swastika—it's an ancient Hindu symbol meaning harmony with the universe.
14) There are only four names in Bali, used for males and females. The first born child is named Wayan, and subsequent children are Made, Nyoman, and Ketut. The many Wayan and Mades in our contact list was very confusing!
15) Multiple generations of Balinese live together in family compounds. There's an open-sided central pavilion that's used for ceremonies and as a living space; small bungalows for each family—the youngest has the front house and the oldest the highest house; and a family temple.
16) When sons marry, their wives move in. If a family only has daughters, the youngest has to find a husband who's prepared to move in with her family (not an easy task). This is because the youngest inherits (the theory is they'll live the longest).
17) Women only cook once a day. Early in the morning, they'll prepare rice and various dishes from vegetables, tempeh, and meat, and leave it out for the family to help themselves to throughout the day. As the family lives together, they don't find it necessary to eat together.
18) Before cooking, the women visit the market—between 4 am and 6 am is prime time. Most produce markets close by 9 am.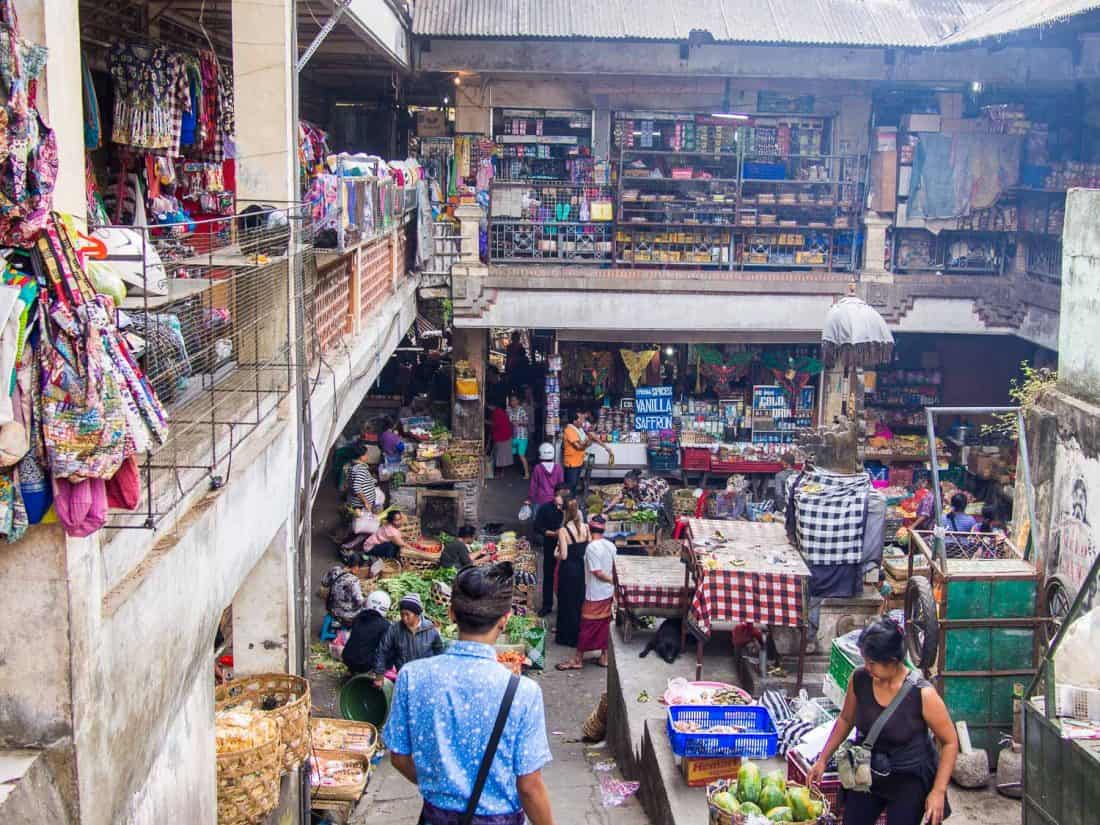 19) Most families have their own rice fields which produce enough for their needs and offerings to the gods.
20) Ducks are an important part of the rice life cycle. After the harvest, they are brought to the fields to eat old pieces of grain and insects that would destroy the next crop, and fertilise the fields with their droppings. You can often see them being herded down the road.
21) Temples and family compounds are surrounded by high walls with ornately carved entrances featuring mythological figures as guardians.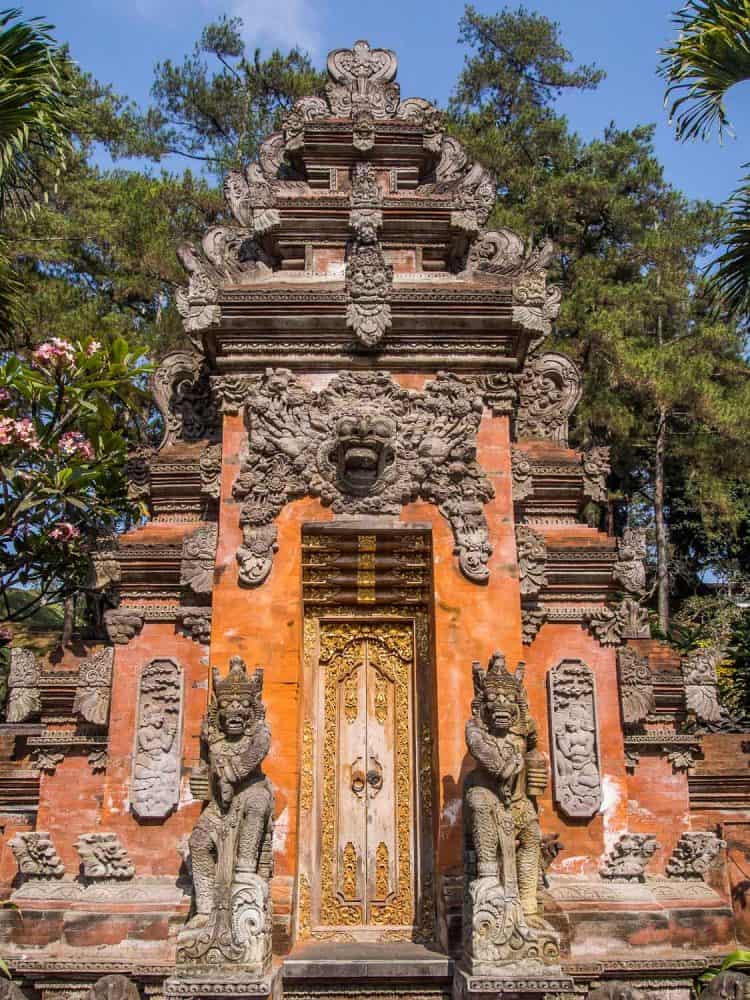 22) Women do the heavy lifting at construction sites, balancing baskets loaded with rocks or sand on their heads.
23) Motorbikes are the main form of transport—you'll see them ridden by ten-year-olds on their way to school, entire families of five, and used as transport for everything, no matter how huge and unwieldy.
24) Petrol is sold in vodka or water bottles by the side of the road. We were once served by a seven-year-old in an immaculate flowery dress.
25) There are many stray dogs and rabies is a big problem here.
26) Ubud is one of the most vegetarian-friendly places we've visited. Even raw vegan food is common.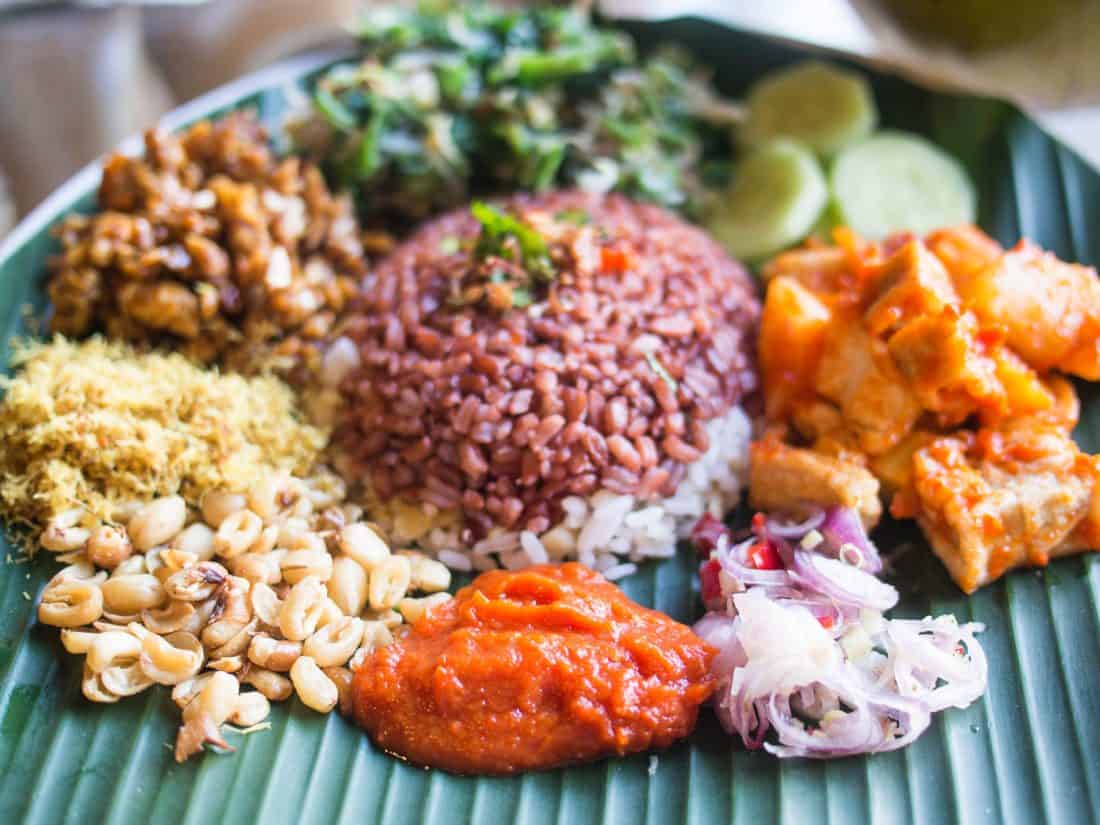 27) It's also yogi heaven with dozens of classes to choose from every day, all with beautiful views of rice fields or lush gardens.
28) Balinese Luwak coffee is the most expensive in the world. It is produced from beans that have been digested by a cat-like animal called a civet. We avoided it because the civets are often kept in cruel conditions and it all seems a ploy to get more money out of tourists. The two "coffee plantations" we visited were little more than gift shops.
29) The Balinese observe three different calendars—the 365-day Gregorian calendar, the 210-day Pawukon calendar, and the 12-month Saka lunar calendar,
30) The monkeys are thieves.