This page contains affiliate links. Please read our disclosure for more info.
Ubud isn't the kind of place where you need a long to-do list. None of the sights or activities are "must-dos".
If all you did during your stay was eat, walk through the rice fields, and perhaps get a massage or take a yoga class, then that's a successful Ubud visit in my opinion.
That said, if you are feeling more active, there are plenty of things to do in Ubud to occupy your time.
Our Ubud travel guide shares our top tips for what to do in Ubud, where to eat and stay, how to get there, and a map with all our recommendations.
Contents
Best Things to Do in Ubud, Bali
1) Stay Out of Town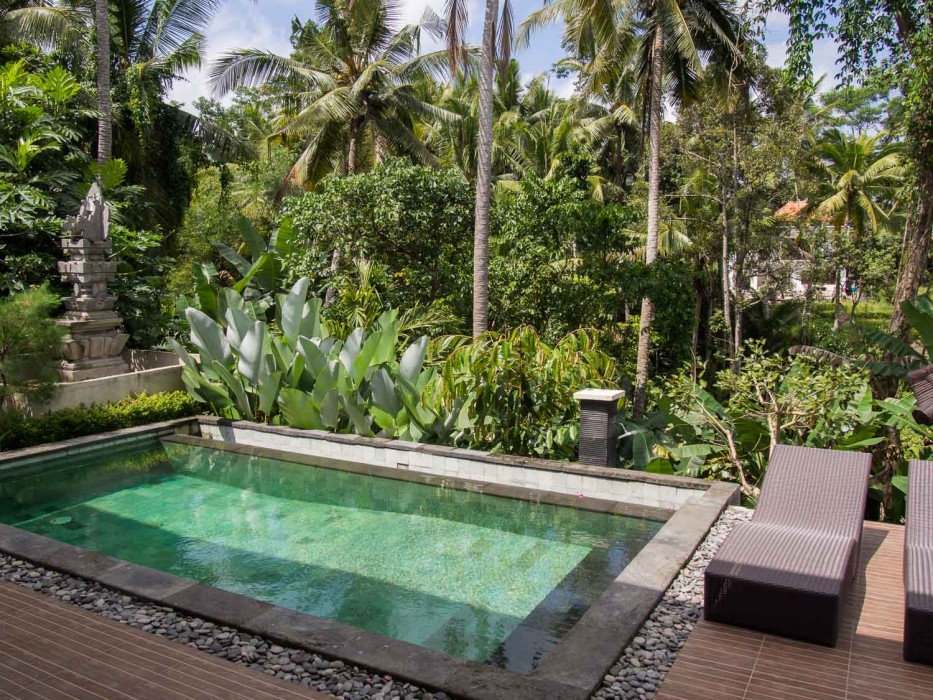 Ubud doesn't make the best first impression.
We stayed in the centre of town for our first few days and wondered what on earth we were doing there. The centre is congested with traffic, tour groups, and souvenir shops.
There are gems to be found, but to make the most of your stay I highly recommend staying outside the centre, ideally somewhere with a rice field view.
We moved 3km out of town and ended up staying for nearly five months and returned for another five months the following year.
Relaxing by our pool with a rice field or jungle view is an Ubud highlight for us.
There's a huge range of accommodation in Ubud from budget homestays to luxury resorts.
We use Booking.com to find hotels—choose "view" as one of the room facilities and you'll find lots of suggestions out of town such as Ayuterra Resort with its gorgeous luxury villas.
If you want to be within walking distance of the centre (probably best if you don't want to hire a motorbike), there are some lovely options in quiet, scenic locations including:
If you want to really get away from it all (but still be within a longish walk from the centre), you can stay at Firefly Eco Lodge in a rustic bamboo treehouse or quirky birds nest in the heart of the rice fields.
This is one of our favourite areas in Ubud (we lived nearby on our last visit), but you will need to walk down a narrow path to get there and be happy surrounded by nature.
If you end up falling in love like we did and want to stay for a month or more, read how to rent a house in Ubud (it's easy!).
2) Campuhan Ridge Walk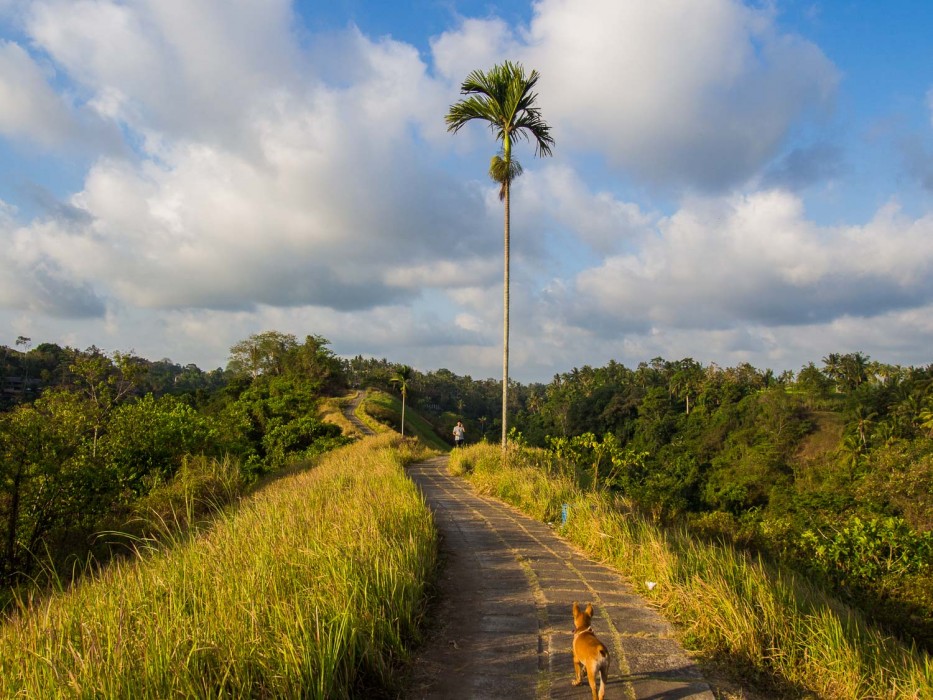 The Campuhan Ridge is our favourite walk in Ubud—it's one of the only places to escape from traffic.
There are a few hills, but it's an easy walk with lovely views of rice fields and down into a valley. There's not much shade, so it's best early morning or towards sunset.
Read these instructions on getting to the start of the Camphuan Ridge trail.
The walk from the school car park to Karsa Cafe (the perfect spot for a break) and back was 3.5km (2.2 miles) and took us 45 minutes.
You can no longer park at the school so allow an extra 10 minutes/1km each way to walk to the start of the trail from the Ubud Art Market.
If you'd prefer to explore with a guide, this Ubud walking tour includes many of Ubud's highlights including Camphuan Ridge, Monkey Forest, and the Art Market.
3) Rice Fields Walk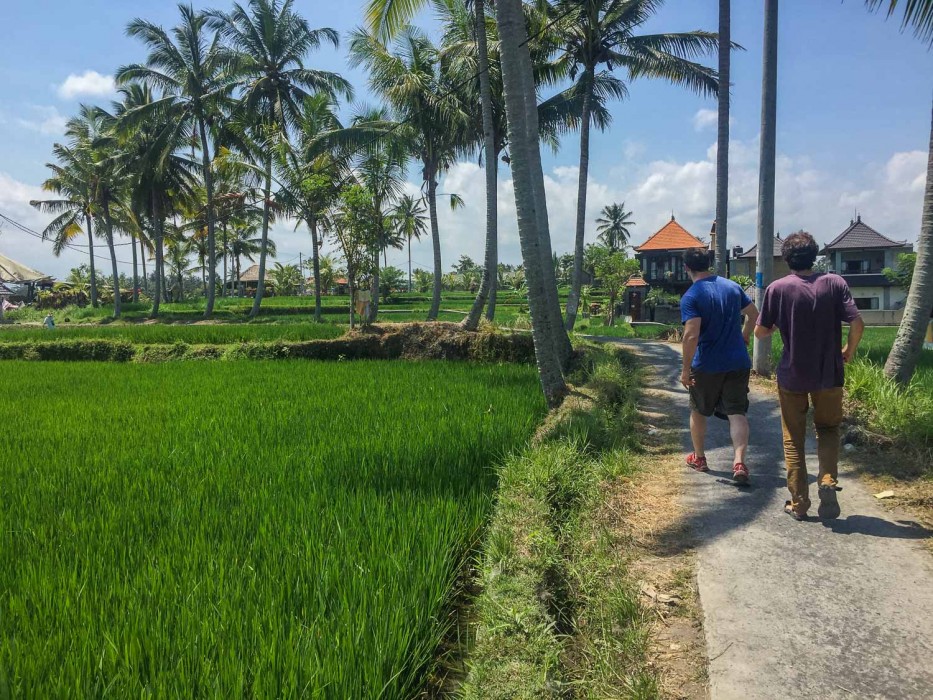 Another pleasant hike is the Sari Organik Walk on a flat path through the rice fields towards the former farm and restaurant.
Sari Organik has now closed, but there are lots of other cafes along the way where you can enjoy a drink or meal with a view. Try Cafe Pomegranate, Dragonfly Cafe, or Joglo Organik.
The Ubud Yoga House (one of my favourite Ubud yoga studios) is also just off this path.
An alternative route is to start at the far end of Jalan Kajeng (look for Kajeng Rice Field on Google Maps) and loop around to the other rice field path.
The downside is that motorbikes drive on these narrow paths.
4) Discover Ubud's Tranquil Spots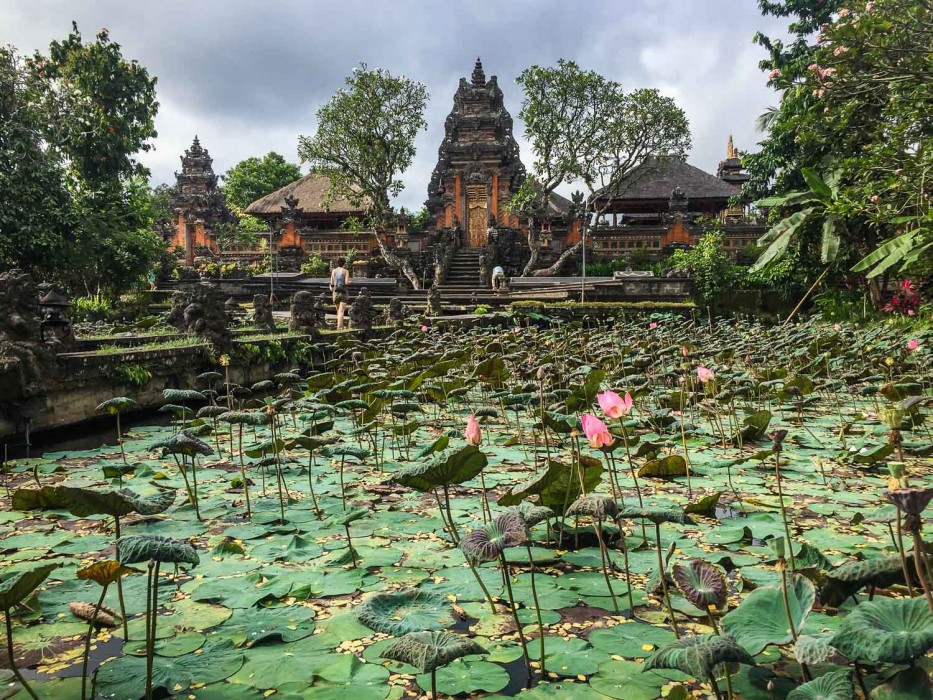 Are you wondering where to go in Ubud to escape the crowds? The centre of town is busy, but you can find beautiful, tranquil spots.
Our favourites are the lotus pond at Saraswati temple (behind Starbucks) and Taksu Spa, where the river gorge is an oasis from the chaos.
Take the time to wander around and you might be surprised by what you find.
5) Kecak Dance Performace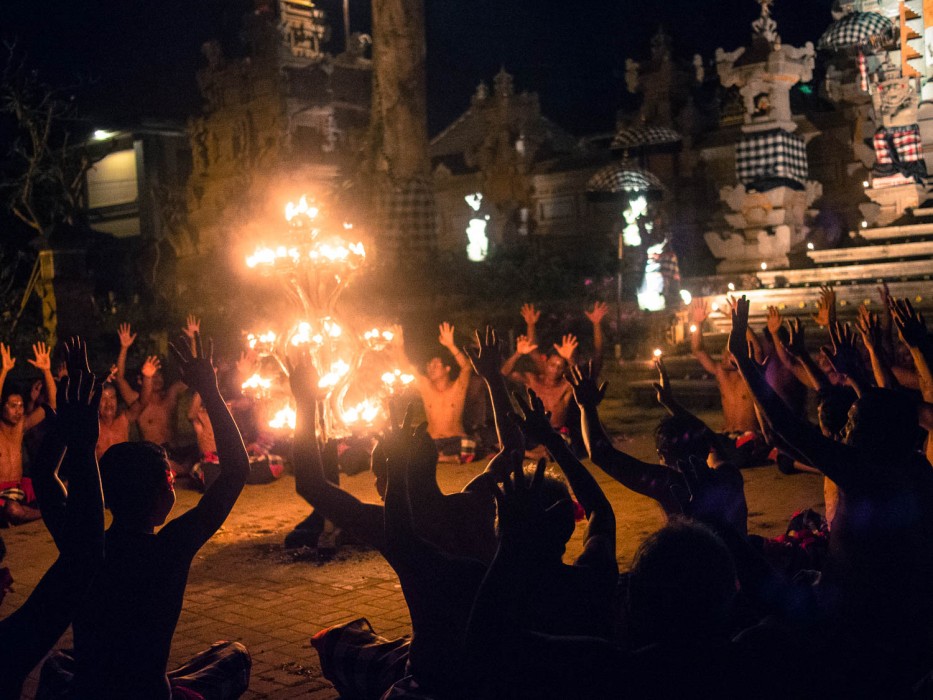 Ubud is famous for its traditional dance performances. We didn't have very high expectations but loved the Kecak dance we saw at the temple in Junjungan village.
Around 60 sarong-clad men provide the soundtrack of haunting chants, while dancers recreate a story from the Ramayana.
It is less busy and commercial than the performances in the centre—all 150 families in the village are involved and proceeds go towards temple activities.
The Kecak performance takes place every Monday night at 7pm at the temple in Junjungan village on Jalan Tirta Tawar.
It's one of the best things to do in Ubud at night and you could combine it with a meal at nearby Warung Bintangbali.
Read more about the performance on Till the Money Runs Out.
Another place to see a traditional Kecak Dance with an Authentic Balinese Dinner is at The Tempayan in Ubud's Tanah Gajah Resort.
6) Rent a Motorbike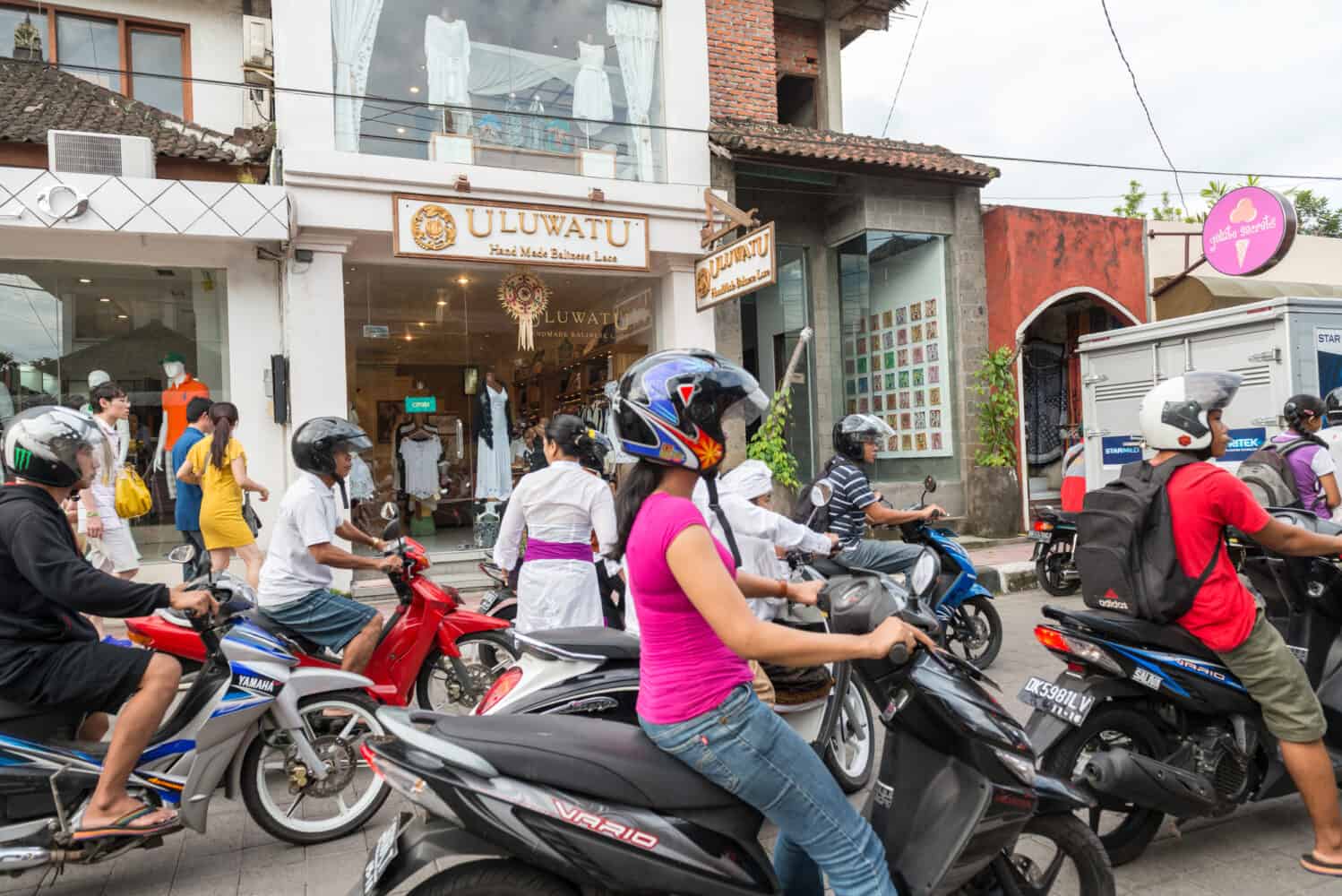 Renting an automatic motorbike is the best way to explore Ubud and the surrounding countryside.
You could walk or cycle, but it's much cooler on the back of a bike. It's cheap too—from just 120,000 IDR ($7.90) a day, and you don't need to leave a deposit or show a licence.
The traffic in Ubud can be crazy, so if you are a beginner, practice on the quieter streets outside town, and ask someone to show you the basics.
Honestly, it's probably best that Ubud is not the first place you ride a motorbike, though—accidents are common.
Once you have wheels, you can head north on Jalan Tirta Tawar, Sri Wedari or Suweta, or east through the tree tunnel to Penestanan village. You can visit many of the places below by motorbike.
If you rent a motorbike make sure your travel insurance covers you as accidents do happen. We recommend SafetyWing, which is available worldwide and covers riding a motorbike.
It's affordable (kids are even free!) and is ideal if you are on a longer trip as you can pay monthly and purchase it outside your home country. Our travel insurance after departure post has more options.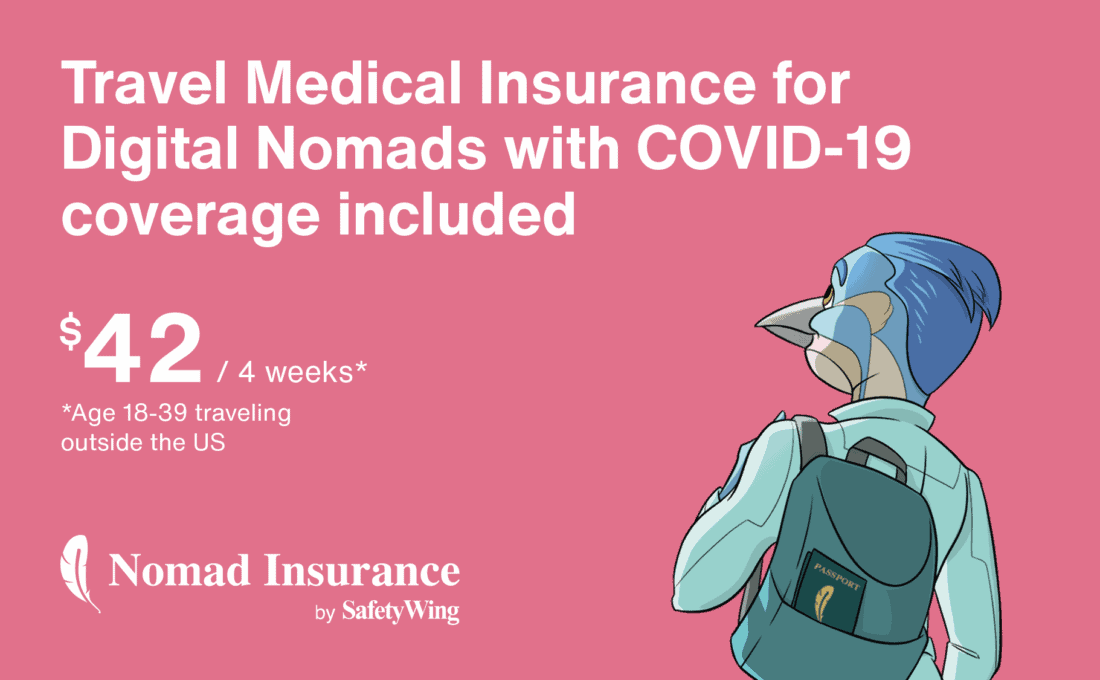 If you aren't confident on a bike, consider hiring a driver for a day—it's an easy and surprisingly affordable way to go Ubud sightseeing.
7) Practice Yoga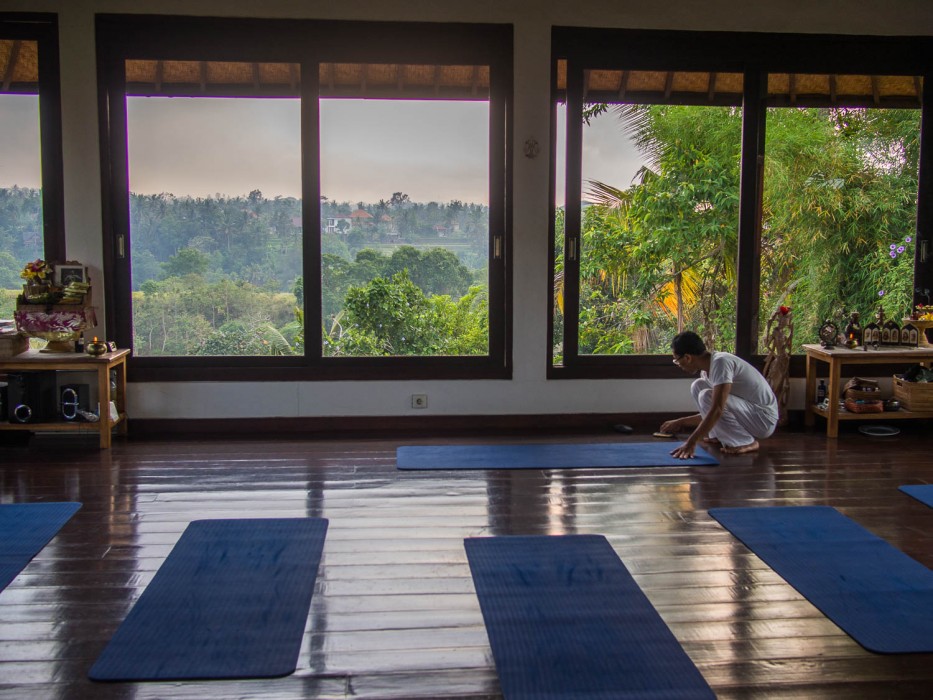 Ubud is yogi heaven! Whether you prefer fast-paced vinyasa or gentle yin, you'll find a class to suit you.
It's the perfect place to create your own yoga retreat by buying an affordable multi-class pass.
My favourite places to practice are Ubud Yoga House (scenic and intimate), The Yoga Barn (a wide variety of classes but very busy), and Intuitive Flow (quieter classes in a beautiful setting in Penestanan).
Read my Ubud yoga guide to choose the studio that's right for you.
If you came to Ubud after being inspired by Elizabeth Gilbert, check out this Bali Eat Pray Love Private Tour which includes many spiritual stops including a yoga class at Intuitive Flow.
8) Take an Art or Cooking Class
You can learn plenty of skills in Ubud—check out these classes in traditional Balinese painting, silver jewellery making, and batik making (dyeing cloth with patterns). They are fun for adults and families.
We enjoyed a cooking class with Payuk Bali (now Ketut's Balinese Cooking Class) when Simon's family was visiting. It included a market visit, learning how to make offerings, and plenty of hands-on cooking.
They were very well-organised, had a special vegetarian menu, and the meal at the end was delicious, especially the tempeh satay with peanut sauce. It is definitely one of the best things to do in Ubud.
Paon Bali offers a similar cooking course with excellent reviews. Check availability here.
9) Dine with a View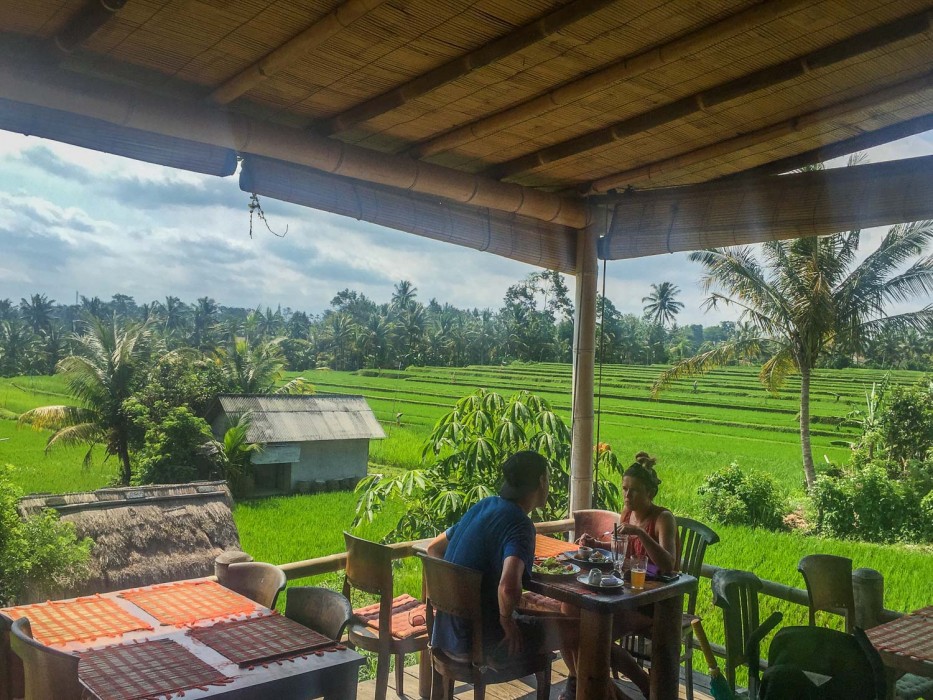 You are spoilt for choice for restaurants in Ubud with views of rice fields and river gorges.
Some of our favourites include The Elephant, which serves up delicious vegetarian meals with views of the Campuhan Ridge, and Warung Bintangbali for affordable Indonesian dishes with rice field views.
Also, see #3 above for a rice field walk with lots of scenic places to eat on the way.
My Ubud vegetarian guide has more ideas.
10) Splurge on a Gourmet Meal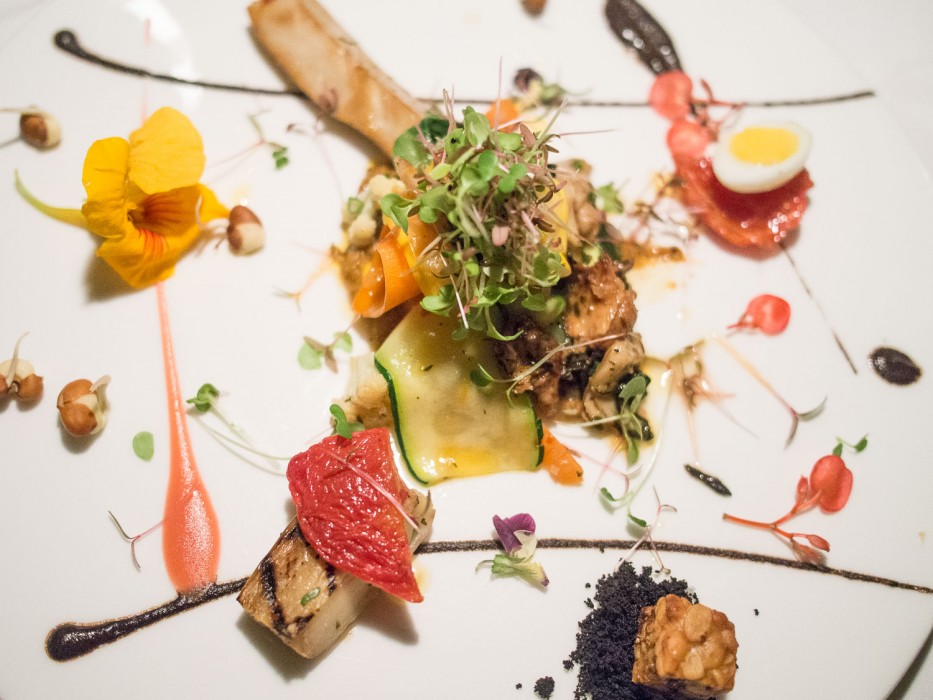 For such a small town Ubud has a surprising number of gourmet restaurants offering fantastic tasting menus (most with good vegetarian options).
Sure, they are much more expensive than a meal at a warung, but they are great value compared to a similar quality meal in Europe or the US.
Our favourite splurges were at Locavore, Kubu at the Mandapa Ritz Carlton, Mozaic, and Room4Dessert (we have to go back for their new sweet and savoury tasting menu).
Make sure you book a table at these restaurants at least a few days (and sometimes weeks) ahead.
11) Downhill Bike Tour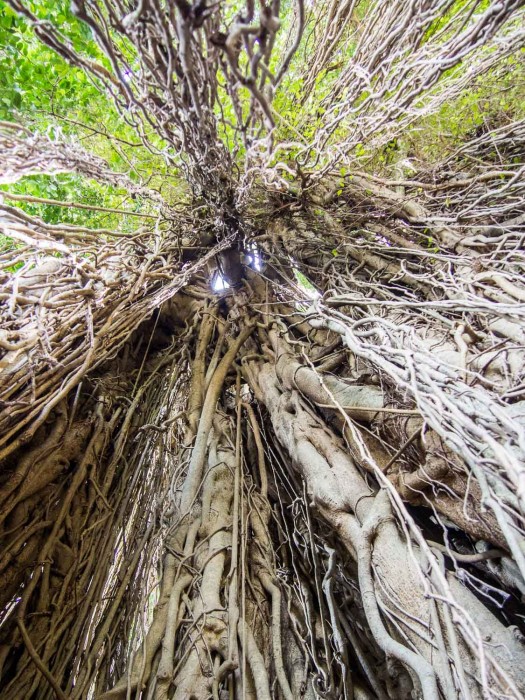 We don't cycle often, but the Bali downhill cultural cycling tour was easy—we hardly had to pedal!
We started with breakfast overlooking the volcano Mt Batur before cycling through the countryside stopping at a family compound, rice fields, and a 500-year-old banyan tree.
The cycle trip is one of the best Ubud activities to see more of the beautiful island and learn about Balinese culture. Check availability here.
12) Brave the Monkey Forest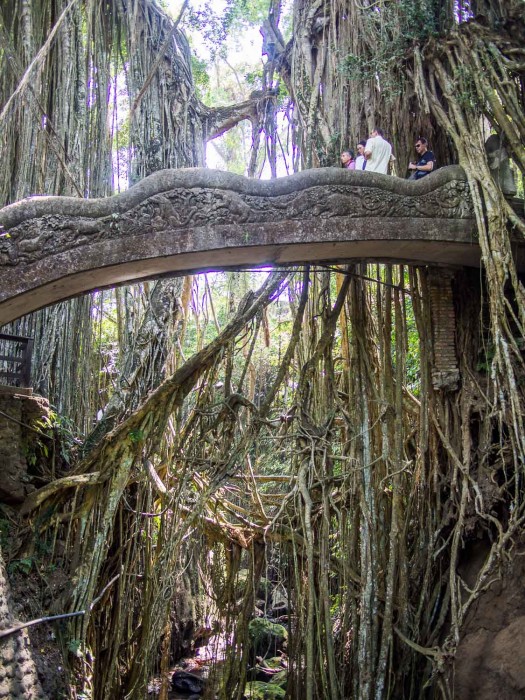 The Monkey Forest is one of the top Ubud attractions, but we were a little worried about braving the famous monkeys.
It turned out to be an enjoyable walk through the forest with temples and banyan trees that felt like an Indiana Jones set.
Be careful of the monkeys, though—they are thieves and can be aggressive. We didn't take a bag, sunglasses, or have anything in our pockets (except cash to get in and my camera around my neck), and they didn't bother us.
Don't feed them—you will end up with monkeys climbing all over you. This may sound fun, but rabies is prevalent in Bali, and if you get bitten or scratched (a common occurrence), you'll need a series of injections.
The Ubud Monkey Forest is open daily from 9am to 6pm and costs 80,000 IDR for adults/ 60,000 children, more on the weekend.
If you have limited time in Ubud, you could take a Best of Ubud private day tour which includes the Monkey Forest, rice terraces, Tegenungan Waterfall, the market and more.
13) Pura Gunung Kawi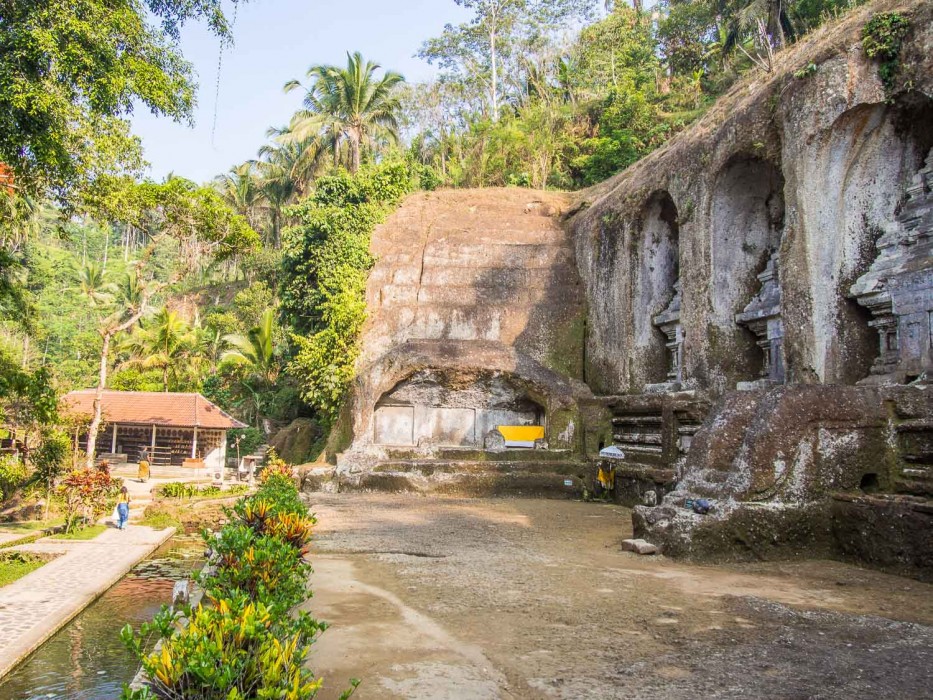 Pura Gunung Kawi is an 11th-century temple with shrines carved into the rock. It's one of Bali's oldest and most important monuments.
The complex is at the bottom of a river valley reached by a steep staircase of 300 steps.
It's worth it for the beautiful scenery of rice fields, gushing river, and immense stone shrines.
The entrance fee is 50,000 IDR and includes a sarong, which everyone must wear (just wrap it over your clothes).
It's a 30-minute drive from Ubud and is worth combining with Tirta Empul.
Get there early to avoid the crowds and souvenir sellers—at 8am there were only two other visitors.
14) Tirta Empul Water Temple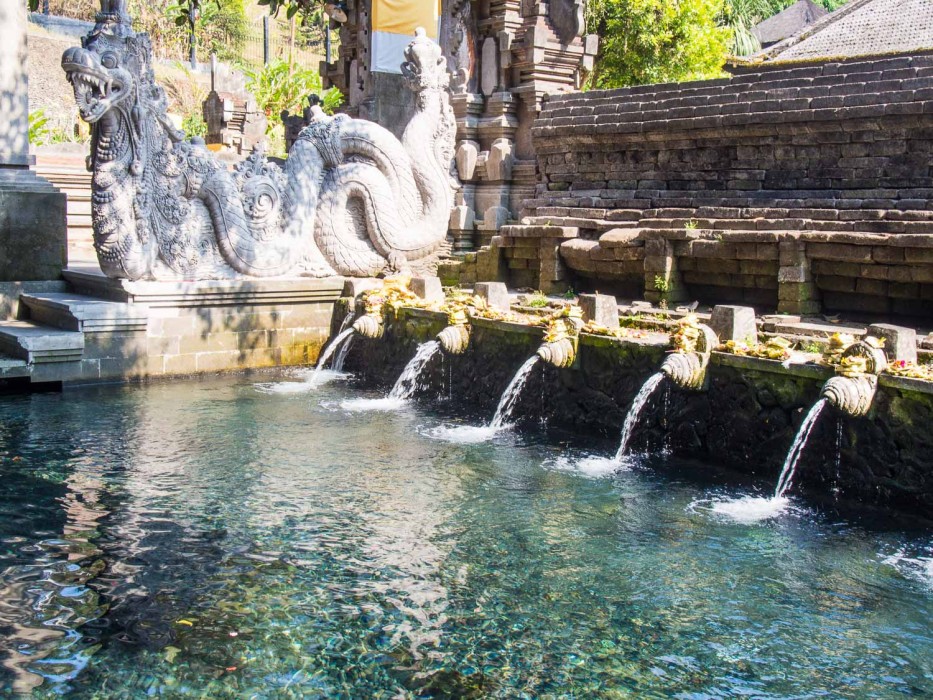 The water temple Tirta Empul is close to Gunung Kawi. Balinese Hindus come here to bathe in the holy waters for ritual purification.
I think the temple is best visited with a local who can explain its significance and etiquette.
You can hire a guide at the entrance or book a tour such as this Ubud Tirta Empul Temple Tour or Spiritual Cleansing and Shamanic Healing Tour.
The entrance fee for Tirta Empul is 50,000 IDR which includes the sarong it is essential to wear.
Tourists are welcome to bathe in the holy waters, but we didn't feel comfortable doing so. If you do decide to, please be respectful and don't spend too long taking photos.
The temple can be very crowded so it's best to visit early.
15) Tegenungan Waterfall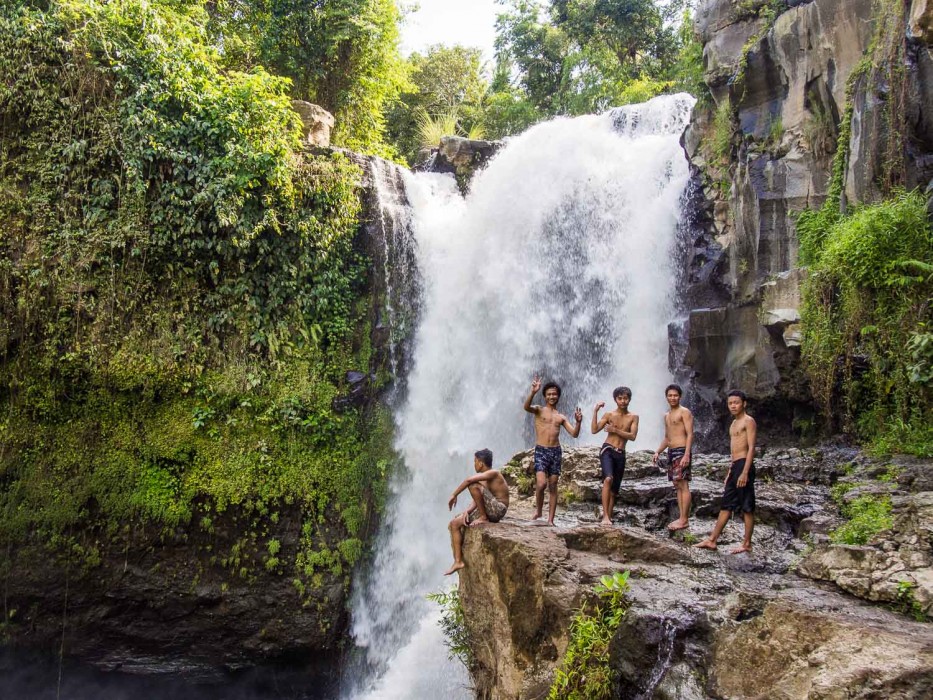 Tegenungan Waterfall isn't huge, but the scenery is lovely, and we enjoyed a swim in the pool.
Again, get there early as it's popular. Even at 9am on a Saturday it was quite busy although mostly with local kids.
Entrance is 20,000 IDR and there are steep steps to get from the parking area to the falls.
It's a 25-minute drive from Ubud. If you don't have your own transport, consider this highly-rated Ubud Spectacular Waterfalls Tour which includes three waterfalls and an optional stop at the rice terraces and jungle swing.
Tegenungan can be combined with the nearby Hidden Canyon.
We didn't make it down the canyon as it turned out to be more hardcore than we expected—come prepared to clamber rocks and wade through waist-high water. It's best to hire one of the local guides to show you the way.
The Bali Adventure Tour includes Hidden Canyon, Tegenungan Waterfall, Goa Gajah and Gunung Kawi temples.
16) Tour Bali for a Day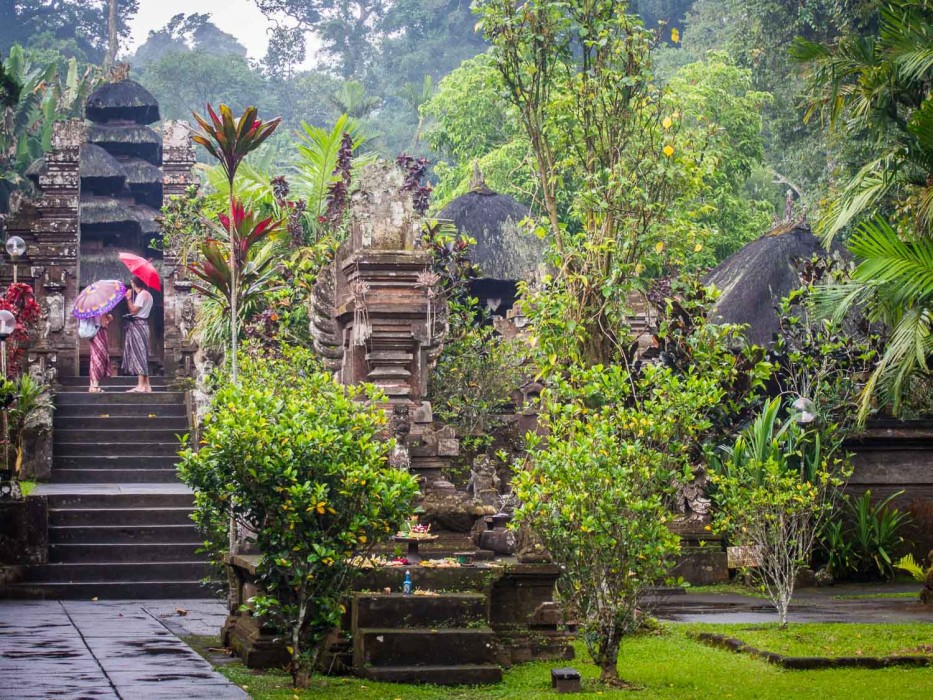 One of the top things to do in Ubud is to hire a driver for the day (from 652,500 IDR) to take you on a temple tour.
We headed north to the temple at Lake Bratan, which we weren't impressed by. We preferred the much less touristy Pura Luhur Batukau (about 1.5 hours from Ubud).
I would avoid visiting any coffee plantations—they are touristy and overpriced souvenir shops with caged luwaks (here's why not to drink gimmicky luwak coffee) and without much to see.
One of the most popular trips is the highly-rated Bali Instagram Highlights tour to the island's most scenic spots including temples, waterfalls, and a jungle swing.
If you have more time, spend a few days travelling in the unspoilt north and western parts of the island—see our off the beaten track Bali road trip for ideas.
17) Visit an Art Gallery
Ubud is a very artsy town. You can visit lots of small studios to buy artwork or bigger art museums to learn about the history of art in Ubud.
I enjoyed the Balinese art at Neka Art Museum the most, although the architecture at the Antonio Blanco Museum was certainly eccentric.
18) Get a Massage
Getting a massage is a popular Ubud activity. It's not our thing, but if we were to indulge, we'd be tempted by this riverside spa treatment.
I've also heard good things about Cantika (especially the Cantika Zest branch in Penestanan).
Otherwise, you can get no-frills massages all over town for around 100,000 IDR.
19) Watch a Film
If you've been travelling for a while, you might be in need of a movie night.
Paradiso is in the centre of Ubud and mostly shows older films, but you can enjoy raw and vegan food while you watch (the 75,000 IDR tickets include 50,000 IDR redeemable against food).
Denpasar Cineplex is the nearest cinema for the latest releases, but unfortunately, it's an hour away.
The Executive screen is ultra-comfortable with large reclining seats and only costs 75,000 IDR during the week.
20) Shop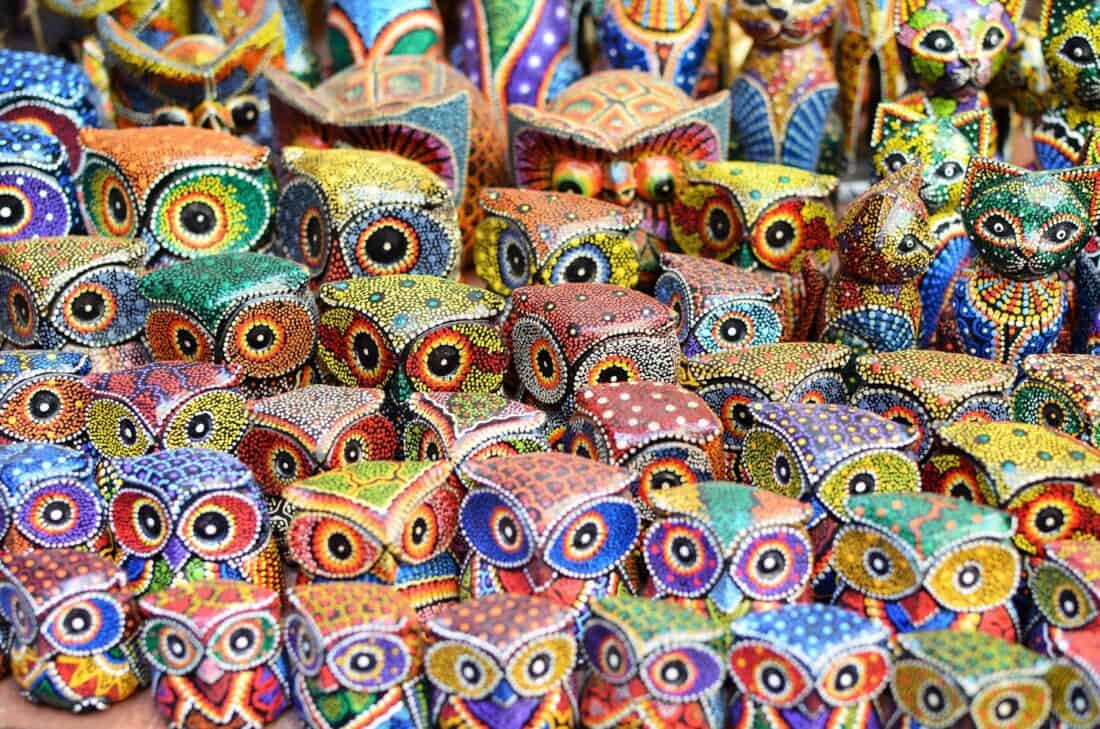 There are plenty of tacky souvenir shops in Ubud, but there are also high-quality boutiques selling clothes, jewellery, yoga gear, and home furnishings.
You'll find plenty of options on Hanoman, Goutama, and Monkey Forest Roads.
For cheap clothes and souvenirs, head to the central market on Jalan Raya, but be prepared to bargain.
It can be chaotic, but if you are a shopping fan, it's one of the best things to see in Ubud.
For delicious jams made from unusual local fruits, go to Confiture de Bali on Goutama street.
Seniman coffee studio is the best place for Balinese coffee beans.
21) White Water Rafting
On our very first trip to Ubud, we went white water rafting on the Ayung River and it was so much fun!
The trip is fairly gentle (it's usually Class II although expect a more thrilling ride in the rainy season) but you will get wet.
The highlight is the stunning river gorge scenery where you can see waterfalls and monkeys.
Check availability for white water rafting here.
How to Get to Ubud Bali
Public transport is limited in Bali and by far the easiest way to get to Ubud from Ngurah Rai International Airport (DPS) is by taxi.
I recommend booking an airport transfer in advance to avoid dealing with the chaos at the airport.
The drive from the airport takes about 1.5 hours.
Resources for Planning a Trip to Ubud, Bali
Map of Best Things to Do in Ubud Bali
Summary
I hope you enjoy some of these suggestions on what to do in Ubud.
But remember, if you don't make it out of your sun lounger overlooking the rice fields, don't feel guilty. Ubud is best explored at your own pace.
More Ubud Posts
If you enjoyed this post, pin it!