This page contains affiliate links. Please read our disclosure for more info.
Shinjuku is a major business and entertainment district around Tokyo's busiest train station. This is the Tokyo you dreamed of with towering skyscrapers, neon signs, and noisy arcades. It's bustling and vibrant, but it's also possible to escape the crowds.
In this post I share the best things to do in Shinjuku from weird shows and unique bars to peaceful parks and stunning views.
Although Shinjuku is most known for its nightlife and shopping, we're not big fans of either of these, and we still love the area. There are some fun family-friendly activities, too, where you can learn the ways of the samurai or ninja.
You can visit most of these Shinjuku attractions in a couple of days and all are within a 15-minute walk of Shinjuku Station—there's a map at the end of this post.
The transport links are excellent if you decide to base yourself here. You can read my post on why I think Shinjuku is the best area to stay in Tokyo—it includes recommended accommodation options.
This post was originally published in October 2019 and last updated in 2021.
Contents
Video: Tokyo Inspiration
Watch this video for ideas on the best things to do in Tokyo.
1) Picnic in Shinjuku Gyoen National Garden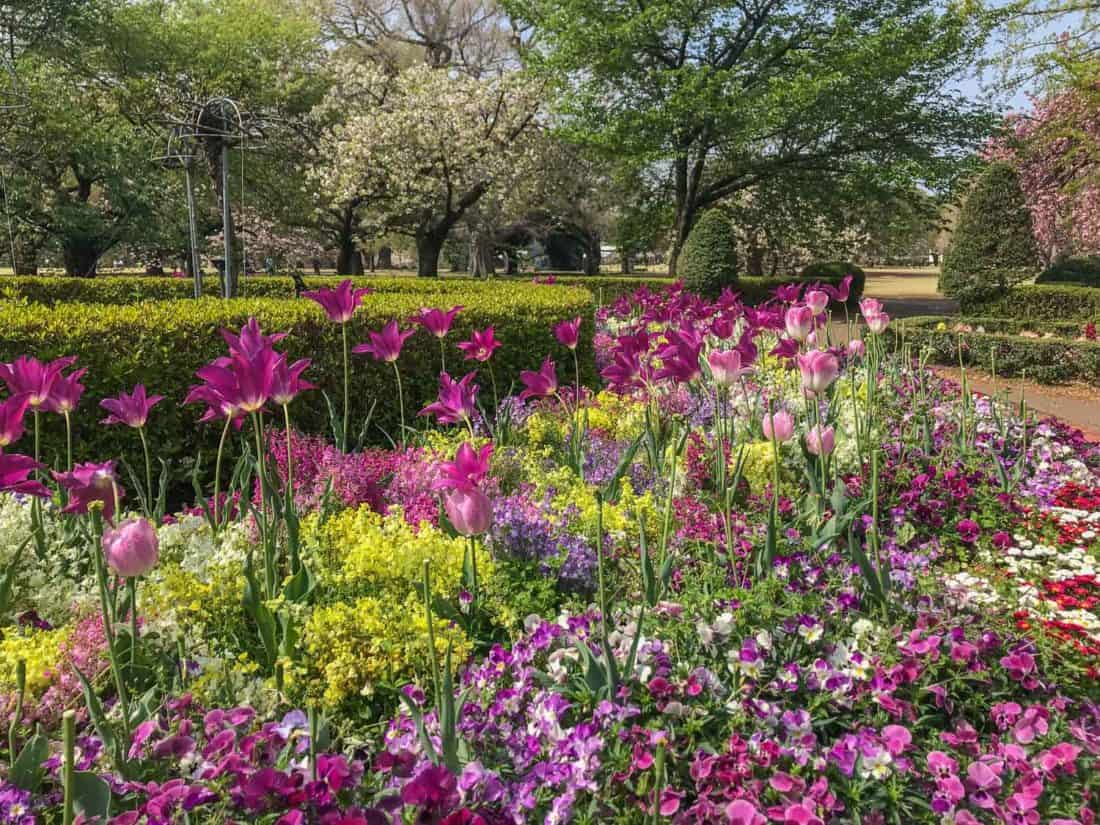 We usually stay a short walk from the Shinjuku Gyoen National Garden as it's such a peaceful retreat from the hectic city.
There are French and English gardens as well as Japanese gardens featuring ponds, pagodas, and a teahouse. There are a few cafes where you can pick up a snack or a cone of matcha soft serve ice-cream. The large lawns are perfect for a picnic.
The spacious gardens are lovely at any time of year but are especially worthy of a visit in spring cherry blossom and autumn leaf seasons.
When we visited in mid-April, we knew we'd missed the main cherry blossom season, so we were delighted to discover that the gardens have lots of late-blooming cherry blossoms.
These are a different variety than the classic five-petal somei yoshino—they are extravagantly puffy in vibrant pink and white—but are just as beautiful. We ended up returning three times for picnics under the blooms.
Even though it was busy on a sunny weekend, there's a relaxed atmosphere and there's plenty of space for everyone.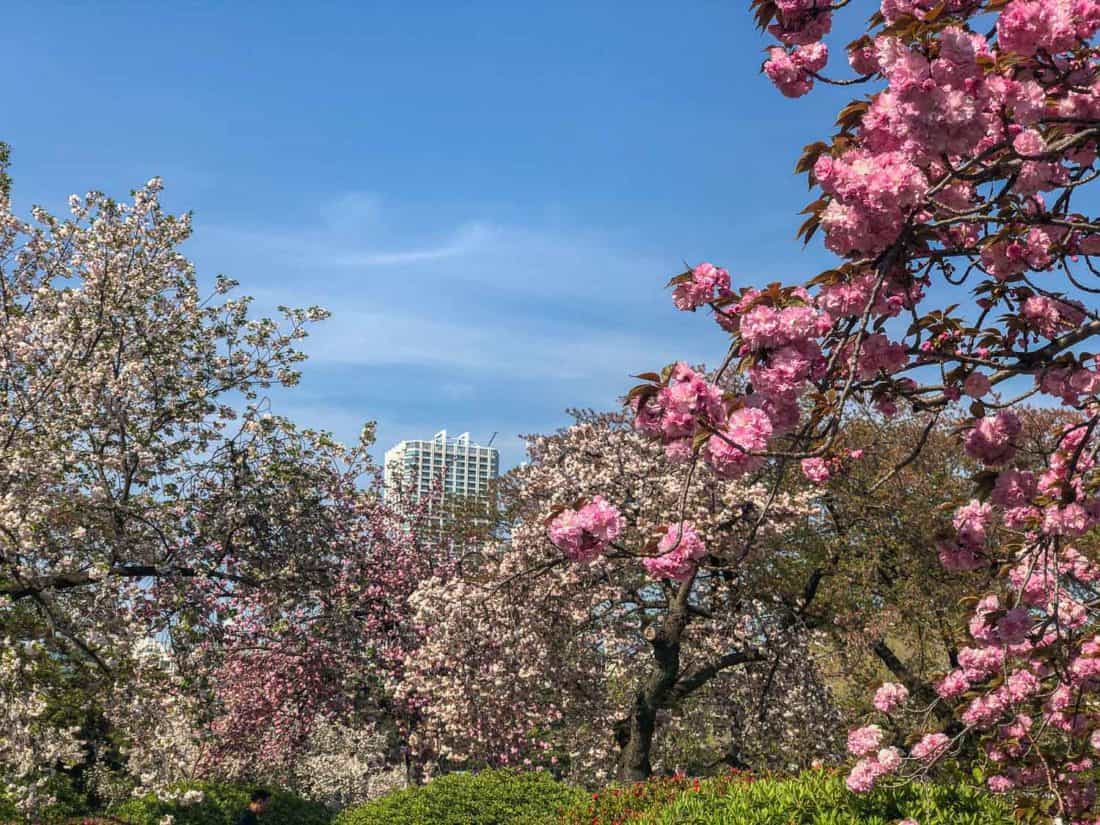 Shinjuku Gyoen is also my favourite place to run in the area. It's best to arrive as soon as they open at 9am and stick to the quieter path around the edge of the park (one loop was around 2km).
Shinjuku Central Park (Chuo Park) is another green space in Shinjuku. It's much smaller than Shinjuku Gyoen, but it's free and is on the western side of Shinjuku train station, near the Park Hyatt and Tokyo Metropolitan Government Building.
Details: 500 yen ($5) entrance fee. Open 9am – 4.30pm. Closed on Mondays. If there are queues at the Shinjuku Gate, walk outside the park to the quieter southern gate.
2) Stroll Down Memory Lane (Omoide Yokocho)
Memory Lane (Omoide Yokocho in Japanese) is one of my favourite places to visit in Shinjuku at night. As vegetarians we can't eat in the many tiny yakitori restaurants down the narrow alleyways serving meat on skewers, but it's an atmospheric place to wander.
The bars are decorated with paper lanterns and seasonal flora (autumn leaves or spring cherry blossoms) and smoke billows from the grills. In the background you'll see the bright lights of Shinjuku's billboards—the perfect contrast of old and new.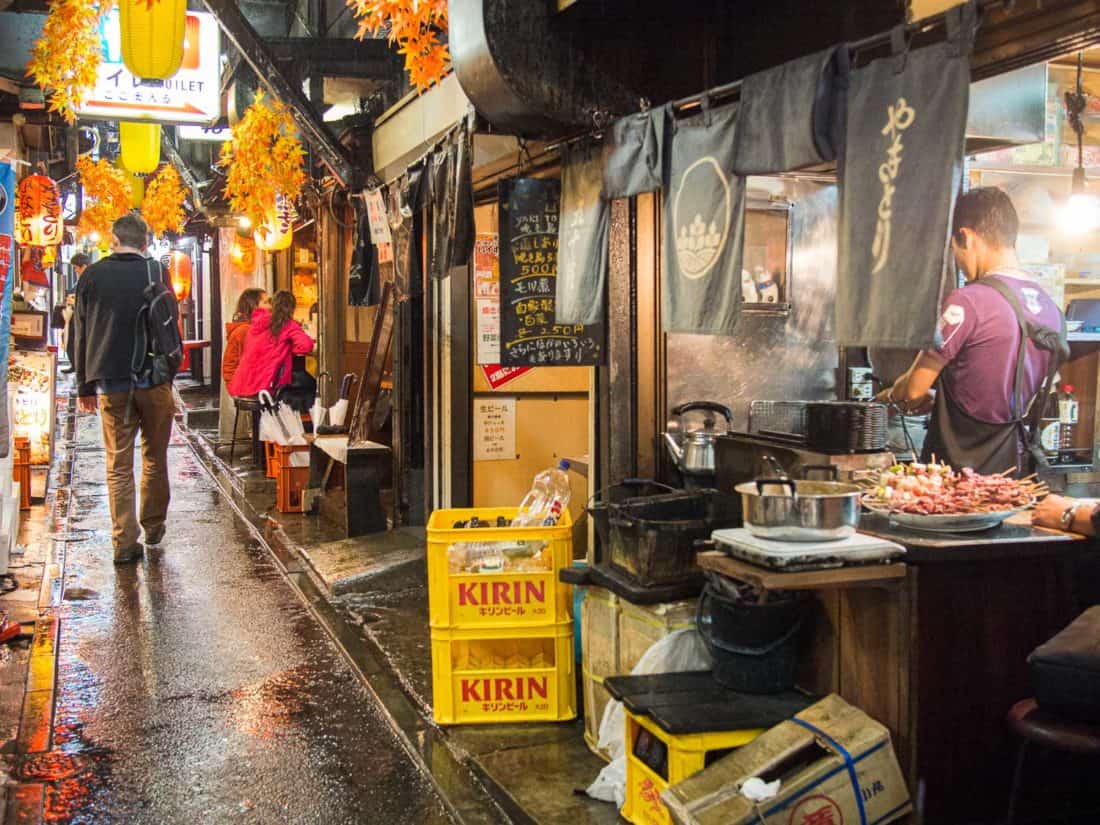 It can get very busy, though—our visit on a rainy October weeknight was much more enjoyable than on an April Saturday.
The lane is very close to Shinjuku Station so there's no reason not to wander through at least once and perhaps stop for a meal.
Details: Food stalls open from 5pm to midnight.
3) Enjoy a Free View from Tokyo Metropolitan Government Building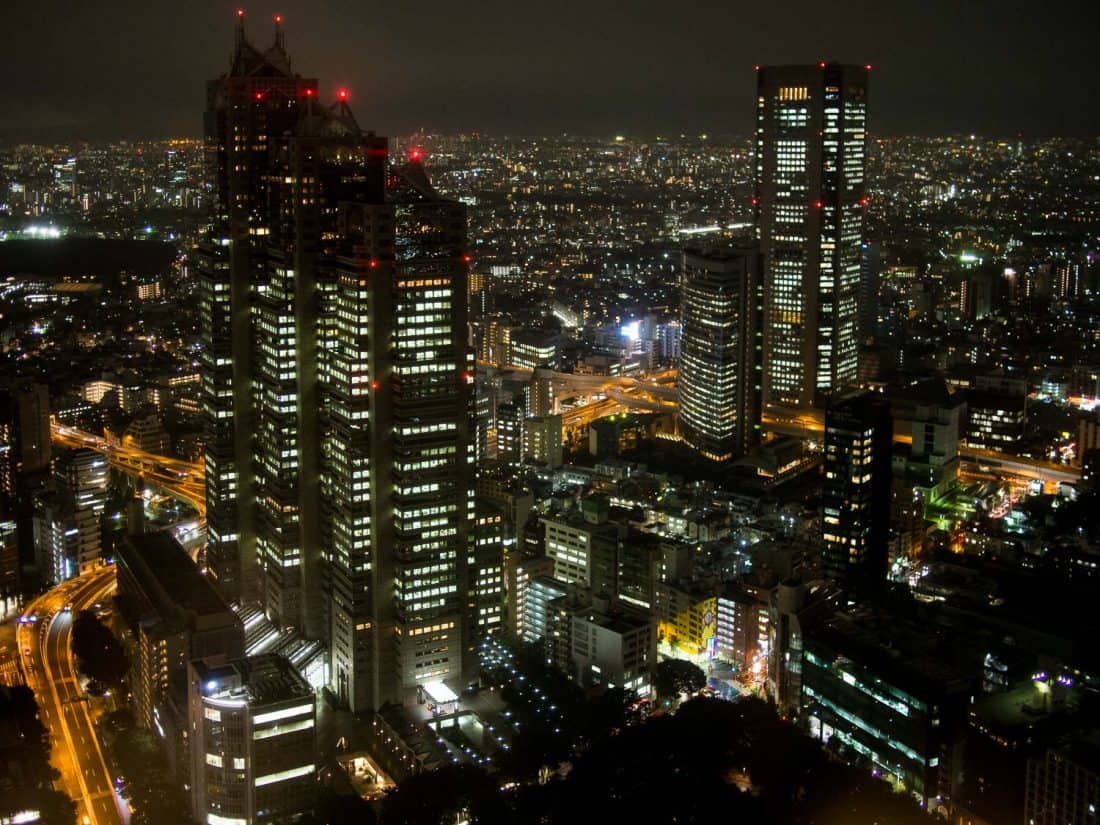 The Tokyo Metropolitan Government Building is one of the best places to go in Shinjuku for a view of the futuristic skyline—and it's free!
You can visit by day or night—on a clear morning you might have a chance of seeing distant Mount Fuji from the South Tower, but I love seeing Tokyo lit up at night. The North Tower is open until 11pm and is the best place to see the skyscrapers and highways.
Details: Free. Open 9.30am to 11pm (South Observatory until 5.30pm). North Observatory closed second and fourth Monday of the month. South Observatory closed first and third Tuesday of the month.
4) Experience Sensory Overload at the Robot Restaurant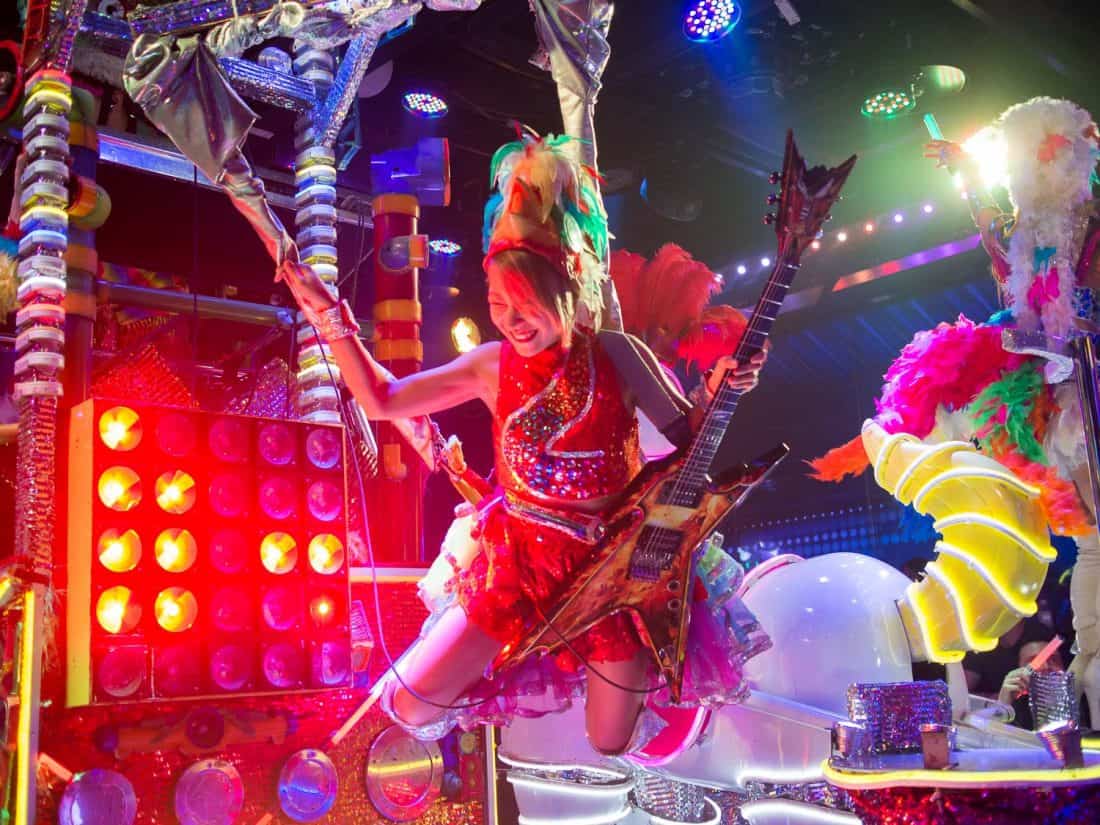 Our head and ears ached afterwards, but there's no denying that the Robot Restaurant is one of the craziest Shinjuku activities.
It's a highly energetic show, not a restaurant (don't get food there), and features robots, dragons, ninjas, blue-haired dancers, creepy clowns, guitarists on swings, drums, a whole lot of neon lights, and really loud music. It's full-on.
The Robot Restaurant is one of most popular things to do in Kabukicho, Shinjuku's entertainment and red light district. This is a slightly seedy but lively area with hostess bars, love hotels, and lots of bright lights.
We found it very safe to wander, but you might get ripped off in some of the bars (don't go anywhere with a street tout luring you in).
Read Simon's Robot Restaurant review to find out if the show is for you.
Details: The restaurant has been closed since March 2020 and it's unclear if it will reopen. When it reopens, booking direct is expensive so make sure you book online with a company like Voyagin that offers discount tickets with up to 38% off and you can skip the lines. The cheapest tickets are for the day time shows from 5246 yen ($49).
5) Drink in a Tiny Bar on the Golden Gai
Like Memory Lane, the Golden Gai is another atmospheric network of narrow alleyways. This area is focused on bars rather than food stalls and doesn't get going until later at night (at 8pm it was still fairly quiet).
Many bars have cover charges and don't allow foreigners, but you'll see signs in English for the ones that are more welcoming.
As it's a little intimidating, you might prefer to explore with a local. This night tour of the Golden Gai and Kabukicho area currently has 30% off and has excellent reviews.
Details: From 7pm or 8pm until early morning.
6) Recreate Lost in Translation at the New York Bar at Park Hyatt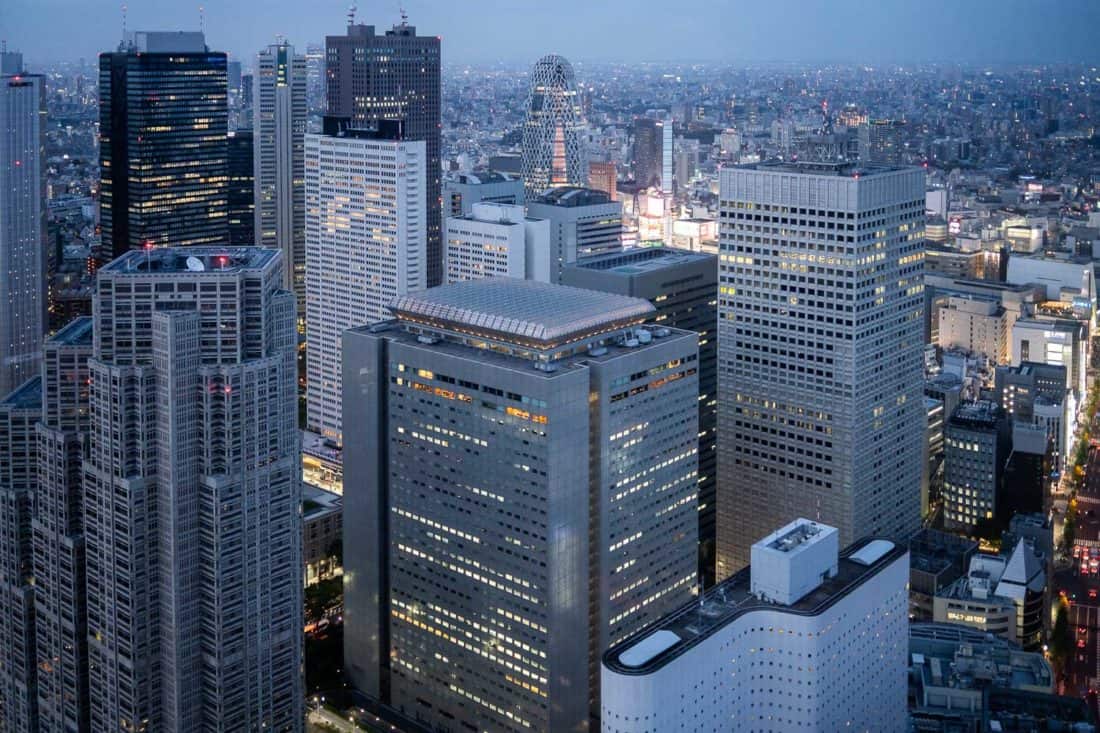 I highly recommend watching the Lost in Translation movie with Bill Murray and Scarlett Johansson before visiting Tokyo.
The characters stay at the Park Hyatt Tokyo hotel in Shinjuku and meet for the first time in the 52nd floor bar which has stunning views over the city.
We are not the only fans of the movie who wanted to recreate the scene. It is a touristy experience and hard to get in, but the views are superb.
There's a 2500 yen ($23) cover charge from 8pm (7pm on Sundays) when live jazz is played, and most people (like us) arrive earlier to avoid the charge and see the sunset.
We arrived at 6.15pm on a Saturday night and waited 30 minutes to get in. Unfortunately, we were then seated at the bar with our backs to the view.
I actually got better photos from the waiting area outside the bar as I didn't feel comfortable standing next to people's tables to take photos by the windows inside.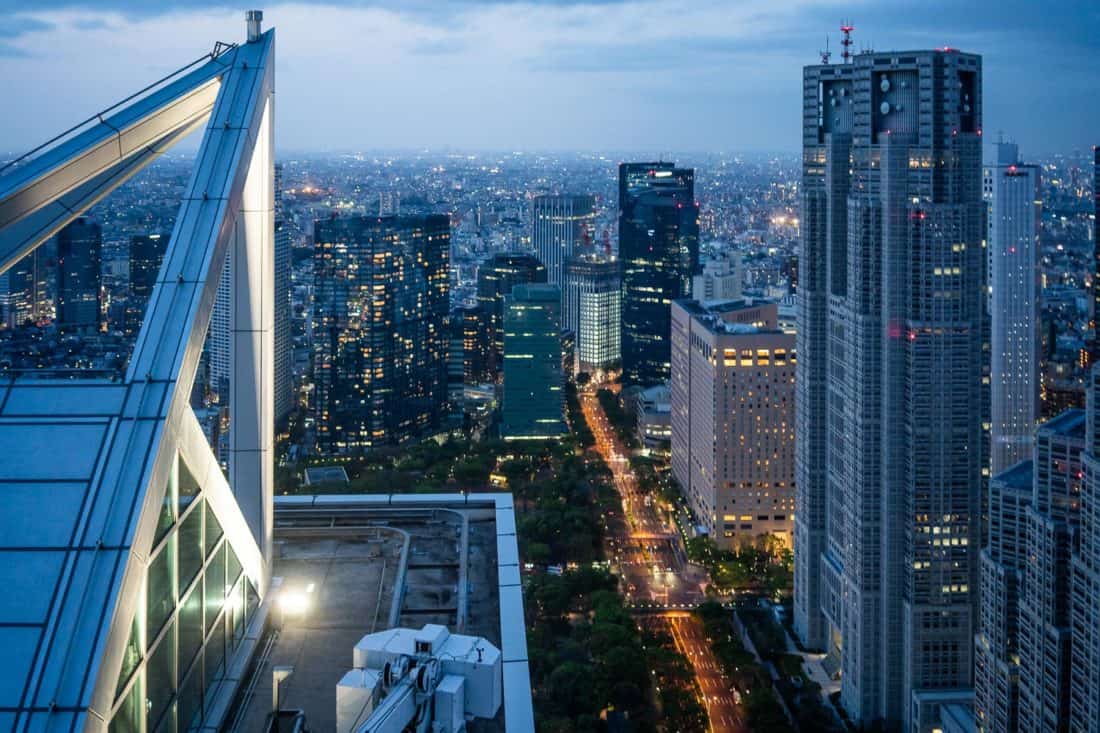 Drink prices are high, as you'd expect. A cocktail was 2400 yen ($22) and beer was 1300 yen ($12) and there's 15% tax on top.
If you're on a tight budget, just enjoy the view from the Tokyo Metropolitan Government Building instead. If you do want the bar experience, arrive early or consider paying the cover charge to enjoy the music and avoid the crowds.
Keep your expectations realistic, but it can be one of the best things to do in Shinjuku at night.
The bar can be surprisingly hard to find within the massive building and requires a few different elevators. See the directions in this post on visiting the New York Bar.
For the ultimate experience, splurge on a stay at the Park Hyatt Tokyo and then you don't have to pay the cover charge and can even enjoy the view from your room.
Details: Open 5pm – midnight (1am on weekends). Shorts, beach sandals, and sportswear are not allowed.
7) Sing Karaoke in a Private Booth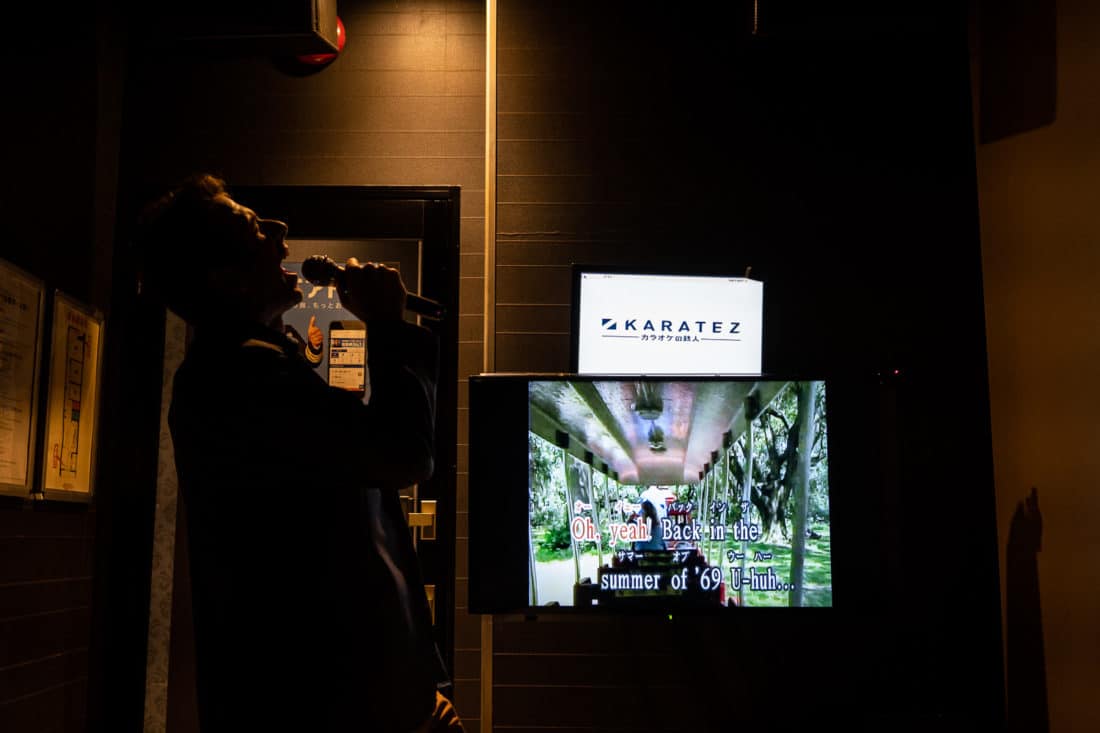 After our drink at the New York Bar, we walked to the neon heart of bustling Kabukicho for our first Japanese karaoke experience.
The Japanese absolutely love karaoke and visiting one of the many huge karaoke centres is one of the best things to do in Japan for a fun local experience.
We went to Karaoke no Tetsujin, an affordable karaoke chain. You rent a private booth with comfortable seating and a tablet where you can choose from plenty of English songs. Use the microphones to sing along with the laughably dated videos.
There are a bewildering array of packages available but choose how long you'd like to sing for and the staff will help you out. It's cheaper on weekdays before 7pm but even on a Saturday night we thought it was reasonable—400 yen ($3.70) per person for 30 minutes including an alcoholic drink.
8) Spot Godzilla at Shinjuku Gracery Hotel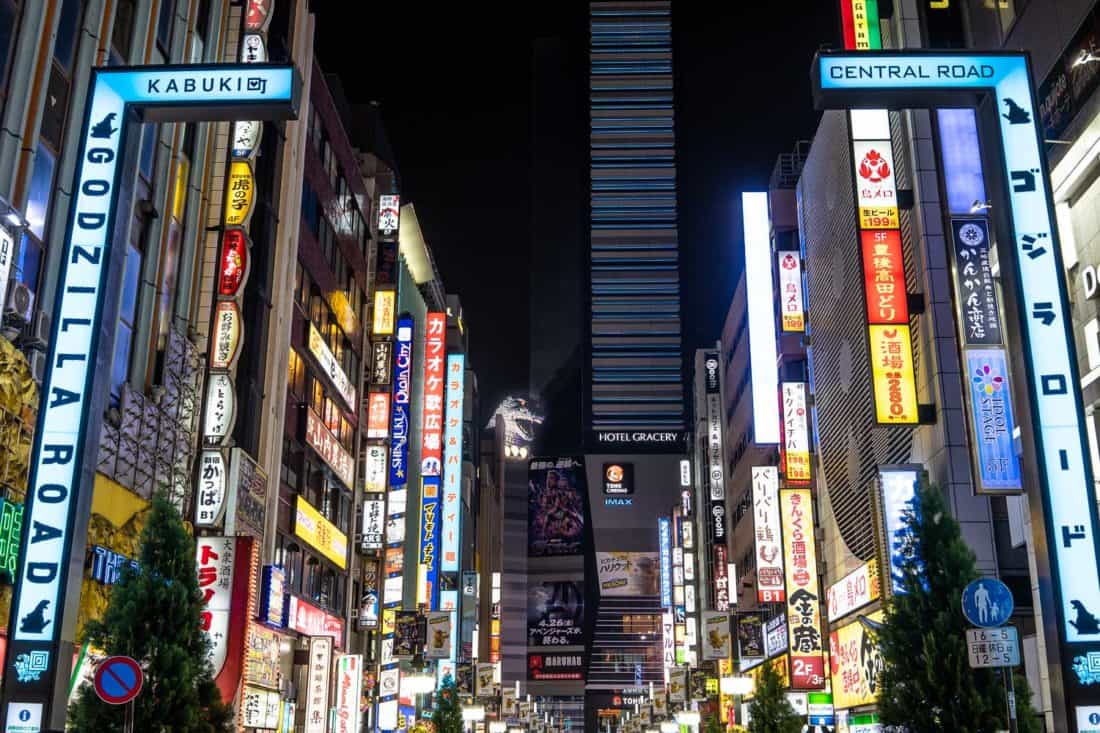 Near Karaoke no Tetsujin is one of the most famous Shinjuku sights—a giant Godzilla head that towers above the Toho Building and the neon signs of Kabukicho.
The building also houses the Shinjuku Gracery Hotel and if you stay there you can see Godzilla up close in reception—it even roars!
9) Dress Up as a Samurai at the Samurai Museum
We still haven't made it to the Samurai Museum, but it gets excellent reviews and is a fantastic family-friendly activity.
The small museum has a display of costumes, swords and other articles from these honour-bound warriors.
A guided tour is included in the price and is recommended to understand the samurai spirit and how it permeates into modern Japanese lives. You can try on the costumes for a fun photo opportunity.
Details: 1800 yen ($17) entry. Open 10.30am to 9pm. Get 5% off by booking online at Voyagin.
10) Learn to be a Ninja at Ninja Trick House
Another good option if you are wondering what to do in Shinjuku with kids (big or small), is the Ninja Trick House. It's also on our list for next time.
Here you can learn about the life of a ninja and try some of their skills yourself including throwing shurikens and swordplay. The experience lasts for 30–45 minutes.
Details: 1500 yen ($14) entry (free for kids aged 3 or under). Open 10am – 6.30pm. Closed Tuesdays and Wednesdays. Reservations are highly recommended.
11) Go Shopping
Shinjuku is one of Tokyo's main shopping areas. Even though we're not fans of shopping, we still always end up in some of the stores. Here are just some of the shops to check out:
Uniqlo – Affordable but good quality basic clothing items. Ideal if you need some winter clothes. I love their Heattech base layers.
Bic Camera – A massive electronics store with everything tech you could possibly need. Take your passport and get more expensive items tax-free. I bought my Sony a7 III camera from the Kyoto store and got extra discounts and freebies. It's also good for picking up a SIM card.
Bicqlo – This branch handily combines Uniqlo and Bic Camera in the same mammoth building.
Isetan and Takashimaya department stores – The food halls in Japanese department stores are not to be missed and these are two excellent ones. Whether you are looking for a picnic lunch, foodie gift, or just browsing, there's a huge array of choice from bento boxes to beautifully packaged seasonal sweets, weird flavoured kitkats to $100 melons.
Tokyu Hands – Brilliant for stationery, household items, and creative souvenirs.
Don Quijote – A chaotic discount store perfect for cheap souvenirs.
Here's a more detailed Shinjuku shopping guide.
12) Eat!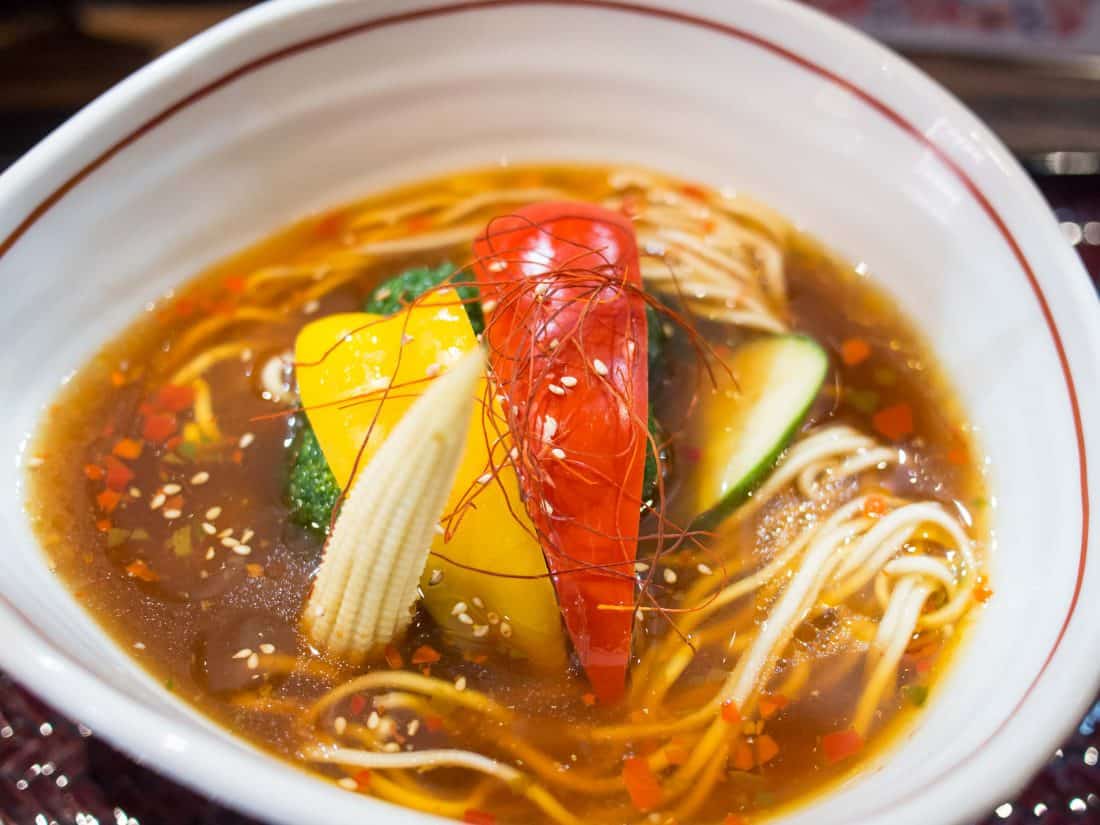 Of course, one of the top things to do in Shinjuku (and all of Tokyo), is eat!
We're vegetarian so our experience is a little different. Our favourites include Shinjuku Gyoen Ramen Ouka for ramen, Milk Land for an excellent value lunch set, Tsunahachi for tempura, and Zen for okonomiyaki. Isetan also has a vegan bento box.
See my Tokyo vegetarian restaurant guide for more details.
If you do eat meat, check out this list of the best restaurants in Shinjuku from ramen to sushi.
You might also want to take this Shinjuku Night Food Tour where a local will take you to try the best sushi and wagyu beef.
For a fun dining experience, the Ninja Shinjuku restaurant is highly rated and combines ninja tricks with fine dining. Apparently, they can even cater for vegetarians—we'll have to try it next time.
Map of Things to Do in Shinjuku Tokyo
Tokyo Travel Tips
Read our other Tokyo posts to help you make the most of your time in this amazing city:
I hope this Shinjuku guide helps you explore this vibrant neighbourhood. Let us know in the comments below if you have any other recommendations of things to do in the area.
If you enjoyed this post, pin it!