This page contains affiliate links. Please read our disclosure for more info.
Lake Kawaguchiko is one of the best places to see the iconic Mount Fuji.
Japan's highest mountain (at 3776 metres) is a perfectly shaped volcano and looks especially stunning when snow-capped in winter and spring.
Kawaguchiko is a town around the lake of the same name in the Fuji Five Lakes region.
It's possible to visit on a day trip from Tokyo, but it's a relaxing place to spend a few days and a longer stay gives you more chances to see the elusive mountain. Unfortunately, the peak is often obscured by cloud.
The views are especially lovely in spring (mid to late April) and autumn (early to mid November) when you can enjoy Mount Fuji views with cherry blossoms or red maple leaves in the foreground.
We visited in mid-April when the blossoms were starting to bloom and we were surprised by how cold it was—we even had some snow and sub-zero temperatures.
We could see Mount Fuji on two out of the three days we were there—on the other day it was hidden in the clouds.
In this post, I share the best things to do in Kawaguchiko including where to see Mount Fuji, plus transport, hotel, and food tips.
I also answer the common question of whether Lake Kawaguchiko or Hakone is the best place to see Mount Fuji. At the end, there is a map with everything mentioned.
Contents
5 Best Things to Do in Kawaguchiko
We explored at a relaxed pace (with one day when we couldn't see Mt Fuji), so although we had 2.5 days, everything on our Kawaguchiko itinerary could be done in one full day if you start early.
We walked everywhere except for the Chureito Pagoda (which is a short train ride away), but to save time you could take the local buses or rent a bike. There are more transport tips below.
Note that if you were thinking of climbing Mount Fuji, this can only be done in July and August. It's a very steep climb over one or two days and is likely to be crowded with other hikers.
1) See Mount Fuji from the North Shore of Lake Kawaguchi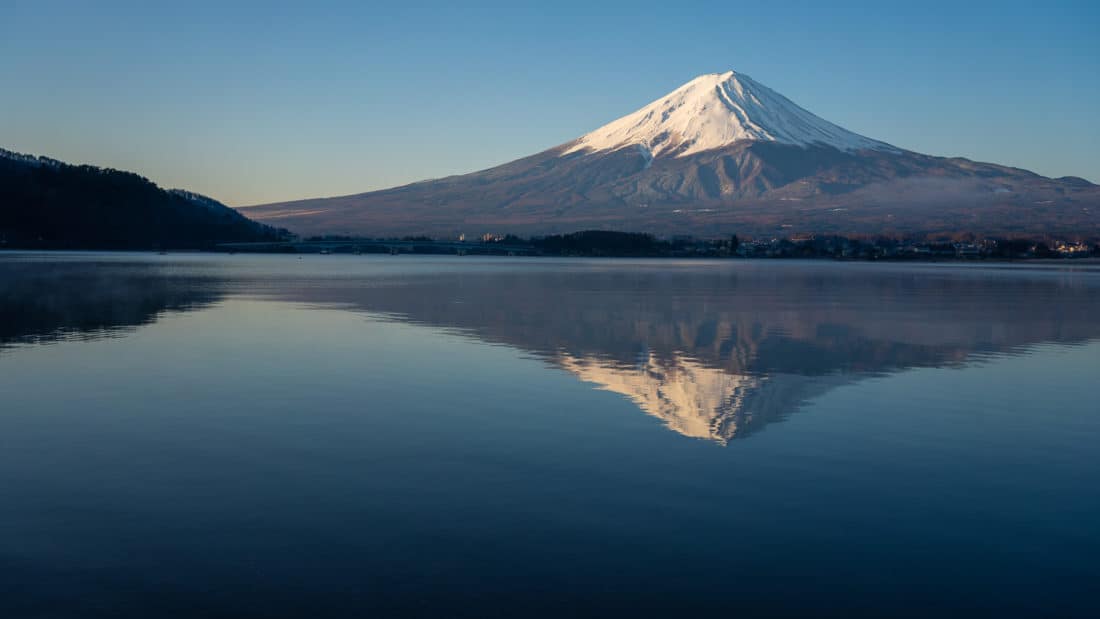 You can see Mount Fuji from many places in Kawaguchiko—just turn a corner and you'll see it looming over the town—but the best view is from the north shore of the lake.
The mountain is even more beautiful with the lake in the foreground, and at certain times, you can even see it reflected in the water.
We stayed on the south shore of the lake (where the train station and most restaurants are), but it's a pleasant walk across to the other side and we did this every day.
To get there, walk over the Kawaguchiko Ohashi Bridge, which also has great views of Mt Fuji.
We were staying at Kawaguchiko Lakeside Hotel right by the bridge, so it was very convenient.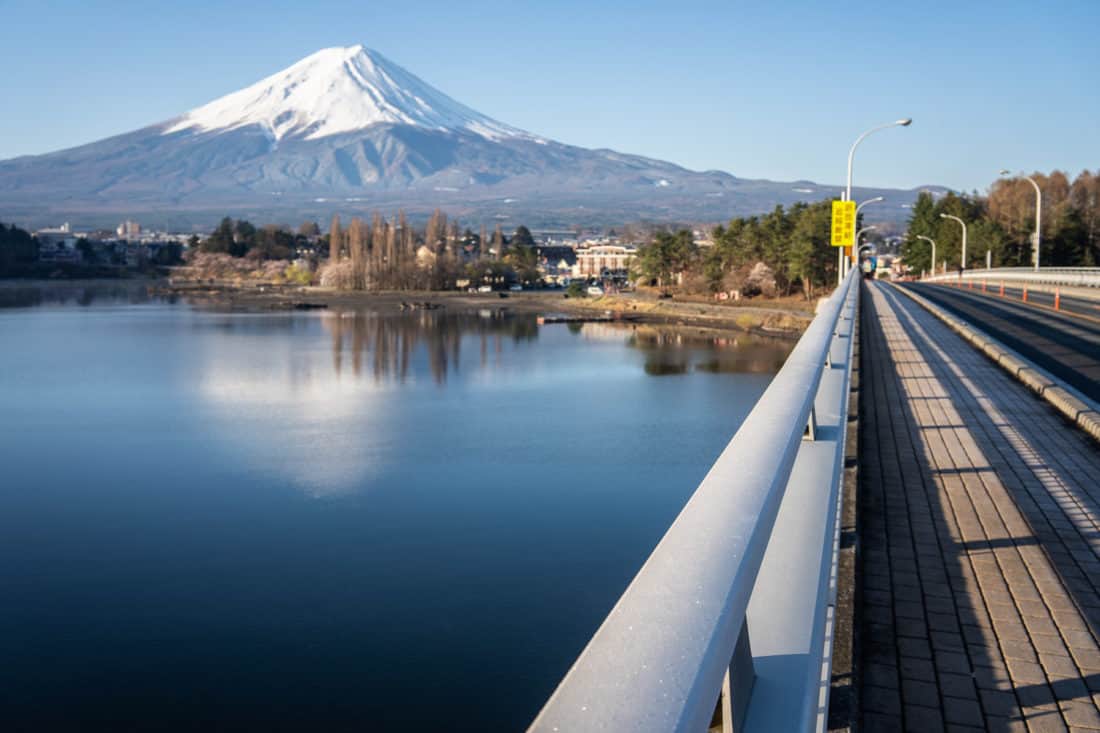 It's about a 30-minute walk from Kawaguchiko Station to the north side of the bridge.
From here, turn left and continue walking along the lakefront (for 15 minutes or more) for even better Fuji views.
The Kawaguchiko Music Forest Museum is in this area. We didn't go into the recreation of an Alpine village with music performances, but head in this direction for the best views.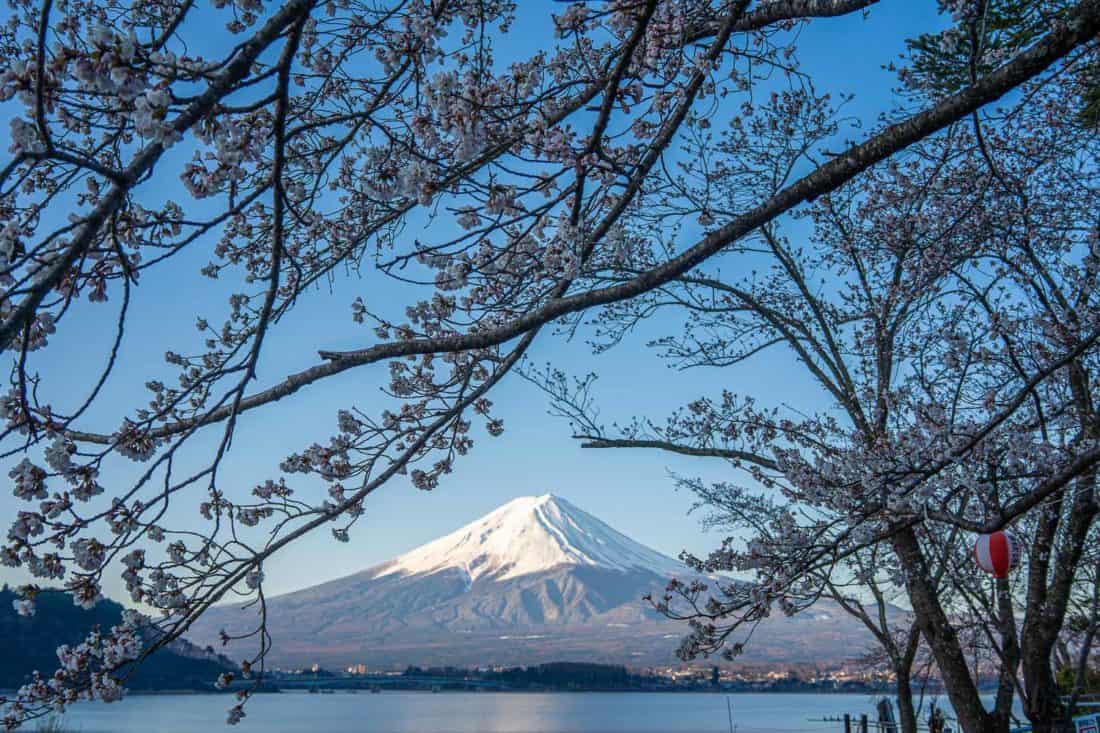 In April, the Sakura Festival is close by with food and craft stalls and plenty of cherry blossoms. In autumn, don't miss the Maple Corridor.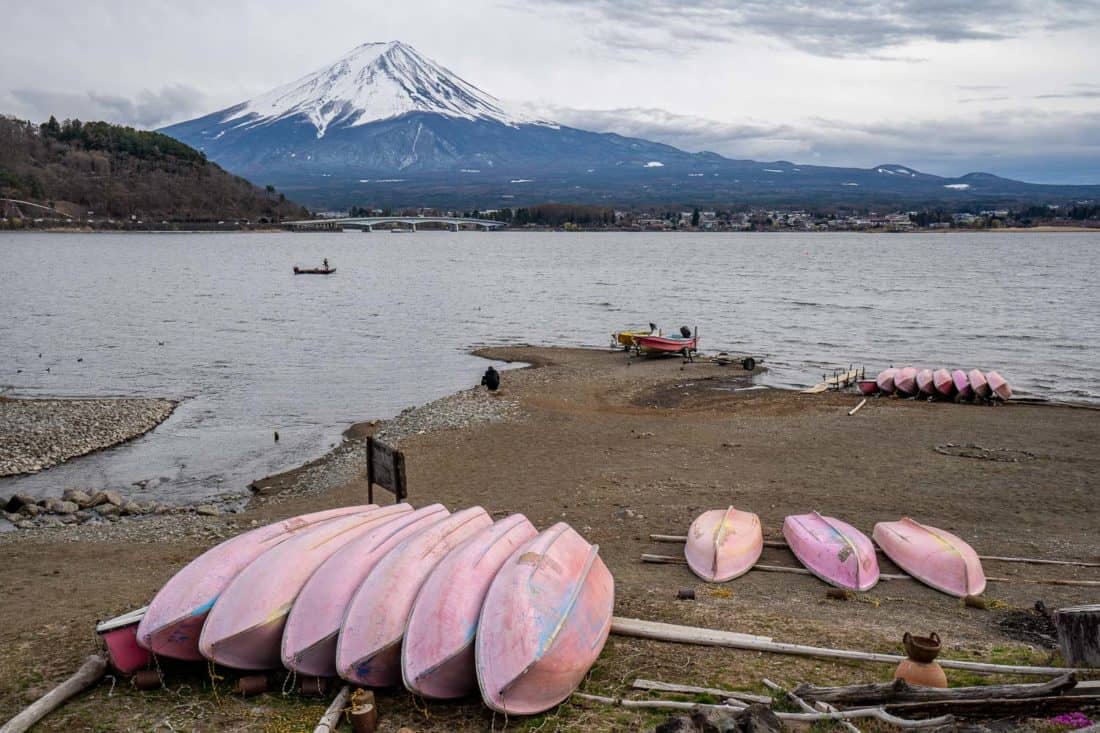 I also ran across to the north shore at sunrise for even better views. You don't actually see the sun come up, but Mount Fuji looked gorgeous glowing in the early morning light with its snowy peak reflected in the lake.
With steam rising from the water and a few rowing boats out for practice, it was very atmospheric.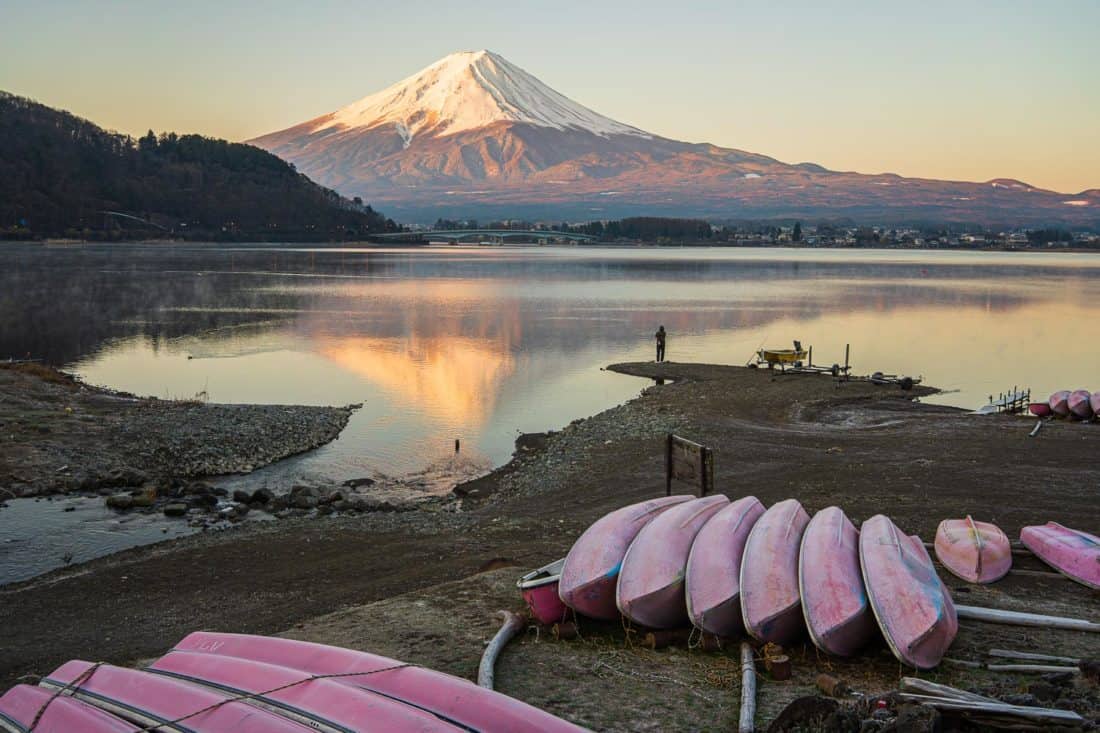 2) Ride the Kawaguchiko Ropeway
One of the most popular things to do in Lake Kawaguchiko is to take the Mt. Fuji Panoramic Ropeway (cable car) up above the lake for the views.
My feelings about this are mixed—I don't think it's a must-do, but it does offer a different perspective of the famous peak.
Our experience was affected by the fact we visited on a sunny Saturday morning in cherry blossom season.
At 10am we had to wait 30 minutes to get on the ropeway and then they cram people into each car so you can't see much on the way up. By 11am the queue was even longer.
At the top there's a cafe, gift shop, and a few cartoon animal statues. There are good views of Mount Fuji (on the opposite side from the lake), but it has a sprawling town and Fuji Q Highland theme park in the foreground.
I prefer the view from the north shore with the lake in front.
We likely would have enjoyed it more on a quiet day. As it was, we were glad we'd only bought a one-way ticket on the ropeway so that we could walk down.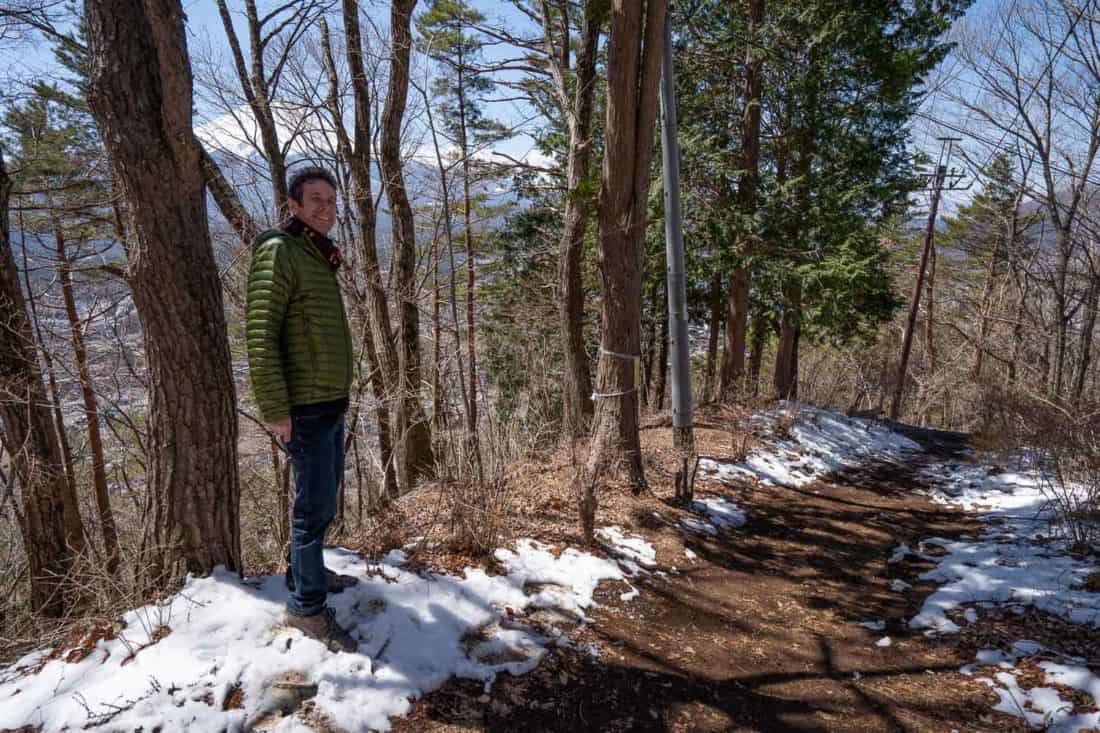 This was our favourite part of the experience—a peaceful 30-minute walk on a forest path with various viewpoints of Mt Fuji on the way down. We only saw a few other people.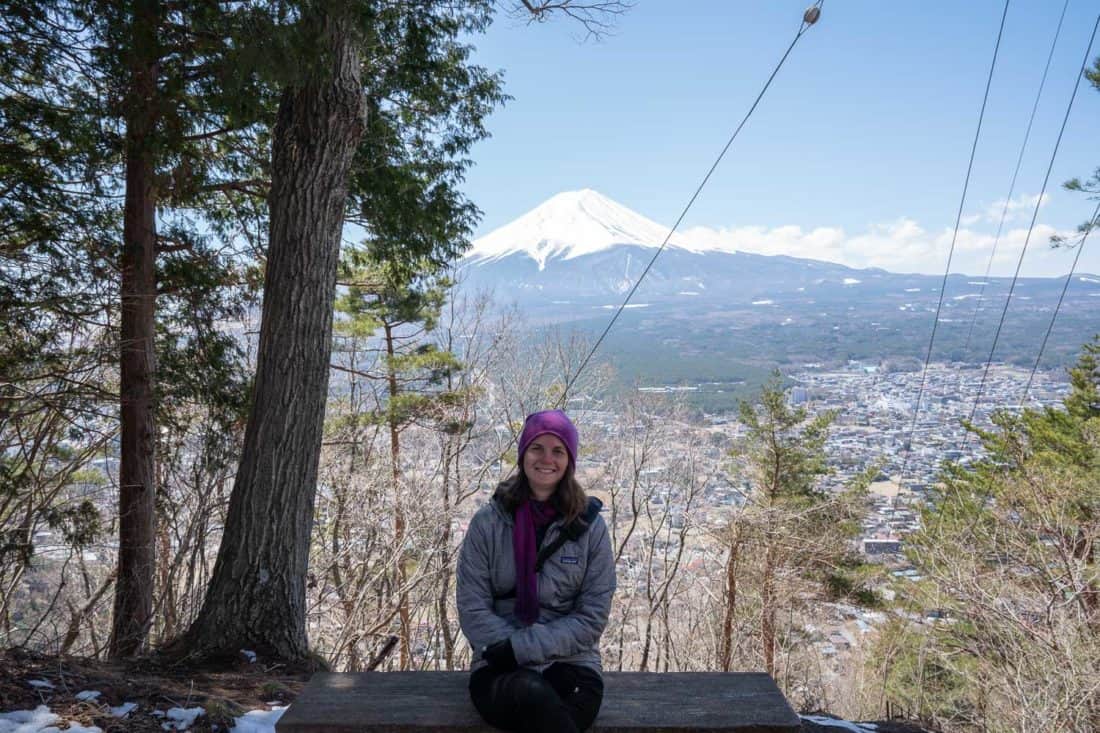 You could also walk up this trail, but obviously, it's steeper than walking down and the path up isn't obvious (it starts to the right of the ropeway).
Details: Kawaguchiko Ropeway tickets are 500 yen ($4) adult/ 250 yen ($2) child for one way (which I recommend and then walk down) or 900 yen ($7) adult/ 450 yen ($3.50) child for return.
You can also get a combined boat and ropeway ticket for 1600 yen ($12) adult/ 800 yen ($6) child, but this works out more expensive if you only take the ropeway one way.
The ropeway is on the southeast side of the lake, a 10-minute walk from the train station. It's open 9am – 4pm week days and 9.30 – 5pm Saturdays. I recommend going during the first or last hour of the day.
3) Pedal a Panda Boat on the Lake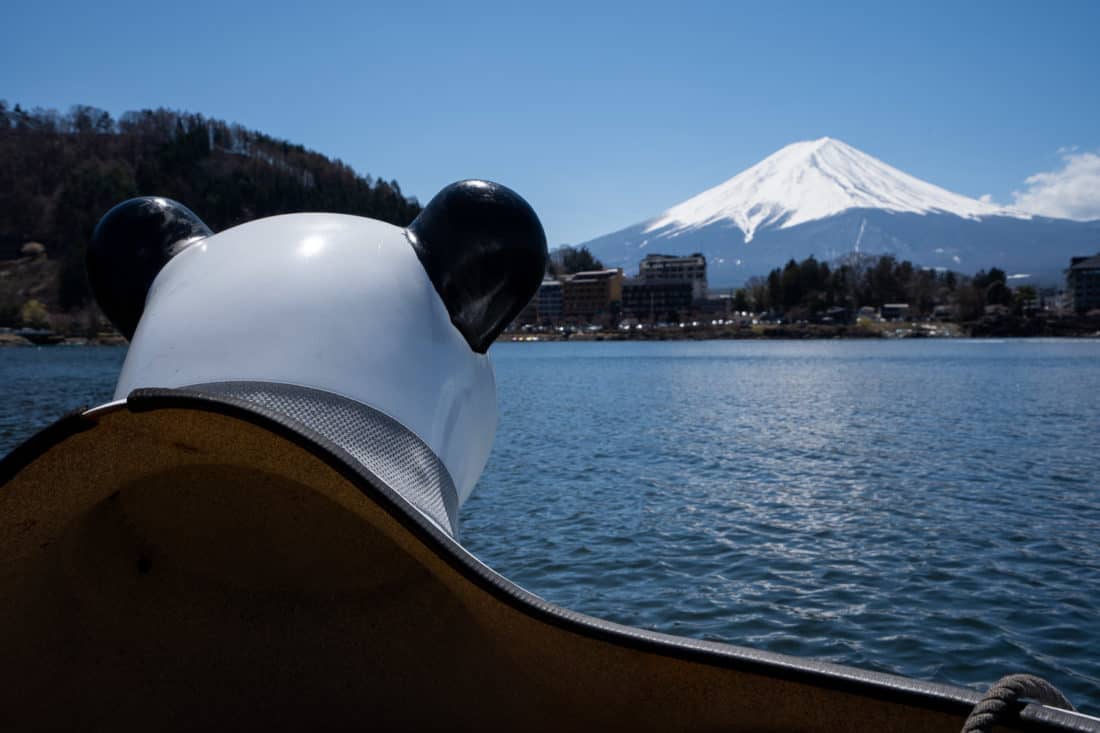 One of the top Kawaguchiko attractions is to take a boat trip on the lake, but after our stressful ropeway trip, we couldn't face the crowds of the Ensoleille sightseeing boat.
Instead, for the same price for two people, we rented a pedal boat and headed out on the lake by ourselves.
We really wanted the classic swan boat, but the boat guy insisted we take a panda.
It's not the most comfortable ride, especially if you have long legs, but after about five minutes of pedalling, there are good views of Mount Fuji and you can take a break and enjoy it in peace.
I still prefer the north shore view, but it's fun to see Mt Fuji from a panda's perspective!
Details: A pedal boat costs 2000 yen ($15) for 30 minutes and fits up to three people. The sightseeing boat trip costs 1000 yen ($7.60) adult/ 500 yen ($4) child, and lasts 20 minutes.
The Ensoleille sightseeing boat leaves from near the ropeway station and the pedal boat rentals are nearby. The sightseeing boat runs from 9am – 4.30pm/ 5.30pm depending on the month and the boat rentals have similar hours.
4) Admire Kimonos at the Itchiku Kubota Art Museum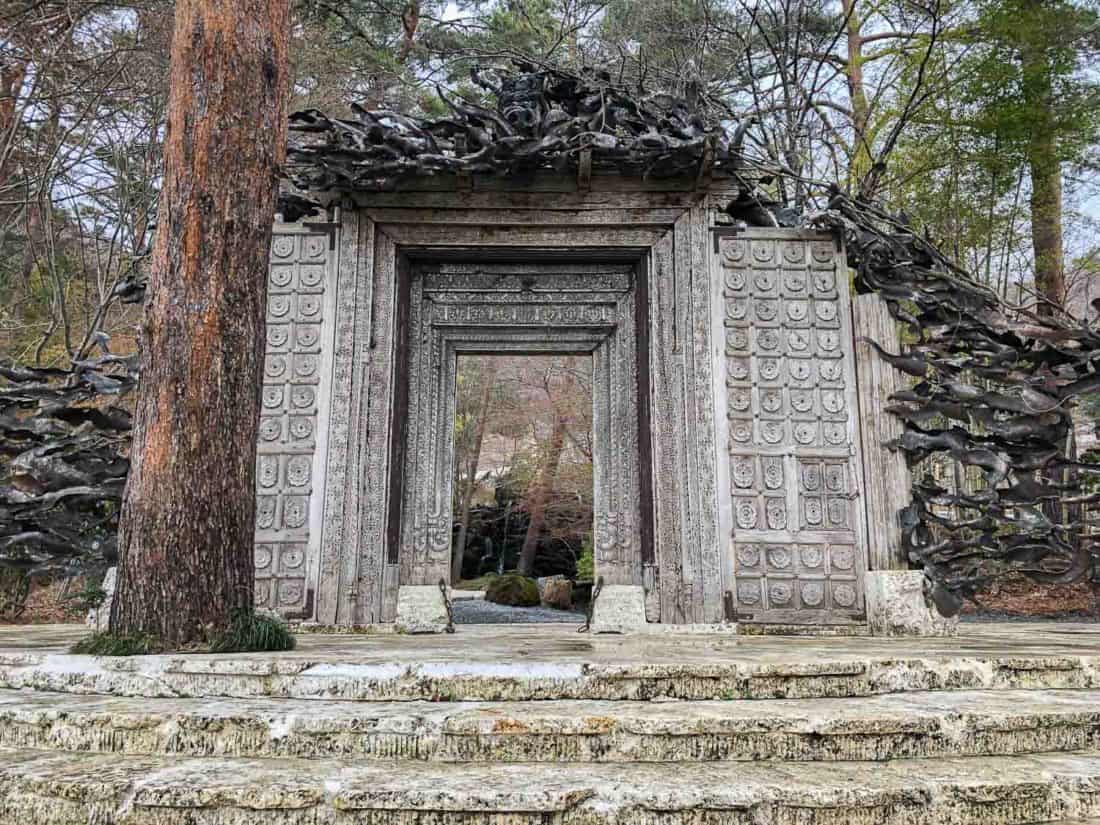 On the north shore of Lake Kawaguchi is the Itchiku Kubota Art Museum.
It's my favourite museum in Japan (I chose it as one of my top things to do in Japan) and is a fantastic rainy day activity away from the tourist crowds.
This classy museum within beautiful gardens (especially in autumn) features an exhibition of kimonos created by textile artist Itchiku Kubota.
In the main building, first watch the video about the artist to understand his mission to recreate the 16th-century textile dyeing technique Tsujigahana.
It took him 20 years until he was satisfied with his method, which includes tie-dyeing, ink painting, and embroidery, and the results of the elaborate and time-consuming process are stunning.
The oversized kimonos are so colourful and full of texture. Many of them depict Mount Fuji in the changing seasons and all include nature in some way.
They are just gorgeous and stayed in my mind after we'd left the museum.
I also highly recommend visiting the lovely tea room, Itchiku-an. It was once Kubota's artist studio and feels like a cave with big windows overlooking a garden of mossy rocks and a waterfall.
It feels so Japanese and is a peaceful place to relax.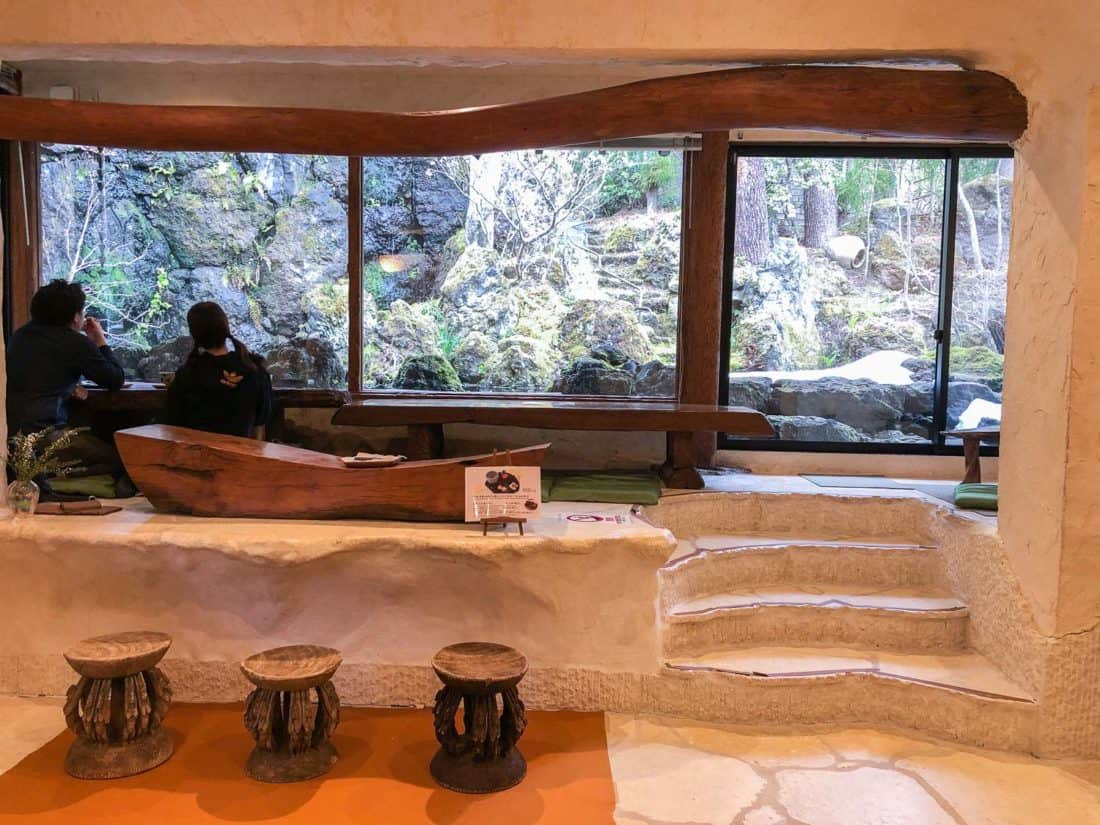 I got the wagashi set (1300 yen/$10) which included matcha tea and a soft mochi-style sweet in the shape of Mount Fuji decorated with cherry blossoms.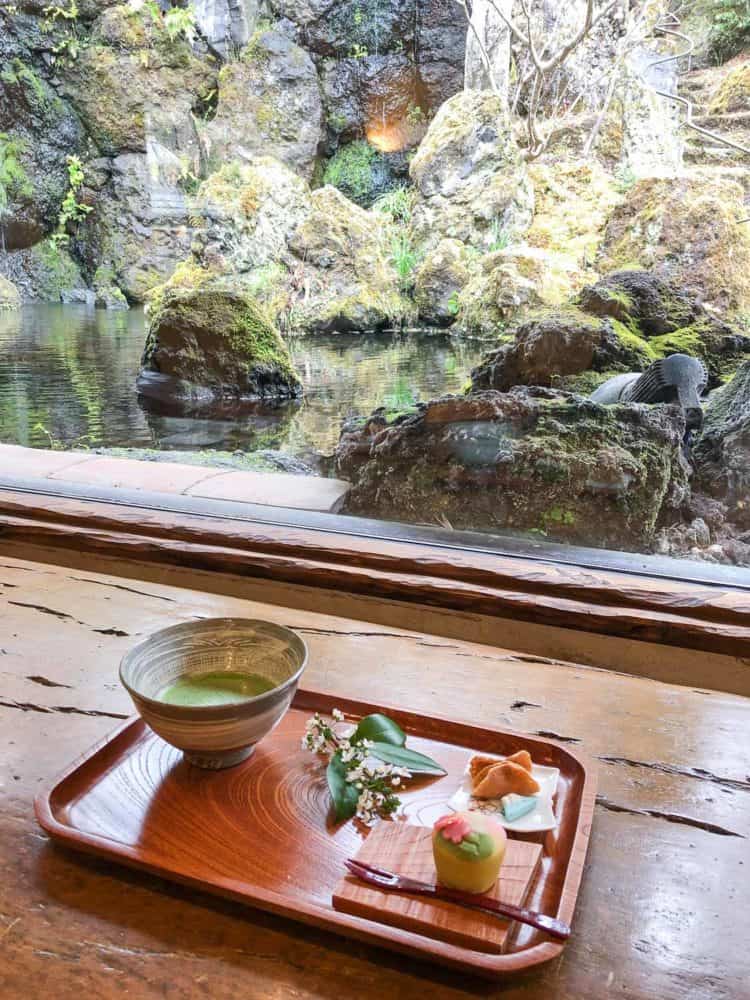 There's another cafe onsite that contains an ancient glass bead collection, but entry costs an extra 500 yen ($4) including a drink. I would stick with the unique tea room instead.
Details: Museum entrance is 1300 yen ($10) adults/ Free – 900 yen ($7) children depending on age. Open 9.30am – 5.30pm (10am – 4.30pm in winter). Closed Tuesdays (except in October and November).
5) Visit the Chureito Pagoda for the Classic Mount Fuji View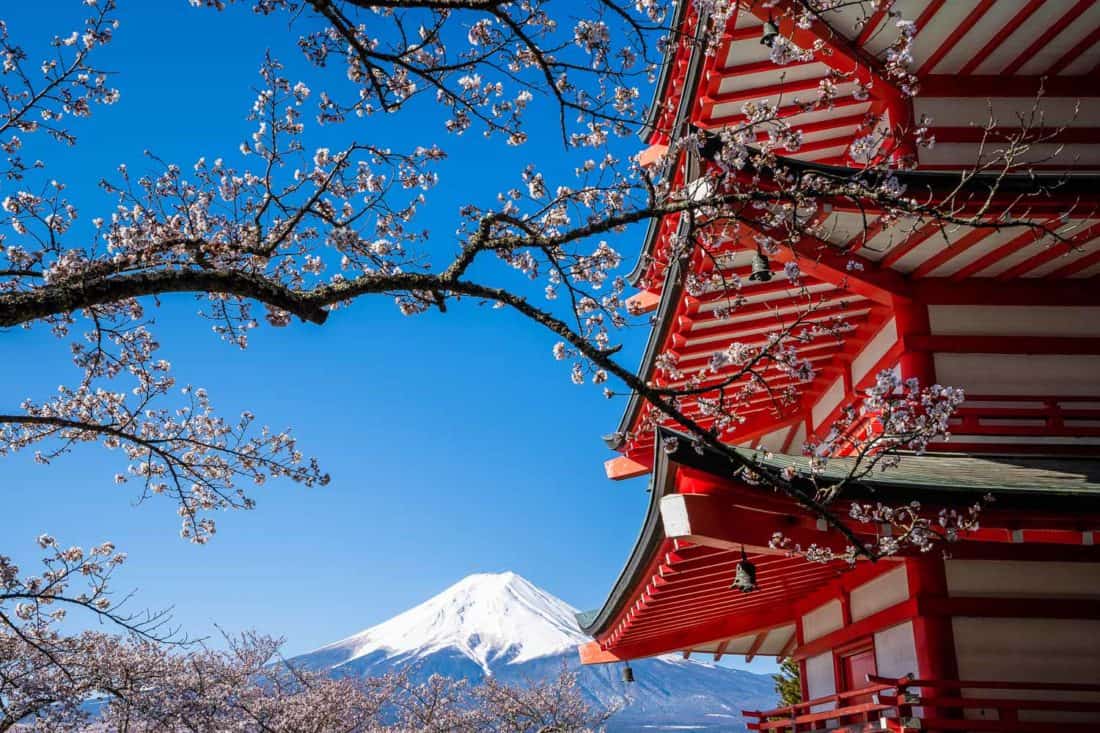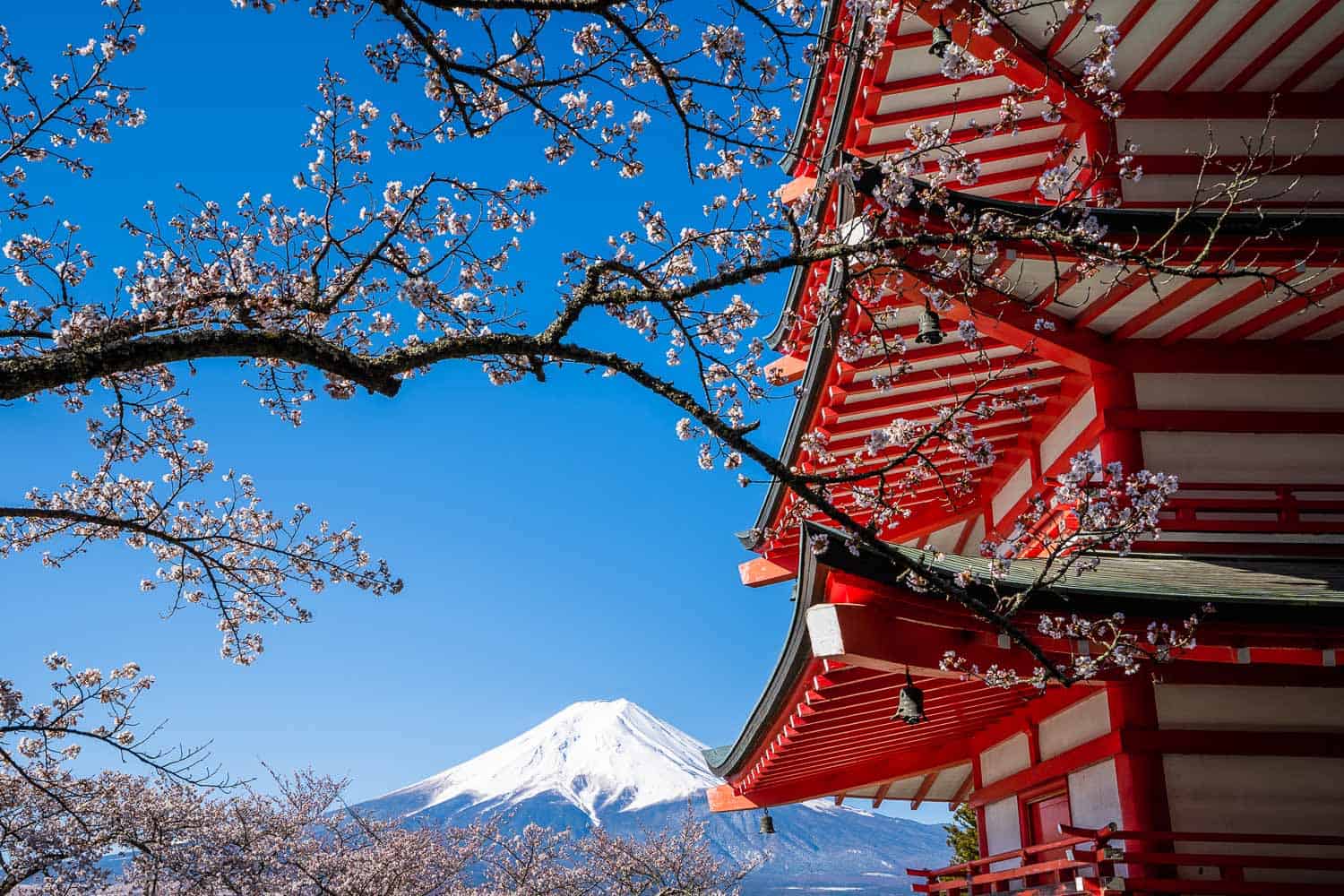 The most famous view of Mount Fuji is from Chureito Pagoda at Arakurayama Sengen Park, a 20-minute train ride from Kawaguchiko.
In cherry blossom season, a visit here is a must for many people. The combination of the vibrant red five-storey pagoda, snow-capped Mt Fuji, and sakura is a classic image of Japan.
The flowers bloom slightly earlier here than on the lakefront—at the pagoda they were in full bloom for us.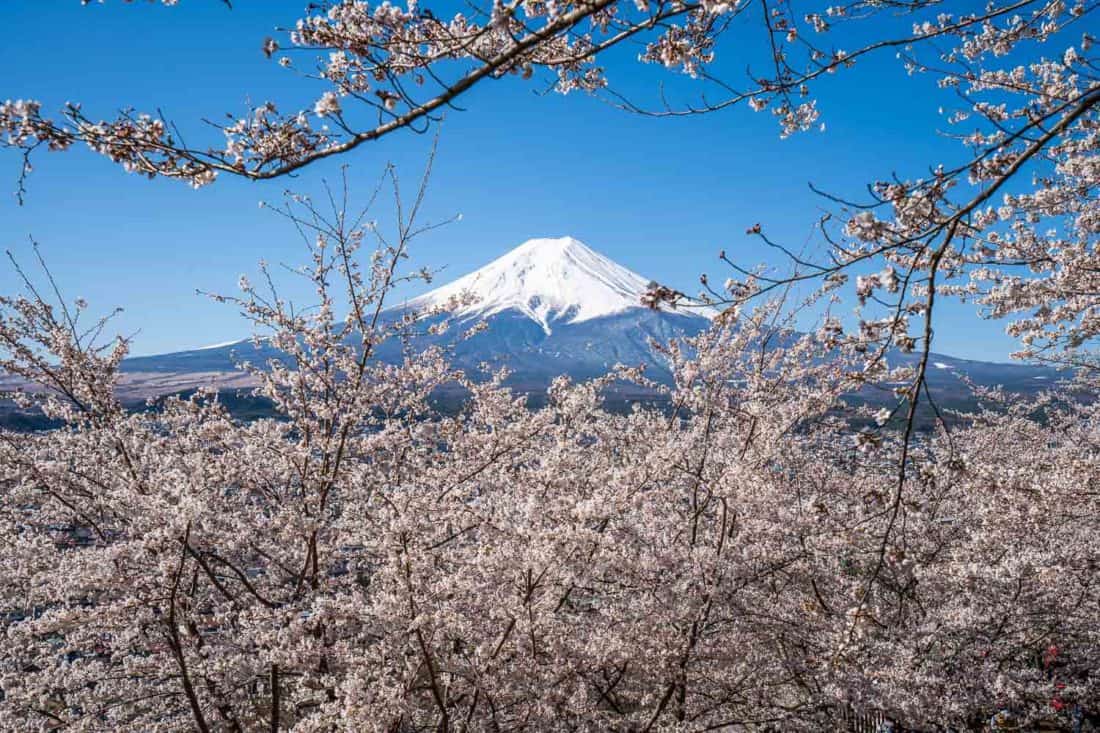 What no one tells you is how busy this spot is, though. We arrived before 8am (on a sunny Saturday) and there were already hundreds of people waiting in line to get the iconic photo.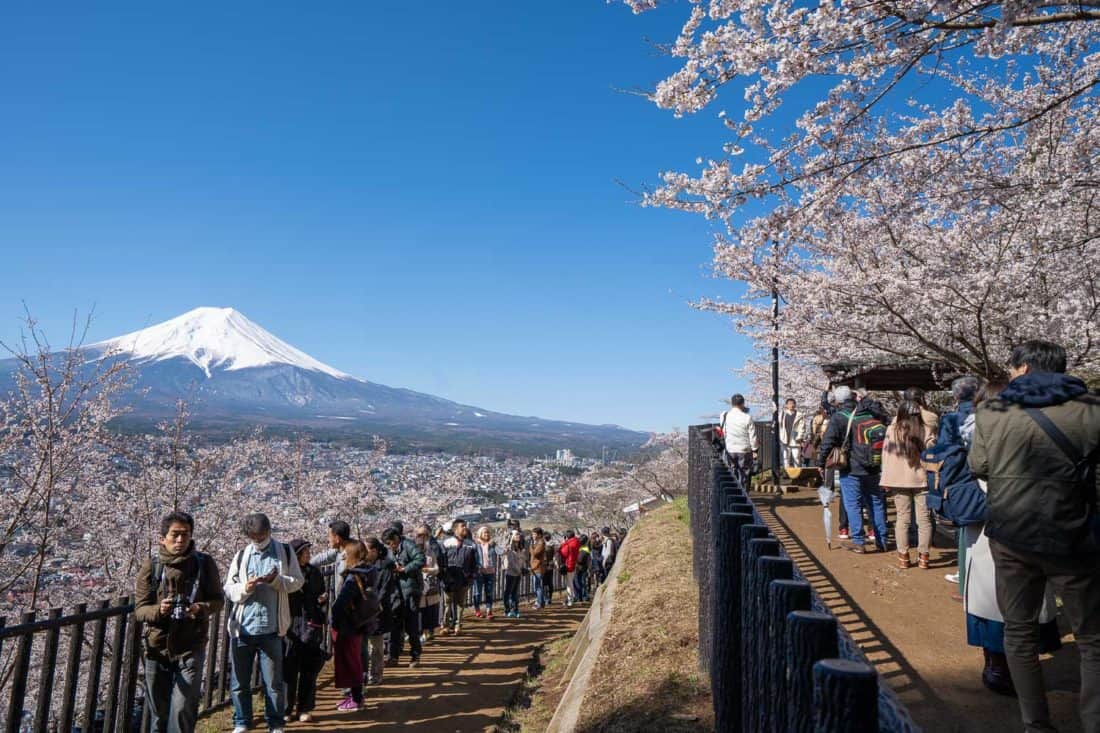 I didn't have the dedication to wait an hour or more to take the same photo as everyone else, so I made do with the close up view you can get without queuing.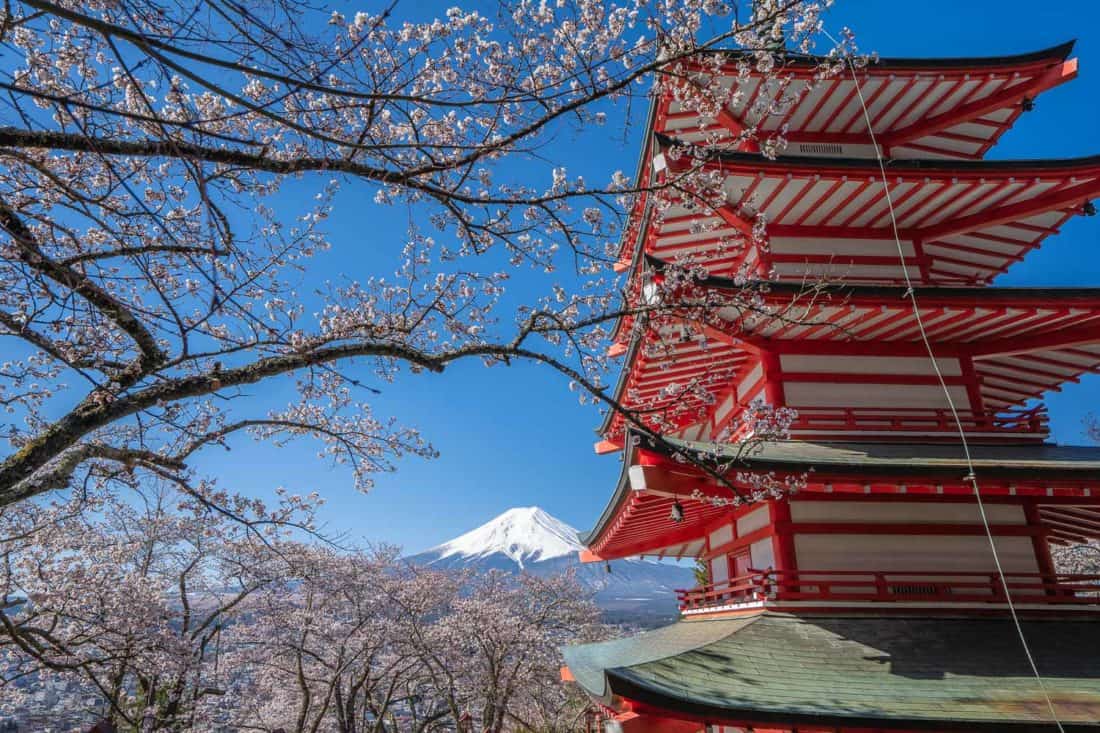 The many sakura and the views of the mountain are wonderful here, but in sakura season the crowds make it a little stressful.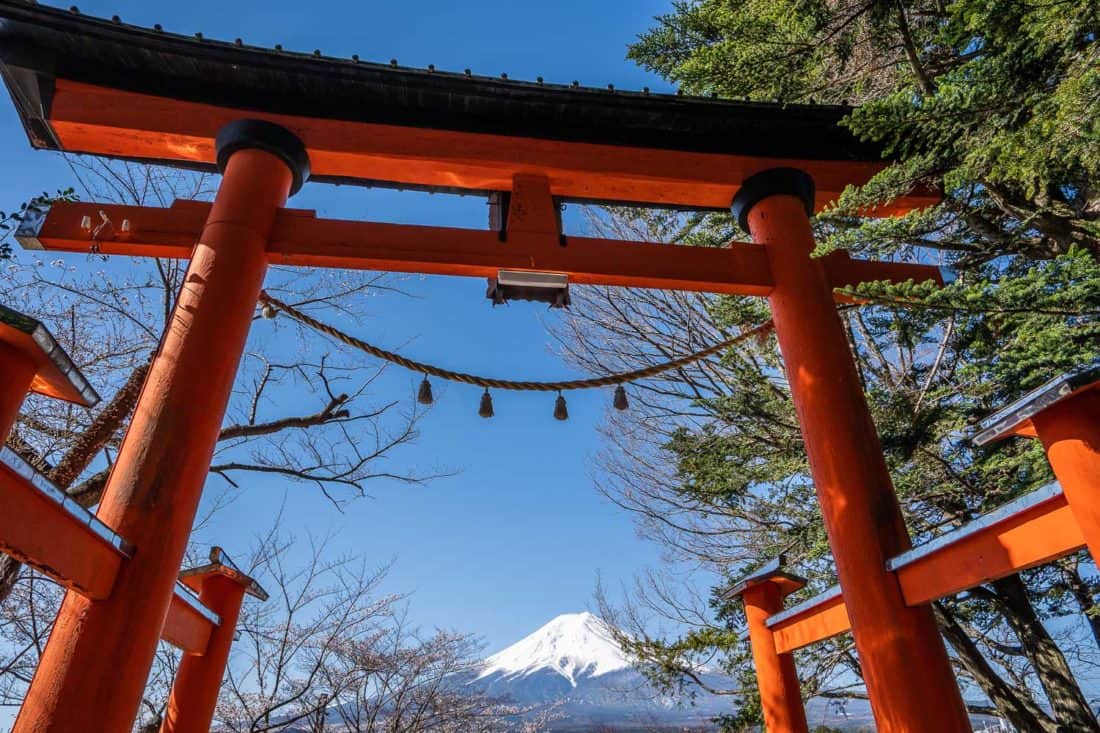 Details: To get here, take the Fujikyuko Line train from Kawaguchiko Station to Shimoyoshida Station, which takes about 20 minutes. Japan Rail Passes aren't valid—we used our ICOCA transport cards to tap on and off. The trains have fun cartoon designs and you can see Mt Fuji for much of the way.
From Shimoyoshida Station follow the signs for the 15-minute walk to the park. Enter through a large torii gate and climb 500-ish steps to the pagoda. It's easy to find the way.
Other Kawaguchiko Attractions
We didn't get around to doing these, but you might also be interested in:
Ide Sake Brewery – You can do sake tours and tastings at this small brewery near Kawaguchiko station at 9.30am and 3pm. You need to book in advance (ask your hotel to call).
Fuji-Q Highland – A theme park a two-minute train ride from Kawaguchiko. You can see Mt Fuji from some of the thrilling rollercoasters. It's best visited on a weekday as it gets busy.
Oshino Hakkai – Scenic ponds and thatched-roof farmhouses in an open-air museum with Mt Fuji views. It's a 30-minute bus ride from Kawaguchiko Station on the F bus line.
There are many other attractions and quieter lakes to explore in the Fuji Five Lakes area. Pick up the Mt Fuji Guide booklet from the tourist office at the station for maps and bus routes.
Kawaguchiko Hotels
Kawaguchiko Lakeside Hotel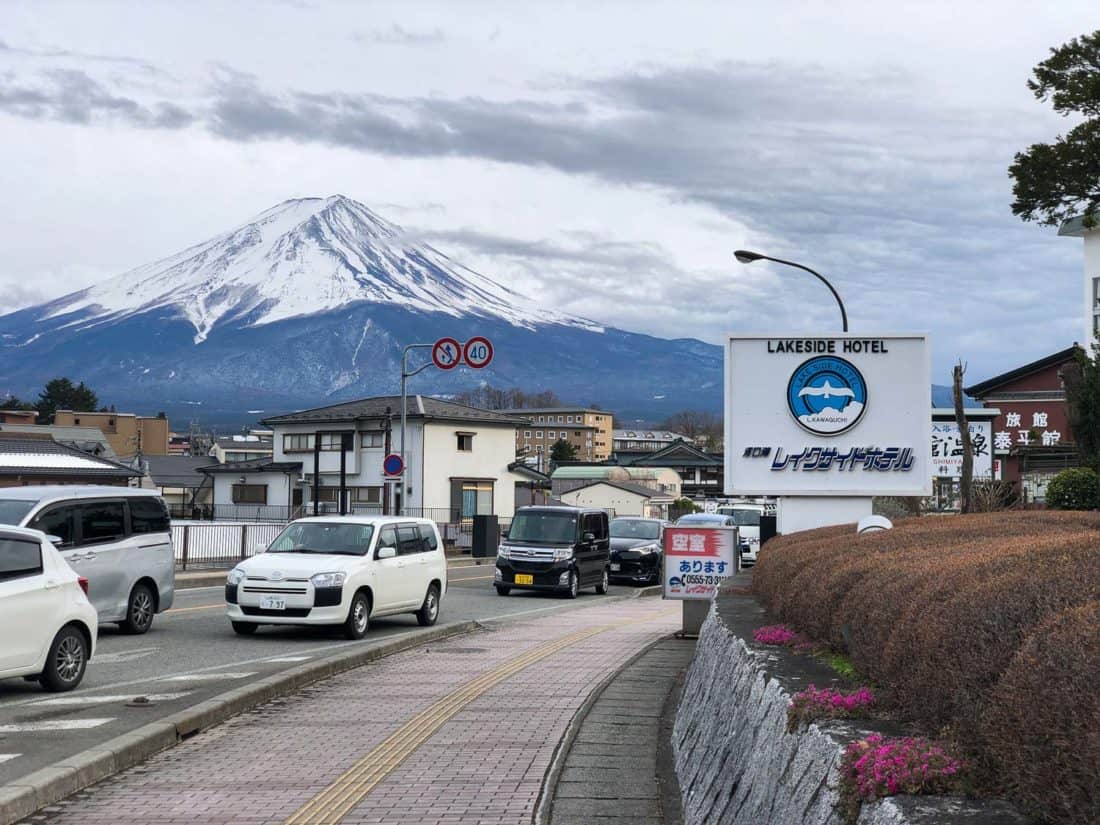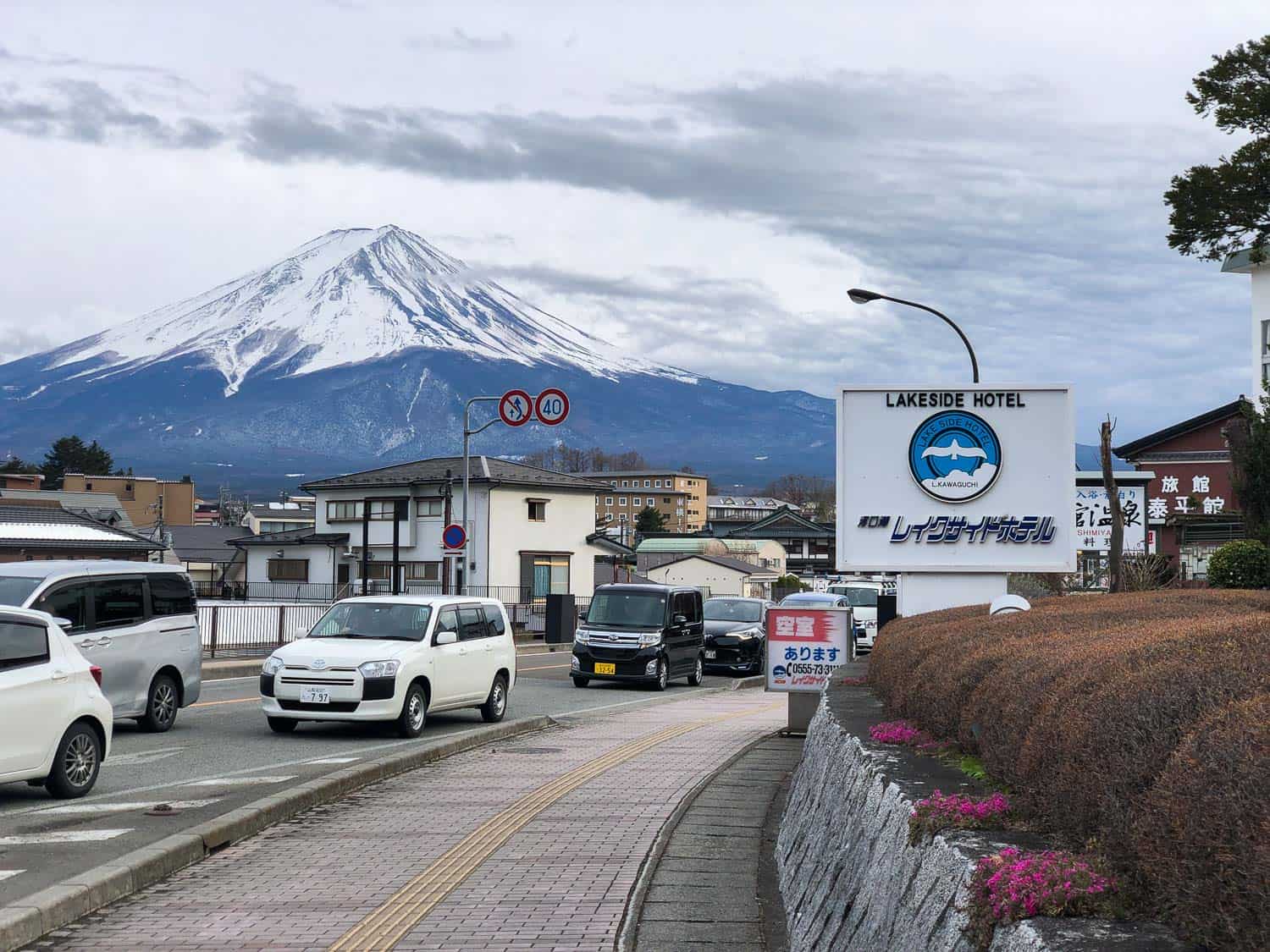 We spent three nights at Kawaguchiko Lakeside Hotel, which has a great location on the south shore near the Kawaguchiko Ohashi Bridge about halfway between the station and the north shore of the lake. There's a bus stop across the road.
Many of the rooms have Mt Fuji views (and you can see the mountain if you step outside), but we stayed in a budget twin room without a view as that's all that was available.
It was the largest room we've stayed in in Japan with four separate areas—a bedroom with Western-style twin beds, a tatami mat living room with a low table, fridge and TV, a large hallway with a wardrobe, and a small bathroom.
The heating kept us warm when the temperature plummeted.
The staff are very friendly and picked us up from the station (and dropped us back) and let us check in early (unusual in Japan).
There's a restaurant that we didn't use (but it gets good reviews from other guests) and a small onsen (hot spring bath). The onsen is nothing special (no view), but it was quiet and relaxing.
It's a convenient and affordable option in Kawaguchiko.
Check the latest prices of Kawaguchiko Lakeside Hotel here.
Other Options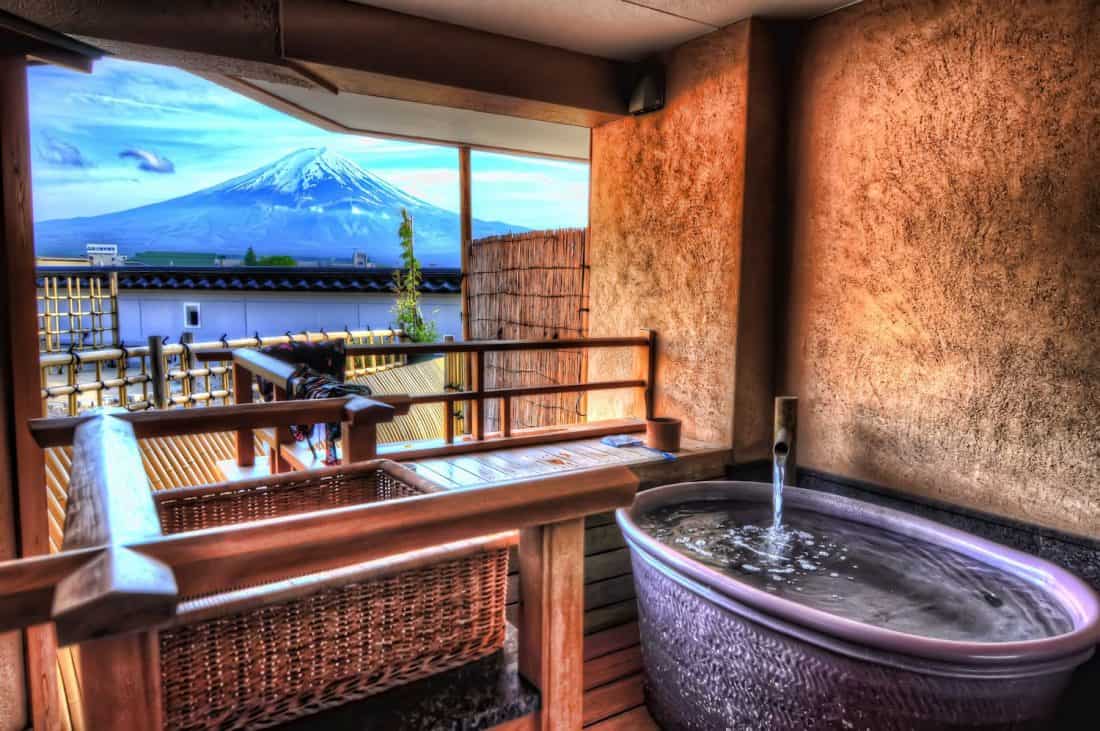 Hotel Konanso photo by Chris Robinson.
There are many Lake Kawaguchi hotels and ryokans with amazing views.
I was very tempted by Fujikawaguchiko Onsen Konanso, but it was already booked up.
It has a fantastic location on the lake near the ropeway, and best of all, some rooms feature private outdoor onsens on their balconies with Mount Fuji views.
This is ideal if you are too shy for the public onsens. There are both Japanese and Western-style rooms.
Shuhokaku Kogetsu is located on the north shore, so it has the best views of Mount Fuji (but is further from the train station).
There are mountain views from the rooms, restaurant, and a lovely outdoor onsen.
If you are on a budget, K's House Fuji View Hostel is a great choice. It has dorm beds and private Japanese-style rooms, some with mountain views.
It's quite far from the lake, but you can rent bikes on-site.
Search for more hotels and ryokans in Kawaguchiko here.
Getting Around Kawaguchiko
On arrival at Kawaguchiko Station, many hotels offer free transfers. For Kawaguchiko Lakeside Hotel we had to go to the Fuji Kawaguchiko Tourist Information Centre next to the station and they called the hotel for us.
When you arrive, pick up the useful tourist booklet which has maps and bus timetables.
We walked everywhere except for Chureito Pagoda, but you could rent bikes or use the sightseeing bus. The buses do get very crowded at popular times of the year.
There are red, green, and blue bus lines. The red line is the most useful as it'll take you to the ropeway and north shore (but it's a lovely walk).
The green line takes you to more distant, quieter spots such as Lake Saiko, but it only runs every 30 minutes. The blue line goes to Lake Motosuko.
You can buy a two-day unlimited pass for all of them for 8000 yen ($60) over 12 years old/ 4000 yen ($30) children 6-11 years old. The pass also includes free admission to many of the local attractions.
How to Get to Kawaguchiko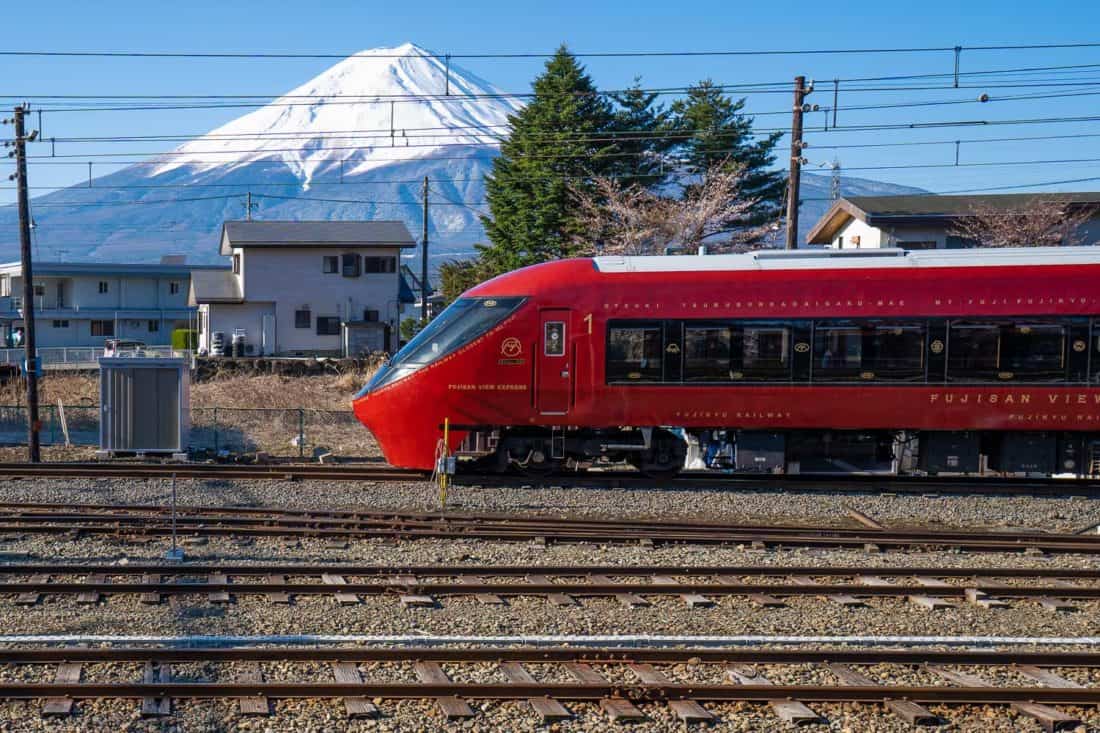 Check train times and prices on the Navitime website or app.
If you will be travelling around Japan by train, read my post on is a JR Rail Pass worth it.
Tokyo to Kawaguchiko
The easiest way to reach Kawaguchiko is from Tokyo and many people do come as a day trip.
If you are coming from Tokyo to Lake Kawaguchiko just for the day, it might be easier to take a tour such as this Mt Fuji Full Day Sightseeing Trip.
To travel independently, you can take the bus or train.
There is a direct bus, but we always prefer the more comfortable train travel in Japan.
The Fuji Excursion train offers direct access from Shinjuku to Kawaguchiko in 1 hr 49 minutes. There are two round trips every day so it works well as a day trip.
If you have a Japan Rail Pass, only part of your fare is covered—you have to pay an additional 1740 yen ($13) fee for the section past Otsuki.
A cheaper option is to take the JR Chuo line from Shinjuku station to Otsuki (covered by the Japan Rail Pass) and change to the Fujisan limited express (1170 yen/$8.50, not covered by the pass). The whole journey takes at least 2.5 hours.
Hiroshima or Kyoto to Kawaguchiko
If you are coming from the south, it's more challenging as the nearest shinkansen (bullet train) is at Mishima.
From here you need to take a Fujikyu Bus which takes 1.5 hours and costs 2300 yen ($17), children half price. It's best to book the bus in advance—we booked on Japan Bus Online.
From Kyoto it takes two hours to reach Mishima direct on the Hikari shinkansen. From Hiroshima, it's at least four hours (with one change).
We were coming from Okayama, which is 3.5 hours to Mishima, and chose to break up the journey with an overnight stay in Mishima.
The Dormy Inn is an affordable option near Mishima station with an onsen and Mt Fuji views (if it's not pouring with rain as it was for us).
Cafe Bain Marie is a cosy bar with good food and vegetarian options.
Vegetarian Food in Kawaguchiko
There are a few good vegetarian options in Kawaguchiko, although we had to resort to Italian for some variety.
You can also see our vegetarian Japan guide for more tips on avoiding meat and fish while travelling the country.
This tempura restaurant near the station has a vegetable tempura set which you can order with rice. Vegetarians should skip the miso soup and noodles as they contain dashi (fish stock).
It's open from 11am – 8pm (closed Tuesdays) so it's a good option when other restaurants are closed (many don't open until 6pm). It can get very busy.
Delicious authentic pizza and spaghetti with tomato sauce. Open for lunch 12pm – 2pm and for dinner 6pm – 9pm. Closed Thursdays.
Another Italian restaurant near the station. It's not as good as Pizzeria Onda, but we enjoyed the pizza and vegetable pasta. Open for lunch 11.30am – 2.30pm and for dinner from 6pm – 10pm (from 5pm weekends). Closed Mondays.
Kawaguchiko vs Hakone: Which is the Best Place to See Mount Fuji?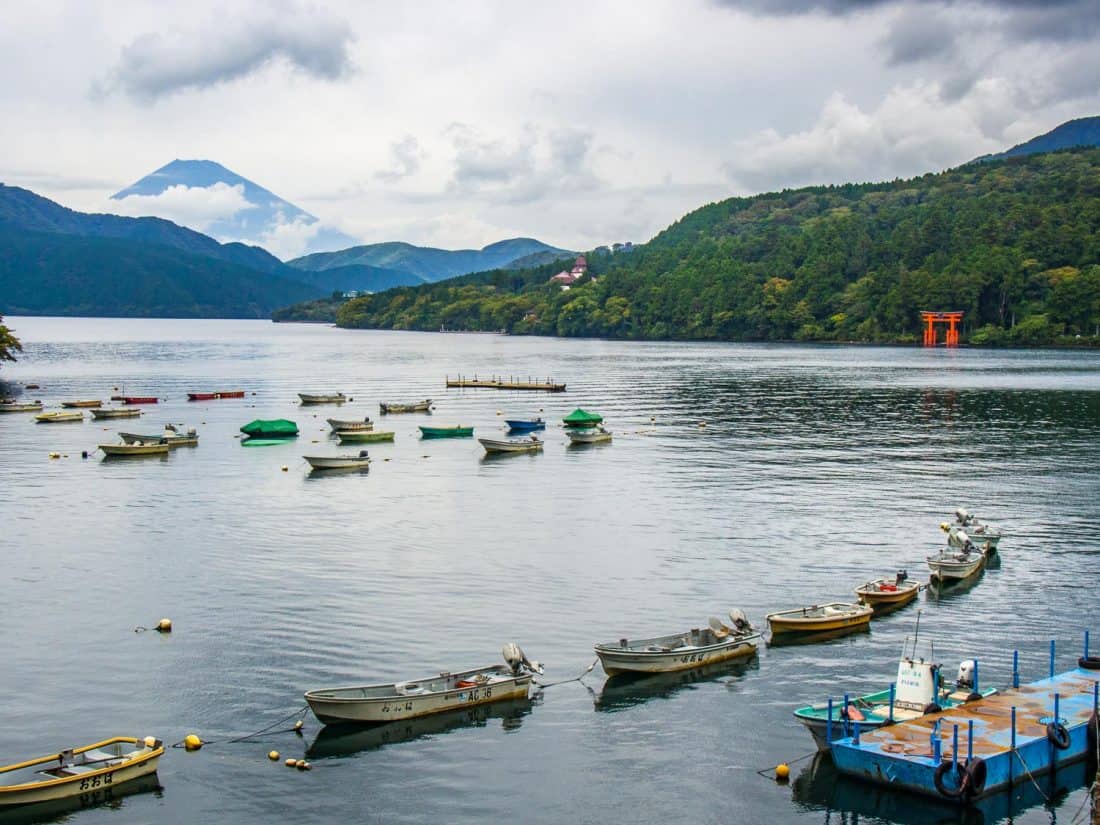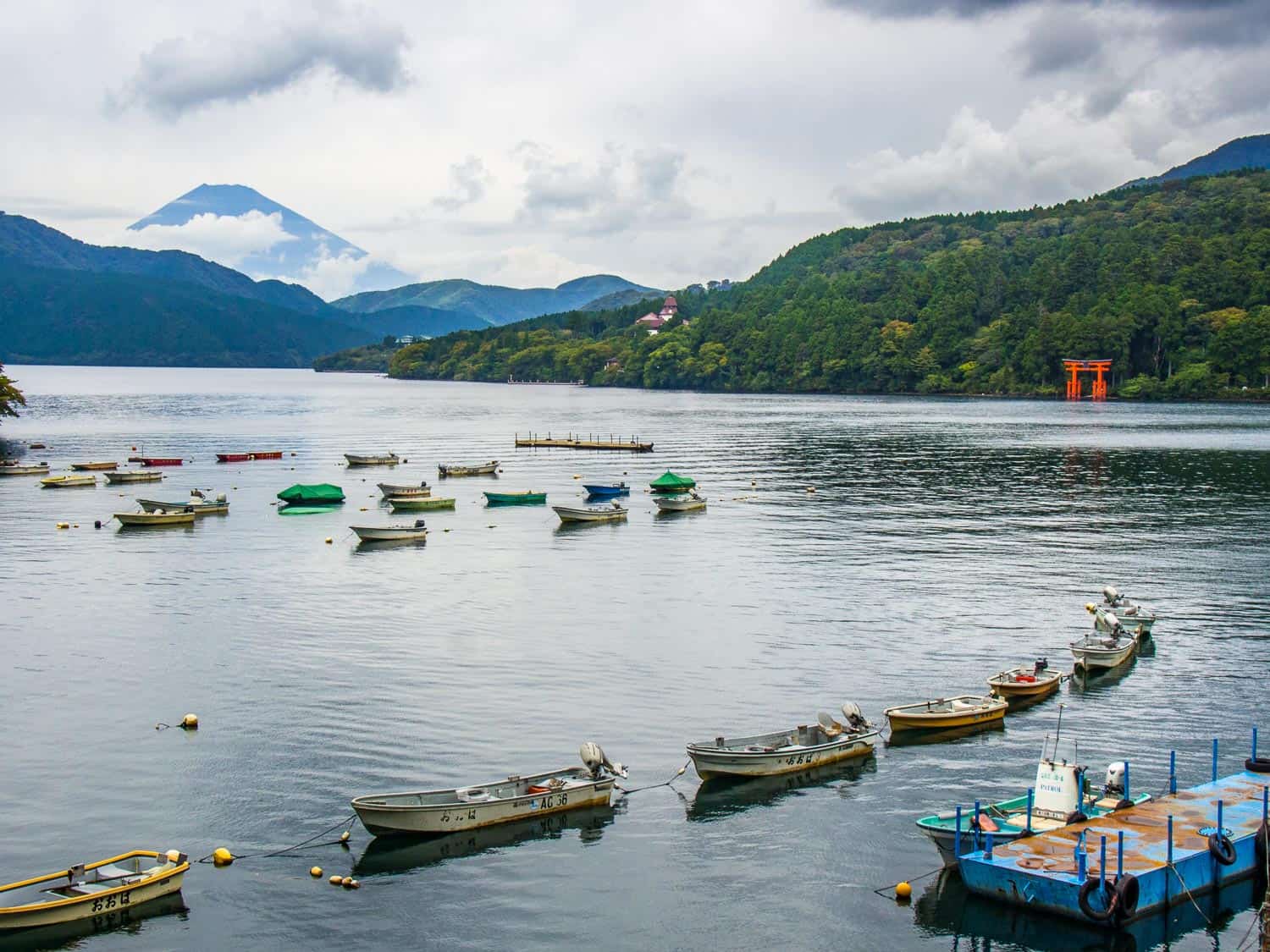 We've visited Hakone and Kawaguchiko to see Mount Fuji and enjoyed them both.
Kawaguchiko has the best view of Mount Fuji as it's closer and you can see it from more viewpoints.
At Hakone the base of Fuji is hidden by other mountains and it feels further away.
We really enjoyed our trip to Hakone, though, and it was still magical seeing the famous mountain.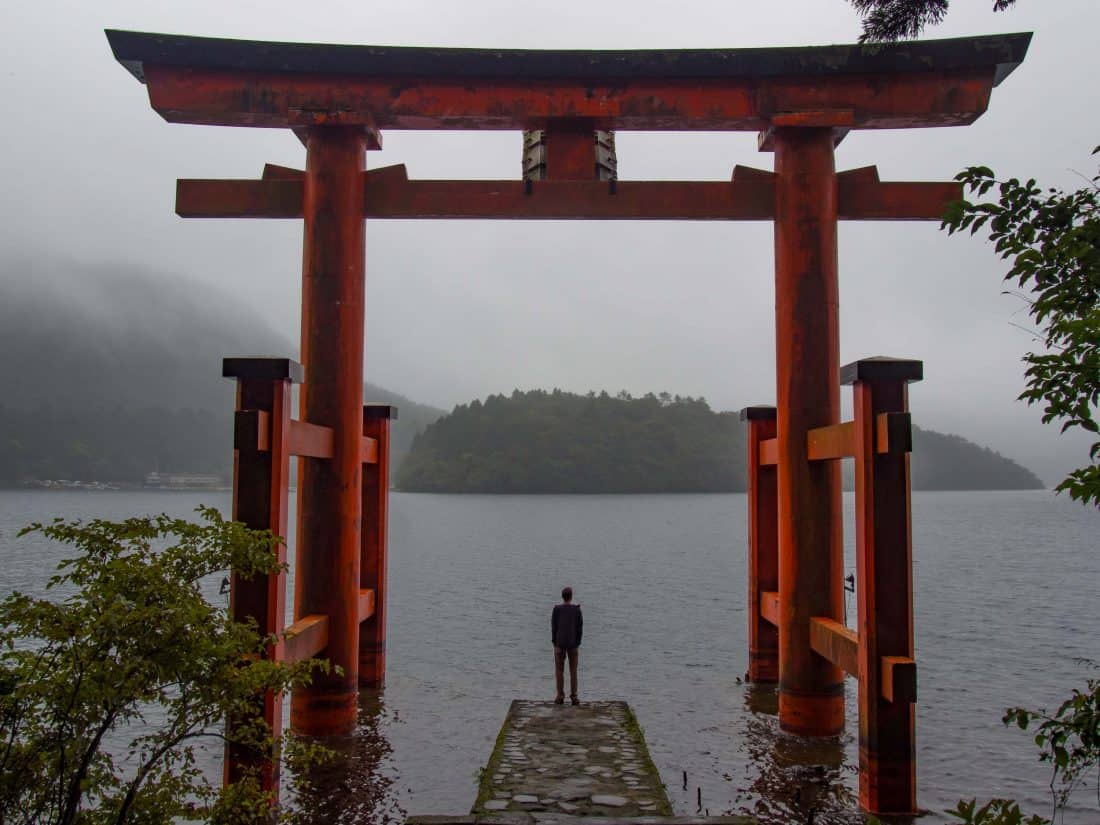 There are many attractions beyond Mt Fuji and the Hakone Free Pass is a great way to get around. You follow a loop that includes trains, a pirate ship, ropeway, and cable car and can hop on and off as you like.
Attractions in Hakone include Owakudani, an active volcanic valley which you reach by ropeway, and the Hakone Open Air Museum featuring outdoor sculptures and unusual art installations.
Hakone is also known for its many onsen.
We felt more in nature at Hakone than we did at Kawaguchiko, which was busier and more developed.
We also loved our ryokan hotel in Hakone, Hotel Musashiya, which has wonderful views of Lake Ashi from some rooms and the lovely onsen.
The food here (served in our room) was a real feast (and vegetarians are easily catered for).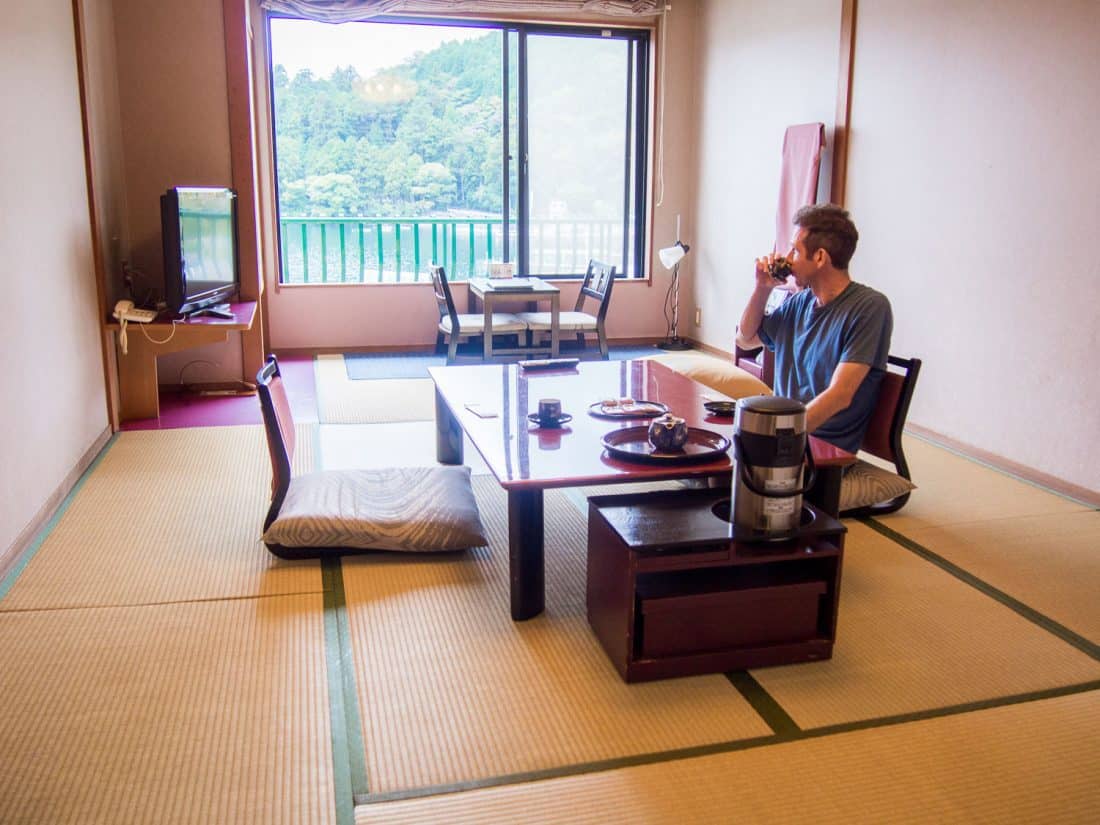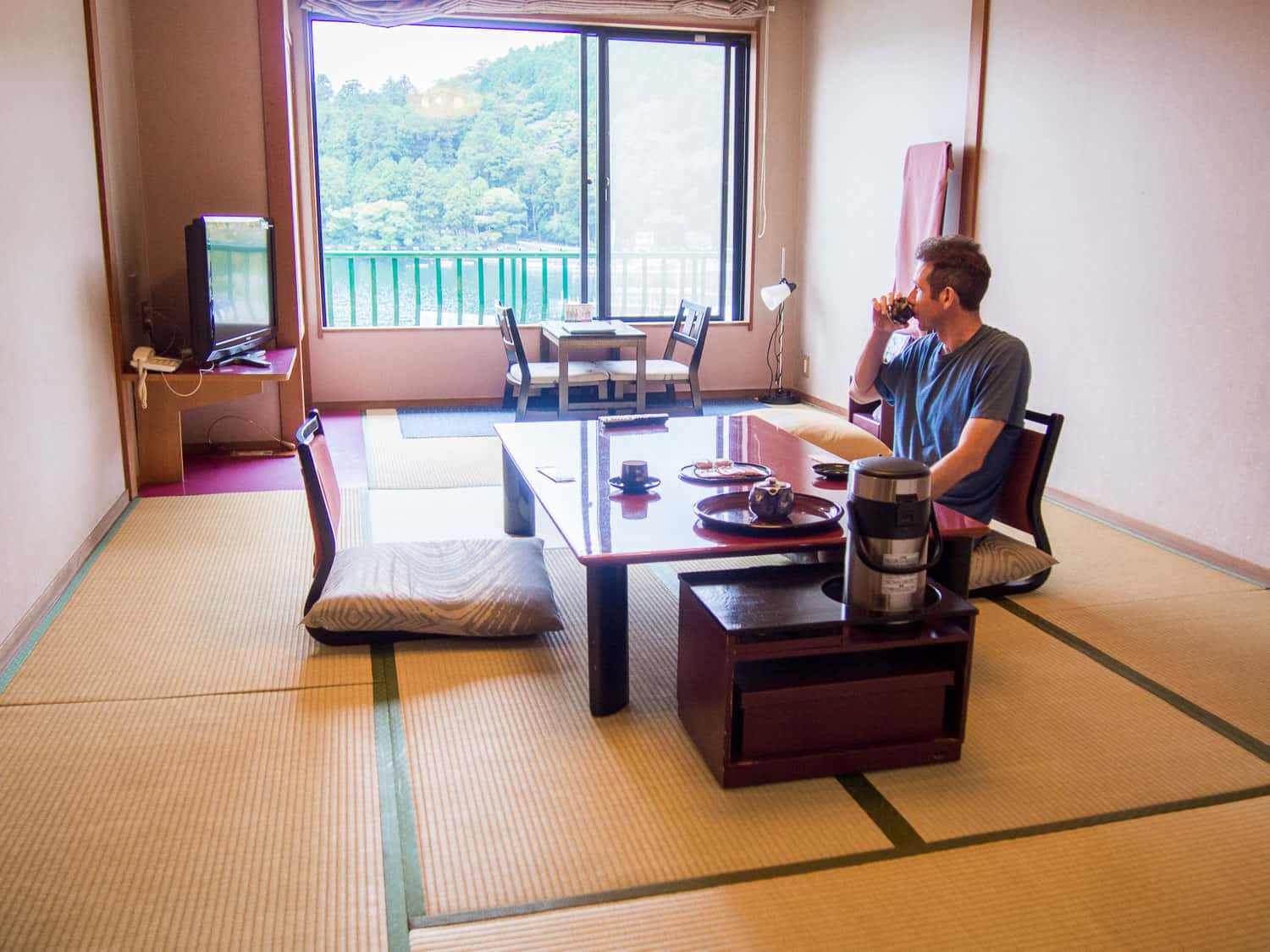 But in Kawaguchiko there are more ryokans and hotels (and even hostels) that offer Mount Fuji views from your room. There aren't many options for this in Hakone.
It's easier to fit Hakone in between a typical Tokyo – Kyoto itinerary. The nearest station on a bullet train line is Odawara, which can be reached from Tokyo in 30 minutes on the JR Tokaido Shinkansen.
From Odawara you can purchase a transport pass and take the bus for one hour to Moto Hakone (where we stayed).
See our Japan two week itinerary for more details of our Hakone visit.
I would visit whichever fits into your overall itinerary better. If you have to pick just one and your main focus is seeing Mount Fuji, I'd choose Kawaguchiko.
Remember that the view you get of Mount Fuji from either town is highly dependent on the weather.
Kawaguchiko Map
Is Kawaguchiko Worth Visiting?
Kawaguchiko is well worth adding to your Japan itinerary if you want to see Mount Fuji.
It's the best place in the country to see the iconic mountain. If you get lucky with the weather, the views are superb and it's a relaxing break from the big cities.
More Japan Posts
If you enjoyed this post, pin it!