This page contains affiliate links. Please read our disclosure for more info.
See our detailed post on things to do in Koh Lanta for everything you need to know to plan your trip including restaurants, accommodation, and transport. This post focuses on exploring Koh Lanta by scooter.
Renting a scooter on Koh Lanta is the ideal way to explore the jungle-covered mountains and long empty beaches of this beautiful Thai Island.
We love riding down to the undeveloped south of the island on the back of our scooter, the cooling breeze in our faces, the jungle on one side and the sea on the other. It's the easiest way to get around Koh Lanta and find a beach to yourself.
Contents
Learn to Ride a Scooter on Koh Lanta
In an ideal world you would learn to ride a motorbike in your home country before you get to Thailand.
Before we became digital nomads Simon did his CBT (Compulsory Basic Training) in the UK. On this one-day course he learned all the basics which made him much more confident driving in Southeast Asia. A few years later he got his full licence after four days of training and practical tests.
That said, automatic scooters are fairly easy to drive and many people hire them in Thailand without a licence. Just be careful and realise you are taking a risk (your insurance won't cover you without a licence).
Simon usually drives us in Thailand, but on our last visit I learned to drive an automatic scooter, something I'd been scared of for years. As traffic is minimal on Koh Lanta (especially the further south you get) it's a great place to learn.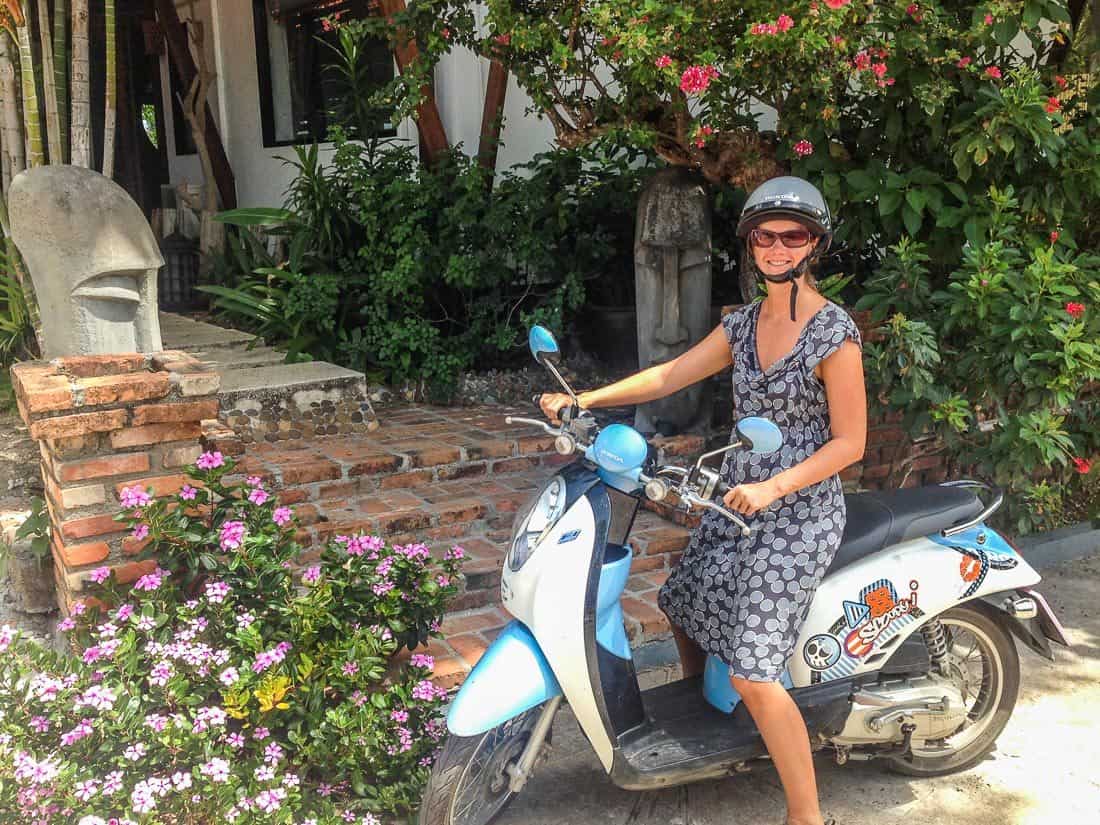 Accidents are relatively common amongst inexperienced foreigners, so do be careful. Don't just hop on a bike and drive away or you could end up in a ditch like our friends. Instead get someone to show you the ropes away from traffic.
I practiced for three 20 minute sessions around the quiet roads of our villa complex before heading out on the main road. Simon showed me what to do and made me practice emergency stops and various manoeuvres.
With automatic scooters you don't have to worry about gears so it's fairly simple. If you drive slowly and carefully and wear a helmet you should be fine. And of course, never drink and drive. It didn't take long until I felt confident and really enjoyed scooting around.
Don't Forget Travel Insurance
If you rent a motorbike make sure your travel insurance covers you as accidents do happen.
We recommend SafetyWing, which is available worldwide and covers riding a motorbike.
It's affordable (kids are even free for families!) and is ideal if you are on a longer trip as you can pay monthly. You can purchase it outside your home country, so if you forgot to buy insurance before you left home, there's still time to buy a policy.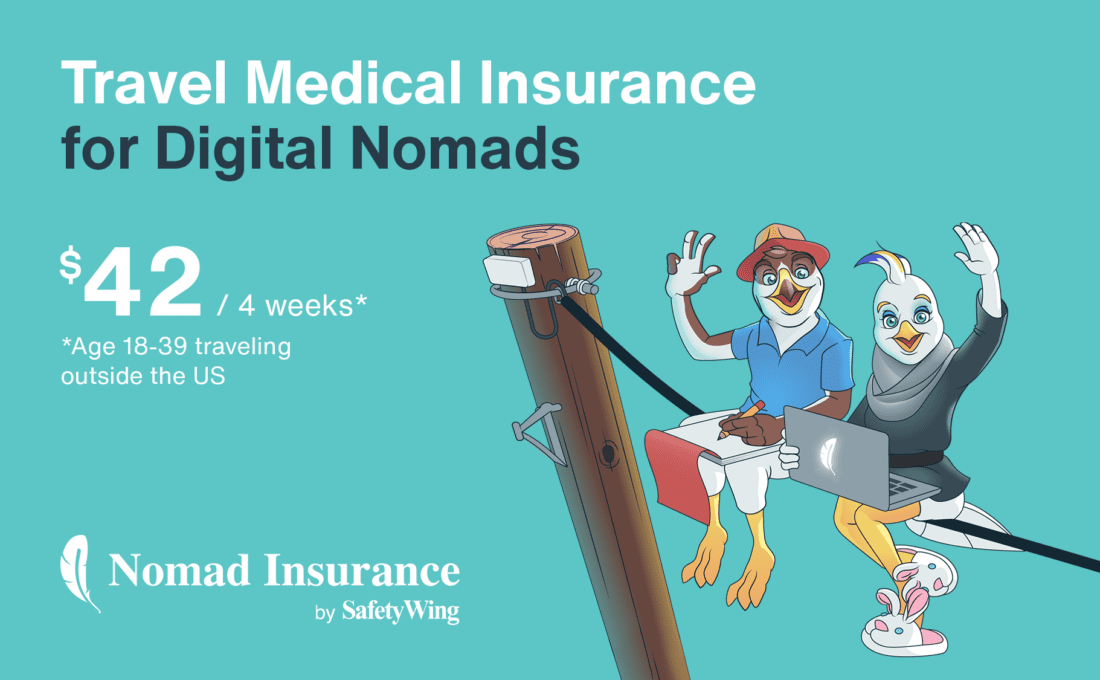 True Traveller is another option for UK/EU residents but they will only cover bikes under 125cc and you must have a full motorbike licence.
Koh Lanta Scooter Rental
Many restaurants, hotels, and travel agents rent out scooters on Koh Lanta so they are easy to find.
The best way to rent a motorbike is through your hotel. On our latest trip we rented from Lanta Sky in Long Beach who usually ask for a passport as a deposit. But because we arranged it through our accommodation (Malee Highlands), we didn't need to leave a deposit.
If your hotel can't arrange bike rental, just walk down the street and ask a few places to compare prices and deposit policies. Khlong Dao and Long Beach have plenty of options, but you can find them all over the island.
Automatic scooters are usually rented for 250 baht ($8) a day, although I have seen rates as low as 150 baht ($5)—try Lanta Nattapol Travel & Tour in Khlong Dao on the side street down to Oasis Yoga (we haven't used them ourselves).
You can negotiate rates for longer stays of a week or more. We paid 2500 baht ($81) a month when we rented for three months in low season.
Rental places don't ask to see a licence. Try to find a place that will accept a copy of your passport as a deposit as it's not a good idea to be separated from your passport, especially for longer rentals.
If you're still looking for a place to stay, see our post on the best Koh Lanta hotels for every budget which also includes a comparison of the different beaches and villages on the island.
Fuel
There are a couple of petrol stations near the north of the island on the main road in Khlong Dao and Saladan. These have the cheapest rates, so stock up here when you can.
Elsewhere on the island you'll find informal petrol stations by the side of the road where petrol is stored in whisky bottles at 40 baht ($1.30) each.
Scooter Itineraries on Koh Lanta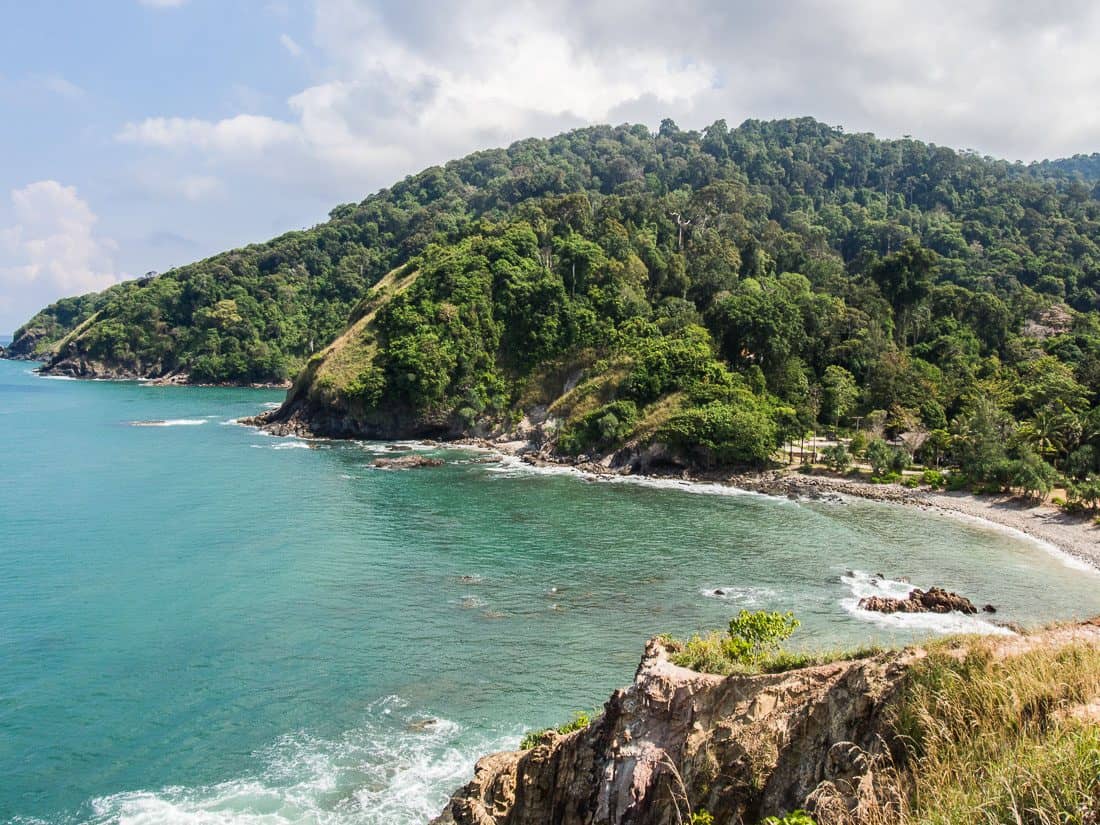 You can explore the entire island in a day by scooter. Here are some of our favourite stops:
Long Beach – We often stay here as it's the perfect mix of uncrowded beach and good restaurants. It's ideal for sunset walks. We love the luxury Layana Resort and the apartments at Sai Naam Residence but there are plenty of accommodation options.
Old Town – Head across the mountains to the quiet east coast and visit this pretty village with wooden houses on stilts over the water. Just further south you'll find excellent tacos and kayak rental at Baja Taco.
Kantiang Bay – Back on the west coast this is a quiet, beautiful beach in the south where the mountains meet the sand. Pimalai Resort is our favourite place to stay here—it's perfect for a special occasion and has incredible views from the hillside infinity pool.
Southern Beaches – Explore this beautiful string of empty beaches in the far south including Waterfall Bay (Ao Klong Jark) and Bamboo Bay (Ao Mai Pai).
Koh Lanta National Park – Trek through the jungle, visit the lighthouse, and relax on the beach at the National Park at the southern tip of the island. There's a 200 baht ($6.40) entrance fee. Just keep your distance from the monkeys!
More Koh Lanta Tips
See our comprehensive Koh Lanta Guide for more information on things to do, where to stay, the best restaurants (including vegetarian options), and how to get there.