This page contains affiliate links. Please read our disclosure for more info.
My vegan experiment continued as we moved down the USA's west coast from Portland, to San Francisco and Sonoma, and on to San Diego. After finding San Francisco surprisingly difficult when eating in non vegetarian restaurants, San Diego was much easier (and less expensive).
There are plenty of vegan options, even without eating in any of the city's vegan restaurants, and menus were usually well labelled. Veganism is common here and we often found vegan cakes in cafes and vegan products in every supermarket.
These were my favourite places for vegan food in San Diego.
Jyoti-Bihanga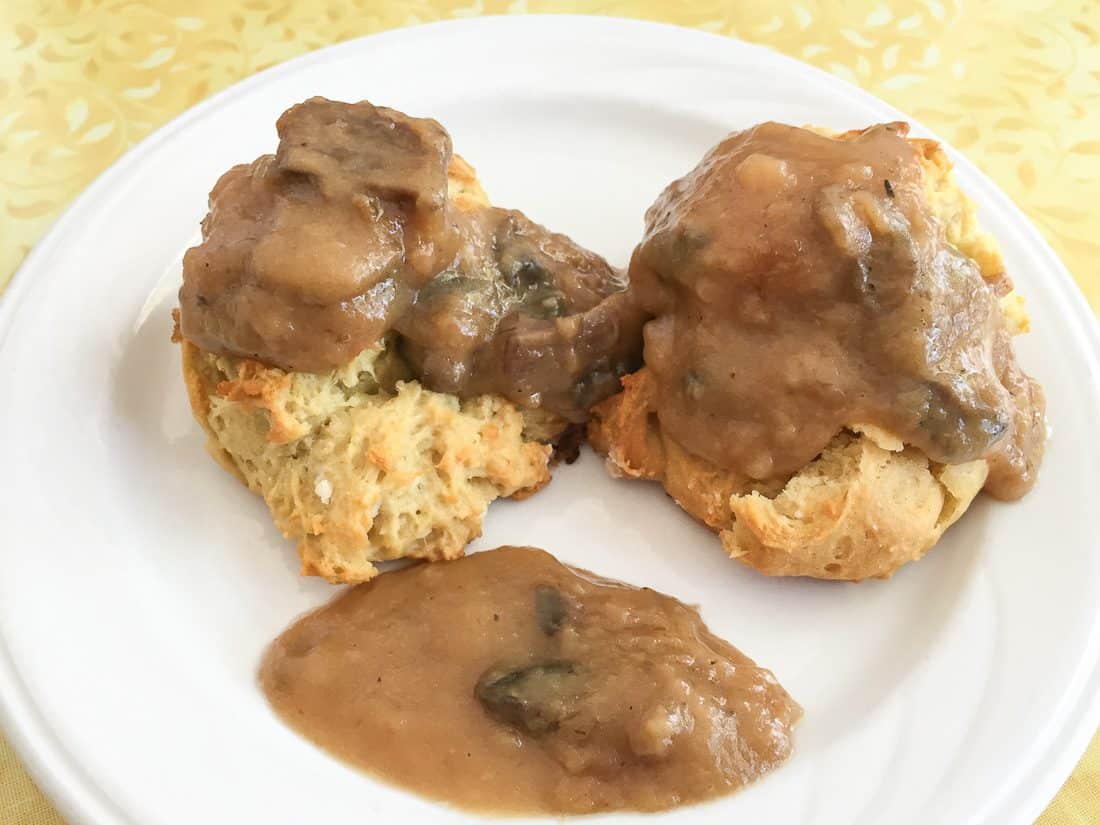 Jyoti-Bihanga is a vegetarian restaurant that runs a mostly vegan buffet brunch ($12) twice a month on Sundays (call ahead as the dates are random). This was my favourite meal in San Diego—and I don't usually enjoy brunch! There were lots of vegan options and I loved the biscuits and mushroom gravy, whole wheat blueberry pancakes with apple compote, and the moist apple cake. Make sure you go hungry!
Jyoti-Bihanga: 3351 Adams Avenue, Normal Heights.
Plumeria
After spending so long in Thailand, Thai food in other countries can be disappointing, but we really enjoyed the vegetarian Thai restaurant Plumeria. Most dishes are vegan and are marked on the menu. The tofu larb and pumpkin curry were our favourite dishes, and the spicy noodles and coconut ice cream were also good.
Plumeria: 4661 Park Blvd, University Heights.
Pizzeria Luigi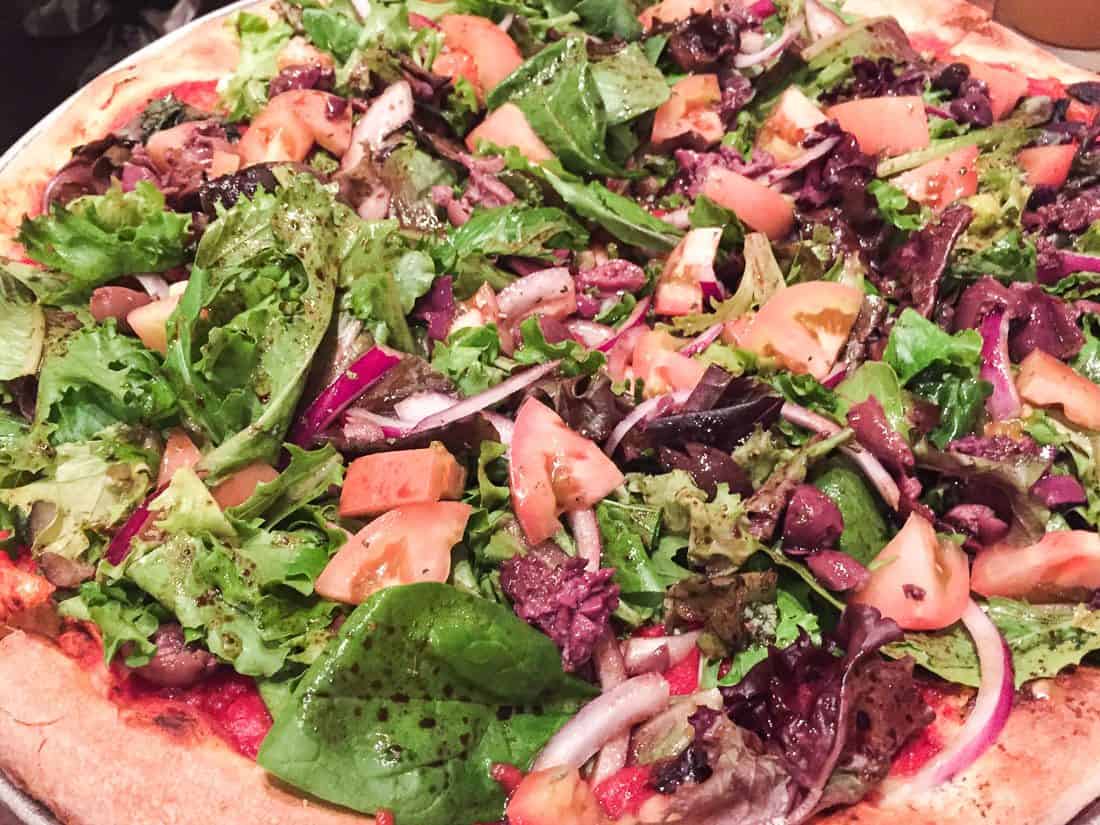 Pizzeria Luigi is a simple pizza place serving NY style pizza by the slice or whole pizza. When we visited they had three vegan slices available at the counter, but we ordered the Salad Pie to share ($18, 8 large slices) topped with fresh dressed salad, olives, onion, and tomato sauce. It was very tasty and even the meat-eaters enjoyed it. You can also order any of the pizzas with vegan cheese.
Pizzeria Luigi: 2121 El Cajon Blvd, North Park (and Golden Hill location).
Underbelly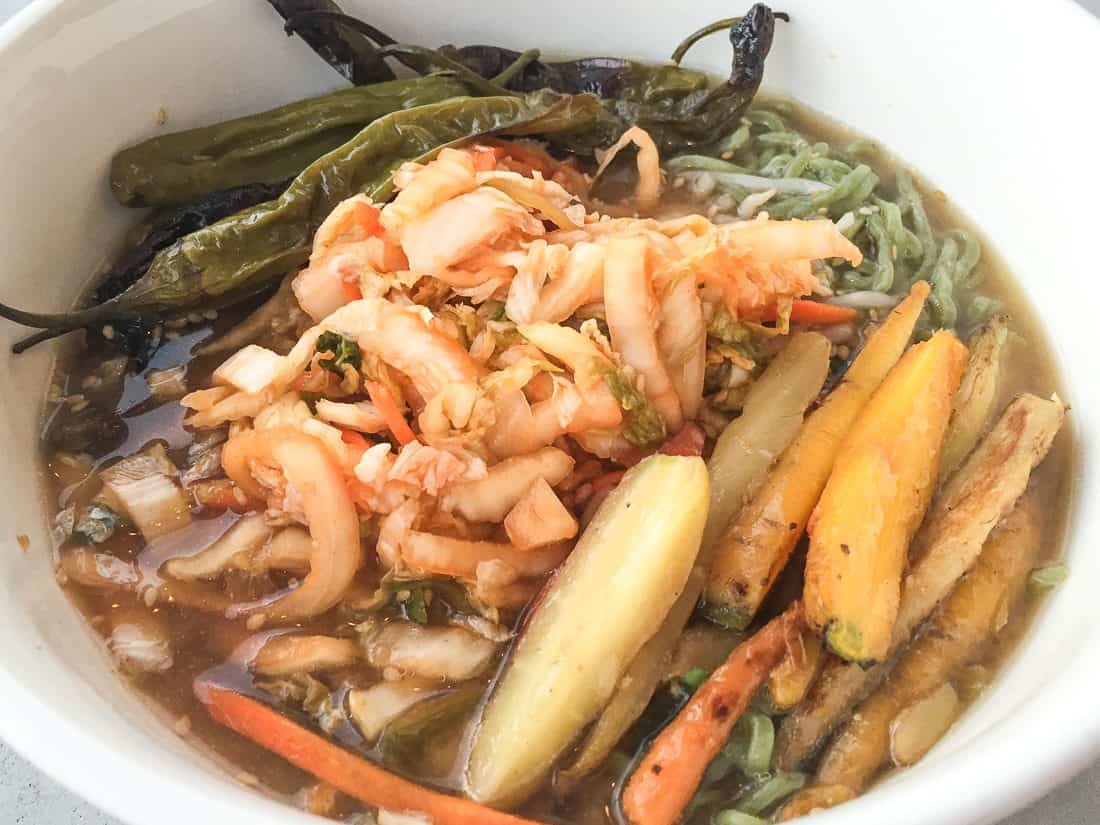 Underbelly is a popular ramen place with outdoor seating at long shared tables. There are only two vegan options, but the charred kimchi ramen we had was wonderful. The noodles in a flavourful broth are topped with kimchi, charred shisito peppers, and roasted baby carrots. It's an unusual combination that worked really well. The portions were so huge that we were able to share a bowl, making it good value at $10.
Underbelly: 3000 Upas St, North Park (and Little Italy location).
Pokez
Pokez is another Mexican restaurant with lots of vegan options, and the food was even better than Ranchos. I enjoyed the potato flautas, and the tofu, potato, and mushroom burrito was highly recommended by our friend. Portions are huge and it's good value.
Pokez: 947 E Street, Downtown.
Swamis
We visited the Encinitas branch of Swamis, outside the city, after a hike in beautiful Torrey Pines Natural Reserve, and also visited the tranquil Meditation Gardens just opposite the restaurant. There are a few vegan options (salads, wraps), but the best thing is the delicious açai bowl topped with fresh berries, banana, crunchy granola, and coconut.
Swamis: 1163 S Coast Hwy 101, Encinitas (and other locations).
San Diego Vegan Map
Here's a map of the San Diego vegan-friendly restaurants mentioned in this post. Note that some places have multiple locations in the city, so check out their websites to see if there's a branch closer to where you are staying. There are many other options for vegans in San Diego—have a look at Happy Cow.
The End of the Vegan Experiment?
We've left the US now and are in Guatemala, so what's going to happen to the vegan experiment?
I'm not going to become a permanent vegan for the reasons I wrote about in my Portland vegan post, but I do want to continue eating vegan food most of the time. At the moment I'm allowing myself one cheat day a week to eat dairy; I don't always take advantage of it, but I like having the flexibility, especially on travel days. I don't want to be too obsessed with what I eat and have to ask 20 questions in restaurants, so I'm not being strict about it—if the bread was brushed with egg I'm not going to worry about it. Everyone has to choose their own boundaries, and for me, as a permanent traveller, being flexible makes the most sense.