This page contains affiliate links. Please read our disclosure for more info.
Everything we own fits inside a carry-on backpack each. As digital nomads travelling permanently good luggage is essential and we have some very specific requirements.
After over four and a half years on the road we recently changed our backpacks. Simon was previously using the North Face Overhaul 40 which held up well through the years, but it doesn't have a hip belt and he was getting back pain wearing it.
I had a Vango Transit 30 litre which I loved and is no longer available, so I was sad when it got a hole. It's a small bag for permanent travel and my overstuffing had caused the damage.
On our search for new backpacks we discovered that things have changed since we became digital nomads in 2010. Travelling with just hand luggage has become more popular as airlines increase their rates for checked baggage, and there's now a lot more choice of carry-on sized backpacks. It was still a challenge to find our perfect backpack.
Our Requirements
Carry-on size – It's essential that it meet airlines' carry-on bag limits; we never want to bother checking in luggage again.
Front-loading – Unlike traditional backpacks that open from the top and make it hard to access your stuff, we need a bag that opens along the entire front, like a suitcase. It's much easier to pack and keep things organised.
Simple design – Ideally black and plain so it doesn't stand out too much.
Padded hip belt – To transfer the bag's weight onto our hips and prevent back and shoulder pain.
Laptop sleeve – Although my last backpack didn't have one it's a good idea for added protection.
Lockable zippers – We use padlocks on the zippers to lock the main compartments and prevent opportunistic theft.
Durable – We don't want it falling apart on us when we're in the middle of nowhere. A good backpack should last years and is worth paying for.
After a lot of research we found two backpacks that met our requirements.
Simon: The Tortuga
Update October 2016: V3 of the Tortuga, called the Outbreaker Travel Backpack, is now available and is even better than Simon's V2 (which we review below). Read our Tortuga Outbreaker review for details and a comparison with V2.
Update February 2018: Simon has now switched to using the latest Tortuga backpack, the Setout, which he thinks is the best one yet. Read our Tortuga Setout review for everything you need to know.
Details
Dimensions (cm): 56 x 36 x 23 cm
Dimensions (inches): 22 x 14 x 9 inches
Volume: 44 litres
Weight: 1.66 kg (3.65 lbs)
Colour: Black
Price: US $199 (and free US shipping)
Pros
The Tortuga is designed by travellers for travellers, and it shows. Fred and Jeremy created it after being disappointed with traditional backpacks while travelling around Europe. They set out to create their perfect backpack and they really thought of everything—it easily meets all of our requirements.
Simon has been travelling with the Tortuga for a few months now and loves it. It feels sturdy and durable. There's lots of padding on the back and hip belt, so it's much more comfortable and supportive than his last backpack; he's had no back or shoulder pain so far.
For a carry-on it's very spacious and easily fits all of Simon's stuff. The rectangular design maximises the amount you can take on a plane and makes it easy to pack, especially if you use packing cubes like us ("everything fits like Tetris," Simon says).
There are various pockets to organise your things, including four pockets inside the main compartment, a large front pocket, two side pockets, and two in the hip belt which you can reach while wearing the bag (useful for items like cash and phone when going through airport security).
The padded laptop sleeve holds up to 17-inch laptops and is at the back of the bag, close to your body for the best weight distribution. There's a separate zip here to easily access the laptop (useful at airport security) without opening up the rest of the bag. This does mean you need two padlocks for the bag, though.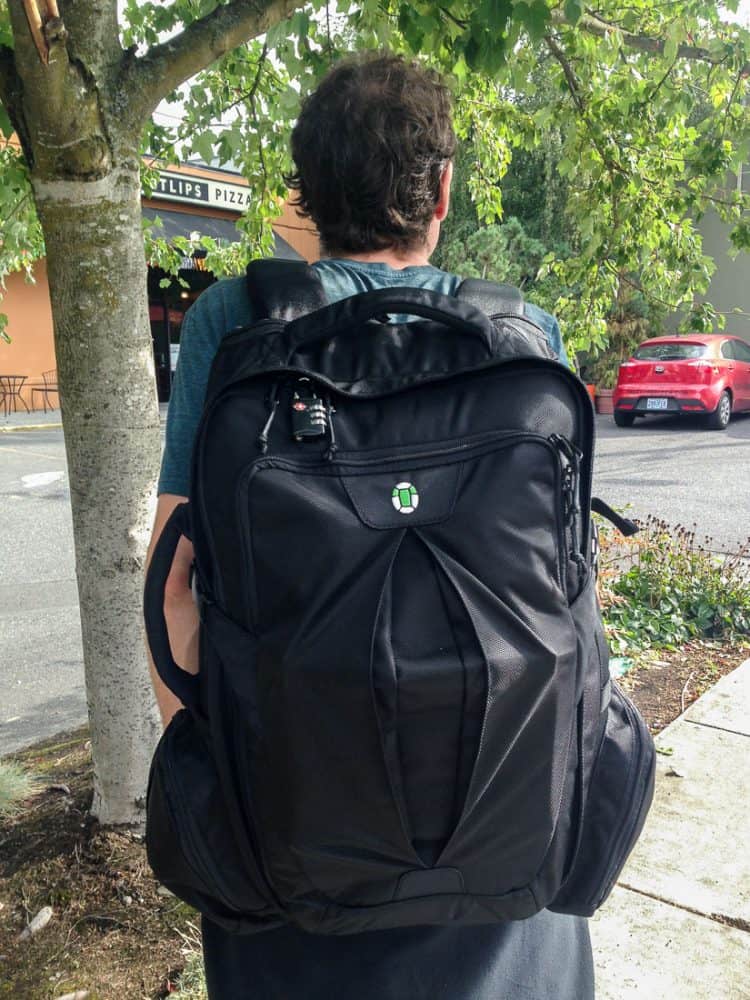 There's a strap cover to hide away the shoulder and hip straps and you can then carry it by the padded top or side handle.
Tortuga offers free US shipping and if it doesn't work out for you after a test pack, return it unused within 30 days for a full refund. They also pay for the return shipping on US orders.
The Tortuga website is really helpful with lots of photos and information about the backpack and even packing tips on their blog.
Cons
The Tortuga sounded so perfect that I wanted it too, but it's just too big for me. My previous bag was only 30 litres, so 44 litres is quite a jump, and it felt too bulky. I wish Tortuga would create a smaller version.
Update 2016: There are now 35-litre and 45-litre versions, both with hip belts, and the new adjustable suspension system means they will fit most people.
The Tortuga meets most airline hand luggage restrictions, but Ryanair is one of the strictest airlines and the Tortuga is slightly over its 55cm x 40cm x 20cm limit. It's only a few centimetres over, though, so I think we'll be able to get away with it. Update: We have travelled on Ryanair multiple times and had no problems taking the Tortuga on the plane, and there were people with much bigger hand luggage than us.
If you put anything that's not slim in the front pocket it bulks out and makes the bag look really big, so Simon doesn't use it much. Update: This is no longer an issue with the new Outbreaker backpack.
The backpack is only available from the Tortuga website. If you live in Canada, Europe, Australia or New Zealand shipping costs $30-55. As we discovered getting it delivered to the UK, you'll also probably have to pay customs—we paid £35.95.
Tortuga is the best-designed carry-on backpack for digital nomads that we found. It's ideal if you have a lot of stuff but still want to travel with a carry-on.
Buy the Tortuga Travel Backpack at Tortuga Backpacks.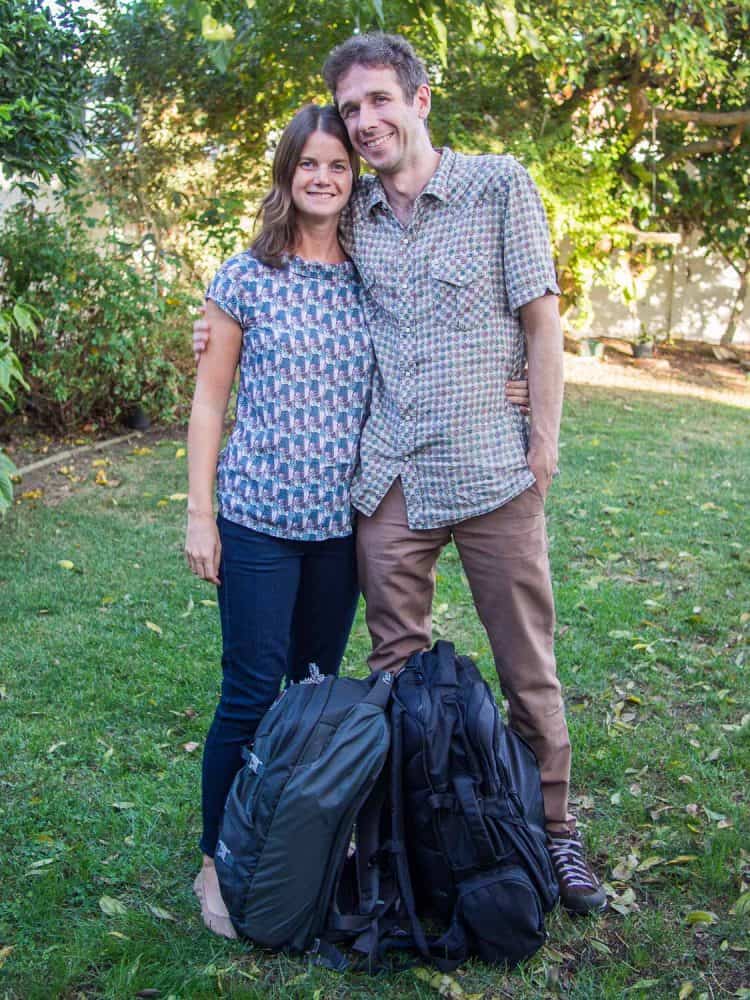 Outbreaker Travel Backpack (Tortuga V3) Review
In October 2016 Tortuga released V3 of the Tortuga Backpack, now called the Outbreaker Travel Backpack. You can read our detailed Outbreaker backpack review and here are the differences from V2 (which we reviewed above).
Improvements
The Outbreaker comes in two versions—45 litres, which is similar to V2, and 35 litres, which replaces the Tortuga Air. Both now have hip belts, which was my main complaint with the previous Air. The 35-litre is a great option for minimalists, while the 45-litre still offers the maximum size you can take on a plane.
The new adjustable hiking-style suspension system makes it even more comfortable to carry and means it should fit more people than the previous backpack did.
The side pockets have been removed giving it a sleeker look.
The fabric is waterproof and very durable.
It opens fully on three sides like a book making it even easier to access everything inside.
There is an improved fleece-lined laptop and tablet sleeve that unfolds to lie flat on the X-ray belt, so you don't need to take your laptop out when going through security.
There are two discreet water bottle pockets on the side that lie flat when not being used.
The front pocket has changed and doesn't bulge anymore.
Downsides
The 45-litre backpack is now heavier—5.1 lbs (2.3 kg), which is 1.45 lbs (0.64 kg) heavier than V2.
It now costs $249.
Erin: Osprey Farpoint 40
Details (S/M model)
Dimensions (cm): 51 x 33 x 23 cm
Dimensions (inches): 20 x 13 x 9 inches
Volume: 38 litres
Weight: 1.3 kg (2.87 lbs)
Colour: Charcoal Grey (which I got), Mud Red, or Lagoon Blue
Price: US $112 -160 (there are sometimes deals on Amazon). From £70 on Amazon UK.
Pros
It was a challenge to find a backpack smaller than the Tortuga that still met all of our requirements, but the Osprey Farpoint 40 works well. Osprey is a well-respected company and you know their backpacks are going to be good quality. They even offer a lifetime guarantee saying they "will repair for any reason, free of charge, any damage or defect – whether it was purchased in 1974 or yesterday."
The Farpoint 40 comes in two sizes, S/M and M\L, making it easier to find the perfect fit. You should try both sizes as it depends on the length of your torso. The S/M fits me comfortably.
The backpack has two compartments: the spacious main one and the front one with a padded laptop sleeve for laptops up to 15 inches. You need to be careful not to overstuff the main compartment otherwise the laptop compartment will be curved. Handily you can lock both compartments with one padlock.
I've gone from 30 to 38 litres and it does feel quite a lot bigger than my last backpack. There's plenty of room for my stuff and it's easier to pack now.
There are two pockets inside the bag (one in each compartment) and a small zippered pocket on the front for easy access to non-valuable items (it doesn't lock). There are also two mesh water bottle holders on the front.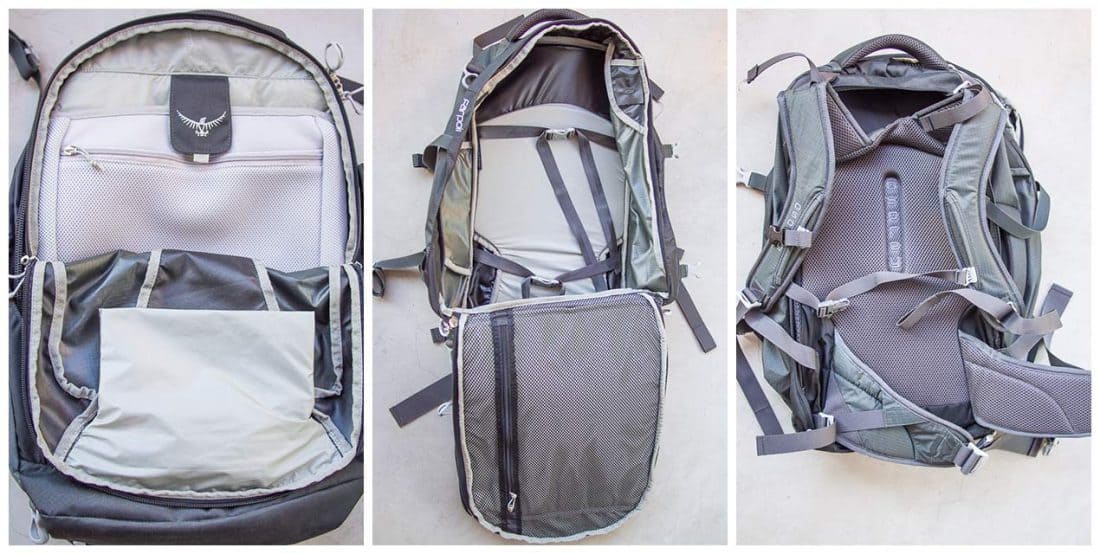 Unlike my last backpack, the Farpoint 40 has an internal alloy frame which makes it a little heavier but does provide excellent back support. You can adjust the back to get the perfect fit. Combined with the hip belt it's very comfortable and my load feels lighter.
There's the option to hide away the shoulder and hip straps and use it with the provided shoulder strap as a shoulder bag. I never used this feature on my last backpack so I got rid of the strap.
Cons
I don't love the look of the Farpoint 40. I'd prefer black to grey and I think the plastic zipper pulls look messy. It's still much more neutral than many backpacks.
The laptop sleeve is at the front, but for better weight distribution it's preferable to have it at the back, close to your body, like the Tortuga.
Some people might want more internal pockets, but as I use packing cubes and a compression bag to organise my things it's not an issue for me. The two internal pockets are quite large so not ideal for small items.
If you are looking for a carry-on backpack smaller than the Tortuga, the Osprey Farpoint 40 is an excellent option.
Buy the Osprey Farpoint 40 on Amazon US, Amazon UK, or REI.
Other Carry-on Backpack Options
The Tortuga and the Osprey Farpoint 40 were the only two backpacks we found that completely met our requirements. There are many carry-on sized backpacks on the market, but many don't include padded hip belts which we find essential to take the weight off our back and shoulders.
You might have different requirements from us, so here are more carry-on backpacks for digital nomads:
The best way to find the right backpack for you is to try it on. You can always buy it, have a test pack, and if it doesn't work for you then return it.
If you are a digital nomad or long term traveller looking for a carry-on sized backpack, I don't think you can go wrong with either the Tortuga or the Osprey Farpoint 40. They are both popular backpacks with other travellers: The Yoga Nomads and Till The Money Runs Out are couples with the same Tortuga/Farpoint combination as us, and Jeff from Lengthy Travel and Mirje from Anywhereism travel with the Farpoint 40.
Update April 2016: We have been travelling with these backpacks for nearly two years now and we couldn't be happier with our choices. Both are comfortable to carry, have been carried on multiple planes (including Ryanair) and fit under bus seats without problems, and are still going strong. We even used them for a snowboarding trip to Finland—read our carry-on packing list for cold weather.
Update October 2016: After over two years we still love our backpacks and they look as good as new. Read our updated review of the best carry-on backpack.
The Carry-On Traveller Book
If you'd like to learn more about how to travel carry-on only, see my book, The Carry-On Traveller: The Ultimate Guide to Packing Light, which is available for the Kindle or paperback on Amazon.

You can also read our complete packing list.
If you enjoyed this post, pin it!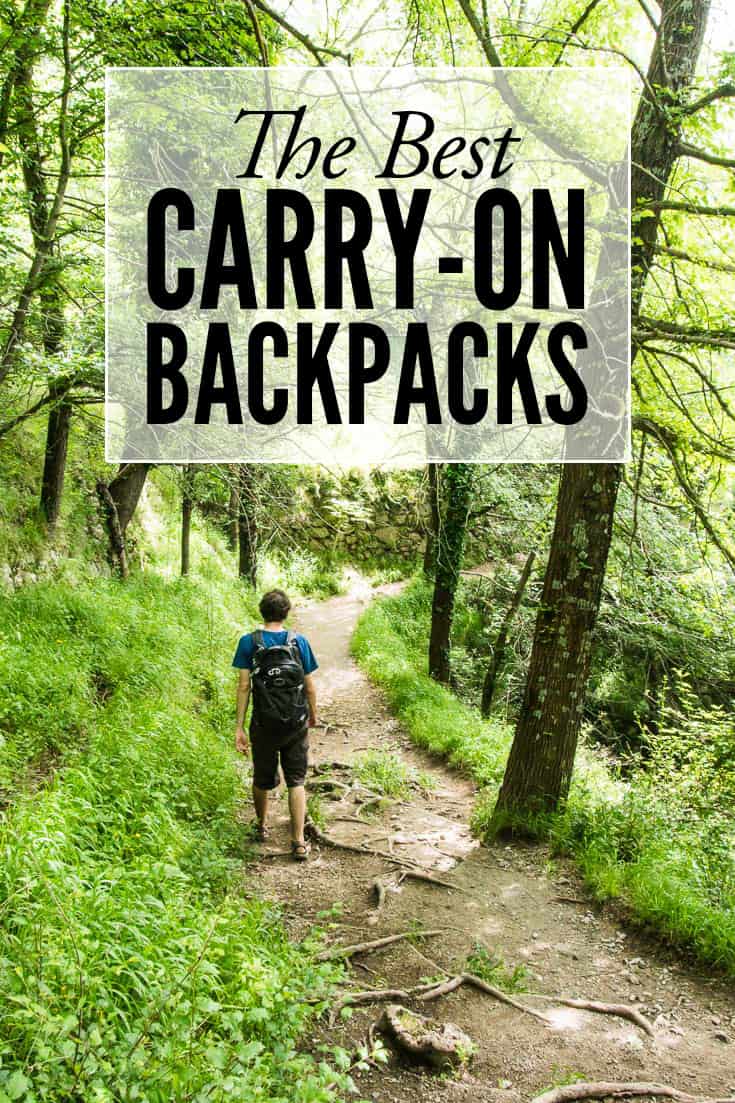 Thanks to Tortuga who provided Simon with a complimentary backpack. He was under no obligation to keep using it if he didn't like it, but we haven't found a better bag. We receive a small affiliate commission if you buy these backpacks through the links on this page—we really appreciate your support.
Photo credit: Tom from Till The Money Runs Out took the photos of us together.