This page contains affiliate links. Please read our disclosure for more info.
Two years ago we wrote about our search for the best carry on backpack. We travel full-time and our backpacks contain everything we need to live and work on the road, so it's important that our luggage is comfortable, durable, and meets airline requirements so that we can take them on planes and save time at airports. Simon decided on the Tortuga backpack and I went with the Osprey Farpoint 40. Two years later do we still think they are the best carry-on backpacks?
Yes, we do! In the last two years we've travelled to 14 countries in North and Central America, Asia and Europe with our new backpacks. We've taken countless flights, domestic and international, including on many budget airlines with strict carry-on requirements. We've travelled across Europe by train twice, taken the backpacks on buses everywhere from Guatemala to the Maldives, and even sailed on a yacht (where space is limited) along the Amalfi Coast in Italy.
We've worn our backpacks from accommodation to train and bus stations and airports in dozens of cities. We've climbed stairs, navigated cobblestone streets, and hopped on ferries. We've used them for day hikes all over the world and grocery trips while housesitting a remote house in Spain.
In short, we've given them a very thorough testing and both our backpacks passed with flying colours. They've met all our needs, been allowed on every plane, and still look as good as new. New carry-on backpacks have come on the market since we bought ours, but none of them meets all of our requirements—usually they lack a padded hip belt, which we find essential to transfer the bag's weight to our hips and prevent back and shoulder pain. (Simon learnt this the hard way with his first backpack).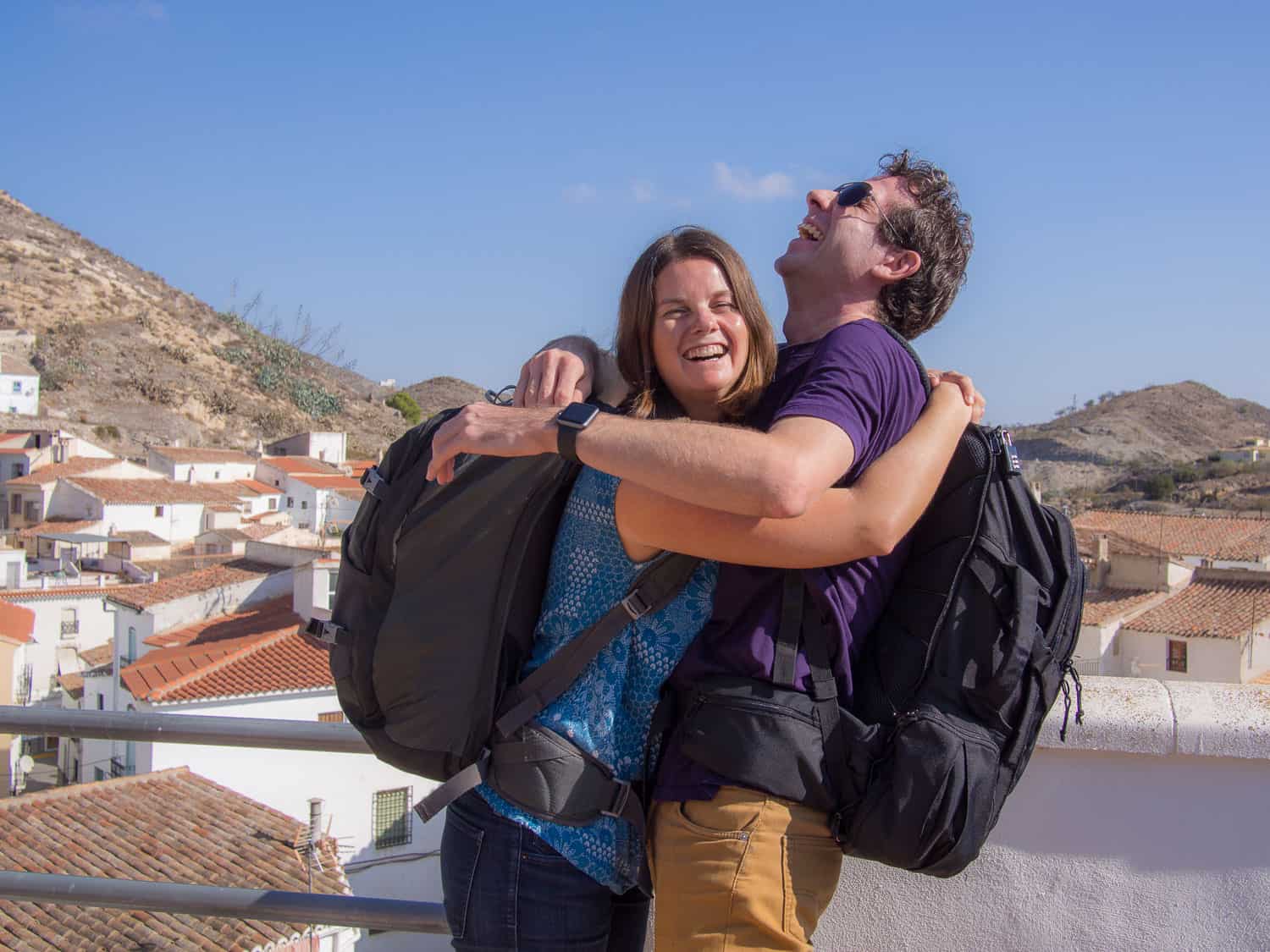 For detailed reviews of the Tortuga and Osprey Fairpoint 40, see our original post on the best carry-on backpack. Here are a few notes about how we've got on with each of them over the last few years.
Tortuga Travel Backpack
Update: V3 of the Tortuga, called the Outbreaker Travel Backpack, is now available and is even better than Simon's V2—read our detailed Outbreaker backpack review here.
At 44 litres and 22 x 14 x 9″ (56 x 36 x 23 cm), the Tortuga Travel Backpack is the maximum carry-on size allowed by airlines. It's perfect if you want to avoid checking in luggage but are not an ultralight traveller. Simon travels with a lot of technology (including a 15-inch MacBook Pro and 13-inch iPad Pro) so he needs the extra space. Technically, the Tortuga dimensions are a few centimetres over what is allowed by some strict airlines like Ryanair, but we've flown with them a number of times without problems.
We like to keep our luggage with us for security, rather than storing it under buses or in overhead compartments (except on planes). Despite its bigger size, the Tortuga can often fit under train and bus seats, and when it doesn't, Simon just travels with it by his feet.
Due to all his tech gear, his bag can weigh 10-11kg, so a supportive backpack is vital. The Tortuga has a padded hip belt, which takes the weight off his shoulders and makes it comfortable to carry.
The large rectangular main compartment makes packing easy, especially if you use packing cubes. Simon has one large Eagle Creek compression cube for all his clothes and tends not to use the Tortuga's internal storage pockets.
One thing that originally concerned me was that the front pocket bulges out if you use it, which is not ideal when you're trying to keep a low profile when checking into flights where you may be slightly over the size/weight requirements. Because of this Simon usually doesn't use it when flying, but he does find it useful for dirty laundry storage on other travel days. [Update: this is no longer an issue in the new Outbreaker backpack.]
Simon loves his Tortuga and wouldn't want to travel with any other bag. It's spacious, comfortable, durable, has a neutral design, and can easily be carried on planes despite the extra space.
Update: Outbreaker Backpack Review
V3 of the Tortuga, called the Outbreaker Travel Backpack, is now available and is even better than Simon's V2. You can now choose between 45-litre and 35-litre sizes, the fabric is waterproof and durable, the adjustable hiking-style suspension system makes it even more comfortable to carry and means it should fit more people, and the fold flat laptop sleeve means you don't have to remove your laptop at airport security. Read our detailed Tortuga Outbreaker backpack review here.
You can buy the Outbreaker Backpack for $249 on the Tortuga website. Shipping is free in the US.
Osprey Farpoint 40
The Tortuga was too big for me, so I chose the Osprey Farpoint 40—the S/M size is 38 litres and 20 x 13 x 9″ (51 x 33 x 23 cm), which is the perfect amount of space for me. It fits everything I need (including an 11-inch MacBook Air and mirrorless camera with two lenses) and easily meets airline carry-on requirements. As it's smaller than the Tortuga, we often use it as a daypack for hikes. It fits under almost every bus and train seat.
Although my backpack is lighter than Simon's (usually 8-9kg), I find a padded hip belt essential to make it comfortable to carry. The Osprey has a good hip belt and an internal alloy frame that provides excellent back support and is adjustable for the best fit.
The backpack has a number of storage pockets. I use the small one on the front for easy access to items I'll need on travel days, as I lock the rest of the bag. The zipped mesh pocket inside the main compartment is useful for dirty laundry, and the zipped compartment in front of the laptop sleeve can be used for documents or small miscellaneous items (I keep ziplock bags here). I rarely use the water bottle pockets on the front.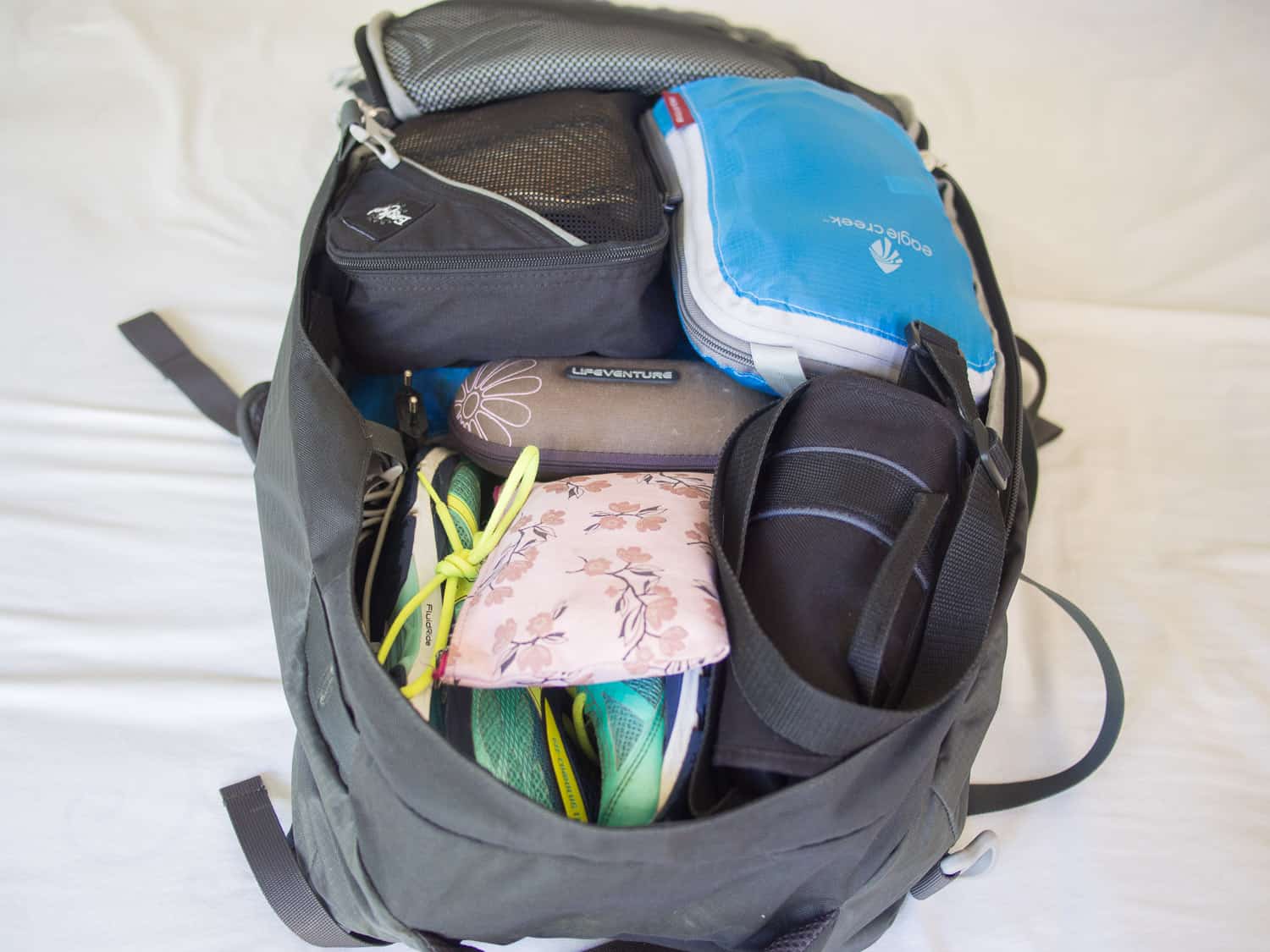 Most of my organisation comes from packing cubes—I use a large Eagle Creek Specter compression cube for my main clothes, which I store at the bottom of the backpack, and two small cubes for my workout clothes and underwear, which stack on top of the larger cube. This leaves the top half free for my camera bag, shoes, laptop charger, medical bag, and sunglasses case.
I use the front compartment mainly for my laptop. I haven't found it a problem that the laptop sleeve is at the front of the bag (the back is recommended for better weight distribution) as my laptop isn't heavy.
Osprey offers a lifetime warranty, but I haven't needed it as it's still as good as new.
The Osprey Farpoint 40 has been the perfect backpack for me and I couldn't be happier with it. It's ideal if you want a smaller bag than the Tortuga (or don't want to pay to ship from the US) and we know many people who travel with one—including Simon's mum and stepdad on their first ever carry-on only trip!
The Osprey Farpoint 40 is available for $160 on Amazon US, Amazon UK or REI.
Carry-On Packing Tips
For packing light tips see these posts:
If you'd like an in-depth guide on how to travel carry-on only, see my book, The Carry-On Traveller: The Ultimate Guide to Packing Light, which is available on Amazon US.
If you enjoyed this post, pin it!
Tortuga provided Simon with a complimentary backpack two years ago. He was under no obligation to keep using it if he didn't like it, but he hasn't found a better bag. We receive a small affiliate commission if you buy these backpacks through the links on this page—we really appreciate your support.