This page contains affiliate links. Please read our disclosure for more info.
Packing light for cold weather seems impossible to many people. While it can be trickier than for a beach holiday, there's no reason why you can't pack light for winter travel too.
For the last decade we've been travelling full-time with just carry-on luggage and have travelled to cold climates many times.
Below you'll find our tips on how to pack light for cold weather and an example packing list for cold weather that we used for a 10-day trip to Finland.
Contents
Pack for a Week
We can travel for over a decade with just carry-on luggage because we never pack more clothes than we need for a week.
Although our Finland trip was only 10 days, we packed the same as we would have for three months, so the length of your vacation doesn't matter.
After a week, you can do laundry, either in your hotel sink, as we did in Finland (I used the hotel shampoo), find a laundrette, or stay in a rental with washing machine.
Cold weather travel is actually easier as the same clothes can be worn more often than in hot sweaty weather, so we had to do less laundry than usual.
I also highly recommend packing winter travel clothes made from merino wool, as it's not only warm and lightweight, but also odour-resistant so you can wear it multiple times without needing to wash it.
Wear Layers
If you are wondering what to pack for cold weather, the answer is lots of layers!
By packing layers, rather than one heavy jacket, you can adapt to changing weather conditions and your luggage will be lighter.
You can also wash your base layers more often—it's easier to wash a t-shirt than a jumper.
A good layer system is a t-shirt, a lightweight but warm long sleeved top (merino wool is ideal), a fleece, and a packable down jacket (more on those below).
If it's very cold, a pair of thermal leggings (long johns) can be worn under your trousers and are also useful for sleeping in.
Simon didn't bother with these, but I wore my leggings in Lapland either under my ski trousers (which I rented) or my PrAna travel trousers.
If you'll be hiking or expect heavy rain, you might also want to take a lightweight waterproof jacket to wear over your down jacket.
We didn't find this necessary in Finland, but it was an essential part of our Iceland packing list.
We now travel with the light Marmot PreCip Eco Jacket, which packs down into its own pocket and features pockets, a hood, and pit zips.
Make sure you pack thick socks, a woolly hat, scarf, and gloves as these don't take up much space but make a big difference.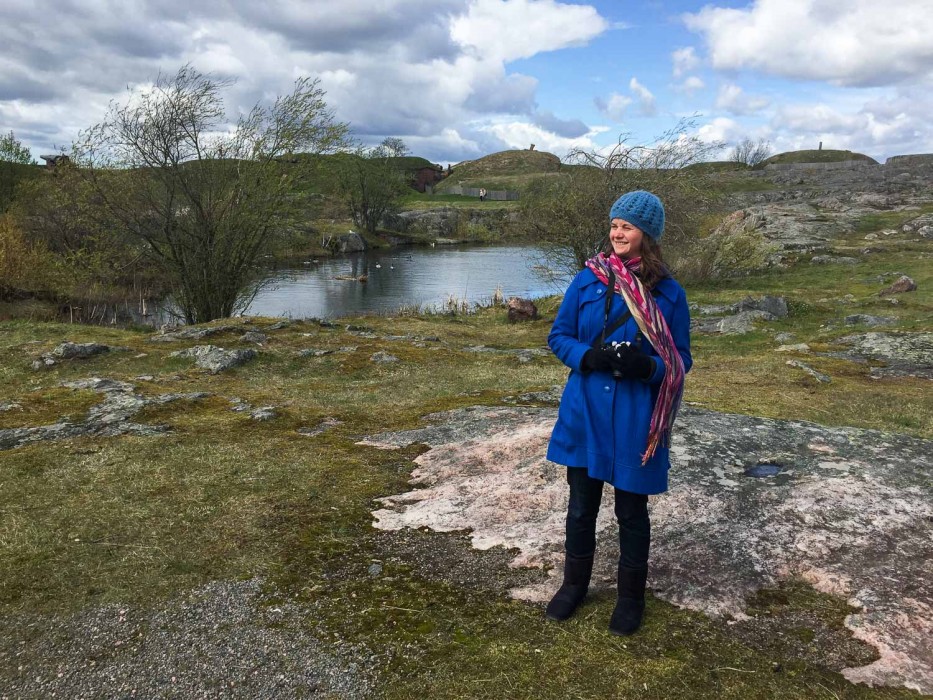 If you are only travelling to a cold climate, you can break the rules slightly and take a heavier jacket, as long as you can wear it on travel days.
My knee length wool coat was my luxury item on this trip—it's not at all packable, but as I wore it on travel days it didn't matter, and I liked having something smarter for Helsinki.
If I'd been travelling to multiple climates, I would have left it behind.
Take a Light, Packable Down Jacket
The secret to packing light for cold weather is a puffy insulated jacket which is warm, ultra lightweight, and highly compressible so it's easy to pack.
They usually have a nylon outer shell which is windproof and water resistant.
Goose down has the highest warmth to weight ratio—it keeps you toasty in a tiny package. The downsides are that it stops being warm when wet and takes ages to dry, so you'll need to wear a rain jacket over it in very wet conditions.
There are also ethical considerations as sometimes the feathers are plucked from live birds. Patagonia and Mountain Hardwear use ethically sourced feathers or you could choose a synthetic down jacket instead.
Synthetic jackets aren't quite as warm or compressible, but they work better in wet weather.
Simon travelled to Finland with the Mountain Hardwear Ghost Whisperer down jacket which is the world's lightest full-featured down jacket with 800 fill power which is about the best you can get.
It really is insanely light (only 219 g / 7.7 oz) but kept Simon remarkably warm. If space and weight are limited this is an excellent option.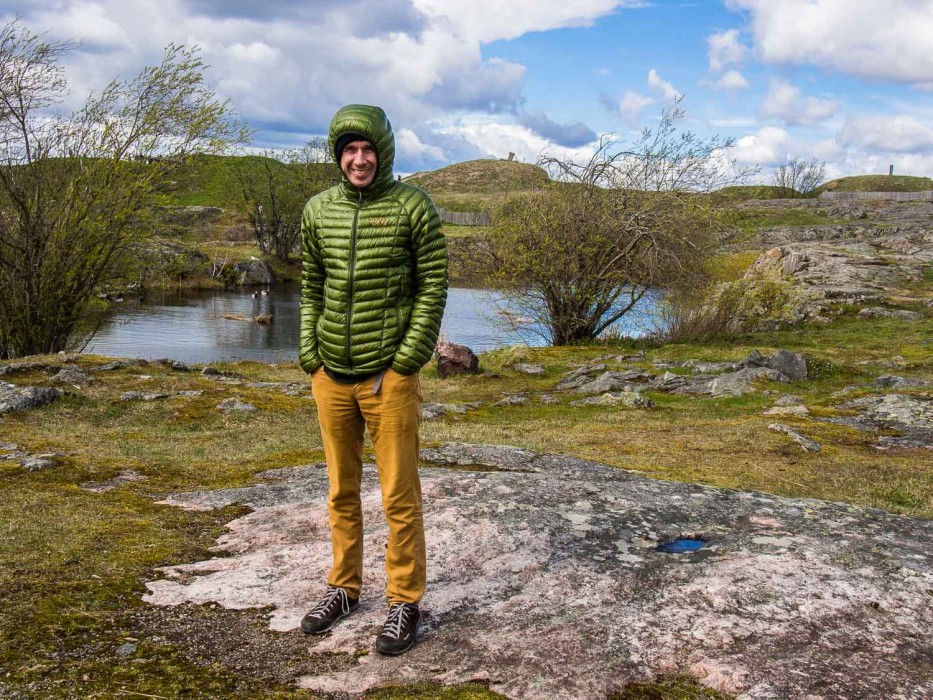 I went with the Patagonia Nano Puff Hoody which is made from synthetic down so it isn't quite as compressible or light as a down jacket (it's 292 g / 10.3 oz), but it isn't a huge difference.
Synthetic down is also cheaper and I didn't have to worry about the ethical issues of goose down.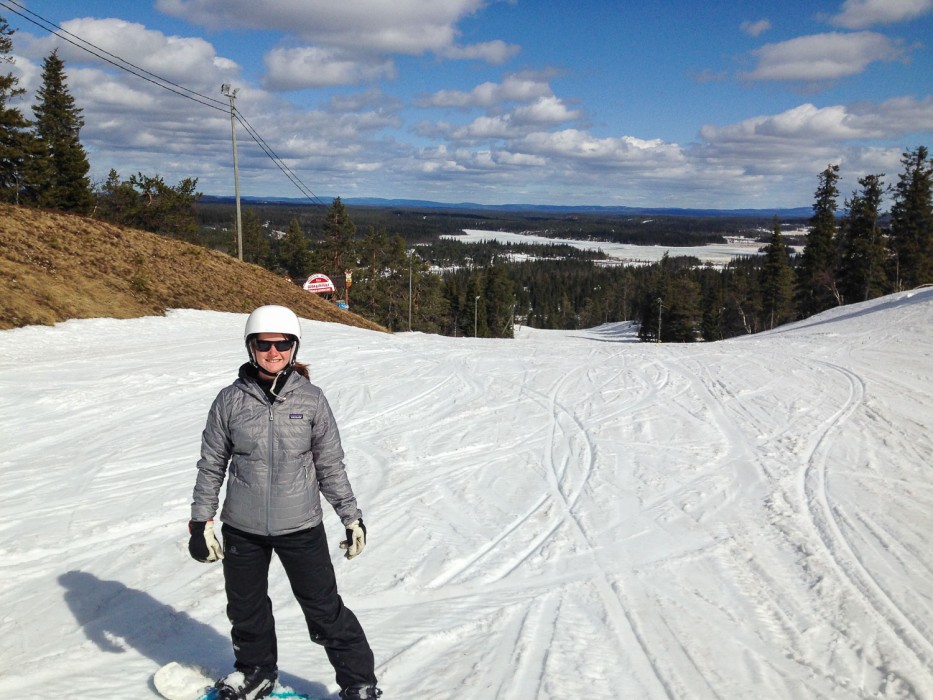 Both were fantastic jackets that kept us surprisingly warm in such a light package.
They have similar features—two external zipped pockets (My Patagonia also has an internal zipped pocket), hoods, and they stuff into one of their pockets, creating a small package that is easy to pack.
Down jackets aren't typically good in the rain, and many people wear a shell or waterproof jacket over the top. Both our jackets have a water repellant shell and they were fine in light rain—and it rained quite a lot in Finland.
They kept the wind out too. They were ideal for active pursuits like the snowboarding, hiking, and horse riding we did in Ruka.
We chose the hooded versions of our jackets but didn't end up using the hoods very often in Finland as we had hats, so you could save a little space by choosing the versions without.
On a later trip to Iceland, the hoods came in handy to keep the powerful wind out, though.
I think black would have been a better colour choice as they would have looked a bit smarter for more dressy occasions.
Down jackets are expensive but they are worth it if you are travelling in the winter as they are so warm and packable. We've now had our jackets for seven years so they are good value in the long term.
Combined with other layers, a down jacket enables you to stay warm in very cold temperatures and is one of the best things to pack for cold weather.
They are perfect if you are travelling to multiple climates as you can easily store them in your luggage when you're not wearing them.
This has been very useful for us in the last few years as we've travelled to a mix of cold and warm destinations including Hawaii, Japan in winter, Thailand, Australia, and New Zealand (in all seasons).
Wear Your Heaviest Clothes on the Plane
Wear your heaviest and bulkiest clothes and shoes on the plane to save space and weight in your luggage. I always wore my jeans, boots, fleece and wool jacket on travel days.
You can also save space by stuffing your gloves and hat in your jacket pockets.
Use Compression Bags or Packing Cubes to Organise Your Clothes
How you pack is just as important as what you pack. Using packing cubes makes packing winter clothes in a carry on easy.
By packing your clothes in compression bags or packing cubes you'll keep things organised and save space.
For five years we travelled with compression bags—the kind you roll to suck out excess air. These work especially well for bulky items so are great for packing winter clothes.
The downside of compression bags is that you have to roll them up, which can be a bit of a pain, and your clothes aren't accessible without releasing the air.
For our Finland trip we used Eagle Creek's compression packing cubes instead and having been travelling with them ever since.
While these don't suck air out like compression bags, they do squeeze packing cubes down into a smaller package with a zip around the side.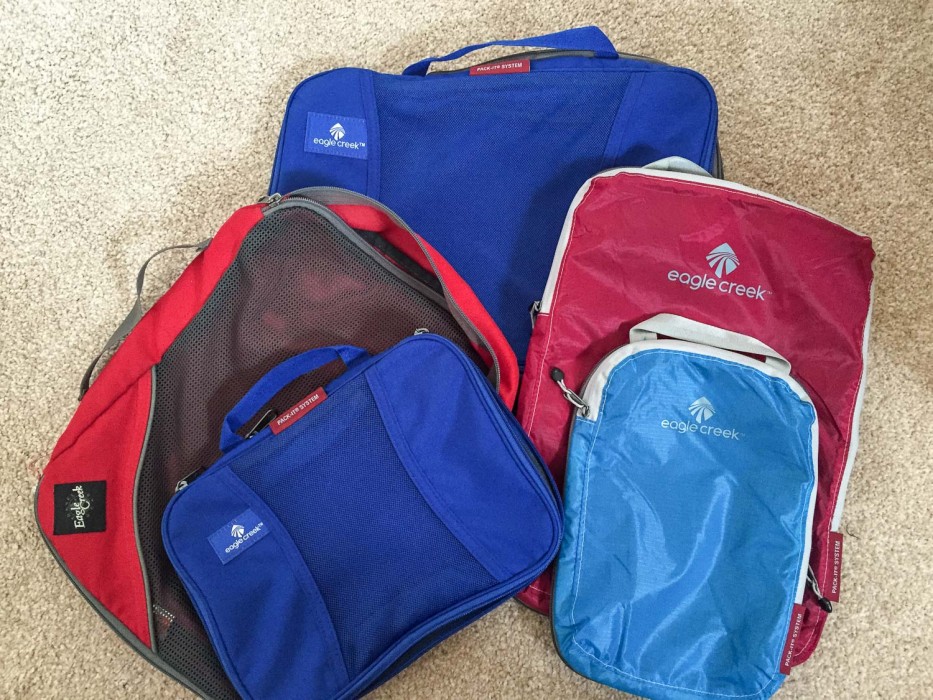 We could easily fit everything into the cubes and had plenty of space in our backpacks. Compared to the compression bags, the packing cubes are less hassle to pack, we can easily access our clothes, and they cause fewer wrinkles.
I went with the Specter compression cubes as they are ultra lightweight—I use a full cube for my main clothes, a half cube for my running clothes, and a half cube for underwear.
Simon now travels with Peak Design packing cubes—he uses a medium cube for his clothes and a small one for underwear. They are a bit heavier than the Eagle Creek cubes, but he likes the stylish design and separate compartment for dirty laundry.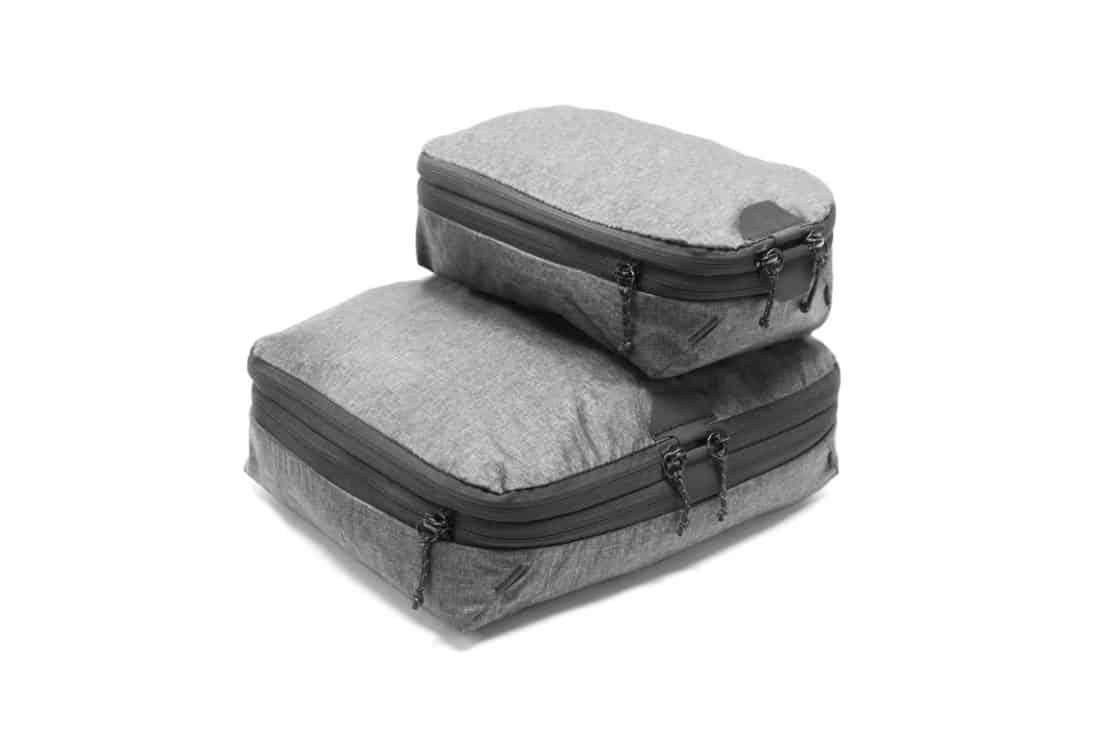 I think everyone should consider using compression packing cubes for packing winter clothes in a carry on. If you are really struggling with space, compression bags will save you even more space.
Tips for Multiple Climate Travel
While packing for cold weather is easier if you'll only be visiting wintery destinations (like on our Finland trip), it is possible to travel carry-on only to multiple climates.
For the last few years we've continued to pack light despite visiting a mix of cold and hot destinations.
For multiple climate travel, I give up the bulky luxury items I had in Finland—my boots and wool jacket—but manage just fine without them.
For mixed climates, pack compact clothes like down jackets and merino wool tops that have a high warmth to weight ratio, and multi-purpose items like a dress you can wear on its own in hot weather or pair with leggings and a cardigan when it gets cooler.
If you'll be travelling for long periods of time in hot weather, don't pack your winter gear—buy it when you get there. If the first three months of your trip are in Southeast Asia, there's no point carrying around sweaters for when you get to New Zealand in the winter.
We always travel with a few items (jeans, cardigan, fleece) and anything else we need we'll buy when we hit cold weather.
When we spent the winter in Melbourne, Australia, I needed warmer shoes so bought a pair of Allbirds Wool Runners, and have been travelling with them ever since (they've been ideal in New Zealand too).
I love how warm and cosy they are. They are so comfortable they feel like slippers and I can even wear them without socks. See my Allbirds review for more details.
I have since picked up a pair of Allbirds Mizzles, which are even better for a winter packing list as they are water resistant and have more traction for slippery surfaces. I've even worn them on hikes.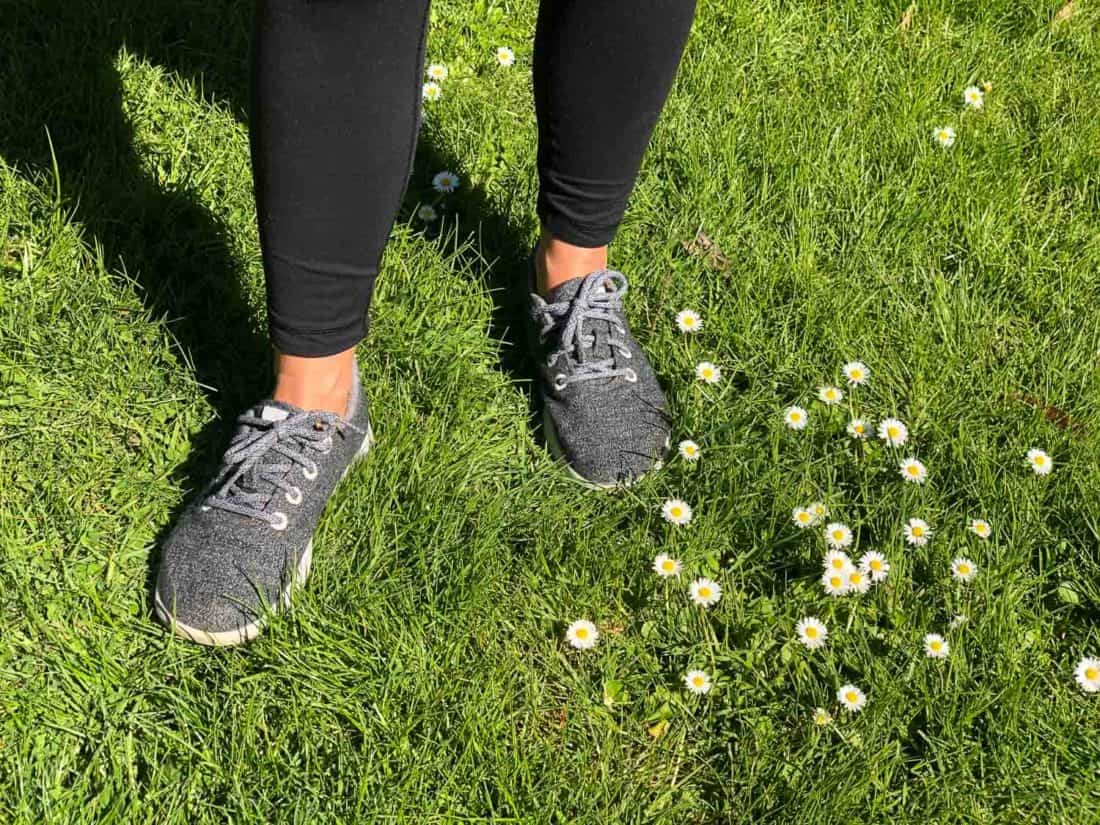 In northern Argentina when the weather turned snowy, we picked up thick socks, hats, gloves, and an extra thick fleece inexpensively at a local market.
You can find cheap winter clothes in second-hand shops, markets, and discount clothing shops like Primark in the UK and Target in the US—ask locals where to shop.
We borrowed and bought extra gear for our Finland trip in the UK. This doesn't have to be expensive—a hat and gloves in the market cost £5 and my warm winter boots were £17.50 online at Zalando.
You can also rent clothes at your destination. We've rented snowboarding clothes in Finland, New Zealand and France and jackets for a trek in Nepal.
You can see our multi-climate Europe packing list for a trip from August to December.
Our Cold Weather Packing List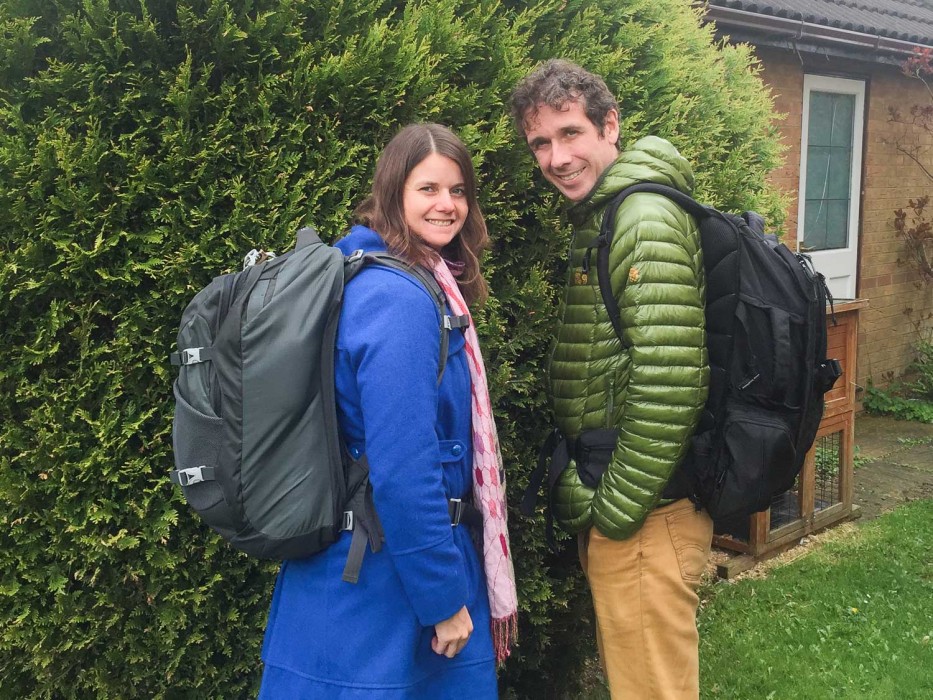 This was our cold weather packing list for our Finland trip in early May. We packed for both active outdoorsy stuff (snowboarding, hiking, horse riding) in Ruka and city life in stylish Helsinki.
Both of our carry on backpacks weighed 8.6 kg (19 lbs). This was slightly over the 8 kg carry-on limit of Finnair but as usual they didn't weigh our bags.
Finnair only allows one carry-on bag without an extra personal item, so Simon packed a cotton shoulder bag to use as a day bag in his backpack (we have since upgraded to a packable daypack).
On the trip we had temperatures ranging from 2-12ºC (35-53ºF) although the wind chill factor often made it feel colder, and it rained about half the time.
Our layers and down jackets kept us warm and we never felt like we had a lack of clothes. We definitely could have managed even colder temperatures as we didn't wear all our layers.
This winter carry on packing list includes everything that we wore on the plane so we didn't actually pack all of this.
You can use this packing list for cold weather for any winter travel.
Luggage
For Finland we travelled with carry-on backpacks. We have since switched to Away carry on suitcases—see our carry on packing list for why we changed.
Erin's Clothes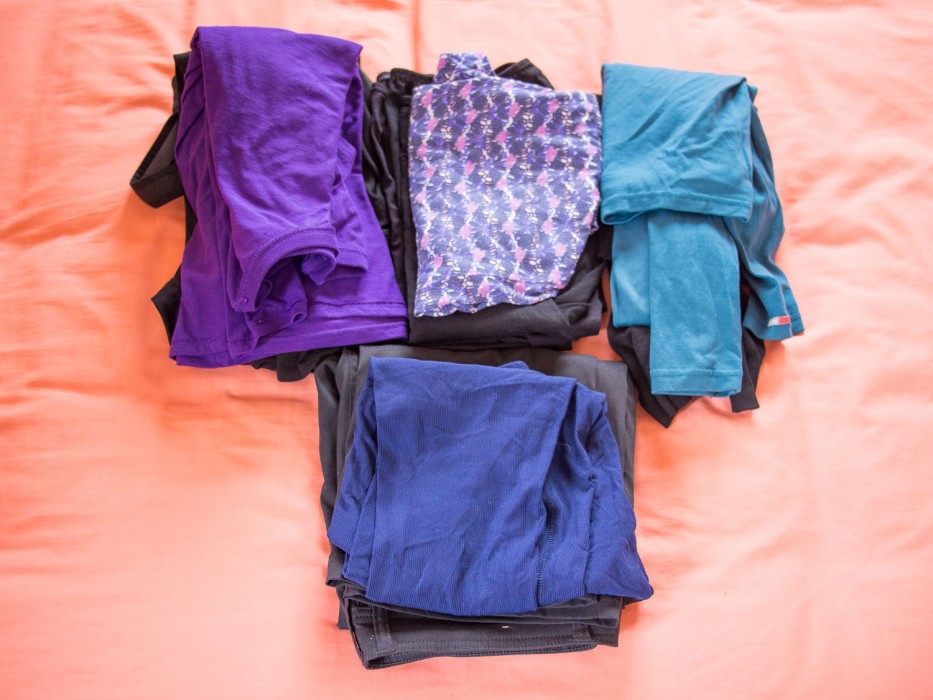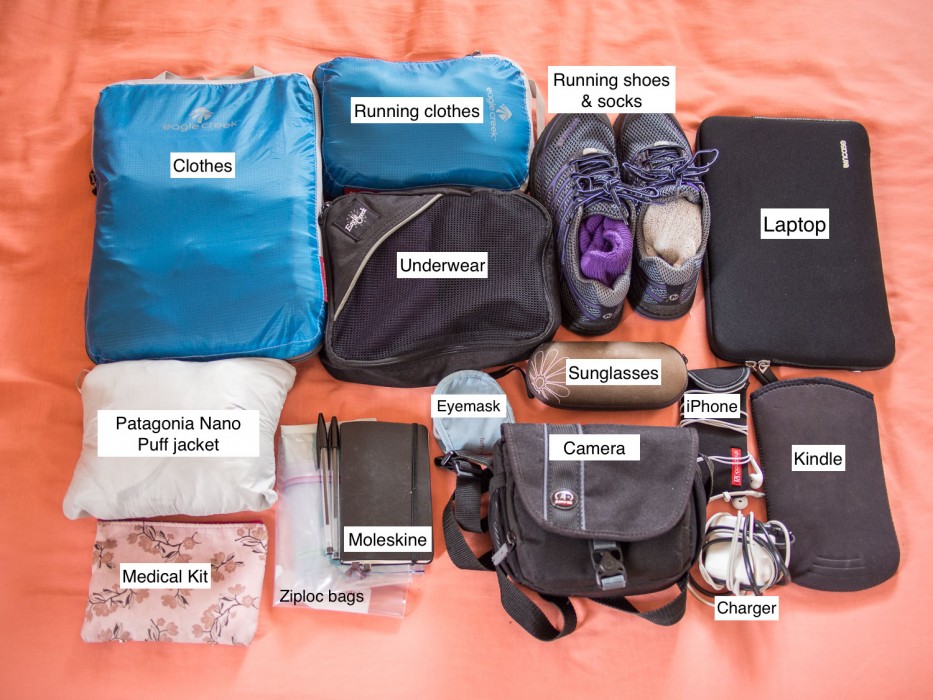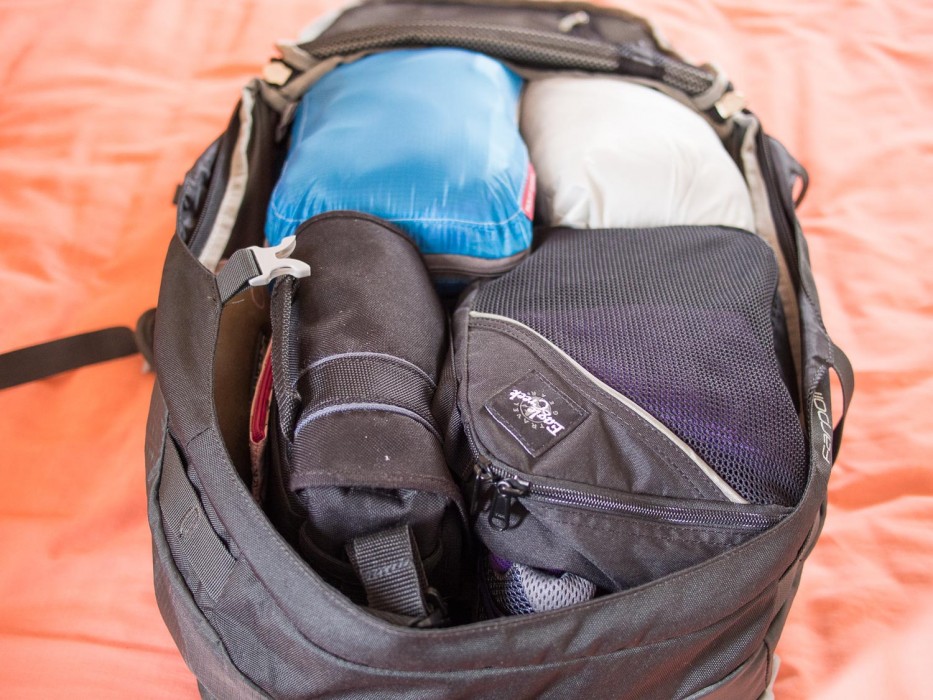 Eagle Creek Specter compression cube set – For clothes.
Eagle Creek half packing cube – For my underwear and other bits like Simon's hard drive.
1 Acai Skinny Outdoor Jeans – My new favourite travel-friendly jeans are super comfy, have huge pockets, and are shower-resistant. They are UK based but ship internationally. See also my review of the best travel pants for women.
1 PrAna Halle trousers

– Practical but decent looking travel trousers.

1 Thermal leggings – To wear under my trousers.
2 Tank tops – To layer under my other tops. I didn't end up wearing one of them.
3 Short sleeve tops – These could be replaced with extra long sleeve tops.
1 Cardigan
1 Icebreaker long sleeve merino wool top – This is fantastic as it keeps me warm without taking up much space. Merino wool is not at all itchy and it never smells!
1 Sweater – I like merino wool or cashmere sweaters as they are warm, light and dry more quickly than cotton.
1 North Face lightweight hooded fleece – This comes with me everywhere as it's warm and light.
1 Patagonia Nano Puff Hoody Jacket – Warm but amazingly light and packable. See my review above.
1 Wool jacket – My knee length jacket is heavy and impractical for long term travel, but for this short trip I wore it on travel days so it didn't matter. It was nice to have something smarter in Helsinki.
Running outfit: Capri leggings, t-shirt, long sleeve top, sports bra, running socks, fleece headband – If you don't run/workout you obviously won't need to pack these.
7 Underwear – My favourites are the lightweight, quick-drying ExOfficio underwear.
2 Bras
7 Socks (3 thick, 4 thin) – One pair were the ultra warm Smartwool Classic Hike Full Cushion Crew socks which I adore in cold weather.
Gloves
Woolly hat – I love my Allbirds Pom Beanie made from merino wool as it's cute, non-itchy, and super warm. They only sell it in the winter months.
Scarf
Sunglasses and travel case
Winter Boots – I bought some cheap but warm boots (not these exact ones but similar—basically fake Uggs) which I wore every day. They weren't waterproof so I would have bought better ones for a longer trip.
Running shoes – I currently travel with the Allbirds Tree Dashers. If you don't need shoes for running but would like a pair of cosy warm sneakers, see my Allbirds wool runners review. An alternative second pair of shoes, if it's not too cold, could be a pair of comfortable, lightweight ballet flats like my beloved Allbirds Tree Breezers.
Simon's Clothes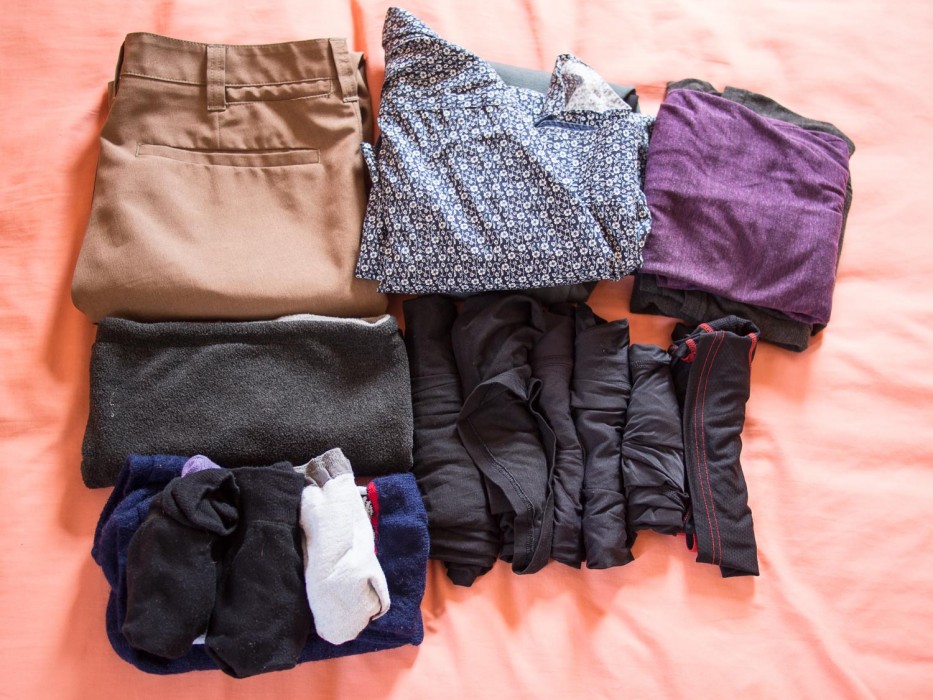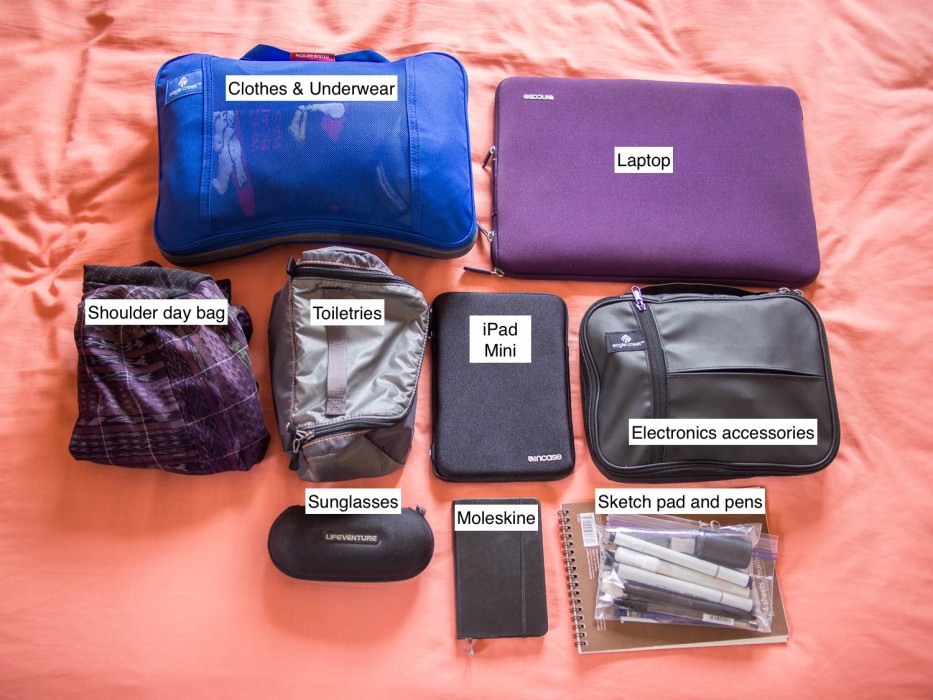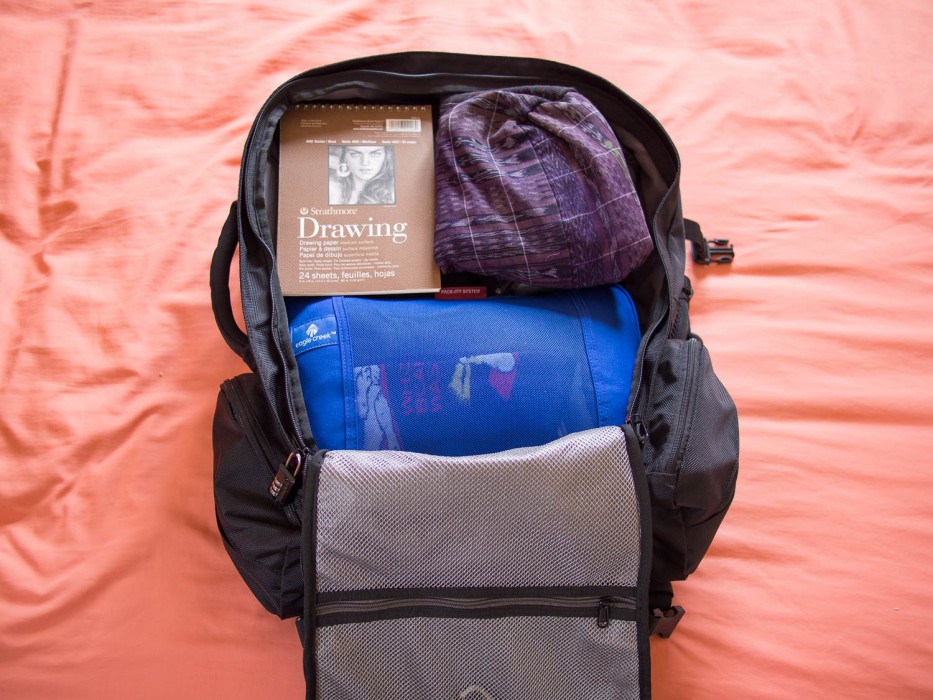 Peak Design Packing Cubes – Medium for clothes and small for underwear.
1 Aviator Jeans – These are super comfortable, feature hidden zipped pockets, and the dark indigo colour looks great.
1 Bluffworks pants – The most functional and stylish travel trousers Simon has found. They are lightweight, wrinkle-free, quick-drying, and have hidden zipped pockets, but still look good. He has worn them hiking, horse riding and to weddings.
3 T-shirts – His favourite is the Bluffworks Threshold T-Shirt (yes, most of his clothes are made by Bluffworks!).
1 Long sleeve shirt – His Bluffworks shirt is wrinkle-free and quick drying.
1 Icebreaker long sleeve merino wool top – Warm, lightweight, and odour-resistant.
1 Lightweight fleece
1 Mountain Hardwear Ghost Whisperer Hooded Down Jacket – Incredibly light and warm. See the review above.
7 Underwear – A mix of Uniqlo AIRism and ExOfficio travel underwear.
5 Socks (2 thick, 3 thin) – One pair were the cosy Smartwool Classic Hike Full Cushion Crew socks.
Gloves
Woolly hat
Scarf – He never wore it.
Sunglasses and travel case
Waterproof hiking shoes – Simon had the Scarpa Margarita GTX shoes in Finland but now travels with the Keen Targhee III waterproof hiking shoes. They are rugged enough for hikes but neutral enough for city travel.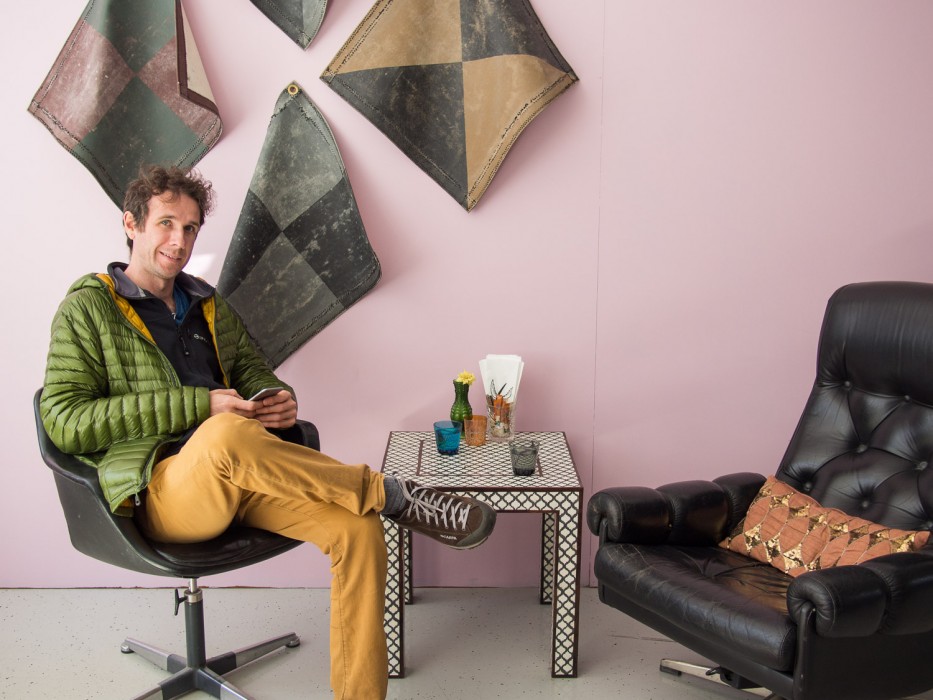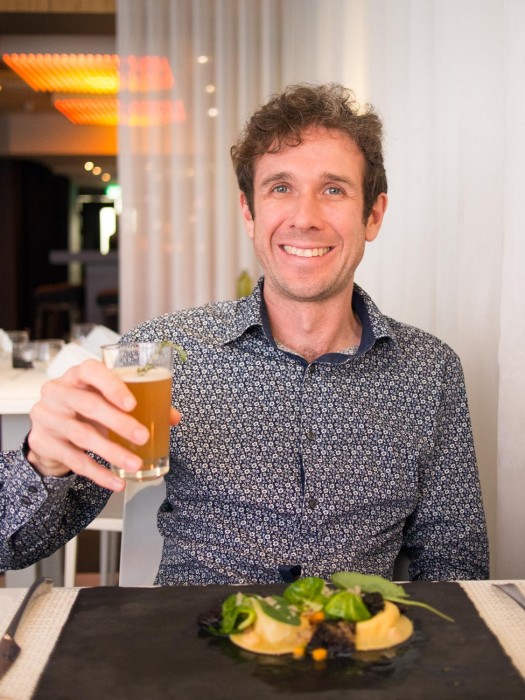 Other items
See our latest carry on travel packing list for the toiletries, electronics, and other miscellaneous items we usually pack on trips.
Summary
I hope this post has helped show you how to pack for cold weather in a carry on. There are so many advantages to packing light for winter travel that I hope you'll give it a try and save yourself money, time, and stress.
Let us know if you have any more tips on how to pack light for winter travel! What's a must on your winter vacation packing list?
More Packing for Cold Weather Tips
These packing posts might also be useful:
If you enjoyed this post, pin it!