This page contains affiliate links. Please read our disclosure for more info.
Despite travelling full-time for over 10 years, I have struggled to find the best travel pants. My previous strategy was one pair of jeans (whatever I could find that fit in as lightweight fabric as possible) and a pair of loose linen trousers that were nice and cool in hot weather but wrinkled terribly.
In cold weather, I replaced the linen trousers with an extra pair of jeans, and in recent years, I added leggings for running, yoga, and hiking (I could never find hiking trousers I didn't feel frumpy in).
While I got by with those options, I never found any women's travel pants that I could recommend to others. Things have improved in recent years, though, with many small companies now making travel-friendly clothes, and when I was last in the US, I renewed my quest for the perfect travel pants for women.
These are the best travel pants that I've found.
Contents
Aviator: The Best Travel Jeans
Super soft and stretchy
Comfortable
Huge front pockets and hidden back zipped pocket
Five styles available
Made in the USA
Aviator is a small company that claims to make the best travel jeans in the world from their family-run factory in Los Angeles.
I was excited to find a company tackling this challenge, and after over two years of travel with my Aviator jeans, I can say they have succeeded.
They offer various styles for women including skinny, slim straight, and boyfriend in a range of colours.
I have the Skinny jeans in black which are made from a blend of Tencel, cotton, lycra, and spandex. The different colours of the Skinny jeans are made from different fabrics so each has a slightly different feel and fit.
The fabric of the black jeans has changed since I bought mine and now the silver-grey version is closest to my black ones.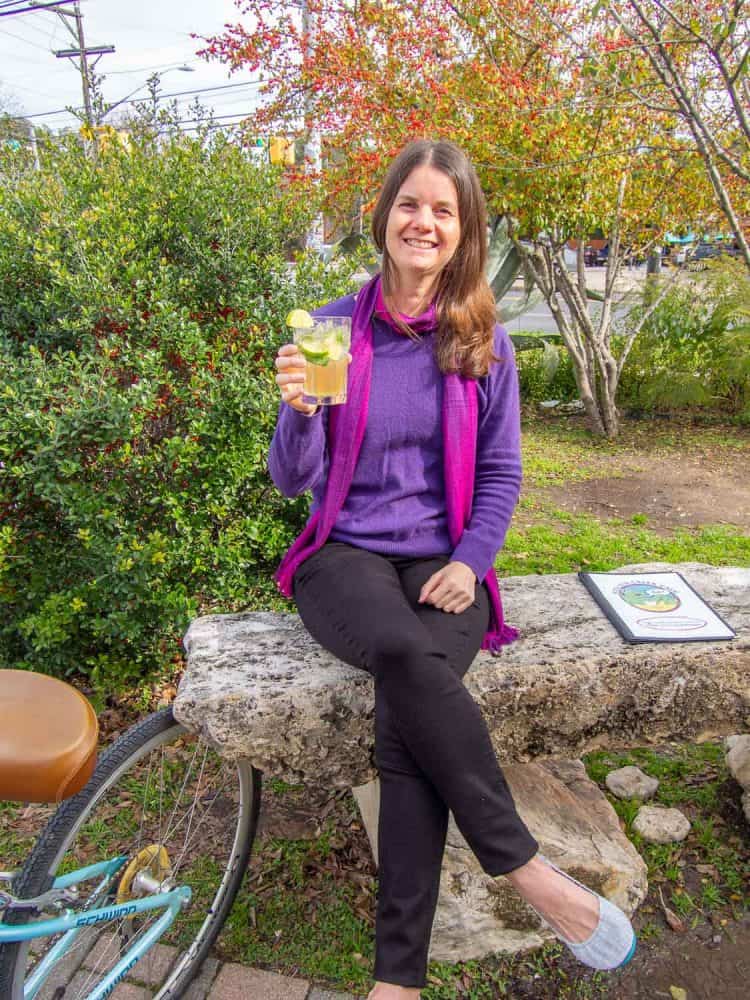 Comfortable
My Aviator Comfort Skinny jeans are wonderfully, buttery soft and felt comfortable as soon as I put them on. They are form fitting but not constricting and are so stretchy that I've even done yoga in them.
I often wear them on long flights without getting uncomfortable. The midrise comes just below my belly button when standing (and just above when sitting).
Pockets
I love the huge front pockets on Aviator jeans. Seriously, they are the largest I've ever found on women's clothing! There's more than enough space to fit a larger phone or passport.
They have become my favourite pants to wear on travel days as it's convenient being able to keep my passport in my pocket while going through an airport.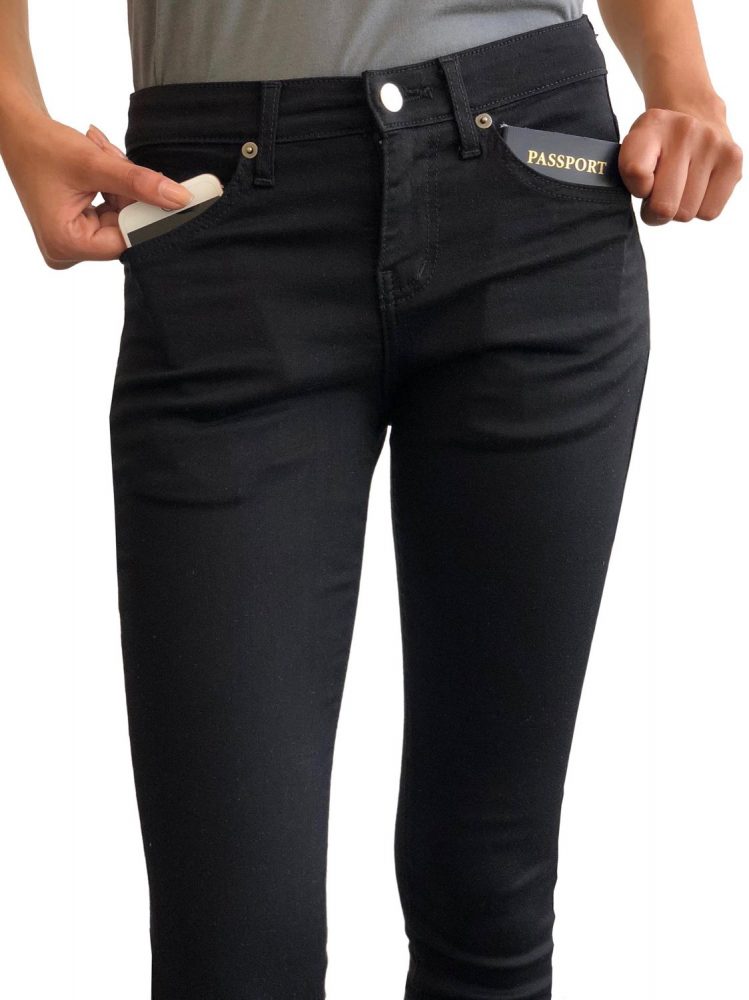 There's also a hidden zipped pocket inside one of the back pockets which is good for stashing a credit card or little cash when you need a bit more security.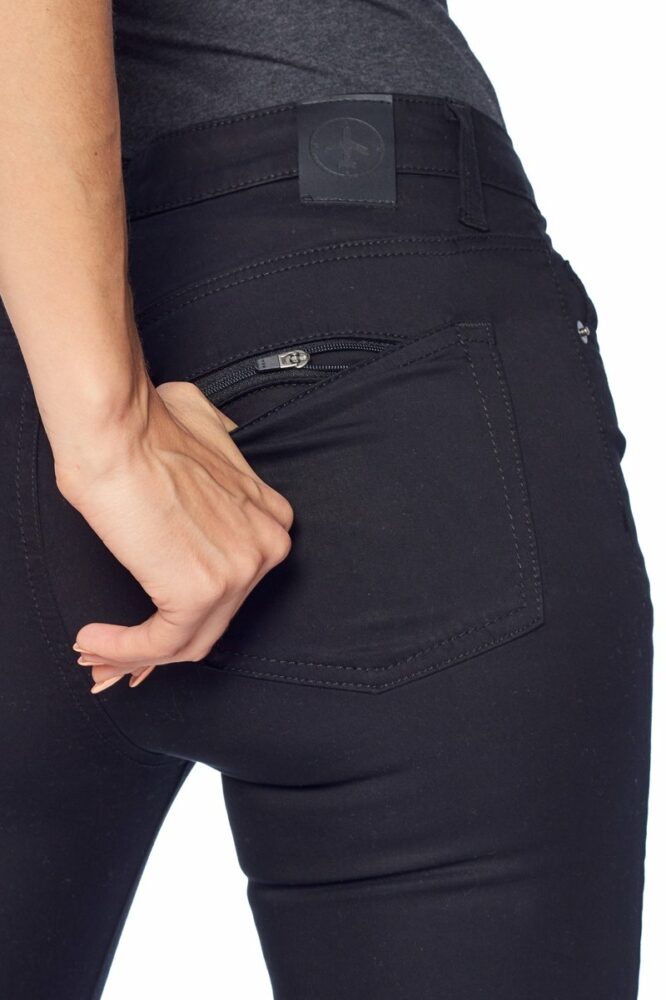 The Fit
The most surprising thing about the Aviator jeans was that they fit! I usually have to try on a gazillion pairs of jeans before I find some I like, so I didn't have high hopes about ordering online.
I went for my usual jean waist and they were perfect.
The biggest downside is that they only come in a 31" inseam length and they are a little too long for me (I'm 5'4″ and usually get 30" length jeans).
At first I just turned the bottoms under which wasn't noticeable. I eventually got them tailored for just $10, which was well worth it for the perfect fit (and to save some unnecessary weight).
I hope that Aviator offers different lengths in the future. For now, they offer free custom hemming, but you can't return the jeans if you order this.
If you're not sure about your size, Aviator provides free returns and exchanges and the small team offers great customer service (you could end up emailing the founder, Colby!).
Note that the Comfort Skinny black jeans have changed since I bought them. I haven't tried the new ones yet, but when I tried the dark indigo Comfort Skinny jeans they didn't fit me quite so well (they were tighter at the thighs).
The fit will all depend on your body type. I recommend trying a few colours of the Comfort Skinny jeans as they all have a different fabric and fit. The black and grey jeans are stretchier than the indigo versions.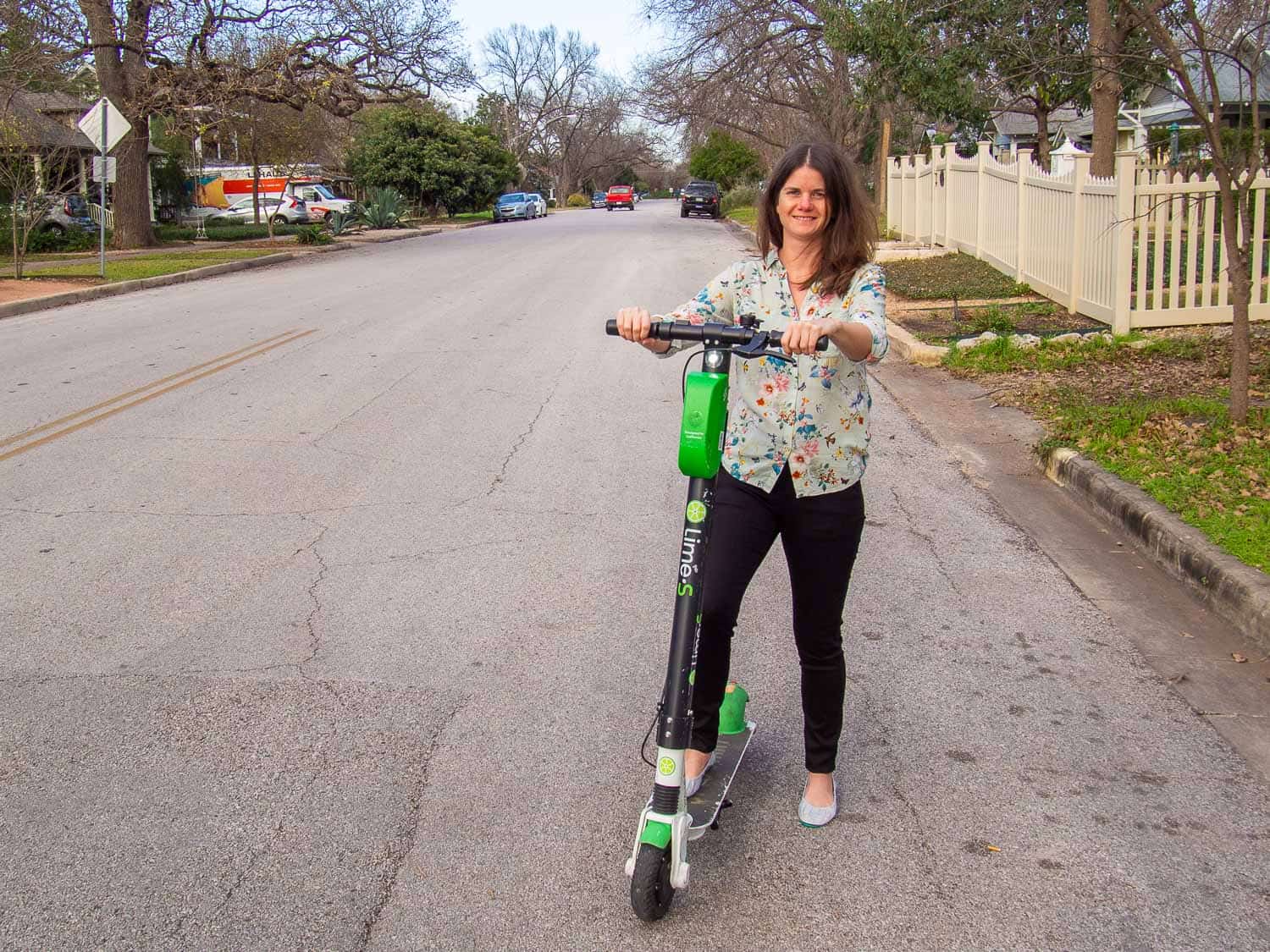 Lightweight and breathable
The jeans are made from a fairly lightweight, breathable fabric and my pair weighs 1.07 lbs (486g). If you are used to traditional denim, they will definitely be lighter and quicker drying, but they aren't ultralight travel pants.
They were ideal for the crazy Austin winter weather—cool enough on 75ºF days and warm enough for chilly nights. When I experienced freezing weather in Japan, I added thermal leggings underneath.
They are quite clingy, so the black jeans are too hot in the tropics, but the silver-grey version might be better (honestly, I don't wear my jeans in the tropics anyway!).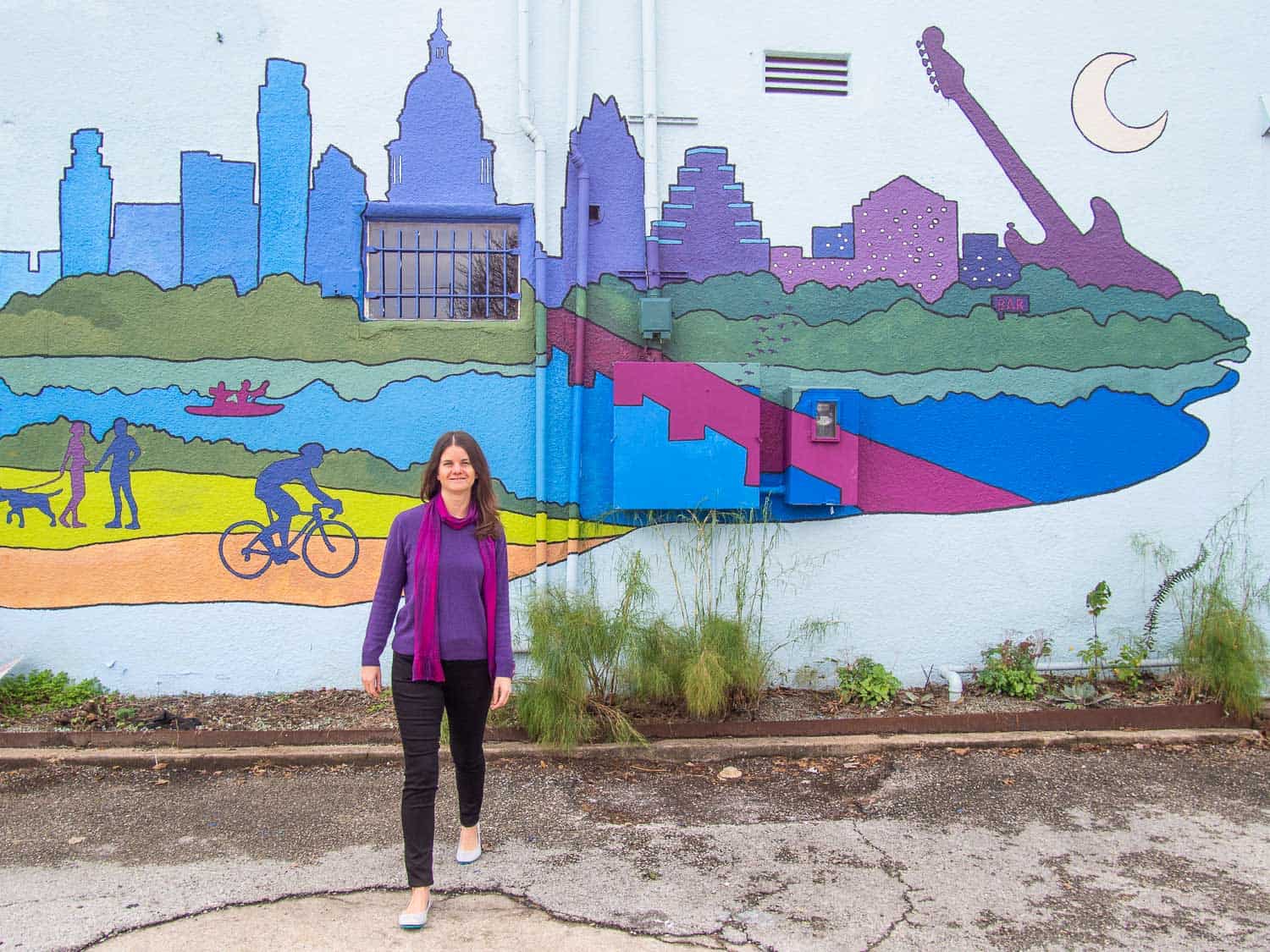 Finally, I appreciate that the Aviator website has photos of the jeans worn by different sized models, not just skinny ones.
I also love the Aviator Air Dry Travel T-Shirt which is made from merino wool. It's lightweight, breathable, wrinkle-free, and dries really quickly.
Best of all, it's incredibly odour-resistant. I wore it for a couple of long days hiking on the Queen Charlotte Track and it didn't smell at all. I find it comfortable and moisture-wicking for running, too.
Aviator also has men's jeans with the same travel-friendly features, as well as a range of merino wool clothes.
Check out Aviator travel jeans on the Aviator website.
Anatomie: The Best Lightweight Travel Pants
Ultra-lightweight and compact
Wrinkle-resistant
Very quick-drying
Stretchy
Stylish
Range of styles
Expensive
Difficult to find the right size
For years I've heard travellers raving about how Anatomie makes the best travel pants for women and I finally got to try them for myself. This high-end women's fashion brand creates stylish, travel-friendly clothes and was named the Luxury Travel Clothing Brand of 2019 by Forbes.
Their clothes aren't cheap, but they have lots of travel-friendly features.
Lightweight and comfortable
Anatomie offers many different style pants and most are made from an incredibly lightweight, wrinkle-resistant, quick-drying fabric.
My Anatomie pants pack down to a tiny size and only weigh 5oz (140g)—that's less than my leggings! They are perfect for packing light, especially if you travel carry-on only like I do.
The fabric is breathable and stretchy (they passed the yoga test!) but a little rough.
As they are so light, they are a better choice than the Aviator jeans in hot weather. I don't often wear pants in the tropics, but when I took a motorbike road trip in Thailand, my Anatomie pants worked well and I didn't get too hot. They also dried quickly when I got caught in a downpour.
As the fabric is so thin, VPL is more of an issue in these than in jeans.
In very cold weather you'd need a layer underneath.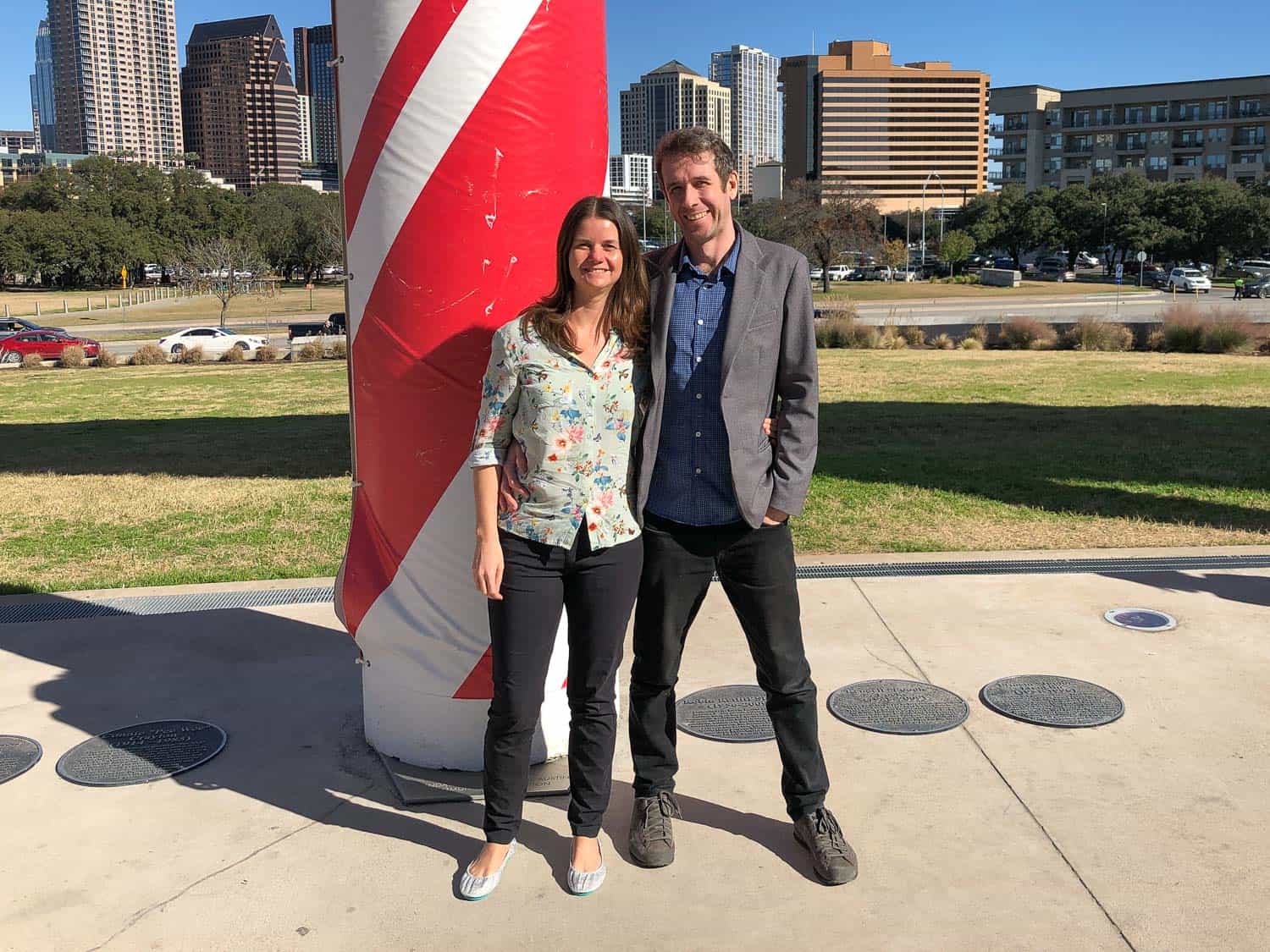 Quick-drying and wrinkle-free
If you only want to travel with one pair of pants, Anatomie would be ideal as they dry incredibly quickly.
They came out of the washer almost dry (I could have worn them if necessary), and after hanging them inside the house, they were completely dry in a few hours.
If you hang them in the sun or use a hairdryer (which Anatomie recommends!), they'd be dry in no time. You can also tumble dry them on low.
You don't have to worry about ironing Anatomie pants. They are supposed to be wrinkle-free, but I do find they get quite wrinkled in my packing cube. If I hang them up or wear them, the wrinkles drop out.
I've found the pants quite resistant to dirt—I wore them to make gingerbread houses then crawled around on the floor and dust brushed right off.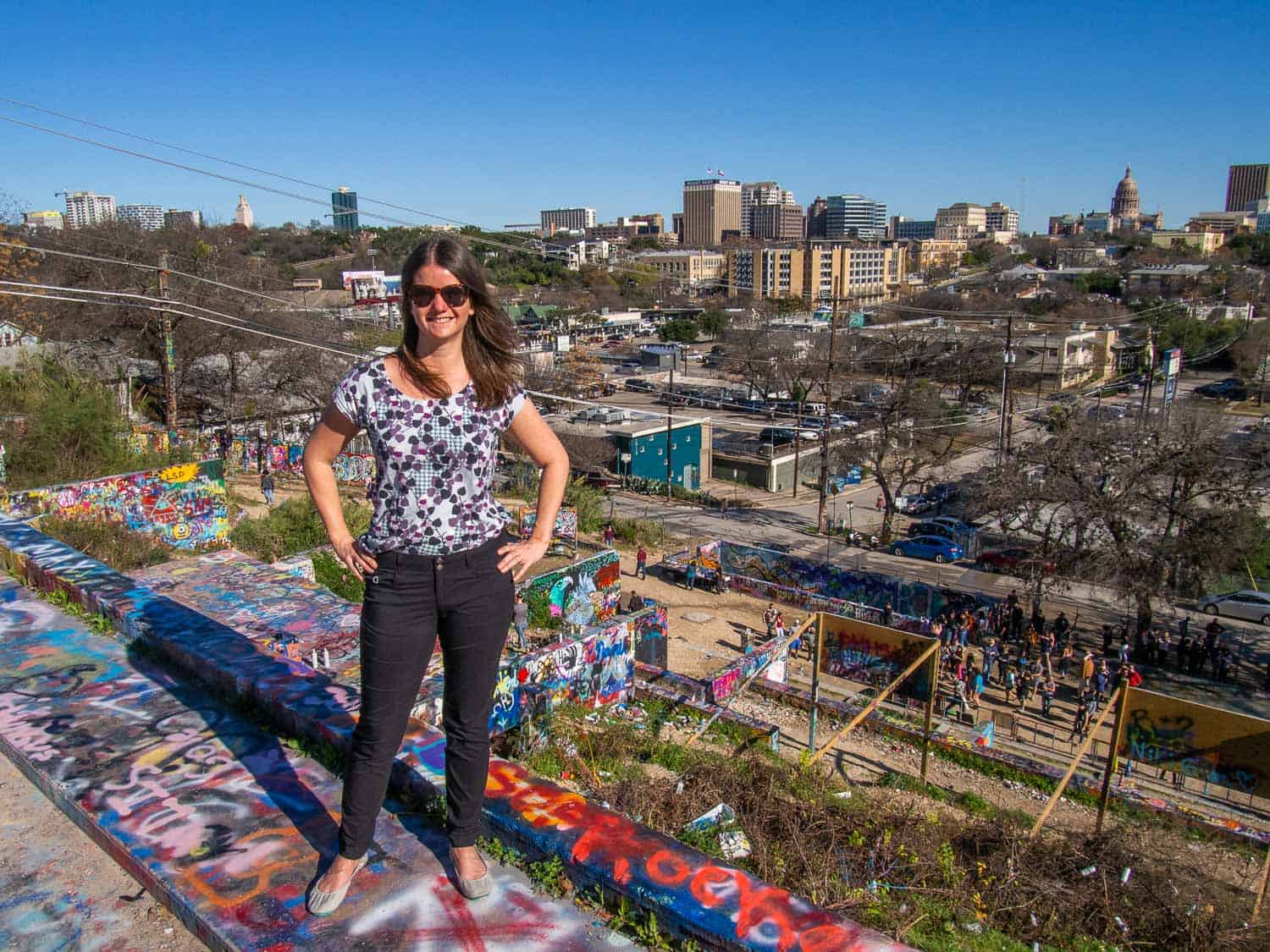 Which Style of Anatomie Pants to Choose?
Anatomie has a number of styles to choose from, and unfortunately, they all fit very differently and it's frustrating trying to find the right size.
Sizes come in small, medium, large etc. (XL or 12/14 is the largest) rather than dress sizes and you might need a different size in each style.
I am usually a US size 8. I tried three styles and found a medium in the Gail pants was too big for me, but it was the perfect size for the Luisa Skinny Jeans. The Anatomie team recommended I size up to large for the Skyler pants, but I found those too big.
The lengths are also very different which I find strange. Anatomie doesn't offer different lengths (I wish they would) and every pant varies. The Skyler pants (which are their most popular style) were about four inches longer than the Luisa—they were far too long for me whereas the Luisa fit perfectly (I usually take a 30" length).
The three pants I tried are all made from the same fabric but vary in design and fit. Here's what I thought of each style:
Gail High Waisted Pant – My least favourite. I didn't like the glitzy zips and pockets that bulged out when I sat down, and they were too big in the waist and length.
Skyler Travel Pant – I liked the higher rise and larger pockets, but they were far too long and had a looser fit (perhaps because I sized up). If you are tall, I recommend trying these as they are very popular.
Luisa Skinny Jean Pant– Slim fit, shorter length, lower rise. My favourite.
My Pick: Luisa Skinny Jean Pant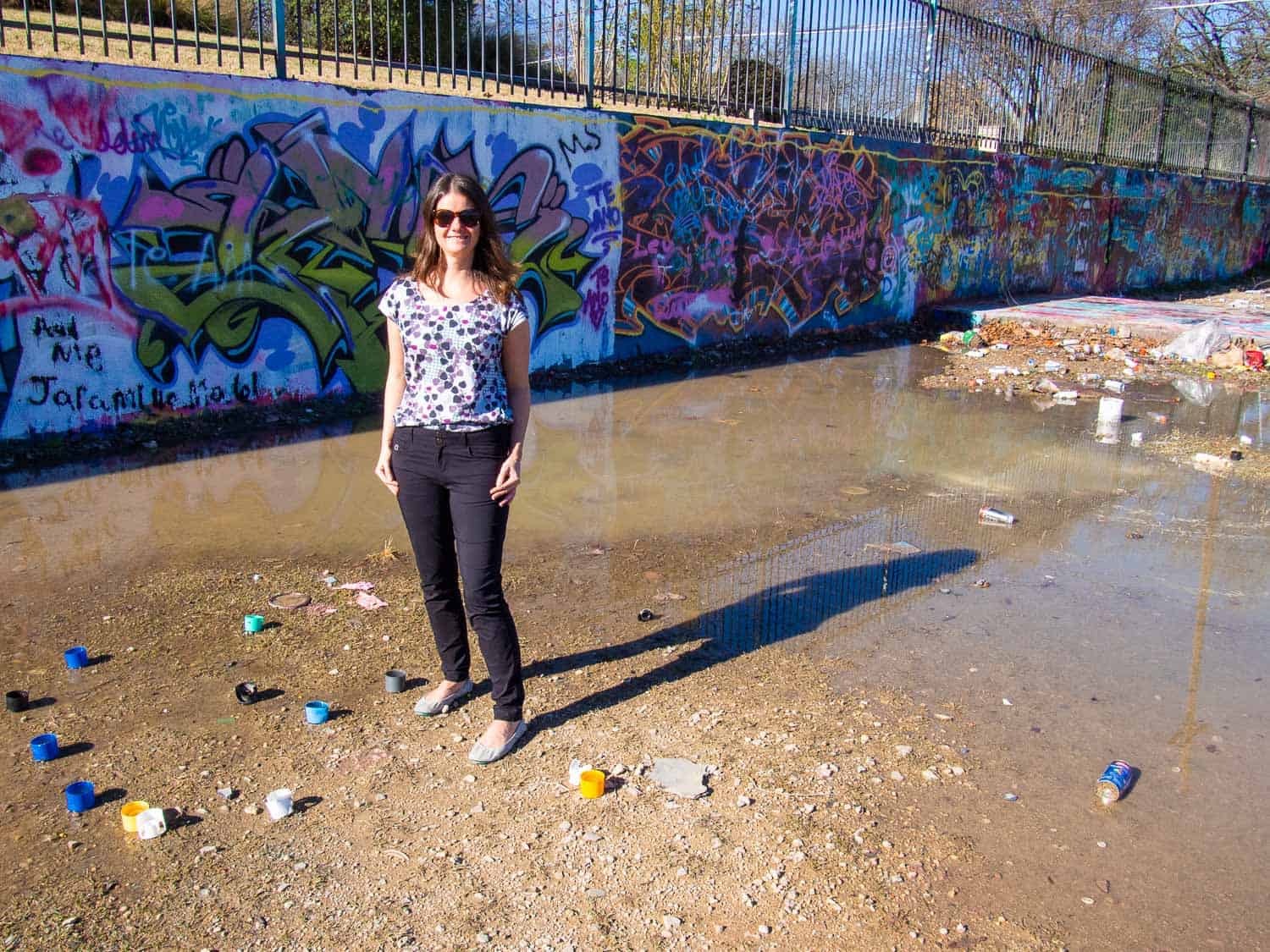 I decided to keep the Luisa Skinny Jean Pant because they fit the best. They have a five-pocket jean styling but aren't really jeans as they are made from Anatomie's signature lightweight and stretchy fabric. They have a slim fit like skinny jeans with average size pockets.
The biggest downside is the low rise—I'd prefer a higher waistband for greater comfort. The Skyler has a higher rise if this is an issue for you.
Update After One Year
Although my initial impression of the Luisa pants was good, after a year of travel to six countries (hot and cold) with them, I found that I didn't wear them very often so gave them away.
The lower rise, smaller pockets, and rougher fabric mean they are not as comfortable or convenient as my Aviator jeans. In cold weather, I alternate between two pairs of jeans and wear my leggings (see below) for active pursuits and lounging around the house.
I don't like the Luisa pants enough to replace my jeans with and I don't find myself needing dress pants often.
They are useful in hot weather when I want to cover my legs such as travelling to conservative countries like Oman or Jordan or riding a motorbike in Thailand. But those aren't situations I came across enough to justify their place in my bag.
The real advantage of the Anatomie pants is how incredibly light and quick-drying they are.
If you are on a fast-paced trip and want to pack light, this would be a huge plus and they are definitely more practical for travel than jeans.
For my slower pace of travel these days (after 11 years of nomadic life), it's not as much of a priority to me as it once was.
If you are interested in trying Anatomie pants, I recommend contacting their team for advice and take advantage of the free returns to find the perfect style and size for you.
Check out Anatomie travel pants on the Anatomie website.
Bluffworks Trevi Pants: Comfortable Dress Pants
Classic dress pants
Very comfortable with wide stretch waistband
8 pockets including hidden zipper pockets
Loose fit
Adjustable hem
Wrinkle-resistant
Simon has been travelling with Bluffworks pants for years, so I was excited when they launched their new women's line including the Bluffworks Trevi Pants.
Unfortunately, the Trevi Pants didn't work for me, but for some travellers, they would be ideal, so I'm including this review.
Bluffworks has since released two new styles of pants for women—the Palma Chinos and the Petaluma Ponte Pants (more like leggings). I haven't tried them yet, but like all their clothes, they are wrinkle-resistant and include hidden pockets. They are definitely worth looking into to see if they work for you.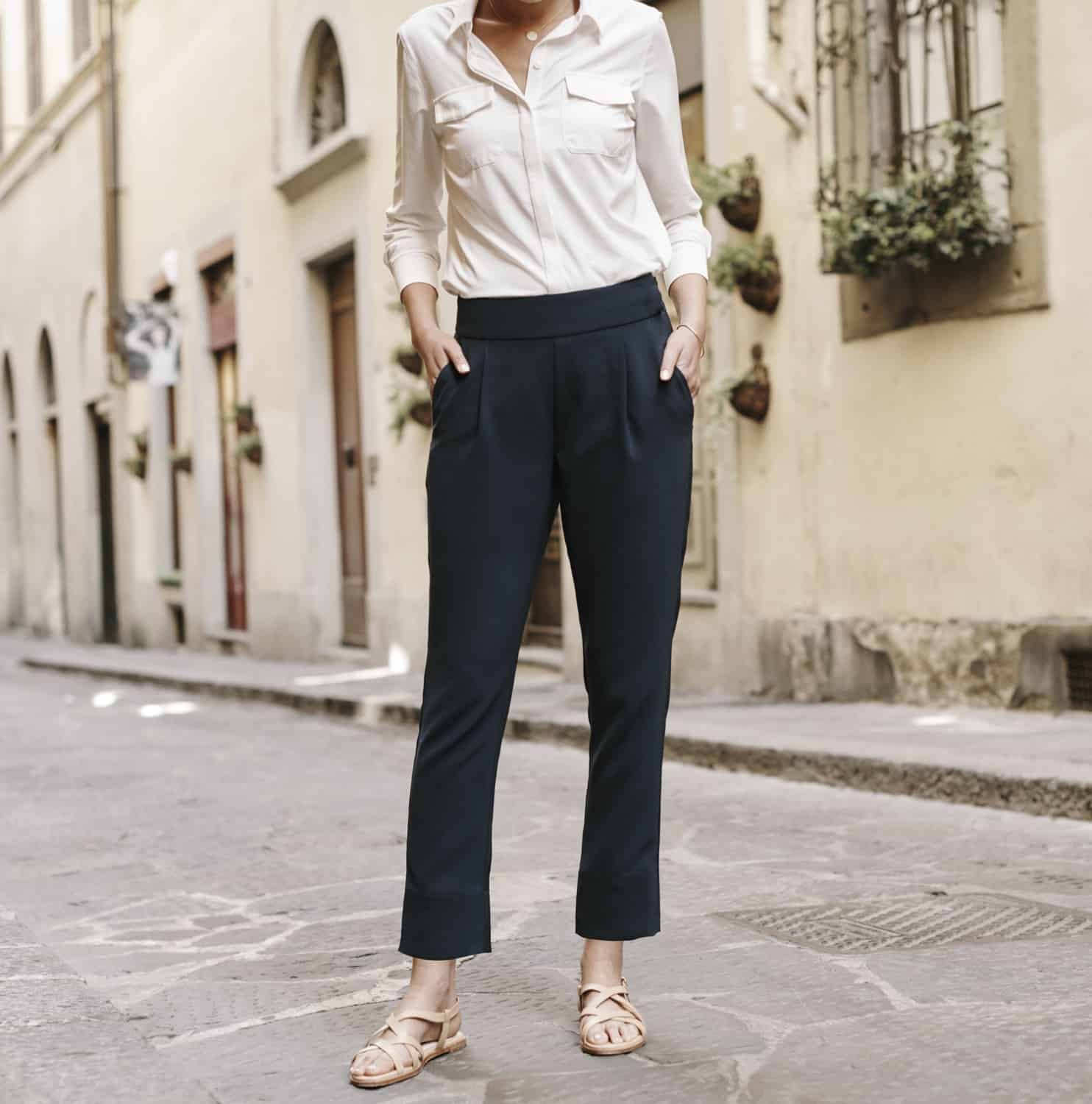 What I loved
The Trevi Pants are very comfortable. They are made from 98% polyester and 2% spandex, which gives them a good amount of stretch.
The wide waistband is also stretchy but doesn't look like it. I could easily imagine wearing these on a long haul flight (and they are wrinkle-resistant, too).
The size 8 fit me perfectly. Although they are described as ankle pants, they were full length on me at 5ft4. There's an adjustable hem if you want a more cropped style. If you are taller, they work as ankle pants.
Another amazing feature is the pockets—there are eight of them! This is unprecedented in stylish women's pants. Three are hidden pockets to keep your valuables secure, and there's also a phone pocket inside the large left front pocket.
What didn't work for me
The Trevi Pants just weren't my style. They felt too formal for me, more like business dress pants. I found the looser fit unflattering on me and they bagged around the crotch when I sat down.
They were also heavier than I expected—more on a level with the Aviator jeans than the Anatomie pants. This is likely due to the many pockets and wide waistband.
Who they would work for
Although the Trevi Pants didn't work for me, I would consider them if you are looking for a travel-friendly dress pant that is super comfortable, wrinkle-resistant, and has lots of secure pockets.
I found them comfier than the Anatomie pants and the pockets are far superior. The Trevi Pants are significantly heavier, though, and I can't imagine they dry as quickly.
Bluffworks also makes women's dresses, shirts, and t-shirts. The Threshold T-Shirt is my favourite shirt—it's soft, odour-resistant, and wrinkle-free, and it works as well for hikes as for city exploring.
Check out the Bluffworks Trevi Pants here.
The Best Leggings for Travel
I always travel with a couple of pairs of leggings for running, hiking, and lounging. For running, I like the cropped Athleta Be Free Knicker, but they are no longer available.
Here are my favourite leggings:
Lululemon Leggings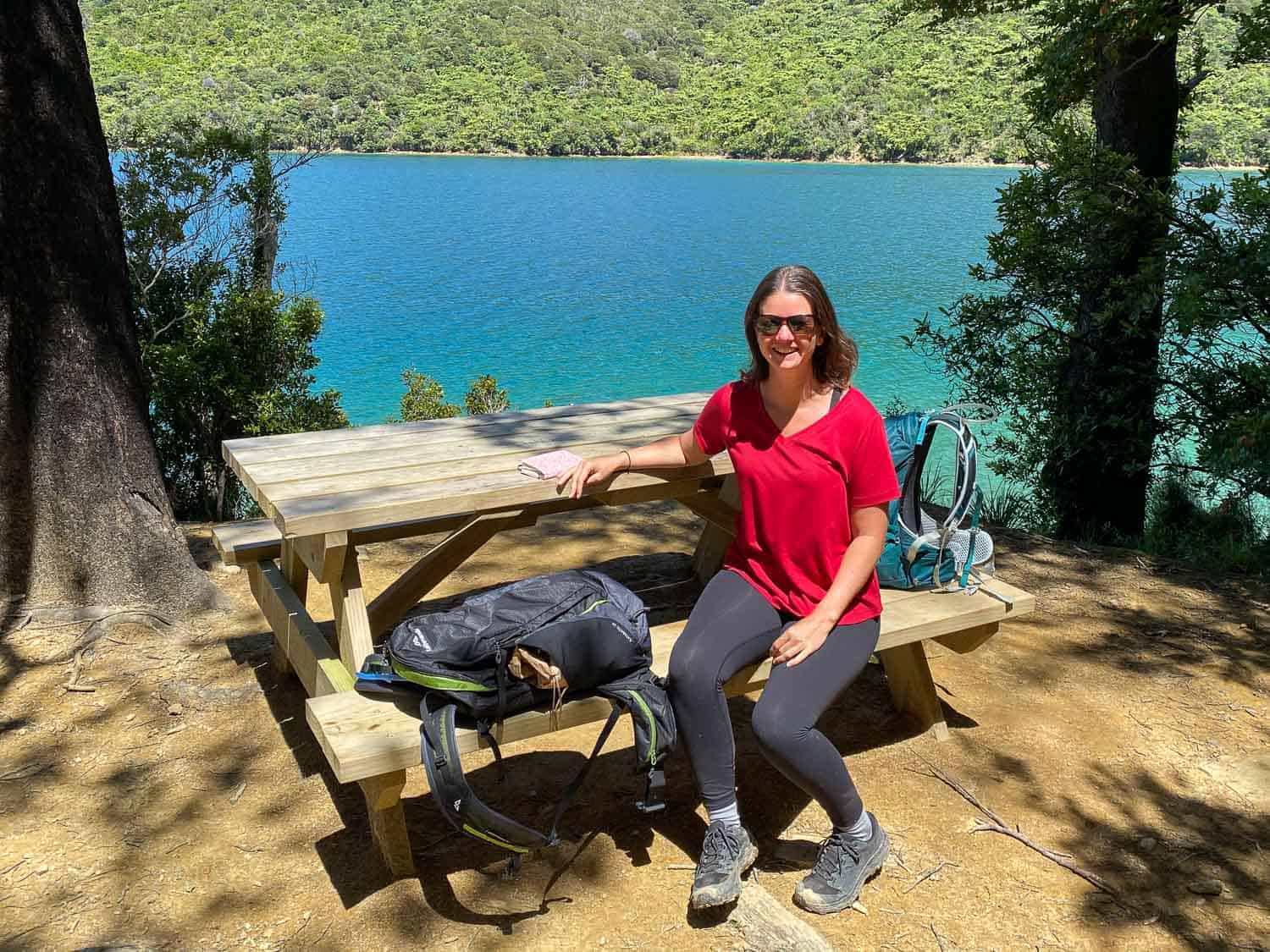 When I needed an extra pair of leggings for winter in Melbourne, I splurged on a pair of Lululemon Wunder Under Full-On Luon tights and didn't regret it.
I've been travelling with them for nearly two years now and wear them for hikes, yoga, and general lounging.
They are much more expensive than the Lapasa leggings below, but the fabric is much nicer. It feels like cotton but dries quickly and wicks sweat away during yoga classes and hikes.
On the advice of a staff member, I sized down two sizes as they stretch out over time. They are still skin tight with a flattering fit. They never slip down during yoga or hikes (as the Lapasa ones do a little as they've become looser over time).
They keep me warm when walking outside in chilly weather but don't feel too hot during yoga class (I wouldn't wear them to a hot yoga class, though).
They are also great for hiking in cooler weather.
My Lululemon leggings look less sporty than my Lapasas (they don't have a side seam), so I'm more comfortable wearing them around town.
Note that Lululemon tights are really long. The 25″ length fits me as full length; the 28″ was way too long.
PrAna Travel Pants and Jeans
PrAna makes sustainable, travel-friendly clothing. I am not currently travelling with any PrAna pants, but I think they are worth mentioning here as they do have many travel-friendly styles. I couldn't find quite the right fit for me, but they could work for you.
I have travelled with the PrAna Halle hiking pants before to Finland and Iceland. They are more attractive than most hiking pants and look flattering on some people, but I don't love the style on me. They are comfortable, durable, and water-repellant, though, so are worth considering.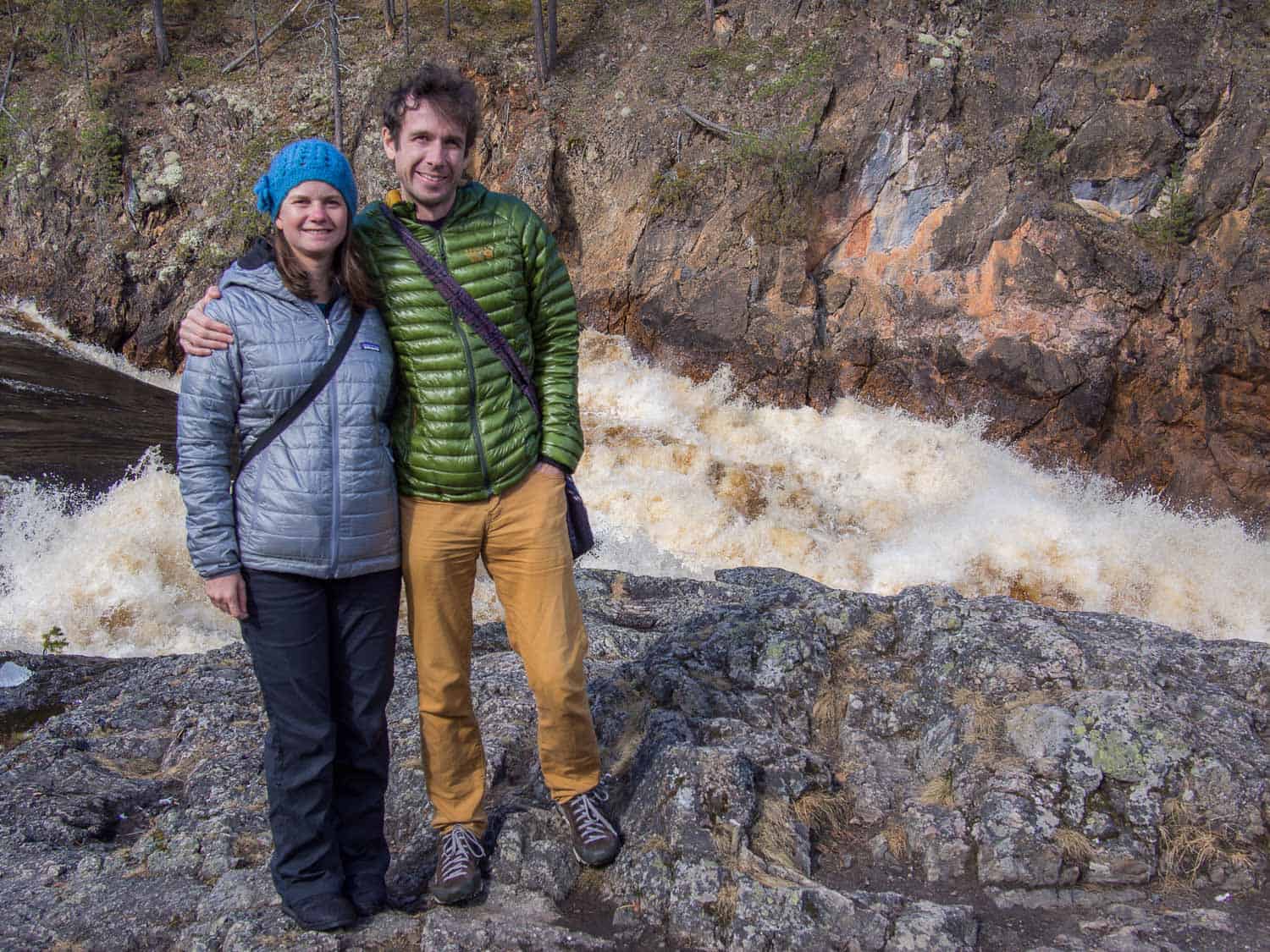 PrAna also has a range of travel-friendly jeans. I loved the comfortable, lightweight, stretchy fabric of the Kayla jeans, but I struggled to find the right style and size as I wasn't near a store (which are mostly in California, Colorado and Oregon) and had to order online.
I appreciated that they come in short, regular, and long lengths, but found the short was still slightly too long for me.
One downside of PrAna pants is that they tend to have tiny pockets.
You can buy PrAna pants from the PrAna website or on REI.
Best Travel Pants for Women Summary
The super-soft Aviator jeans are my ideal travel pants. They are comfortable enough for long flights and stylish enough for city exploring. I pair them with Lululemon leggings for workouts and hikes.
Although they aren't right for me, the Anatomie Luisa Pants could work for you if you want stylish pants that are incredibly light and quick drying. They are a good option in hot weather.
You should also consider the range of Bluffworks travel pants if you need comfortable, wrinkle-free pants (dress pants, chinos, and leggings) with plenty of secure pockets.
What do you think are the best travel pants for women?
Are You Looking for the Best Travel Shoes?
Here are my reviews of my favourite travel-friendly shoes:
If you enjoyed this post, pin it!
Disclosure: I received a complimentary pair of Aviator, Anatomie and Bluffworks pants for review. I am very fussy about the clothes I travel with and they would not be in my luggage if I didn't genuinely think they were excellent travel pants.