This page contains affiliate links. Please read our disclosure for more info.
The difference between people who travel carry-on only and those who don't is not necessarily what they pack but how they pack.
Below I share my tips on how to use packing cubes to fit more in your luggage and the best packing cubes and compression bags for travel.
During our 13 years of travelling with just carry-on luggage, we've learnt that how you pack is hugely important.
Most travellers agree that the best way to stay organised and save space is to use packing organisers.
They could be simple zip-lock bags or more durable (and environmentally-friendly) travel packing cubes or compression bags.
By using organisers, you can compartmentalise your travel gear with each bag or cube containing a different category of item.
Contents
Why Use Packing Cubes and Organisers?
Using travel packing organisers has many advantages:
Pack more efficiently – It's easy to pack when you know what goes in each cube and how each cube fits in your luggage. It's like a game of Tetris—rearrange the cubes and other items until they fit perfectly into your bag, and then stick with your system. You'll feel less stressed when packing, as you know everything will fit.
Find things easily – Your cubes work like drawers at home. You know what's in them, so you can take out the relevant cube rather than rummaging around at the bottom of your suitcase.
Save space – You can squeeze a surprising amount of clothes into a cube, so you can pack more. Compression bags are even better as they remove excess air.
Keep clothes clean and dry – Some organisers are water resistant and all offer protection from dirt. They can also be used to protect clothes in dusty hotel drawers.
Prevent overpacking – Limit what you pack by choosing an organiser for each category.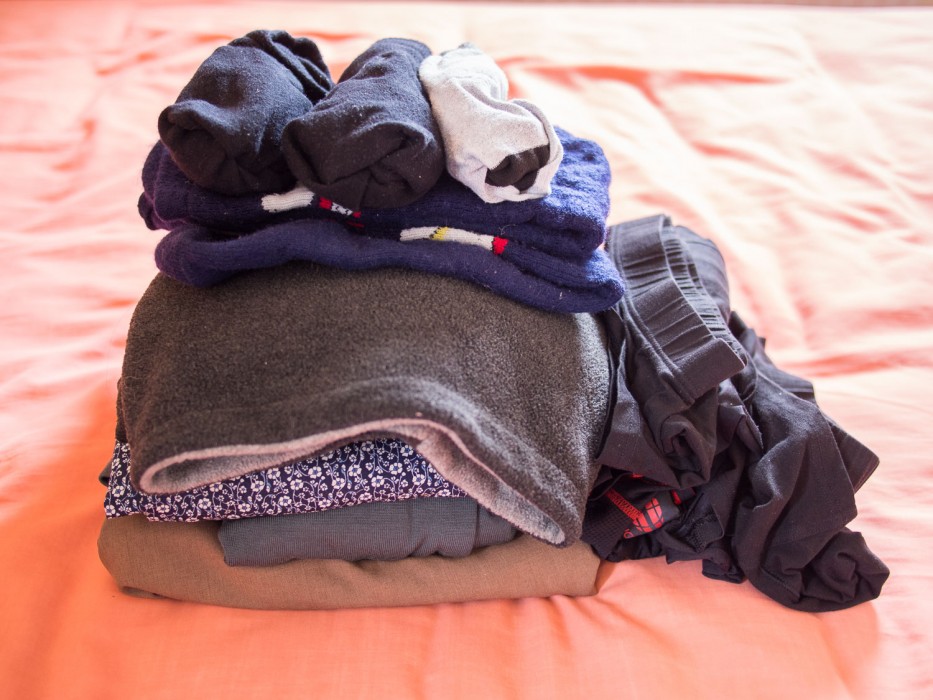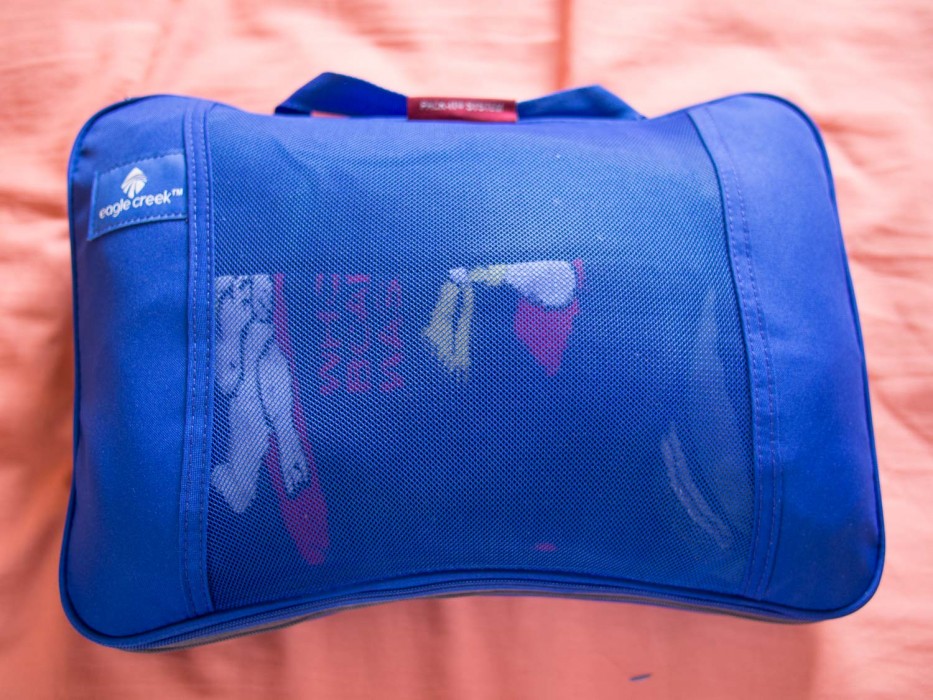 Creating your own packing system will make travel much easier whether you travel with a backpack or a suitcase—I highly recommend trying it.
There are a number of options:
Compression Bags for Travel
If you are struggling to fit everything into your luggage, consider travel compression bags for packing clothes.
These are sealable plastic bags with one-way pressure valves that let air out but not in. By removing excess air, your clothes are compressed, and you save space.
Compression packing bags work particularly well for bulkier items like fleeces and sweaters, so they are useful when packing for cold weather.
As the bags are airtight, they keep your clothes clean and dry—good to know if you get caught in a heavy rain shower or on a small boat with sea spray.
How to Use Travel Compression Bags
Compression bags are simple to use. You fold your clothes and lay them flat inside the bag, seal the zip-lock top, then roll the bag, squeezing out all the air.
It helps to do this on the floor and perhaps kneel on it to use your body weight to squeeze out as much air as possible.
When choosing a compression bag, make sure it is suitable for travel—you should be able to remove the air by rolling it rather than with a vacuum cleaner.
Some luggage compression bags are flimsy and tear easily; it's worth investing in a durable bag, as it's difficult to find replacements abroad.
Compression packing bags come in a range of sizes. You can choose a large bag for all your clothes or smaller bags to separate items.
The downsides of compression bags are that your clothes get a little creased; you have to uncompress the bag to access items—not very convenient if you need something on a travel day—and they can tear, which is why it's worth paying more for a sturdy bag.
It can take effort to roll the bag, especially if it's full. I admit I got Simon to roll mine whenever possible, as he was better at removing the air than I was.
It's also annoying if the seal isn't very good and the air leaks out, expanding the bag and making it a struggle to fit in your luggage. We haven't had this issue with good quality bags, though.
The Best Compression Bags for Travel
I've tried a range of clothes compression bags. My favourite are the robust Packmate travel roll storage bags, which come with a lifetime guarantee and free replacements of the slider that seals the bag. Unfortunately, they are only available in the UK.
The Eagle Creek Pack-it compression sac is also excellent—the plastic is nylon reinforced, and it is covered by Eagle Creek's lifetime warranty.
It can be hard to find, though. The Cozy Essentials travel roll up bags are an alternative, although we haven't tried them yet.
Don't confuse plastic rollable compression bags with nylon compression sacks, like those used to store a sleeping bag. Some travellers use these, but you are better off with compression bags, which remove more air, or packing cubes, which keep your clothes more organised and accessible.
For five years we both travelled with a large compression bag for our clothes. They worked well, but we eventually tired of rolling the bags and switched to a new type of compression packing cube. I explain how do compression packing cubes work below.
We do still occasionally use roll up compression bags, especially if we are travelling to a cold destination with bulky clothes.
How Do Packing Cubes Work
What are Packing Cubes?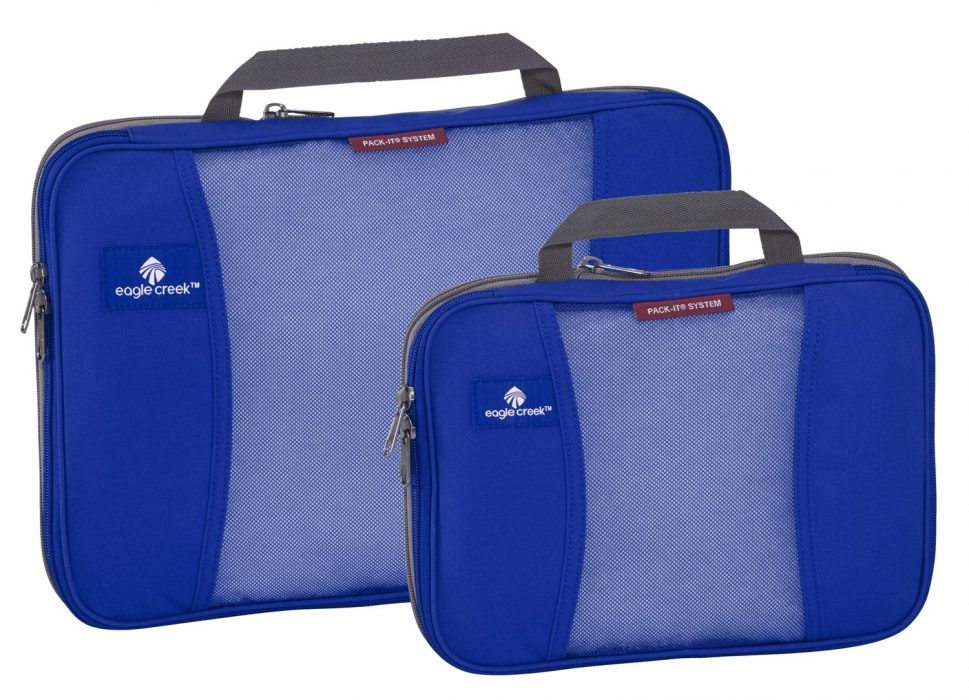 Packing cubes are zippered fabric containers, usually in a rectangular shape, for organising your items and making them easier to find in your luggage. They come in a range of sizes and are often sold as sets.
Unlike compression bags, you can use them to organise all kinds of gear, not just clothes.
For example, you could have one large cube for your clothes, a small cube for underwear, and another for your electronic accessories—chargers, cables, etc.
You know exactly where each item is kept, and when you need it, you just take out the appropriate cube.
Using packing cubes has some advantages over compression bags:
It's easier to access your clothes, as you don't need to release the air
They are more durable
They stack neatly in your luggage
Your clothes will be less creased
The downside is that, although they take up less room compared to packing your clothes loose, they don't compress as much as a bag designed for that purpose.
Are packing cubes worth it? While they can seem pricey at first, we've found that good quality cubes last years and are worth it to save space and keep your luggage organised.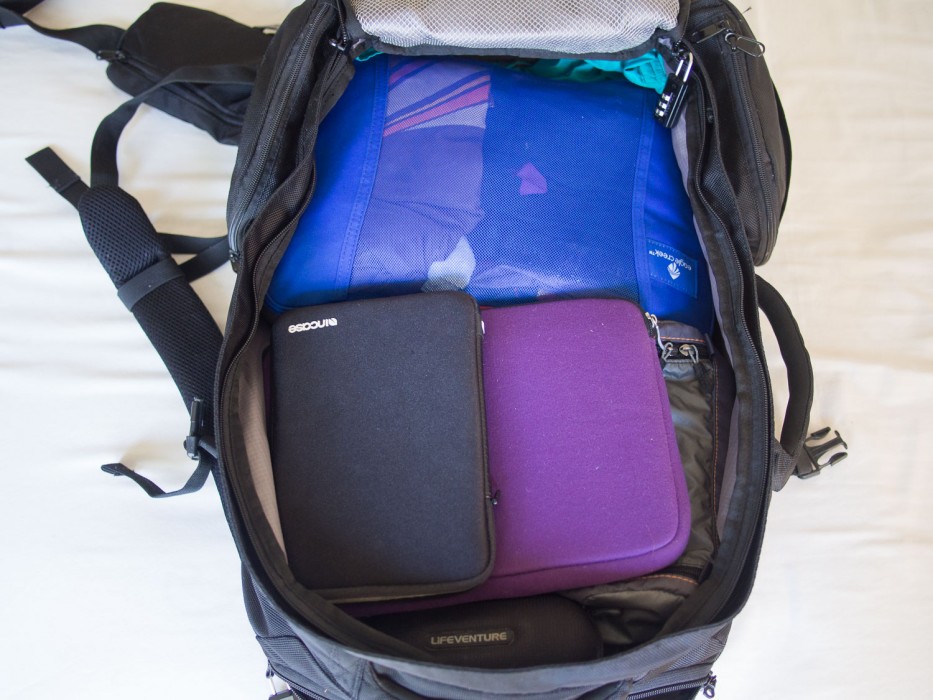 How to Use Packing Cubes
Packing cubes are easy to use—just roll or fold your clothes and place them inside the cube then zip it up.
I prefer to roll my clothes as it maximises space and makes it easier to access each item when they are in neat rows.
For bulkier items like jeans, I'll fold them and place them in the bottom of the cube.
You can organise your cubes however you prefer such as by type of clothes or activity—use different colours to make them easy to identify.
I currently have a small cube for underwear and socks, another small one for workout gear, and two medium cubes for other clothes. As I'm travelling between variable climates, I use a different cube for summer clothes and winter clothes.
Some people choose to have a cube for tops and another for bottoms.
If you are travelling as a family, use a different colour for each person.
How to Use Compression Packing Cubes
Compression packing cubes work is much the same way as regular packing cubes.
The difference is that compression cubes have an additional zipper around the side of the cube. This allows you to squeeze the cube down even further.
Start with the side compression zips unzipped, pack your cube as above, and zip up the main section.
Then once your cube is full, zip up the side zip, and it will become even more compact.
If your cube is quite full (as mine usually are!), you might need to push down your clothes and do the zip up slowly to get it to close all the way around.
Yes, it's a bit more work than a regular packing cube, but it does make the cube smaller and easier to pack.
How to Choose Packing Cubes
Popular packing cube brands include Eagle Creek, Peak Design, and REI.
When choosing packing cubes, durability is the most important attribute—you want a strong material with quality zips so that you can stuff as much in as possible without them breaking.
The size and other features come down to personal preference and how you want to organise your things.
Many cubes have a mesh top for breathability and so you can see inside—I don't find this necessary as I know what's in my cubes.
If you buy cubes in different sizes and colours, identification is easy. This is useful for families sharing a suitcase—each family member could have a different coloured cube.
The Best Packing Cubes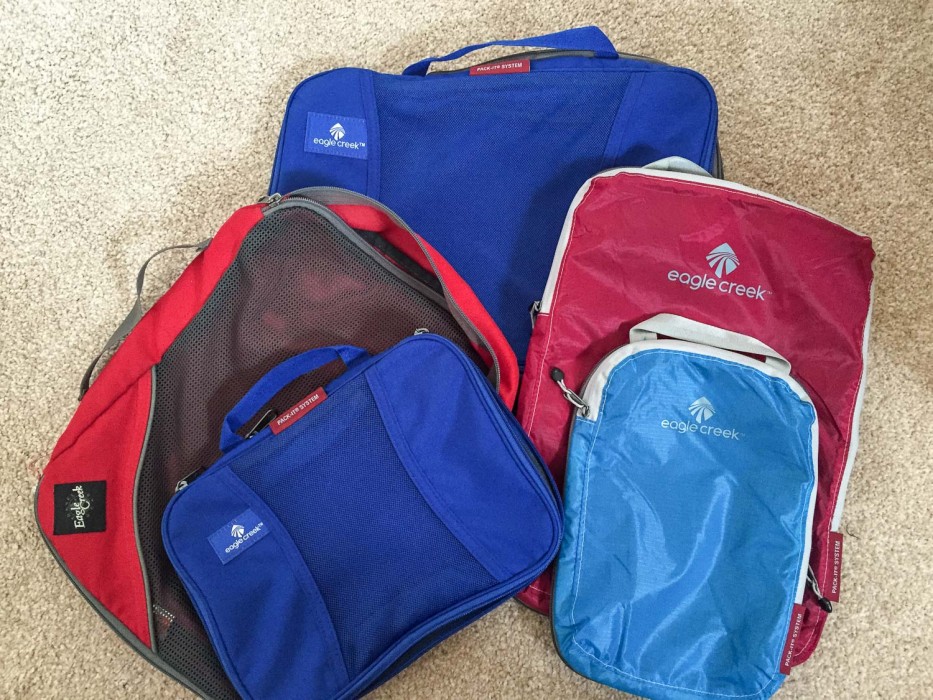 I'm a big fan of Eagle Creek packing cubes. The build quality is excellent, and they come with a lifetime warranty.
I have used one of the older style Eagle Creek Pack It cube with a mesh top for 13 years of constant travel, and it's still going strong.
When we decided to switch from compression bags to packing cubes, we tried Eagle Creek compression cubes, which are like ordinary cubes but with a compression zipper around the side that squeezes them into a smaller size.
They turned out to be the perfect compromise. We could fit everything we needed into the cube, but it's easier to use than a compression bag, with quick access and no need for rolling the bag.
There's a whole Eagle Creek Pack It system including cubes, travel bags (for small items), and packing folders (to minimise wrinkles in shirts and trousers).
We travel with the cubes for our clothes and the Etools Organizer Pro (no longer available but this Bagsmart electronics organizer is similar) for our electronics cables and accessories.
Although I've been an Eagle Creek loyalist for years, Simon now travels with Peak Design packing cubes—see the full review below.
Eagle Creek Reveal Classic Packing Cubes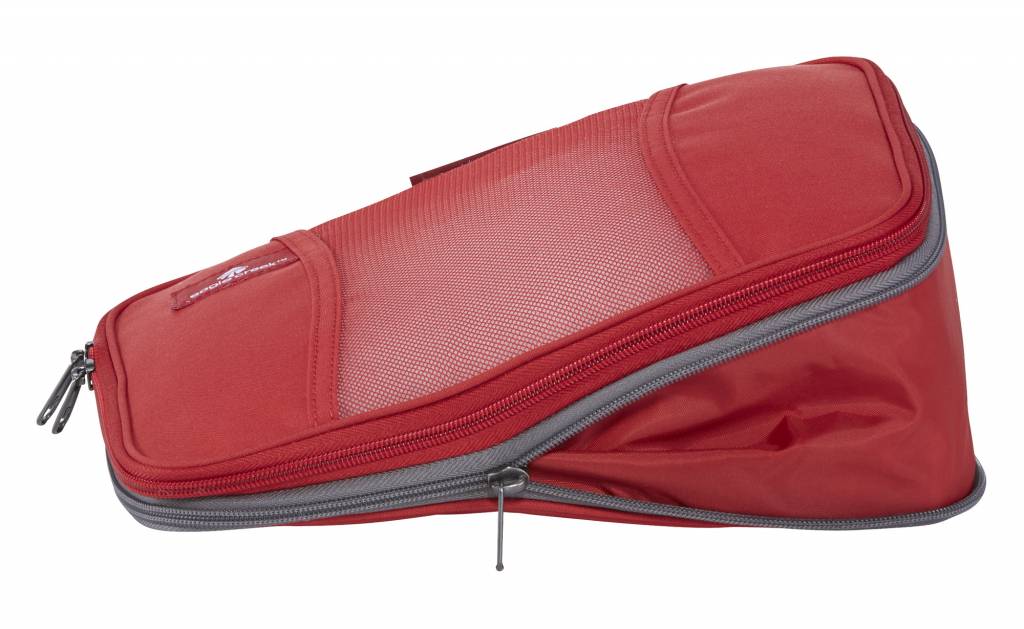 For years Simon travelled with the Eagle Creek Pack-It compression cube with a mesh top, and we still think it's an excellent packing cube.
A newer version is the similar Eagle Creek Pack-It Reveal cubes, although this no longer has a compression zip.
The advantages of this classic Eagle Creek cube design is that it has more structure, it unzips on three sides for easy access, and the mesh top allows you to see inside. It's also cheaper.
It's heavier than the Specter or Isolate cubes (see below), but the fabric is more robust and long-lasting.
Eagle Creek Lightweight Compression Cubes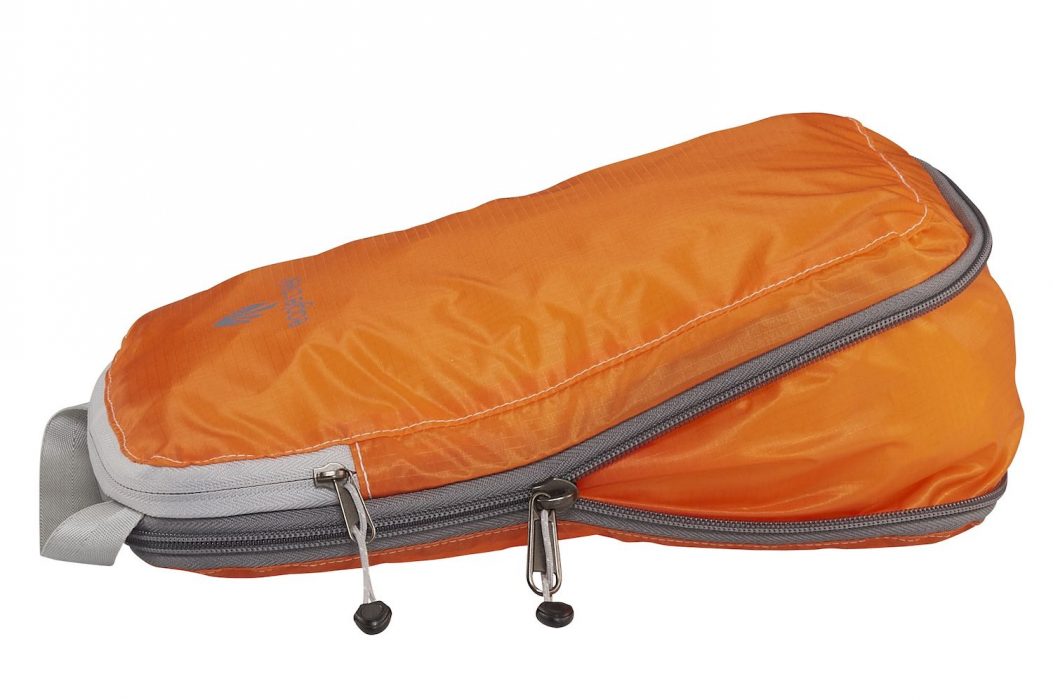 I use the Eagle Creek compression cubes—a mix of the older Spectre cubes and the newer Pack It Isolate cubes.
I have two medium cubes for my main clothes and a small cube for my workout clothes.
These ultralight packing cubes are the lightest on the market, made from translucent silnylon ripstop.
Specter and Isolate cubes are more expensive than the mesh cubes, but they are water and stain resistant and are amazingly light.
Eagle Creek Specter Cubes
A medium Specter compression cube weighs 57 g/2 oz, which is much lighter than the mesh compression cube (134 g/4.7 oz).
The biggest downside of the Specter cubes is that they only unzip part the way around, not on three sides like most cubes.
This makes clothes slightly less accessible, but as I roll my clothes, I can easily reach in and grab what I need.
As the fabric is so much lighter, they are not as robust as the mesh cubes. After about four years of constant use, one of my Specter cubes tore along the seam. I do really pack it full and squeeze the zippers tight though.
The new Isolate cubes are more robust—see below.
You can sometimes get better deals on the Specter cubes, so I still think they are worth considering.
Click here for current prices and reviews of the ultralight Eagle Creek Specter compression cubes.
Eagle Creek Isolate Cubes
The newer Eagle Creek Isolate compression cubes are slightly heavier than the Specter cubes (a medium is 2.6 oz/ 73 g), but they have solved a couple of the issues.
The fabric and zips are more robust, and I haven't had an issue after 18 months of travel with them.
They also open fully on three sides so it's easier to access your clothes.
Overall I think Eagle Creek Isolate cubes are the best compression packing cubes. They are light, robust, and squeeze a surprising amount in.
Buy the Eagle Creek Isolate cubes here.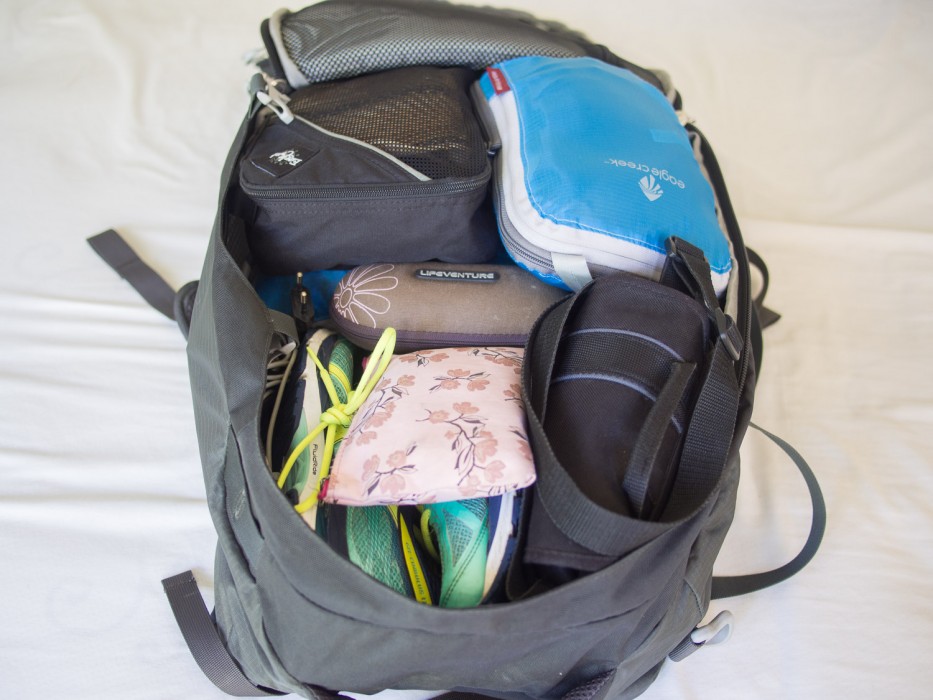 Peak Design Packing Cubes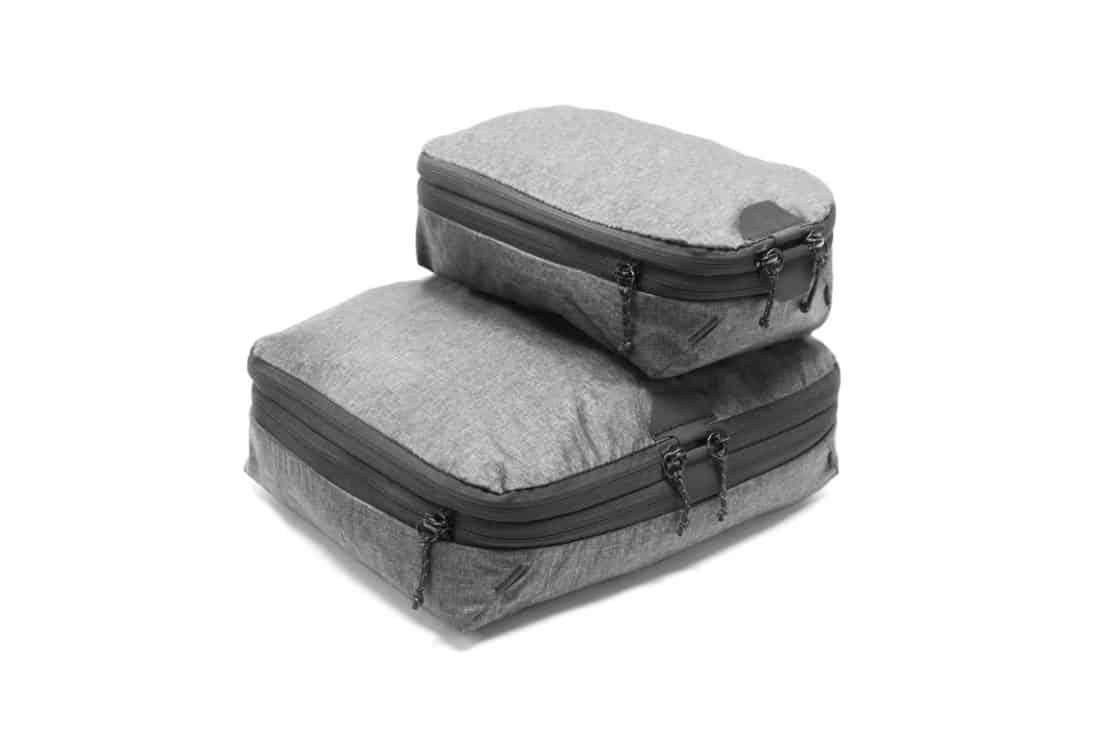 In recent years we've also been impressed by Peak Design Packing Cubes.
Simon has now switched to using these with a medium for his clothes and a small for underwear and socks.
They are the most stylish looking cubes we've tried and are made from a lightweight 70D nylon/poly blend in an attractive grey colour.
They are similar to the Eagle Creek Specter and Isolate cubes in that they have a floppier rather than structured form, but it's easier to access your clothes as they open fully on three sides.
They even have a unique tear-away zipper that allows you to quickly access the contents.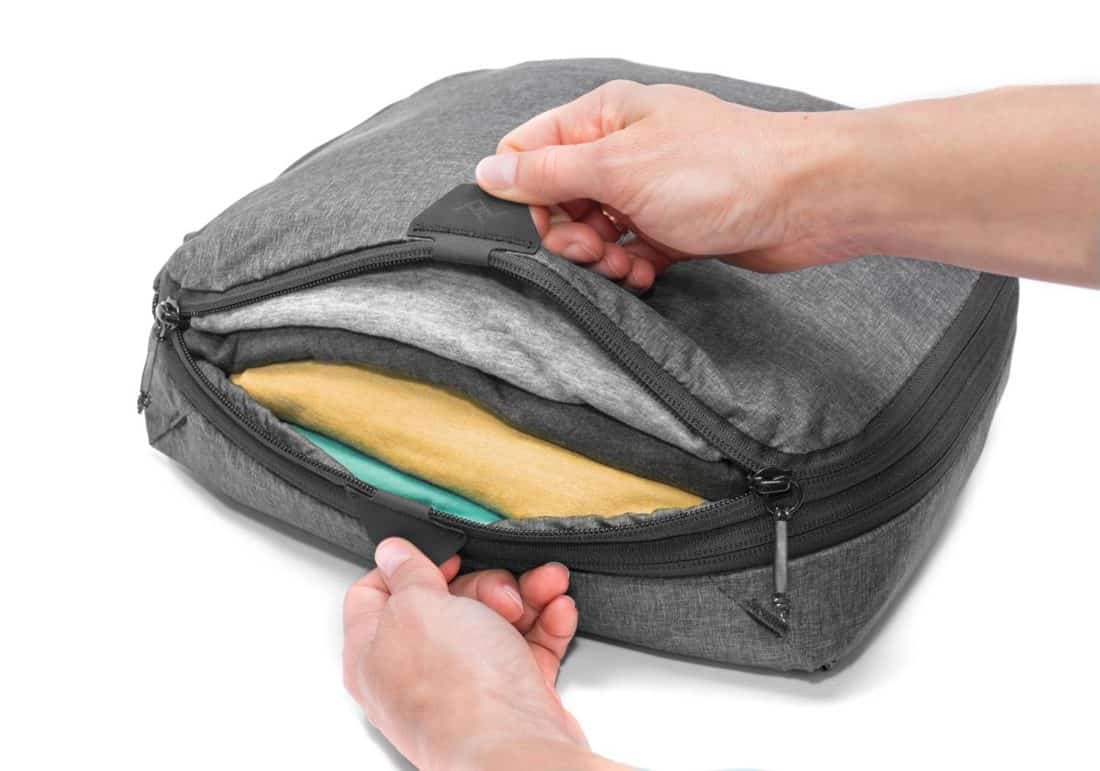 They also have a compression zipper around the side, but I find it doesn't compress quite as much as the Eagle Creek compression cubes.
The medium Peak Design cube has a capacity of up to 18L, while a medium Eagle Creek Isolate cube is 14L, so the Peak Design medium does fit more in (a pro or con depending on how you like to arrange your stuff).
The Peak Design cubes are heavier than the Isolate at 144g (5.1oz) for the medium vs the Isolate's 73g, but the extra features and space may be worth it.
You can certainly pack a lot in: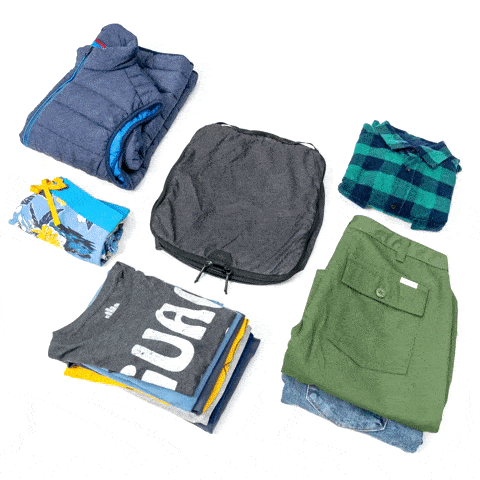 A really useful feature of the Peak Design cubes is the two separate compartments.
The top of the cube opens fully for you to store your clean clothes, and when they are dirty you can shove them in the bottom compartment (which opens along one side) to keep them separate.
Simon has been using his Peak Design cubes for four years and they look as good as new. They are well made with an abrasion and rip-resistant coating and are covered by the Peak Design lifetime warranty.
The Peak Design cubes are definitely a contender for the best packing cubes, especially if you want a more stylish design or a way to store dirty laundry.
Click here to buy the Peak Design packing cubes on the Peak Design website.
Or find Peak Design cubes on REI.
Packing Cubes vs Compression Bags
Should you use packing cubes or compression bags on your next trip?
Packing cubes are easier to use than compression bags, so I recommend starting with them.
If you are struggling to fit everything in or are travelling in cold weather or on a ski trip, try a compression bag instead.
A compression bag could also be used to bring home clothes purchased on your trip. Even if you use a compression bag for your clothes, packing cubes are useful for organising other items.
Compression packing cubes are the best compromise for us. I've been using my Eagle Creek compression cubes for full-time travel for eight years and they are perfect for me—even when I pick up extra clothes or travel in the winter, I can still fit everything in.
The Peak Design compression packing cubes are also well worth considering. Simon loves the stylish design, separate laundry compartment, and durable fabric.
Whichever luggage organiser you decide on, you won't regret it. They create more space in your bag and make packing and finding items so much easier. They really are the secret to carry-on only travel.
More Packing Posts